TORONTO (June 20) — You can blame Dad. All that nonsense I spewed over the airwaves from 1988 to 2011 and the rather critical eye with which I view your favorite hockey team, today, in my blog… it's his fault. For sure.
It began in the mid–1960's when I became old enough to watch the start of the Leafs telecast on Saturday nights. I still have foggy recollection of hockey players maneuvering on the black–and–white TV (with "rabbit–ears") that stood in the southeast corner of our livingroom at 42 Kennard Ave., the North York home in which I was raised. The same television that my late mother did not leave, for hours on end, after John F. Kennedy had been assassinated. And, that my cousins and I, while "camping out", marveled at The Beatles on the Ed Sullivan Show in the winters of 1964 and '65. As per the Maple Leafs, I just knew I was watching hockey… with no concept of wins, losses, personnel or team history. After 15 or 20 minutes listening to a man named Bill Hewitt, it was off to bed.
I attained more privilege upon turning eight, in the 1966–67 National Hockey League season. After listening to Bill Hewitt's dad, Foster, call the first period on his radio station, CKFH–1430 (not realizing, of course, I would one day work there for 23 years), Dad allowed me to watch as the telecast began at 8:30 p.m., usually with a couple or three minutes left in the opening frame. I especially looked forward to intermission host Ward Cornell replaying the goals I'd heard Foster Hewitt describe before Hockey Night In Canada went to air. Would they resemble what I recalled in my mind's eye? Cornell would then interview a Maple Leafs player in the cramped studio across from the dressing room — that player sweating profusely amid the hot TV lights; a portable microphone slung upon him like an ugly necklace. By the middle of the second period, it was bed time… and a return to Foster's radio call.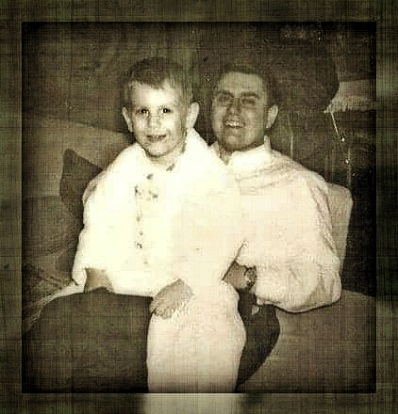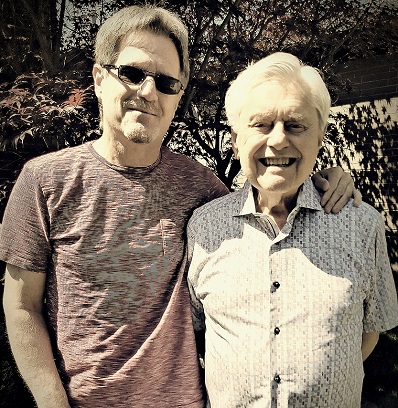 WITH DAD (LEFT) IN 1964 AFTER THE LEAFS HAD WON THEIR THIRD CONSECUTIVE STANLEY CUP UNDER PUNCH IMLACH (I WAS FIVE). AND, EARLIER THIS AFTERNOON… ON FATHER'S DAY 2021.
As the shortest days of 1966 approached, Dad felt I was ready to see a game, live, at Maple Leaf Gardens. It was Dec. 3rd of that year and the Detroit Red Wings were in town. We sat somewhere in the east Blues (to become Reds in 1975), perhaps in Sec. 53, roughly 20 rows behind the visitors' bench. Among the visitors was a man I'd become familiar with while reading the hockey magazines Dad bought me each month. He wore No. 9 on his white Detroit jersey with the red pants and trim. You've probably heard of Gordon Howe. But, I was more enamored by the Toronto skaters… and actually seeing their navy colored uniforms for the first time; they had always appeared as a dullish–grey on the black and white TV. By then, I had grown familiar with the more prominent names and jersey numbers: Bower (1), Sawchuk (30), Kelly (4), Horton (7), Armstrong (10), Keon (14), Pulford (20), Baun (21), Mahovlich (27). And, reading the Maple Leaf Gardens program that Dad bought upon entering the arena off Carlton Street? Well, it blew me away… with posed images of the home players on the cover (as below).
For the record, the Leafs handily prevailed that night, 5–2. Just 52 seconds after referee Vern Buffey dropped the puck at center ice to begin play, Red Kelly scored on Detroit goalie Hank Bassen. Dave Keon and Jim Pappin added first–period tallies; Bob Pulford inflating the Toronto lead to 4–0 early in the second. Ted Hampson and Ray Cullen of the Red Wings beat Terry Sawchuk consecutively, but Leafs captain, George Armstrong, sealed the victory, on the powerplay, at 9:41 of the third period. As I look back at the summary, I notice that I viewed my first live NHL fight in the waning seconds — Brian Conacher of the Maple Leafs tangling with Gary Bergman of Detroit. Buffey, the veteran arbiter, issued 34 penalty minutes, working with linesmen Matt Pavelich and Pat Shetler.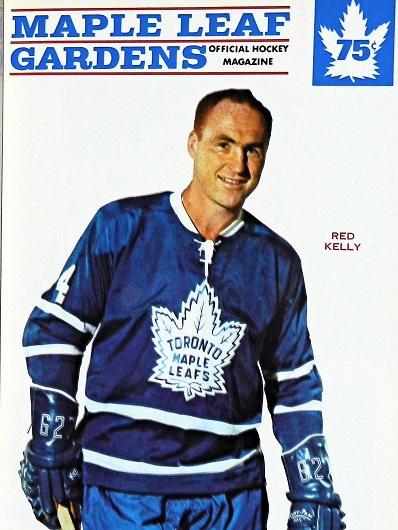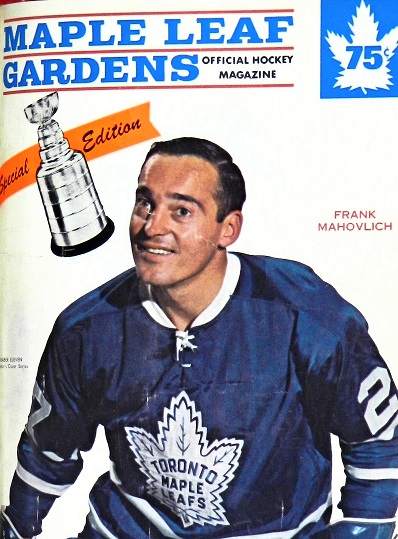 More than 54½ years later — as I sat, early this afternoon, with my now 87–year–old dad on Father's Day 2021 — I couldn't wager a guess as to how many Leafs games I've attended. There were sporadic visits to the Gardens until 1975–76, when Dad bought a pair of season tickets in Sec. 30 of the south–mezzanine Blues. I missed very few home games between 1975 and 1983, after which the late Stan Obodiac issued my first media credential. I thus moved from Sec. 30 of the mezzanine Blues to the Gardens' press box. I spent a bit more time in that perch beginning in 1988, after landing a job (earning $270/week) at Foster Hewitt's old radio station. Beginning in January 1995, the MLG press box became my second home, as I started a 17–year run covering the Maple Leafs — home and abroad — for Canada's first all–sports radio enterprise, The FAN–590. Four years after that, I moved my rump to a prime spot in the media overhang at the new Air Canada Centre. The wondrous reporting gig ended in 2011. It likely wouldn't have started without the early influence of a chartered accountant named Irving Berger.
So, yeah, blame him.
*     *     *     *     *     *     *     *     *     *
When I was a kid, there were no–such teams as the Toronto Blue Jays and Toronto Raptors.
The Maple Leafs shared the professional sporting landscape with the equally popular Argonauts of the Canadian Football League. That's right — the Argos and Leafs were on a level playing field with respect to following and devotion. Some time in the autumn of 1967, Dad led me to our new color TV to watch a distant cousin named Gerry Sternberg play defensive half for the Montreal Alouettes. All I remember is the Alouettes wearing bright red jerseys; not the opponent or the stadium. Yet, I found myself rather intrigued by my first exposure to the gridiron.
And, damn, did I ever want to meet that distant cousin in the scarlet Montreal uniform.
Fast–forward two years. By the autumn of 1969, Gerry Sternberg wore No. 34 for Leo Cahill's Argonauts. A new–found school chum, Jeffrey Spiegelman, attended all Argo home games at CNE Stadium with his father, Cy. The day after a lopsided win over the Saskatchewan Roughriders (Sep. 7, 1969), Jeff brought the program to school (we were in the same Grade 5 class). He and I spent the better part of an hour poring over the contents. That was it! I now had to see an Argos game in person. Trouble was the popularity I referred to. All 33,135 seats at the old CNE yard were accounted for. Enter the distant cousin. Dad somehow got in touch with Gerry Sternberg who secured a pair of tickets for the next home match, against Ottawa, on Sep. 20. I remember sitting way up in the north grandstand that night, toward the west end zone. A man wearing No. 12 on his white Rough Riders' uniform, with the black and red trim, kind of ruined the occasion. As did Russ Jackson rather often for Leo Cahill in that era.
By 1971, I was sufficiently enamored of the Argonauts that Dad bought a pair of season tickets in Sec. 12 of the old south bleacher, directly adjacent to the west goal line. It was good timing. From there, he and I attended all seven home games… and the back end of the two–game, total–points Eastern final against Hamilton. The Argos, with such forever–entrenched stars as Joe Theismann, Bill Symons, Leon McQuay, Mel Profit, Jim Corrigall, Jim Stillwagon and Dick Thornton, finished atop the four–team Eastern sector that season. And, went to the Grey Cup for the first time in 19 years on that cold, overcast playoff afternoon (Nov. 20) against the Tiger–Cats.

DAD BOUGHT ARGOS SEASON TICKETS AT CNE STADIUM IN 1971. WE WATCHED MEL PROFIT (TOP–RIGHT) AND CO. DEFEAT HAMILTON IN THE EASTERN FINAL, NOV. 20 (LINE–UPS, BELOW).

It required a number of days to recover from the infamous moment, in Vancouver, when McQuay fumbled away the Argos' last chance to beat the Calgary Stampeders. I remember being inconsolable in the immediate aftermath. But, I kept on watching the Double Blue through torturous adventures in the 70's and early–80's. Then I found myself in Vancouver for the first time one evening in late–1983. Covering that year's CFL championship for the company that published game programs. And, the Argos actually won the Grey Cup (over the hometown B.C. Lions) for the first time in my nearly 25 years on Earth. All I remember about the post–game scene — other than repeatedly asking myself "did this really happen?" — was approaching the Toronto dressing room in the bowels of B.C. Place Stadium. Standing alone, off to one side, was the Toronto general manager, Ralph Sazio, who had routinely destroyed Argo hopes as GM of the Tiger–Cats in the 60's and 70's. To this day, I cannot believe I approached Sazio, wrapped him in a bear–hug, and thanked him profusely for a moment I never figured possible.
Ol' Ralph hugged me right back, seemingly thrilled that someone had noticed him.
These sports recollections encompass but a fragment of the pride I have always held in being Irv Berger's son. As I gladly tell all, he is my moral compass, my guiding light and the nicest person I have ever known; still kickin' hard nearing his 88th birthday. Every day with Dad is a gift. Which I hope many of you can appreciate, whether your guiding light is still among us… or generating those rich, warm and blessed memories.
EMAIL: HOWARDLBERGER@GMAIL.COM