TORONTO (June 16) — This is a classic example of how the Toronto Maple Leafs know they can get away with anything… at any time. Leading off the Leafs page, late today, on the chat forum H–F Boards is the joyous headline "SPEZZA IS BACK!". The first comment, from a person calling himself robertmac43: "Amazing news!" Farther down the page, other such comments as "Love it! Grown into one of my favorite Leafs." And, "Fantastic!" Or, "great that he still wants to be a Leaf after everything. Now, they should bring back [defenseman Zach] Bogosian."
I ask again: Is there an easier mark in all of professional sport than a Leafs fan? Just 2½ weeks after one of the most–humiliating playoff results in modern team annals… and all is forgotten. Jason Spezza is back. Huzzah! Not that he was primarily responsible, but did Spezza not suit up and take a regular shift while the Maple Leafs were collapsing against Montreal? Does it matter how many end–of–the–line players Brendan Shanahan and Kyle Dubas re–sign to contracts if the Leafs are intent to sit on their failed post–season nucleus? That type of question, critical and mandatory, prevailed in Leafs Land for about five or six days after the Montreal embarrassment.
Now, it's "yahoo! Jason is back! What about Bogosian?"
You think the timing of this announcement is coincidental? That Shanahan and Dubas — merely by chance — re–upped with one of the more–popular and faultless players so soon after the debacle against the Canadiens? Not on your life. For decades, the Leafs have deployed varying forms of subterfuge, knowing how absurdly simple it is to coerce their followers into amnesia. And, tragically, even those that cover the club in the mainstream media. Look at the lede in today's Toronto Star article: "Jason Spezza is taking another run at the Stanley Cup with the Maple Leafs." The Stanley Cup? Doesn't it require at least one playoff–round victory to begin challenging for the National Hockey League title? Next spring, if they qualify, the Leafs will be 18 years removed from advancing 25% of the way toward the championship. It will be 55 years since they last played for the silver mug. But, Jason Spezza is "taking another run" at the Cup. If it weren't so utterly and completely bizarre, it would be humorous.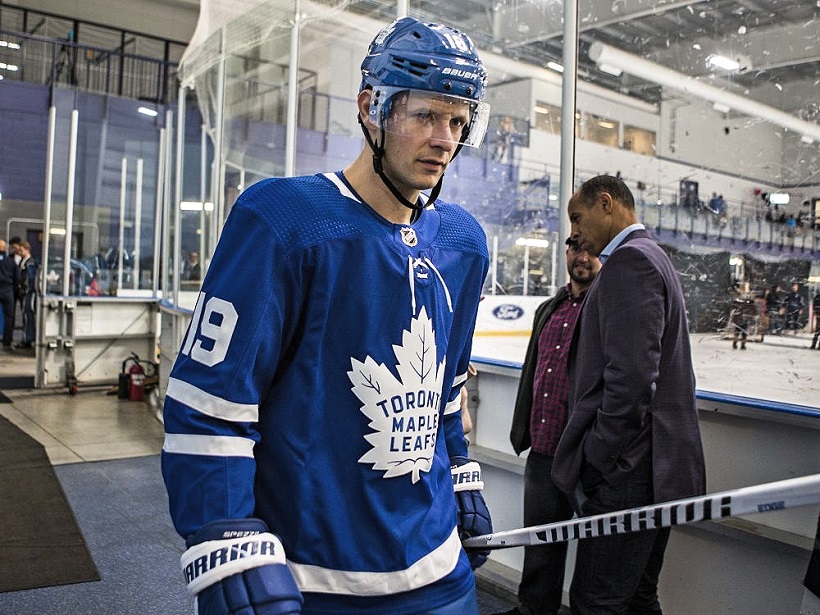 The only way to set the hockey bar lower in this city is to dig underground. Every day, all over town, ants and caterpillars walk on top of Leaf expectation. If this club — somehow, some way — fluked out an opening–round playoff triumph, police would have to close off traffic south of Bloor St. Now that vaccinations are helping us inch toward "herd" immunity from Covid–19, the multitudes would pour into the downtown streets as they haven't since the Raptors' victory parade 24 months ago. CP–24 news–copters would soar over downtown, beaming the joyous display into homes along the 401 corridor between London and Kingston. Yes, all of it for winning ONE PLAYOFF ROUND — the distorted, embellished reaction in a hockey mad city with no concept of playoff prosperity.
That's why the Leafs know they can deflect attention from Montreal playing Vegas in the Stanley Cup semifinals by announcing that Jason Spezza is coming back. Not that an experienced general manager with a Stanley Cup resume, such as Jim Rutherford, is being hired to help the club untangle its salary cap ligature. Or that management will consider moving one of the beloved Big 4 to free up cap space and attempt to acquire a front–line defenseman, missing on the club for more than four decades. Rather, it's deception, knowing that fans starved of any positive vibe will lap up the news that a fourth–line forward, complicit in the playoff fold–up against the Habs, is returning. Shanahan and Dubas are cradling the hockey public in the palm of their hands… just as the cantankerous Brian Burke once did; as silly Harold Ballard and washed up Punch Imlach once did. Etcetera.
If the playoff degradation against Montreal didn't turn the tide of Leafs Nation for more than a week, nothing likely will. So, yes, prepare for the breathless news that Zach Bogosian is back on the blue line to "try for his second career Stanley Cup" with the Maple Leafs. I mean, what else is there?
EMAIL: HOWARDLBERGER@GMAIL.COM