TORONTO (June 14) — This blog intends no disrespect toward one of most–dignified players in the modern history of the Toronto Maple Leafs. And, we are delighted that he quickly recovered from the horrific collision with Corey Perry's knee–pad in Game 1 of the Stanley Cup playoffs against Montreal. But, John Tavares unwittingly destroyed the Blue and White when he signed that seven–year, $77 million contract on July 1, 2018.
Not that Johnny T. wasn't worthy of the term or salary. Or, that the Maple Leafs shouldn't have been commended for aggressively pursuing the top prize on the open market (you'll remember the city wide elation when Tavares left the New York Islanders to come "home"). Not once, however, in the quarter–century–plus of unrestricted free agency have the Leafs blundered so extensively. They entered, that summer day, into a marriage made in hell.
This opinion is not remotely related to the splendid performance of the Islanders in the three National Hockey League seasons since losing their captain and most–identifiable star. Lou Lamoriello and Barry Trotz deserve immense credit for building a club capable of withstanding such an apparent deficit. Rather, it is a reflection of incredulity that such experienced hockey men as Brendan Shanahan and then–coach Mike Babcock truly felt that a whopping $11 million of salary cap space should be committed to another skilled forward. With all of the club's Big 3 draft choices — William Nylander, Mitch Marner and Auston Matthews — still requiring contracts beyond entry level restriction. And, in the interminable absence of a comparable figure on defense. Hoarding this embarrassment of riches was an enormous strategic miscalculation by the Leafs. And, not exclusively in hindsight.
Many hockey observers wondered, at the time, why the Maple Leafs allocated such a sizable portion of the cap to a goal scorer, understanding the financial commitments that lay ahead. Did management believe it could low–ball agents for the Big 3 in their first contract negotiations? Or that a reasonable detachment of support skaters (19 in all) could be obtained with less than half the payroll allowance? That decision, three summers ago, is indefensible. And, would be, today, even if Marner and Matthews had shown some pizzazz in Stanley Cup competition. It is merely exacerbated by the post–season failure, thus far, of the club's two most–talented youngsters.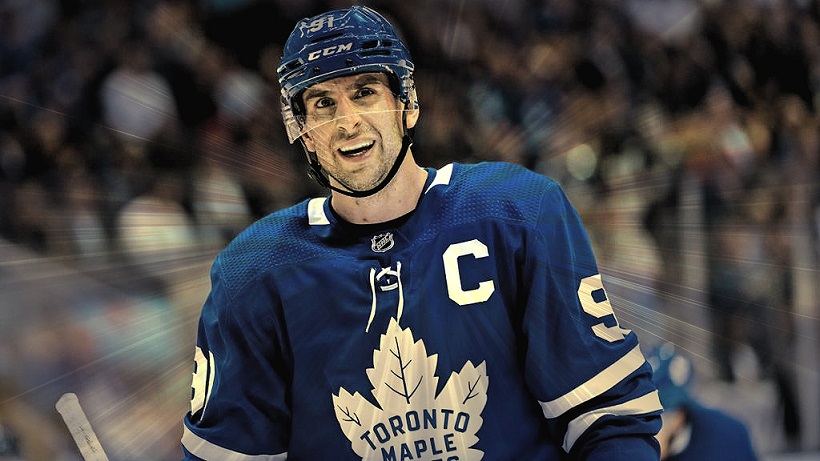 JOHN TAVARES IS AN EXEMPLARY CAPTAIN AND AN UPSTANDING INDIVIDUAL. BUT, THE LEAFS BLEW IT — BIG TIME — WHEN THEY COMMITTED $11 MILLION OF CAP ALLOTMENT TO HIM THREE SUMMERS AGO. GETTY IMAGES/NHL.COM
It has put the Leafs in an untenable position, heightened by the claim that management will persist with a demonstrated playoff dearth. Perhaps Shanahan's remarks after the opening–round collapse against the Canadiens were not born of obstinacy, as they appeared at the time. Maybe the Leafs' president is reluctantly convinced, as are countless others, that he and general manager Kyle Dubas have no other choice. It's an hypothesis, today, because we don't know how the club would have appropriated the $11 million of cap consumption had it not signed Tavares. If, however, the bulk of that figure were accessible, the Leafs would be in position, for example, to negotiate with pending free agent blue–liner Dougie Hamilton — playing, at age 27, the best hockey of his career (42 points in 55 games and a plus–20 with Carolina). Or, to trade future components for Seth Jones of Columbus, still with a manageable $5.4 million of contract control next season. Until the Leafs develop a front–line defenseman (they haven't since Borje Salming in the early–1970's), the club will be forced to pursue trades and free agents; the latter commanding an exorbitance of term and salary. It's a vicious cycle with no apparent escape.
The Leafs, of course, could not have envisioned a world pandemic and a flat salary limit. But, it still doesn't rationalize the outrageous splurge on an element the club had spent three summers enhancing via the draft.
The only reasonable outlet is one that management has vowed to somehow circumvent: unloading one of Nylander, Marner or Matthews (Tavares would not have signed anywhere in 2018 without full, no–movement privileges). How roster balance and a potential Stanley Cup challenge can materialize by remaining status quo is anyone's guess. In a best–case scenario, Rasmus Sandin evolves into an elite blue–liner while still under entry level constraint. It would enable the Leafs to move on from the still–competent Morgan Rielly before having to raise his salary well beyond $5 million next summer. Equally helpful would be Marner and Matthews learning to not only sustain regular–season brilliance in the playoffs, but to lift their performance commensurately with each Stanley Cup round. At the moment, however, all three wishes are an illusion (though Sandin has shown some promise).
You can criticize Dubas for overcompensating Marner and Matthews, but both would have landed similar deals elsewhere. It's the $11 million locked up in Tavares that has most–damagingly restrained the Blue and White.
To an increasing measure over the next four years, as the elegant Torontonian ages.
EMAIL: HOWARDLBERGER@GMAIL.COM