A few days after another lost season, Leafs general manager Kyle Dubas comes to his end–of–season presser carrying a cross. He spends an hour nailing himself to it. Then we start the process all over again.
— Cathal Kelly, The Globe and Mail, May 30
TORONTO (June 1) — On second thought, maybe the process should change.
Though I respect Kyle Dubas as a hockey executive and believe he has a place in the Maple Leafs' organization, I contend he should no longer occupy the big chair. Not with a three–time Stanley Cup champion looking for work.
Maybe Jim Rutherford, even at 72 years of age, can formulate a plan to maximize the underachieving Toronto players that are locked into immovable contracts. Or, perhaps find a miraculous way to alter the four–man nucleus that consumes more than half the salary cap limitation. Rutherford resigned, on Jan. 27, as general manager of the Pittsburgh Penguins. Not long afterward, he expressed a desire to again work in the National Hockey League. The Penguins have granted him permission to seek that opportunity. Is it too logical to suggest the Leafs pursue him? And, is Maple Leaf Sports and Entertainment prepared to act quickly, before Rutherford signs elsewhere?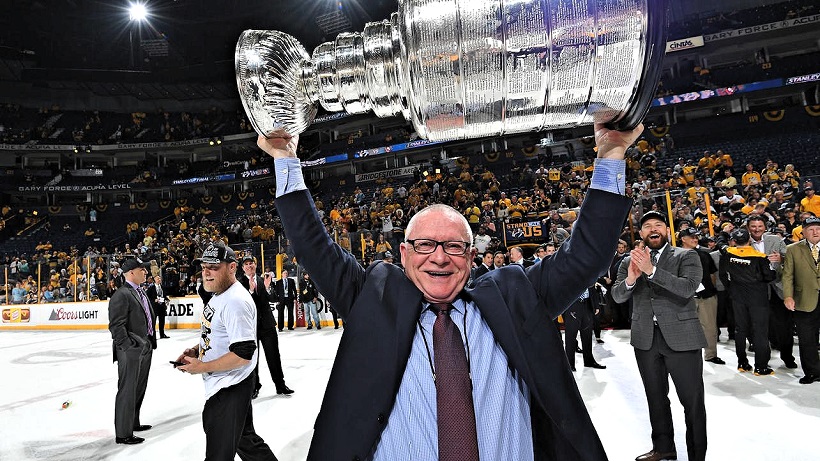 JIM RUTHERFORD TRIUMPHANTLY RAISES THE STANLEY CUP IN NASHVILLE ON JUNE 11, 2017 AFTER HIS PITTSBURGH PENGUINS WON THEIR SECOND STRAIGHT NHL CHAMPIONSHIP.
When I contacted Jim today to ask if he'd be interested in a call from the Maple Leafs, he stood clear of speculation. "That's too hypothetical to answer; I don't want to stir up anything by making a comment," he said.
"But, I am going to work again [in the NHL]. I can tell you that."
As an Ontario boy (born in Beeton) that grew up watching the Leafs — and briefly played goal for the club in the 1980–81 season — it's difficult to envision ol' Jimmy turning down a chance to manage the Blue and White.
You may ask: Why go after Rutherford when the Leafs allowed Lou Lamoriello to escape (to the New York Islanders)? Simple, the follow–up plan hasn't worked. Brendan Shanahan wouldn't have known that on May 22, 2018 when he chose Dubas to replace Lamoriello. But, he must be pondering differently today, after yet another first–round playoff elimination; this one against a team the Leafs had on the ropes and should have subdued.
I don't necessarily believe Shanahan ought to pay for that three–year–old decision with his own job as president. He gave a young, promising executive a chance and watched Dubas build a club that breezed to the North Division title this season. Yet, to no avail. If the Leafs retain Dubas as GM, the 82–game schedule next season will be the most–irrelevant in franchise history; still with Toronto hockey fans paying the most–expensive ticket prices in the NHL. The club could win 60 games and no one would reasonably care. Neither, of course, would empty seats prevail at Scotiabank Arena, regardless of which person runs the team. But, a conscientious approach, in this regard, requires change. With Rutherford at the helm, the enterprise would feel refreshed, from the outset. His canny leadership might also unlock whatever is preventing the Maple Leafs from nearing their apparent potential.
Rutherford has first–hand experience with getting such a talented team as the Leafs over the hump.
Though he built the Carolina Hurricanes from scratch — winning his first Stanley Cup as GM in 2006 — he inherited a Pittsburgh club (in June 2014) with a similar cap issue as the Maple Leafs. Sidney Crosby, Evgeni Malkin and Kris Letang composed the high–priced nucleus of the club that won the 2009 NHL title, but had been to the Conference final only once in the interim (losing to Boston in 2013). As with Dubas, he, too, had to enhance the roster with peripheral ingredients that would compliment the Big 3. Rutherford accomplished the task by adding such veterans as Phil Kessel, Matt Cullen, Eric Fehr, Trevor Daley and Ben Lovejoy. Dubas, by contrast, has failed in similar attempts with Tyson Barrie, Kyle Clifford, Cody Ceci, Michael Hutchinson, Jason Spezza, Wayne Simmonds, Joe Thornton and Nick Foligno. The deadline trade for Foligno, a pending free agent, cost the club its first and fourth–round draft picks this year. The Leafs, in fact, are left with only three selections in the 2021 draft.
With John Tavares, Auston Matthews, Mitch Marner and William Nylander on the book for nearly $41 million in cap consumption again next season (and beyond), the task of building around them is more critical than ever.
Rutherford has a recently proven track record in such a circumstance. He'd be a wise addition.
THE SORRY HEADLINES…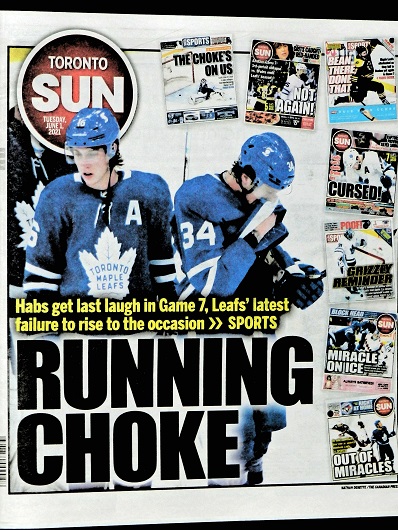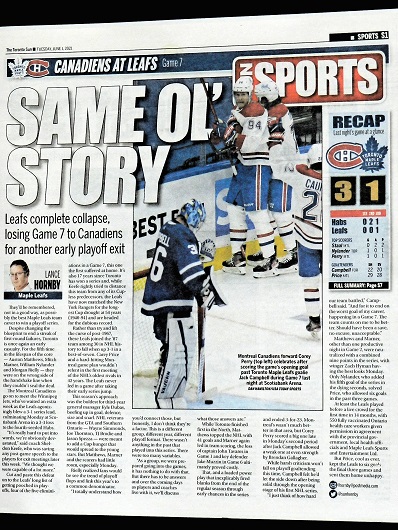 THE 'C' WORD APPEARED IN TODAY'S TORONTO SUN (ABOVE) AND THE TORONTO STAR (BELOW).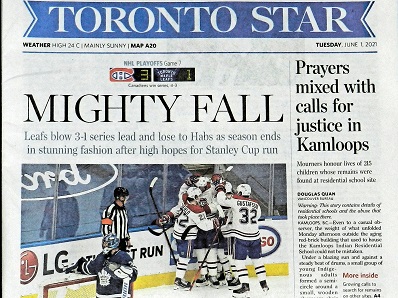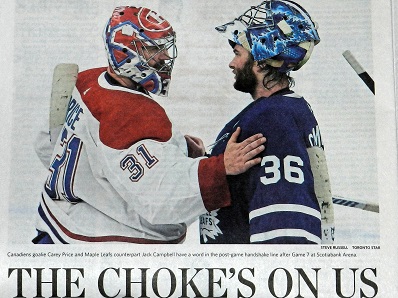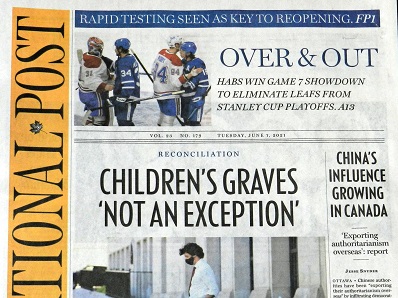 EMAIL: HOWARDLBERGER@GMAIL.COM