TORONTO (July 21) — Do you think it's possible? That somewhere far down the line, a young fan of the Toronto Maple Leafs will tell his grandchild where he was upon learning the Seattle Kraken had claimed Jared McCann in the expansion draft. Could it endure as a JFK or Sep. 11 moment? The notion appears to be laughable, yet not quite as much when considering the hours and days utterly wasted by Maple Leaf supporters in the past two months fretting over which run–of–the–mill, inconsequential performer would land in the great northwest.
Now that we've been thunderstruck by the answer, perhaps it's time to get a grip and remember the central issue confronting the Blue and White: that nothing of import can change with the hockey club so long as Brendan Shanahan and Kyle Dubas insist on retaining the five–man nucleus of John Tavares, Auston Matthews, Mitch Marner, William Nylander and Morgan Rielly. Which consumes $45,505,616 (or 55.8%) of the flat $81.5 million salary cap. Given such arithmetic, it wouldn't matter if Jared McCann or Jared Kushner were skating on the third line. Now that Alex Kerfoot's $3.5 million ledger is still part of the equation, Dubas has all of $9,355,217 with which to round out the club. Spread over six players: most critically, a goaltender that can effectively team with Jack Campbell. It's incredible to think that four middling components of the roster can dictate terms of a trade. All of Wayne Simmonds, Jake Muzzin, T.J. Brodie and Justin Holl — none of them stars; none difference makers — were garnished limited no–trade clauses, allowing them each to block 10 of 31 destinations for a potential swap.
As if the Leafs weren't hobbled enough by the contracts awarded Tavares, Matthews and Marner.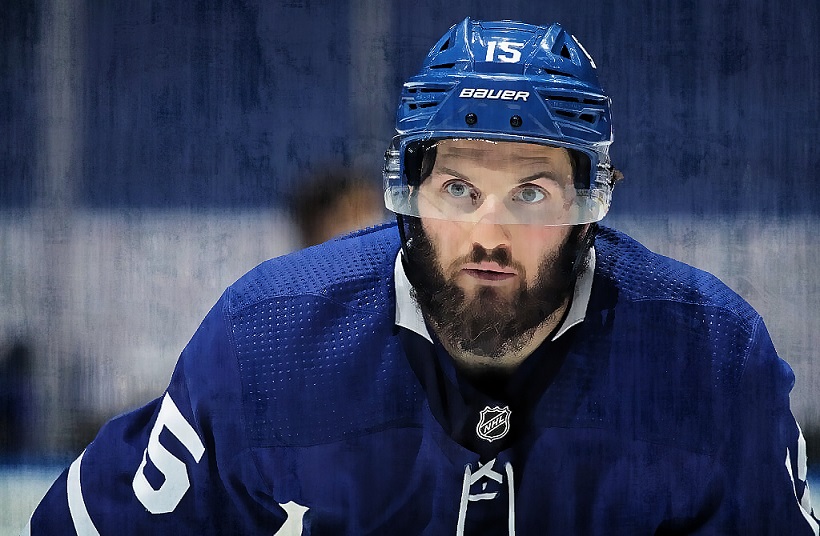 WERE IT NOT FOR A $3.5–MILLION CAP HIT, THERE'D BE NO ISSUE WITH THE LEAFS RETAINING ALEX KERFOOT. THE INDUSTRIOUS, HARD–WORKING FORWARD IS THE LEAST OF THE CLUB'S PROBLEMS… ON THE ICE. GETTY IMAGES/NHL
So, what's next for the perennial playoff underachiever? As mentioned, virtually nothing if management is married to the Big 5. Moreover, it was fascinating to hear former Leaf Ed Olczyk, now one of the top TV analysts south of the border, answer a question on TSN–1050's Overdrive segment Tuesday evening. While chatting with Bryan Hayes and Gord Miller, Eddie O was questioned about his biggest concern involving the Maple Leafs. I expected the usual reply: a congestion of cap space at the top of the line–up. Instead, Olczyk said, "man, no matter how talented the Leafs are, they won't go anywhere without a goalie. The guy they have now (Campbell) put up some good numbers last season but I see him as a glorified back up. Until the Leafs acquire a legitimate No. 1 between the pipes, they will spin their wheels. I know that John Gibson in Anaheim is available. Would he become a viable option? Toronto needs a stud in goal." Though it wasn't a shocking reply, Olczyk brought to light an area in which most observers contend the Leafs are solid. There isn't much Smilin' Jack could have done to improve on his wonderful math from last season: 17–3–2 in 22 starts; a 2.15 goals–against average and .921 save percentage.
Yet, such a noted observer as Olczyk considers goaltending the No. 1 issue. And, there remains eternal speculation of a trade involving either Arizona and Darcy Kuemper or Columbus and Joonas Korpisalo. Neither of whom can be acquired without the Maple Leafs unloading one of their big five contracts (Tavares, of course, is locked in for another four years with a full no–movement pact). Even more–so with respect to the Ducks' Gibson, still just 28, but with six years remaining on a contract that carries a $6.4 million cap hit. Which is the bulk of what the Leafs possess right now under the salary ceiling. Something has to give in order for the team emerge from its playoff quagmire. If not, then it's simply a matter of crossing fingers that Matthews, Marner and Co. can shake off five years of malaise and figure it out after mid–April. Which can hardly be a comfort to fans of the Blue and White.
Another, all–consuming question, hardly novel, is whether the Leafs are large and nasty enough to survive four rounds of Stanley Cup toil. Anyone that watched Tampa Bay, Vegas, the Islanders and even surprising Montreal in the 2021 post season would have difficulty envisioning the Leafs holding up, physically, over two grueling months.
The club is about to lose one of its few warriors, Zach Hyman, to Edmonton as a free agent.
Yet, there is no indication that management will seek profound change. Not yet, anyway.
ISSUES — BACK IN THE DAY…
Reflecting on 37 summers ago… 1984. And an intriguing cover to THE HOCKEY NEWS.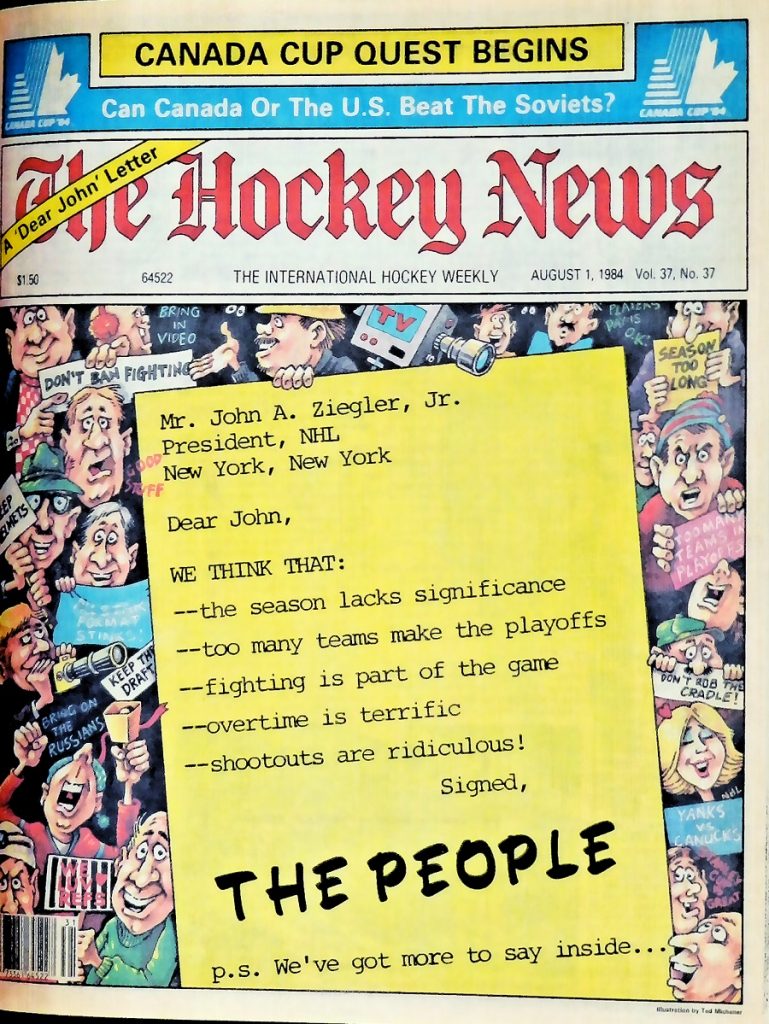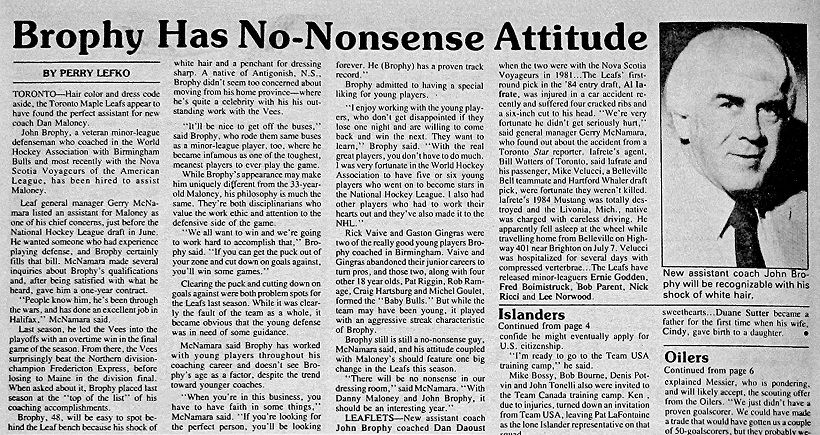 Yes, the White Ghost had broken into the NHL as assistant to Leafs coach Dan Maloney. By 1986–97, John Brophy would replace Maloney. Though quite a character, his coaching tenure in Toronto was inglorious.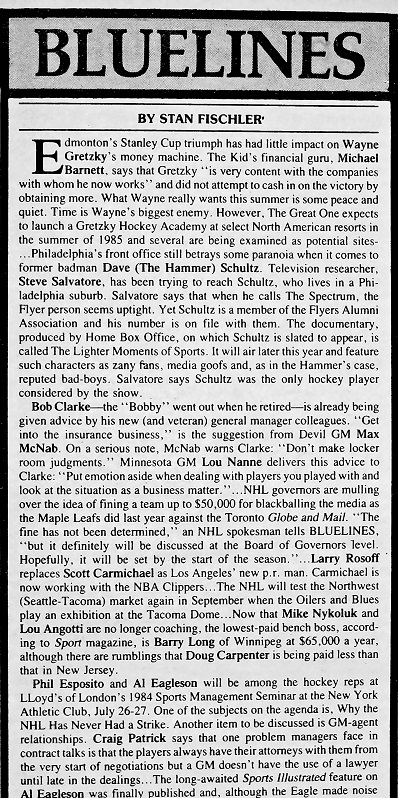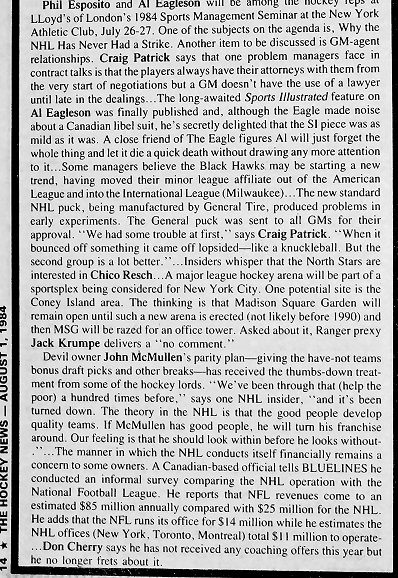 The Maven (also known as Stan Fischler) provided the gossip of the day (above and below).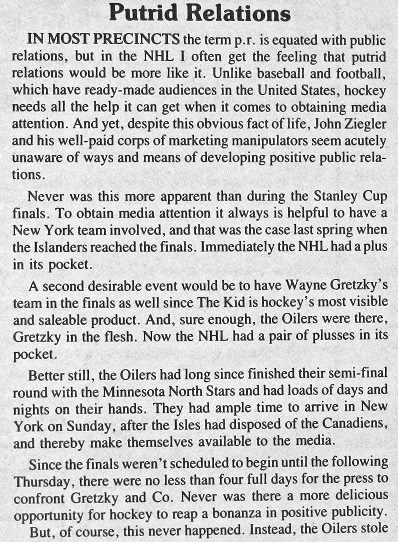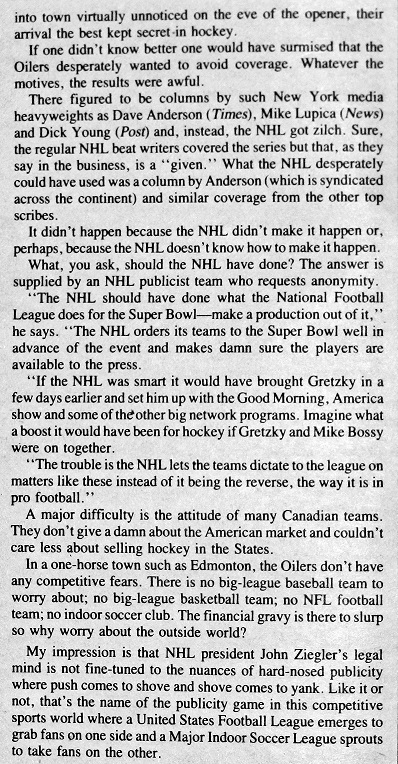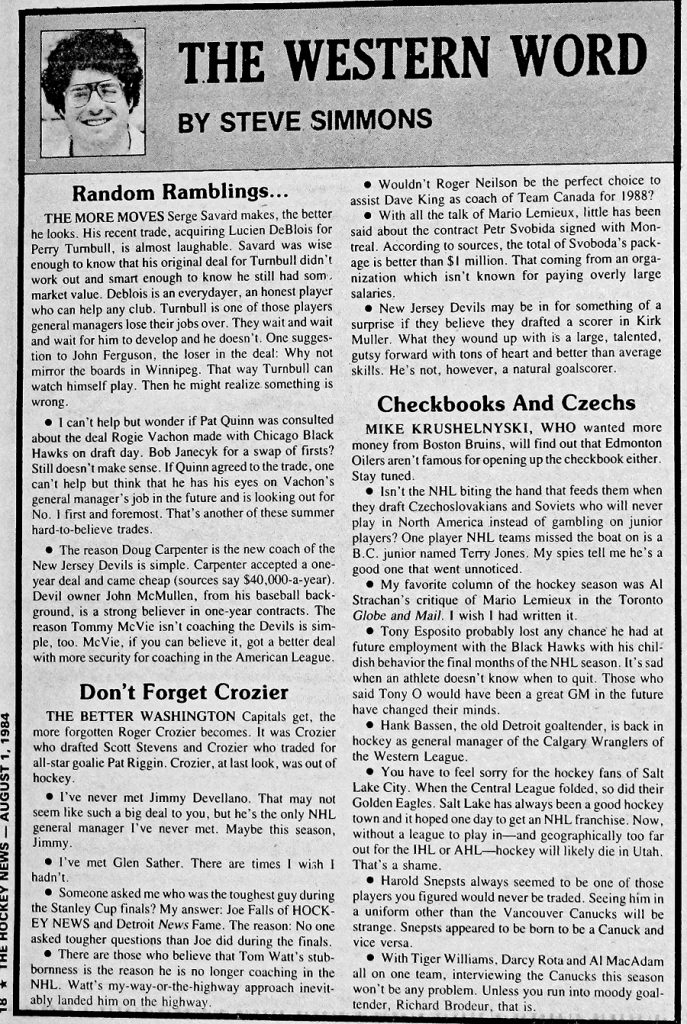 And, there was a young Steve Simmons, working and writing out of Calgary.
EMAIL: HOWARDLBERGER@GMAIL.COM