TORONTO (July 28) — Given the myriad issues surrounding the Maple Leafs with their discretional cap burden, general manager Kyle Dubas did well to fill a large hole when he signed free agent Petr Mrazek to a three–year contract. If Mrazek is fully recovered from surgery on his right thumb, he'll form a dependable goaltending tandem with incumbent Jack Campbell, enabling coach Sheldon Keefe to share the load over a full, 82–game schedule.
In the post–lockout era of the National Hockey League, beginning in 2005–06, the Leafs have been unable to win a playoff round while deploying an indisputable No. 1 stopper — be it Ed Belfour, Andrew Raycroft, Vesa Toskala, Jonathan Bernier or Frederik Andersen. Neither has the club prevailed when splitting chores between such goalies as James Reimer, Jonas Gustavsson and Jean–Sebastien Giguere (2010–11); Gustavsson and Reimer (2011–12); Reimer and Ben Scrivens ( 2012–13) or Bernier and Reimer (2015–16). Campbell and Mrazek could be the club's best tandem since rookie Felix Potvin and veteran Grant Fuhr shared 77 appearances in 1992–93.
Two other vacancies must be properly filled before the Leafs can pose a Stanley Cup challenge: most–glaringly, a Norris Trophy candidate… and a physical left winger that can create time and space for the club's most–gifted forwards, Mitch Marner and Auston Matthews. Toronto has been devoid of the former since the late–1970's and could not retain the latter within its cap barrier, losing Zach Hyman to the Edmonton Oilers as an unrestricted free agent. Barring a surprise, newly acquired Michael Bunting (UFA from Arizona) will not fill Hyman's skates. Also up front, the Maple Leafs added a fourth–line center/winger in David Kampf (career–best eight goals in 2019–20) from the Chicago Blackhawks. Then, spare parts Kurtis Gabriel (Ottawa) and Mike Amadio (San Jose).
Veteran blue–liner Zach Bogosian signed as a free agent with the two–time Stanley Cup–champion Tampa Bay Lightning. And, while I am not among the multitudes that felt Bogosian was a defensive rock for the club last season, it created another opening. Dubas promptly filled with 33–year–old Alex Biega, from Detroit.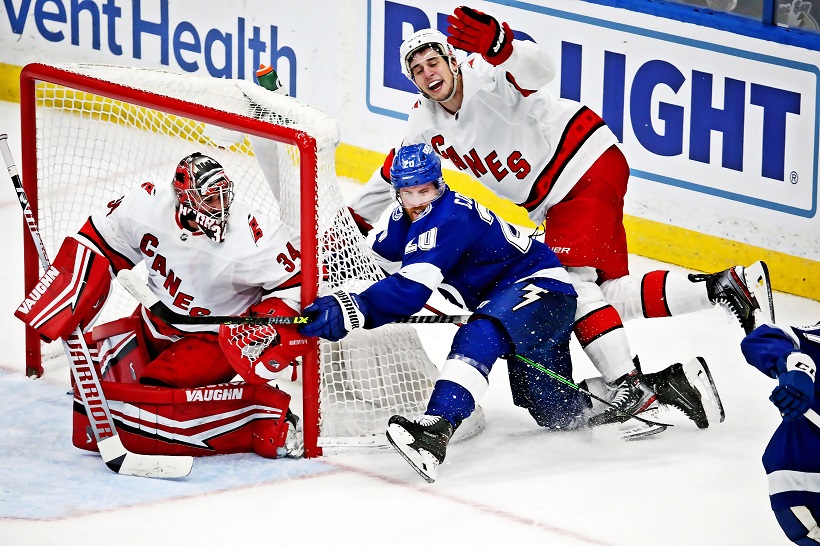 THE LEAFS ARE DEEPER IN GOAL WITH PETR MRAZEK, WHO DEFEATED THE LIGHTNING, ON THE ROAD, IN GAME 3 OF THE OPENING PLAYOFF ROUND THIS YEAR. DOUGLAS R. CLIFFORD TAMPA BAY TIMES
So, at the moment, and as widely anticipated, the Leafs are marginally weaker than during the pandemic–shortened schedule, in which they romped through the all–Canadian North Division before coughing up a 3–1 series lead against Montreal in the opening round of the playoffs. Having filled all 23 roster spots, Dubas is left with a mere $855,217 of space under the flat, $81.5 million cap. Four forwards will earn the NHL minimum salary ($750,000): Gabriel, Amadio, Adam Brooks and Jason Spezza. Five others come in at less than $2 million: Kampf, Bunting, Ilya Mikheyev, Pierre Engvall and Wayne Simmonds. Biega will also earn the NHL minimum on the back end. Players in that salary bracket are not generally relied upon for much. Which only emphasizes, yet again, the Leafs will rise or fall in the regular season on the performance of their $40 million men: Marner, Matthews, John Tavares and William Nylander. To this point, Dubas is either loathe, or unable, to alter the expensive nucleus.
Mrazek, as mentioned, was a prudent addition, though he and Campbell have only moderate playoff experience. In a half–dozen Stanley Cup tournaments since 2014–15 with Detroit, Philadelphia and Carolina, the 29–year–old Czech native appeared in 29 games, winning 12, while posting a decent 2.43/.911 split in goals–against average and save percentage. After four starts last season with the Hurricanes, Mrazek led the NHL in both categories (0.99/.955), but injured his right thumb in a home game against Dallas on Jan. 30. Given surgery, he did not return until Apr. 4, also at home to the Stars, and posted a shutout. He won four of nine late–season starts; then split his two appearances against Tampa Bay in the first round of the playoffs. In his nine–season NHL career, Mrazek has made 250 regular–season starts with a 128–96–31 record; a 2.59 GAA and .911 SV%. Certainly not Hall of Fame numbers, but efficient enough to share the netminding task with Campbell in 2021–22. Mrazek's best season was 2015–16, when he won 27 games with Detroit. The Leafs control him for three years at a cap hit of $3.8 million.
Campbell has one year left on his pact at an economical $1.65 million.
50 YEARS AGO TONIGHT at C.N.E. Stadium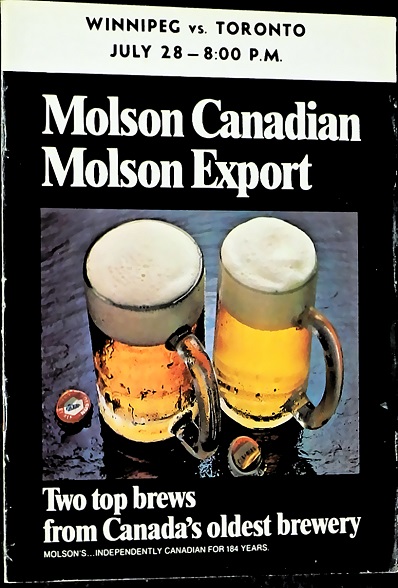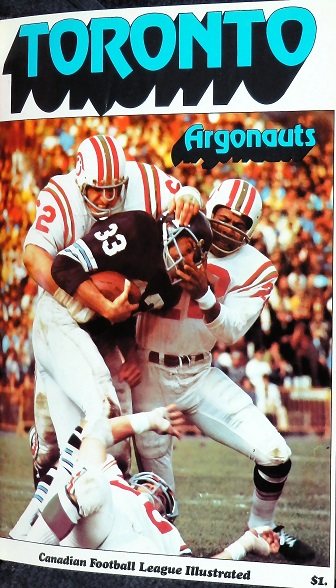 A vivid, personal memory. Even half–a–century later. It was on this date in 1971 that the Toronto Argonauts opened their regular schedule at home by edging the Winnipeg Blue Bombers, 21–20, at CNE Stadium. My father had purchased season tickets in Sec. 12 of the uncovered, south bleacher, adjacent to the west goal–line. Being at overnight camp in Haliburton, Ont., I wasn't available to attend the home exhibition games against Montreal and B.C. So, this was the first time I went with Dad in our seats. Above, is the cover of the Argonauts 1971 album (right) and program–insert sold 50 years ago tonight. The old CNE yard, with a seating capacity of 33,135, was renovated after the 1974 Canadian Football League season. The south bleacher was demolished to make room for the giant, horseshoe–shaped stand that framed first and third base for the arrival, in 1977, of the Toronto Blue Jays. The sightlines for football were badly diminished.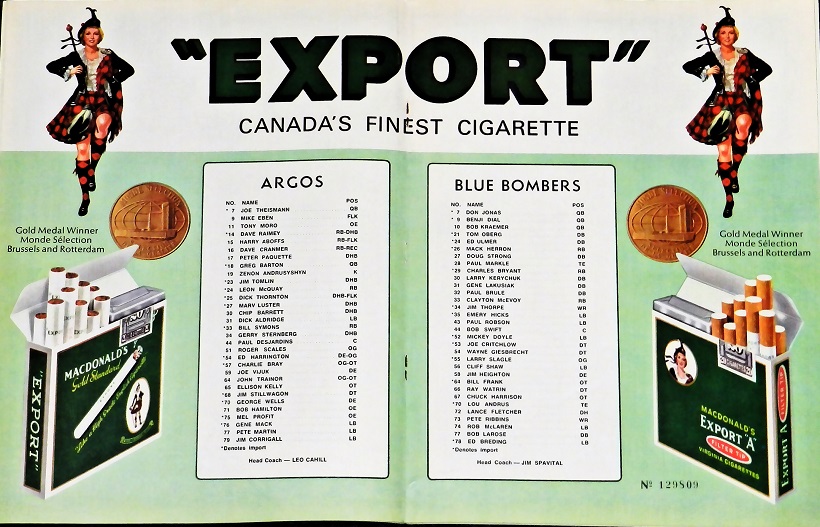 The Argos had a number of impressive rookies in the line–up to start 1971 (center–spread, above; close–up, below), including quarterback Joe Theismann (7), kicker Zenon Andrusyshyn (19), running back Leon McQuay (24), defensive tackle Jim Stillwagon (68), defensive end George Wells (70) and linebacker Gene Mack (76). Several ex–Argos had been traded to Winnipeg: quarterback Don Jonas (7), tight end Paul Markle (28), wide receiver Jim Thorpe (34), center Bob Swift (44) and offensive tackle Bill Frank (64). Jonas, who played here in 1970, would win the 1971 Schenley Award as the CFL's most valuable player, beating out McQuay.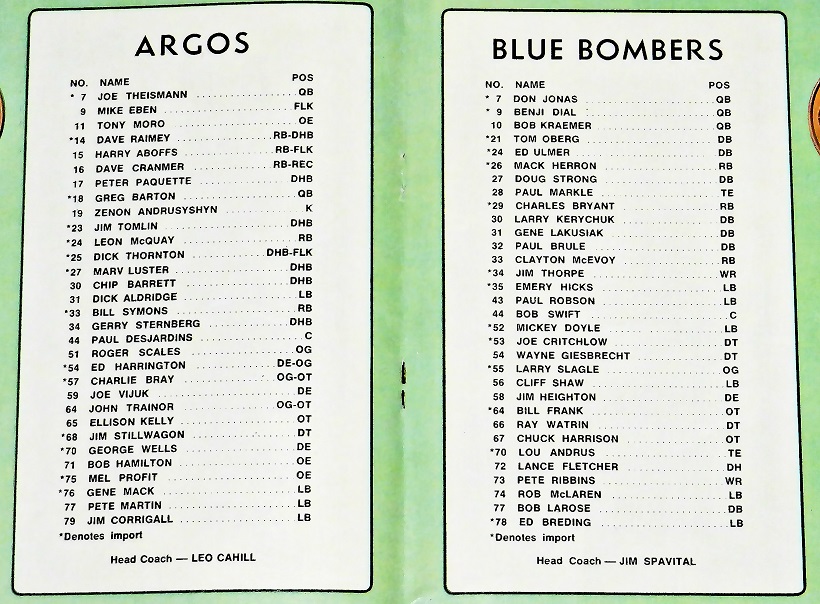 EMAIL: HOWARDLBERGER@GMAIL.COM