TORONTO (July 15) — After all the ancient heroes that have come to "die" with the Toronto Maple Leafs at the end of their careers, a local blueblood — still in his prime — will need to play elsewhere next season.
The mortal coincidence of Zach Hyman is another blight on this city's National Hockey League ledger. For once, the Maple Leafs have a proud, homegrown warrior that sacrifices body and soul each night… and they can't afford to keep him. Priced out of town by the managerial missteps that shackle a playoff also–ran, Hyman has been given permission to peddle his services around the NHL prior to becoming an unrestricted free agent at the end of this month. It's a move that neither party desires, nor controls. The Maple Leafs are devoid of the salary cap wherewithal to retain Hyman, and the player, at 29 years of age, needs to maximize an opportunity richly earned on behalf of the team. It's a classic lose–lose situation… even if Hyman enters into a profitable arrangement and grows to enjoy his future destination; even if the bedeviled hockey club ultimately compensates for his departure.
Simply put: this shouldn't have happened.
It's a byproduct of all that hinders the Blue and White: the overcompensation of four players that have yet to prove distinctive in the clutch. Particularly Mitch Marner and Auston Matthews, who gobble up nearly $22 million of the payroll limit, and may be viewed in a different light today with a bit more "Hyman" in them. As cornerstones of a prolific, fun–to–watch team in the regular season, they have withered over half–a–decade in the Stanley Cup spotlight — Matthews performing energetically, yet without his finishing touch; Marner mired in a statistical gorge to boggle the mind; displaying none of the creativity that precedes the championship chase. Now, they will move forward without the industrious line–mate whose penchant for barreling into the attacking zone creates so much of their time and space. Hyman is not a superstar, but he's meshed so intrinsically with Marner and Matthews. Mike Babcock and Sheldon Keefe both experimented with alternate left–wingers, but always came back to Hyman. It's now up to general manager Kyle Dubas to unearth someone more cap–friendly and economical, but with the same work–ethic; the same three–man coordination, and an ability to contribute 20 goals per season. Good luck.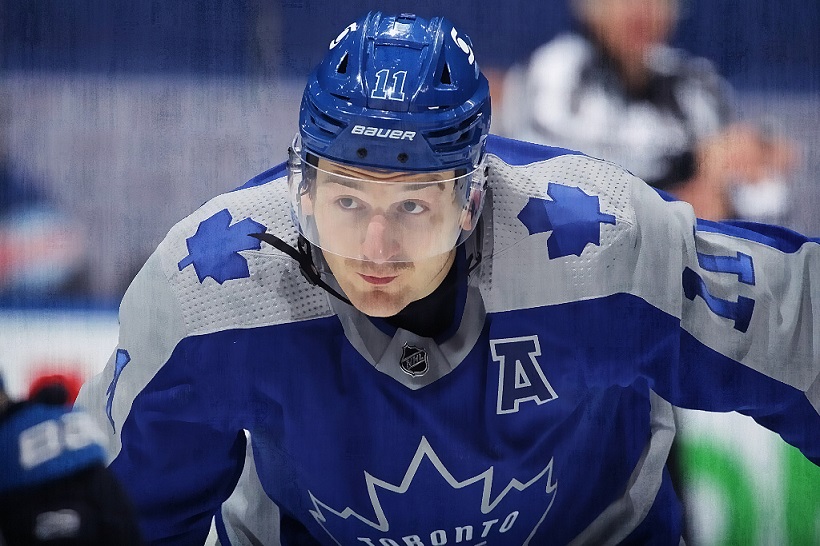 Hyman also brought intangibles… to the city and the team.
Toronto has a large and august Jewish community, of which he's a proud member, that numbers close to 200,000. Others of Jewish descent have played for the Maple Leafs — most–notably, Alex (Mine Boy) Levinsky, a key figure with the 1932 Stanley Cup champion (his nickname a product of his father, from the old country, sitting in Maple Leaf Gardens and shouting "that's mine boy!"). Also, in alphabetical order, Mike Brown (right wing, 2010–11); Peter Ing (goalie, 1988–91); Brendan Leipsic (left wing, 2015–16); Mathieu Schneider (defense, 1995–98) and Trevor Smith (center, 2013–15). Hyman has distinguished himself by speaking eloquently on social issues.
After the mournful asphyxiation murder of black resident George Floyd last summer in Minneapolis, Hyman told the Toronto Sun: "I don't know what it feels like to be judged based on color, but I do know what it feels like to be judged based on religion. I am Jewish and have experienced anti-Semitism, so I can empathize. For me, it's pretty clear that racism and any type of judgment on religion or gender is not tolerant. In hockey, especially in today's world, we are trying to make equality and inclusivity more of a possibility. I got married (last year), my wife (Alannah) and I are planning to have kids. You want your kids to grow up in a better world than in which you grew up.
"We need to work together toward that goal."
"Zachary" Hyman has also authored several children's books, including HOCKEY HERO, THE BAMBINO AND ME, and THE MAGICIAN'S SECRET. "I didn't really expect much from writing," Hyman told NHL.com in 2016. "I wasn't trying to go out there and be an author. But it's a big passion of mine and I just really, really enjoyed it, so once everything came together it was a no-brainer for me that I wanted to keep pursuing writing."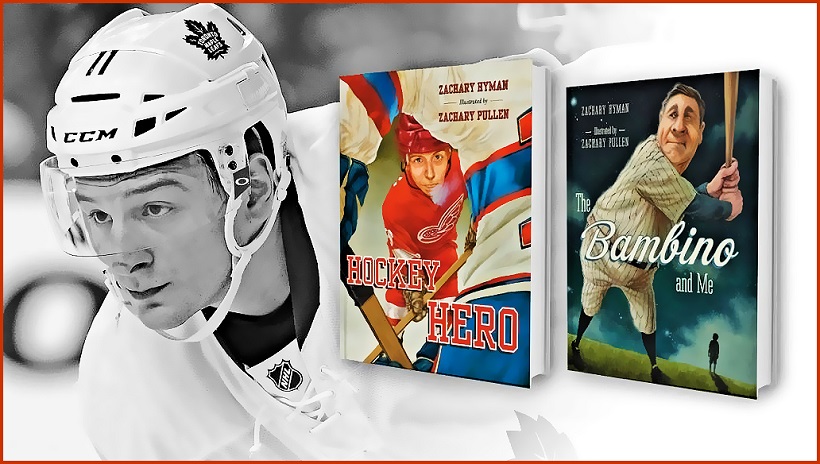 It is on the ice, however, where Hyman will be tangibly missed. Some Leaf fans, as is custom, have begun rationalizing that a player nearing 30 and with knee issues is not worthy of likely doubling his $2.5 million salary.
Toronto hockey zealots are always willing to ease their pain, one way or another.
Then there was this scholarly remark on a chat forum: "I can't believe that a guy who already comes from one of the wealthiest families in Toronto, and has made more than $10 million during his career, wants to go elsewhere for a few extra million, instead of taking a [home–town] discount and playing for his childhood team."
Also: "This club can't afford to overpay support players."
Nothing about overpaying superstars who perform like support players when the stakes increase.
In the end, it's just sad. And kind of typical.
EMAIL: HOWARDLBERGER@GMAIL.COM