TORONTO (July 5) — This is the most important blog I've ever written.
It's the story of a man named John. Not just any John, but a 57–year–old man of such remarkable character, courage and spirituality that I can barely imagine living to his standard. He may, in fact, be the most–extraordinary and influential person I've ever met. Mainly because dying of cancer has withdrawn the absolute best from him. Somehow, he is spreading cheer among his family and friends at a time of irreconcilable sadness. Resting comfortably at a hospice in Port Perry, he's been told that the end of life is near. In John's word, he's "terminal" — which, of course, all of us are, from the moment of birth. Yet, no one can give him a specific prognosis or time–frame.
"The doctors don't know if I'll be here for two days, two weeks, two months or another year," he said, strong–of–voice, over the phone today. "But, they all agree my cancer can no longer be treated. The hospice is taking great care of me. I feel perfectly well, except for some [muscle] tightness in my chest, from previous surgery. At this point, it's quality over quantity. As long as I feel well, let's keep this train going. Hopefully, I'll die peacefully some night in my sleep."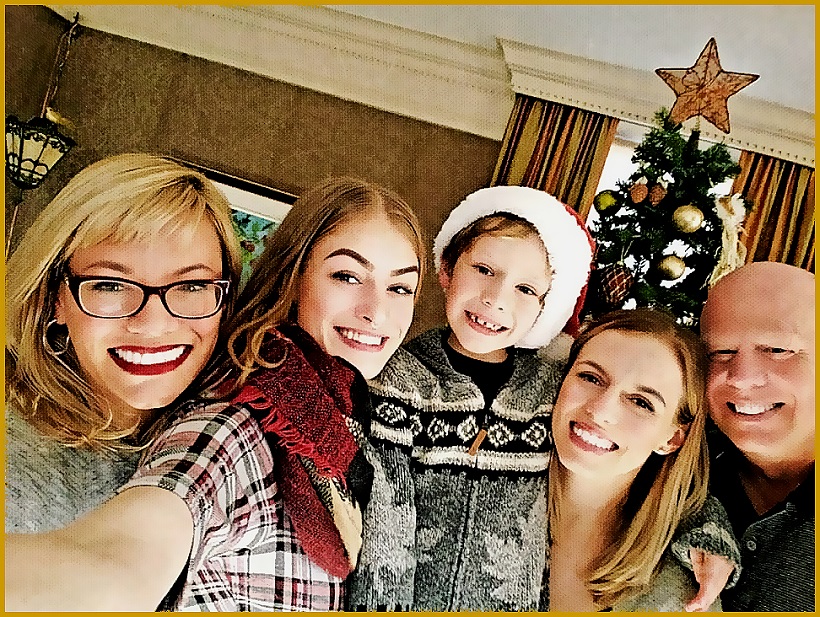 FOR MY PAL, JOHN (FAR–RIGHT), LIFE IS ALL ABOUT FAMILY. AS IT SHOULD BE.
I became acquainted with John Brown in 2015, when electing to freshen up and redesign this website. I had messaged about that desire on social media and John was among the first to make contact. His company, Insiteful Solutions, located northeast of Toronto, in Markham, had worked with Tie Domi, the former Leafs player, on a website design. John is a big Leafs fan and somehow managed to stay awake during all the years I blathered on radio. Within two minutes of meeting him, there was no reason to look elsewhere. His big, friendly smile — a proverbial light–up–the–room type — and his passion for hockey immediately grabbed me. At the risk of sounding soapy, he was the lifelong friend I hadn't met; his acquaintance so easy and charming. Given our family and work lives, we remained more distant than close pals. But, John was always available when I had a question or concern about BETWEEN THE POSTS. Rarely had I come across a person, in business, so reliable and conscientious.
In October 2016, John noticed a "chick–pea" on the outside of his right thigh. It began to grow and he obtained an ambiguous medical opinion. "They said I could have it removed or keep an eye on it," John recalled. "I chose the former and was told I had osteosarcoma, the same type of cancer as Terry Fox. I underwent radiation and felt perfectly well for nearly three years. In August 2019, I went for a routine follow–up and they found a spot on my right lung. Which was kind of shocking because I had no symptoms whatsoever. I was playing baseball (in the Markham Men's League) and feeling great. But, I needed surgery and they removed 33 percent of the lung. After more radiation, I was doing fine… until last August, when the cancer spread to my brain. So, it was more surgery and more radiation. Then, recently, the doctors found three more spots — on my chest wall, my Adrenal gland and my clavicle. It was then determined that I make the best of the situation and ride it out. There was no use putting me through more treatment. Sarcoma is stubborn as hell. It just keeps returning. So, that's where I am today."
Though John is human and does get emotional, he speaks about his cancer as one would an automobile tune–up.
"Hey, it is what it is. You deal with it, accept it, and move forward. I'm able to confront this situation because I have a remarkable family and a large circle of supportive friends. They make it meaningful to live, even in my condition. When I wake up each morning, I feel the same as the day before… knock on my wooden head. They tell me I'm dying but there's no steady regression. Not yet, anyway. The hardest part, obviously, is the disappointment of knowing I won't be around my family much longer. I'm married to Jessica — my rock; a great woman. I have three children that keep me going. My daughter Kelly will follow me [at Insiteful Solutions]. She'll be fabulous at the job. My other daughter, Erin, just got married. We've talked openly about my situation. They've helped me get my affairs in order. Nothing has been left unsaid. I also have a nine–year–old son named Bentley. He's my man.
"I could not receive better support and love from my family. It's the reason why I make the best of every day."
In this manner, John reminds me of my late mother, Sandee, who stared down cancer at the same age a quarter century ago. With an astonishing ability to hold together those in her immediate circle. Myself among them.
On June 22, John alerted a large Facebook following of his deteriorating status: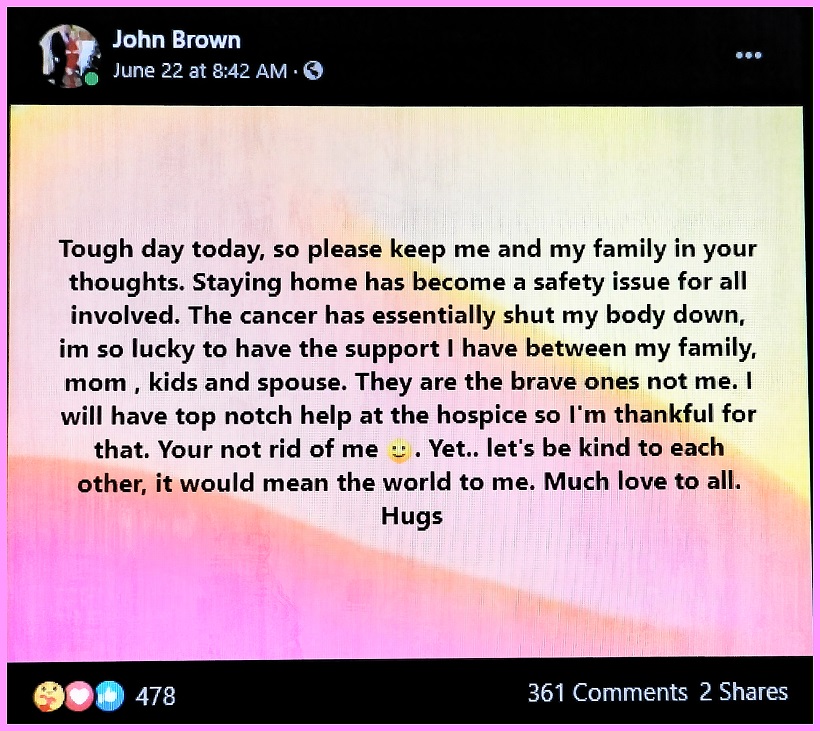 As you can see, he was inundated with well wishes — from close friends and acquaintances from a distant past. His reply was typical John: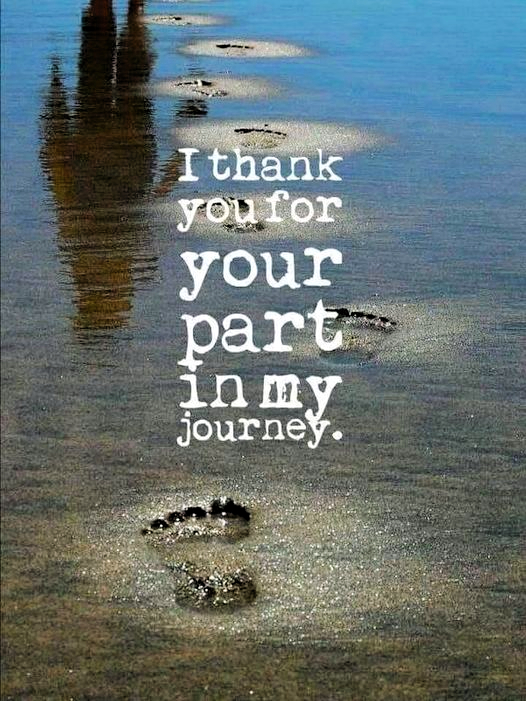 Happy Friday, you beautiful people. Overwhelmed, appreciative and loved. I could go on and on. I'm tired of seeing stuff about me, LOL. How about we hop into the weekend with your profile pics of your favorite things? You, your family, kids, animals, place, food, it would thrill me to see it. This is the beautiful side of social media. Let's all stay positive and move us forward. I love you all, xo
From the hospice, other inspiring Facebook messages followed: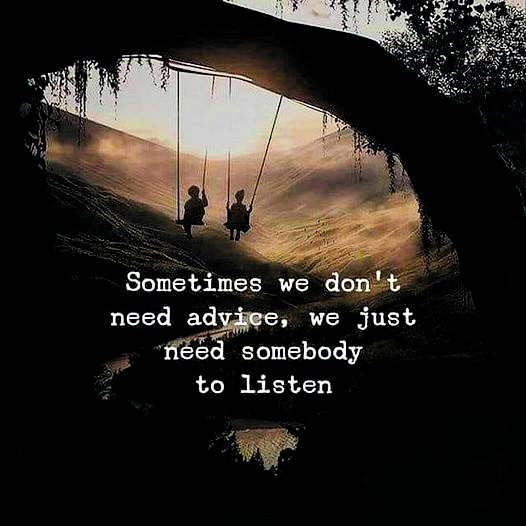 Always available to listen. Let's finish June strong. We all got this. Hugs.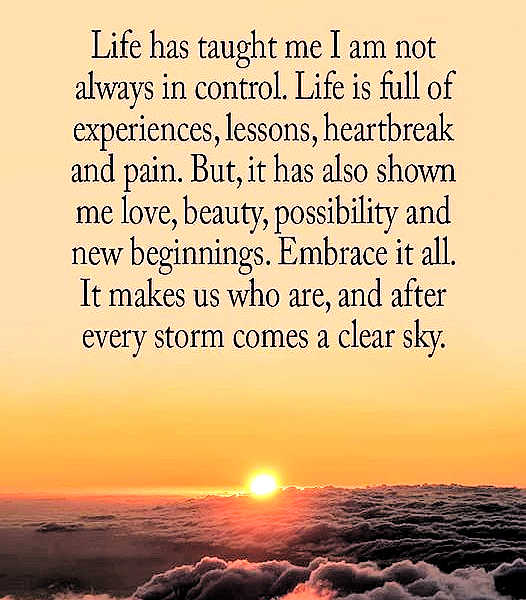 I wish you all nothing but clear skies. I learn more about myself every day and how to make the best of it all. Please be happy. We all deserve that. Happy Canada day. The past few weeks have shown Canada has skeletons but let's honor the children in our own way and heal.
Much love to all. Be safe today.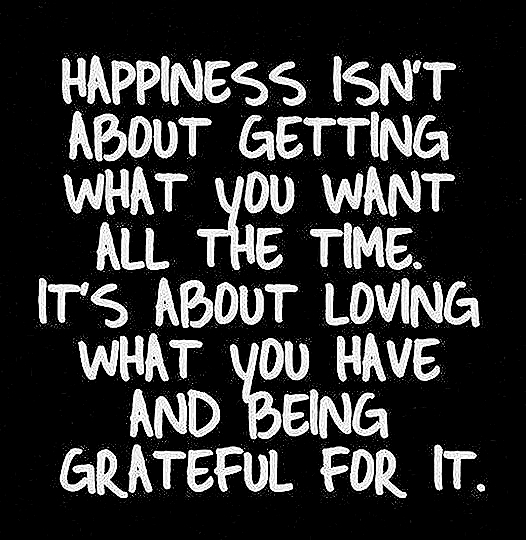 And I will not give up spreading happiness and smiles. My condition isn't fun but I've had unbelievable support and I'll do my best to return it. We all need happiness. Xx
"Hey, it's nothing special," John said today about being special. "Life is about smiling wide, spreading cheer and giving hugs. That's the way I lived before I got sick and the way I'll continue to live until my final breath. I can barely put into words the support and love I've felt during this journey. Yes, there are moments when I feel sad. I do get emotional (John began to cry as he spoke these words). But, I don't feel sorry for myself. There's no pity party here. People become ill every day. So, it isn't 'why me', but 'why not me?' I've accepted my fate, tough as it is. Now, it's about enjoying every minute I have left. There's nothing else I'd consider doing."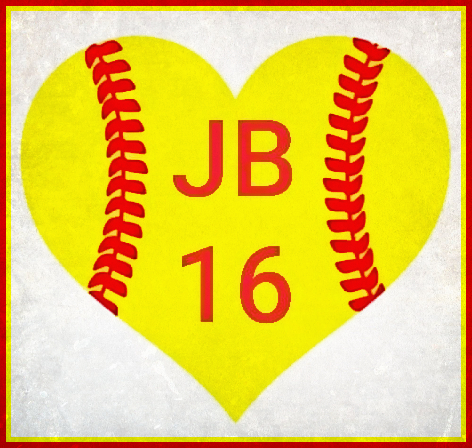 A logo created by John's baseball friends. With his jersey number.
LEAFS/NHL MEMORABILIA
To honor my years knowing John Brown, what better to follow his story than with items from my hockey collection? For you, J.B. Keep smilin'.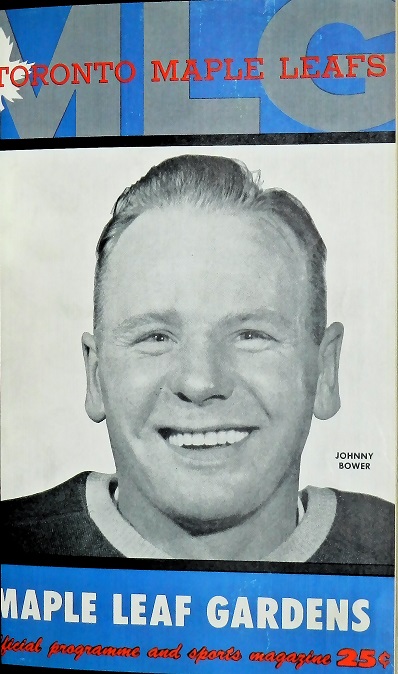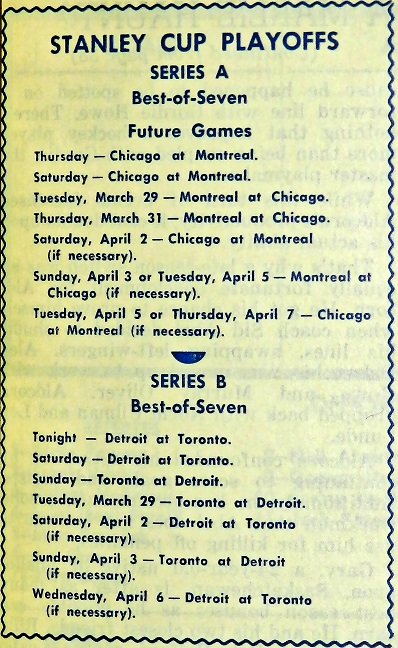 The cover of this program from Maple Leaf Gardens, more than 61 years ago, featured another John that people were instantly and eternally drawn toward. Johnny Bower, the China Wall, would help backstop the Maple Leafs to all four Stanley Cup titles under Punch Imlach in the 1960's. The 1959–60 National Hockey League season was Imlach's first full term behind the Toronto bench. The Leafs finished a strong second to Montreal in the six–team standings with 79 points — 13 fewer than the Canadiens and 10 more than third–place Chicago. Two points in back of the Black Hawks sat fourth–place Detroit, the Leafs' opponent in the best–of–seven semifinals. The series opened on this night (Mar. 23) at the Gardens and the Leafs were rather ordinary. The Red Wings skated off with a 2–1 triumph on first–period goals by Gordie Howe and Len Haley. Defenseman Carl Brewer scored Toronto's only goal with just 3:56 left in regulation time, ruining the shutout bid of future Leafs netminder Terry Sawchuk.
But, Sawchuk had an easy night, facing only 19 shots; Bower stopped 28 of 30 shots at the other end.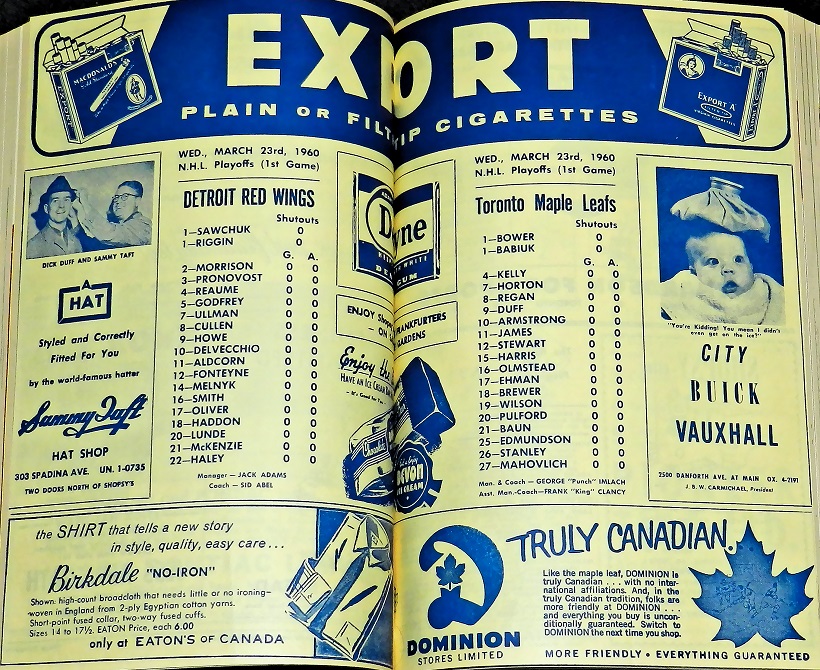 The Leafs drew even with a 4–2 victory in Game 2 at the Gardens. Games 3 and 4, at the old Detroit Olympia, both went to overtime. The first was a marathon: Frank Mahovlich beating Sawchuk at 3:00 of the third extra period for a 5–4 triumph. Detroit outshot the Leafs, 66–52. The Red Wings avenged the loss, two nights later, when Gerry Melnyk beat Bower, on the powerplay, at 1:54 of overtime. Referee Vern Buffey had called Ron Stewart for hooking just eight seconds after dropping the puck. One can imagine the steam emanating from Imlach, as the Maple Leafs were assessed 18 of the 20 penalty minutes handed out by Buffey. Though the series was tied, the better team emerged in Games 5 and 6 (on consecutive weekend nights, Apr. 2–3, 1960). First came a 5–4 Toronto win at the Gardens — slow–footed defenseman Allan Stanley, of all players, leading the way with two goals. The Leafs eliminated the Red Wings in Game 6 at the Olympia with unanswered goals in the third period by Bob Pulford, Mahovlich and Dick Duff. Future Leafs Murray Oliver and Norm Ullman scored for Detroit.
Battling the Red Wings clearly took the starch out of Imlach's crew. Montreal swept the Maple Leafs in four straight in the final round to win a record fifth consecutive Stanley Cup under Toe Blake, outscoring Toronto, 15–5.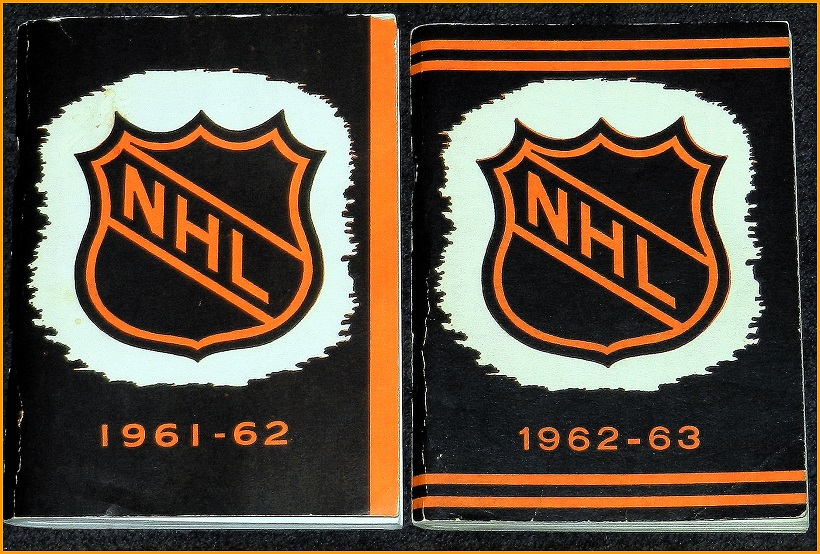 MY TWO OLDEST NHL GUIDES. TORONTO WON THE STANLEY CUP BOTH SEASONS.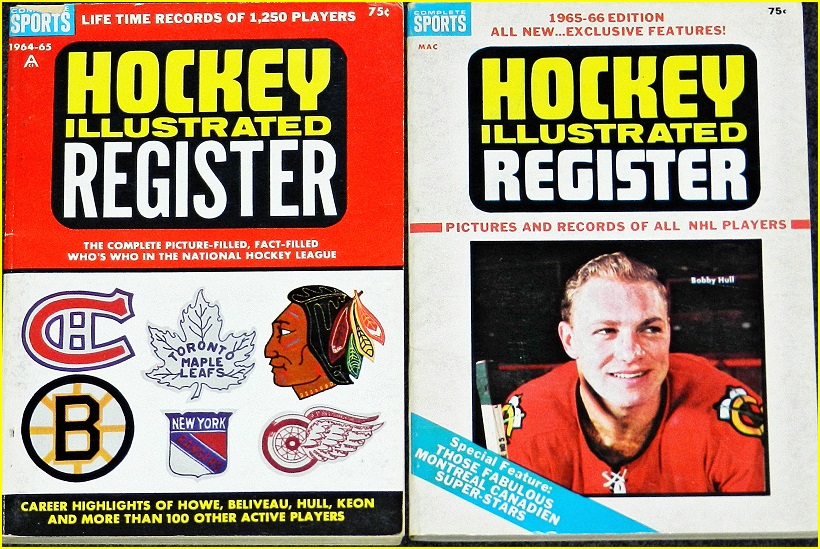 NHL POCKET–BOOK PLAYER REGISTERS PUBLISHED BY HOCKEY ILLUSTRATED MAGAZINE IN 1964–65 AND 1965–66. MONTREAL WON THE STANLEY CUP BOTH SEASONS.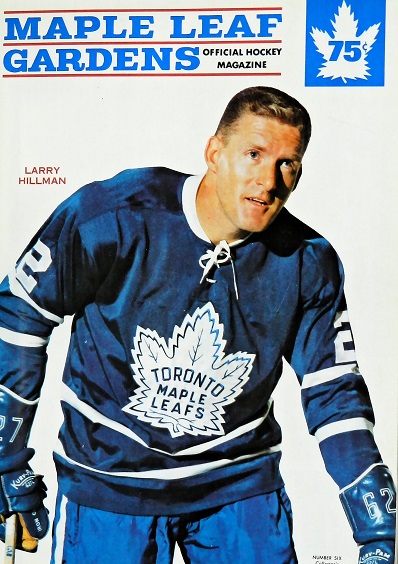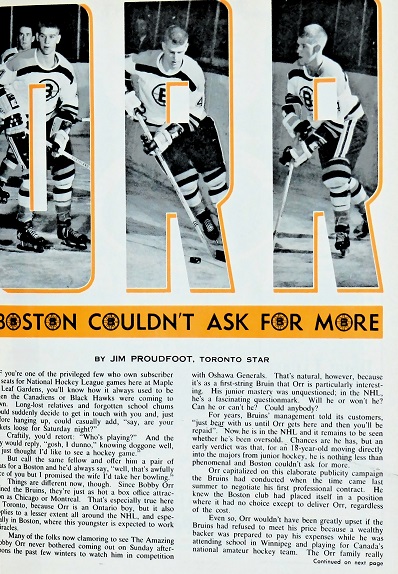 Though the Maple Leafs were a surprise winner of the Stanley Cup in 1966–67, this game (Nov. 19) proved a harbinger as Toronto pounded Montreal, 5–1, at the Gardens. The Leafs had a "tiger in their tank" throughout the match (as per line–ups, below). Larry Jeffrey beat Gump Worsley late in the second period and the home side erupted for four goals in the third — two by Ron Ellis (one powerplay; one shorthanded) with singles from Jim Pappin and Red Kelly. Dave Balon of the Canadiens beat Terry Sawchuk in the final frame. Each goalie faced 31 shots. It was a fifth consecutive loss for the two–time champions, as Montreal fell to 4–6–1 after 11 games.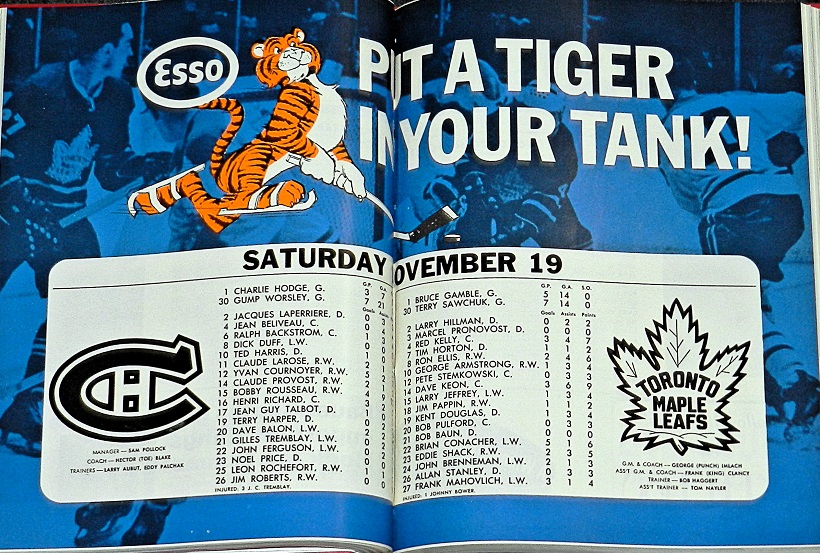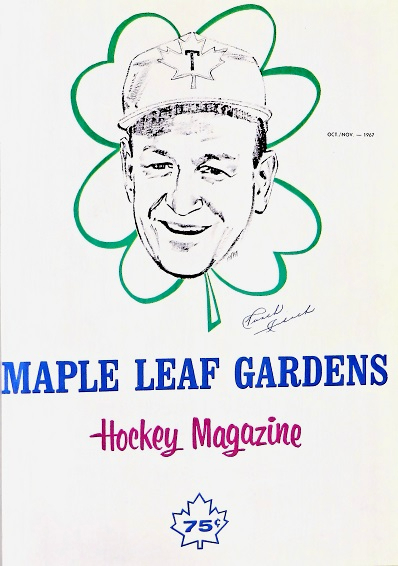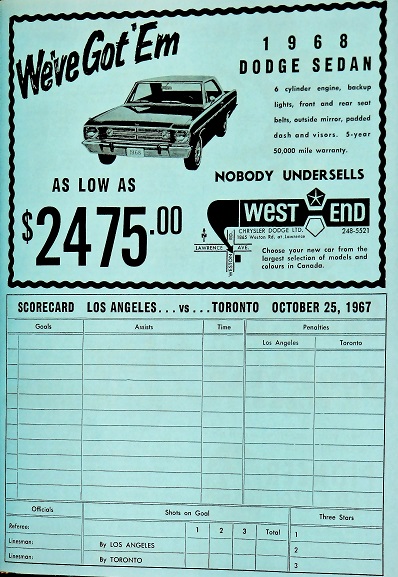 Toronto was the defending Cup champ in 1967–68, the year the NHL doubled to 12 teams. And, the first expansion opponent for the Leafs was the Los Angeles Kings (line–ups, below), wearing gold jerseys and socks with purple pants, on the final Wednesday of October. The Kings were coached by Red Kelly and backstopped by Terry Sawchuk, each of whom played for the Leafs in the 1967 Stanley Cup run. On this night, it was L.A. losing its first–ever game in the NHL after a 3–0–2 jump from the gate. Jim Pappin, Ron Ellis, Bob Pulford and Frank Mahovlich beat their former teammate in a 4–2 Toronto win. Bill Flett and Eddie Joyal scored on Leafs goalie Bruce Gamble. The visitors spent much time in the penalty box as referee Vern Buffey assessed L.A. 20 of 28 minutes.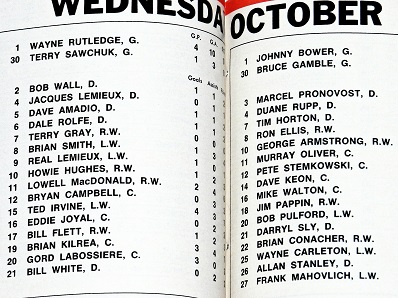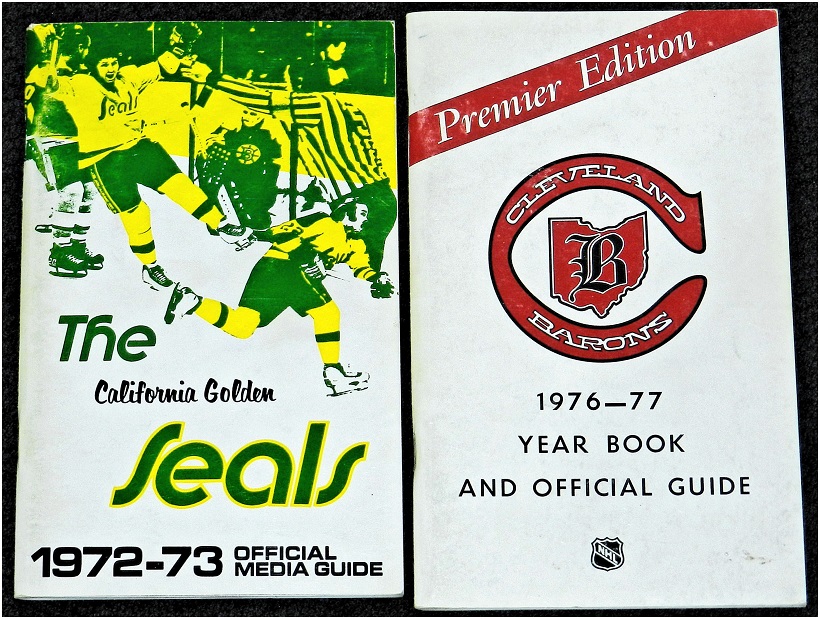 YES, THE NHL ONCE HAD TEAMS IN OAKLAND, CALIFORNIA AND RICHFIELD, OHIO. THE CALIFORNIA GOLDEN SEALS, PART OF THE SIX–CLUB EXPANSION IN 1967, MOVED EAST AND BECAME THE CLEVELAND BARONS IN 1976–77. THESE ARE MEDIA GUIDES FROM EACH LOCATION. AFTER TWO YEARS IN FRONT OF SPARSE CROWDS, THE BARONS MERGED THEIR ROSTER WITH THE MINNESOTA NORTH STARS.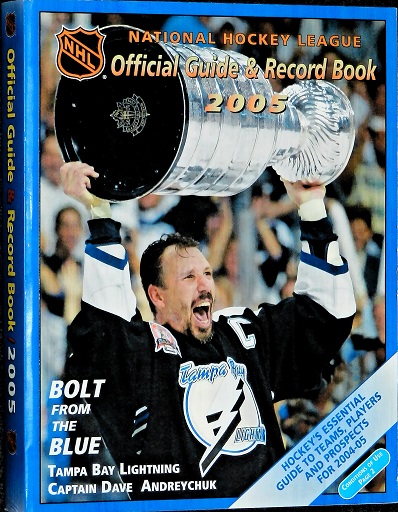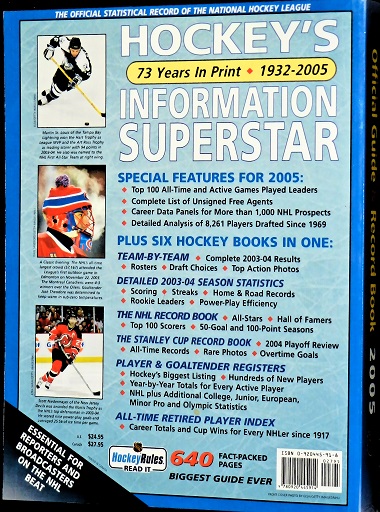 THE NHL CEASED PUBLICATION OF ITS OFFICIAL GUIIDE & RECORD BOOK AFTER THE 2017–18 SEASON; TODAY PROVIDING DIGITAL INFORMATION. THIS GUIDE (WITH DAVE ANDREYCHUK OF TAMPA BAY LIFTING THE 2004 STANLEY CUP) IS FROM THE SEASON THAT NEVER HAPPENED — 2004–05 — WHICH FELL, IN ITS ENTIRETY, TO AN OWNERS' LOCKOUT. IT REMAINS THE ONLY FULL SCHEDULE LOST TO LABOR DISCORD AMONG THE FOUR MAJOR NORTH AMERICAN PRO LEAGUES.
EMAIL: HOWARDLBERGER@GMAIL.COM