TORONTO (July 22) — Here's a question for my ol' friend, Steve Keough, director of media relations for the Toronto Maple Leafs: Why did general manager Kyle Dubas communicate with reporters earlier today? Would it not have been easier for you to dispatch a group email that said "refer to earlier transcript"? Yes, I know… it was the post–expansion draft; pre–losing Zach Hyman cordiality. And, appreciated, I'm sure, by everyone involved.
Even if young Kyle offered yet another banal assertion that he "believes in the group."
For the record, Q–Anon believes that Joe Biden is a raging pedophile. Yet, we mercifully haven't been treated to images of the United States president molesting a youngster. Words without evidence are white noise. In this case, blue and white noise. Kyle Dubas believes in the group he constructed because he has no other choice. It was his daring creation. You don't bring a date to a wedding and dance with the pretty girl at the next table. Not unless you want a black eye. To disassemble the nucleus, even if thoroughly advisable, would be a blunt admission of failure. Dubas probably recognizes there's no long–term relationship with Maple Leaf Sports and Entertainment. And that his gifted, yet soft and uninspired pack of 40–million–dollar men has displayed its true identity over five years of Stanley Cup ineptitude. He understands that trading Mitch Marner and nearly $11 million of cap space to an unsuspecting rival is a pipedream. He might even fathom that Auston Matthews, three summers from now, will have endured enough torture to flee of his own volition. Best to view such abandonment from a distance.
Which is likely to be Kyle's vantagepoint, one way or another. Think about it: There's no way he can sell, to the bottom–line poo–bahs of MLSE, the notion of a "second chance." Not if Rogers, Bell and Larry Tanenbaum have done some homework. How would you like to be Kyle when Tanenbaum asks "can you explain why Tampa Bay has won consecutive Stanley Cups while paying Nikita Kucherov, Steven Stamkos, Victor Hedman, Andrei Vasilveskiy and Braden Point a combined $42,125,000… and we have repeatedly lost in the opening round while paying John Tavares, Auston Matthews, Mitch Marner, William Nylander and Morgan Rielly $45,505,616?" What's Dubas to say other than, "Larry, I believe in this group"? Neither can Brendan Shanahan escape culpability. It was his choice, in the summer of 2018, to jettison Lou Lamoriello and elevate Dubas. What can he say to MLSE? "Uh, sorry guys, I didn't expect Lou to be named top GM the past two years. My bad." So, yeah, against all apparent logic, Kyle and Brendan are going to "get this done" with the current collection. Even if they know they can't.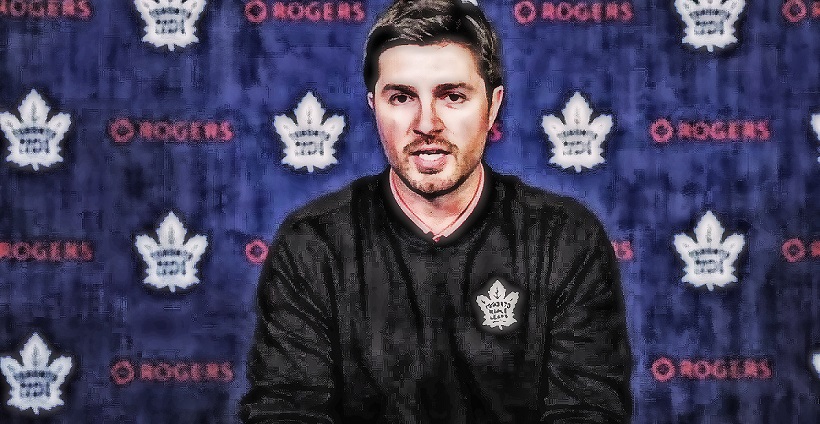 Though fans of the Maple Leafs are excruciatingly loyal and forgiving, they aren't stupid. Even they've had an epiphany. The playoff embarrassment against Montreal exhausted a sizable amount of this region's legendary patience. It will not, of course, be reflected in sales of tickets, merchandise and the number of eyeballs that tune in to games next season. But, there's no joy in Mudville right now. Turning, as I often do, to the Leafs page in the chat forum H–F Boards, reaction to the GM's latest pledge is uniformly negative. Here are some typical examples:
The Leafs desperately need a culture change. How can the culture be improved with Dubas still here? Or do we just have to wait his tenure out? The blue and white disease is so bad.
It can't be changed with Dubas because he doesn't think anything is wrong.
Few draft picks… huge overpayment on Mitch Marner… a roster that gets shut down in the playoffs every year… a No. 1 goalie [Frederik Andersen] that is leaving… big holes in the lineup to fill with limited cap space… an abysmal powerplay… a coach [Sheldon Keefe] who doesn't adapt in the playoffs. Well done, Kyle.
Highest paid players in the league need to be difference makers when it counts. Hope Matthews has a great summer hanging out with Bieber.
Our poor culture goes well beyond Dubas, though he's worked tirelessly to exacerbate it. Making the playoffs and losing to the Islanders in the first round would probably get the decontamination process started. It's the Leaf–iest thing that could happen, at this point.
Dubas doesn't have the guts to shake up a team with serious character issues to the core. One more [playoff flop] and maybe they'll start cleaning up this mess. The Leafs are an example of how to not run a franchise.
Yes, the natives have grown restless. And, justifiably so. Management decisions have proven largely inadequate, starting with the top–heavy salaries. Heightened by trading first and third–round draft picks for a one–month rental (Nick Foligno); by unloading a prospect and draft pick on the Penguins in order to lose a player (Jared McCann) and retain a bloated salary (Alex Kerfoot); by out–pricing itself for arguably the proudest, most–conscientious player on the team (Zach Hyman). It just isn't working. And, there's no indication it's going to start working.
You might also be wondering about ownership. The Leafs are no longer the domain of cheapskates. MLSE doles out to the salary cap every year. But, I wonder, does the Bell–Rogers–Tanenbaum triumvirate still have faith in Dubas? How does it react, privately, to the hollow, unsubstantiated conviction of the Leafs GM? Or, do the TV boys merely recognize that none of this will impact viewership on TSN or Sportsnet? In fact, it's likely that more people pay attention when there's turmoil and unrest. Tanenbaum is mostly involved with the Raptors and Argonauts. His plate is rather full. Maybe ownership believes that nothing can be done about the hockey club's nucleus until it shows some chutzpah in the playoffs. Or until more years of the inflated contracts are exhausted.
Whatever the case, there is no answer right now. Just more feigned assurance from those at the helm.
TORONTO MAPLE LEAFS 2021–22 SCHEDULE…
The Leafs will open the season at home to Montreal on Oct. 13, a Wednesday night. Toronto's first visit to Seattle is Dec. 19, at the end of a four–game western swing. The expansion Kraken play at Scotiabank Arena for the first time on Mar. 8. The longest road trip is five games (Montreal, Colorado, Vegas, Arizona, St. Louis from Jan. 6–15). Same length for the longest homestand (Detroit, Vegas, Tampa Bay, Boston, Los Angeles from Oct. 30 to Nov. 8). The annual Hall of Fame game is Nov. 12 (Fri.) against Calgary. The club will play consecutive–night games on 11 occasions, beginning with the first two matches. For the moment, the National Hockey League has built in a recess (Feb. 7–23) to accommodate the 2022 Winter Olympics in Beijing. But, the decision to attend has not been made. Under the current schedule, the Maple Leafs will play only six games in a 36–day span (Jan. 19 to Feb. 24). Toronto finishes the season with a Friday night home game (Apr. 29) against the Bruins.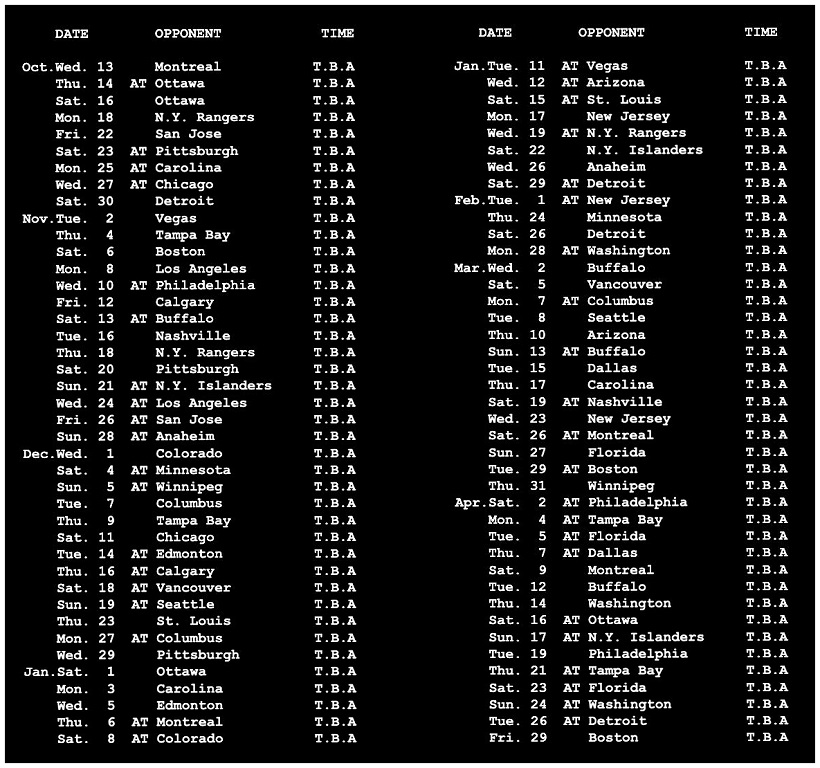 EMAIL: HOWARDLBERGER@GMAIL.COM