TORONTO (July 14) — What a coincidence that a team with nary an unsold seat for home games has made itself the ultimate spectator. Unless the Toronto Maple Leafs divert from their bullheaded "we'll get this done" posture, the club and its followers will stand on the periphery for yet another summer in the National Hockey League.
In no meaningful way can the playoff–poor Leafs change while intractably preserving their five–man core — John Tavares, Auston Matthews, Mitch Marner, William Nylander, Morgan Rielly — and its accumulative $45,505,616 against the flat $81.5 million salary cap. It leaves $35,994,384 for the remaining 18 roster spots, or $1,999,688 per man. The latter amount will land you a No. 6 defenseman or a fourth–line forward. Without unloading at least one of his mega contracts, general manager Kyle Dubas will remain a bit–player on the market. Yet again. And, there is zero indication the Maple Leafs wish to fiddle with the aforementioned quintet. Certainly, there's been no update on the matter since Brendan Shanahan's lamentable address after the opening–round debacle against Montreal.
What you see, Maple Leaf zealots, is what you'll continue to see. Playoffs and Stanley Cup be damned.
An intriguing contrast was provided on Tuesday by the Minnesota Wild, a club that appeared to enjoy a breakthrough season in 2021 with a 35–16–5 mark for 75 points (just two points fewer than the Leafs). In the last full schedule before the pandemic, 2018–19, the Wild amassed 83 points in 82 games. Minnesota fell behind Vegas, 3–1, in the opening playoff round this year before rallying to tie the series. The Golden Knights prevailed on home ice in Game 7. The Leafs, of course, built a similar advantage against the Canadiens before falling apart. Unlike here in Toronto, there was no contentment or complacency with the Wild; GM Bill Guerin announcing the club will buy out the remaining years of its two most–recognizable figures: Zach Parise and Ryan Suter. That will free up nearly $15 million for Minnesota to rebuild its roster around Kirill Kaprizov (51 points in 55 games); Kevin Fiala (20 goals) and stud defensive blueliner Jonas Brodin. Perhaps by adding star forward Jack Eichel in a trade with Buffalo (though Guerin needs to re up this summer with Kaprizov and Fiala, as both are restricted free agents).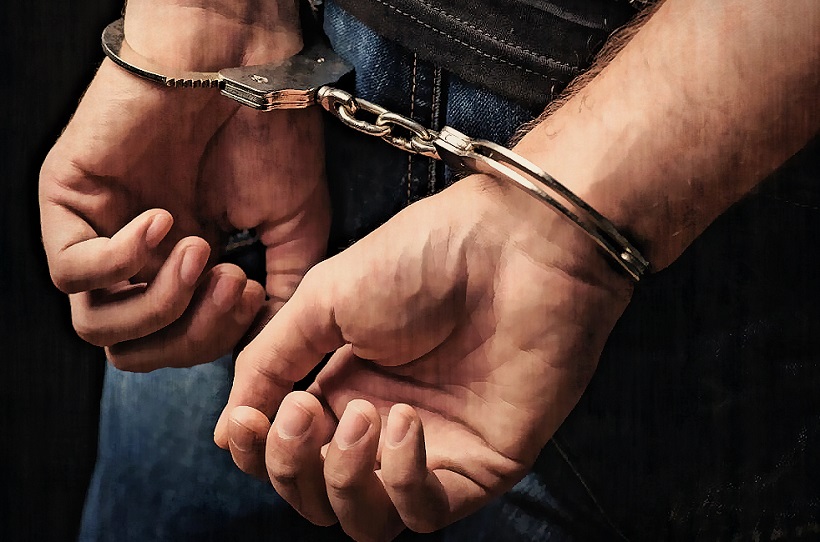 Discarding Parise and Suter guarantees nothing for the Wild, a club that will remain in some form of cap Hell for the foreseeable future. But, it does reflect well on Guerin, who was clearly unsatisfied with a first–round defeat.
By comparison, Shanahan and Dubas are not only content with the current Leafs roster, but evidently thrilled.
As of today, no significant change has been made by a club that fell flat in the post–season for a fifth consecutive year. Neither can there be significant change if not unlocking the salary cap entanglement of the Big 5. With a mere $9,355,217 of cap space remaining (according to capfriendly.com), the Maple Leafs need to fill six roster positions; most notably, that of a second goalie to compliment starter Jack Campbell. If Dubas assigns that role to a player from the "remainder" bin (which appears to be his only option right now) — and Campbell's injury woes flare — the Leafs won't have to worry about another first–round humiliation. Back in a Division with the two Stanley Cup finalists, Tampa Bay and Montreal; with strong rivals Boston and Florida, and with the improving Ottawa Senators, it's unlikely Toronto will qualify for the 2022 Stanley Cup tournament.
For the moment, and until the Leafs move away from their determined stance, the club cannot partake in any off–season restructuring. It will be unable to adequately replace bullish forward Zach Hyman, the proud Toronto native, who must reluctantly look elsewhere for a commensurate raise. Nor will the Leafs have the cap wherewithal to retain unrestricted free agent Nick Foligno, for whom they yielded first and third–round draft picks as a trade–deadline rental. Don't be surprised if ancient Joe Thornton is re–signed at the NHL minimum for another year. Joining fellow fossils Wayne Simmonds and Jason Spezza. After all, Jumbo is best friends with Matthews… and awfully good "in the room." The Leafs adore players, well past their prime and often locally bred, who are solid citizens, yet have virtually nothing left to contribute outside "the room." Strangled by cap restraint, Dubas can only add low–cost, low–reward pieces to the bottom of the roster. Which doesn't make for an enthralling off season.
This can change, of course, if the Leafs change. Which appears unlikely given the comments from Shanahan in mid–May. As mentioned previously in this corner, the club should minimally trade the final year of Rielly's contract, thereby freeing up $5 million and providing its top defense prospect, Rasmus Sandin, more responsibility. If the Leafs are indeed interested in pursuing restricted free agent Tyler Bertuzzi of Detroit — why GM Steve Yzerman would not re–sign the gritty forward remains unanswered — Dubas might offer up (gulp!) William Nylander, even if it means going to Confession every day for the rest of his life. The Red Wings have no cap issues and could easily assume the final three years of Nylander's annual $6,962,366 cap burden. Young Willie would more–than compensate for Bertuzzi's 20 goals per season and the Leafs would acquire an excellent replacement for Hyman. It seems abundantly sensible from a Toronto perspective, yet contrary to the manner in which Yzerman operates.
Are Shanahan and Dubas willing to become flexible? We'll find out in the next two weeks.
ARGOS MEDIA GUIDES
A 30–YEAR HISTORY
Digging into my sports collection, and looking forward to the return of the Canadian Football League this summer, I came across Toronto Argonauts media guides that date from 1968 to 1998. From Leo Cahill to Don Matthews… Wally Gabler to Doug Flutie… Bill Symons to Pinball Clemons. Lots of memorable and historic CFL names, logos and jerseys. Enjoy: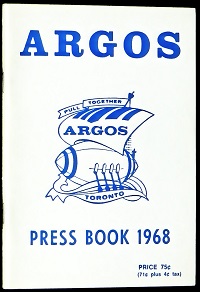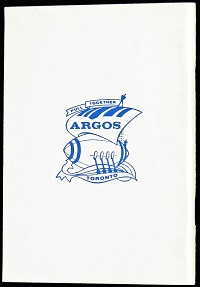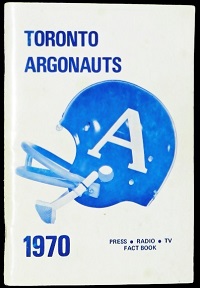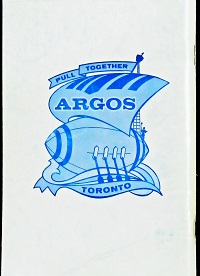 FRONT AND REAR COVERS (ABOVE) OF THE 1968 AND 1970 ARGO GUIDES. WITH THE BEST LOGO IN FRANCHISE HISTORY. COVER (BELOW) OF THE 1972 ISSUE AND INSIDE PAGE DETAILING THE CLUB'S RADIO BRADCASTING CREW AND NETWORK. JOHN BADHAM (Apr. 1, 1937 – Dec. 8, 2016) BEGAN CALLING GAMES IN 1969 AND HAD THREE TERMS WITH THE CLUB; THE LAST, IN 1988. MIKE WADSWORTH (June 4, 1943 — Apr. 28, 2004) WAS AN ALL–STAR DEFENSIVE TACKLE WITH THE ARGOS FROM 1966–70. DANNY NYKOLUK (June 16, 1933 – July 29, 2016) PLAYED 204 GAMES AT OFFENSIVE TACKLE FOR THE TEAM OVER 16 SEASONS (1955–70). HE CAME OUT OF RETIREMENT LATE IN 1971 AND PLAYED IN THE GREY CUP (ARGOS LOST TO CALGARY). THE 1972 TEAM WAS A UNANIMOUS FAVORITE BUT TURNED INTO A DISASTER. QUARTERBACK JOE THEISMANN (b. Sep. 9, 1949) BROKE HIS ANKLE IN THE SEASON OPENER AND THE CLUB FELL FROM 10–4 IN '71 TO 3–11, MISSING THE PLAYOFFS, AND COSTING LEO CAHILL (July 30, 1928 – Feb. 15, 2018) HIS JOB AS COACH.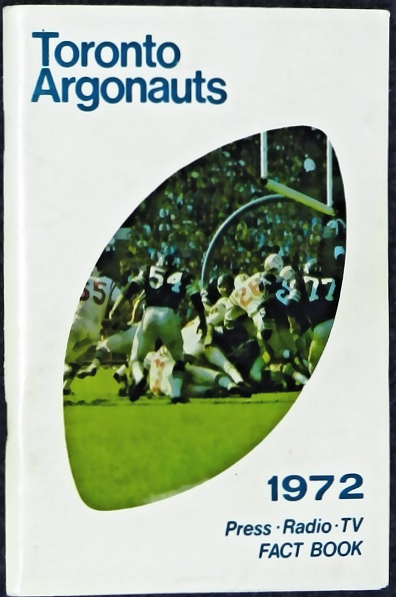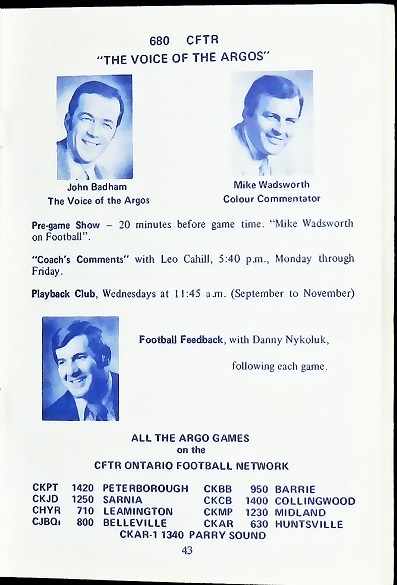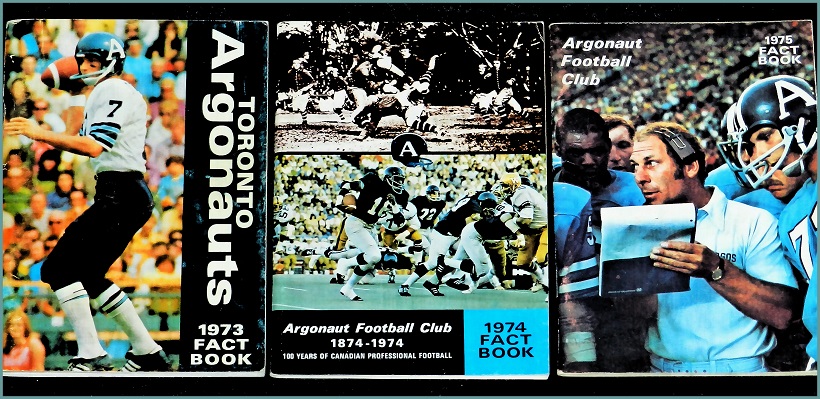 AFTER 1971, THE DECADE PROVED AWFULLY LEAN FOR THE ARGOS AND THEIR FANS (MEDIA GUIDES, ABOVE AND BELOW, FROM 1973–77). THEISMANN DEFECTED TO WASHINGTON OF THE NFL AND THE ARGOS HAD A REVOLVING DOOR OF QUARTERBACK REPLACEMENTS, ALL QUITE MEDIOCRE. CFL LEGEND RUSS JACKSON (b. July 28, 1936) COACHED THE TEAM IN 1975 AND 1976, MISSING THE PLAYOFFS. THE 1976 CLUB SIGNED FORMER UNIVERSITY OF SOUTHERN CALIFORNIA STAR RUNNING BACK ANTHONY DAVIS (b. Sep. 8, 1952) TO THE CFL's FIRST MILLION–DOLLAR CONTRACT. BUT, DAVIS'S BLOATED EGO FAR SURPASSED HIS PLAYING ABILITY AND HE WAS GONE AFTER ONE YEAR. DESPITE THEIR FOLLIES, THE ARGOS DREW MASSIVE CROWDS TO THE ENLARGED EXHIBITION STADIUM (BOTTOM–RIGHT), RENOVATED FOR THE ARRIVAL OF BASEBALL AND THE BLUE JAYS IN 1977. GATHERINGS OF MORE THAN 45,000 WERE COMMON.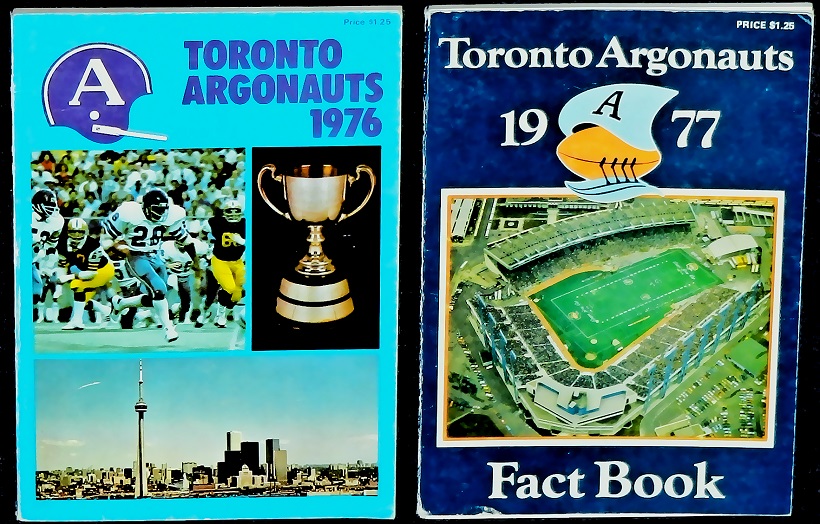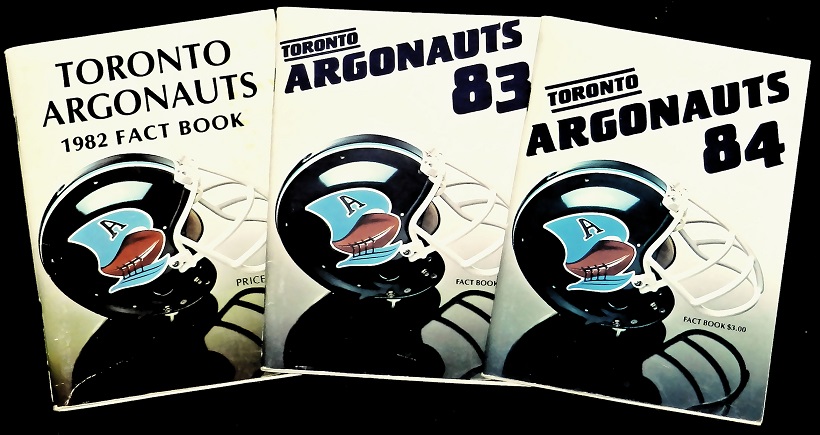 THE ARRIVAL, IN 1981, OF QUARTERBACK CONDREDGE HOLLOWAY (b. Jan. 24, 1954) AND, IN 1982, OF HEAD COACH BOB O'BILLOVICH (b. June 30, 1940) — BOTH VIA THE OTTAWA ROUGH RIDERS — RESULTED IN THE ARGOS FIRST GREY CUP VICTORY SINCE 1952. AFTER A DISPIRITING 2–14 SEASON IN 1981 (THE CLUB WAS OUTSCORED BY A PER–GAME AVERAGE OF 32–15), O'BILLOVICH GUIDED A 9–6–1 TURNAROUND FOR FIRST PLACE IN THE EASTERN CONFERENCE. TORONTO BEAT OTTAWA IN THE 1982 EASTERN FINAL, THEN LOST TO EDMONTON IN THE GREY CUP; THE GAME PLAYED IN A DRIVING RAINSTORM AT EXHIBITION STADIUM (THE LAST OF 16 TITLE MATCHES AT THE OLD CNE YARD). IN 1983, WITH HOLLOWAY AND JOE BARNES (b. Dec. 18, 1951) SHARING THE QUARTERBACK DUTIES, AND WITH WIDE RECEIVER TERRY GREER (b. Sep. 27, 1957) HAULING IN A RECORD 2,003 RECEIVING YARDS, THE ARGOS FINISHED 12–4; EDGED HAMILTON IN A DRAMATIC EASTERN FINAL (ALL 54,530 SEATS AT THE EX WERE FILLED), THEN DEFEATED THE B.C. LIONS, 17–14, AT THE NEW AIR–DOME STADIUM IN VANCOUVER TO WIN THE CLUB'S FIRST CFL CHAMPIONSHIP IN 31 YEARS.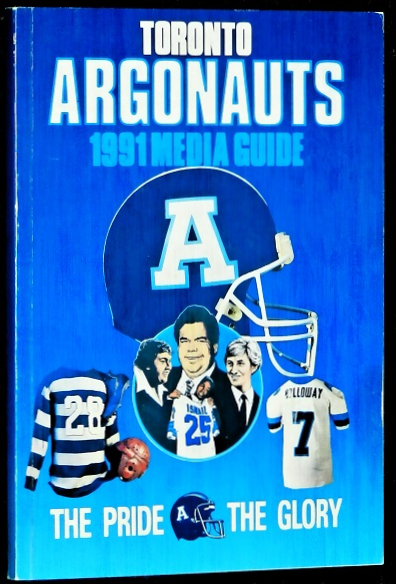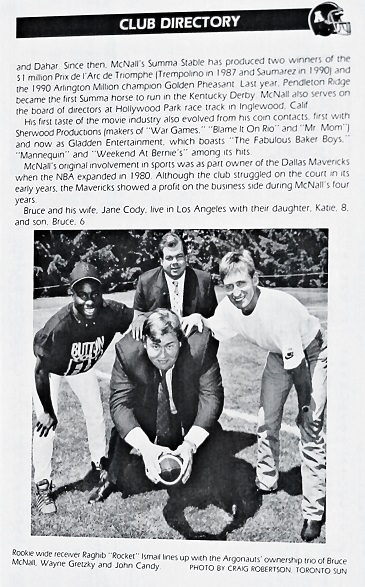 MUCH EXCITEMENT SURROUNDED THE 1991 ARGOS AFTER THE FAMED TRIUMVIRATE OF BRUCE McNALL (b. Apr. 17, 1950), WAYNE GRETZKY (b. Jan. 26, 1961) AND JOHN CANDY (Oct. 31, 1950 – Mar. 4, 1994) PURCHASED THE CLUB ON FEB. 21… THEN MADE INTERNATIONAL NEWS BY SIGNING (ON APR. 20) RECEIVER RAGHIB (ROCKET) ISMAIL (b. Nov. 18, 1969) OF NOTRE DAME UNIVERSITY, THE PROJECTED NO. 1 PICK IN THAT YEAR'S NFL DRAFT. WITH MATT DUNNIGAN (b. Dec. 6, 1960) AT QUARTERBACK AND ADAM RITA (b. Sep. 21, 1947) AS HEAD COACH, THE '91 ARGOS WENT 13–5 TO TOP THE EASTERN CONFERENCE; POUNDED WINNIPEG (42–3) IN THE EASTERN FINAL AT SKYDOME, THEN UPENDED CALGARY (36–21) IN THE GREY CUP GAME ON A BONE–CHILLLING AFTERNOON AT THE OLD WINNIPEG STADIUM. ISMAIL STUCK AROUND FOR ONLY TWO SEASONS BEFORE JOINING THE NFL's LOS ANGELES (NOW LAS VEGAS) RAIDERS.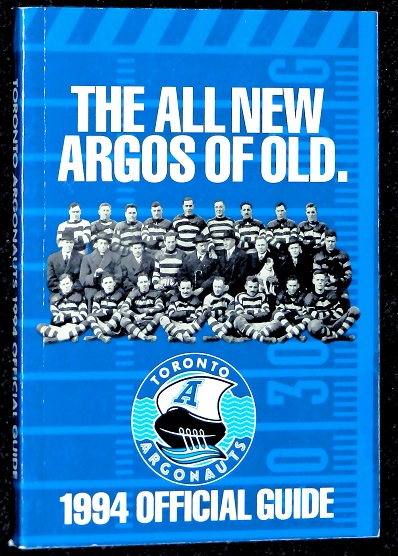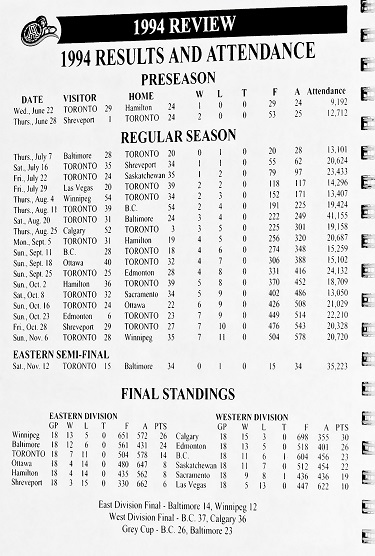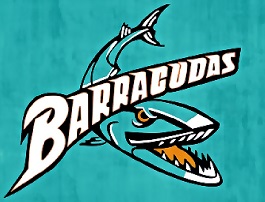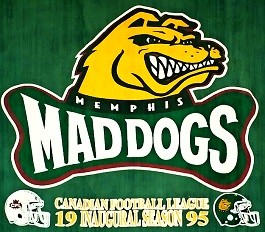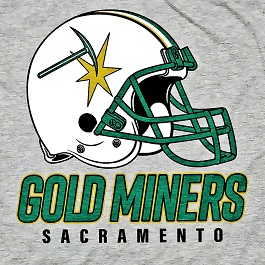 THE 1994 ARGOS WERE QUITE MEDIOCRE (7–11) BUT THEY PARTICIPATED IN AN HISTORIC CFL SCHEDULE WITH FOUR AMERICAN TEAMS — THE BALTIMORE CFL COLTS, SHREVEPORT PIRATES, SACRAMENTO GOLD MINERS (LOGO, FAR–RIGHT) AND LAS VEGAS POSSE. THREE OTHERS — THE MEMPHIS MAD DOGS (LOGO, MIDDLE), SAN ANTONIO TEXANS AND BIRMINGHAM BARRICUDAS (LOGO, FAR–LEFT) — WERE ALSO PART OF THE BOLD, BUT UNSUCCESSFUL, UNITED STATES EXPERIMENT BETWEEN 1993 AND 1995 (THE MIAMI MANATEES WERE TO JOIN THE CFL IN 1996 AND PLAY OUT OF THE FAMED ORANGE BOWL). ON NOV. 12, 1994, I COVERED, FOR THE FAN–1430, THE ARGOS ONLY PLAYOFF GAME AGAINST AN AMERICAN OPPONENT: A 34–15 LOSS TO THE CFL COLTS AT THE OLD BALTIMORE MEMORIAL STADIUM.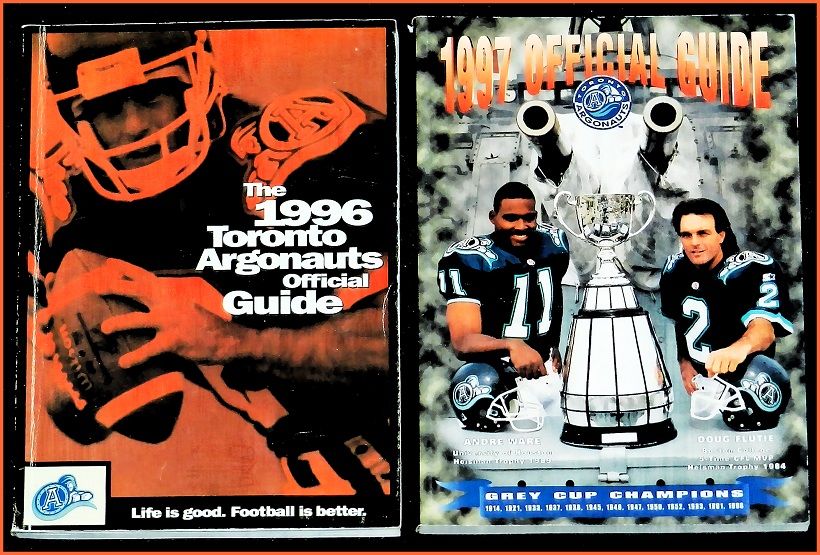 MEDIA GUIDE COVERS (ABOVE) FROM THE TWO BEST ARGONAUT TEAMS IN MY LIFE; ARGUABLY, IN FRANCHISE HISTORY. THE 1996 AND 1997 CLUBS EACH WENT 15–3 AND WON THE GREY CUP. COACHED BY DON MATTHEWS (June 22, 1939 – June 14, 2017); QUARTERBACKED BY THE INCOMPARABLE DOUG FLUTIE (b. Oct. 23, 1962), AND FEATURING OFFENSIVE STARS ROBERT DRUMMOND (b. June 21, 1967), MIKE (PINBALL) CLEMONS (b. Jan. 15, 1965), PAUL MASOTTI (b. Mar. 10, 1965) and DARRELL (MOOKIE) MITCHELL (b. Sep. 16, 1971), THE '97 TEAM, IN PARTTICULAR, WAS UNSTOPABLE. IT OUTSCORED THE OPPOSITION 660–327, OR 37–17 PER GAME. FLUTIE (BOTTOM–LEFT) IS WIDELY CONSIDERED THE BEST PLAYER IN MODERN CFL HISTORY. CLEMONS (ON THE 1998 GUIDE, BOTTOM–RIGHT) COACHED THE ARGOS TO THE 2004 GREY CUP; IS CURRENTLY THE CLUB'S GENERAL MANAGER, AND THE MOST–BELOVED FIGURE IN TEAM ANNALS.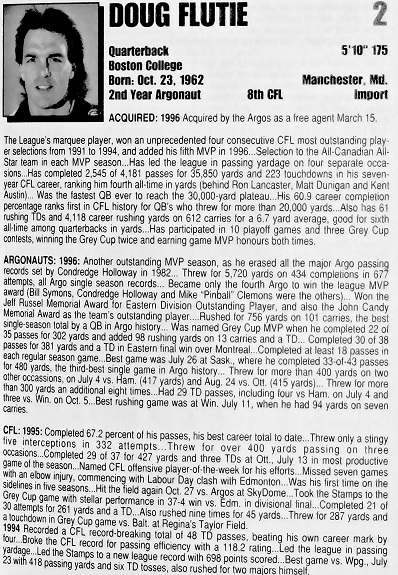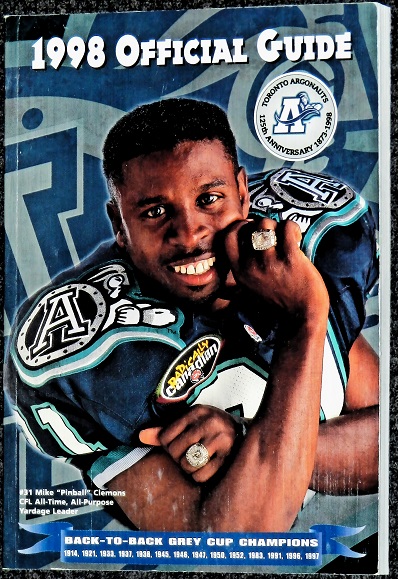 EMAIL: HOWARDLBERGER@GMAIL.COM