TORONTO (July 18) — Of course the Toronto Maple Leafs wouldn't gamble. When you're sitting on such assuredness as a five–year playoff bomb, why change? Hence, there they were… the four forwards protected from the Seattle Kraken in Wednesday's expansion draft: John Tavares, Auston Matthews, Mitch Marner and William Nylander. The Big Quartet. All $40,505,616 against the flat $81.5 million salary cap. Not that Brendan Shanahan and Kyle Dubas were breaking ground, mind you. From the existing 31 teams, only two Hall–of–Fame types popped up as available to Seattle: Right–winger Vladimir Tarasenko and goaltender Carey Price. Even if it must be noted that St. Louis won the Stanley Cup two years ago; Montreal shocked everyone by playing for the mug this year (losing to Tampa Bay), while the Maple Leafs haven't made it beyond the opening playoff round since 2004.
So, to hypothesize, what may have befallen the Leafs had they shown some profound urgency and left, for example, Marner unprotected? Such a dynamic, regular–season performer would severely tempt Kraken general manager Ron Francis, even with four years remaining on a contract that carries an annual cap burden of $10,903,000.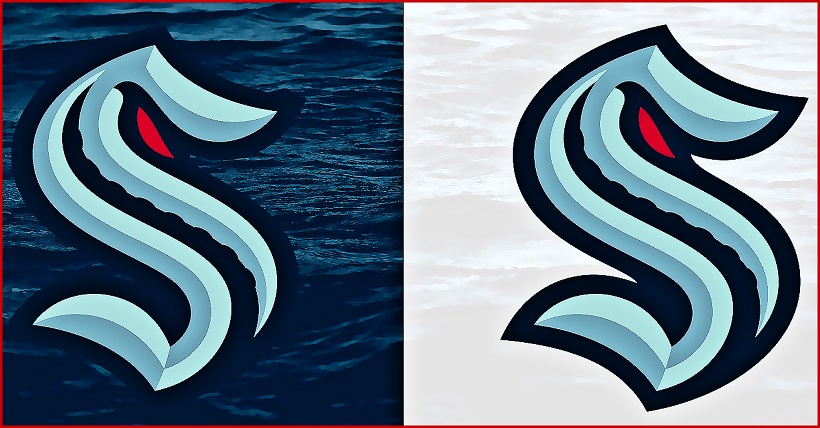 Let's say Francis drafted Marner. That amount would evaporate from the Toronto cap figure, allowing the Maple Leafs to re–sign Zach Hyman, with likely another $4.5 to $5 million left for further roster amendment. Were Shanahan and Dubas prone to the cut–throat mannerism of Lou Lamoriello during much of the salary cap era, they would unfairly expose the industrious Alex Kerfoot to National Hockey League waivers; either losing the final two years of his $3.5 million cap hit to a rival team or dispatching him to the Toronto Marlies with the same result. Which would tack on roughly $8.5 million to the $6,415,217 available today (as per capfriendly.com) and provide the Leafs close to $15 million for the remaining roster spots. With Hyman still in tow. Instead, the Leafs will almost–certainly lose Hyman and still have to acquire a solid No. 2 goalie with the piddly remnants. As of this evening, 48 nights since falling apart against the Canadiens, the Leafs have made not a single relevant alteration.
Even with the "we'll get this done" duo manning the ship, you'd think something needs to give.
And, it surely will. At some point before training camp.
The path of least resistance, of course, would be to remain locked in denial and re–sign "Soft Goal" Freddie as Jack Campbell's netminding accomplice. Were the chronic groin issues of Smilin' Jack to flare at the worst time, "Soft Goal" could then move in as playoff "assurance" (heavy sigh). Another option, requiring a bit of effort and creativity, would be for the Maple Leafs to work a trade with Arizona, as rabidly speculated, for veteran stopper Darcy Kuemper. To accommodate the final season of Kuemper's $4.5 million cap hit, Dubas would need to shed significant salary. Would the Coyotes, looking to somehow unload (or eventually buy out) the six remaining years of Oliver Ekman–Larsson's $8.25 million cap disaster, take the final year of Morgan Rielly's contract (at $5 million)? Jakob Chychrun, 23, is the only other established blue–liner under contract to Arizona, which today has $27,036,383 of cap space to restructure its back end. Does Kuemper for Rielly make sense? I believe so. Rielly would have to sign off, including Arizona among 10 cities as part of a limited, no–trade clause. If willing, it would furnish the Coyotes a semi–elite player, still just 27, and provide the Leafs their best goaltending tandem in recent memory. It would also free up important playing minutes for the club's top defense prospect, Rasmus Sandin.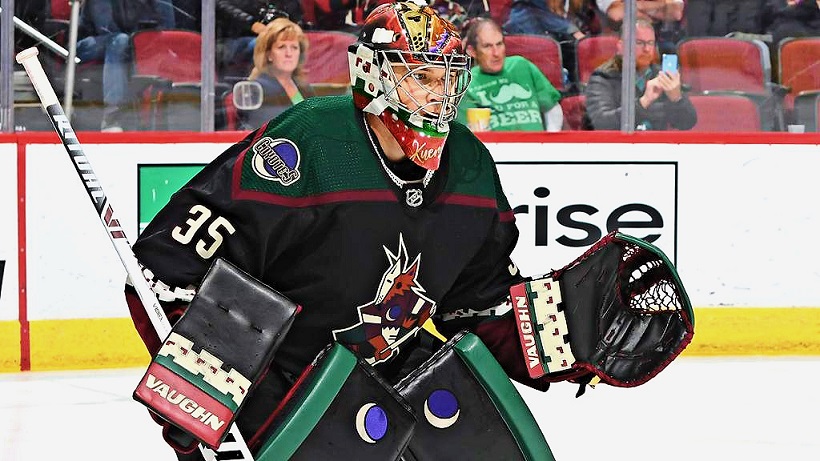 DARCY KUEMPER PLAYING GOAL FOR THE ARIZONA COYOTES. GETTY IMAGES/NHL.COM
What we know, for certain, is the Leafs cannot explicitly change by hanging onto all of Tavares, Matthews, Marner, Nylander and Rielly. Doing so even presents a challenge in re–upping with Andersen. The club would lose Hyman for nothing (Jared McCann, acquired Saturday from Pittsburgh, is a decent addition but may not survive the expansion draft). Rielly for Kuemper shakes the Leafs out of their roster malaise and allows the promising Sandin — still under entry level contract restriction — the opportunity to grow into the team's No. 1 blue liner.
In the end, what would the Leafs be "risking" after so many years as playoff fodder?
THE GREATEST INTERNATIONAL HOCKEY TOURNAMENT (SO FAR)…
In my collection, I came across issues of the Toronto Star and Toronto Sun that I've kept for nearly 34 years — since Sep. 15, 1987, the morning after Canada won the best international hockey tournament of my life.
Those with memory dating to 1972 will likely agree that only the 1987 Canada Cup ranks close to the groundbreaking Summit Series. A best–of–three tournament final against the Soviet Union, less than two years before the fall of Communism, was enthralling. Game 1, played at the Montreal Forum, ended 6–5 for the Russians; Team Canada erasing a 4–1 deficit only to lose at 5:33 of overtime when Alexander Semak beat Grant Fuhr.
Games 2 and 3 were played at Copps Coliseum in Hamilton and I attended both on behalf of The Hockey News (I would begin my radio career eight months later, in May 1988, at CJCL AM–1430). The back–and–forth middle match — given the stakes, Canada facing elimination — is considered, by many, to be the greatest international hockey game ever played. The Soviets roared back from 3–1 and 5–3 deficits to send the match into overtime on a rink–length dash by Valeri Kamensky with 1:04 left in regulation. Fuhr was brilliant to keep Canada alive in the first extra session and Mario Lemieux evened the series, completing a hattrick, at 10:07 of the second frame.
Game 3 was another all–time classic, capped by Lemieux's famous goal on a 2–on–1 break with Wayne Gretzky at 18:34 of the third period, providing the home side a narrow and thrilling championship victory.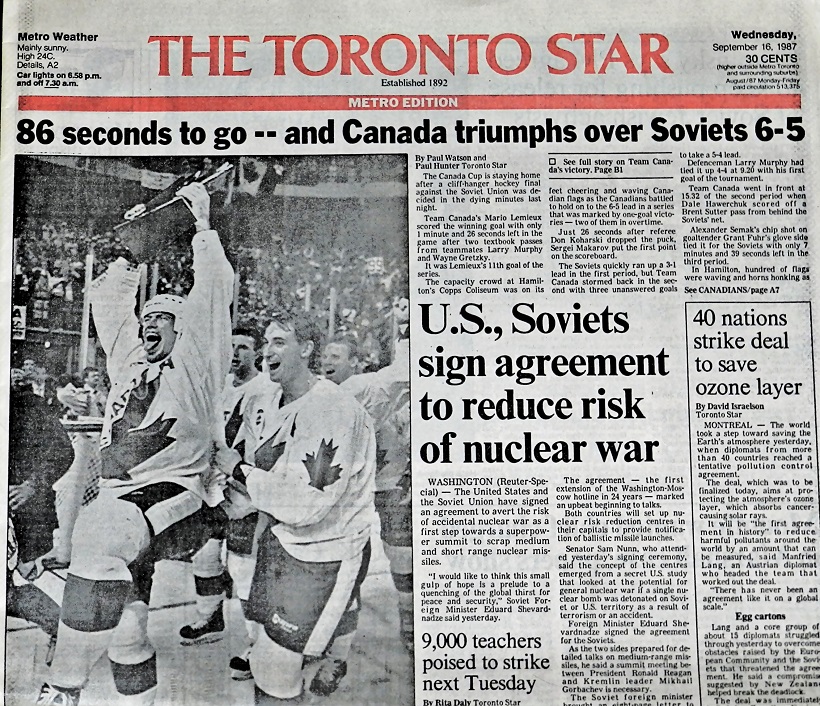 The Canadian squad in the '87 tournament, coached by Mike Keenan, sent 12 players to the Hockey Hall of Fame: Fuhr, Gretzky, Lemieux, Dale Hawerchuk, Mark Messier, Glenn Anderson, Michel Goulet, Doug Gilmour, Raymond Bourque, Larry Murphy and Paul Coffey. This compares favorably to what remains, without question, the greatest team of Canadian–born players ever assembled — for the inaugural Canada Cup, in 1976. Of that group, coached by Scotty Bowman, 18 players went to the Hall: Bobby Orr, Bobby Hull, Phil Esposito, Bobby Clarke, Marcel Dionne, Guy Lafleur, Steve Shutt, Gilbert Perreault, Denis Potvin, Darryl Sittler, Lanny McDonald, Larry Robinson, Serge Savard, Guy Lapointe, Bill Barber, Bob Gainey, Gerry Cheevers and Rogie Vachon.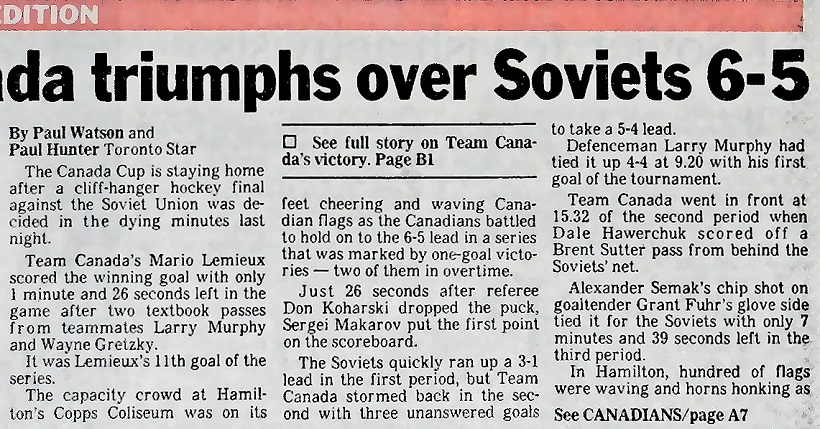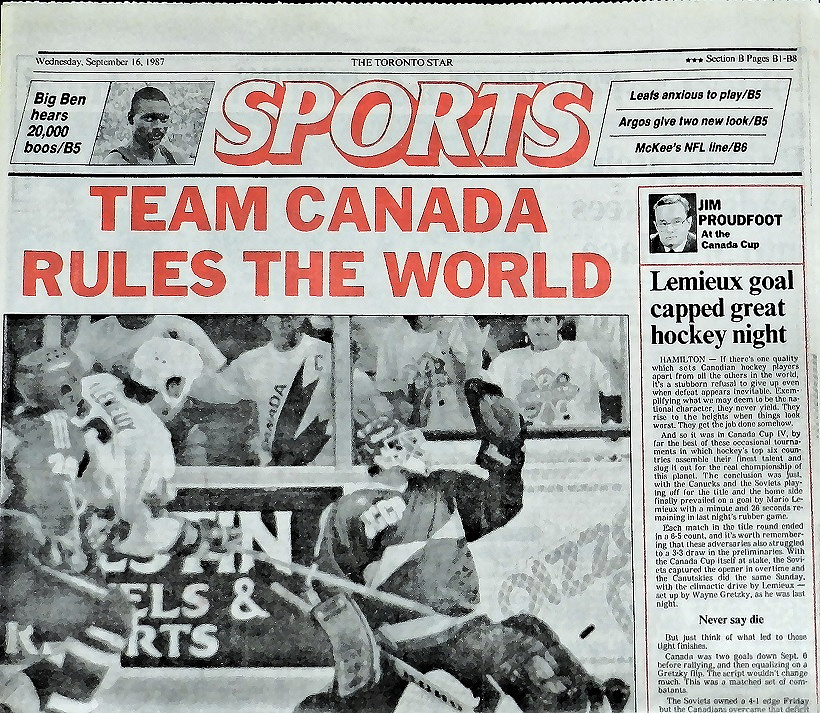 Legendary Toronto Star columnist, Jim Proudfoot (1933–2001), covered the series and provided his insight: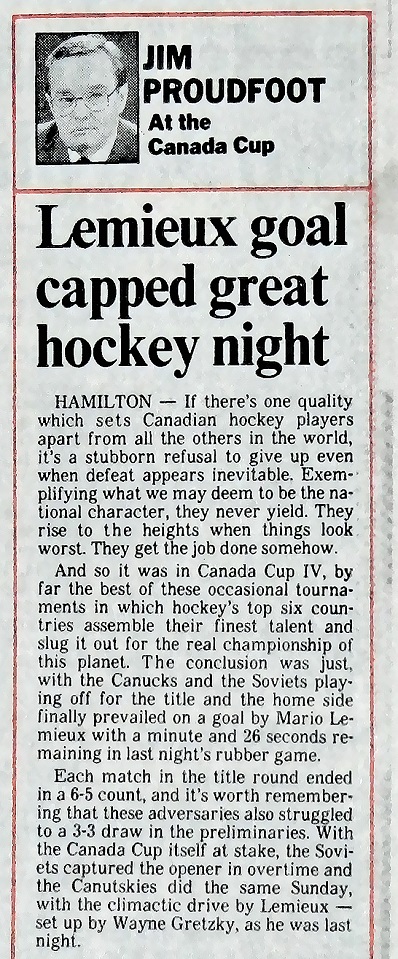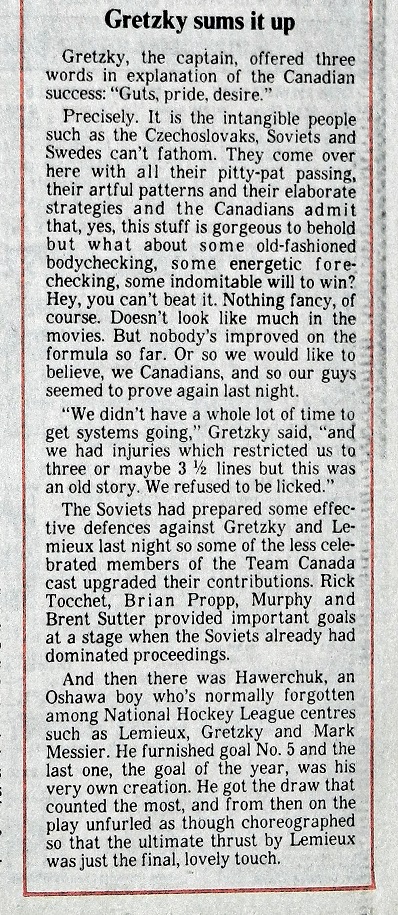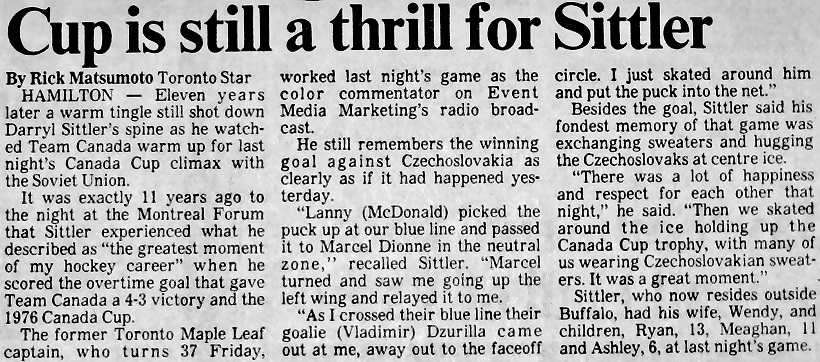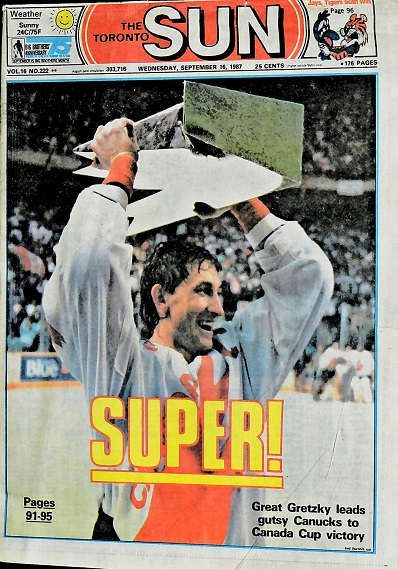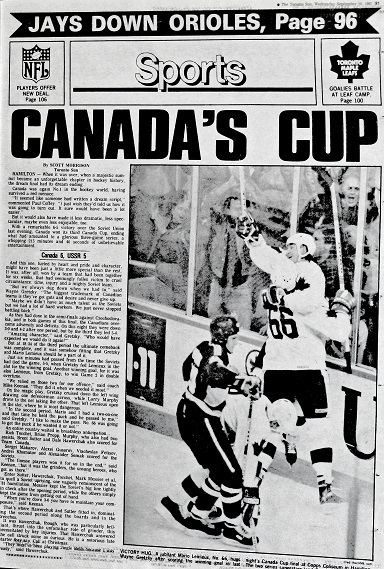 Photographer Fred Thornhill captured the Toronto Sun cover image of a beaming Gretzky hoisting the Canada Cup. Hall–of–fame hockey writer, Scott Morrison, penned the story of Game 3, below: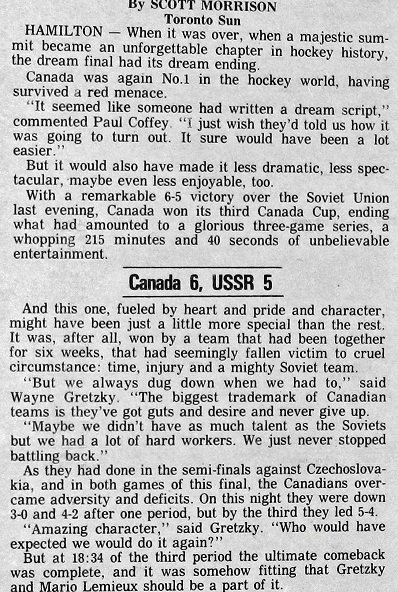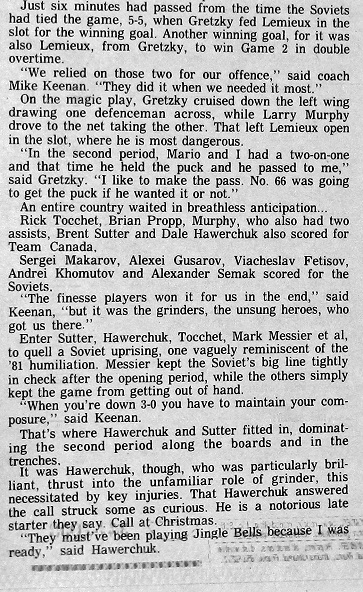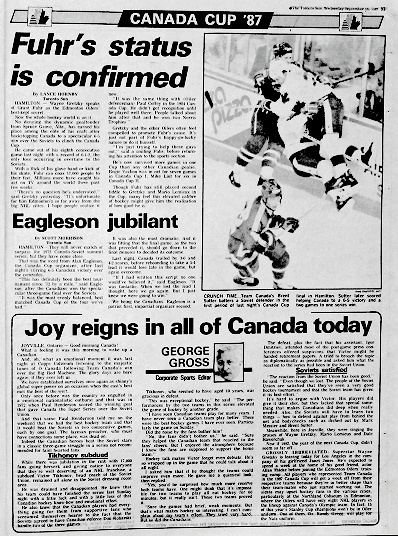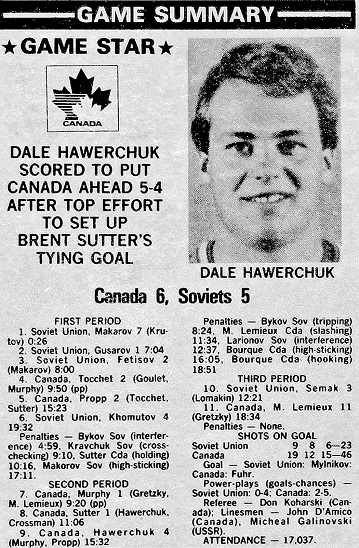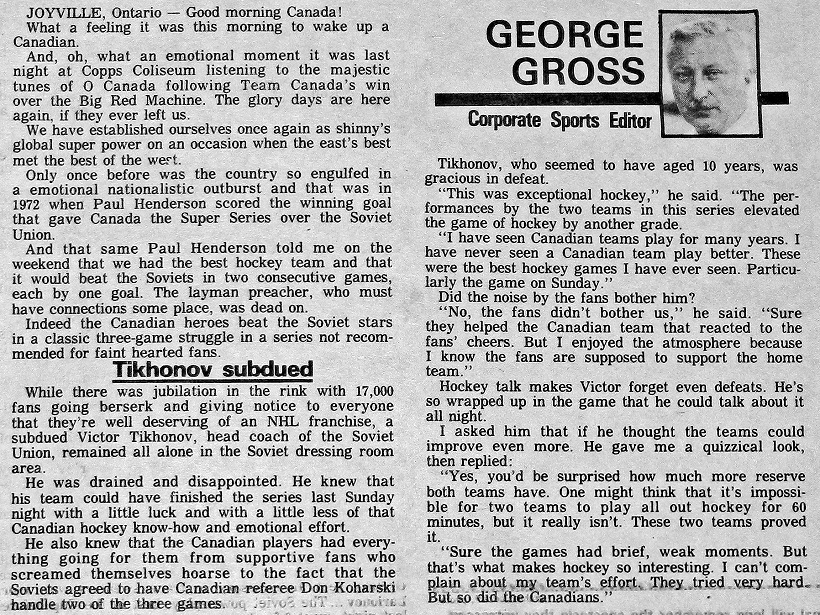 Another legendary sports columnist, George Gross (1923–2008), covered Game 3 in Hamilton… or "Joyville", as he called it, in his follow–up story (above and bottom–left). Gross had covered the Toronto Maple Leafs in their 1960's Stanley Cup dynasty for the old Toronto Telegram. He was the first sports editor of the Sun.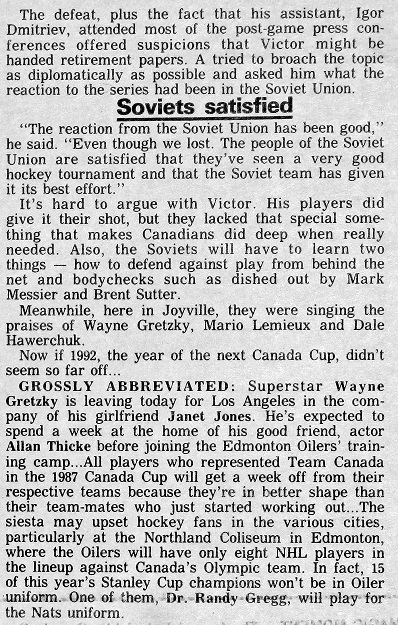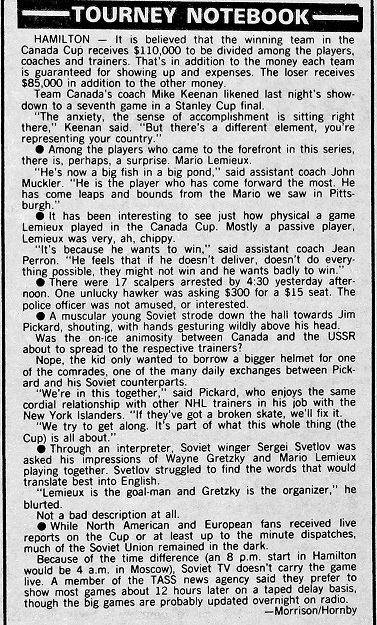 EMAIL: HOWARDLBERGER@GMAIL.COM