TORONTO (July 19) — The Seattle Kraken, on Wednesday, will select its first team in the National Hockey League's 13th expansion draft since 1967. That was the year the NHL made its biggest move, doubling in size by adding six teams. Subsequent expansion drafts were held in 1970–72–74–79–91–92–93–98–99–2000 and 2017.
Barring any last–minute maneuvering, or covert side deals that have already been agreed to, the Toronto Maple Leafs will likely lose one of three players to Seattle: Forwards Alex Kerfoot and newly acquired (from Pittsburgh) Jared McCann or defenseman Travis Dermott. Which differs profoundly from the first such exercise, 54 years ago, when a pair of future Hall–of–Famers were plucked from the 1967 Stanley Cup–winning roster.
On the whole, however, expansion drafts have rarely impacted the Blue and White. As you'll likely agree.
Here is a history of the players selected from the Maple Leafs:
1967 (June 6) — California Seals, Los Angeles Kings, Minnesota North Stars, Philadelphia Flyers, Pittsburgh Penguins, St. Louis Blues.
The six pre–expansion teams (Boston Bruins, Chicago Black Hawks, Detroit Red Wings, Montreal Canadiens, New York Rangers, Toronto Maple Leafs) were allowed to protect one goalie and 11 skaters. Which left older players and career minor leaguers for the expansion clubs. The Maple Leafs had just won their most–recent Stanley Cup with a veteran–laden roster. As such, several prominent names were selected in the expansion draft.
LEAFS PROTECTED LIST: Johnny Bower, Tim Horton, Marcel Pronovost, Larry Hillman, Frank Mahovlich, Dave Keon, Bob Pulford, Jim Pappin, Mike Walton, Ron Ellis, Peter Stemkowski, Brian Conacher.
AVAILABLE PLAYERS: Terry Sawchuk, Red Kelly, Bob Baun, Kent Douglas, Allan Stanley, George Armstrong.
PLAYERS CHOSEN: Terry Sawchuk (Los Angeles); Red Kelly (trade with Los Angeles; became the Kings first coach), Bob Baun, Kent Douglas (California).
MINOR LEAGUE PLAYERS CHOSEN: Gary Smith, Aut Erickson, Mike Laughton (California); Eddie Joyal, Mike Corrigan, Lowell MacDonald, Bill Flett (Los Angeles); Brit Selby, Don Blackburn (Philadelphia); Larry Jeffrey (Pittsburgh); Al Arbour, Darryl Edestrand, Larry Keenan, Fred Hucul, John Brenneman, Gary Veneruzzo (St. Louis).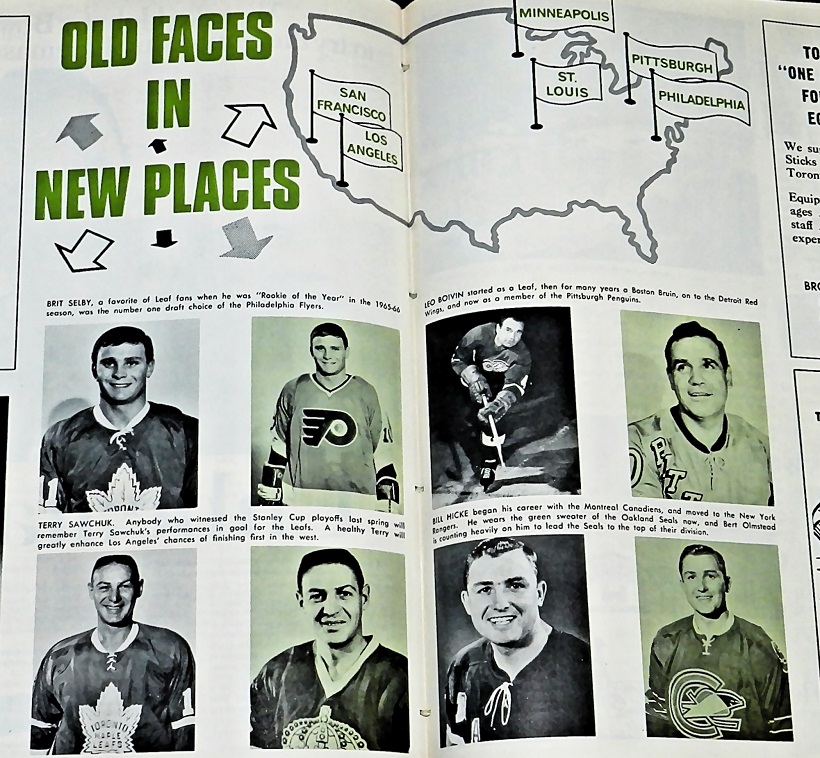 A FEATURE IN THE MAPLE LEAF GARDENS PROGRAM DURING THE FIRST SEASON OF EXPANSION (1967–68) SHOWED PLAYERS IN THEIR OLD AND NEW JERSEYS. TERRY SAWCHUK (BOTTOM–LEFT) WENT FROM TORONTO TO LOS ANGELES.
Upon losing a player, the six existing teams could immediately "fill" with a name left off its protected list. As such, the Leafs re–claimed George Armstrong and Allan Stanley. After playing one year with California and two more with Detroit, Bob Baun returned to the Leafs for 137 games at the end of his career (1970–72). Toronto was more damaged by the minor league players it lost. Ed Joyal, Mike Corrigan, Lowell MacDonald and Bill Flett combined for 662 goals and 1,416 points in the NHL. Joyal scored 33 goals for L.A. in 1968–69. Flett had seasons of 43, 26, 24 and 23 goals with L.A., Philadelphia and Atlanta. Corrigan scored 37 goals for the Kings in 1972–73. MacDonald scored 21 goals for the first–year Kings, then had seasons of 43, 34, 30 and 27 with Pittsburgh from 1972–76.
1970 (June 10) — Buffalo Sabres, Vancouver Canucks.
The 12 existing clubs could each protect two goalies and 14 skaters.
The Sabres and Canucks selected 20 players apiece.
LEAFS PROTECTED LIST: Bruce Gamble, Jacques Plante, Jim Dorey, Rick Ley, Jim McKenny, Mike Pelyk, Brad Selwood, Ron Ellis, Jim Harrison, Paul Henderson, Dave Keon, Bob Pulford, Brit Selby, Guy Trottier, Norm Ullman, Mike Walton.
LEAFS PLAYERS CHOSEN: Pat Quinn, Danny Johnson, Ron Ward (Vancouver); none by Buffalo. The Leafs sold veteran forward Floyd Smith to the Sabres on Aug. 30, 1970. Smith became Buffalo's first captain.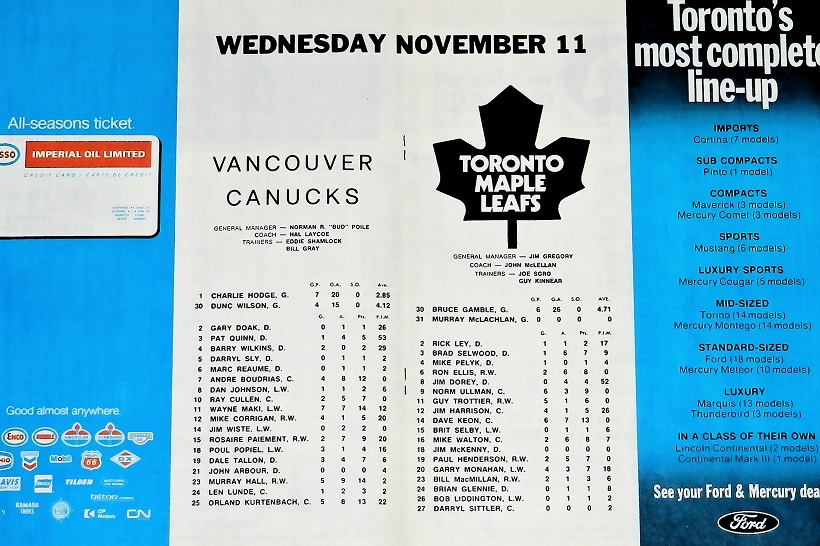 IN MY COLLECTION: PROGRAM LINE–UPS FROM FIRST LEAFS–CANUCKS GAME AT THE GARDENS.
The loss of defenseman Pat Quinn to Vancouver is viewed more romantically a half–century later. The Big Irishman is best–remembered, as a Toronto player, for kayoing Bobby Orr with a monstrous check in the 1969 Stanley Cup playoffs at Boston Garden… then for his seven seasons (1998–99 to 2005–06) coaching and managing the Leafs. Quinn is the last Leafs coach to win a playoff round (in 2004). The veteran NHL'ers chosen in the 1970 expansion draft included: Donny Marshall, Phil Goyette, Reggie Fleming, Gerry Meehan, Howie Menard (Buffalo); Charlie Hodge, Gary Doak, Orland Kurtenbach, Ray Cullen, Pat Quinn (Vancouver). The Sabres selected forward Tom Webster from Boston as first pick of the draft then traded Webster to Detroit for Roger Crozier, who became Buffalo's first goalie. This was also the first of three consecutive drafts in which the expansion teams were awarded the first two picks of the amateur draft. Buffalo took Gilbert Perreault of the Montreal Junior Canadiens.
Vancouver chose Dale Tallon of the Toronto Marlboros.
1972 (June 6) — Atlanta Flames, New York Islanders.
The 14 existing clubs could each protect two goalies and 15 skaters.
The Flames and Islanders selected 21 players apiece (two goalies, 19 skaters).
LEAFS PROTECTED LIST: Bernie Parent, Jacques Plante, Bob Baun, Brian Glennie, Rick Ley, Jim McKenny, Mike Pelyk, Ron Ellis, Jim Harrison, Paul Henderson, Pierre Jarry, Dave Keon, Garry Monahan, Larry Pleau, Darryl Sittler, Errol Thompson, Norm Ullman.
LEAFS PLAYERS CHOSEN: Billy MacMillan (Atlanta); Brian Spencer, Tom Miller (New York Islanders).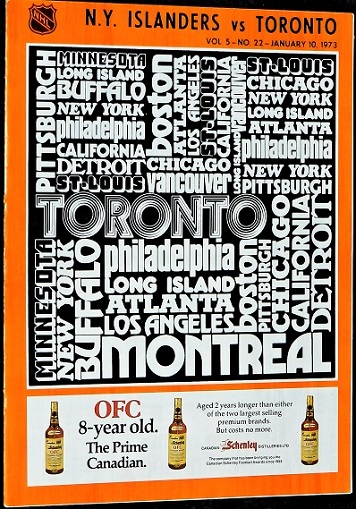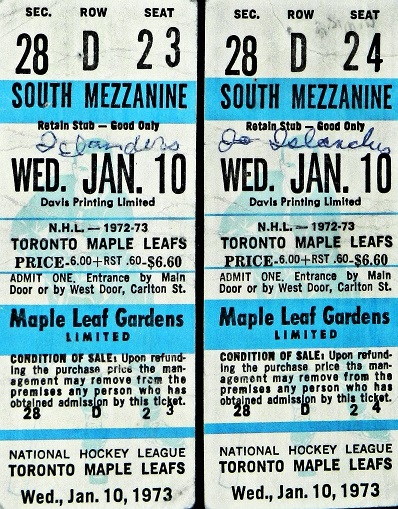 PROGRAM–INSERT COVER, TICKETS (ABOVE) AND LINE–UPS (BELOW) IN MY COLLECTION FROM THE FIRST VISIT OF THE EXPANSION NEW YORK ISLANDERS TO MAPLE LEAF GARDENS: JAN. 10, 1973.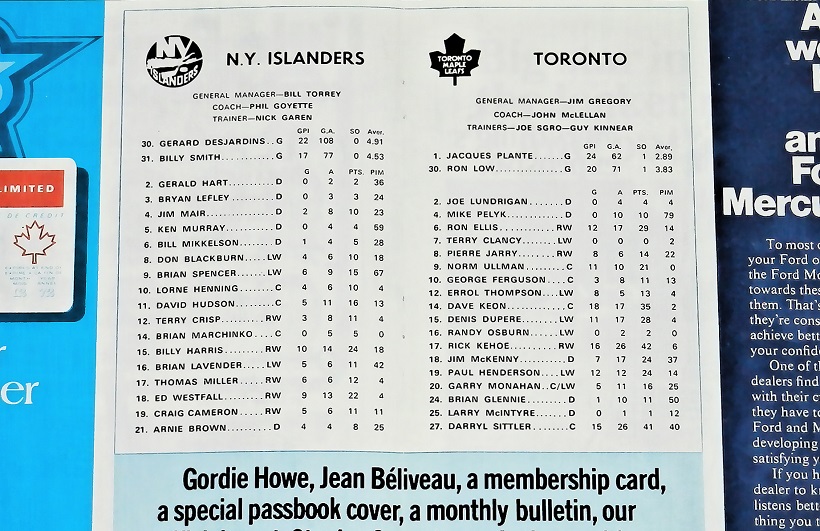 The Leafs were hardly damaged by the 1972 expansion draft. Billy MacMillan (Atlanta) and Brian Spencer (New York Islanders) combined for just 11 goals and 12 assists during the 1971–72 season.
It was owner Harold Ballard's dismissal of the new World Hockey Association that sent the club spiraling out of the playoffs in '72–73 with a 16–point regression. The Leafs lost, to the WHA, protected players Bernie Parent, Rick Ley, Jim Harrison and Larry Pleau. Defenseman Brad Selwood, unprotected by the Leafs but unclaimed by either the Flames or Islanders, also jumped to the WHA. The loss of Hall–of–Fame goalie Parent, who signed with the Miami Screaming Eagles in February 1972 (but played for the Philadelphia Blazers), was most–harrowing.
1974 (June 12) — Kansas City Scouts, Washington Capitals.
As in 1972, the 16 existing clubs could protect two goalies and 15 skaters.
The Scouts and Capitals selected two goalies and 22 skaters apiece.
LEAFS PROTECTED LIST: Doug Favell, Dunc Wilson, Brian Glennie, Jim McKenny, Mike Pelyk, Willie Brossart, Tim Ecclestone, Ron Ellis, George Ferguson, Bill Flett, Rick Kehoe, Dave Keon, Norm Ullman, Garry Monahan, Darryl Sittler, Errol Thompson, Gary Sabourin. Second–year players were exempt. As such, the Leafs did not have to protect Borje Salming, Lanny McDonald, Ian Turnbull or Bob Neely.
LEAFS PLAYERS CHOSEN: Ron Low, Denis Dupere, Joe Lundrigan (Washington); none by Kansas City.

IN MY COLLECTION, THE FIRST–YEAR MEDIA GUIDES OF THE KANSAS CITY SCOUTS AND WASHINGTON CAPITALS. AFTER TWO SEASONS, THE SCOUTS MOVED TO DENVER AS THE COLORADO ROCKIES. THEN, TO THE MEADOWLANDS, IN 1982–83, AS THE NEW JERSEY DEVILS.
The 1974 expansion draft had no impact on the Maple Leafs.
Ron Low played 42 games for the club in 1972–73 but was demoted to Tulsa of the Central Hockey League the following year when the Leafs deployed a three–goalie rotation: Doug Favell, Dunc Wilson and veteran Eddie Johnston, who was traded to St. Louis in May 1974 for forward Gary Sabourin. Likewise, defenseman Joe Lundrigan, a regular on the terrible '72–73 Leafs, spent the following year with Oklahoma City of the Central League. Forward Denis Dupere had contributed just eight goals and nine assists in 34 games to the 1973–74 Leafs.
1979 (June 13) — Edmonton Oilers, Hartford Whalers, Quebec Nordiques, Winnipeg Jets.
This expansion draft was more complicated as it involved the inclusion of four survivors from the WHA. First, there was a dispersal draft of players from the three WHA clubs (Birmingham Bulls, Cincinnati Stingers, Indianapolis Racers) that folded. The 17 existing NHL teams were able to reclaim rights to any players that had defected to the WHA — the exception being two goalies and two skaters that the incoming teams could hold on to. This allowed Edmonton to retain Wayne Gretzky and Hartford to keep Mark Howe. Quebec retained star forward Real Cloutier by trading its first-round amateur draft choice to Cloutier's NHL team (Chicago). The Blackhawks used that pick to select future Hall–of–Famer Denis Savard. Each of the 17 existing teams were allowed to protect 15 skaters and two goalies, then "fill" with someone not protected (as in 1967) if losing a player to the four ex–WHA clubs.
LEAFS PROTECTED LIST: Mike Palmateer, Paul Harrison, Borje Salming, Dave Burrows, Dave Hutchison, Ian Turnbull, Ron Wilson, Darryl Sittler, Lanny McDonald, Dan Maloney, John Anderson, Pat Boutette, Jerry Butler, Paul Gardner, Walt McKechnie, Rocky Saganiuk, Dave (Tiger) Williams.
LEAFS PLAYERS CHOSEN: Rick Ley, Hartford (Leafs "filled" with Jimmy Jones); Lorne Stamler, Winnipeg (Leafs "filled" with Ron Ellis); Kevin Kemp, Hartford (Leafs "filled" with Bruce Boudreau); Pierre Hamel, Winnipeg.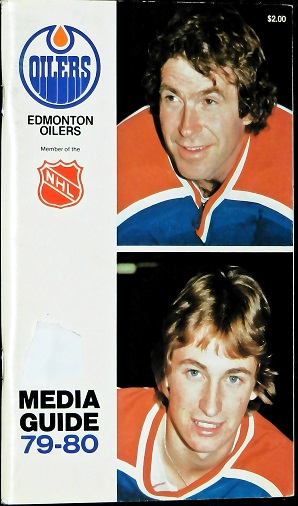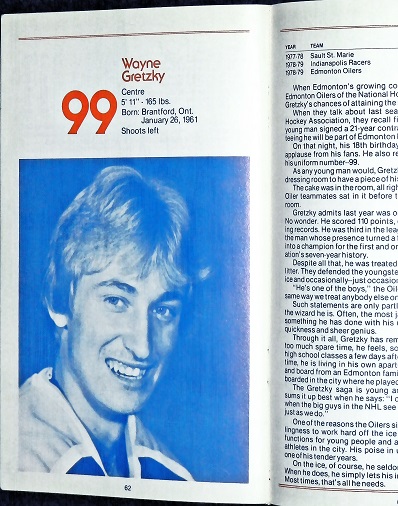 WAYNE GRETZKY'S BIO IN THE FIRST EDMONTON OILERS NHL MEDIA GUIDE.
Another draft that did not directly impact the Leafs, though Edmonton retaining Gretzky impacted the entire NHL in the 1980's. Had they reclaimed defenseman Rick Ley, the Leafs may have derived marginal benefit. Ley was a perennial star with New England of the WHA, but he played only two years with the NHL Whalers before retiring.
1991 (May 30) — San Jose Sharks.
After a 15–year absence, the NHL returned to the San Francisco Bay Area largely by accident. The California Seals, part of the original expansion in 1967, moved to Richfield, Ohio in 1976–77 as the Cleveland Barons. After two seasons of sparse crowds, the Barons merged their roster with the Minnesota North Stars. The Cleveland owners, Gordon and George Gund, assumed control of the North Stars. In early 1990, with attendance lagging at the old Met Center, the Gund brothers requested permission to relocate the franchise to the Bay Area; they were willing to play, for a time, out of the Oakland Coliseum–Arena, which the Seals had deserted after 1975–76.
Aiming to derive a huge expansion fee from northern California, the NHL governors turned down the Gunds but offered them, as compensation, the new team in San Jose. The Gunds paid the NHL $50 million then sold the North Stars to a group headed by Norman Green for $31.5 million. As part of the deal, the expansion San Jose Sharks were allowed to draft 14 skaters and two goalies from the North Stars. Both clubs would then replenish their rosters via the expansion draft. The 19 other existing NHL teams could protect two goalies and 16 skaters.
The Sharks and North Stars took turns selecting from the unprotected players.
AVAILABLE PLAYERS FROM THE LEAFS: Damian Rhodes, Normand Aubin, Mike Foligno, Aaron Broten, Jerome Dupont, Todd Hawkins, Kent Hulst, Greg Johnston, Kevin Maguire, Mike Millar, Rob Ramage, Dave Reid, Mike Stevens, Gilles Thibaudau.
LEAFS PLAYER CHOSEN: Rob Ramage (Minnesota).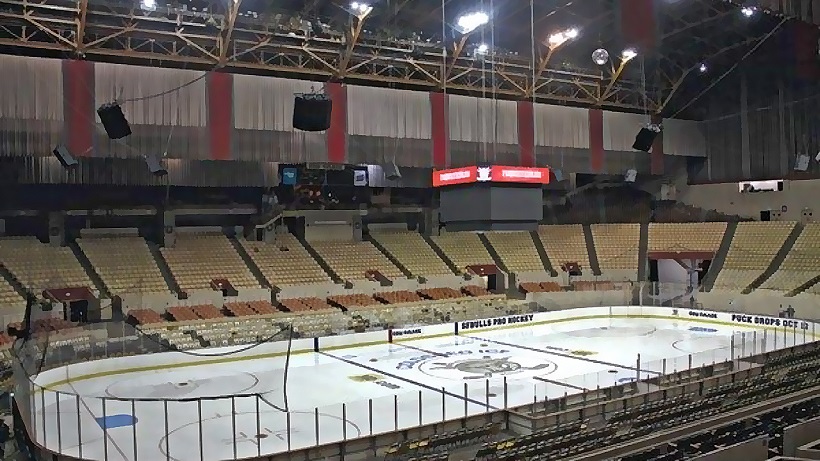 THE SHARKS PLAYED THEIR FIRST TWO SEASONS AT THE ANCIENT COW PALACE IN SAN FRANCISCO BEFORE MOVING TO THEIR NEW (AND CURRENT) ARENA IN DOWNTOWN SAN JOSE IN 1993–94.
Toronto lost defenseman Rob Ramage, captain of the dismal 1990–91 team that finished 23–46–11 for 57 points and out of the playoffs. Ramage contributed 10 goals and 25 assists, but was at the tail–end of a very good career (he would play only 34 games with Minnesota). This expansion draft was more about a player the Leafs didn't lose. Though available to the North Stars and Sharks, forward Mike Foligno went unclaimed and played a significant role with the team — led by Pat Burns and Doug Gilmour — that came within one victory of the Stanley Cup final in 1993. Foligno had two goals and eight points in 18 playoff games; included, was the overtime winner, at Detroit, in the pivotal fifth match of the opening round. The Maple Leafs upset the Red Wings in seven.
1992 (June 18) — Ottawa Senators, Tampa Bay Lightning.
There was elation and dejection here in Canada when the results of expansion for the 1992–93 season were announced on Dec. 6, 1990. The Nation's capital was awash in euphoria with the NHL returning to Ottawa after a 59–year absence; the original Senators started with the league in 1917–18 and became the St. Louis Eagles for 1934–35, folding after that one season. There was anger and resentment in Hamilton as that city failed in its NHL bid, despite a 17,300–seat arena (Copps Coliseum) that was only seven years of age. A group headed by hockey legend Phil Esposito (and backed by huge money from Japanese investors) won the other franchise, for downtown Tampa, disappointing a group bidding from adjacent St. Petersburg. In the expansion draft, the Lightning and Senators picked two goaltenders, seven defensemen and twelve forwards from 21 of the 22 existing teams.
San Jose, having joined the NHL the previous year, was exempt.
AVAILABLE PLAYERS FROM THE LEAFS: Jarmo Myllys, Brad Aitken, Normand Aubin, Brian Bradley, Mike Bullard, Mike Foligno, Todd Hawkins, Greg Johnston, Kevin Maguire, Kevin McClelland, Keith Osborne.
LEAFS PLAYERS CHOSEN: Brian Bradley, Keith Osborne (Tampa Bay); none by Ottawa.


IN 1992–93, THE NHL RETURNED TO OTTAWA FOR THE FIRST TIME SINCE 1933–34.
The Leafs lost forward Brian Bradley to Tampa Bay after a 10–goal, 31–point performance in 1991–92 with a team that again missed the playoffs. Playing regularly and on the No. 1 powerplay for the expansion Lightning, Bradley had a career season with 42 goals and 86 points. He would not have fared as well if retained by the Maple Leafs, who were fairly deep at center in 1992–93 with Doug Gilmour, Peter Zezel, John Cullen, Mike Krushelnyski and Kent Manderville. Again, this draft was about neither Ottawa nor Tampa Bay claiming Mike Foligno, who was coming off a broken leg suffered in a game against Winnipeg at Maple Leaf Gardens on Dec. 23, 1991.
1993 (June 24) — Anaheim Mighty Ducks, Florida Panthers.
I had some indirect involvement in this expansion as it came out of nowhere on Dec. 10, 1992 during the NHL Board of Governors meeting in West Palm Beach, Fla. I covered the meeting for The FAN–1430 (we had become Canada's first all–sports radio station just three months earlier) and was minding my own business outside a boardroom at The Breakers Oceanfront Resort when the late John Ferguson, then GM of the Winnipeg Jets, walked out for a bathroom visit. I knew Fergie from my days (in the mid–80's) writing stories for the Jets' game program. I casually said: "Anything going on, John?" And, he replied, "oh, not much, other than the NHL just adding Anaheim and Miami for next season." I told him, somewhat rudely, not to "sh** me" in that situation and he said, "do what you want, Howie. I just gave you a scoop." Trusting Ferguson, I raced out to the beach and reported the news live on the air. I can still hear Dan Shulman, the host, responding "Anaheim and Miami? What are you smoking down there, Howie?" But, it was true and The Canadian Press sent my info across the country.
Michael Eisner (The Walt Disney Company) and Wayne Huiezenga (Blockbuster Video) were introduced as the new owners and posed with Gary Bettman, who had just been confirmed as the NHL's commissioner, replacing outgoing president John Zeigler. The expansion draft, which I attended six months later in Quebec City (prior to the 1993 amateur draft), would allow the 24 existing teams to protect one goaltender, five defensemen and nine forwards. The Mighty Ducks and Panthers each selected three goalies, eight defensemen and thirteen forwards.
LEAFS PROTECTED LIST: Felix Potvin, Bob Rouse, Jamie Macoun, Sylvain Lefebvre, Dave Ellett, Todd Gill, Doug Gilmour, Dave Andreychuk, Wendel Clark, Glenn Anderson, Mike Baumgartner, Peter Zezel, Mike Eastwood, Kent Manderville, Rob Pearson.
LEAFS PLAYERS CHOSEN: Darren Puppa (Florida), Joe Sacco (Anaheim).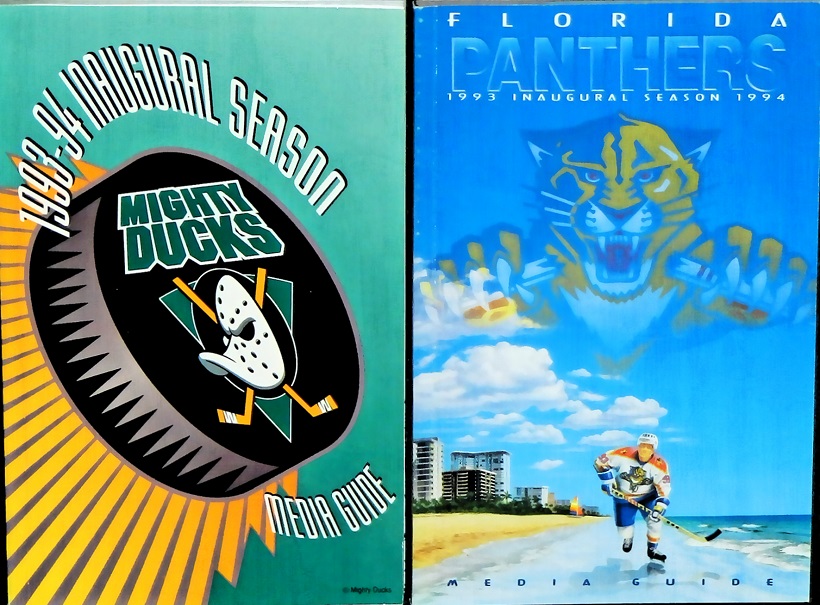 IN MY COLLECTION, THE FIRST MEDIA GUIDES OF THE MIGHTY DUCKS AND FLORIDA PATHERS.
More ho–hum for the Leafs, who lost their No. 2 goalie, Darren Puppa, to the Panthers. Puppa had spelled veteran Grant Fuhr and rookie Felix Potvin on only eight occasions in 1992–93. Damian Rhodes moved in as back–up to Potvin. Joe Sacco had four goals and eight points in 23 games as fourth–line right–winger behind Nikolai Boschevsky, Glenn Anderson and Mike Foligno. He scored 19 goals for the expansion Mighty Ducks.
1998 (June 26) — Nashville Predators.
I covered this expansion draft as well, in Buffalo, prior to the 1998 amateur lottery. Each of the 26 existing teams were allowed to protect either one goalie, five defensemen and nine forwards or two goaltenders, three defensemen and seven forwards. The Predators, managed by David Poile, could select one player from each club.
LEAFS PROTECTED LIST: Felix Potvin, Matthieu Schneider, Jason Smith, Dmitri Yushkevich, David Cooper, Sylvain Cote, Yannick Tremblay, Mats Sundin, Tie Domi, Igor Korolev, Lonny Bohonos, Nathan Dempsey, Darby Hendrickson, Kris King, Steve Sullivan, Todd Warriner.
AVAILABLE FROM LEAFS: Glenn Healy, Matt Martin, Greg Smyth, Craig Wolanin, Rob Zettler.
LEAFS PLAYER CHOSEN: Rob Zettler, defenseman.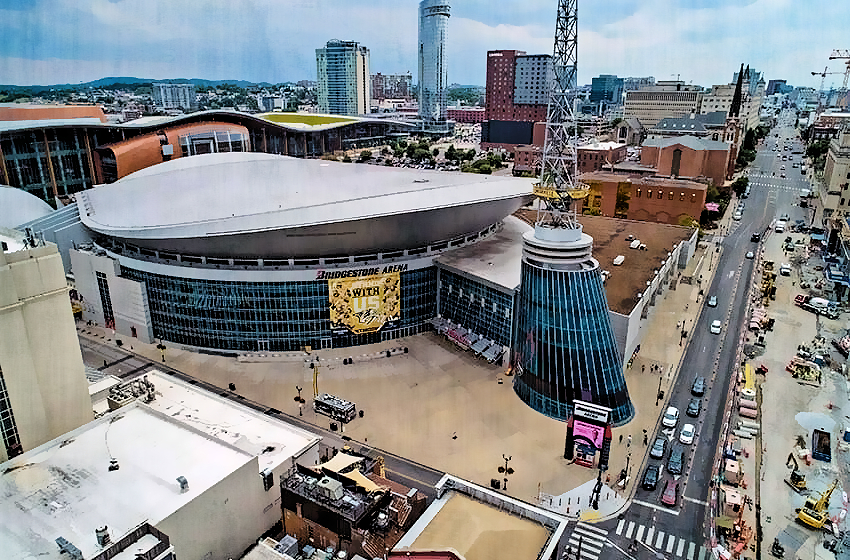 FROM THE OUTSET, THE PREDS HAVE PLAYED IN DOWNTOWN "SMASHVILLE" AT A FACILITY FORMERLY KNOWN AS THE GAYLORD ENTERTAINMENT CENTER (1999–2007); THE SOMMET CENTER (2007–10) AND, TODAY, BRIDGESTONE ARENA. 
Rob Zettler was a solid, unspectacular pro that bounced around between six clubs from 1989–2002. Acquired from Philadelphia during the 1995 NHL draft, Zettler appeared in 136 games with the Maple Leafs over three seasons. He would later become an assistant coach (2008–12) under Ron Wilson. Passed over by Nashville was veteran Glenn Healy, who continued to back up No. 1 Leafs goalie Curtis Joseph for the next three years.
1999 (June 25) — Atlanta Thrashers.
Same rules as the Nashville draft, though the Predators, as a second–year team, were exempt. This expansion exercise, which I covered for The FAN–590, was held in Boston, one day before the 1999 amateur draft.
LEAFS PROTECTED LIST: Curtis Joseph, Bryan Berard, Alexander Karpovstev, Sylvain Cote, Dmitri Yushkevich, Chris McAllister, Mats Sundin, Steve Thomas, Sergei Berezin, Mike Johnson, Igor Korolev, Fredrik Modin, Steve Sullivan, Todd Warriner, Yanic Perreault.
AVAILABLE FROM LEAFS: Glenn Healy, Jeff Reese, Greg Smythe, Yannick Tremblay, Dallas Eakins, Glen Featherstone, Dmitri Yakushin, Kevin Dahl.
LEAFS PLAYER CHOSEN: Yannick Tremblay, defenseman.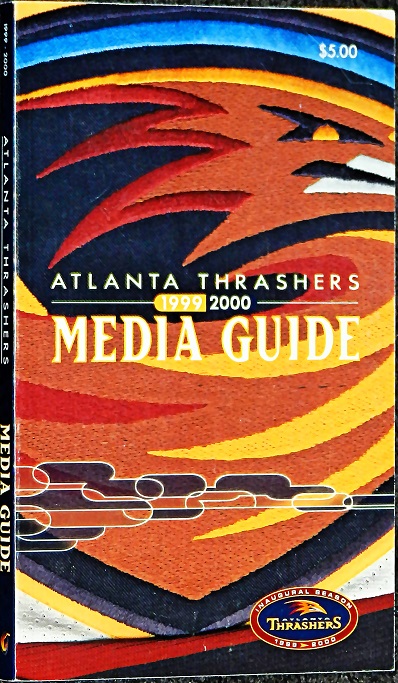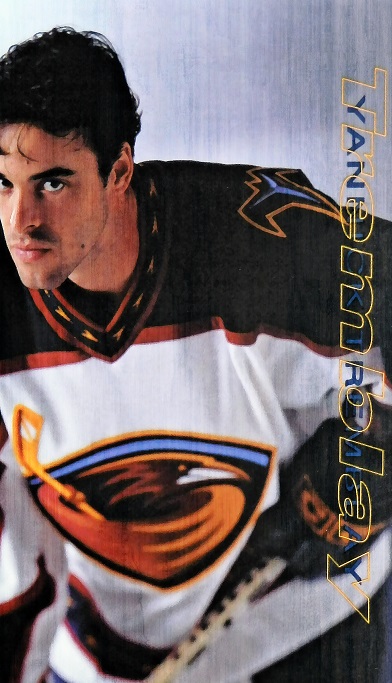 Most Leaf fans today, if presented the name Yannick Tremblay, would reply, "who's he?" Even if Tremblay (bio, above, in the Thrashers' first media guide) had a decent NHL run (300 games) over parts of nine seasons. A sixth–round draft pick (145th overall) in 1995, Yannick appeared in 78 games with the Leafs over three seasons (four goals, 11 assists). His best NHL campaign was the expansion year in Atlanta when he amassed 10 goals and 31 points. Toronto was fairly deep on defense with Tomas Kaberle, Bryan Berard, Dmitri Yushkevich, Alexander Karpovstev, Cory Cross and Danny Markov. The Leafs would add Bryan McCabe the following season.
2000 (June 23) — Columbus Blue Jackets, Minnesota Wild.
The six–team expansion project of Gary Bettman, over eight seasons, culminated with Minnesota rejoining the NHL after a seven–year absence (the North Stars moved to Dallas in 1993–94). Columbus became the first NHL franchise based in Ohio since the ill–fated Cleveland Barons (1976–78). This expansion draft took place in Calgary prior to the 2000 amateur draft. Nashville and Atlanta, the two newest NHL teams, were exempt.
Each of the existing 26 teams lost two players.
LEAFS PROTECTED LIST: Curtis Joseph, Cory Cross, Dmitri Yushkevich, Danny Markov, Alexander Karpovstev, Chris McAllister, Mats Sundin, Steve Thomas, Darcy Tucker, Tie Domi, Sergei Berezin, Jonas Hoglund, Dmitri Khristich, Yannick Perreault.
AVAILABLE FROM LEAFS: Glenn Healy, Jimmy Waite, Francis Larivee, Bryan Berard, Greg Andrusek, Nathan Dempsey, Gerald Diduck, Kevyn Adams, Tommi Rajamaki, Terran Sandwith, D.J. Smith.
LEAFS PLAYERS CHOSEN: Tommi Rajamaki, Kevyn Adams (Columbus); none by Minnesota.

I LOVED COVERING HOCKEY GAMES AT THE XCEL ENERGY CENTER IN ST. PAUL, HOME OF THE MINNESOTA WILD. THE ARENA EVEN LOOKED HANDSOME WHILE RECENTLY HOSTING A COVID–19 VACCINE CLINIC.
Even I wondered "who?" when I saw the name Tommi Rajamaki.
A Google search revealed he was a seventh–round draft pick of the Leafs in 1994 who never played a game in the NHL. Kevyn Adams, current GM of the Buffalo Sabres, did play in the bigs and won a Stanley Cup with Carolina. He appeared in 58 games with the Leafs, contributing five goals and 13 points (all in the 1999–2000 season). His best NHL output was 15 goals with the Cup–champion Hurricanes in 2005–06. Defenseman Bryan Berard would have been protected by the Leafs if not for a career–threatening eye injury sustained at Ottawa on Mar. 11, 2000 when accidentally clipped by the stick of Marian Hossa. Berard courageously resumed his career with the New York Rangers in 2001–02 and had his second–best NHL season (47 points) with Chicago in 2003–04.
2017 (June 18–20) — Vegas Golden Knights.
The initial expansion draft of the salary cap era resulted in the most–astonishing feat in the history of professional team sport — a first–year club playing for the championship. The Vegas Golden Knights shocked the NHL, ultimately losing the 2018 Stanley Cup final in five games to Washington. Yet again, the draft yielded nothing from the Leafs, as minor–league forward Brendan Leipsic went 17th to the Knights, remarkably ahead of three players that became cornerstones of the expansion juggernaut: William Karlsson (27th, Columbus), Marc–Andre Fleury (29th, Pittsburgh) and Nate Schmidt (30th, Washington). Leipsic played six games for the Leafs (one goal) in 2015–16, then 44 games (two goals) for Vegas before being traded to Vancouver on Feb. 26, 2018.

WHAT A SHOCK WHEN THE VEGAS GOLDEN KNIGHTS PLAYED FOR THE 2018 STANLEY CUP IN THEIR FIRST SEASON.
So, to recap the uneventful developments involving the Toronto Maple Leafs over more than a half–century of NHL expansion drafts, here, again, were the players lost to incoming teams: Terry Sawchuk, Red Kelly, Bob Baun (1967); Pat Quinn, Danny Johnson, Ron Ward (1970); Billy MacMillan, Brian Spencer, Tom Miller (1972); Ron Low, Denis Dupere, Joe Lundrigan (1974); Rick Ley, Lorne Stamler, Kevin Kemp, Pierre Hamel (1979); Rob Ramage (1991); Brian Bradley, Keith Osborne (1992); Darren Puppa, Joe Sacco (1993); Rob Zettler (1998); Yannick Tremblay (1999); Tommi Rajamaki, Kevyn Adams (2000); Brendan Leipsic (2017).
If you recognized all of these names, you are a Grade–A hockey expert.
EMAIL: HOWARDLBERGER@GMAIL.COM