TORONTO (Aug. 25) — When the Maple Leafs open training camp in September, they will, for the first time, attempt to terminate the longest drought in Stanley Cup history — a dubious honor shared, until this year, with the New York Rangers. New York's championship over Vancouver in 1994 broke off a 54–year famine… which the Leafs equaled by blowing their first–round series against Montreal in May. Yes, some will argue that Buffalo and Vancouver will also be going on 55 years without a Cup triumph, but neither had been conceived when the Leafs last raised the trophy on May 2, 1967. The Sabres and Canucks wouldn't join the National Hockey League until 1970–71. A similar claim, mostly by Leaf apologists, was made about the St. Louis Blues until the October 1967 NHL entry put it to rest with a Stanley Cup victory in 2019. So, Toronto, right now, stands alone in playoff ignominy.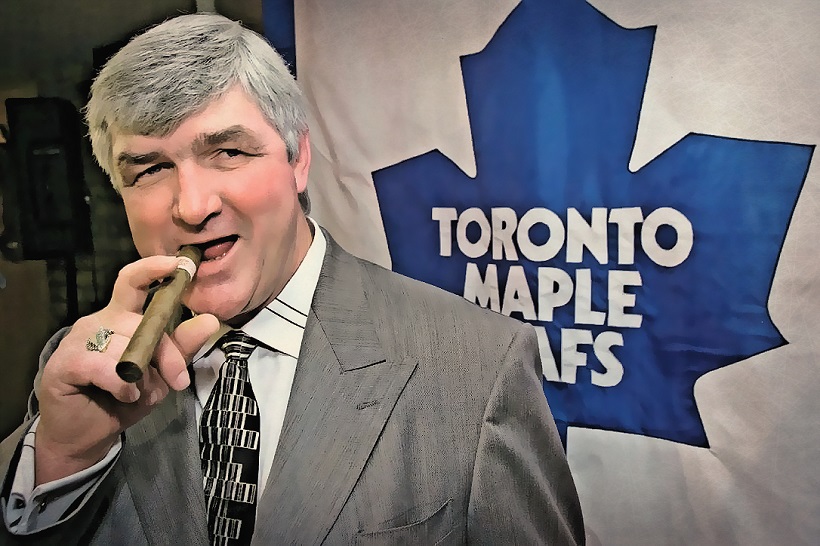 During their record drought, the Maple Leafs have averaged roughly one coach for every 2.5 seasons; the ratio is closer to 1:2 when factoring interim replacements. A total of 20 men have held the position since Punch Imlach was fired by Stafford Smythe on Apr. 6, 1969. The late Pat Quinn (d. Nov. 23, 2014) holds the lonest post–1967 tenure of seven seasons (1998–99 to 2005–06, not including the canceled schedule of 2004–05) while Joe Crozier, today 92, has the briefest, lasting only 40 games in 1980–81. The common thread among all 20 head coaches since Imlach, of course, is that none have been capable, to this point, of lifting the Leafs into the Stanley Cup final. Sheldon Keefe will begin his third season behind the bench on Oct. 13 of this year without reasonable expectation that his club will end the 55–year famine next June. In today's blog, I reflect on the first 10 coaches that guided the Maple Leafs after Imlach, who won four Stanley Cup titles with the club between 1962 and 1967:
JOHN McLELLAN — 1969–70 to 1972–73
Best Stretch of Results: 13–1–2 (Dec. 9, 1970 to Jan. 13, 1971)
Worst Stretch of Results: 4–13–2 (Dec. 9, 1972 to Feb. 21, 1973)
Record as Leafs Coach: 117–136–42 (.462)
Playoff Games Won: 3 / Playoff Series Won: 0
Among the most–respected and revered figures in modern Leafs history started off disastrously in place of Imlach, finishing last in the old East Division in his first year (1969–70), then starting Year 2 with a grim record of 7–18–1. But, John McLellan (Aug. 6, 1928 – Oct. 27, 1979) had some success with a young Toronto team that Imlach all but destroyed by sticking too long with the veterans of the 1967 Stanley Cup. After the poor start to 1970–71, the Leafs rebounded with a 30–14–7 mark to make the playoffs. Consecutive wins in Games 2 and 3 of the playoff quarterfinals that season provided the Leafs a 2–1 edge over New York. But, the heavily favored Rangers recovered to win three straight and the series in six. A middling result followed in 1971–72 (33–31–14 for 80 points). Toronto center Jim Harrison scored in overtime at Boston in Game 2 of the quarterfinals, but the Bruins prevailed in the next three matches to win the series in five. A pleasant, easygoing man, McLellan began to incur stomach ulcers in 1972–73, as the Leafs plummeted by 16 points in the standings and out of the playoffs. Harold Ballard's stubborn indifference toward the new World Hockey Association cost the club goalie Bernie Parent and skaters Harrison, Guy Trottier, Rick Ley and Brad Selwood. A threadbare defense, featuring such names as Joe Lundrigan, John Grisdale and Dave Fortier, could not support the club and McLellan called it quits to regain his health.
LEONARD (RED) KELLY — 1973–74 to 1976–77
Best Stretch of Results: 13–4–4 (Feb. 8 to Mar. 30, 1975)
Worst Stretch of Results: 2–7–6 (Nov. 7 to Dec. 13, 1975)
Record as Leafs Coach: 133–123–62 (.516)
Playoff Games Won: 12 / Playoff Series Won: 3*
*Best–of–three preliminary rounds
The Hall–of–Fame player with Detroit and Toronto, Red Kelly (Jul. 9, 1927 – May 2, 2019) enacted a key role in all four Stanley Cup victories under Imlach in the 60's. He then retired to become the first coach of the Los Angeles Kings (1967–69) and the second coach of the Pittsburgh Penguins (1969–73) before rejoining the Leafs to replace McLellan. Kelly arrived at an opportune juncture, with Darryl Sittler emerging as a star and general manager Jim Gregory enjoying a prolific summer of 1973 — signing Swedish imports Borje Salming and Inge Hammarstrom; trading for veteran goalies Doug Favell, Ed Johnston and Dunc Wilson; securing Junior prospects Lanny McDonald and Ian Turnbull in the first round of the NHL draft. As such the Leafs improved by 22 points and made the playoffs, getting swept by Bobby Orr, Phil Esposito and the Boston Bruins. Kelly is best–remembered for invoking "Pyramid Power" prior to Game 6 of the 1976 Stanley Cup quarterfinals against Philadelphia. When Sittler went out and scored a record–tying five goals at Maple Leaf Gardens, it became all the rage. But, the little monuments under which the players put their stick–blades didn't work for Game 7. The Flyers romped, 7–3, at the Spectrum. Kelly was fired after the Maple Leafs coughed up four consecutive games to Philly the following year, having won the first two matches of the quarterfinal at the Spectrum. Toronto should have prevailed in a sweep — leading by a goal in the final minute of Game 3… and 5–2 midway through the third period of Game 4. But, the Flyers won both matches, at the Gardens, in overtime. The red–head never coached another NHL game.
ROGER NEILSON — 1977–78 to 1978–79
Best Stretch of Results: 19–6–3 (Oct. 17 to Dec. 19, 1977)
Worst Stretch of Results: 2–10–0 (Mar. 19 to Apr. 9, 1978)
Record as Leafs Coach: 75–62–23 (.541)
Playoff Games Won: 8 / Playoff Series Won: 3
The Leafs showed instant improvement under the Junior coaching wiz from Peterborough, adding 11 points in the standings (for 92) while reducing goals–against by 48. The club began 1977–78 at 19–6–3 and became the first Toronto team since 1967 to win a best–of–seven playoff. Along the way, captain Sittler enjoyed his most–prolific NHL season with 45 goals and 72 assists for 117 points. It remains the second–highest total for a Leafs player, behind Doug Gilmour's 127 points in 1992–93. If not for a puzzling swoon at the end of the schedule, when the club lost 10 of its final 12 games, Neilson (Jun. 16, 1934 – Jun. 21, 2003) would have guided the Leafs to their first 100–point season. After a two-game romp over Los Angeles in the preliminary playoff, the Leafs clawed back from 2–0 and 3–2 series deficits against the New York Islanders to prevail in Game 7 at the Nassau Coliseum on Lanny McDonald's overtime goal. Without the injured Borje Salming, Neilson's crew was then fodder for the dynastic Montreal Canadiens in the semifinals. With mammoth expectation, the following season went sideways for the Leafs. A five–game losing streak led to Neilson's dismissal, live on TV, by Harold Ballard, who told broadcaster Dick Beddoes "he's gone" after a late–game loss at Montreal on Mar. 1, 1979. When the goofy owner couldn't find anyone else to work for him, he re–instated Neilson, instructing the coach to appear behind the bench, two nights later, wearing a paper bag over his head as a stunt. To his eternal credit, Neilson demurred and received a standing ovation from the fans at the Gardens prior to a 4–3 win over Philadelphia. After the disappointing season (11–point decline), ending with a quarterfinal sweep by Montreal, Neilson and GM Jim Gregory were both dismissed.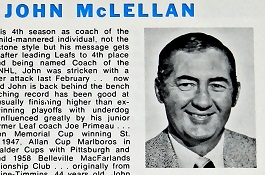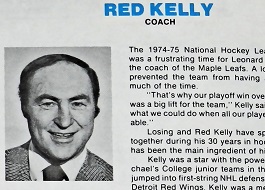 FLOYD SMITH — 1979–80
Best Stretch of Results: 10–4–2 (Nov. 7 to Dec. 15, 1979)
Worst Stretch of Results: 4–11–1 (Dec. 19, 1979 to Jan. 26, 1980)
Record as Leafs Coach: 30–33–5 (.477)
Playoff Games Won: 0 / Playoff Series Won: 0
Acquired by the Leafs as a player in the Frank Mahovlich trade with Detroit (Mar. 3, 1968), Smith, 86 today, appeared in 131 games over parts of three seasons. In 1970–71, he became the first captain of the Buffalo Sabres, then coached Buffalo to the Stanley Cup final in 1975, losing against Philadelphia. His one season behind the Leafs bench was a disaster, in a couple of ways. Harold Ballard's appointment (on July 4, 1979) of an over–the–hill Punch Imlach to replace Jim Gregory as GM set back the franchise for nearly 15 years. Imlach chose Smith to coach a club overwhelmed by dissention and distrust, as the cranky GM set out to fracture the nucleus of Sittler, McDonald, Salming, Turnbull and goalie Mike Palmateer. The clean break occurred on Dec. 29, 1979, when Imlach dealt McDonald to the old Colorado Rockies for another very good winger, Wilf Paiement. But, Lanny was a rare breed — massively popular in Toronto and capable of scoring 66 goals, as he did with Calgary in 1982–83. The Leafs did not recover from this gaping wound until Doug Gilmour came aboard in January 1992. Smith's coaching career ended tragically on Mar. 14, 1980 when his car crossed a median in Grand Island, N.Y. and killed two Pennsylvania residents in another vehicle. He could not continue behind the bench and was replaced, on an interim basis, by another ex–Leaf, Dick Duff. On Oct. 9, 1981, the Ontario Supreme Court acquitted Smith on charges of criminal negligence and impaired driving. He was GM of the Leafs in 1989–90 and 1990–91.
JOE CROZIER — 1980–81
Best Stretch of Results: 6–1–0 (Oct. 11–23, 1980)
Worst Stretch of Results: 1–9–0 (Dec. 18, 1980 to Jan. 7, 1981)
Record as Leafs Coach: 13–22–5 (.388)
Playoff Games Won: 0 / Playoff Series Won: 0
Ol' Joe is still crowing at 92, but he spent most of his brief tenure behind the Leafs bench groaning. The "Lost Decade of the 80's" under Ballard swung into full gear with more dissent under Imlach, who suffered a heart attack just prior to training camp. Though Paiement (97 points) and Sittler (96 points) had superb seasons, the club was a defensive mess, allowing a franchise–record 367 goals, 130 more than with Neilson three years earlier. Crozier began to lose his tenuous grip in late–December. His infamous swan song was an 8–2 drubbing at the Gardens (Jan. 7, 1981) by the putrid Winnipeg Jets, who would finish dead–last in the overall standings with a record of 9–57–14 for 32 points. Ol' Crow arrived at work the following day to receive his walking papers and derisively thanked an enormous throng of reporters for its "support" on the way out. He never again coached in the NHL.
MIKE NYKOLUK — 1980–81 to 1983–84
Best Stretch of Results: 10–4–1 (Jan. 24 to Feb. 25, 1983)
Worst Stretch of Results: 2–18–5 (Jan. 20 to Mar. 13, 1982)
Record as Leafs Coach: 89–144–47 (.402)
Playoff Games Won: 1 / Playoff Series Won: 0
We can provide you a couple of niceties pertaining to Mike Nykoluk, today 86. He was a pleasant, affable man, liked by nearly all that crossed his path. And, he miraculously survived the 1981–82 season as Leafs coach, even as the club careened to its worst–ever record: 20–44–16 for 56 points. Under affable Mike, the Leafs sustained two of the three worst defensive milestones in franchise history, yielding 380 goals in '81–82 and a record 387 in 1983–84. Of course, the blue line and goaltending were a complete shambles during that time, but Nykoluk is remembered for a system that was limited to shooting the puck into the opposition zone. From its own territory, the young Leafs broke out with acne rather than any reasonable structure. It was during Nykoluk's tenure, though not his fault, that Sittler left the club after a decade of noble service. GM Gerry McNamara traded him to Philadelphia on Jan. 20, 1982 for someone named Rich Costello. Also on the Leafs was forward Norm Aubin. Which prompted wisecracking Globe and Mail columnist Allen Abel to pen a disdainful piece entitled "AUBIN AND COSTELLO." McNamara fired Nykoluk after the Leafs missed the playoffs in 1983–84 with a record of 26–45–9 for 61 points.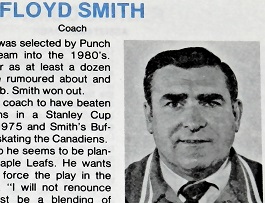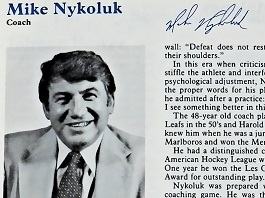 DAN MALONEY — 1984–85 to 1985–86
Best Stretch of Results: 8–5–3 (Feb. 13 to Mar. 17, 1986)
Worst Stretch of Results: 1–14–6 (Oct. 14 to Dec. 9, 1984)
Record as Leafs Coach: 45–100–15 (.328)
Playoff Games Won: 6 / Playoff Series Won: 1
One of the most–dismal coaching records in Leafs history appeared to be salvaged by the 1986 playoffs, when Dan Maloney (Sep. 24, 1950 – Nov. 19, 2018) guided the club to a shocking first–round sweep of Chicago in the best–of–five preliminary round. The first–place Blackhawks had finished a whopping 29 points ahead of the Leafs in the old Norris Division. But, the young Toronto squad — Ken Wregget performing well in goal; Steve Thomas, Tom Fergus, Gary Leeman, Russ Courtnall, Rick Vaive and Wendel Clark providing offense — won the first two games at Chicago Stadium, then routed the visitors, 7–2, in Game 3 at Maple Leaf Gardens in arguably the most–euphoric night of the Ballard era. Against Doug Gilmour and the Blues in the Division final, the Leafs won two of the first three matches, but ultimately fell in Game 7 (2–1) at the old St. Louis Arena. Just as Maloney was rounding into form behind the bench, he got lowballed by silly Ballard in a contract offer and bolted to the Winnipeg Jets. Dapper Dan still holds the mark for worst season as Leafs coach: 1984–85, when the club finished last in the overall standings with a 20–52–8 record for 48 points, enabling it to select Clark first overall in the 1985 NHL draft.
JOHN BROPHY — 1986–87 to 1988–89
Best Stretch of Results: 7–2–3 (Oct. 5 to Nov. 5, 1986)
Worst Stretch of Results: 1–15–6 (Dec. 26, 1987 to Feb. 11, 1988)
Record as Leafs Coach: 64–111–18 (.378)
Playoff Games Won: 9 / Playoff Series Won: 1
The Ballard era swung into full circus with John Brophy (Jan. 20, 1933 – May 23, 2016) behind the bench. Classy and mild–mannered away from the action, Brophy was a raving maniac as a player in the old Eastern Hockey League and a coach in the NHL. Toronto Sun hockey writer Lance Hornby forever immortalized Brophy by recording an unprecedented rant after a Leafs loss in Minnesota on Feb. 22, 1988. In six minutes and two seconds, Brophy dropped 57 f–bombs into Hornby's mini–cassette. For posterity, here's a full transcript of the vulgar diatribe:
Brophy: I didn't see any improvement. That was the worst game we played in a f—in' whole bunch. The other thing is this: we've got to give Minnesota a lot of credit. They outworked us everywhere all over the rink. They outhit us, outplayed us. I had a goaltender working tonight. I had Todd Gill working tonight on defense, Rick Lanz, Peter Ihnacak and (Mike) Blaisdell. They were the only guys who worked on this hockey club tonight. The rest of them stunk the f—in' joint out.
Hornby: How do you explain that? Such a big game.
Brophy: Don't ask me as to how to explain that. It's nothing new. They've done it all f—in' year long.
Hornby: Anything you can do to shake them up before the next game?
Brophy: I don't know. Listen, I'm tired and sick and f—in' tired about having f—in' people who won't come to the f—in' rink and you have to ask people to get shook up and you have to ask people to get moved around. And you've got to try to motivate people. I got to figure that we've got f—in' seriously consider what the f— we've got on this hockey club. They're not f—in' foolin' nobody. And most of all, they're not fooling anybody else in the f—in' league, I'll tell you that. F—in' let a guy run Borje Salming at the end of the f—in' game, never do f— all. It's a disgrace. I'm sick and f—in' tired of making excuses for all these f—in' guys getting' paid on this hockey club blaming it on somebody else all the f—in' time.
Hornby: You have the power to make changes.
Brophy: What do you think if we play like that, for Christ's sake? Do you think the doors are being knocked down asking for our players?
Hornby: Can you do it with the club you have? You're saying it's in them to do it.
Brophy: You can talk about any team. You can talk about the team we just played and congratulate them because they f—in' beat the shit right out of us, there's no question about it.
Hornby: Can I ask you about (Basil) McRae? What happened there?
Brophy: I don't know, what the f—. It's nothing new with those two guys, they fight all the time. You have to give him a lot of credit, he came out and tried to do the things he can.
Hornby: Did you have anything to say to him yourself?
Brophy: It's just talk in general. It's a bunch of horseshit.
Hornby: This has got to be a little embarrassing for your guys.
Brophy: It's embarrassing. It's f—in' embarrassing, without f—in' question. It's embarrassing. Embarrassing, embarrassing. It's very f—in' embarrassing. But it seems to never be around who is playing the f—in' game. It's always embarrassing for somebody else. These 22–23-year–old snot–nosed…there's a f—in' bunch of f—in' people here trying to get f—in' people fired all the time. They get paid plenty f—in' good money to play f—in' hockey. And I'm telling you right now, it's a f—in' bunch of f—in' shit that's been happening on this team most of this f—in' year. Who are these f—in' guys anyway? Who the f— do they think they are? They can go out and play a f—in' game in and a game out and play one and they play f—in' four or five f—in' bad ones and don't even f—in' play. Just who are they and who the f— do they think they're kidding? Where do they get the f—in' nuts to come to the f—in' rink every f—in' second day and fourth day and play and play one f—in' period in a week and all this f—in' shit and get away with it? Just who the f— can they explain that to? All they've f—in' got are a bunch of f—in' excuses for f— sake. Win a f—in' game, get all happy, that's good enough for a f—in' month.
Hornby: Do you plan to sit down with them in the next day or two and make this clear to them?
Brophy: It's is very clear to those, from the f—in' start I am tired explaining, I'm tired of making f—in' things clear to this f—in' hockey club. I am f—in' wore out doing it. We explain more things to this f—in' hockey team and get shit for it than any team in history. Don't tell me they weren't explained to and talked to and told.
Hornby: Did you speak to them between periods?
Brophy: Yeah, I talked plenty. Who are these f—in' people who drag that f—in' uniform down into the f—in' mud for Christ's sake? Great players play in the f—in' thing and then act like this here. Who are they?
For all of the nonsense, Brophy's 1986–87 team nearly made it to the Stanley Cup semifinals. After a six–game upset of St. Louis, the Leafs took a 3–1 lead against Detroit in the Norris Division final, only to drop three consecutive matches… and the series in seven. Until this past May, against Montreal, it was the last time a Toronto team coughed up such an advantage. One victory in 22 games early in 1988 sealed Brophy's fate. After he was fired by Ballard, the late Miroslav Frycer, a Leafs winger, expressed his unvarnished hatred for the coach.
GEORGE ARMSTRONG — 1988–89
Best Stretch of Results: 4–1–1 (Feb. 17–25, 1989)
Worst Stretch of Results: 3–7–1 (Feb. 27 to Mar. 19, 1989)
Record as Leafs Coach: 17–26–4 (.404)
Playoff Games Won: 0 / Playoff Series Won: 0
The Chief wanted relief from the grief of coaching before he stepped behind the bench to replace John Brophy. But, Ballard insisted that Hall–of–Famer George Armstrong (Jul. 6, 1930 – Jan. 24, 2021), captain of the four Toronto Stanley Cup teams under Punch Imlach in the 1960's, guide the club for the remainder of the 1988–89 season. He did so, reluctantly and nobly, with a team that was miles out of playoff contention. The highlight of Armstrong's brief coaching stint was a 10–goal eruption against the New York Rangers, at Madison Square Garden, on Feb. 17, 1989. During the 1989 NHL draft at the Met Center in Bloomington Minn., Ballard (while losing control of his bladder at the Leafs table) embarrassed young GM Gord Stellick by choosing Armstrong to announce the club's selections. The Chief successfully lobbied for a return to scouting before the 1989–90 schedule.
DOUG CARPENTER — 1989–90 to 1990–91
Best Stretch of Results: 9–1–1 (Dec. 30, 1989 to Jan. 26, 1990)
Worst Stretch of Results: 1–9–1 (Oct. 4–25, 1990)
Record as Leafs Coach: 39–47–5 (.456)
Playoff Games Won: 1 / Playoff Series Won: 0
Only the second career coach hired during the Ballard years (after Neilson), Carpenter, 79 today, led the 1989–90 team to the highest–scoring year in franchise history: 337 goals (4.21 per game). The problem, as always, is the club yielded 358 scores (4.48 per game), still tied for fifth–most in one season. Gary Leeman became only the second Leafs player to score 50 or more goals (51), while Vincent Damphousse (94 points), Ed OIczyk (88 points), Daniel Marois (39 goals) and Mark Osborne (73 points) were prolific. The defensive bugaboo, to no one's surprise, prevented playoff success. Toronto lost the Norris Division semifinal in five games to St. Louis. When the Leafs wobbled out of the gate to begin 1990–91 with a 1–9–1 record — yielding 54 goals (4.91 per game) — Carpenter was fired and replaced by Tom Watt. Doug had coached the New Jersey Devils from 1984–88.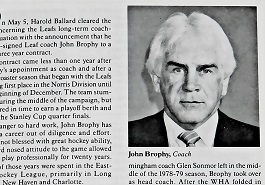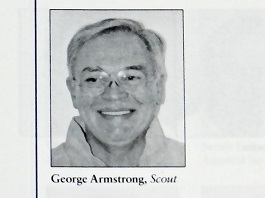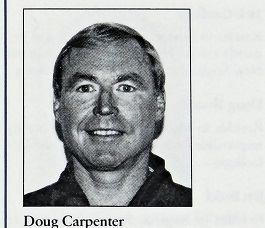 HOCKEY WORLD MAGAZINE COVERS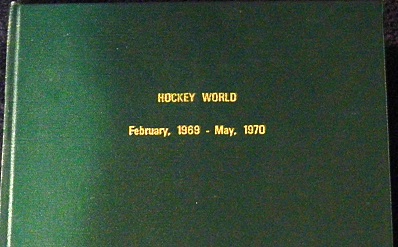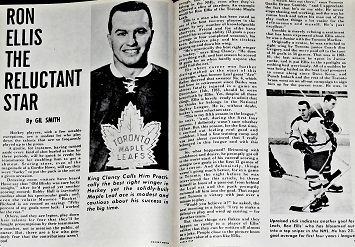 To best maintain the hockey magazines collected from the 1960's and 70's, I had them bound into book form (top–left) more than 30 years ago. These are issues of Hockey World, dating from February 1969 to May 1970. The monthly periodical, sold between October and May, was produced, beginning in 1965, by the Ken–Will Publishing Company of Montreal, the same group that published weekly issues of The Hockey News. Ken–Will also produced, starting in 1954, editions of Hockey Pictorial magazine. Both were available on newsstands in Canada and the United States. In October 1970, I began purchasing the magazines at the cigar store in Bathurst Manor Plaza, around the corner from where I grew up. They cost 50 cents apiece. Earlier editions were procured from memorabilia shows in the 80's and 90's. They rank among the most–coveted items in my sports collection.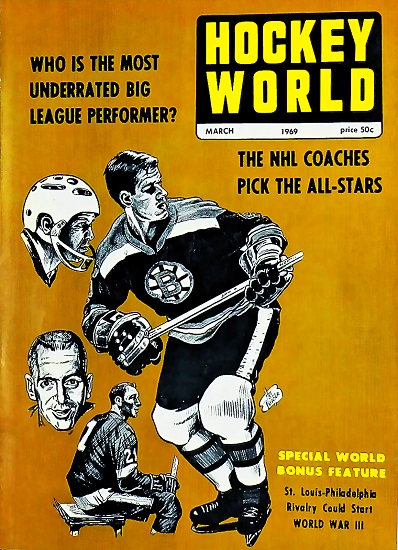 FEBRUARY 1969: RED BERENSON / MARCH 1969: BOBBY ORR.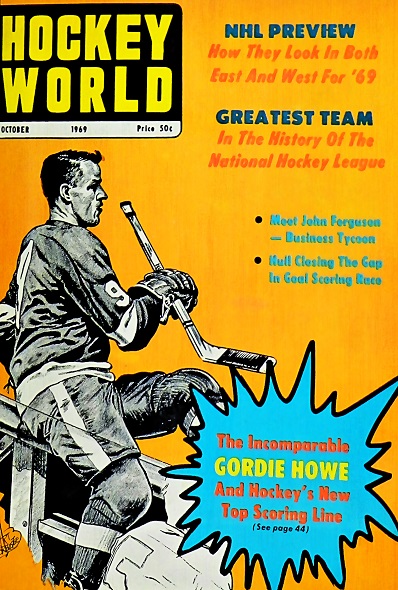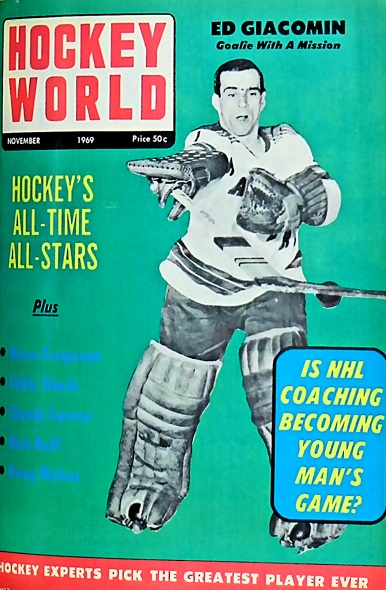 OCTOBER 1969: GORDIE HOWE / NOVEMBER 1969: ED GIACOMIN.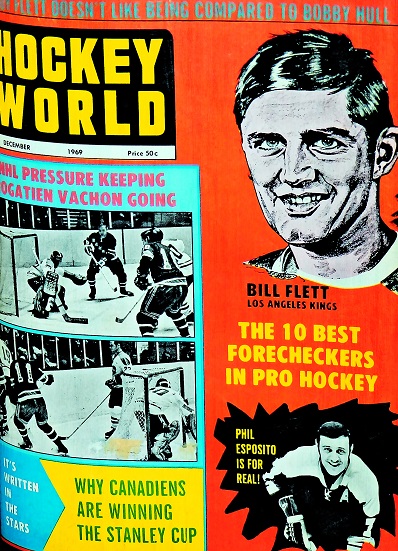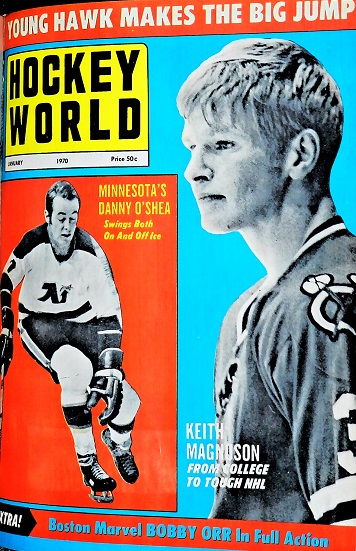 DECEMBER 1969: BILL (COWBOY) FLETT / JANUARY 1970: KEITH MAGNUSON.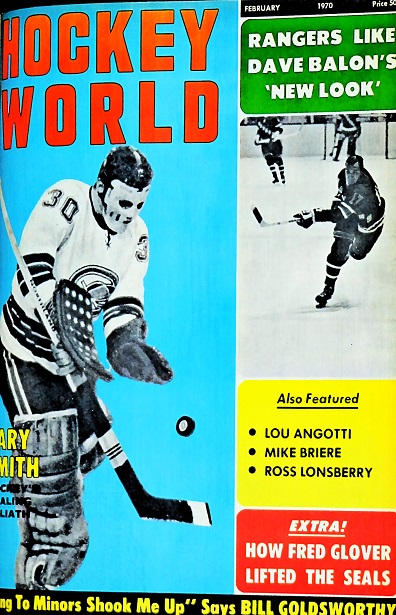 FEBRUARY 1970: GARY SMITH / MARCH 1970: TONY ESPOSITO.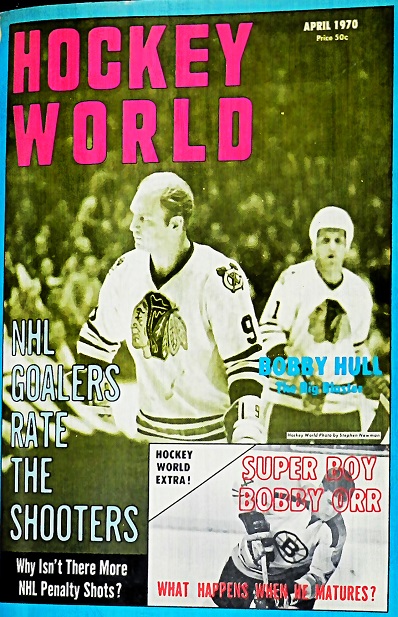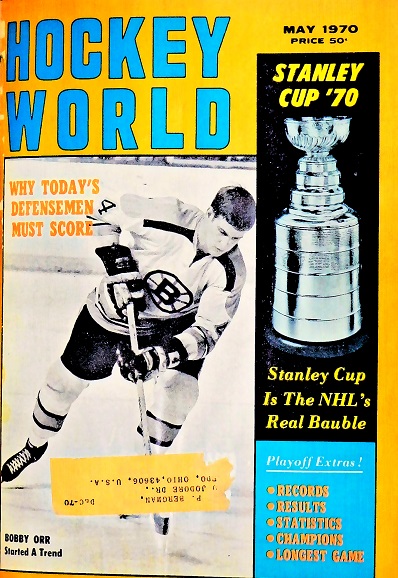 APRIL 1970: BOBBY HULL / MAY 1970: BOBBY ORR.
EMAIL: HOWARDLBERGER@GMAIL.COM