TORONTO (Aug. 28) — Perhaps I'm a bit late to the party considering it was three months ago — on May 27 — that a Wayne Gretzky rookie card from the 1979–80 O–Pee–Chee set sold for $3.75 million (U.S.), the most ever obtained for such a hockey item. I have a Gretzky rookie card as part of the full set from that season. And, 83 other Gretzky cards from his first decade in the National Hockey League: nine years with the Edmonton Oilers and his initial season (1988–89) with the Los Angeles Kings. I finally decided to photograph and catalogue these items for a blog. I surfed the Internet to find the highest price requested for the the individual Gretzky cards in each set, excluding those that depict scoring feats, records and All–Star selections (they, too, are part of the display).
All of the Gretzky cards in this blog are mine and have been photographed by me. They clearly show that the four corners of each item are in perfect condition, having been maintained in plastic sheets and three–hole binders since they were purchased in the corresponding years. Not all were cut by the O–Pee–Chee company of London, Ont. to precise centering, which is another element of a Mint sports card. But, many do meet that criterion.
Surely, you are wondering if I've composed this photo–blog because I'm hard–up for cash and need to sell the items. The answer is: absolutely not. Are they off limits, however, to any that wish to inquire about them? Again: absolutely not. In fact, this blog is squarely aimed at serious hockey card collectors. If you see something — or anything — that attracts your interest, contact me. My email is howardLberger@gmail.com. We'll talk. For how long and how seriously will depend on you. Again, I'm not anxious to sell these cards, as they will increase in value with the passage of time. But, everything is negotiable. For each of Gretzky's first ten NHL seasons, I have photographed the plastic sheet in which his card appears; then the card, itself. As mentioned, most are preceded by a price discovered on line. Also pictured are the peripheral Gretzky cards (scoring, records, All–Star, etc.) and the annual checklist–card with No. 99's name. So, have a browse — for fun, potential business, or both.
1979–80 O–PEE–CHEE: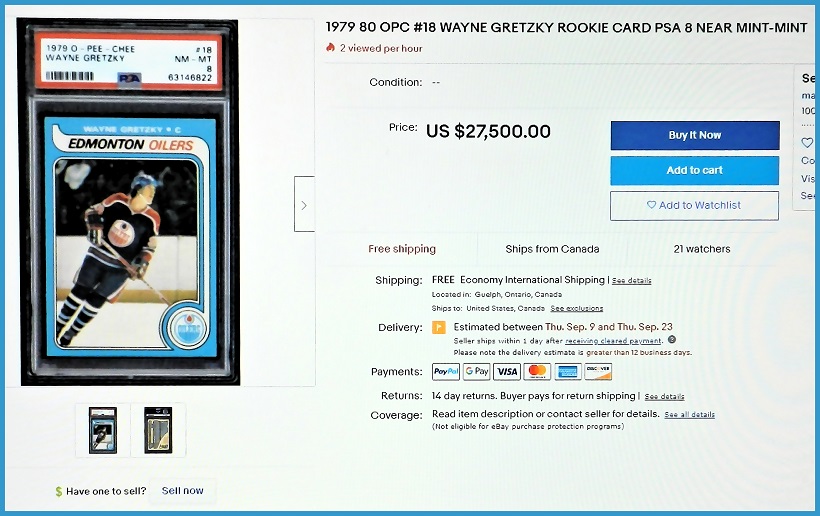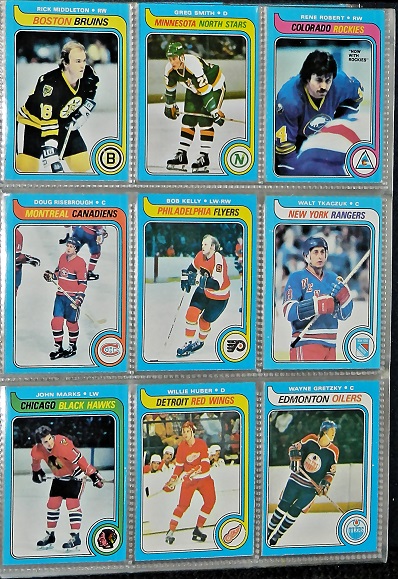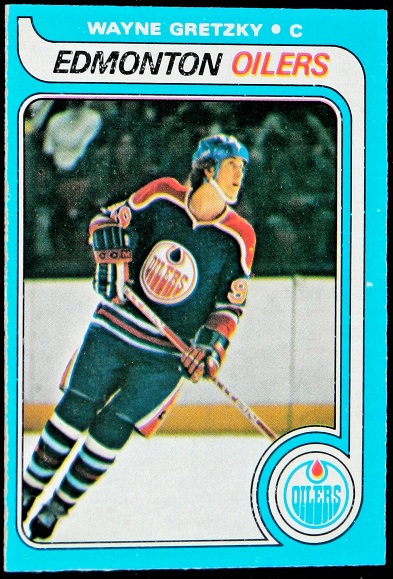 MY GRETZKY ROOKIE CARD (TOP–RIGHT) HAS BEEN HANDLED ONLY TWICE: THE DAY I FILED THIS SET IN PLASTIC SHEETS (TOP–LEFT) NEARLY 42 YEARS AGO… AND WHILE EXTRACTING THE CARD TO PHOTOGRAPH IT THIS WEEK. SAME APPLIES FOR ALL CARDS IN THE BLOG. IN 1979–80, THE EDMONTON OILERS WERE AMONG FOUR TEAMS ABSORBED BY THE NHL FROM THE OLD WORLD HOCKEY ASSOCIATION (ALONG WITH THE HARTFORD WHALERS, QUEBEC NORDIQUES AND THE ORIGINAL WINNIPEG JETS). EACH CLUB WAS FEATURED WITH SUCH A CARD AS BELOW.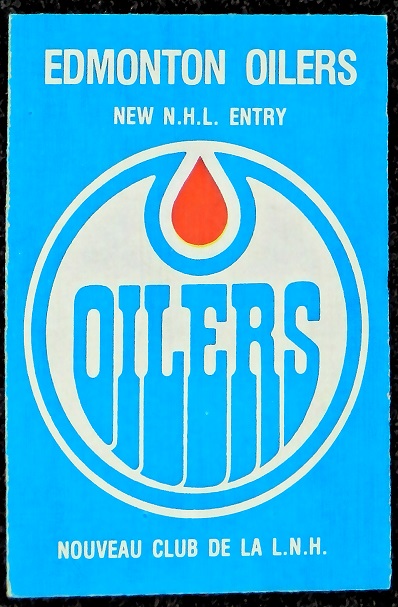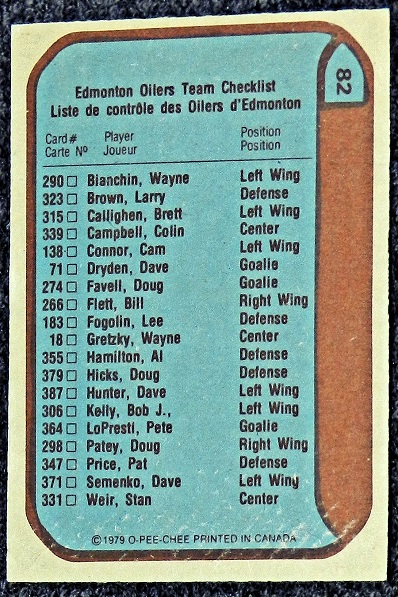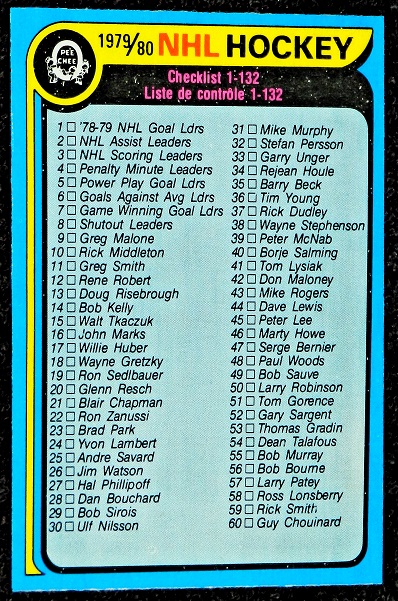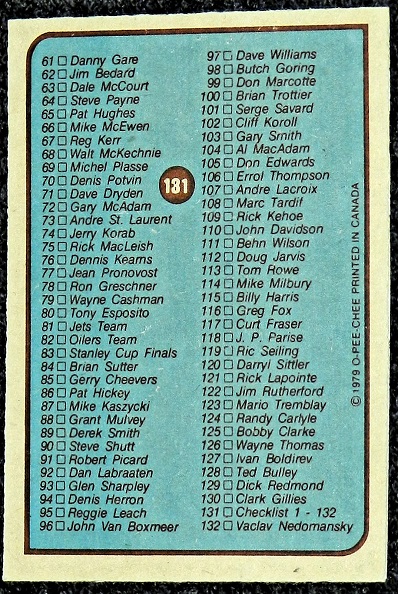 CHECKLIST CARD #131 FROM THE O–PEE–CHEE 1979–80 HOCKEY SET SHOWING THE #18 GRETZKY ROOKIE CARD.
1980–81 O–PEE–CHEE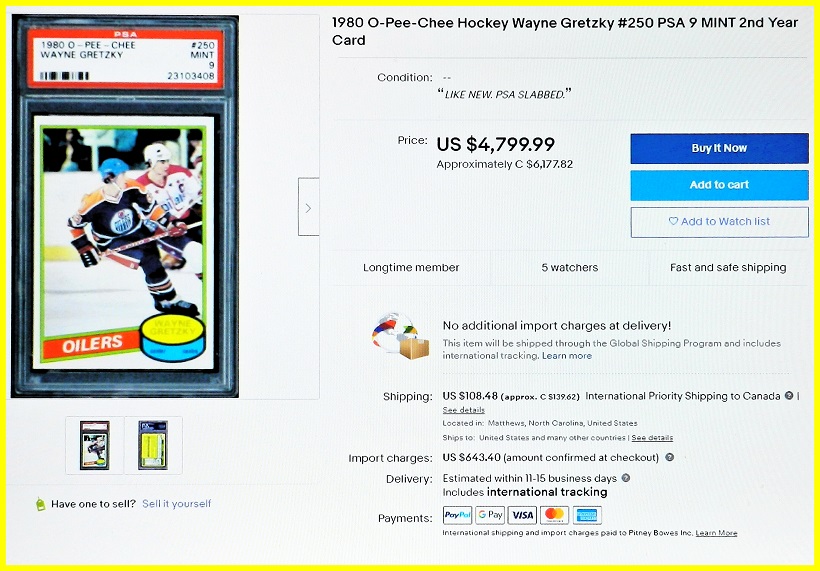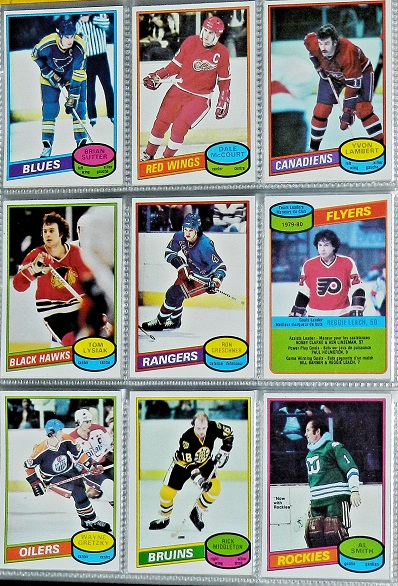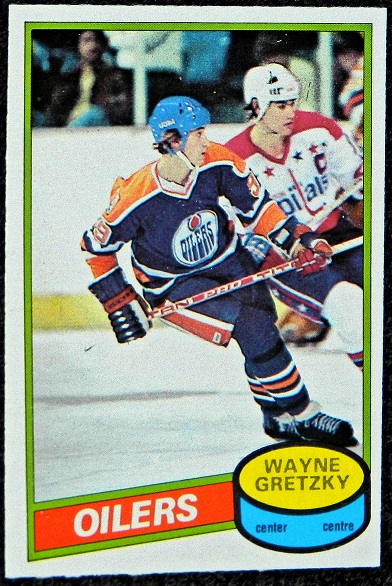 GRETZKY'S INDIVIDUAL CARD (TOP–RIGHT); HIS FOUR PERIPHERAL CARDS (BOTTOM–LEFT) AND CHECKLISTS (BOTTOM–RIGHT) — ALL FROM HIS SECOND NHL SEASON.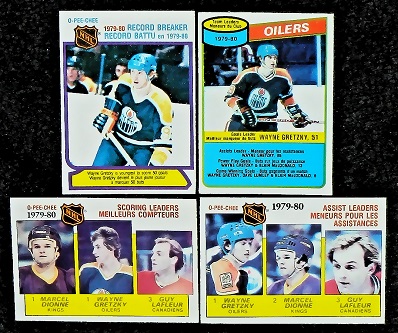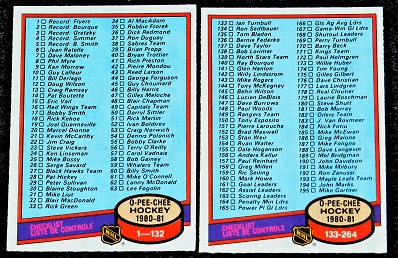 1981–82 O–PEE–CHEE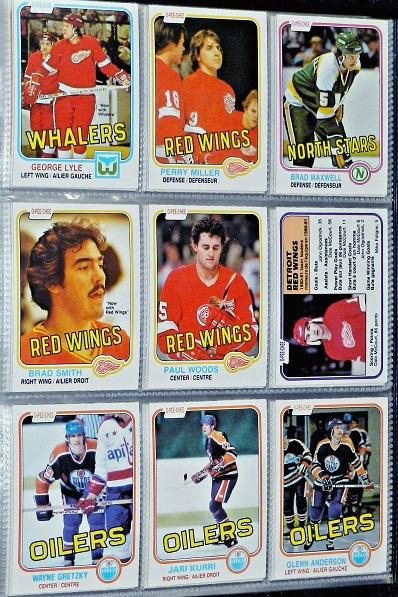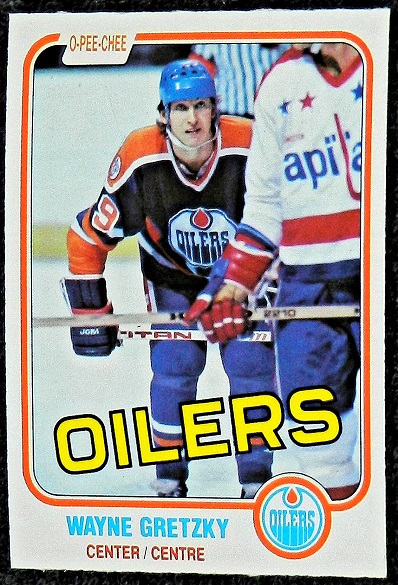 THIS WAS THE SEASON GRETZKY BECAME THE FIRST (AND, STILL, ONLY) PLAYER TO ECLIPSE THE 200–POINT PLATEAU (212)… AND THE YEAR HE BROKE PHIL ESPOSITO'S 1970–71 RECORD OF 76 GOALS, FINISHING WITH 92, WHICH REMAINS THE MOST IN ONE NHL SEASON.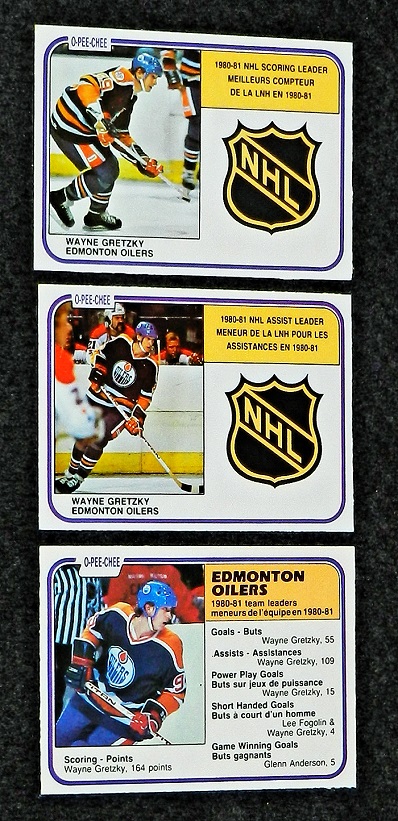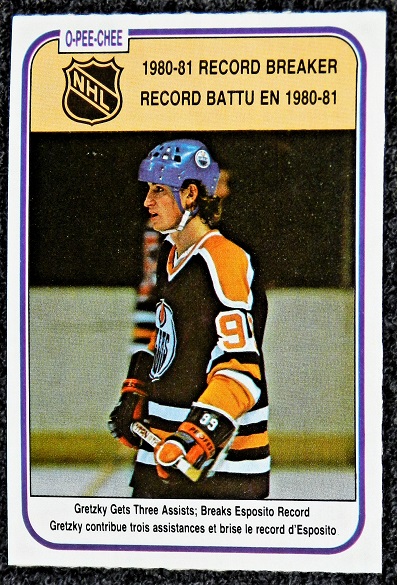 THE REAR OF CHECKLIST–CARD #379 (TOP–RIGHT), WITH GRETZKY'S ITEM LISTED AS #106, CONTAINED AN ERROR. IT WAS THE 1981–82 CHECKLIST, NOT 1980–81, AS PRINTED.
1982–83 O–PEE–CHEE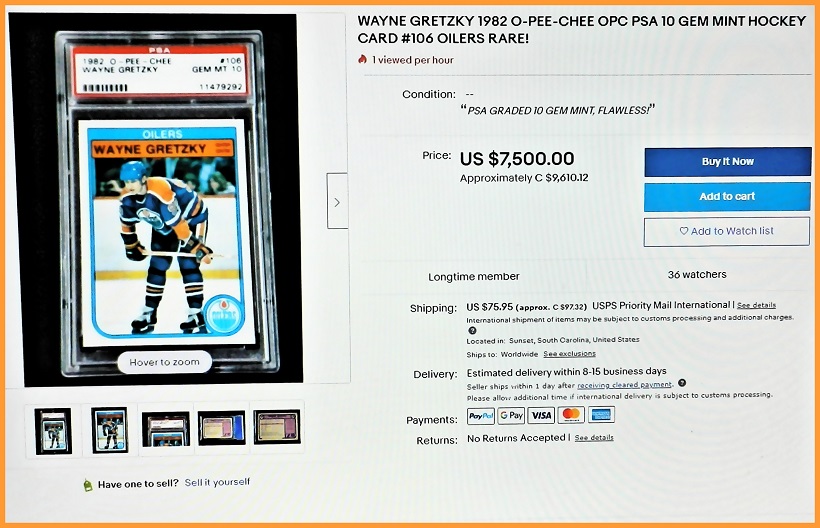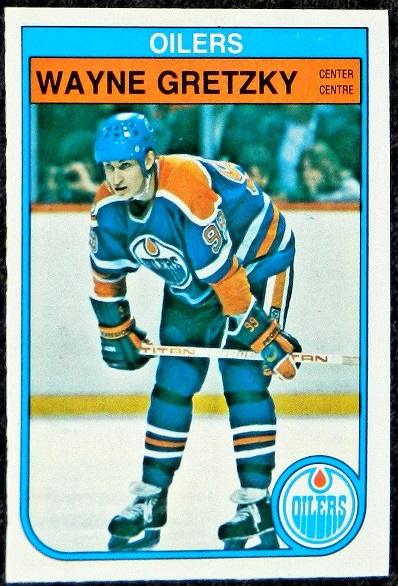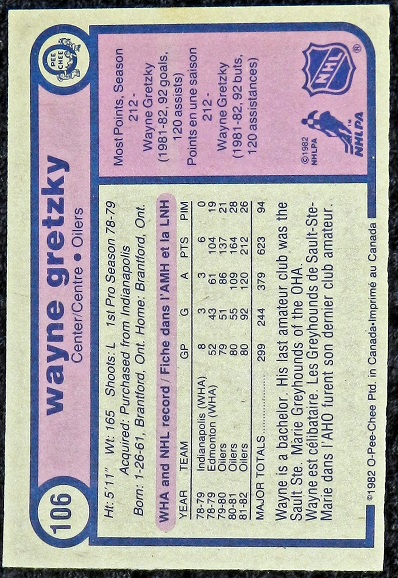 THE SECOND–MOST VALUABLE GRETZKY CARD ( ABOVE), DEPICTING HIS FIRST 200–POINT SEASON.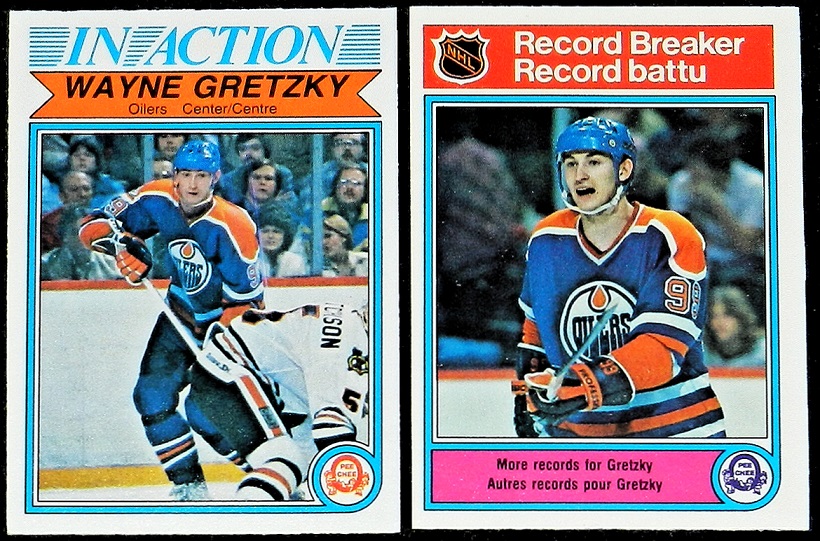 THE PERIPHERAL 1982–83 GRETZKY CARDS (ABOVE AND BELOW). WHEN THE OILERS FIRST MADE IT TO THE STANLEY CUP FINAL, GETTING SWEPT BY THE DYNASTIC NEW YORK ISLANDERS.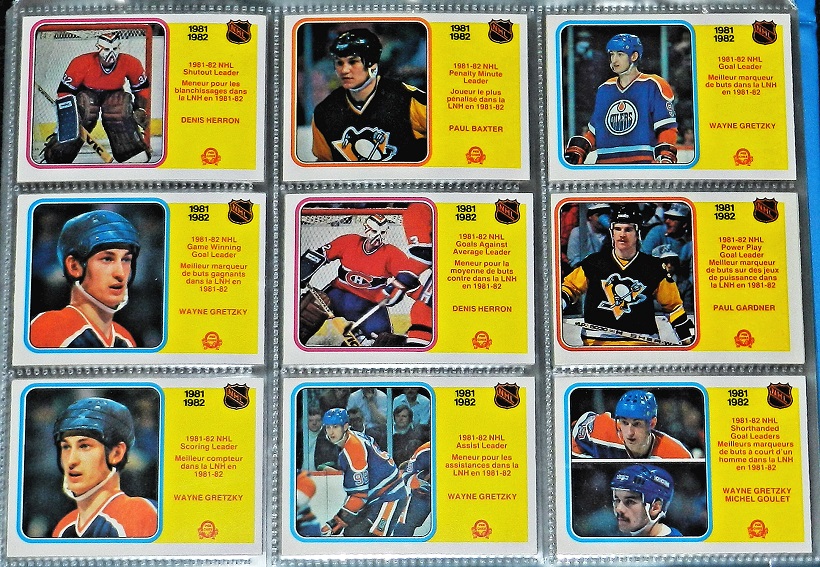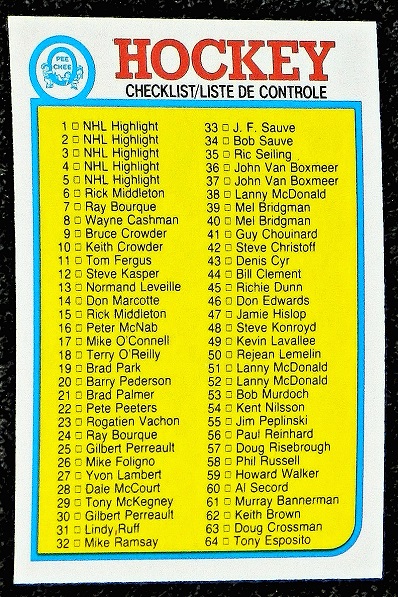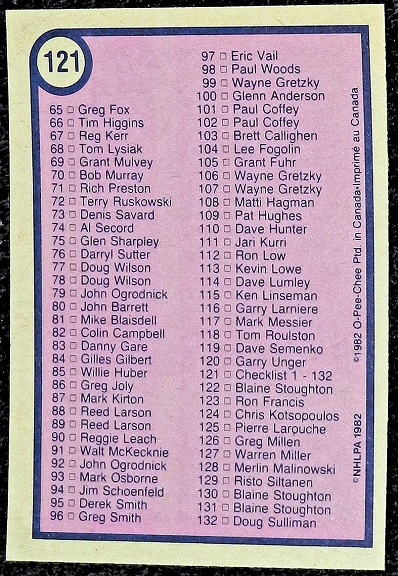 SOME CARDS, AS ABOVE, APPEAR WARPED. IT'S AN ILLUSION. I HAD TO PHOTOGRAPH THE CARDS AT A SLIGHT ANGLE TO PRECLUDE CAMERA–FLASH GLARE FROM WASHING OUT THE IMAGES. 
1983–84 O–PEE–CHEE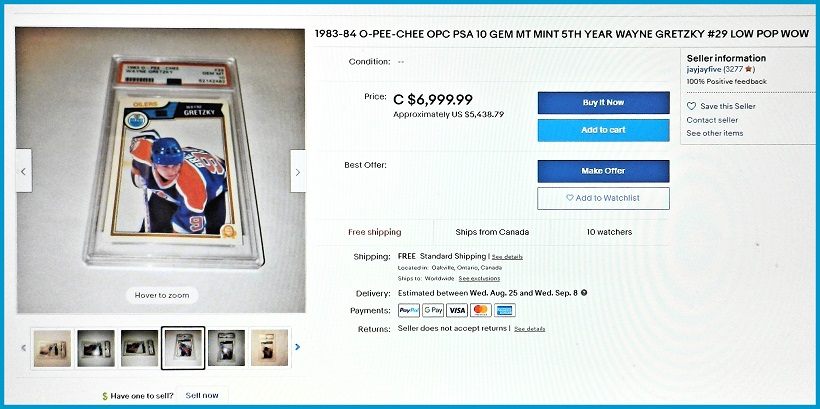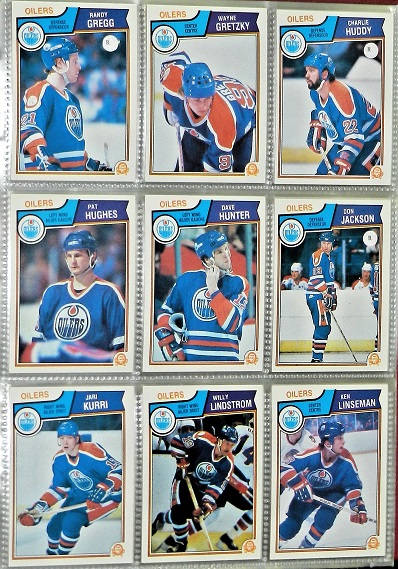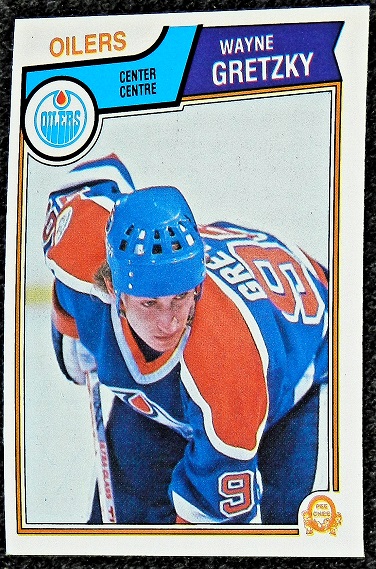 ANOTHER VALUABLE GRETZKY CARD (ABOVE)… FROM WHEN THE OILERS WON THEIR FIRST STANLEY CUP. GRETZKY HAD HIS SECOND 200–POINT SEASON (205). HIS 87 GOALS REMAIN SECOND–MOST IN NHL HISTORY TO THE 86 SCORED BY BRETT HULL OF ST. LOUIS IN 1990–91.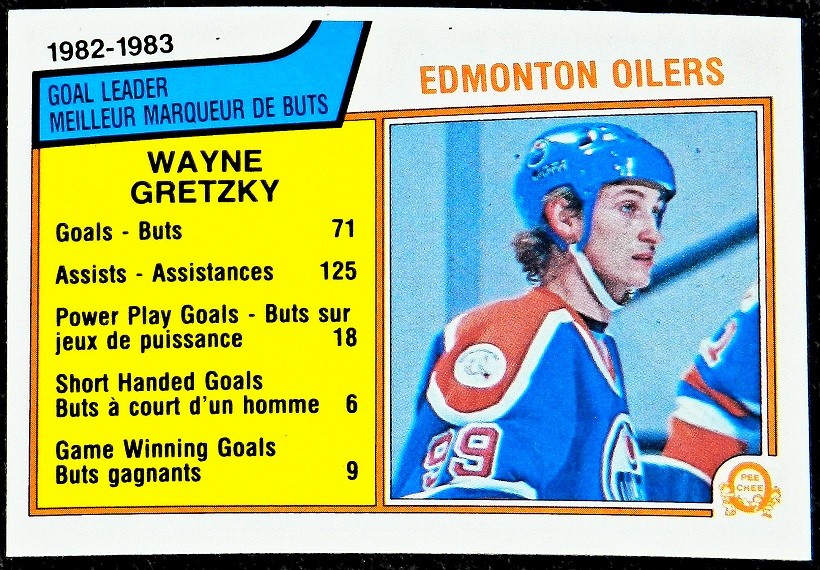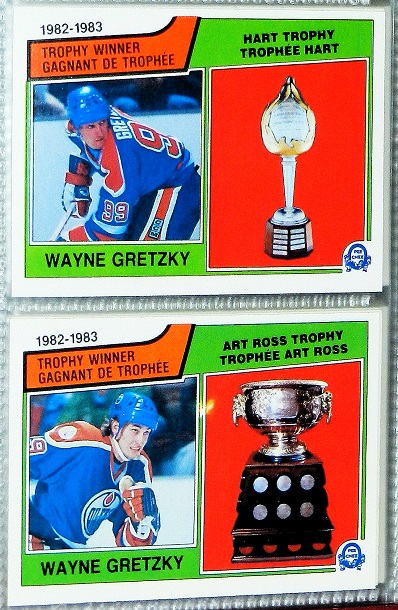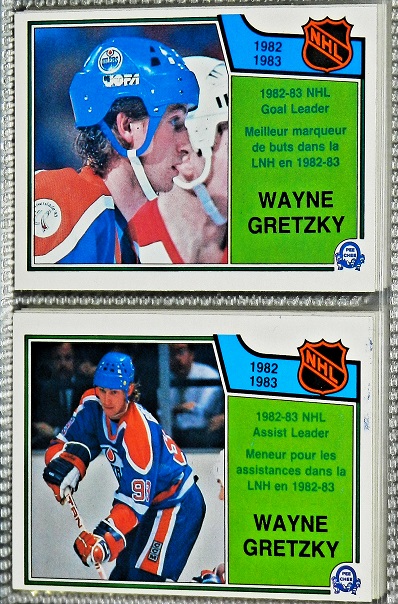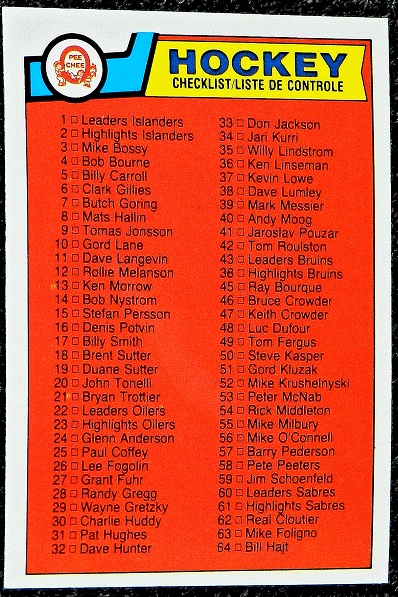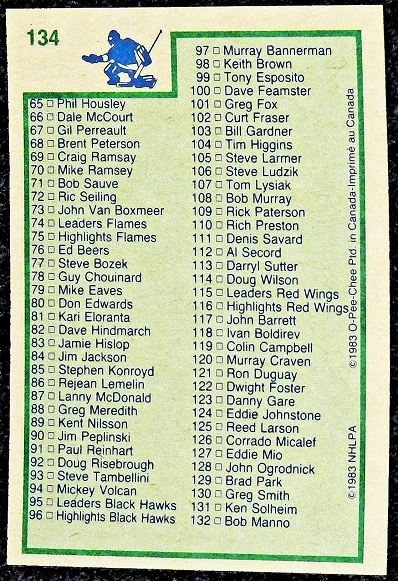 1984–85 O–PEE–CHEE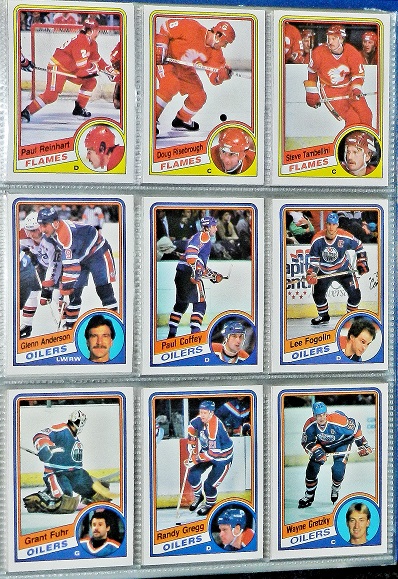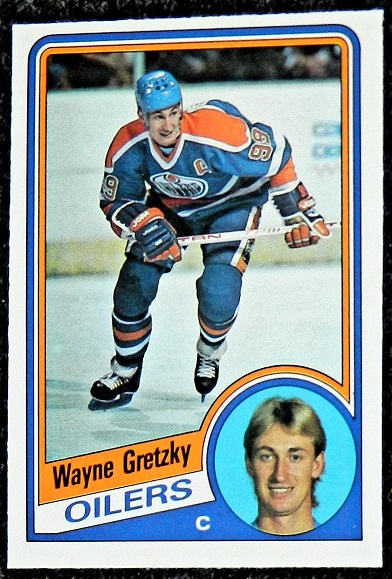 THE OILERS WON THEIR SECOND STANLEY CUP (DEFEATING THE PHILADELPHIA FLYERS) AND GRETZKY ESTABLISHED AN ALL–TIME PLAYOFF RECORD WITH 47 POINTS IN 18 GAMES. THE FIRST CUP WIN LED TO NINE PERIPHERAL GRETZKY CARDS (BELOW) IN THE 1984–85 O–PEE–CHEE HOCKEY SET.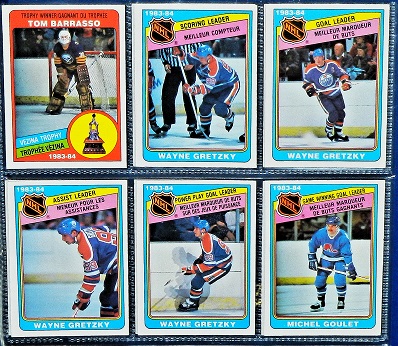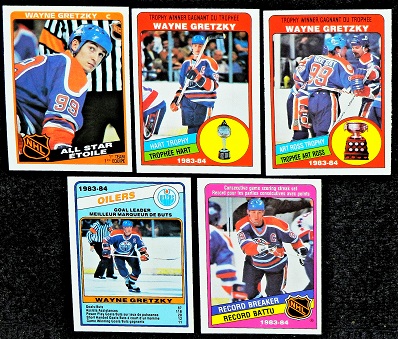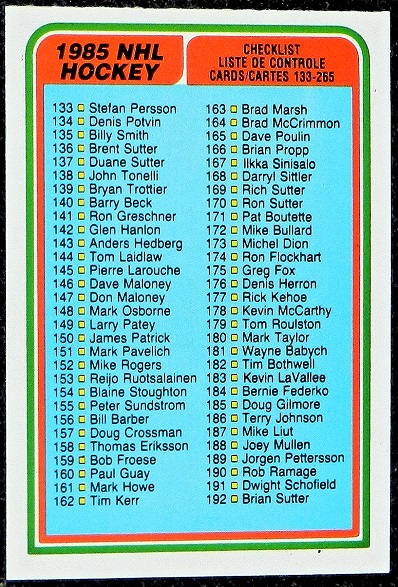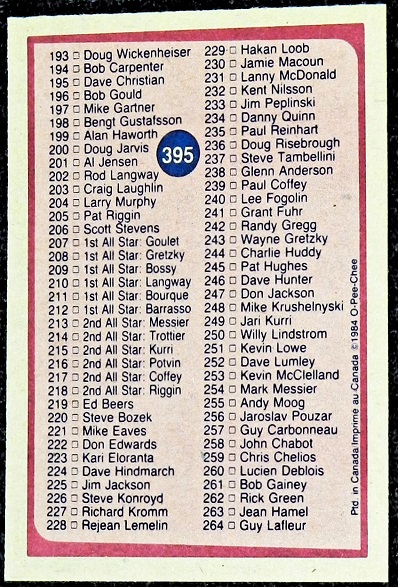 1985–86 O–PEE–CHEE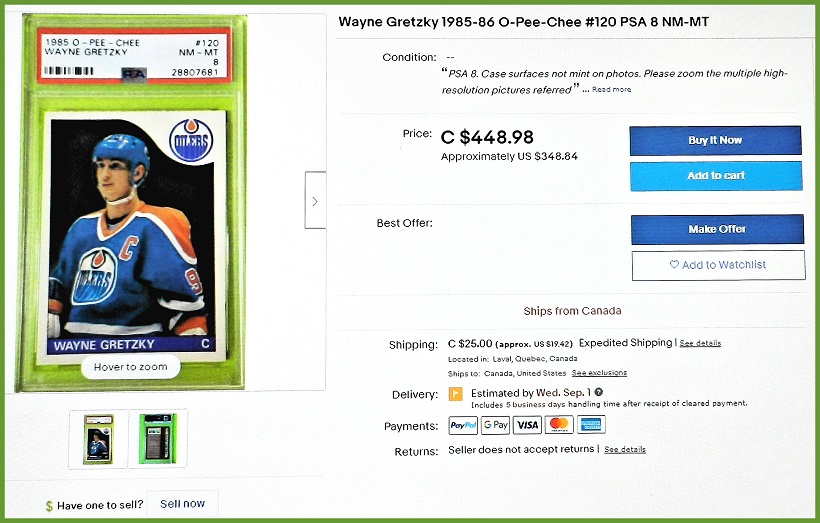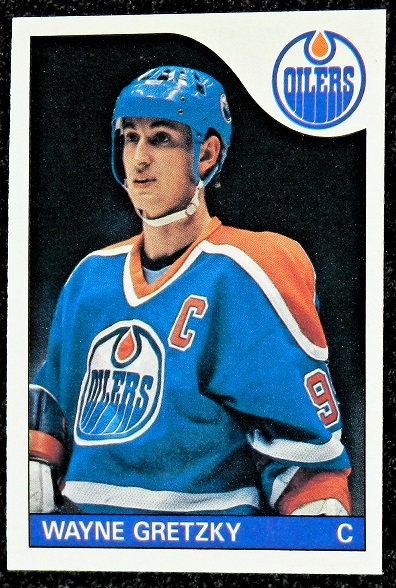 SURPRISINGLY, GRETZKY'S 1985–86 CARD (ABOVE) IS NOT AS VALUABLE AS OTHERS, GIVEN IT'S THE SEASON HE ACCRUED 163 ASSISTS AND 215 POINTS — BOTH STILL NHL RECORDS. A FACTOR, PERHAPS, WAS THE OILERS GETTING SHOCKED BY CALGARY IN THE SECOND ROUND OF THE PLAYOFFS, INTERRUPTING THEIR STRING OF STANLEY CUP TITLES.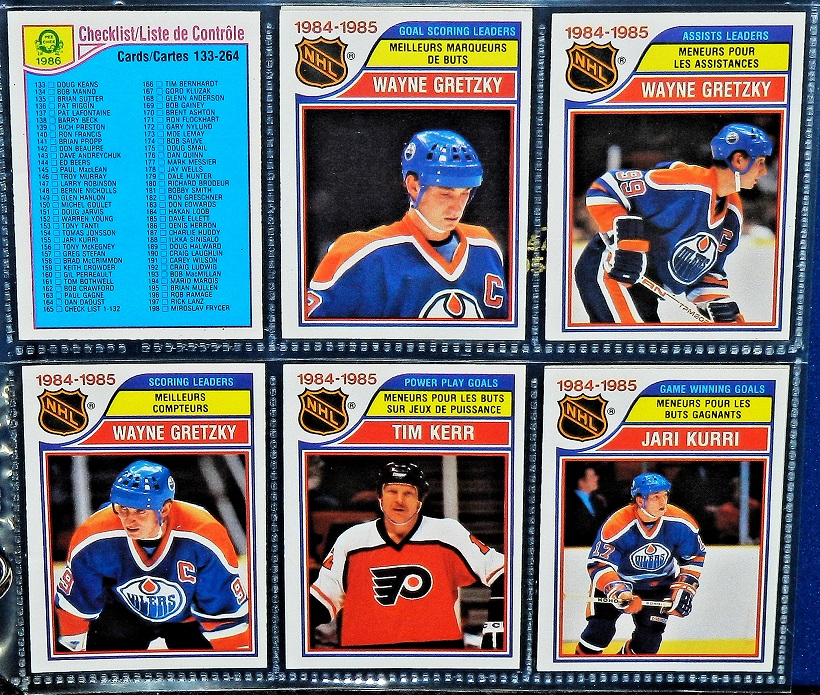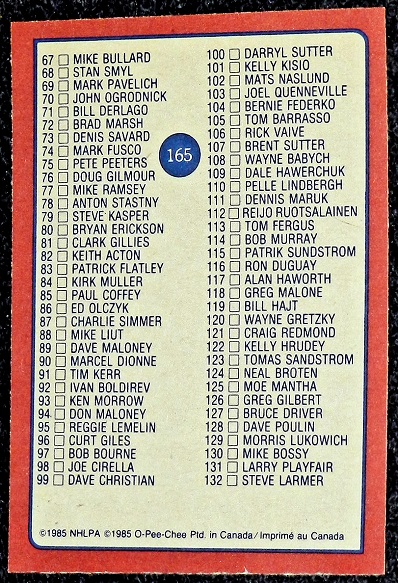 1986–87 O–PEE–CHEE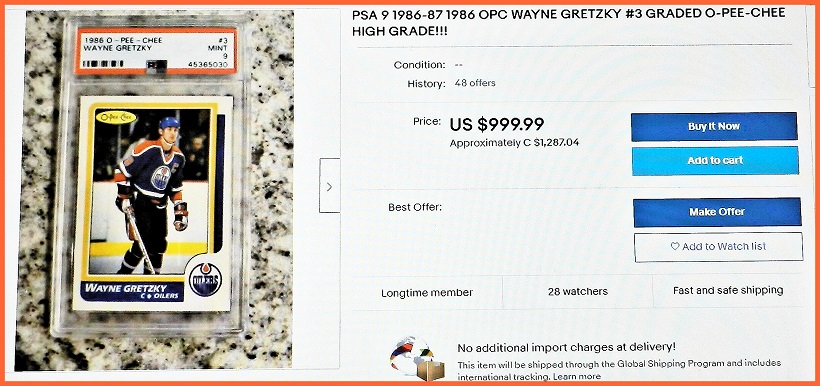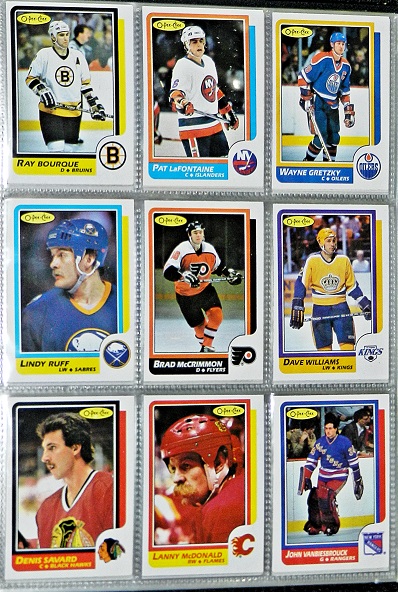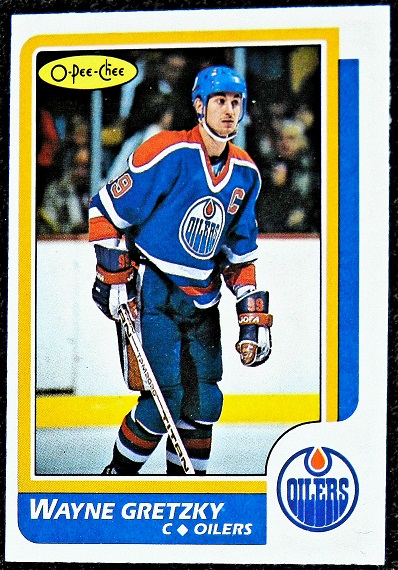 THE OILERS RESUMED THEIR STANLEY CUP DYNASTY IN 1987, EDGING PHILADELPHIA IN A SPECTACULAR SEVEN–GAME FINAL. GRETZKY HAD 29 ASSISTS IN 21 GAMES BUT LOST THE CONN SMYTHE TROPHY VOTE TO FLYERS GOALIE RON HEXTALL.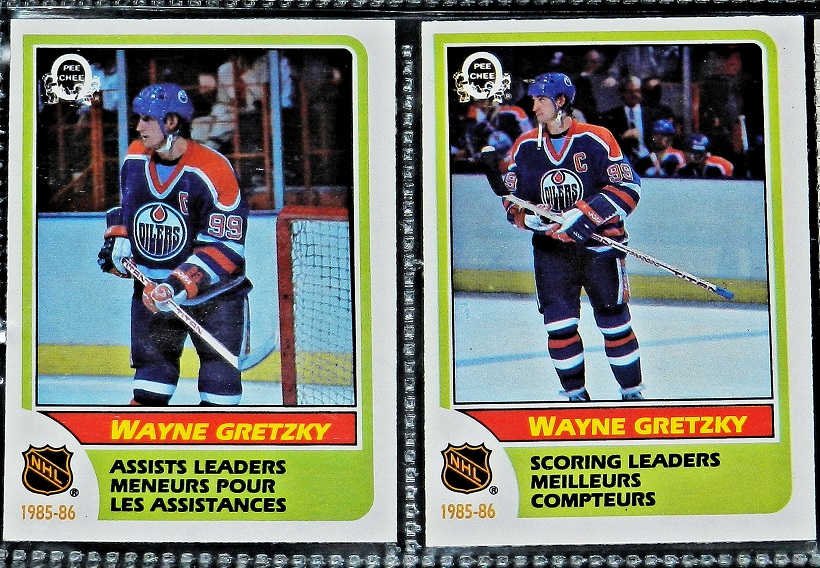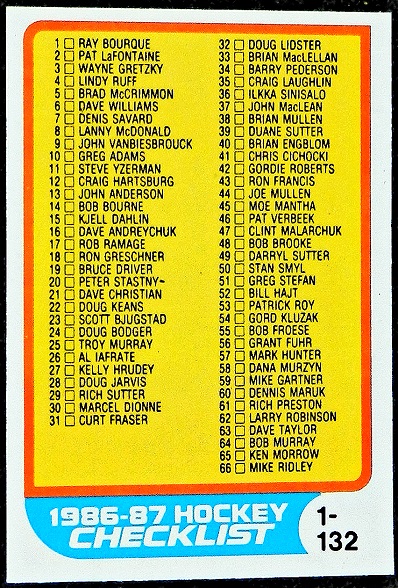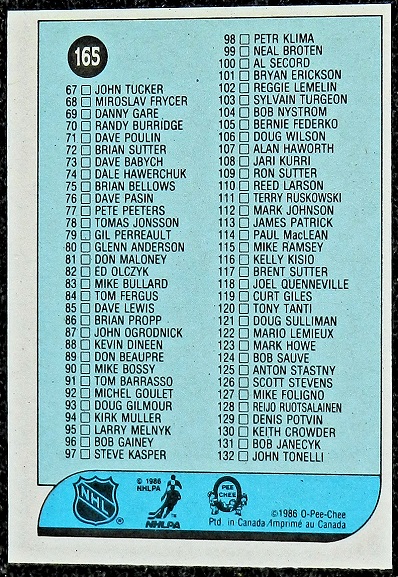 1987–88 O–PEE–CHEE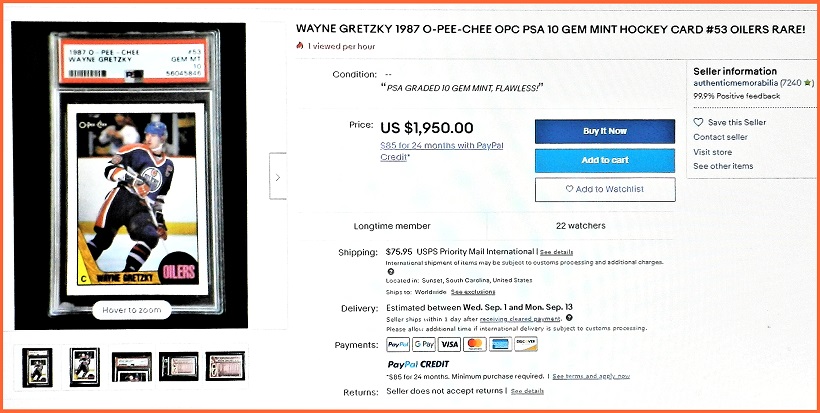 THE PRICE GOES UP FOR GRETZKY'S FINAL CARD WITH EDMONTON (BOTTOM–RIGHT). THE OILERS WON THEIR FOURTH STANLEY CUP IN FIVE YEARS, DEFEATING THE BOSTON BRUINS. IN 19 PLAYOFF GAMES, GRETZKY HAD 43 POINTS, THE SECOND–MOST IN HIS CAREER.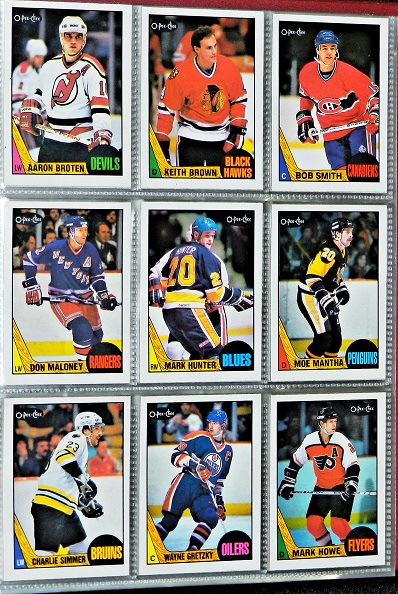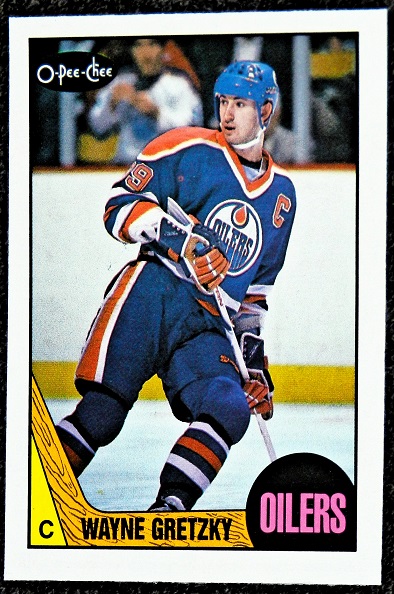 THERE WERE NO PERIPHERAL GRETZKY CARDS IN THE 1987–88 O–PEE–CHEE SET.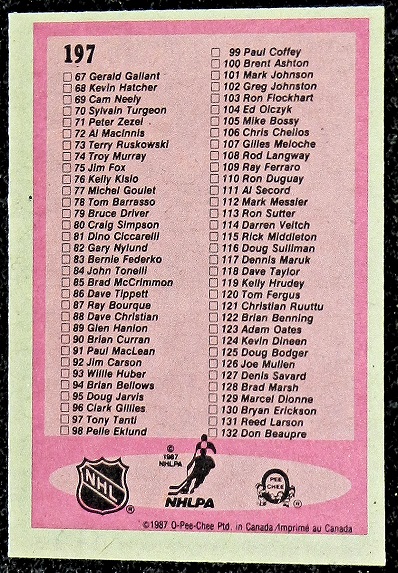 1988–89 O–PEE–CHEE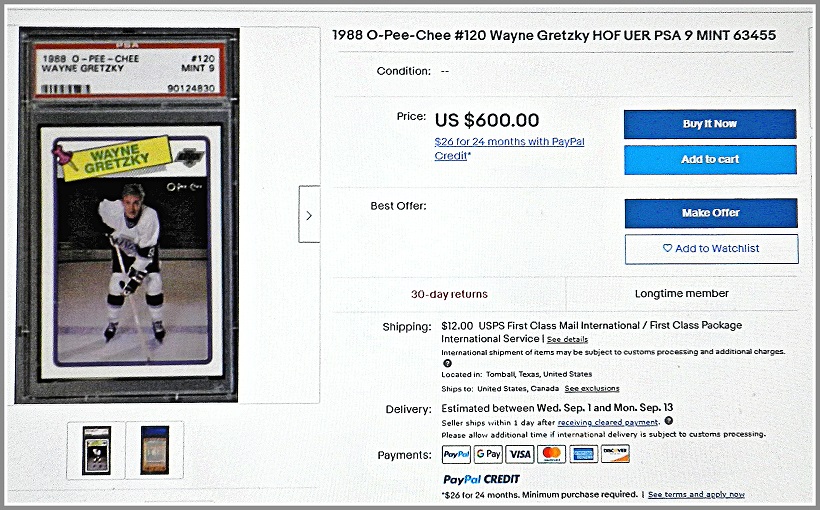 AGAIN, SOMEWHAT SURPRISING THAT GRETZKY'S FIRST HOCKEY CARD AS A MEMBER OF THE LOS ANGELES KINGS (BELOW) ISN'T MORE VALUABLE. ALSO A SURPRISE WAS GRETZKY, WITH 168 POINTS, WINNING THE HART TROPHY OVER MARIO LEMIEUX, WHO COMPILED A CAREER–BEST 199 POINTS WITH THE PITTSBURGH PENGUINS.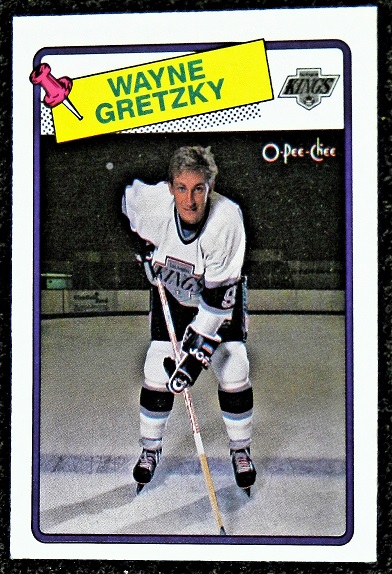 AGAIN, THERE WERE NO PERIPHERAL GREZTKY CARDS IN THE 1988–89 O–PEE–CHEE SET.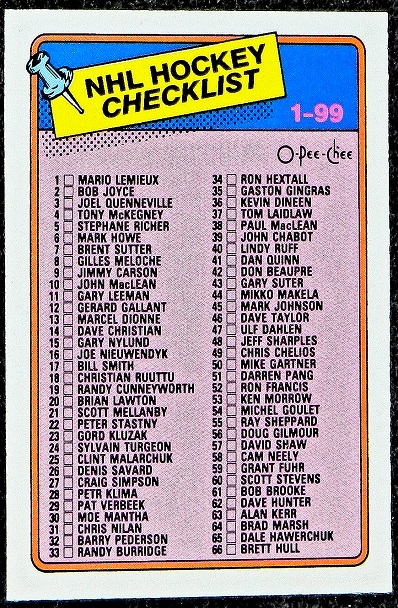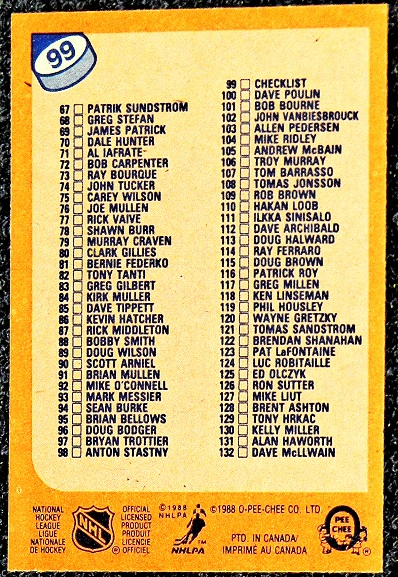 DOUBLES and EXTRAS… 40 IN ALL (PHOTOGRAPHED IN PLASTIC SLEEVES):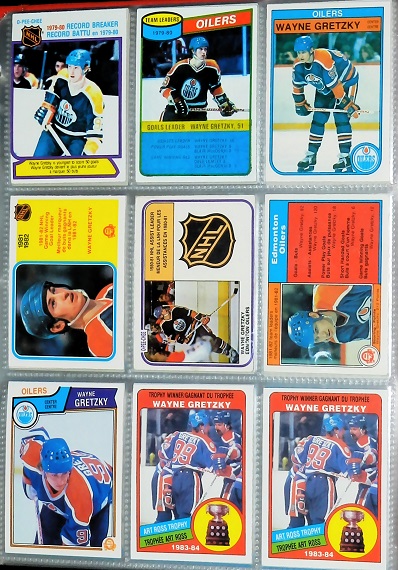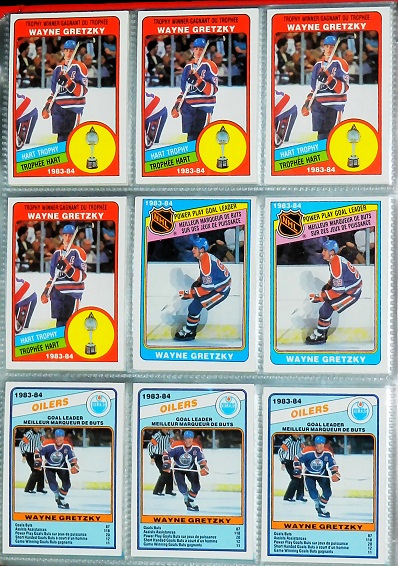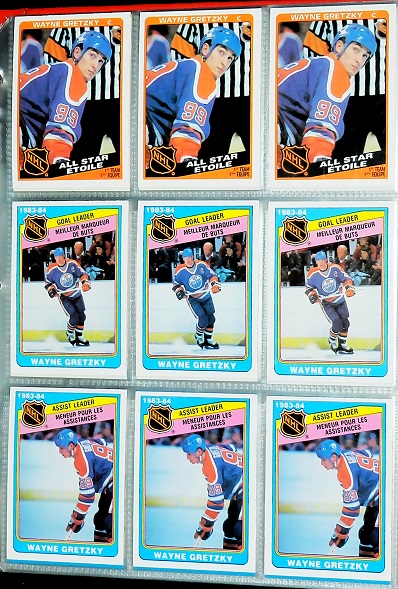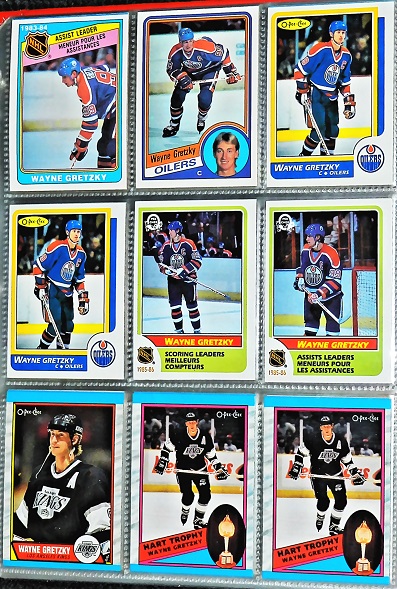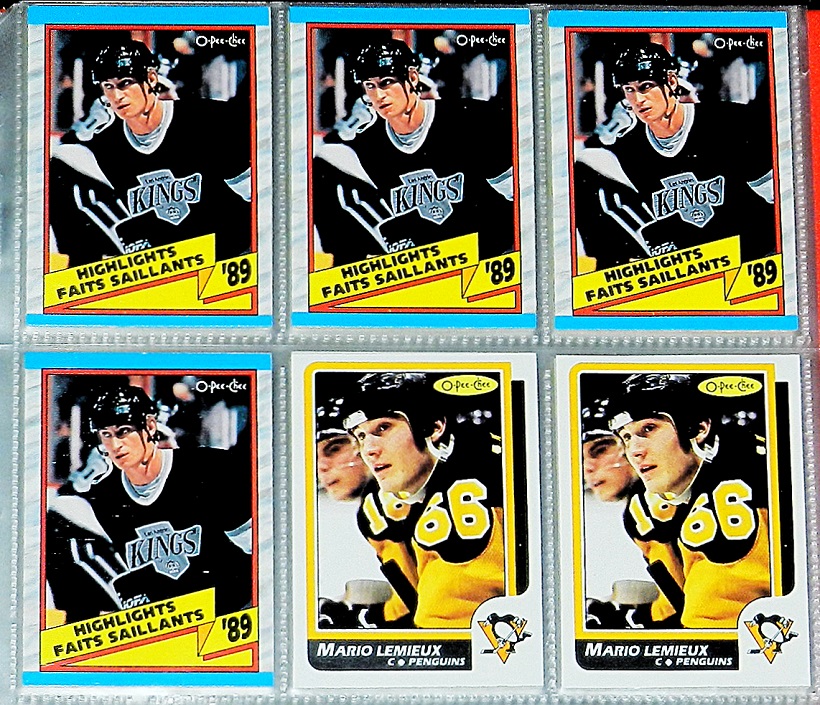 EMAIL: HOWARDLBERGER@GMAIL.COM