TORONTO (Aug. 10) — Could it be happening again, six years later? Under vastly different circumstances?
The 2021 Toronto Blue Jays, middling and homeless from Apr. 1 to July 29, are beginning to author a second–half surge that is strikingly familiar to that of August and September in 2015. Time will determine whether the correlation is authentic, but the burgeoning enthusiasm in these parts rekindles vivid memory of six summers back.
For those perhaps unaware, or needing a refresher, the 2015 Blue Jays were rather mediocre leading up to the end–of–July trade deadline. With a record of 50–51 after 101 games and eight lengths behind the front–running New York Yankees in the American League East. Yet another expanse of trivial competition down the stretch seemed inevitable; the club not having made the playoffs since last winning the World Series, 22 years earlier. Then, out of nowhere, owner Rogers Communications — for so long, frugal and indifferent — opened the vault and allowed general manager Alex Anthopoulos to bolster the line–up. Which he did… with spectacular results.
At no point in franchise history, including the consecutive championship seasons of 1992 and '93, were the Blue Jays as utterly dominant over a two–month span as July 20 to Sep. 30, 2015. The club soared to a 41–14 mark in 55 games, erasing the Yankees' lead by Aug. 23 and ultimately winning the A.L. East by six games — a marvelous, 14–game turnaround largely owing to the acquisitions, two days apart, of all–star shortstop Troy Tulowitzki from Colorado and front–line pitcher David Price from Detroit. Also added was fleet left–fielder Ben Revere from Philadelphia. They joined existing stars Josh Donaldson, Jose Bautista and Edwin Encarnacion on a Toronto team that appeared unbeatable. Donaldson, in his baseball prime, was enjoying a season in which he'd be named the American League's most–valuable player. No club won more games in the last two months of the schedule.

JULY 30, 2015: After years of frugality and fan apathy, the owner of the Toronto Blue Jays (Rogers Communications) decided to spend some money. The lucrative contracts of shortstop Troy Tulowitzki (Colorado) and left–handed starter David Price (Detroit) were dealt for in a three–day span prior to the non–waiver trade deadline. Slumbering followers took notice.
Fast–forward to late–July of this year and we found the Blue Jays — exiled from Toronto throughout the COVID–19 pandemic — in a similar predicament to 2015: a modest 50–48 record after 98 games while sitting 10½ big lengths behind first–place Boston in the A.L. East. With such promising, less–established talent as Vladimir Guerrero Jr., Bo Bichette, Teoscar Hernandez and Marcus Semien. Plus, a legitimate answer to Donaldson in 2015 with outfielder George Springer, signed as a free agent from Houston last off–season and largely dormant over the first 70 games of the schedule with a right quad–muscle strain. Activated off the Injury List on June 22, Springer began to quickly heat up (14 HR, 33 RBI in 43 games so far). Still, the club hovered near the .500 mark heading toward the trade deadline. At which point, current GM Ross Atkins went into Anthopoulos mode, acquiring right–handed pitchers Jose Berrios from Minnesota and Joakim Soria from Arizona. Also, lefty reliever Brad Hand from the Washington Nationals. None as grandiose as David Price in 2015, but all joining a stronger rotation that features Hyun–jin Riu, Robbie Ray, Steven Matz and Alek Manoah, combining, thus far, for 33 wins.
Coinciding, importantly, with the trade deadline was a return to Rogers Centre for the first time in the pandemic. Since the trade additions, the Blue Jays — heading into a nine–game road trip to Anaheim, Seattle and Washington that starts tonight against the Los Angeles Angels — have gone 9–2 in 11 starts, including three of four home encounters with Boston last weekend. Nearly identical to the 10–1 streak authored by the 2015 club, beginning July 30. With Boston tumbling to 2–8 in its past 10 games, Tampa Bay has assumed a four–game lead atop the A.L. East. New York is six back and the Blue Jays seven, having shaved 3½ lengths since the trade embargo.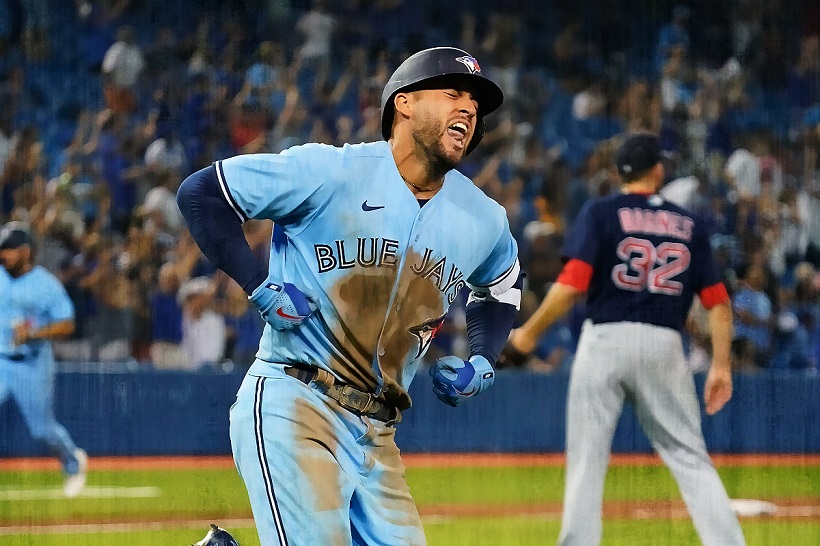 GEORGE SPRINGER EXULTS AFTER HIS THREE–RUN HOMER IN THE EIGHTH INNING ON SUNDAY BROUGHT THE BLUE JAYS BACK FROM A 7–2 DEFICIT AGAINST BOSTON AT ROGERS CENTRE.
JOHN E. SOKOLOWSKI USA TODAY
So, yes, there are glaring similarities, right now, to the uprising of six years ago. To equal the 59–game eruption of 2015, the current Jays need to go 36–12 in 48 matches between tonight and Sep. 29. No simple task. But, clearly, more of a possibility than prior to obtaining Berrios, Soria and Hand. With immeasurable assistance from a healthy Springer and close to 15,000 noisy fans per game in a home stadium with COVID capacity restrictions.
Given an expanded playoff format since 2015, the Blue Jays stand a more–than–reasonable chance of making it to the post–season. Two wild card teams will qualify in the American League. As of tonight, Oakland and Boston occupy the positions. But, the Jays are only three games back, one behind the Yankees. The Blue Jays and Red Sox are done with their head–to–head meetings. But, Toronto has three (home) games left with Oakland and seven encounters with New York (three at Rogers Centre). So, let's see if the 2021 Blue Jays can ignite baseball fans in this city as did the club of six years ago that came within two victories of the World Series.
EMAIL: HOWARDLBERGER@GMAIL.COM