TORONTO (Aug. 13) — Barring a policy reversal from Maple Leaf Sports and Entertainment, veteran radio broadcasters Joe Bowen and Jim Ralph will call the 41 Toronto Maple Leafs road games off a television monitor next season. Which they did 28 times during the 56–game, pandemic–shortened schedule earlier this year. The decision by MLSE, though hardly surprising, is disreputable. You can be sure that a number of smaller–market teams in the National Hockey League will continue to use the worldwide pathogen as an excuse to save travel money.
But, the Maple Leafs? A club with an enormous, infinite following that enables its parent company to rank among the wealthiest and most–lucrative sports enterprises in North America? I don't buy it. Not for a minute.
Neither does my opinion factor in that Bowen, at age 70, may not oppose the edict. "Howard, to be honest with you, I'm not too excited about getting on 100 airplanes right now," Joe emailed, recognizing that the COVID–Delta variant is still highly contagious and unpredictable. That said, there is no reasonable way for a hockey broadcaster to replicate being on site. The game is too fast and no television feed offers every angle. A play caller in hockey, much like a referee, has to occasionally view what is transpiring behind the action. Which isn't covered live by TV. Baseball is vastly different. Players are often stationary and a pair of wide–angle cameras can blanket the infield and outfield. So, even with such top–notch professionals as Bowen and Ralph, the listener is somewhat cheated.
Until the 2015–16 season, and dating to when Foster Hewitt called games in the 1960's, team broadcasters were allowed to access charter flights booked by the Maple Leafs. It was, in fact, a clause in the rightsholders' agreement with Hewitt's old station, CKFH–1430 (today, Sportsnet–590); CKO Radio, the FM affiliate that held Leaf rights for two years in the late–70's and for Talk–640 between 1995 and 2013, at which point Bell Canada and Rogers Communications assumed 75% control of MLSE. It ended when Sergeant Lou came aboard as general manager. For the first time, the Maple Leafs radio and TV voices were compelled to travel commercially.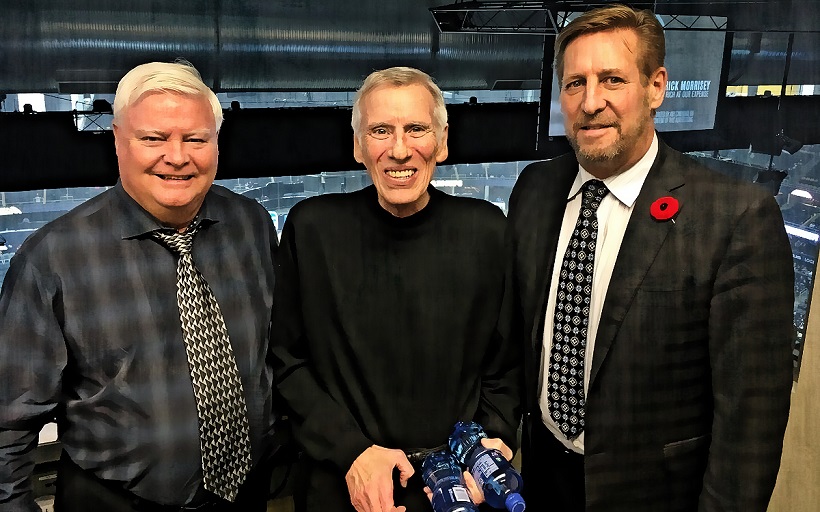 JOE BOWEN (LEFT) AND JIM RALPH FLANK MIKE LANGE, THE LONG–TIME VOICE OF THE PITTSBURGH PENGUINS. LANGE, 73, IS RETIRING AFTER A 46–YEAR TERM THAT BEGAN IN 1976–77. PHOTO BY MIKE ZEISBERGER NHL.COM
Among other NHL teams that plan to keep their broadcasters at home is the Buffalo Sabres. My old FAN–590 colleague, Dan Dunleavy, will enter his ninth season as primary voice of the Sabres, supported by the most–veteran of all hockey broadcasters, Rick Jeanneret, who started calling games in 1971–72. Speaking to the Buffalo News, Dan said "I feel we should be there, but it is not my decision to make. There's a flatness when we're not on site."
Dunleavy correctly believes hockey announcers have to attend games in order to view the entire 200 x 85–foot ice surface and while relating, to listeners, the ambience of a large arena crowd. He said he lobbied against doing the road games at home in conversations with Mark Preisler, the executive vice president of Pegula Sports and Entertainment. Evidently, to no avail. The Pegula–owned Buffalo Bills will have their play–by–play radio voices, John Murphy and Eric Wood, back on the road for the upcoming National Football League season. Murphy and former Bills player Steve Tasker called road matches for WGR–550 off a TV monitor in the New Era Field (now Highmark Stadium) press box during the teeth of the pandemic last autumn. Footing the bill for eight football games is, obviously, far less–expensive than 41 hockey games… and the Bills are all the rage, once again, in western New York after advancing to the American Football Conference championship game (losing at Kansas City) a year ago.
Bowen has been the voice of the Maple Leafs longer than anyone except Foster Hewitt and has called, by far, the most games in franchise history. He will embark on his 40th season, having started in 1982–83.
Ralph, 59, has worked alongside Bowen since 1997–98.
McFARLANE'S MILESTONE: Speaking of Hall–of–Fame hockey voices, Brian McFarlane celebrated his 90th birthday this week. McFarlane is a Hockey Night In Canada legend, best–remembered for his role as color commentator alongside Bill Hewitt (Foster's son) for Leafs games on TV from 1965 to 1980. Brian also worked rink side and intermissions for Sunday afternoon NHL telecasts on NBC in the early 1970's. He is the inventor of the iconic Peter Puck animated hockey figure that grew famously popular in the 70's on both Hockey Night and NBC.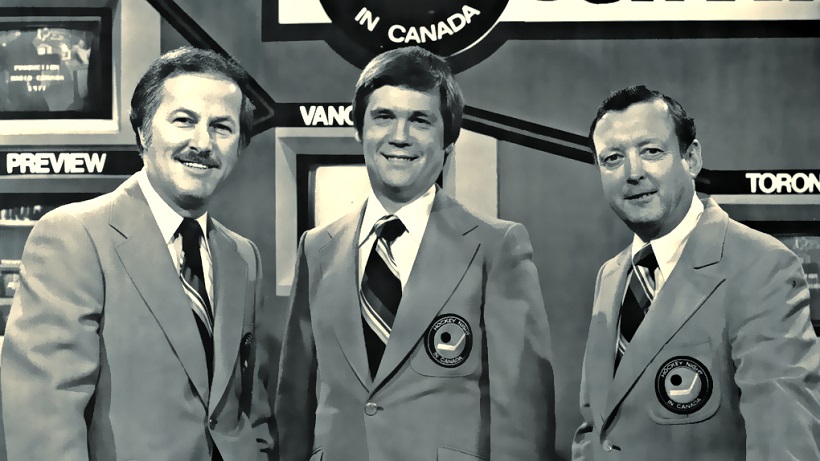 BRIAN McFARLANE (LEFT) AND FORMER LEAFS PLAY CALLER BILL HEWITT (d. Dec. 25, 1996) FLANK DAVE HODGE IN THIS MID–1970's PHOTO. HODGE WAS INTERMISSION HOST ON HOCKEY NIGHT IN CANADA TORONTO TELECASTS FROM 1971–86, WHEN REPLACED BY RON MacLEAN.
THE STREET & SMITH'S NFL COLLECTION — Part 1
For me, and I suspect many others of my vintage, the Street & Smith's official yearbook of the National Football League was the most–anticipated preview magazine each year. I began buying the annual issues in 1970 — invariably, at a convenience store in Orillia, Ont. (90 miles north of Toronto), where I spent several weeks each summer with my mom, dad and sister at a long–gone hotel off Highway 12 known as the Sundial Motor Inn. For whatever reason, the Orillia magazine outlet received copies of Street & Smith's before most convenience stores down in the city. I dutifully purchased the NFL volume from 1970 to 2007, when the magazine amalgamated with another company. During that time, while browsing at sports memorabilia shows, I found issues dating to 1964.
As such, I have 44 consecutive years of the Street & Smith's NFL preview. In 1970, the 120–page magazine sold for 75 cents. In 2007, the 208–page issue cost $8.50 (CAD). Throughout the 60's and 70's, the magazine cover was predominantly yellow, as pictured below. The design changed in 1980 and evolved through the years. At the rear of each magazine was a preview of the Canadian Football League season, written by a newspaper scribe from north of the border. These are wonderful keepsakes. Part 1 of this photo–series dates from 1964–79: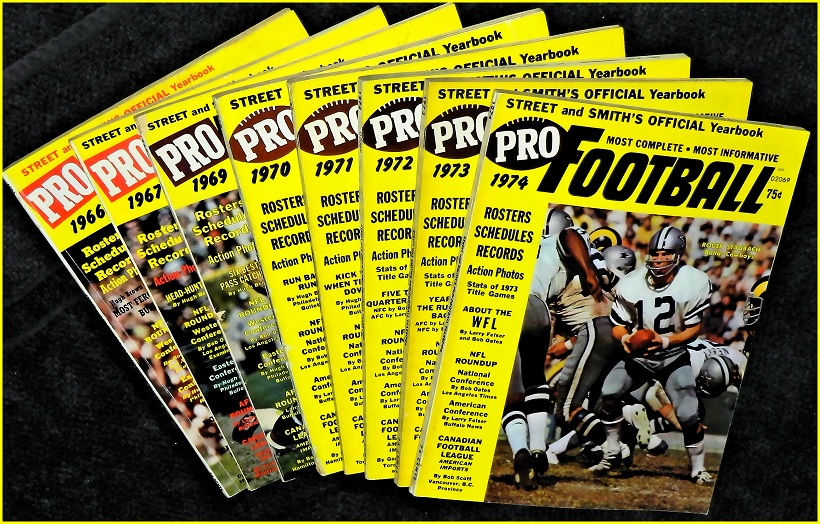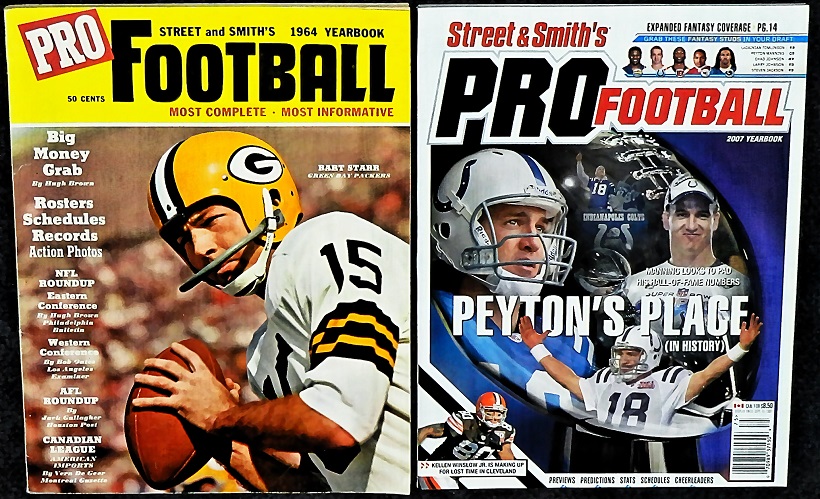 OLDEST AND NEWEST IN MY COLLECTION: STREET & SMITH'S NFL MAGAZINES FROM 1964 AND 2007.

IN MY OLDEST ISSUES OF THE MAGAZINE (ABOVE), THERE WERE TWO PROFESSIONAL CIRCUITS IN THE UNITED STATES: THE NFL AND THE AMERICAN FOOTBALL LEAGUE. THE AFL PREVIEWS (BELOW) WERE WRITTEN BY LARRY FELSER (Apr. 5, 1933 – Apr. 24, 2013) OF THE BUFFALO EVENING NEWS. I HAD THE PRIVILEGE OF GETTING TO KNOW LARRY WHILE COVERING BUFFALO BILLS HOME GAMES IN 1989–90–91 FOR THE FAN–590. ALWAYS FRIENDLY AND HUMBLE, HE WAS ONE OF ONLY TWO MEN TO ATTEND EVERY SUPER BOWL UNTIL THE TIME OF HIS DEATH. THE AFL ROSE TO PROMINENCE WHEN JOE NAMATH AND THE NEW YORK JETS SHOCKED THE BALTIMORE COLTS IN SUPER BOWL III AFTER THE 1968 SEASON. IN 1970, THE TWO LEAGUES MERGED AND THE NFL NAME PREVAILED.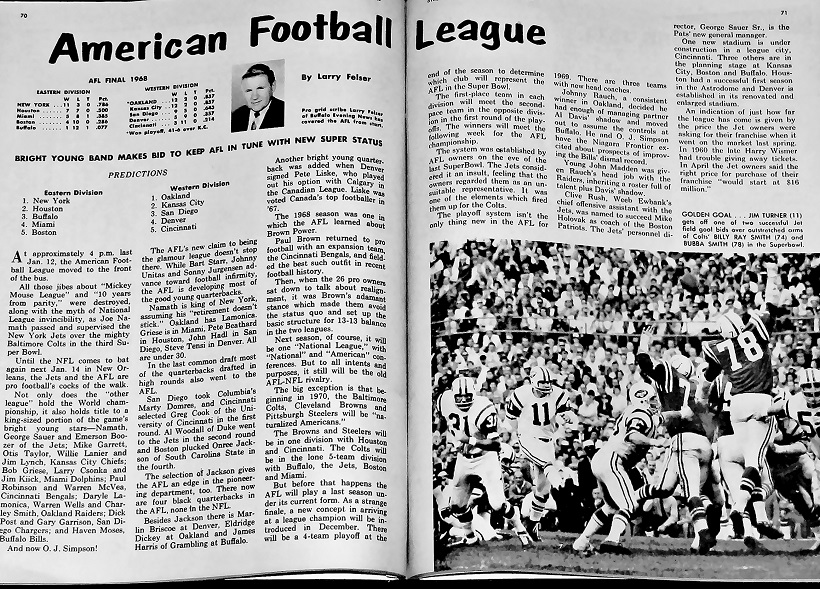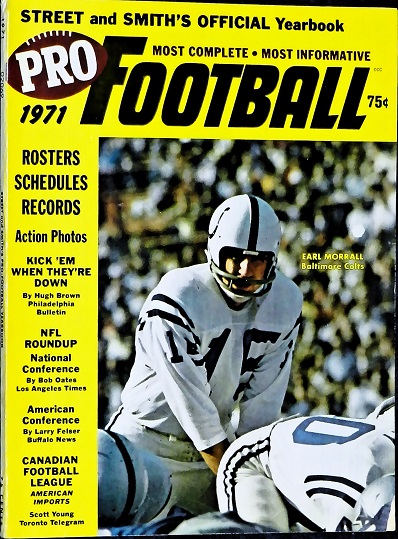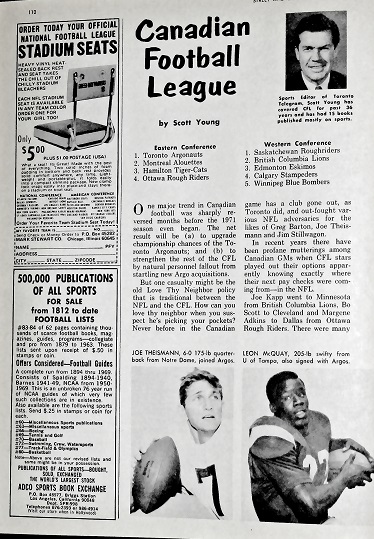 AS MENTIONED, EACH MAGAZINE CONTAINED A PREVIEW OF THE CFL SEASON, SUCH AS THE 1971 ISSUE (ABOVE), WRITTEN BY FAMED TORONTO TELEGRAM COLUMNIST SCOTT YOUNG (Apr. 14, 1918 – Jun. 12, 2005), FATHER OF CANADIAN MUSICIAN NEIL YOUNG. FOR THE '71 SEASON, THE TORONTO ARGONAUTS LANDED, AMONG OTHERS FROM THE U.S., QUARTERBACK JOE THEISMANN OF NOTRE DAME AND RUNNING BACK LEON McQUAY OF THE UNIVERSITY OF TAMPA. EACH WOULD ENACT KEY ROLES IN ADVANCING TORONTO TO THE GREY CUP GAME FOR THE FIRST TIME IN 19 YEARS.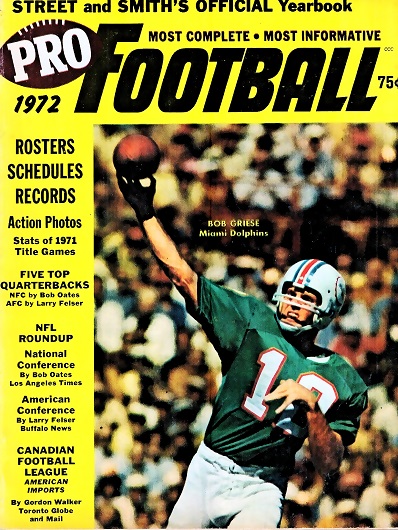 THE 1972 ISSUE OF STREET & SMITH'S AVAILABLE IN CANADA GOT IT RIGHT (ABOVE) WITH MIAMI QUARTERBACK BOB GRIESE ON THE COVER. THE DOLPHINS WOULD BECOME THE ONLY PERFECT TEAM IN NFL HISTORY BY WINNING ALL 14 REGULAR–SEASON GAMES (TOP–RIGHT), THEN KNOCKING OFF CLEVELAND, PITTSBURGH AND WASHINGTON TO WIN SUPER BOWL VII. I STILL CANNOT FIGURE WHY THE CANADIAN ISSUE (BELOW) IN 1973 FEATURED GREEN BAY KICKER CHESTER MARCOL ON THE COVER. YES, THE PACKERS WON THE NFL CENTRAL AND WERE BEATEN BY THE REDSKINS IN THE DIVISIONAL PLAYOFF ROUND. BUT, THE DOLPHINS WERE A MUCH BIGGER STORY.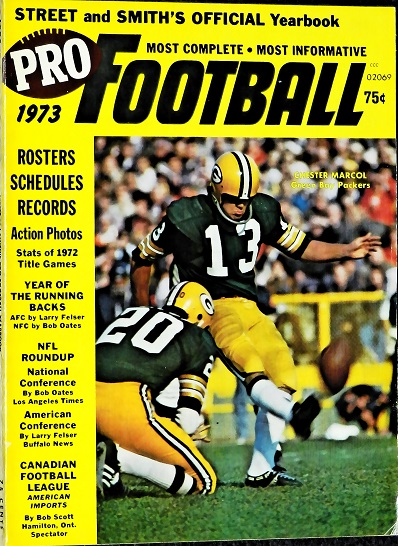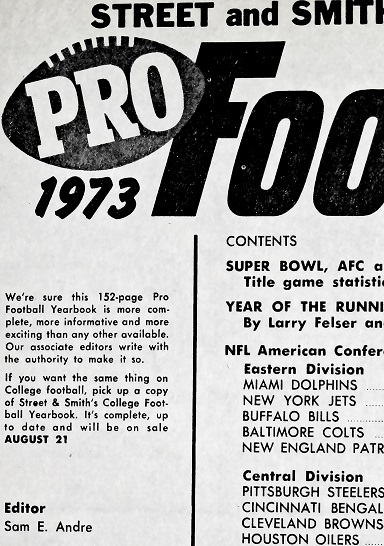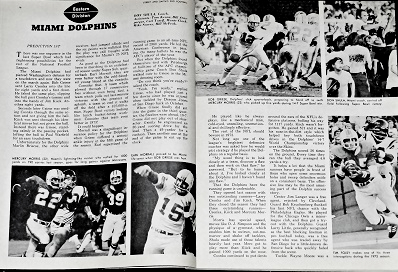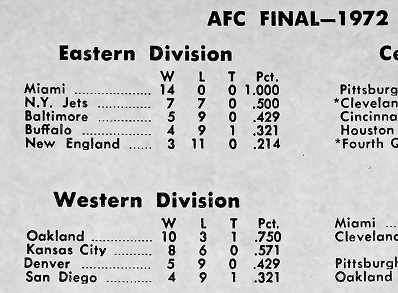 FROM THE 1973 STREET & SMITH'S: THE MIAMI DOLPHINS PAGE AND AFC EAST STANDINGS (ABOVE) AFTER THE PERFECT '72 SEASON. PLAYOFF SUMMARIES (BELOW) FROM THE NFC AND AFC CHAMPIONSHIP GAMES… AND SUPER BOWL VII AT THE LOS ANGELES COLISEUM.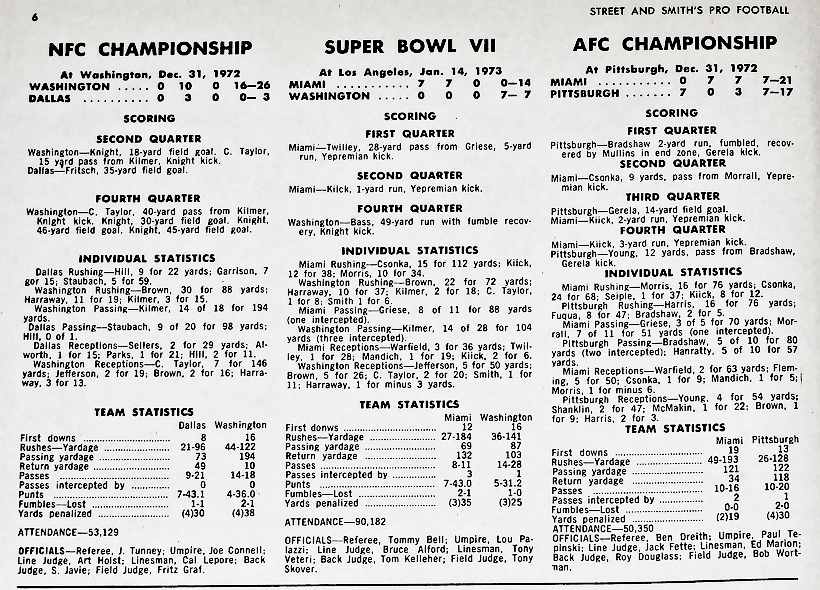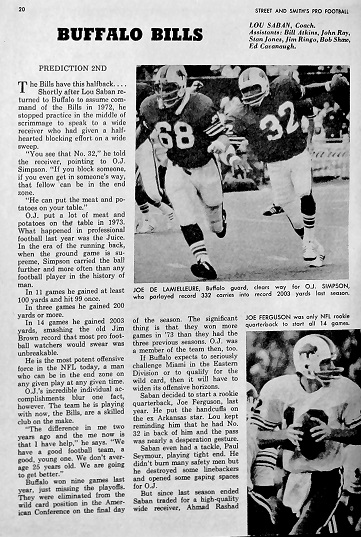 IN 1973, 21 YEARS BEFORE GAINING WORLDWIDE NOTORIETY, O.J. SIMPSON CHURNED OUT A REMARKABLE 2,003 YARDS ALONG THE GROUND FOR THE BUFFALO BILLS, BREAKING THE SINGLE–SEASON RECORD HELD BY JIM BROWN OF CLEVELAND. I ATTENDED MY FIRST NFL GAME THAT YEAR (NOV. 18, 1973): MIAMI vs. BUFFALO AT THE NEW RICH STADIUM (TODAY HIGHMARK STADIUM). SIMPSON RUSHED FOR 120 YARDS AS THE BILLS LOST, 17–0, TO THE SUPER BOWL CHAMPION. THE 1974 ISSUE OF STREET & SMITH'S (ABOVE AND BELOW) ON SIMPSON'S EXPLOITS FROM 1973.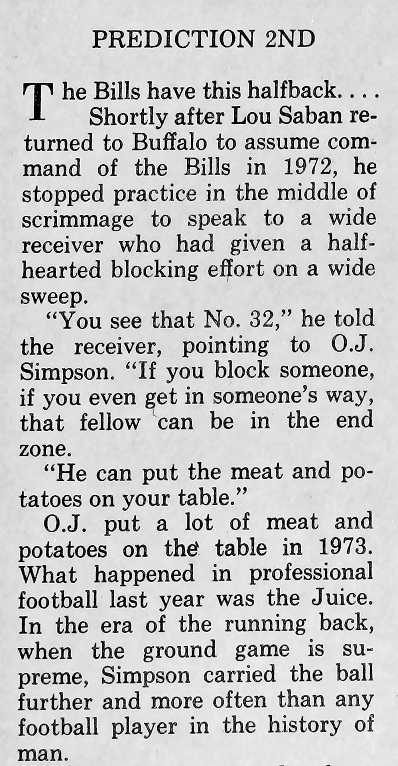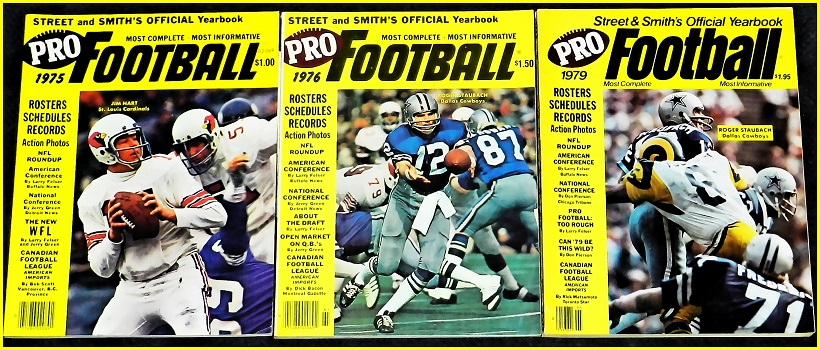 THE MID–TO–LATE 70's WERE DOMINATED BY THE PITTSBURGH STEELERS, WHO WON SUPER BOWL IX (vs. MINNESOTA, JAN. 12, 1975); SUPER BOWL X (vs. DALLAS, JAN. 18, 1976); SUPER BOWL XIII (vs. DALLAS, JAN. 21, 1979) AND SUPER BOWL XIV (vs. LOS ANGELES RAMS, JAN. 20, 1980). STEELERS PAGE, BELOW, FROM THE 1975 ISSUE OF STREET & SMITH'S. AFTER THE FIRST CHAMPIONSHIP, AGAINST THE VIKINGS. FINAL MAGAZINE WITH A YELLOW COVER WAS IN 1979 (TOP–RIGHT).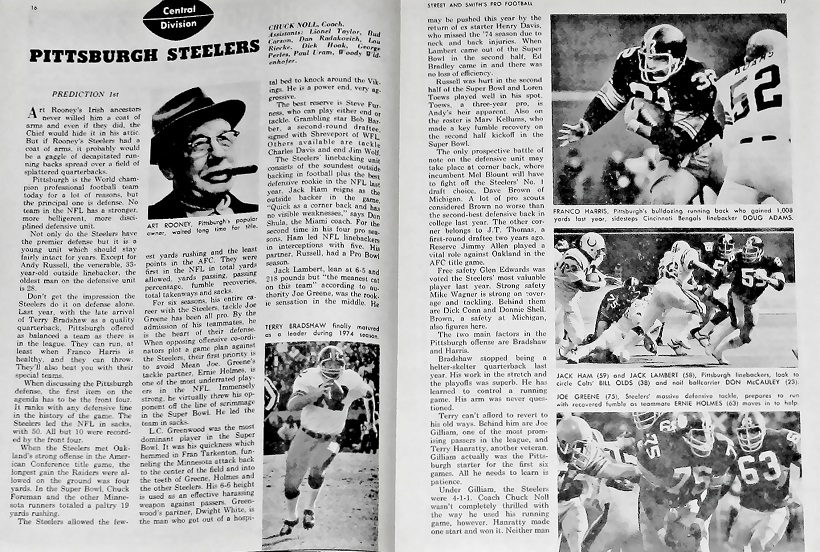 EMAIL: HOWARDLBERGER@GMAIL.COM