***THE SCHEDULED GAME THIS THURSDAY NIGHT BETWEEN THE ARGOS AND EDMONTON AT BMO FIELD HAS BEEN POSTPONED AFTER SEVERAL ELKS PLAYERS TESTED POSITIVE FOR COVID–19. NO MAKE–UP DATE AS YET.***
TORONTO (Aug. 22) — It was an enjoyable first experience in our season tickets at BMO Field on Saturday afternoon. Spending time with my son, Shane, is always enjoyable and we both love the Canadian Football League.
After two horrible seasons (4–14 in 2018 and 2019), the Toronto Argonauts got serious and did a masterful recruiting job during the pandemic. Most importantly, it appears they landed a legitimate No. 1 quarterback in 27–year–old Nick Arbuckle, the former Calgary back–up, acquired from the Ottawa Redblacks on Jan. 31 of this year. Arbuckle performed very well in his first starting assignment, passing for 310 yards and a touchdown, as Toronto won its home opener, 30–23, over the defending Grey Cup–champion Winnipeg Blue Bombers. No CFL team can prevail without a skilled quarterback and an array of talented receivers. Three–down football is traditionally a passing game and the Argos have excelled on only four occasions in the past quarter century — with Doug Flutie in 1996 and 1997; Damon Allen in 2004 and Ricky Ray in 2012. Ray was still under center when Toronto won a surprise Grey Cup over Calgary in the snow at Ottawa in 2017 chiefly on two monster plays: a 100–yard pass–and–run touchdown and a 109–yard defensive fumble return. Otherwise, the Argos have wobbled in the post–Flutie era with an assortment of middling throwers such as Kerwin Bell, Jay Barker, Jimmy Kemp, Michael Bishop, Marcus Brady, Spurgeon Wynn, Kerry Joseph, Cody Pickett, Cleo Lemon, James Franklin and Dakota Prukop.
If you neither recall nor have heard of the aforementioned, you aren't alone.
The current tandem of Arbuckle and McLeod Bethel–Thompson is better than average… essential in the CFL.
I brought my trusty NIKON to BMO Field on Saturday and snapped these images: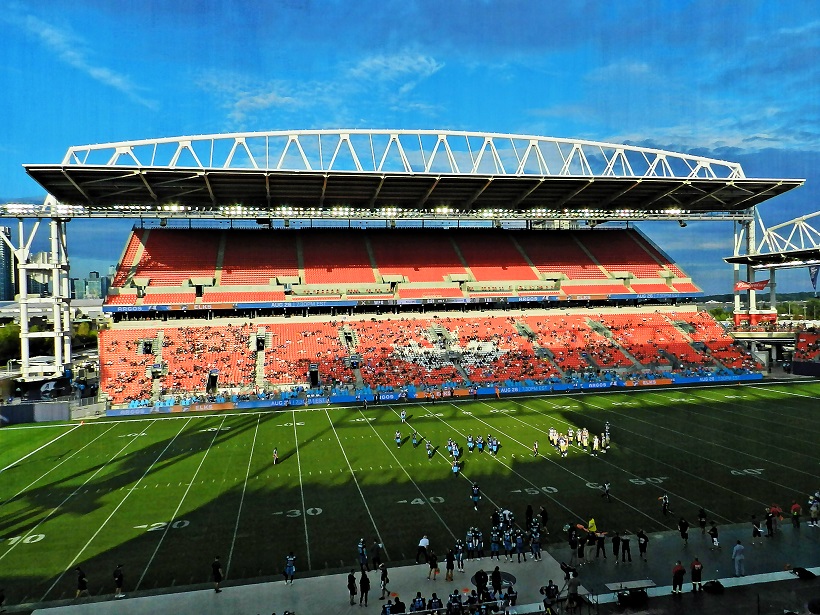 WIDE–ANGLE VIEW ON A GORGEOUS WEATHER DAY FROM OUR SEASON TICKETS IN SEC. 225 OF THE WEST STANDS. A SPRINKLING OF FANS OCCUPIED THE LOWER DECK OF THE EAST STRUCTURE, ACROSS THE WAY, WHILE THE UPPER–DECK — WITH SOME OF THE BEST VIEWS OF THE FIELD — REMAINED CLOSED FOR ARGO GAMES. ALWAYS HAVE FUN HANGIN' WITH MY SON, SHANE (BELOW).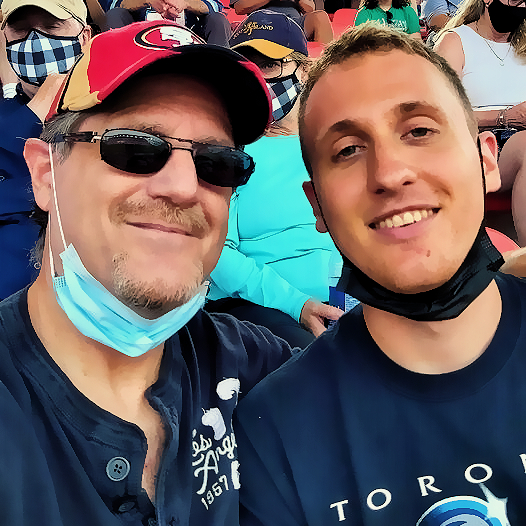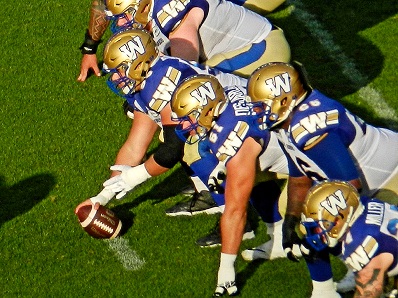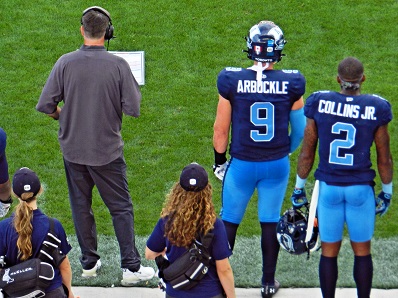 THE BLUE BOMBERS DEFEATED HAMILTON TO WIN THE MOST–RECENT GREY CUP AFTER THE 2019 SEASON. THE 2020 CFL SCHEDULE WAS CANCELED BECAUSE OF COVID–19. WINNIPEG CAME TO TOWN WITH ITS TRADITIONAL GOLD HELMETS (TOP–LEFT). QUARTERBACK ARBUCKLE STOOD CLOSE TO ROOKIE COACH RYAN DINWIDDIE (RIGHT) WITH THE ARGO DEFENSE ON THE FIELD.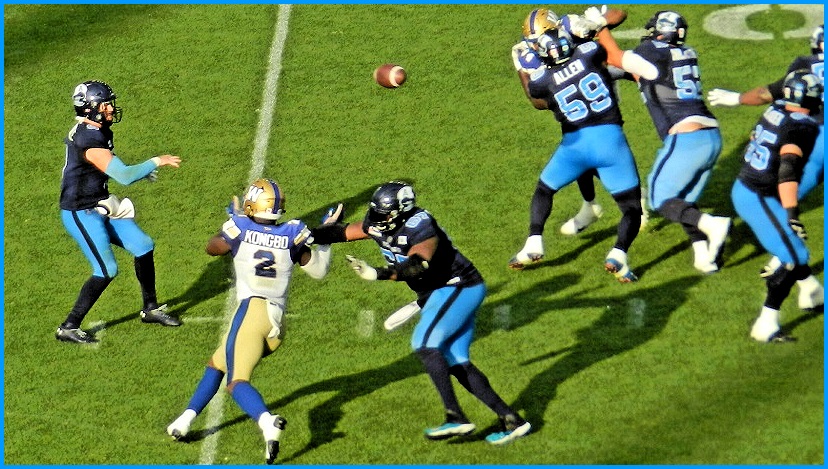 ARBUCKLE, IN HIS FIRST START FOR TORONTO, PASSED FOR MORE THAN 300 YARDS AND MADE A NUMBER OF BIG PLAYS TO EXTRACT THE ARGOS FROM DEEP IN THEIR TERRITORY. HIS LONE BLUNDER WAS GETTING STRIPPED OF THE BALL WHILE ROLLING OUT IN THE SECOND QUARTER. THE PLAY RESULTED IN AN 83–YARD FUMBLE RETURN FOR A TOUCHDOWN BY THE BOMBER DEFENSE.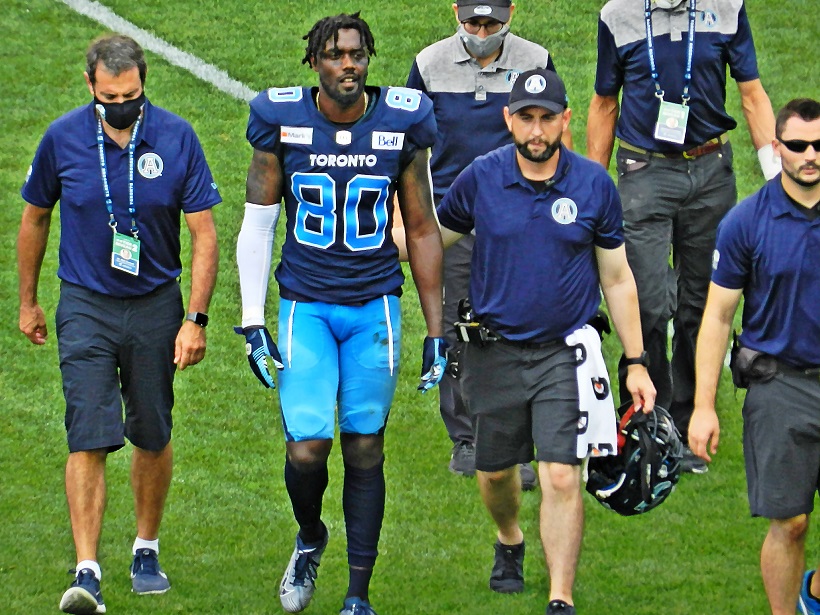 ARGOS RECEIVER DaVARIUS DANIELS (80, ABOVE) CAUGHT A 30–YARD TOUCHDOWN PASS FROM ARBUCKLE IN THE SECOND QUARTER BUT LEFT THE GAME WITH A CONCUSSION EARLY IN THE THIRD. HE ABSORBED A SHOULDER–PAD–TO–HELMET JOLT WHILE CROSSING OVER THE MIDDLE FROM WINNIPEG DEFENSIVE BACK BRANDON ALEXANDER. DANIELS WAS RATHER DEFENSELESS ON THE PLAY, WHICH SHOULD HAVE DRAWN A FLAG FROM THE GAME OFFICIALS. INSTEAD, THE BOMBERS WERE PENALIZED 15 YARDS FOR UNNECESSARY ROUGHNESS AFTER A REVIEW BY THE CFL COMMAND CENTER. DANIELS SPENT CLOSE TO FIVE MINUTES ON THE TURF BEFORE WALKING TO THE SIDELINE UNDER HIS OWN STEAM. WINNIPEG COACH MIKE O'SHEA (A GREY CUP WINNER AT LINEBACKER WITH THE ARGOS IN 1996, 1997 AND 2004) HOTLY QUESTIONED THE PENALTY CALL (BOTTOM–LEFT) WHILE DANIELS NEEDED SOME ASSISTANCE (BOTTOM–RIGHT) TO THE DRESSING ROOM.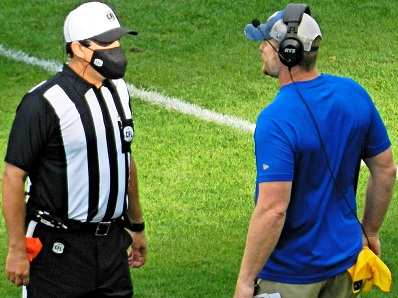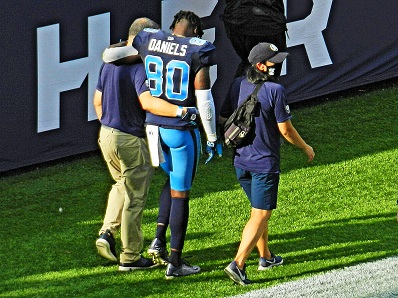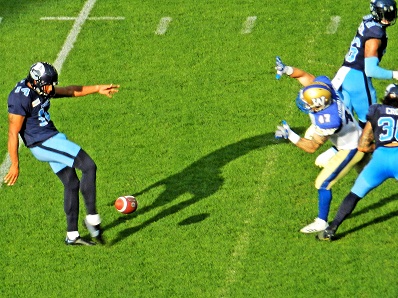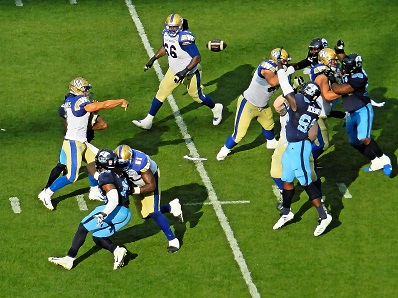 ARGOS PUNTER BORIS BEDE (TOP–LEFT) DROPPED THE BALL TO HIS FOOT. THE TORONTO DEFENSE DID A GOOD JOB OF CONTAINING BLUE BOMBERS QUARTERBACK ZACH COLLAROS (RIGHT), WHO PASSED FOR ONLY 204 YARDS — 51 OF THEM ON A SECOND–QUARTER TOUCHDOWN.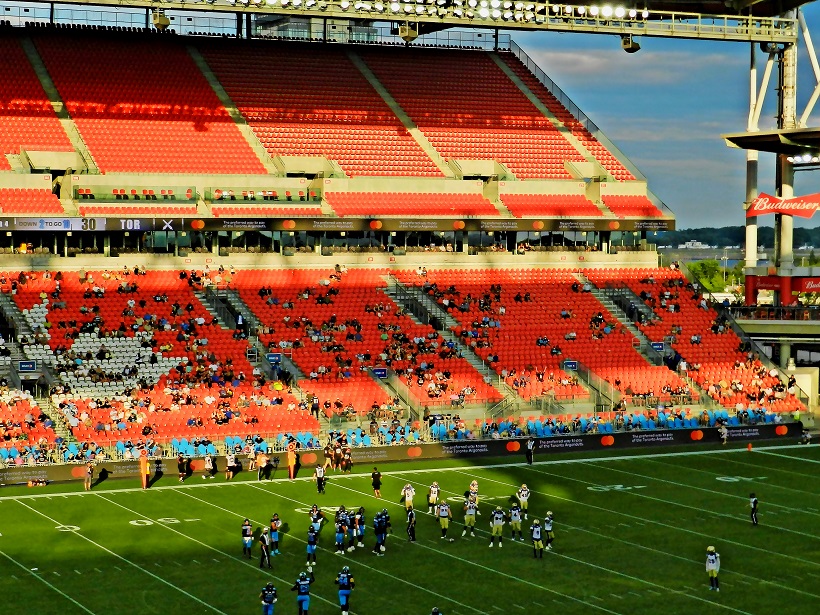 THE EARLY EVENING SUN BATHED THE EAST STANDS OF BMO FIELD IN A COLORFUL GLOW.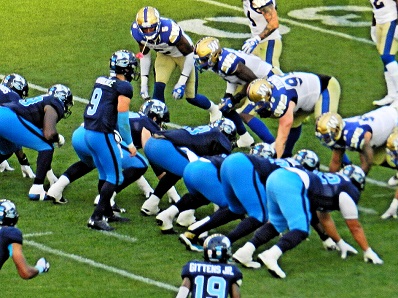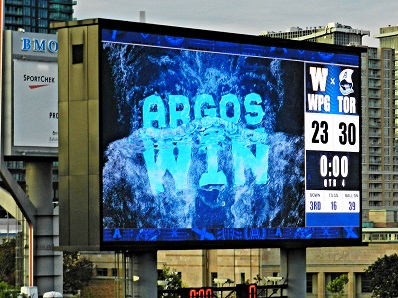 ARBUCKLE, AS WAS CUSTOM ON SATURDAY, SMARTLY MANEUVERED THE ARGONAUTS FROM DEEP IN THEIR ZONE WITH A DRIVE THAT EXPIRED THE CLOCK AND ENABLED A SEVEN–POINT WIN. THE ARGOS WERE TO HOST THE EDMONTON ELKS ON THURSDAY NIGHT, BUT THE GAME HAS BEEN POSTOPED. SEVERAL EDMONTON PLAYERS HAVE TESTED POSITIVE FOR COVID–19.
EMAIL: HOWARDLBERGER@GMAIL.COM