TORONTO (Aug. 1) — Wow, did I get excited on Saturday when I thought I heard the Toronto Maple Leafs had signed Nicole Richie to sing the national anthem at home games. Maybe her dad, Lionel, would come along. Then, I realized it was free agent Nick Ritchie to play left wing, "replacing" Zach Hyman. And, I was less excited.
There is, however, another figure from the first round of the 2014 National Hockey League draft that intrigues me. Toronto native Joshua Ho–Sang was chosen by the New York Islanders 28th overall — 18 spots after Ritchie's selection by the Anaheim Ducks (he was traded to the Boston Bruins on Feb. 24, 2020, just prior to the COVID–19 pandemic). Neither player has matched expectation in a draft that was largely underwhelming and perhaps most notable, in hindsight, for Florida (Aaron Ekblad) and Buffalo (Sam Reinhart) passing on Leon Draisaitl, allowing Edmonton to nab him in the No. 3 hole. My friend Tim Cherry, the offspring of Rose and Donald S., sent me a cryptic Facebook message: "Zack (sic) Hyman, 15 goals, 7 years, $35 million. Ritchie, 15 goals, 2 years, $5 million." Of course, Tim conveniently left out that his dad's former team would have undoubtedly tendered Hyman a qualifying offer rather than cutting him loose, as it did Ritchie. But, I digress. The Maple Leafs apparently signed Ritchie for "toughness" (wait, isn't that the reason Wayne Simmonds was brought aboard? I digress again).
It's Ho–Sang that provides the Leafs the wild card amid all the moves made this week; the club inking him to a professional tryout. He possesses arguably the most–unique cultural blend in the history of mankind. His mother, Erika, is Jewish and a native of Santiago, Chile. Erika's mother is part–German, part–Spanish; her father, Spanish. Ho–Sang's Christian–born father, Wayne, is from Kingston, Jamaica. Josh's great–grandfather was from Hong Kong. All of which is irrelevant other than how it relates to melting–pot Toronto. And, how Josh could have this city in the palm of his hands were he to straighten out whatever is curtailing his hockey career. "If this kid ever got his sh** together, he'd be a star in the NHL," said a scout that works for another team, thereby requiring anonymity. "Of course, we've heard that a thousand times about Josh. How attitude, temperament and stubbornness has offset his remarkable hockey skill. So, I'm not confident he'll respond to the Leafs. If [Islanders general manager] Lou Lamoriello couldn't engender discipline and commitment from Josh, it's possible that nobody can. But, I can say, with some authority, that Toronto is 'last chance saloon'. If he screws up this opportunity, it's over."
Frankly, the "sh" word has followed Ho–Sang for more than seven years. Speaking with the TSN panel moments after selecting Josh at the Wells Fargo Center in Philadelphia, Islanders' GM Garth Snow famously shocked viewers by claiming "he'll fit right in, they sh** on me, too." Yes, James Duthie and Bob McKenzie turned white.

JOSHUA HO–SANG FLASHED HIS PERSONALITY IN A PHOTO–SHOOT FOR SPORTSNET MAGAZINE.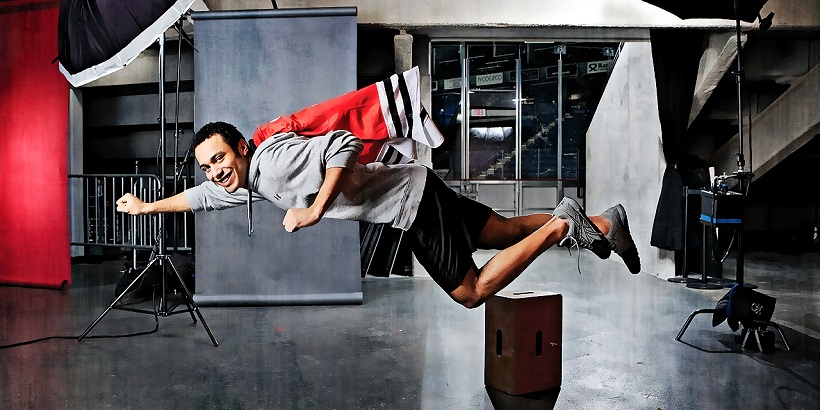 Ho–Sang should have disappeared from the 2014 NHL draft board sooner than 28th after a season with Windsor of the Ontario Hockey League in which he compiled 32 goals, 85 points and a plus–26. In 2014–15, split between Windsor and Niagara of the OHL, he put up 81 points; then 82 with the Ice Dogs the following year. He seemed particularly adept at playmaking, as his final Junior season indicated: 19 goals and 63 assists. The caliber of center that any winger would covet. In the five hockey seasons since 2015–16, Ho–Sang has totaled 39 goals and 149 points for five teams; two of them in Sweden. He managed just 53 appearances with the Islanders, accruing seven goals and 24 points. To say he's been stuck in neutral would be rather complimentary.
Talking with Steve Simmons of the Toronto Sun for a column published June 24, 2014, before the NHL draft, Ho–Sang foreshadowed much of what has since held him back. Among his comments to Steve:
• "If I was a general manager and had first pick in the draft, I'd pick me No. 1. In three years, I'll be the best player in this draft. And I have no doubt about that. I know myself. I know the other players. I believe in my ability. There are guys ranked ahead of me who are nowhere near me. I'm not concerned about the draft (and where I'm picked). I know what's being said out there. I know people's skepticism. I'm prepared for that."
• "I'm emotional. I'm more emotional than most people. That poses a problem for the hockey world. A lot of players are trained to hold their emotions. Look at Sidney Crosby, how much emotion do you see? Pavel Datsyuk, the same. Jonathan Toews, the same. All stone–faced. P.K. [Subban] gets into trouble. [Patrick] Kane gets in trouble. The guys with more personality play with something more."
• "I think color definitely plays a factor in perception [of me]. People watch my games and are very critical. When I start dangling (with the puck), my GM calls me a Harlem Globetrotter. Why am I a Harlem Globetrotter? Analogies get related to basketball all the time with me. I don't play basketball. I've never played basketball. I'm a hockey player. Why are they doing that? When I do anything, I'm just another black kid with attitude. I think I get misunderstood because these guys want to figure me out without talking to me and try to come up with every single reason why there's something wrong with me. The only place I can win this argument is on the ice."
• "Any team should want me. And I know, it would not hurt a team to have one of their best players being black and have an Asian last name. That wouldn't hurt marketability or jersey selling one bit. Just from the standpoint of making money, I feel I'd be a pretty big ticket. A lot of my goals are close to highlight–reel goals. I play an exciting game. I love to dangle. I love to play an offensive game. I love to celebrate when I score. I believe in myself."
So, where did it all go wrong? To speak on behalf of Josh, I left a phone–message for his New York–based agent, Pat Bedell, which hasn't been returned. Toronto–based Ian Pulver, among the more–prominent NHLPA–certified agents, initially represented Ho–Sang, before the player switched, mysteriously, to Bedell, a comparative lightweight. It's been nearly impossible, for that matter, to find anyone that will vouch for the one–time prospect.
"His natural ability still tantalizes, which I suppose is why the Leafs are giving him a shot," said the NHL scout. "It's a no–risk move with potential upside. Ho–Sang is closing in on 26 (in January). Not many players suddenly burst through more than seven years after being drafted. With Ho–Sang, it's a shame, because he's forever had the talent to be a good player in the NHL. Maybe this last chance, in his home town, will wake him up. Who knows?"
LOST LEAFS TRAVEL PHOTOS — Part 1
These are images I snapped with my NIKON to start this blog while traveling around the National Hockey League in the 2011–12 season, after my radio career at The FAN–590. The photos had been expunged a few years ago by the techno types at Insiteful Solutions while contracting the volume of blogs written since June 2011. They are, as the sub–title indicates, travel photos, rather than images taken during the Leafs games I attended. Enjoy: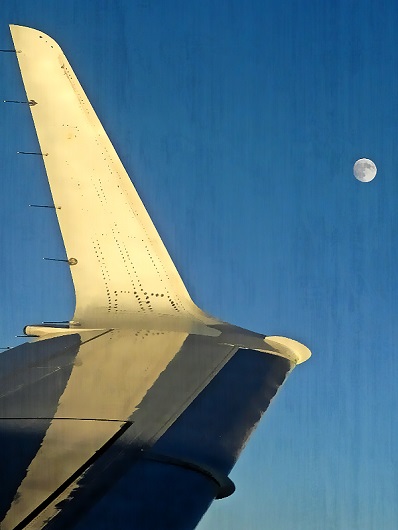 WHILE FLYING FROM TORONTO TO WASHINGTON (LEFT) IN THE EARLY EVE. A NEARLY FULL MOON OFF THE WINGLET OF AN AIR CANADA EMBRAER–190 JET. THE ICONIC DOME OF THE UNITED STATES CAPITOL ON A PERFECT AFTERNOON.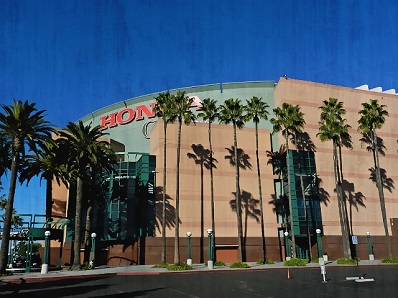 THE HONDA CENTER IN ANAHEIM WAS THE NHL's MOST–OPULENT ARENA WHEN IT OPENED IN 1993. SURROUNDED BY PALM TREES, IT MAKES FOR A PICTURESQUE SETTING. EVEN AT DUSK (BELOW) WITH A SLIVER MOON OVERHEAD.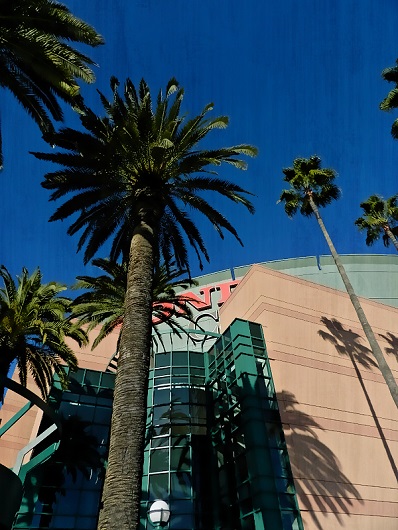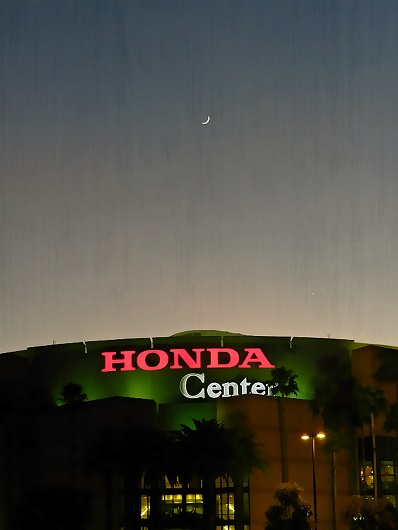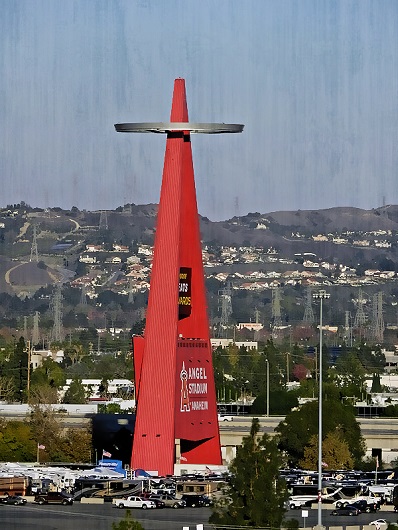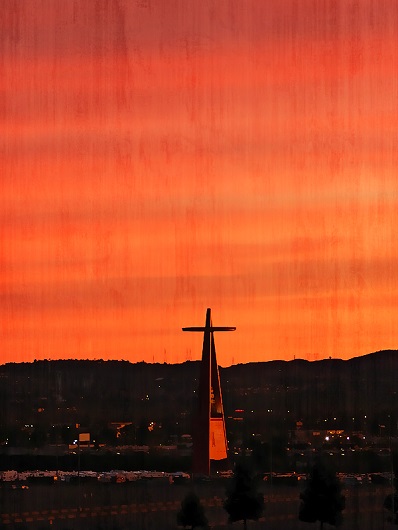 FROM MY HOTEL: THE ORIGINAL HALO–SCOREBOARD (1966) OF ANAHEIM STADIUM, HOME OF THE BASEBALL ANGELS. IT NOW RESTS IN A PARKING LOT BEYOND RIGHT FIELD. THE EARLY MORNING VIEW (RIGHT) AFTER SUNRISE.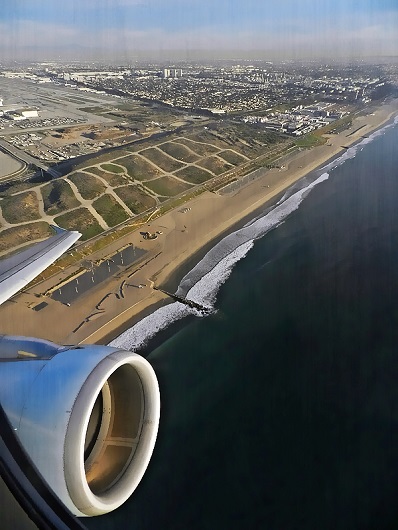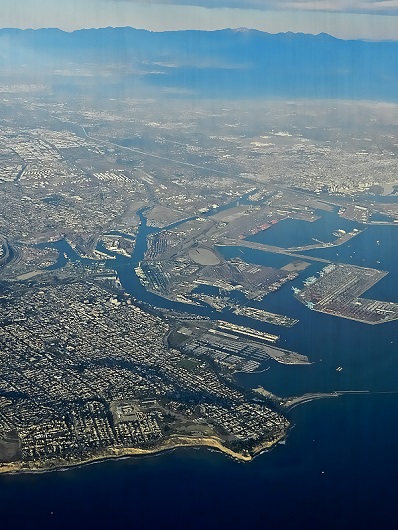 DEPARTING LOS ANGELES INTERNATIONAL AIRPORT OVER THE PACIFIC OCEAN. TURNING LEFT, MOMENTS LATER, OVER–TOP LONG BEACH HARBOR. IN BOTTOM–LEFT OF THE PHOTO, BELOW, IS THE RMS QUEEN MARY, THE BRITISH OCEAN LINER THAT SAILED ACROSS THE ATLANTIC FROM 1936 TO 1967. THE CIRCULAR FIGURE NEAR THE MIDDLE IS LONG BEACH ARENA, WHERE THE LOS ANGELES KINGS PLAYED THEIR FIRST NHL GAME ON OCT. 14, 1967.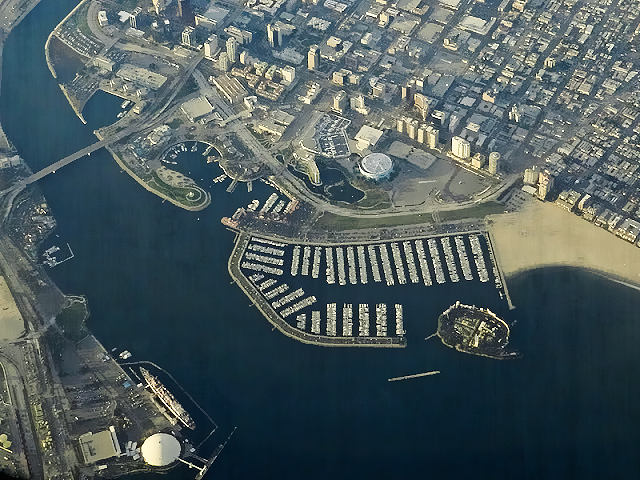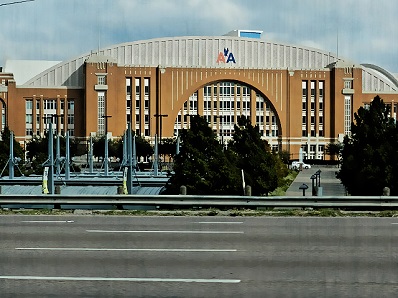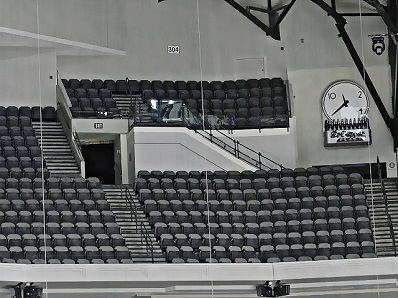 THE AMERICAN AIRLINES CENTER IN DALLAS FROM THE STEMMONS FREEWAY (ABOVE) AND A SECTION OF UPPER–BALCONY SEATS. THE HOME OF THE DALLAS STARS OPENED JULY 17, 2001, REPLACING OLD REUNION ARENA. SITTING ALONE AT ICE–LEVEL IN THE EMPTY AMERICAN AIRLINES CENTER (BELOW) WHILE WRITING A LEAFS BLOG.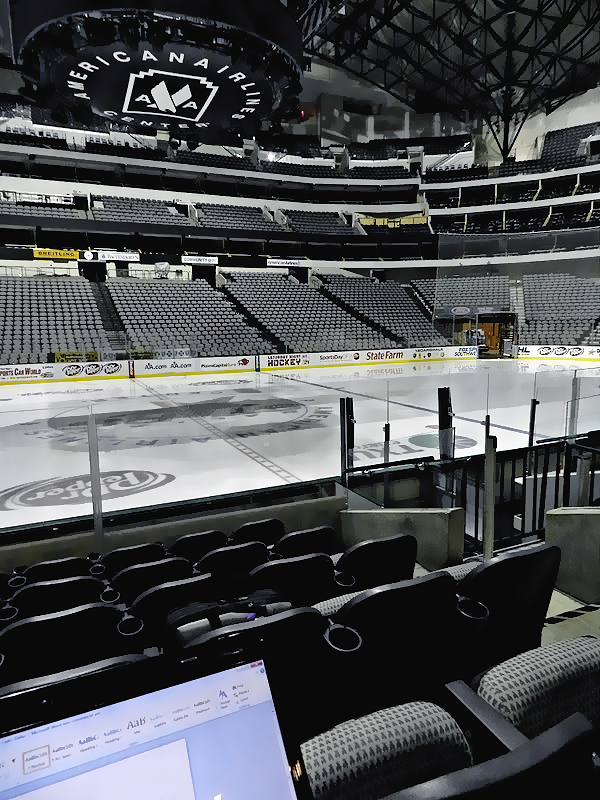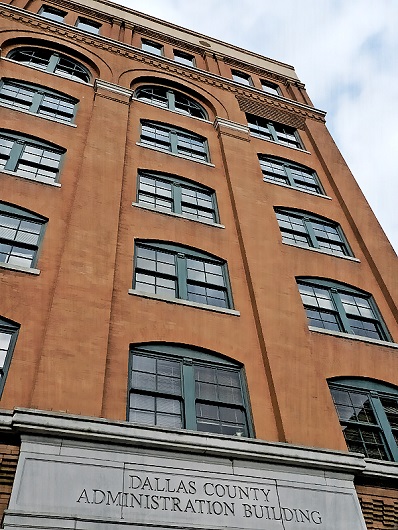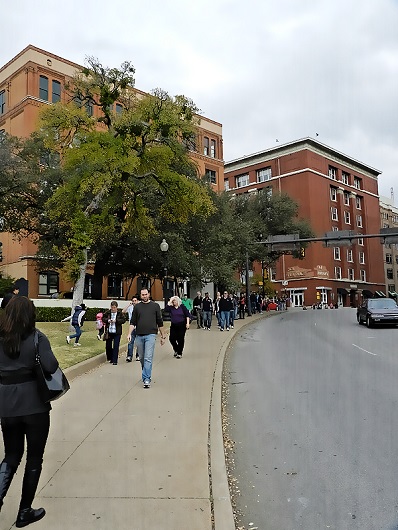 VISITING THE FAMED SITE, IN DALLAS, WHERE PRESIDENT JOHN F. KENNEDY WAS ASSASSINATED ON NOV. 22, 1963. THE DALLAS COUNTY ADMINISTRATION BUILDING WAS KNOWN, THAT DAY, AS THE TEXAS SCOOLBOOK DEPOSITORY. THE WARREN COMMISSION CONCLUDED THAT LEE HARVEY OSWALD SHOT KENNEDY THREE TIMES FROM THE UPPER–RIGHT WINDOW ON THE SIXTH FLOOR OF THE SEVEN–STORY STRUCTURE. THE ICONIC "GRASSY KNOLL" (BOTTOM–LEFT) FROM ACROSS COMMERCE ST. AND THE PHOTO–ANGLE (BOTTOM–RIGHT) FROM THE KNOLL THAT WAS MADE FAMOUS BY THE FILM OF ABRAHAM ZAPRUDER, WHO TOOK THE ONLY MOVING IMAGES OF THE ASSASSINATION.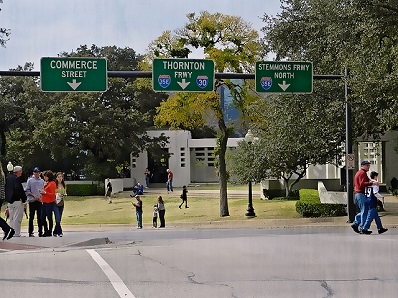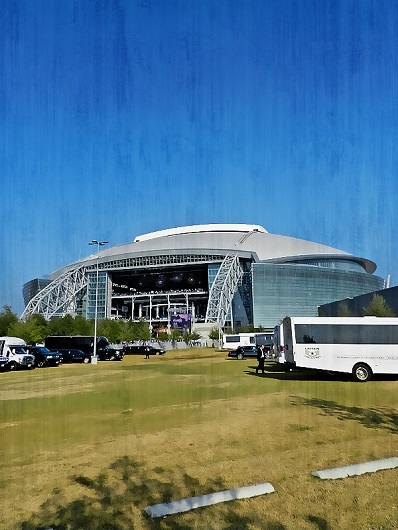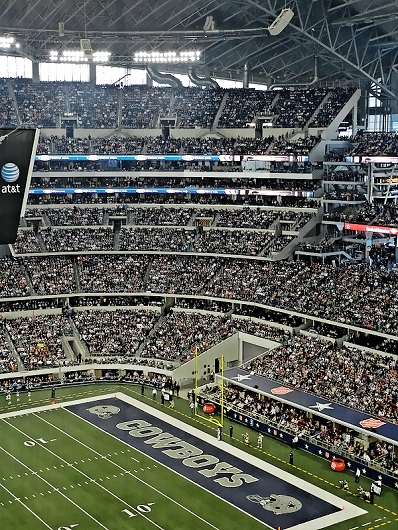 ATTENDING THE DALLAS COWBOYS ANNUAL THANGSGIVING DAY FOOTBALL GAME IN 2011 (vs. MIAMI DOLPHINS) AT AT&T STADIUM IN NEARBY ARLINGTON, WHICH OPENED MAY 27, 2009 (REPLACING TEXAS STADIUM) AND CAN ACCOMMODATE MORE THAN 105,000 FANS IN EIGHT SEATING LEVELS. THE GIANT VIDEOBOARD (BOTTOM–LEFT) STRETCHES ACROSS MOST OF THE FIELD. THE STADIUM LOOKS LIKE A GIANT ALIEN STRUCTURE WHILE ILLUMINATED AT NIGHT.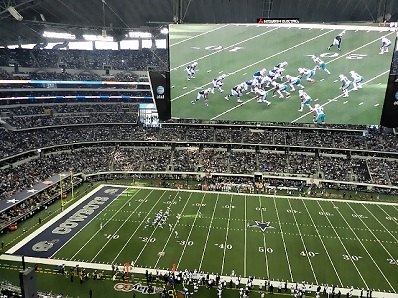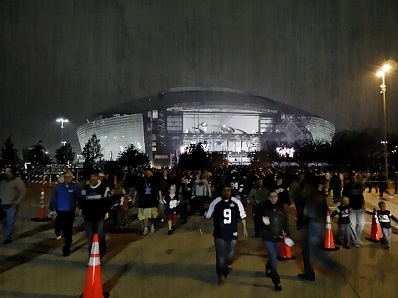 EMAIL: HOWARDLBERGER@GMAIL.COM