TORONTO (Aug. 6) — It has been proven, unequivocally, that the going rate for an elite defeseman in the National Hockey League is close to double figures per season. Dougie Hamilton signed with New Jersey as an unrestricted free agent and will consume $9 million of salary cap space. Darnell Nurse has inked a contract extension with Edmonton that kicks in after next season and will gobble up $9.25 million. The top blue–liner on the planet, Victor Hedman of Tampa Bay, eats up "only" $7.85 million thanks to a brilliant, eight–year pact negotiated, on July 1, 2016, by former Lightning general manager Steve Yzerman (now with Detroit). Were the deal signed today, Hedman would earn $12 million. So, where does that leave the Toronto Maple Leafs in their interminable quest to land a Norris Trophy type, unseen in these parts since Borje Salming more than 40 years ago (the club could have drafted Hamilton in 2011, if not for the two first–rounders yielded in the Phil Kessel trade of September 2009)?
What it comes down to, without question, is this: GM Kyle Dubas can neither re–sign incumbent Morgan Rielly nor look elsewhere for a No. 1 defenseman without unloading the contract of either Auston Matthews, Mitch Marner or William Nylander. Under no reasonable circumstance can Dubas retain all of his $40 million forwards (John Tavares cannot be moved)… and carry an elite blue–liner. Given the comparable figures that agents wisely deploy, J.P. Barry will have every reason to ask the Leafs for $8–$9 million a year when negotiating Rielly's new contract after next season. Neither Hamilton nor Nurse has come close to the 72 points that Rielly amassed in 2018–19 (Hamilton's top number is 50 points; Nurse 41). Rielly's second–best total, 52, is also better than Hamilton and Nurse. How, then, do the Leafs add another mega–contract without first subtracting one of their own? The answer is simple: they can't. It isn't possible under what is sure to be the second year of a flat, $81.5 million salary cap.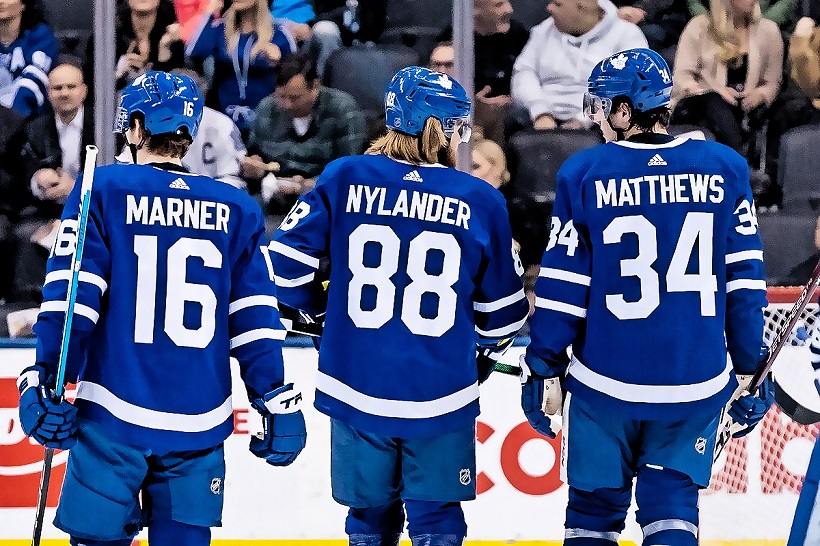 The options for Dubas, therefore, are severely limited.
He can peddle Rielly before the trade deadline next season for draft picks and prospects, then pursue another mid–range defenseman. He can trade one of Matthews, Marner or Nylander for a similar return and use the cap space to either re–up with Rielly or sign an alternate No. 1. But, that's it. Dubas either hangs on to his three young forwards and goes with a makeshift blue line. Or, he unloads one of the contracts and locks in a top defenseman.
Among those slated to become unrestricted free agents next summer, John Klingberg of Dallas is the most–reasonable alternative. As with the Leafs, the Stars are devoid of cap space and already have $17.9 million committed to three defensemen (Miro Heiskanen, Esa Lindell and Ryan Suter) through the 2024–25 season. They cannot afford to double Klingberg's $4.25 million salary. Neither can the Leafs offer Klingberg $8–$9 million without first offing one of Matthews, Marner or Nylander. Unlike Hamilton and Nurse, and though his numbers have waned, Klingberg put up seasons of 67 and 58 points. He is 1½ years older than Rielly but still in the prime of his NHL career. If the Maple Leafs lose Rielly and do not sign Klingberg, they'll have no chance to pose a Stanley Cup threat.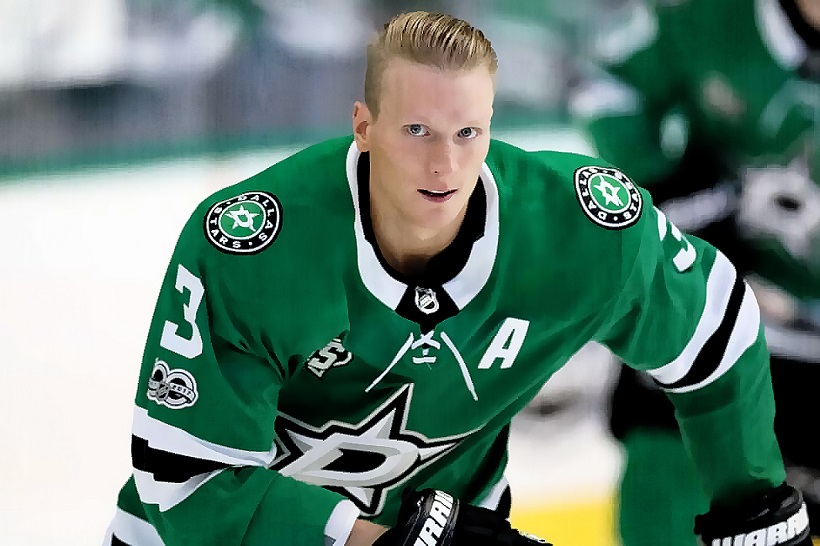 DEFENSEMAN JOHN KLINGBERG COULD BE A LEAFS TARGET NEXT SUMMER, BUT ONLY IF KYLE DUBAS MAKES A TOUGH CALL WITH ONE OF HIS BIG FORWARDS. ANDREW DIEB GETTY IMAGES/NHL
Dubas further handcuffed himself by garnishing all of his top defensemen movement restrictions. Before Rielly can be dealt, he must present the Leafs a list of 10 no–trade destinations. Same with Justin Holl. Similar arrangements with Jake Muzzin and T.J. Brodie take effect on July 1, 2023. None of Holl, Muzzin or Brodie rank close to No. 1 status among NHL blue–liners. Rielly is borderline yet, undoubtedly, the best of the lot. For those figuring the Leafs can lose Rielly and have Rasmus Sandin (still under entry level) move seamlessly into the top role (as I once fathomed), look, again, at my July 27 blog (https://bit.ly/3y45lLw). It casts serious doubt over that argument.
To summarize: Kyle Dubas cannot retain his Big 4 forwards and carry an elite defense salary after next season.
Sacrificing one of Matthews, Marner or Nylander is imperative to break the salary cap logjam. End of story.
LOST LEAFS TRAVEL PHOTOS — Part 3
In the last of a three–part series, here are images I snapped with my NIKON to start this blog while traveling around the National Hockey League in the 2011–12 season (after my radio career at The FAN–590). The photos, from Tampa, St. Louis and Nashville, had been expunged a few years ago by the techno types at Insiteful Solutions (the company that created this website) while contracting the volume of blogs written since June 2011. They are, as the sub–title indicates, mostly travel photos, rather than images taken during the Leafs games I attended: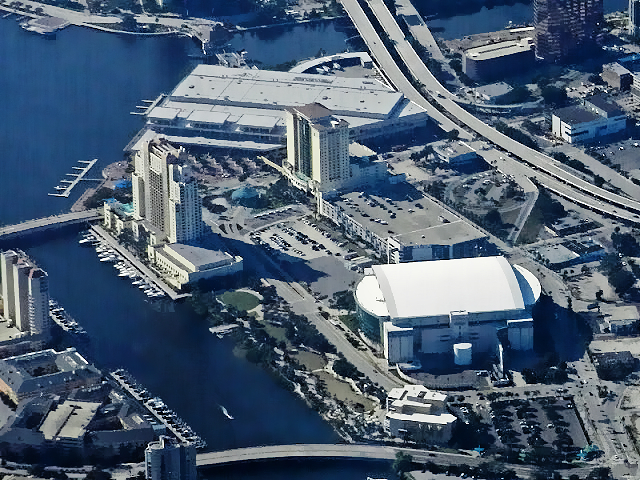 WHILE ON FINAL APPROACH TO TAMPA INTERNATIONAL AIRPORT, WE FLEW PAST THE CHANNELSIDE DISTRICT OF DOWNTOWN, WHICH INCLUDES AMALIE ARENA (HOME OF THE LIGHTNING); THE TAMPA CONVENTION CENTER (FLAT STRUCTURE NEAR TOP) AND ADJACENT HOTELS: THE TAMPA MARRIOTT WATERSIDE (LEFT) AND THE EMBASSY SUITES.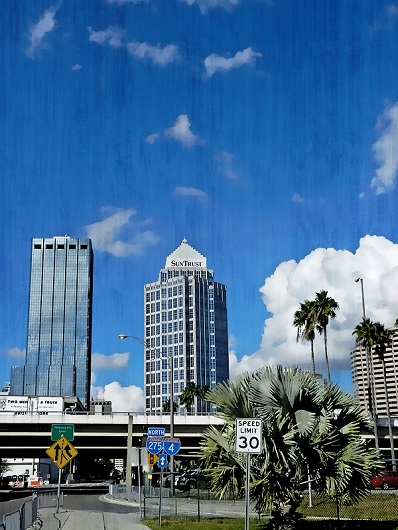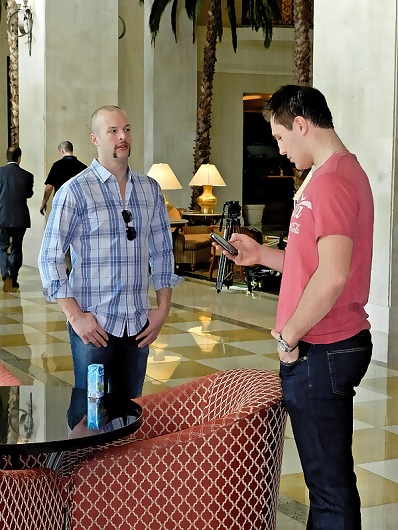 AFTER ARRIVING ON A BEAUTIFUL FLORIDA AFTERNOON, THE LEAFS HAD TIME TO RELAX. FORMER LEAF PLAYERS TIM CONNOLLY (LEFT) AND LUKE SCHENN RUMINATED OVER PLANS IN THE LOBBY OF THE MARRIOTT WATERSIDE.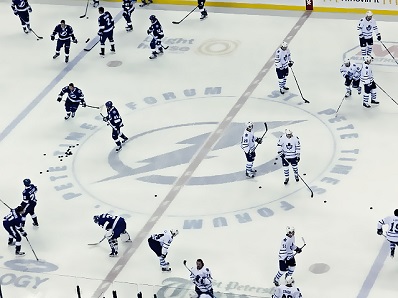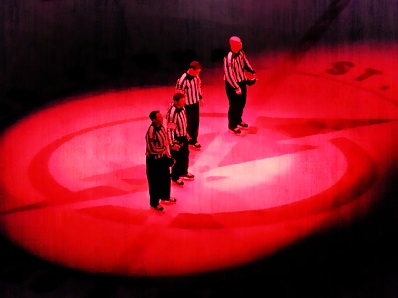 WARM–UPS AT THE ST. PETE TIMES FORUM, RE–NAMED AMALIE ARENA IN 2014. REFEREES DAN O'ROURKE AND TOM KOWAL; LINESMEN PIERRE RACICOT AND BRIAN MURPHY BASK IN A RED FLOODLIGHT DURING THE NATIONAL ANTHEMS.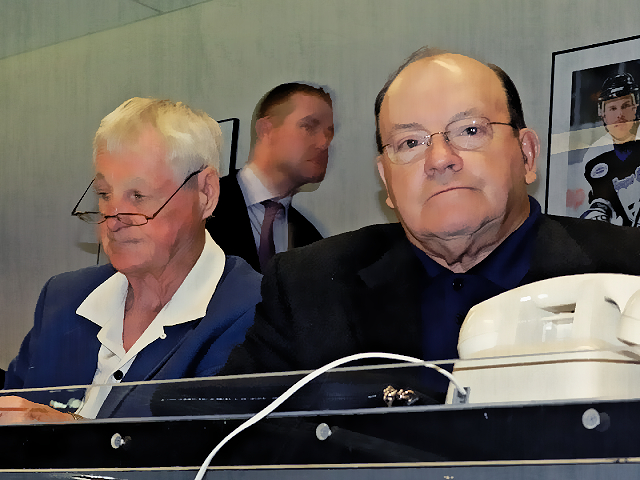 IN THE PRESS BOX AT AMALIE ARENA, SCOTTY BOWMAN (TOP–RIGHT), THE RUNAWAY NHL LEADER IN COACHING VICTORIES AND STANLEY CUP TITLES. JOHN FERGUSON JR. (BOTTOM–LEFT), GENERAL MANAGER OF THE MAPLE LEAFS FROM 2003–08. AND, ONE OF THE GREATEST SCORERS IN NHL HISTORY, HALL–OF–FAMER PHIL ESPOSITO (BOTTOM–RIGHT), WHO FOUNDED THE LIGHTNING IN 1991 AND HAS LONG BEEN THE CLUB'S RADIO BROADCAST ANALYST.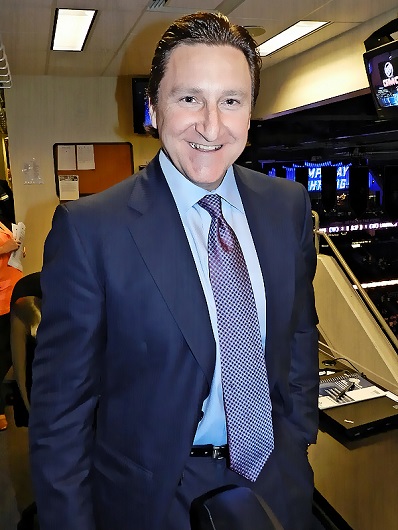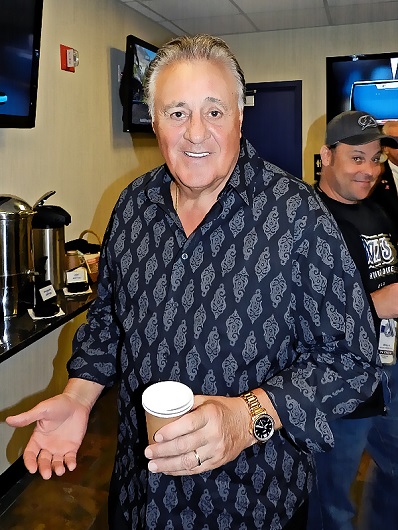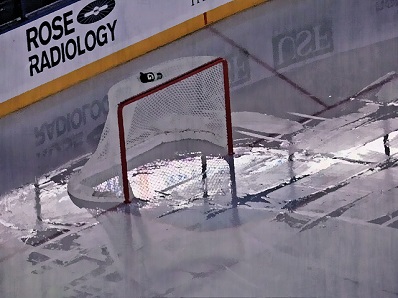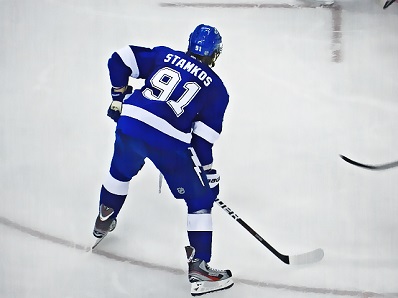 ZAMBONI WATER AND A YOUNG STEVEN STAMKOS, IN HIS FOURTH NHL SEASON, SCORING A CAREER–HIGH 60 GOALS.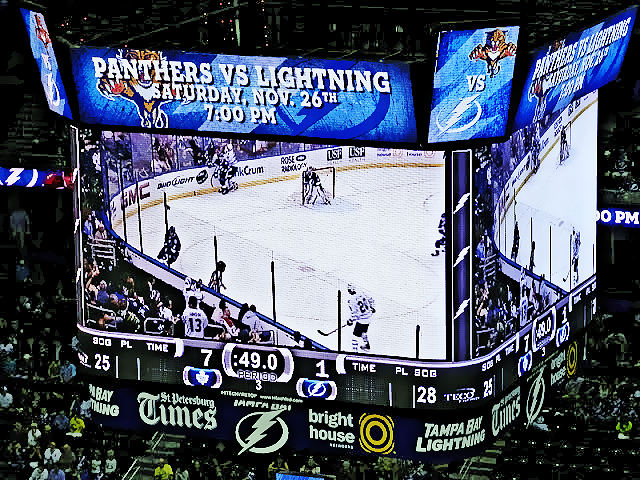 NOT THE KIND OF SCORE YOU'D EXPECT TODAY. A BREEZE FOR THE VISITORS.

CROSSING THE MISSISSIPPI RIVER ON AN AIR CANADA DC–9 INTO DOWNTOWN ST. LOUIS WHILE APPROACHING LAMBERT INTERNATIONAL AIRPORT. THE GATEWAY ARCH IS AT TOP–LEFT. THE DOME AT AMERICA'S CENTER (FORMERLY THE TRANS WORLD AND EDWARD JONES DOME) IS LARGE STRUCTURE IN THE MIDDLE. IT WAS HOME TO THE NFL's ST. LOUIS RAMS FROM 1995 TO 2015, AFTER WHICH THE CLUB MOVED BACK TO LOS ANGELES.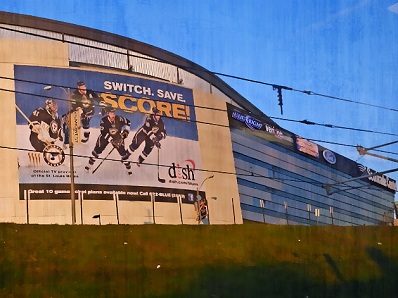 TAKING THE METROLINK TRAIN FROM LAMBERT AIRPORT TO DOWNTOWN ST. LOUIS, WE PASSED THE ENTERPRISE CENTER (TOP–LEFT), HOME OF THE BLUES, REPLACING (IN 1995) THE OLD ST. LOUIS ARENA. IT WAS STILL KNOWN, IN 2011, AS THE SCOTTRADE CENTER. ON THE OUTSKIRTS OF DOWNTOWN WAS THE HISTORIC SHERATON ST. LOUIS (RIGHT), ORIGINALLY, THE EDISON BROTHERS WAREHOUSE, BUILT IN 1928–29. IT IS NOW A CONDOMINIUM/HOTEL.

ACROSS FROM MY HOTEL WAS THE "NEW" BUSCH STADIUM, HOME OF THE BASEBALL CARDINALS, WHICH REPLACED (IN 2006) THE OLD COOKIE–CUTTER STADIUM OF THE SAME NAME, ON VIRTUALLY THE SAME SITE. THE OLD FACILITY WAS DEMOLISHED BETWEEN NOV. 7 AND DEC. 8, 2005. AS A POINT OF REFERENCE, THE PHOTO, BELOW, SHOWS THE NEW STRUCTURE BEING BUILT (AT LEFT) WHILE THE OLD BUSCH STADIUM WAS PREPARED FOR THE WRECKING BALL.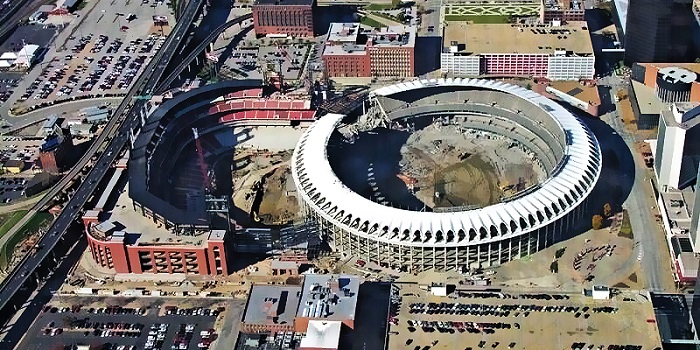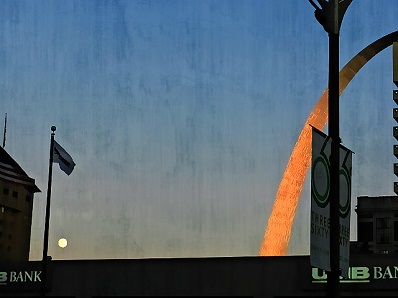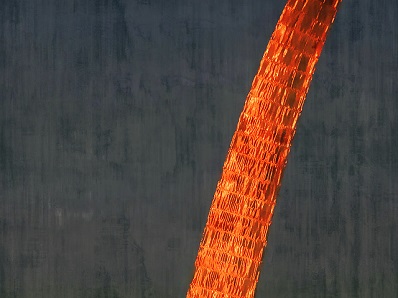 ARRIVING AT THE HILTON ST. LOUIS/BALLPARK AT DUSK, THE SETTING SUN CAST A GOLD REFLECTION OFF THE STAINLESS–STEEL OF THE GATEWAY ARCH, THE 630–FOOT MONUMENT CONSTRUCTED ON THE BANK OF THE MISSISSIPPI RIVER BETWEEN FEBRUARY 1963 AND OCTOBER 1965. A DC–8 JETLINER (BOTTOM–LEFT) FLEW PAST THE FULL MOON ON APPROACH TO LAMBERT AIRPORT. IN THE MORNING, BUSCH STADIUM WAS BEYOND MY HOTEL ROOM WINDOW.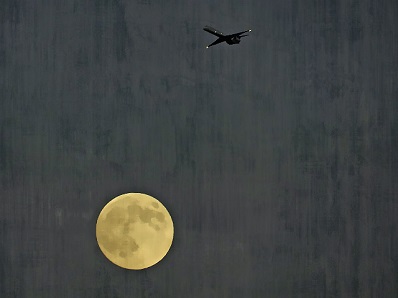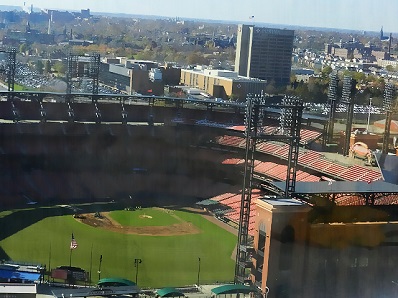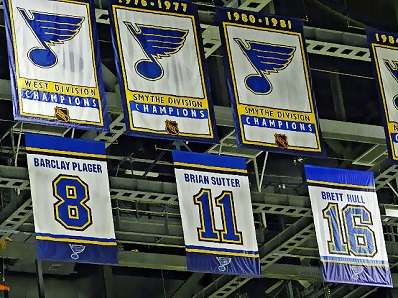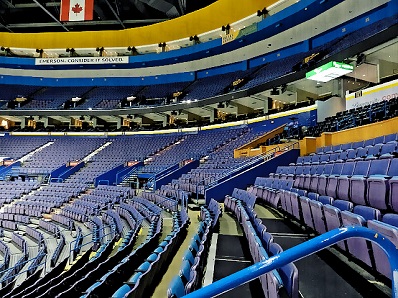 INSIDE THE ENTERPRISE CENTER. BANNERS DEPICTING DIVISION TITLES DATING TO THE FIRST YEAR OF EXPANSION (1967–68) AND THE ST. LOUIS TEAM COACHED BY SCOTTY BOWMAN (THE BLUES WOULD WIN THEIR FIRST STANLEY CUP IN 2019). CLUB LEGENDS BARCLAY PLAGER (d. Feb. 6, 1988), BRIAN SUTTER AND BRETT HULL ARE AMONG THOSE IMMORTALIZED ON THE ARENA GIRDERS. SEATING (TOP–RIGHT) HAS ALWAYS BEEN IN THE BLUES COLOR SCHEME OF BLUE AND GOLD. WITH A CAPACITY OF 18,096, IT REMAINS ONE OF THE LARGEST ARENAS IN THE NHL.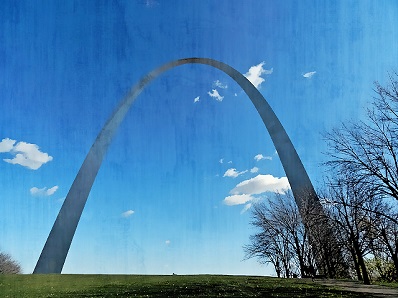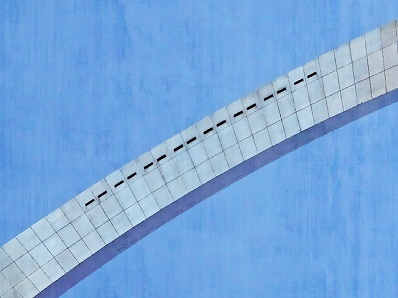 THE GATEWAY ARCH (ABOVE AND BELOW) IS AN ASSUMING FIGURE FROM CLOSE UP, JUST A 10–MINUTE WALK FROM MY HOTEL. PASSENGER TRAMS ASCEND EACH LEG TO AN OBSERVATION DECK AT THE APEX, WITH WINDOWS (TOP–RIGHT) THAT LOOK TOWARD DOWNTOWN, AND TOWARD EAST ST. LOUIS, ILL. ON THE OPPOSITE SIDE OF THE MISSISSIPPI.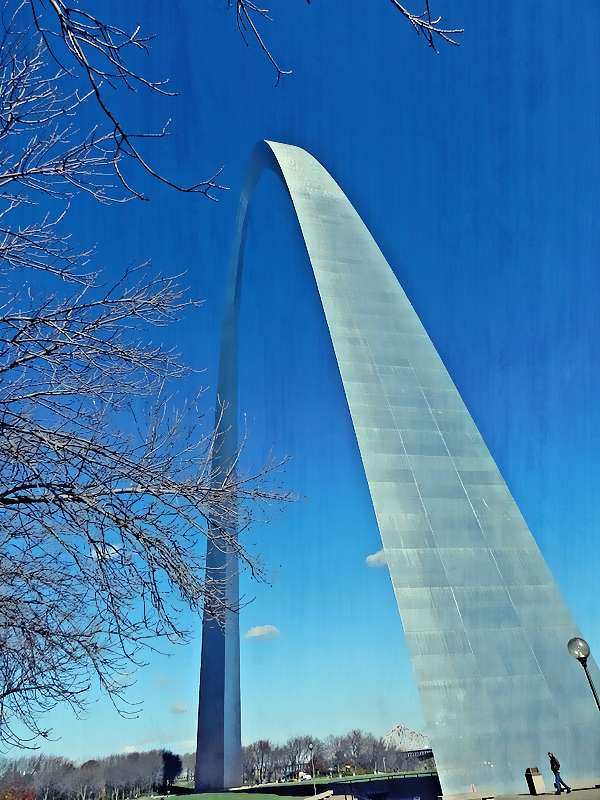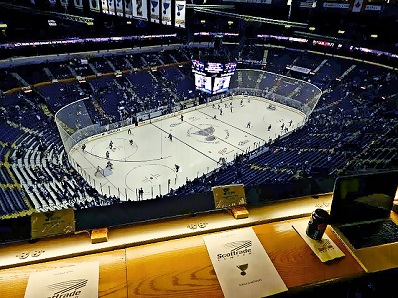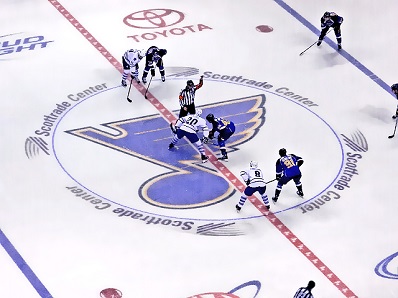 WIDE–ANGLE VIEW FROM THE ENTERPRISE CENTER PRESS BOX… AND THE LARGE BLUE NOTE AT CENTER ICE.
DOWNTOWN NASHVILLE (ABOVE AND BELOW) ON A SPACTACULAR AUTUMN AFTERNOON. LOVED STAYING AT THE HILTON SUITES HOTEL (ABOVE), AS IT WAS RIGHT ACROSS FROM BRIDGESTONE ARENA. THE 33–STORY AT&T BUILDING (COLLOQUIALLY KNOWN AS THE "BATMAN" BUILDING) OPENED ON COMMERCE ST. (ABOVE AND CENTER–BELOW) IN OCTOBER 1994. IT REMAINS THE TALLEST STRUCTURE IN THE STATE OF TENNESSEE. ALONG BROADWAY, THE MAIN THROUGHFARE OF DOWNTOWN "SMASHVILLE", ARE NUMEROUS COUNTRY & WESTERN MUSIC AND APPAREL STORES.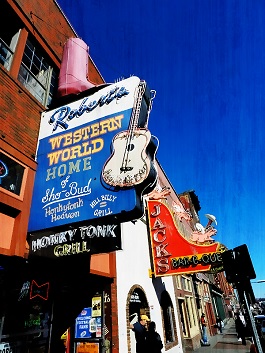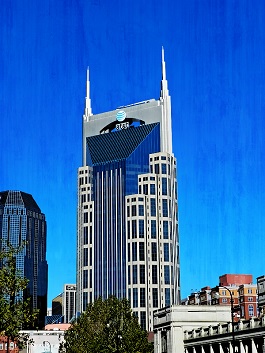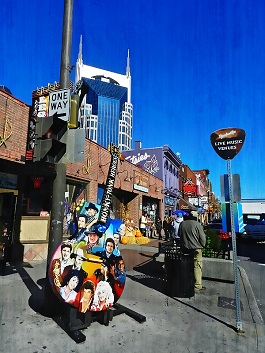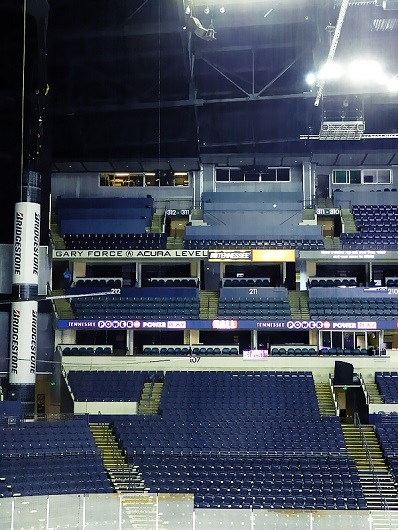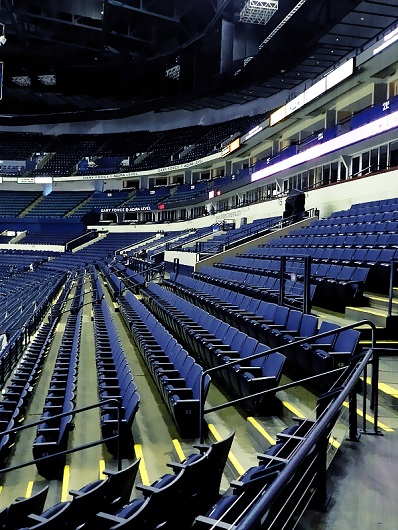 SEATS IN BRIDGESTONE ARENA (ORIGINALLY THE GAYLORD ENTERTAINMENT CENTER) ARE ALL NAVY BLUE. THE PRESS BOX AND BROADCAST BOOTHS (TOP–LEFT) ARE IN THE UPPER–CORNER OF THE THIRD DECK.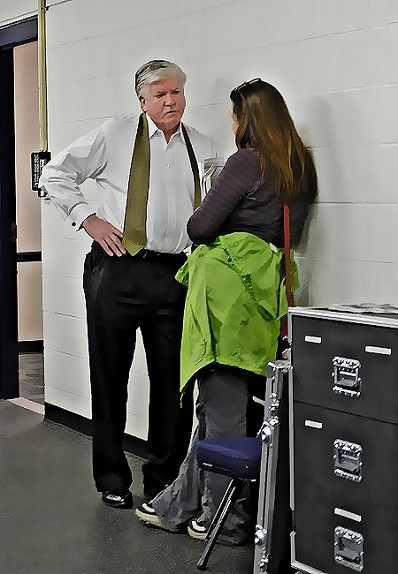 BRIAN BURKE (TOP–LEFT) WAS STILL GM OF THE LEAFS IN 2011–12. HE WASN'T READILY AVAILABLE TO THE MEDIA, BUT ALWAYS MADE TIME FOR THE "BIG SHOTS", SUCH AS VETERAN TORONTO STAR COLUMNIST ROSIE DiMANNO, WHO COVERED THE NASHVILLE TRIP. IN 2011–12, BARRY TROTZ (RIGHT) WAS STILL THE ONLY HEAD COACH IN PREDATORS HISTORY, DATING TO 1998–99. AFTER 15 SEASONS, HE WAS LET GO (ON APR. 14, 2014). HE WENT TO WASHINGTON AND GUIDED THE CAPITALS TO THEIR LONE STANLEY CUP (IN 2018). RESIGNING OVER A CONTRACT DISPUTE, HE LANDED WITH THE NEW YORK ISLANDERS AND, TODAY, IS WIDELY CONSIDERED THE MOST–RESPECTED COACH IN THE NHL. WITH 877 REGULAR–SEASON WINS, HE STANDS THIRD, ALL TIME, BEHIND SCOTTY BOWMAN AND JOEL QUENNEVILLE.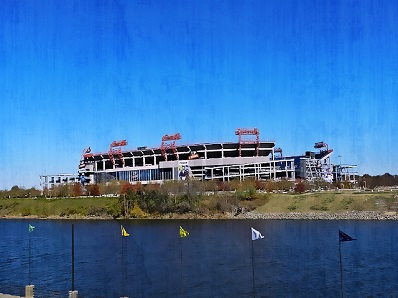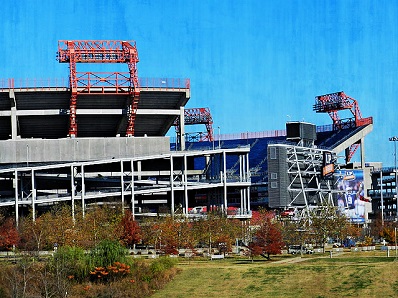 LOCATED ON THE EAST BANK OF THE CUMBERLAND RIVER, ACROSS FROM DOWNTOWN NASHVILLE, IS NISSAN STADIUM, HOME OF THE NFL's TENNESSEE TITANS. IT OPENED AUG. 27, 1999 AND SEATS 69,143 FOR FOOTBALL.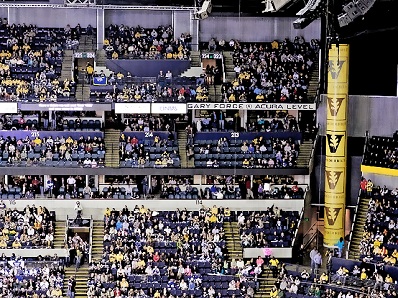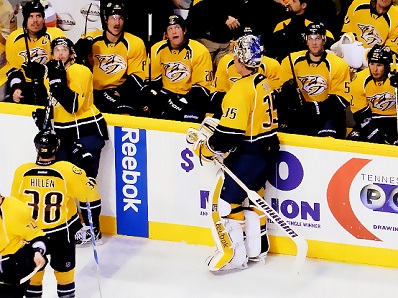 THE FANS IN BRIDGESTONE ARENA (TOP–LEFT) ENJOYED A 4–1 VICTORY OVER THE LEAFS (NOV. 17, 2011). GOALIE PEKKA RINNE (RIGHT, DURING A TIME OUT) WAS IN HIS FOURTH SEASON WITH THE PREDATORS, SETTING CAREER MARKS FOR GAMES PLAYED (73) AND WINS (43). LAST MONTH, ON JULY 13, RINNE, 38, ANOUNCED HIS RETIREMENT.
EMAIL: HOWARDLBERGER@GMAIL.COM