TORONTO (Sep. 11) — It began for me, on that fateful Tuesday, as it did for so many others: with a telephone call. I was packing a suitcase for a mid–afternoon flight to St. John's, Nfld. (or so I figured) when my cell rang just after 9:30 a.m. It was my lifelong friend, Jeffrey Spiegelman, imploring me to turn on CNN. "You won't believe what's happening in New York," Jeff said, quite correctly. Thus began a 15–hour vigil in front of the TV. So little did I comprehend the significance of the unfolding events that I called my boss at The FAN–590, Scott Metcalfe, and suggested my afternoon flight to Newfoundland for the Toronto Maple Leafs training camp might be delayed.
My first act was to shove a blank tape into a Video Cassette Recorder. Yes, VCR's were all the rage 20 years ago, prior to the advent of DVD's. I would repeat this act every 4½ hours, later transferring the tapes onto DVD. As such, I have virtually the entire first day of television coverage from Sep. 11, 2001, when terrorists highjacked jetliners and deliberately crashed them into the two World Trade Center towers in New York; into The Pentagon outside Washington, D.C. and into a farmer's field in Shanksville, Penn., near Pittsburgh; that aircraft likely bent on demolishing the United States Capitol, only to be overrun by passengers who were apprised of the earlier calamities and understood they were doomed. The mournful pawns of United Airlines Flight 93 became the heroes of that horrific day… along with police and firemen who perished while attempting to save others from the carnage.

THE FIRST IMAGES ON MY TV 20 YEARS AGO TODAY. AT 9:32 A.M. — 29 MINUTES AFTER UNITED AIRLINES FLIGHT 175 CRASHED INTO TOWER 2 OF THE WORLD TRADE CENTER IN NEW YORK.
For those that remember 9/11, it's difficult to comprehend the passage of two decades. I was married with children ages four and one. Today, I'm single; my adult kids are 24 and 21. As mentioned, I had been scheduled to fly to St. John's for the week as the Maple Leafs opened their 2001 training camp at the sight of their American Hockey League affiliate (starting my eighth full season covering the team for Canada's first all–sports radio station). While composing this blog, more than a decade after my radio days, I am nearly four years into my second (and, most meaningful) career as a funeral director's assistant at Benjamin's Park Memorial Chapel. Given that commercial air travel in North America was suspended shortly after the attacks on New York and Washington, neither the Leafs nor I made it to St. John's until the following Saturday… and only for a scheduled pre–season match against Montreal, that night, at the new Mile One Arena. I've often mentioned how the Newfoundland capital was the ideal post–9/11 destination. I stayed at a hotel overlooking the quiet and peaceful St. John's Harbor. Far more nerve–wracking in those immediate days afterward would have been a trip to the eastern seaboard of the United States.
Neither was I convinced the room I had booked, several weeks earlier, at the Delta Hotel would still be available. The tarmac at St. John's International Airport was crammed with wide–bodied jets from European countries that were ordered to land upon the closure of North American airspace. When arriving at the hotel, I was shocked by the sight of people sprawled across every inch of the lobby on blankets and pillows provided by the staff. There weren't enough hotel rooms in the entire province — let alone, the city — for the influx of unscheduled airline passengers. Somehow, my reservation had been preserved and the backlog of flights began to clear later that day.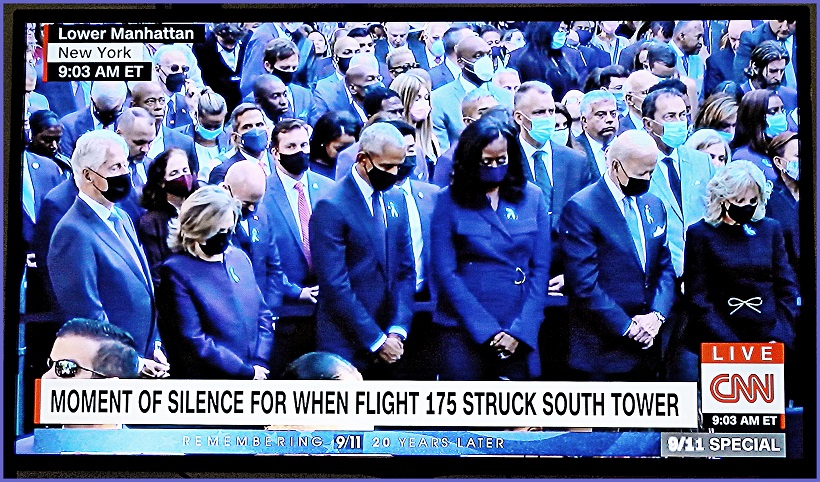 TODAY ON CNN: PRESIDENTS CLINTON, OBAMA AND BIDEN AT THE FORMER WORLD TRACE CENTER SITE IN NEW YORK, 20 YEARS TO THE MOMENT OF THE SECOND AIRLINE STRIKE ON 9/11.
Given the sad history made 20 years ago this morning, I collected newspapers and magazines pertaining to the terrorist attacks. Many are displayed, below. Security measures at airports and land–border crossings were forever altered. A total of 2,996 people (including the hijackers) perished; the property damage in New York and Washington exceeded $10 billion. This blog is dedicated to the victims of 9/11 — the hapless souls on the four airliners (vehemently excluding the hijackers); those that died on the ground, and the heroic police and firefighters that gave their lives. No person old enough to remember Sep. 11, 2001 is unaffected, even two decades later.
NEWSPAPERS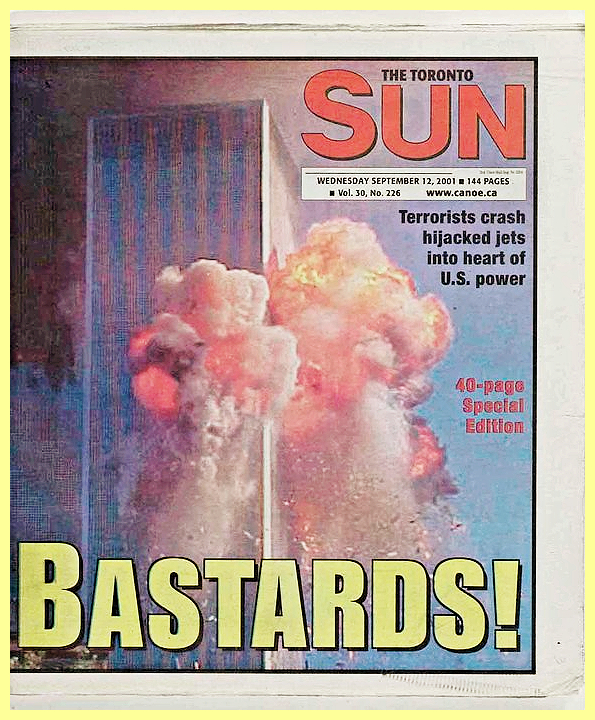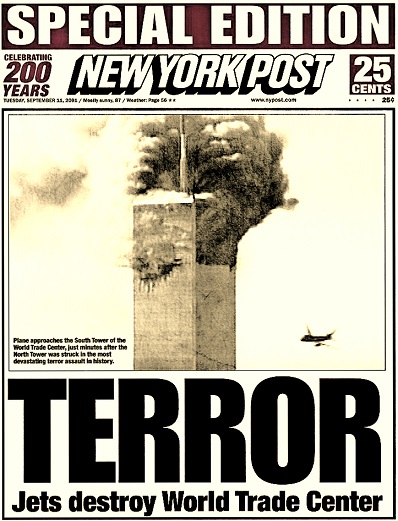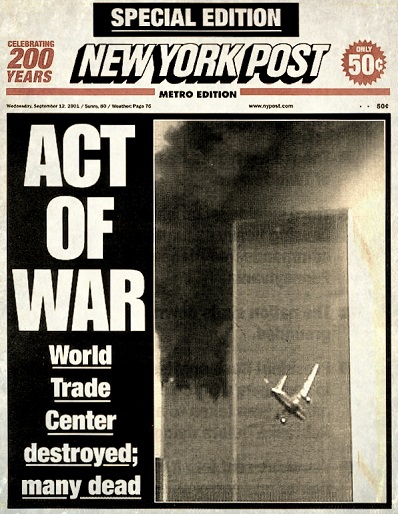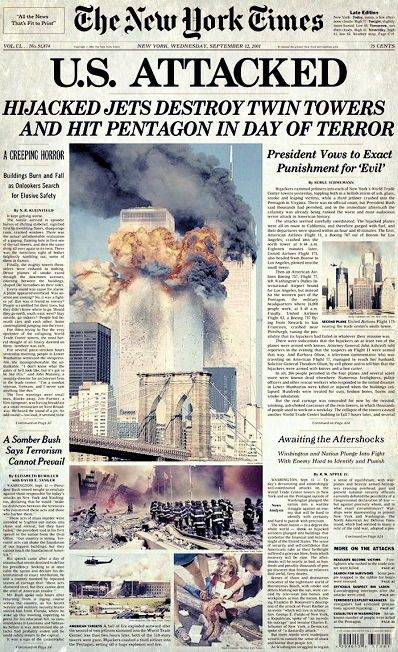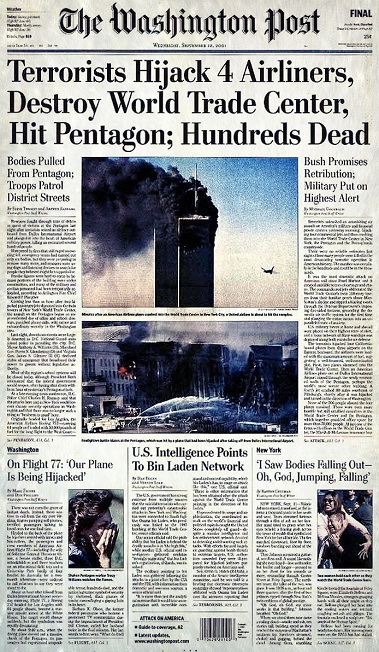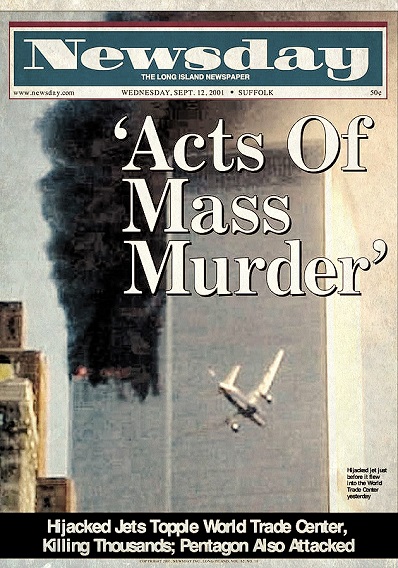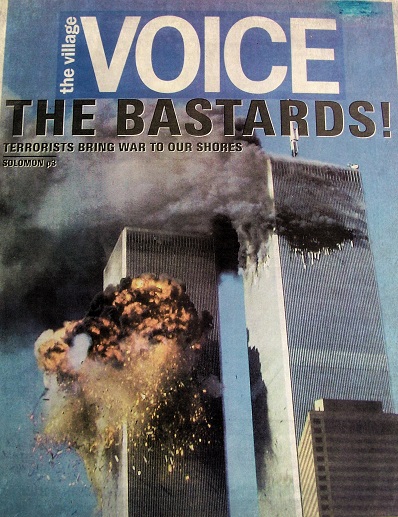 PERIODICALS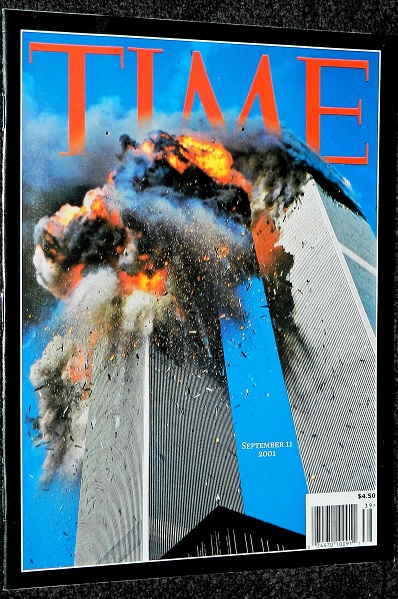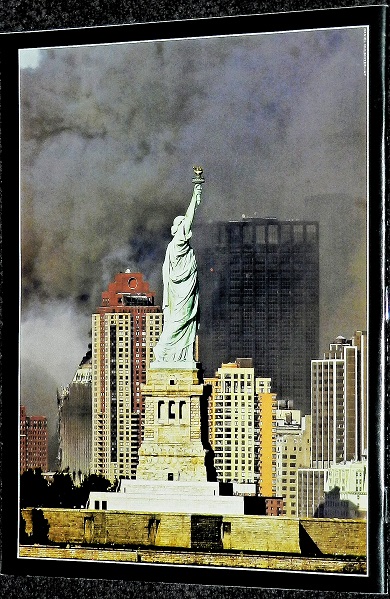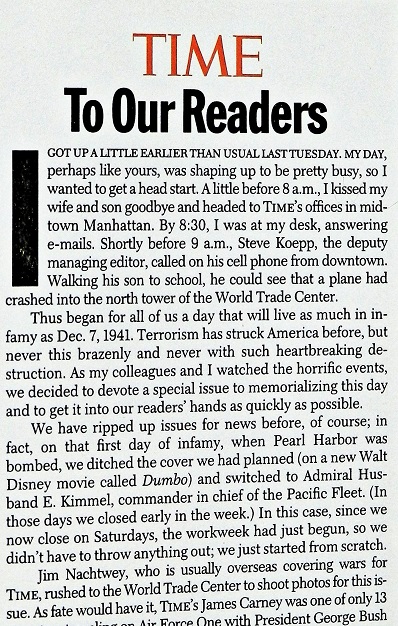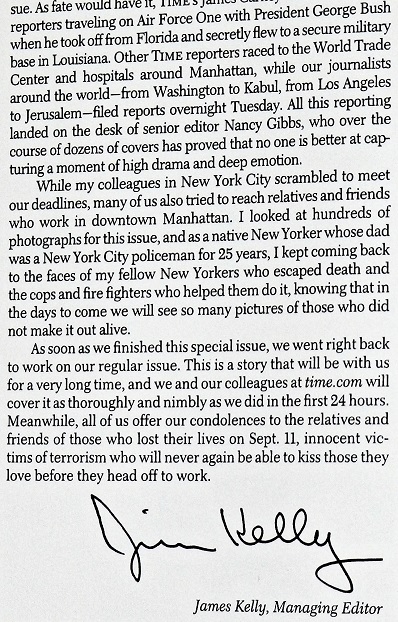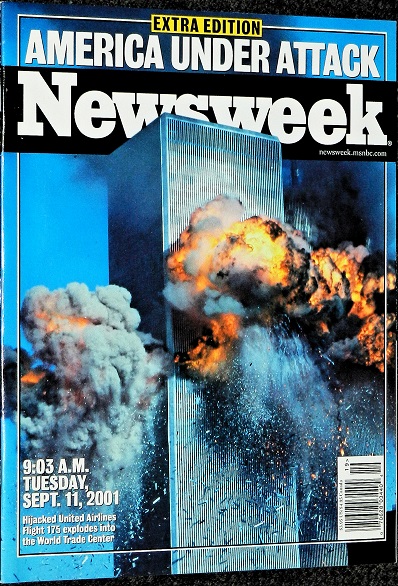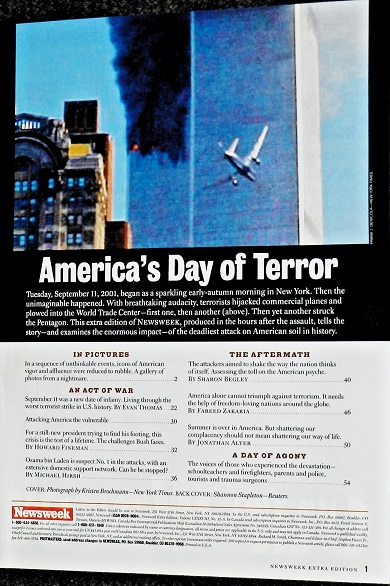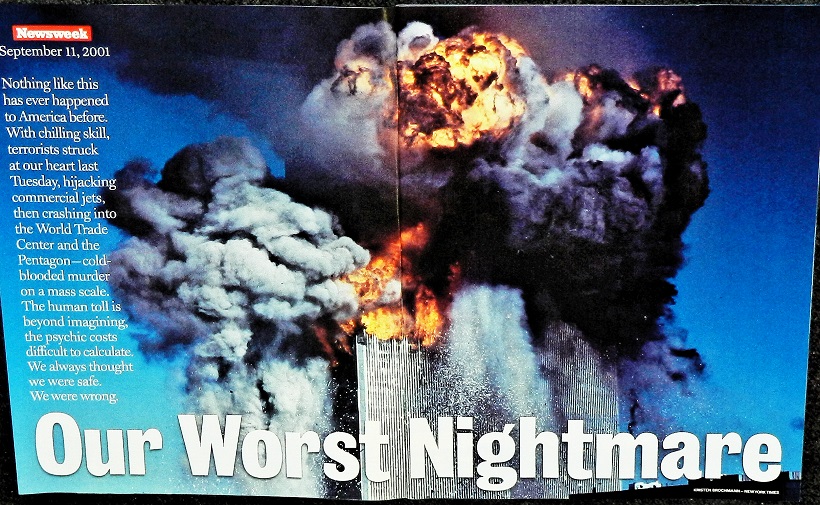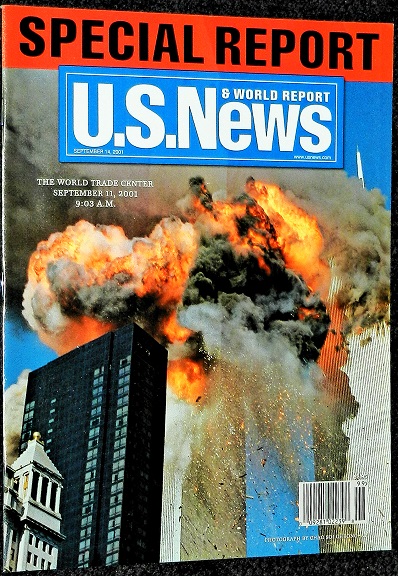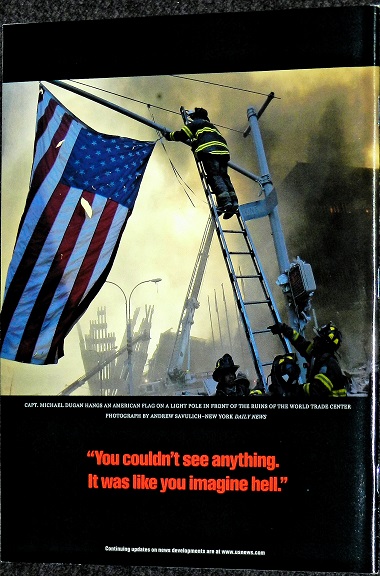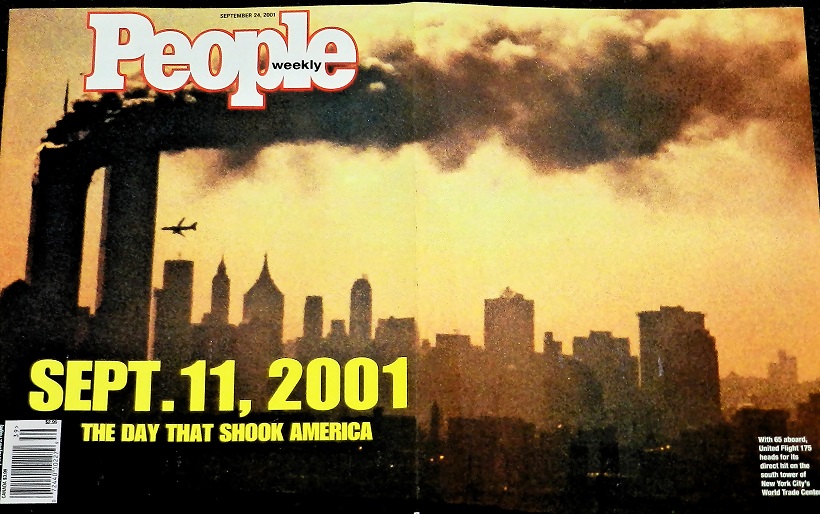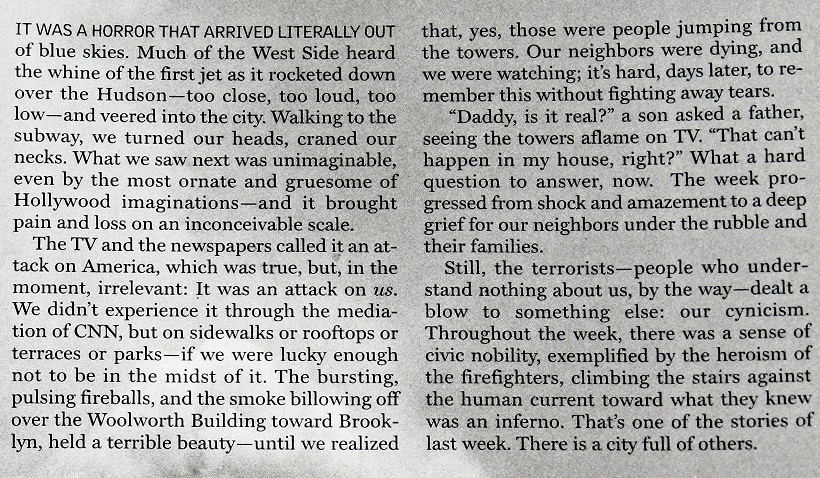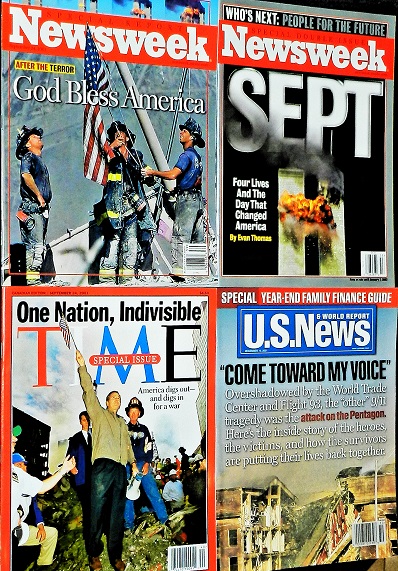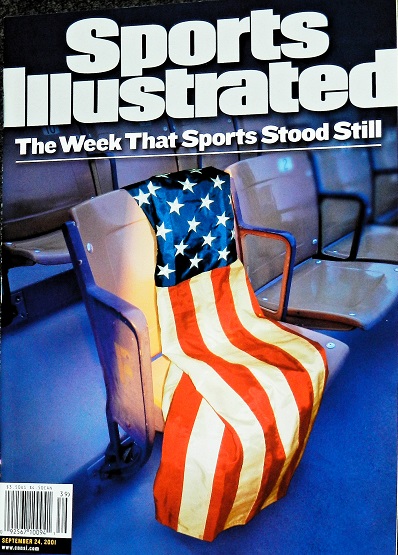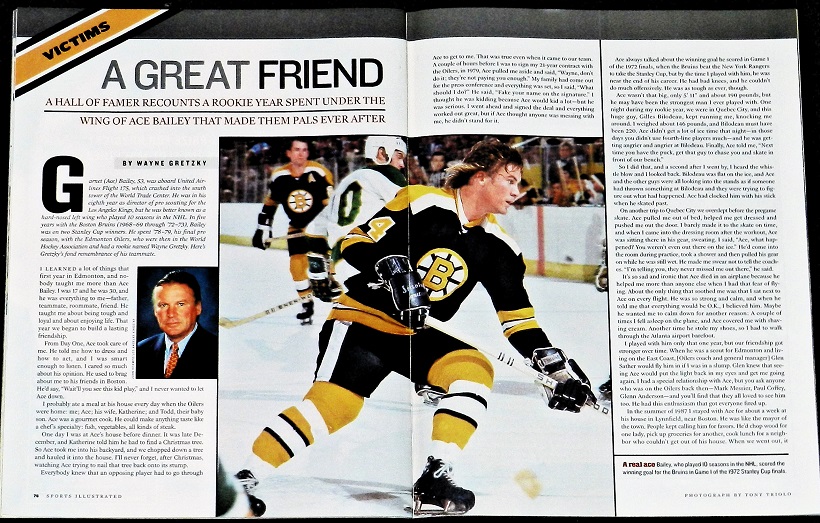 THE TRAGIC HOCKEY ANGLE OF 9/11 FROM THE SEP. 24, 2001 ISSUE OF SPORTS ILLUSTRADED, WITH A PASSAGE, BELOW, FROM THE ARTICLE WRITTEN BY WAYNE GRETZKY.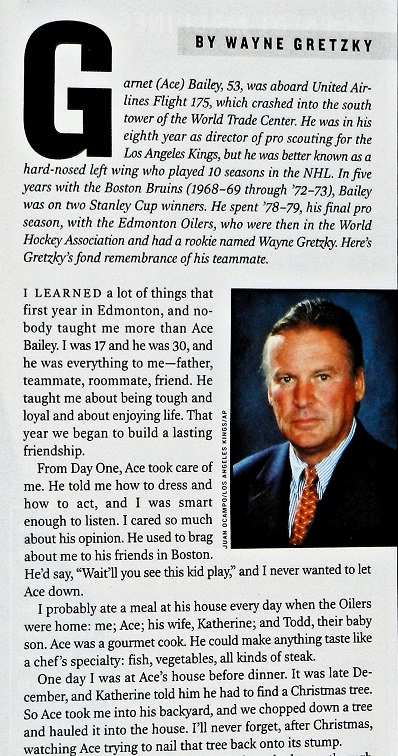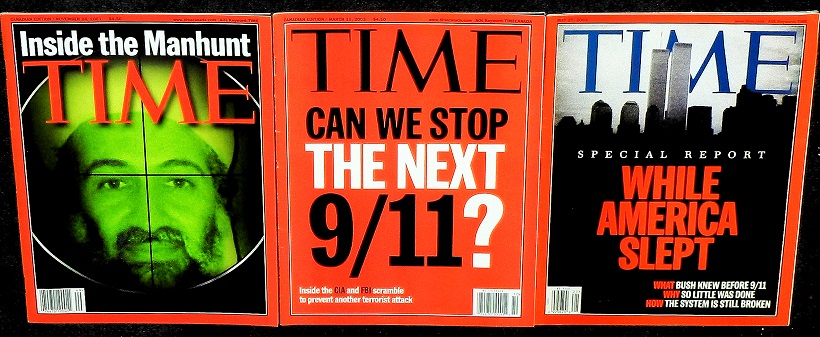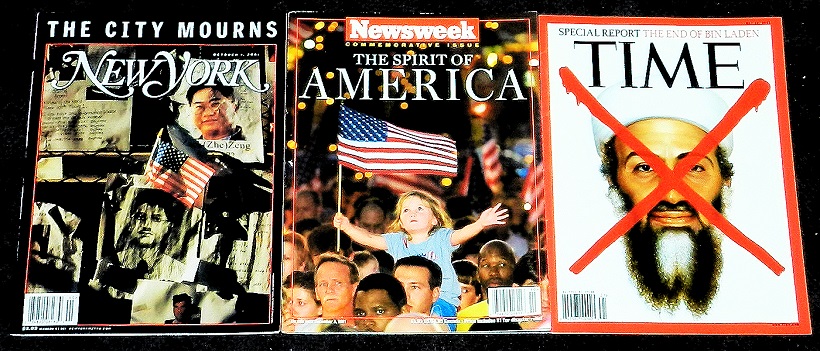 EMAIL: HOWARDLBERGER@GMAIL.COM