TORONTO (Sep. 15) — For the second time in six months, the Toronto Star has dipped into the Rogers Media empire for a sports columnist. Last March, it was Mike Wilner coming aboard to write about the Toronto Blue Jays. And, last week, Chris Johnston left Sportsnet to join the newspaper and follow the Toronto Maple Leafs, in tandem (we hope) with Dave Feschuk. Johnston is a solid addition to the Star, even if he began his new job with a couple of "Mr. Obvious" columns: that the Leafs cannot afford to retain Morgan Rielly after this season… and that Auston Matthews and Mitch Marner understand the "urgency" to win. This is not an indictment of Johnston, but rather confirmation that there's nothing particularly un–obvious about the Leafs, a team still revolving around a quartet of overpaid forwards that has dazzled during the regular season and mostly vanished in the Stanley Cup playoffs. A club that will, for the second year, lose an important asset to unrestricted free agency unless it unloads one of the mega–contracts belonging to Matthews, Marner and William Nylander. Zach Hyman walked this summer; Rielly will follow 10 months from now. Beyond that, Maple Leaf storylines in 2021–22 are bound to be scarce.
As mentioned in this corner, the 82–game regular schedule will rank among the most–irrelevant in franchise history… apart from, of course, accruing enough points to make the playoffs. All eyes will then focus, again, on the forty–million–dollar men up front and their half–decade of one–and–done in the Stanley Cup tournament.
General manager Kyle Dubas told the Bob McCown podcast that he considered dismantling the forward nucleus this summer (likely in an effort to retain Hyman). I don't know how much stock I'd put into that claim, nor am I at all certain that Dubas had the authority to enact anything profound… not after Brendan Shanahan's stubborn insistence, after the playoff loss to Montreal, that "we'll get this done" with the current group. All of that changes with Rielly's contract expiring after this season. Johnston, in his first Star column, wondered why the Leafs haven't yet begun to forcefully negotiate a contract extension with their top blue–liner. My thought is, "what's the rush?"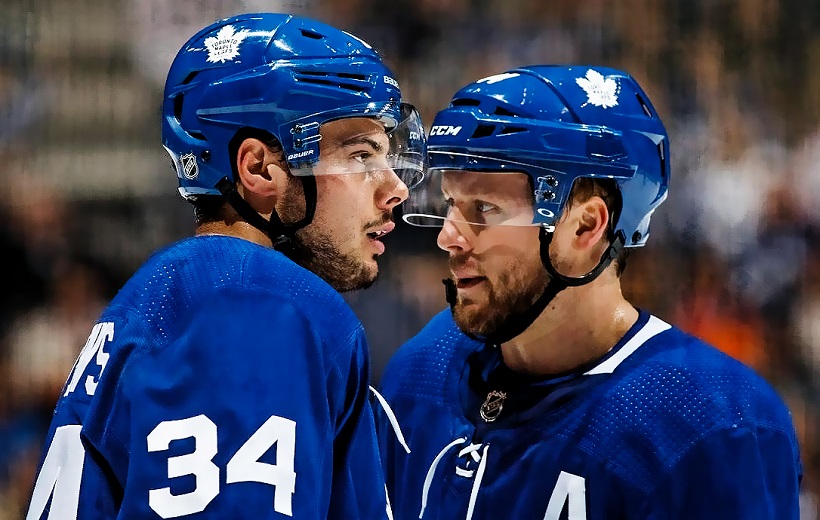 THE BIGGEST DECISION OF THE BRENDAN SHANAHAN–KYLE DUBAS ERA WILL BE GUIDED BY THE EXPIRATION OF MORGAN RIELLY'S CONTRACT AFTER THE UPCOMING SEASON. TORONTO STAR PHOTO
There's no purpose in committing to Rielly until the Leafs watch the majority of the upcoming season. The first big decision will arrive prior to the National Hockey League trade deadline — dependent, of course, on the club's playoff chances. Whether or not Rielly is dealt, the mega–move occurs next summer. Otherwise, the Maple Leafs will continue to founder with a pedestrian blue line, as they have, almost exclusively, since 1967.
With Matthews, Marner, Nylander and the un–movable John Tavares eating up half the salary cap, basic arithmetic confirms the Leafs will not be able to carry another $7 to $8–million contract. Dubas will either offload one of the aforementioned or begin the 2022–23 schedule without a No. 1 defenseman. The walls close in on the Leafs GM next July. And, to be absolutely clear, this doesn't equate to trading Matthews, Marner or Nylander for a commensurate return. All summer, there were threads on Leaf chat forums wondering which rival player could be accrued for one of the Big 3 ("how about Jack Eichel for Marner?"). It doesn't work that way. If wishing to retain Rielly, or add another top defenseman, the Leafs will have to make a National Football League–type move: essentially releasing one of Matthews, Marner or Nylander; more–than–likely, trading for draft picks and prospects. Such as Vegas unloading Marc–Andre Fleury's $7 million cap hit to Chicago for someone named Mikael Hakkarainen.
Moreover, the flat, $81.5 million salary cap dictates that moving one of the Big 3 will be unaffected by circumstance. Whether the Leafs miss the playoffs; implode, yet again, in the first round, or win the Stanley Cup with Tavares, Matthews, Marner and Nylander leading all playoff scorers, one of the latter three will need to be sacrificed in order to carry a top defenseman. Again, that's the pickle Shanahan and Dubas got themselves into, primarily by committing $11 million to Tavares (in July 2018) while still having to sign the other three out of entry level (though, in fairness, all moves were made prior to the pandemic and its unforeseen impact on the cap ceiling).
The lone example of Maple Leafs mystery pertains to the goaltending tandem of Jack Campbell and Petr Mrazek. Whether one or the other evolves as an indisputable No. 1 (Campbell would clearly assume such a role if able to carry over his splendid numbers from last season). Or, whether the Leafs can make the playoffs and finally emerge from the opening round in the absence of a dominant starter. Almost never does a team pose a Stanley Cup challenge without such an incontestable figure.
BAUN STILL BOOMING AT 85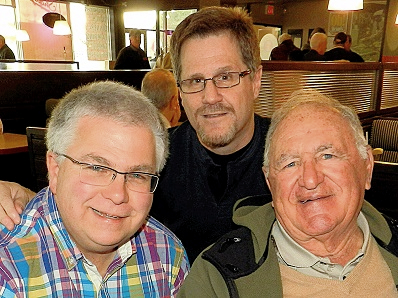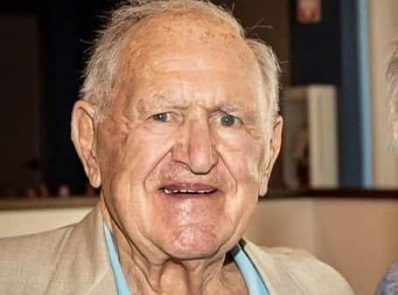 LEAFS LEGEND BOBBY BAUN HAS AGED RATHER NOTICABLY IN THE PAST SEVEN YEARS, AS EVIDENCED BY THESE PHOTOS. ON THE LEFT WAS BAUN WITH ME AND FORMER TORONTO STAR HOCKEY WRITER PAUL HUNTER IN NOVEMBER 2014. ON THE RIGHT IS A PHOTO OF BAUN FROM AN EVENT ON TUESDAY. BUT, IT'S NICE TO SEE THAT THE BOOMER, A MEMBER OF ALL FOUR LEAFS STANLEY CUP TEAMS IN THE 1960's, IS STILL MAKING THE ROUNDS. HE TURNED 85 LAST WEEK.
OLD, RANDOM HOCKEY CARDS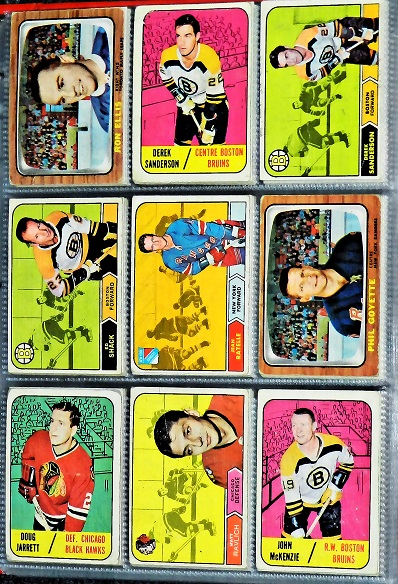 As part of my sports memorabilia collection, I have full sets of O–Pee–Chee hockey cards from 1973–74 to 1991–92, then the first issues of the multi–set era with Score, Pro Set, Bowman and Upper Deck. I stopped collecting cards in the early 90's as there was simply too much volume. In one binder, I have random cards dating to the early 1960's. Not all are in (or near) Mint condition but they feature wonderful colors and designs from the pre and early expansion era.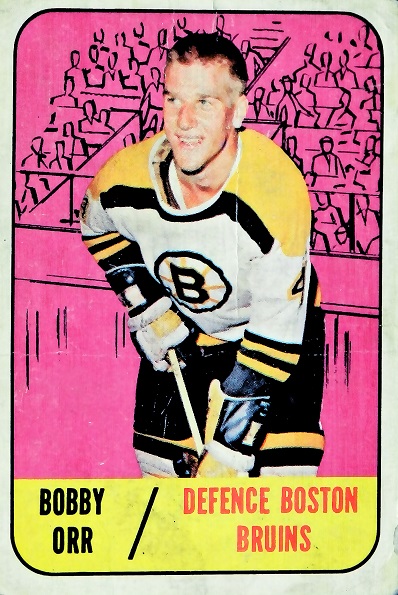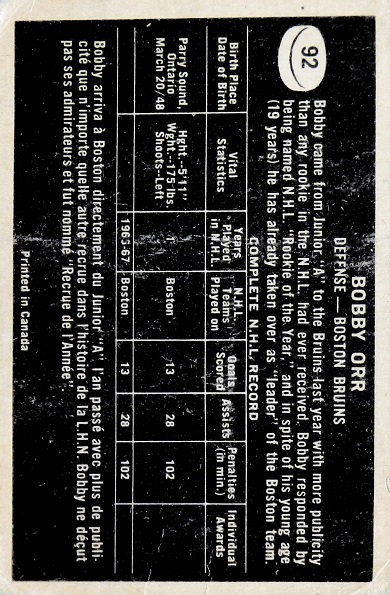 BOBBY ORR'S SECOND NHL CARD — FROM THE TOPPS 1967–68 HOCKEY SET.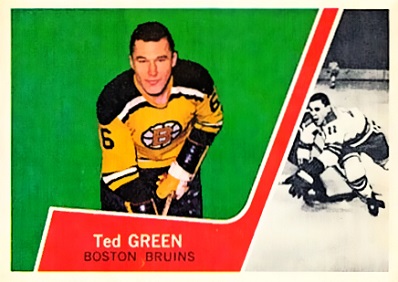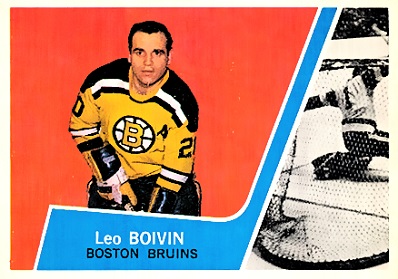 BOSTON TEAMMATES TED GREEN AND LEO BOIVIN FROM THE 1963–64 TOPPS SET.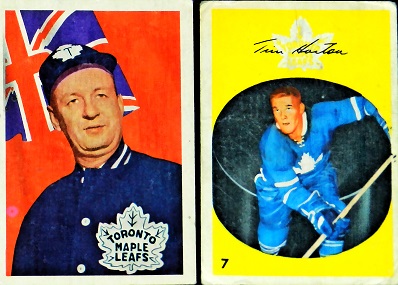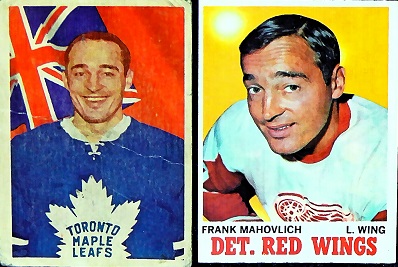 FROM THE MAPLE LEAFS STANLEY CUP DYNASTY OF THE 1960's: (LEFT–TO–RIGHT): PUNCH IMLACH (1963–64 PARKHURST) / TIM HORTON (1962–63 PARKHURST) / FRANK MAHOVLICH (1963–64 PARKHURST) / FRANK MAHOVLICH (1970–71 O–PEE–CHEE).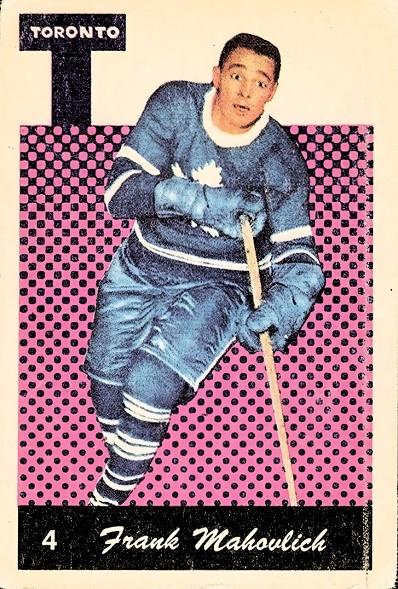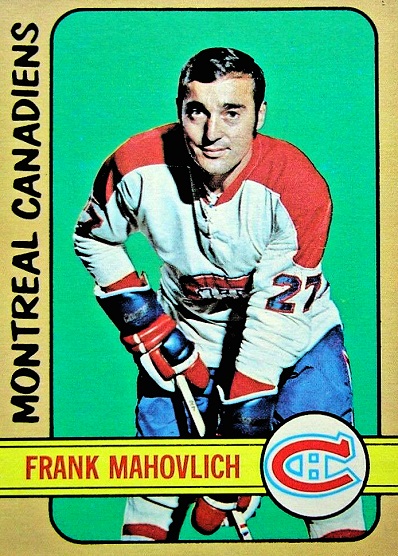 MORE BIG M, A DECADE APART. FROM THE 1962–63 PARKHURST SET (LEFT). AND THE 1972–73 O–PEE–CHEE SET (RIGHT). MAHOVLICH WON THE STANLEY CUP BOTH YEARS.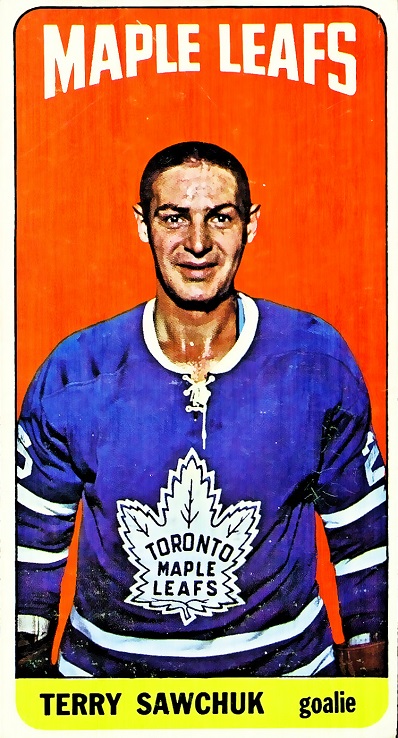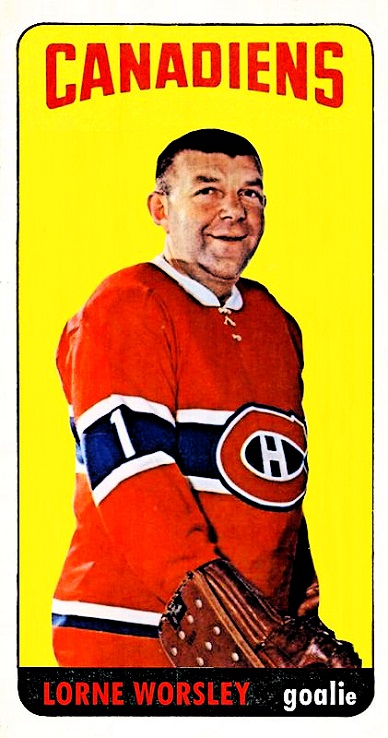 TERRY SAWCHUK AND GUMP WORSLEY FROM THE ICONIC TOPPS "TALL BOYS" SET OF 1964–65.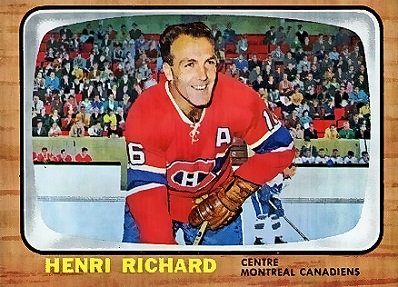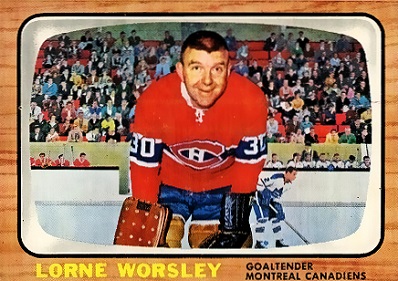 MONTREAL TEAMMATES HENRI RICHARD AND GUMP WORSLEY FROM THE TOPPS 1966–67 ISSUE.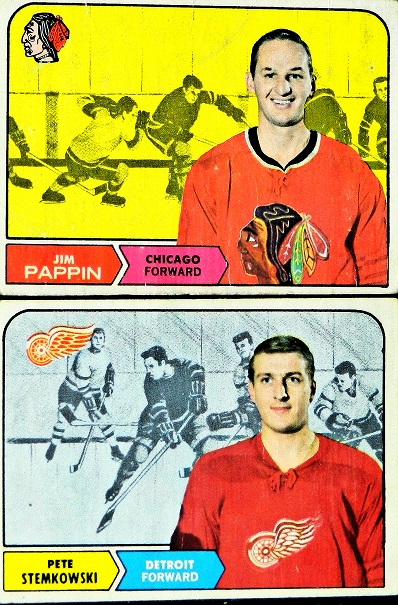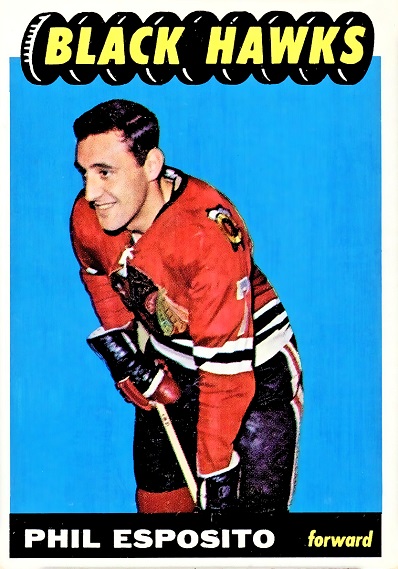 JIM PAPPIN AND PETE STEMKOWSKI (TOP–LEFT) STARRED ON THE SAME FORWARD LINE WITH THE 1967 STANLEY CUP–CHAMPION MAPLE LEAFS. BY 1968–69 (O–PEE–CHEE), PAPPIN HAD BEEN TRADED TO CHICAGO; STEMKOWSKI TO DETROIT. PHIL ESPOSITO'S ROOKIE CARD (RIGHT) AS PART OF THE 1965–66 TOPPS HOCKEY SET.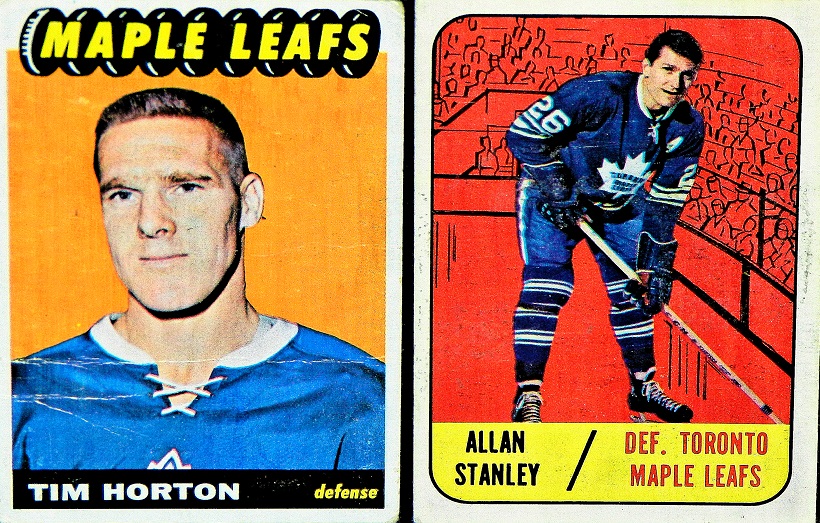 TIM HORTON (1965–66 TOPPS) AND ALLAN STANLEY (1967–68 TOPPS) FORMED THE NO. 1 DEFENSE UNIT FOR THE LEAFS DURING THEIR STANLEY CUP RUN IN THE 60's.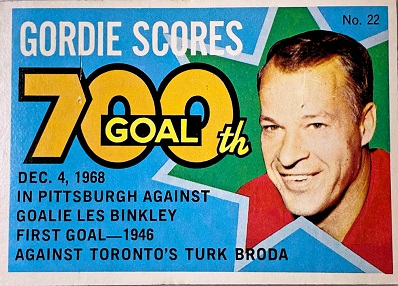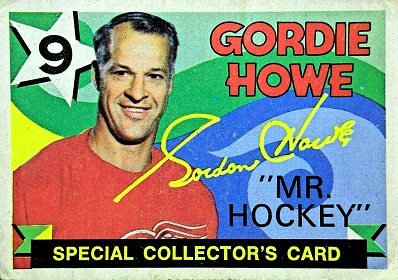 SPECIAL GORDIE HOWE CARDS FROM THE 1969–70 AND 1971–72 O–PEE–CHEE SETS.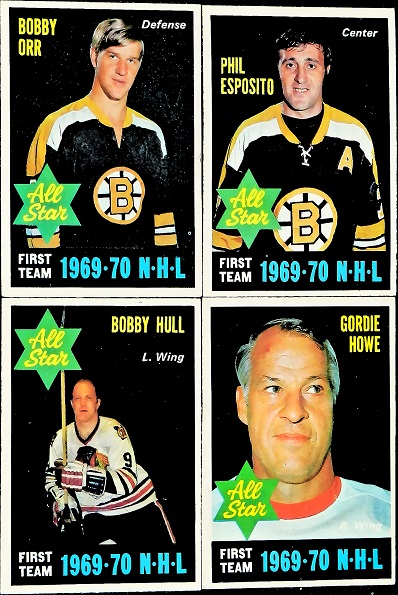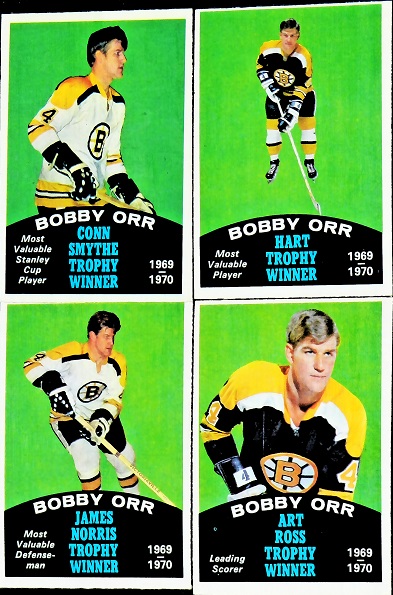 BOBBY ORR HAD A FAIRLY DECENT YEAR IN 1969–70, BECOMING THE FIRST (AND ONLY) DEFENSEMAN TO WIN THE ART ROSS TROPHY AS NHL POINTS LEADER WHILE ALSO COPPING THE HART (MOST VALUABLE), JAMES NORRIS (BEST DEFENSEMAN) AND CONN SMYTHE (TOP PLAYOFF PERFORMER) TROPHIES. HE WAS ALSO A FIRST TEAM ALL–STAR, LINING UP WITH LEGENDARY FORWARDS PHIL ESPOSITO, BOBBY HULL AND GORDIE HOWE. ALL CARDS, ABOVE, FROM THE 1970–71 O–PEE–CHEE SET.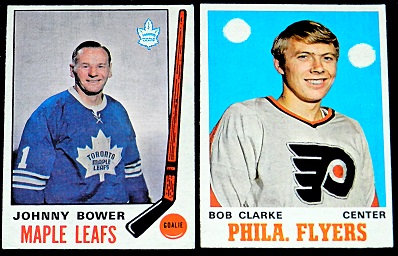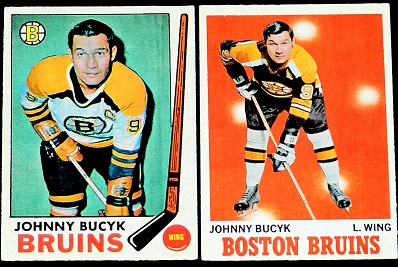 TOP–LEFT: JOHNNY BOWER'S FINAL HOCKEY CARD FROM THE 1969–70 O–PEE–CHEE SET AND BOBBY CLARKE'S ROOKIE CARD FROM THE 1970–71 O–PEE–CHEE ISSUE. TOP–RIGHT: JOHNNY BUCYK FROM THE 1969–70 AND 1970–71 O–PEE–CHEE SETS.
EMAIL: HOWARDLBERGER@GMAIL.COM