TORONTO (Sep. 20) — I am forever amazed by the inflationary contrast. All media companies affiliated with Rogers and Bell — bitter rivals that control 75% of Maple Leaf Sports and Entertainment just so the other won't be in control — loudly advertised, late last week, that tickets were on sale for the Toronto Maple Leafs exhibition games at Scotiabank Arena. Though still bound by provincial COVID–19 parameters, MLSE expressed the hope that all 19,800 seats could be occupied. Not since Mar. 10, 2020, two days before the National Hockey League suspended activity, has the arena been filled to capacity; the Leafs defeated Tampa Bay on that long–ago night.
A perusal of tickets available for the opening pre–season match, on Saturday night against Montreal, turned up a pair of seats in Sec. 109 (first row, at the glass, beside the penalty boxes) for $471 apiece. Chances are someone will shell out the $942 asking price… and chances are that Toronto is the only place on God's Green Earth that could get away with such an absurdity. Now, let's enter a time machine to when my father purchased season tickets to Leaf games for the 1975–76 NHL season. I still remember driving with Dad to Maple Leaf Gardens in early September 1975 and walking up a steep, winding staircase just east of the main entrance off Carlton St. A door at the foot of the staircase read SPECIAL TICKET OFFICE. We were greeted by a man who showed us a detailed map of the arena and pointed out a pair of seats he could sell us in Sec. 30 of the south–mezzanine Blues.
He then ushered us through a back entrance and directly to the location in the last row of the balcony (constructed for the 1966–67 season) — up behind and to the left of the goal defended by the Leafs in the first and third periods. While seated, the net was partially obstructed by railings from the five rows beneath us. Given, however, that Row F was up against the back wall, we could stand without blocking anyone's view. I remember looking directly ahead, and slightly above, the location to the original broadcast gondola with an "ESSO" logo on the side facing us. It was suspended from girders near center ice on the west flank of the building, constructed for Foster Hewitt when the arena opened in November 1931. I also remember feeling quite surprised that any season tickets were available to Leaf games. The club of the mid–70's, with such youthful stars as Darryl Sittler, Lanny McDonald, Borje Salming and Ian Turnbull, held much promise. Dad liked the view and he wrote a check for the full amount.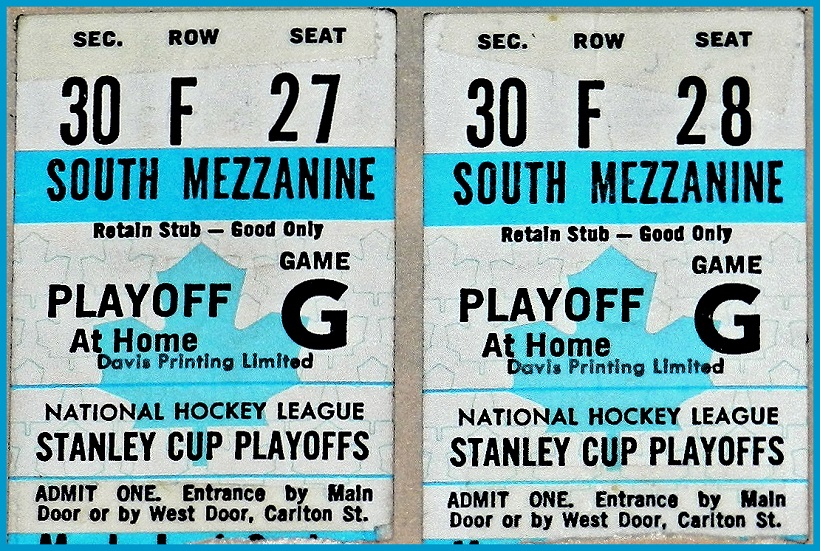 OUR SEASON TICKET–STUBS (TAPED INTO A SCRAPBOOK) FROM THE FIRST HOME PLAYOFF GAME AT MAPLE LEAF GARDENS, vs. THE PITTSBURGH PENGUINS, ON TUESDAY, APR. 6, 1976.
Let's now recall that a single ticket for Saturday's exhibition game is going for $471.
In 1975–76, our tickets in the south balcony sold for $6.60 apiece. Over 43 games (three exhibition and 40 regular season) the cost for one season seat was $283.80. Dad, therefore, signed a check on that late–summer afternoon for $576.60, the full cost of two season tickets… or $365.40 less than some hapless (yet wealthy) soul will shell out for just the one pre–season match against the Habs on Saturday. Even the best seats at Maple Leaf Gardens — Golds — cost only $10 apiece in 1975–76. One season ticket near ice level would therefore amount to $430… or $41 less than a single seat for the Montreal exhibition game. Were a filthy rich hockey fan to buy those Platinum–level tickets for the full season this year, he would relinquish a paltry $40,506. By comparison, 90 GOLD TICKETS for all games in 1975–76 cost $38,700. Isn't inflation a beauty? Chuckle… and shake your head.
SKEPTICISM REIGNS IN LEAFS LAND: As I've written throughout the summer, not since the Harold Ballard era have I noticed as much apprehension and distrust amid fans of the Maple Leafs. Clearly, the blown playoff series against Montreal was an emotional turning point… and, justifiably so. Five consecutive years of defeat in the first playoff (or qualifying) round has prompted Leafs Nation to hope for the best and expect the worst. This is compounded by the $40 million–plus committed to John Tavares, Auston Matthews, Mitch Marner and William Nylander in a flat–cap universe. And, intractably reinforced by the post–season misadventures of that group.

IT'S AUTUMN. THE LEAVES ARE TURNING COLOR. FANS OF THE LEAFS ARE BRACING.
The photo, top–right, was posted Monday on Facebook. It tells the story in seven succinct words. There is no indication that the nucleus of the Maple Leafs can translate regular–season productivity to the Stanley Cup tournament. In the pre–salary cap era, changes would have been made. Today, the Leafs are locked in… with another prominent name threatening to walk next summer. Morgan Rielly is one skater that routinely elevates performance in the playoffs (as did Nylander against the Habs). Toronto's best defenseman, however, cannot be accommodated beneath the flat salary ceiling. The Leafs will either lose him in unrestricted free agency (as with Zach Hyman, to Edmonton) or unload one of the Matthews–Marner–Nylander contracts to create space. Yet, that issue does not supersede the uncertainty of Leaf fans heading into training camp. They are preparing to be lifted… and dropped. Yet again. And, amid all the futile promises from the ivory tower that next spring will be different.
The locals have heard the claim for half a decade. It is now falling on deaf ears.
As for the irrelevance of the 82–game regular schedule… well, here's what a poster had to say on the Leafs page of the chat forum H–F Boards. It, too, is a common summation, in eight words:



Many other responses to the question were lengthier, but analogous:
Like everyone else here I will watch every game but I expect nothing. My faith in the Leafs is at an historic low.
I expect nothing. The regular season is worthless because we know how it's going to end come April. There's nothing the Leafs could do over the long 82–game season that will give me any confidence at playoff time.
I was hoping to be more excited and optimistic by now but, if anything, I feel more antipathetic.
3rd or 4th in the Atlantic. Out in the first round. Lose Rielly for nothing. Management to keep their jobs.
Management will assure us that 2022–23 will be our best version. They will put all the silly worry to rest.
4th or 5th in the Atlantic and very close to a wild card [playoff berth] with a few teams right until end. Leafs will start season looking good and fade down stretch.
Gladly, I am thinking I will miss a bunch of games. Maybe get in to some Netflix series. This Leafs team is not worth my time. After 20–plus years, I've had enough. I don't expect much from this group.
I hope the Leafs make a deep run. But, I expect nothing from them. They've let us down far too many times. My confidence in this group is at an all time low.
I'm expecting a booming regular season and underwhelming post season.
I expect to be dominated by the Habs, Sens, Bruins and miss the playoffs. Anything better than that will be all gravy. Keep the expectations low and be pleased with anything better.
I expect to be disappointed. Isn't that reasonable?
Yes, these are Ballard–era remarks. Perhaps unjustified. But, we know that perception is reality.
WISHFUL THINKING: In his pre–training camp column on the Maple Leafs, Luke Fox of Sportsnet writes: "And yet, when prospect Rasmus Sandin — who's developing into Rielly's potential successor — was called up late in the season, the rookie scooped some of those prime PP shifts. Even in the playoffs. On one hand, Toronto (and the player himself) must maximize Rielly's contract year. On the other, the Leafs need to push Sandin to take a step and utilize the young playmaker's greatest strengths." Sandin as Rielly's "potential successor" will not happen. Though the club's first–round pick (29th overall) in the 2018 NHL draft does have skill, he cannot be compared to Rielly, whose stocky build, low center of gravity and puck–handling aptitude puts him on the fringe of elite blue–liners. Sandin will never be strong or heavy enough to assume the No. 1 role on a team with playoff aspiration. The Leafs won't declare this, publicly, but they know Rielly must either be re–signed or replaced. It's the reason one of Matthews, Marner or Nylander will, on Oct. 13, begin his final season with the Blue and White.
The sub–headline on Fox's column reads WHO REPLACES HYMAN ON TOP LINE? The answer is: nobody. Of course, someone will take Hyman's position alongside Matthews and Marner, but that player isn't likely to "replace" the Toronto native, whose blend of combativeness and scoring ability resulted in a six–year contract with the Oilers worth $5.5 million per season and a full no–movement clause until the final year, 2026–27. Among the candidates mentioned by Fox (Nick Ritchie, Ilya Mikheyev, Onrej Kase, Nick Robertson), Ritchie leads the way at $2.5 million for the next two seasons. I agree with Fox listing the ex–Boston winger as the most–likely choice to skate on the No. 1 unit… and with Luke's appraisal of there being "a ton of imperfect options." After Tavares, Matthews, Marner and Nylander, no one on the Maple Leafs' roster even resembles a top–line forward.
OUR HEROES ARE VANISHING: What an awful summer this has been for the NHL alumni. Since July 8, five players that I grew up watching have passed away: Bryan Watson, Tony Esposito, Rod Gilbert, Fred Stanfield and Lou Angotti. The biggest tragedy was 2008 Maple Leafs draft choice Jimmy Hayes, 31, who died mysteriously at his home in Milton, Mass. on Aug. 23. Hall–of–Famers Esposito and Gilbert squared off in numerous games from 1969–70 to 1977–78 (when Gilbert retired) between the Chicago Blackhawks and New York Rangers.
For me, Angotti's death, at 83 on Thursday of last week, hit the hardest.
Lou was the first NHL player I got to know. He ran a summer camp here in Toronto called the College Hockey School at East York Memorial Arena (on Cosburn Ave., east of Woodbine) in the early 70's, while playing for Chicago and St. Louis. I attended the camp for two weeks in 1972 and 1973. Joining Lou as NHL instructors were Bob Nevin (Mar. 18, 1938 – Sep. 21, 2020), Tim Ecclestone (b. Sep. 24, 1947) and Tony Featherstone (b. July 31, 1949). Nevin had played on the Leafs Stanley Cup teams of 1962 and 1963 before a trade to the New York Rangers, where he and Angotti were teammates from February 1964 to January 1966. Bob captained the Rangers from 1965–66 to 1971–72, then was dealt to the Minnesota North Stars. Ecclestone was a member of the expansion St. Louis Blues in 1967–68. He played parts of four seasons in St. Louis before joining Detroit. He also suited up for the Leafs in 1973–74. Featherstone played for the Oakland/California Golden Seals from 1969–71; the North Stars in 1973–74, then joined the Toronto Toros of the old World Hockey Association in 1974–75.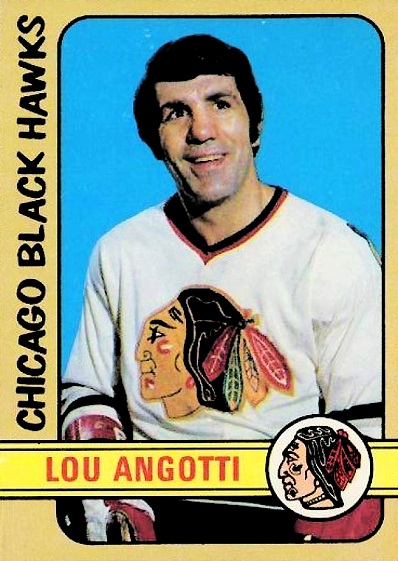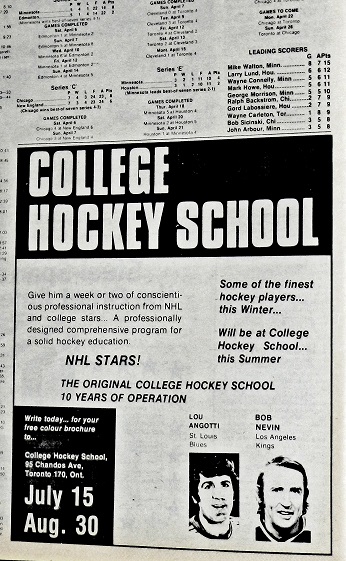 LOU ANGOTTI'S 1972–73 O–PEE–CHEE HOCKEY CARD. AND, AN ADVERTISEMENT FOR THE COLLEGE HOCKEY SCHOOL IN THE MAY 3, 1974 ISSUE OF THE HOCKEY NEWS.
Angotti was a high–energy, medium–skill forward that Blackhawk fans grew to love. Often, if the team appeared flat while playing at the old Chicago Stadium, coach Billy Reay would send Angotti over the boards to instant calls of "Loooouuuuuu." He would barrel into the offensive zone, create havoc and enliven the building, making room for such star teammates as Bobby Hull, Stan Mikita, Phil Esposito, Dennis Hull and Jim Pappin. It was Angotti that drew the first assist on Bobby Hull's 51st goal of the 1965–66 season — a long slapshot that beat New York goalie Cesare Maniago and nearly brought the Stadium roof down. Hull, in that moment, became the first NHL player to surpass the 50–goal mark, a plateau he'd shared with Maurice Richard and Bernie Geoffrion.
Lou said something to me during an on–ice session that I remember nearly 50 years later. I wore a blue Dave Keon jersey (bottom–right), which my Uncle Ralph bought at Doug Laurie Sports in Maple Leaf Gardens. Angotti, Nevin and Ecclestone called me "Davey", even as I struggled with weak ankles. But, I quickly gained confidence in my skating, which Angotti noticed. One day, he and Nevin called me over to the boards. Nevin, as mentioned, played with Keon when the Leafs won consecutive Stanley Cup championships in 1962 and 1963. Angotti encountered Keon in numerous NHL matches, including the Chicago–Toronto playoff semifinal of 1967; the Maple Leafs pulling off a six–game upset. "You see, that's what this guy does best," Lou said, pointing at my jersey. "He's a relentless skater in all areas of the ice. Nothing in hockey is more important… and you're catching on quickly."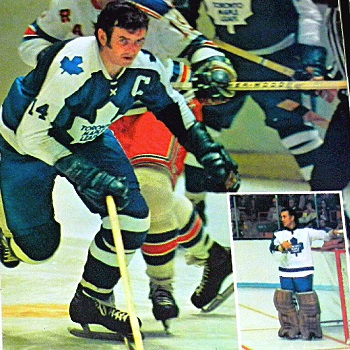 DAVE KEON (LEFT) IN NOVEMBER 1970. "DAVE KEON" (RIGHT) IN DECEMBER 1970.
I kept in touch with Angotti on Facebook in recent years and was very saddened to learn of his death. He'll forever be remembered as the first captain of the Philadelphia Flyers in 1967–68. Whenever I posted on Facebook about a fellow ex–NHL player, Lou offered warm and praiseworthy comments. I will cherish his memory.
MAGGIE AND THE DOUBLE BLUE: One of my favorite songs was all the rage in pop music 50 years ago. Rod Stewart's career–breaking hit, MAGGIE MAY, spent more than a month atop the iconic CHUM Chart in September and October 1971. Weekly ratings of the top 30 rock tunes — the paper–folders released each Saturday by 1050–CHUM (today, TSN Radio) — were based on sales of the old 78–RPM vinyl records and stocked, by number, on shelves in music stores across the city. I have a stack of them dating from 1970–73, including the issue (below) from a half–century ago this week. Whenever I hear MAGGIE MAY, it reminds me of the wonderful 1971 football season here in town. The Toronto Argonauts, coached by Leo Cahill and featuring such–legendary Canadian Football League players as Joe Theismann, Bill Symons, Leon McQuay, Mel Profit, Dick Thornton, Ed Harrington, Jim Stillwagon, Jim Corrigall, Marv Luster and Dave Raimey, finally ended Toronto's 19–year absence from the Grey Cup game: quite the dubious accomplishment in a nine–team league.


After finishing atop the CFL East with a 10–4 record, the Argos upended the Hamilton Tiger–Cats, 40–25, in a two–game, total–points division final (winning 23–8 in Hamilton; tying 17–17 at the old CNE Stadium). Argo fans of vintage, myself among them, need not be reminded of the grief from the final moments of the 1971 championship tilt against Calgary, played in a driving rainstorm at Empire Stadium in Vancouver. Thornton's late interception and long return of an ill–advised, deep pass by Stampeders quarterback Jerry Keeling set up the Argos inside Calgary's 15–yard line, easily within range of a game–tying field goal (Toronto trailed, 14–11). But, a second down carry by McQuay, the dazzling rookie, resulted in a now–mythical fumble that the Calgary defense recovered. Even though Toronto has since won seven Grey Cup titles (1983–91–96–97–2004–12–17), the anguish from that crushing loss to the Stampeders, two months before my 13th birthday, will never subside.
Still, MAGGIE MAY takes me back to a memorable juncture of my youth.
Today's date, in fact, is football–rich. It was 52 years ago tonight (Sep. 20, 1969) that Dad took me to my first Argos game, a 34–27 loss to Russ Jackson and the Ottawa Rough Riders at CNE Stadium. And, it was 31 years ago tonight (Sep. 20, 1990), hours after little John Tavares was born in neighboring Mississauga, that the Argos scored the most points in franchise history, demolishing Calgary, 70–18, at the SkyDome (now Rogers Centre).
EMAIL: HOWARDLBERGER@GMAIL.COM