TORONTO (Sep. 25) — It is nearly four months since we last saw the Toronto Maple Leafs in action… and nothing has changed. To be honest, nothing of import has changed with the hockey club for 45 years, which is merely a decade prior to its last appearance in the Stanley Cup final. For, it's been proven well beyond reasonable doubt that no team can win the National Hockey League championship without a Norris Trophy contender. Toronto did not raise the Cup in 1976–77, the last time one of its defensemen made the first all–star team. That's because Montreal had three Norris Trophy types. But, the lack of such a component since Borje Salming, now 70 years of age, is the No. 1 reason (among many) why the Maple Leafs have not played for the Stanley Cup since 1967.
Neither has the problem been solved as the club begins its exhibition slate tonight, against the Habs, at Scotiabank Arena. Yes, Morgan Rielly is an above–average competitor — the only borderline facsimile to an all star on the Toronto blue line and the lone member of the club (apart from William Nylander) to elevate performance in the aborted playoff round last spring. He is also the only Leafs defenseman not named Salming or Ian Turnbull to amass more than 70 points in a season. That was back in 2018–19, long before any of us started to live through a pandemic. But, Rielly's marvelous, 72–point effort was an apex. Playing through back and pelvic discomfort in two subsequent years, he has accrued 62 points. And, forebodingly, this could be his final training camp and exhibition season in a Toronto jersey. Without him, the Maple Leafs are left with aging and interchangeable scraps. Even with Rielly, the club has nothing that resembles a Stanley Cup–caliber blue line. Yet, again.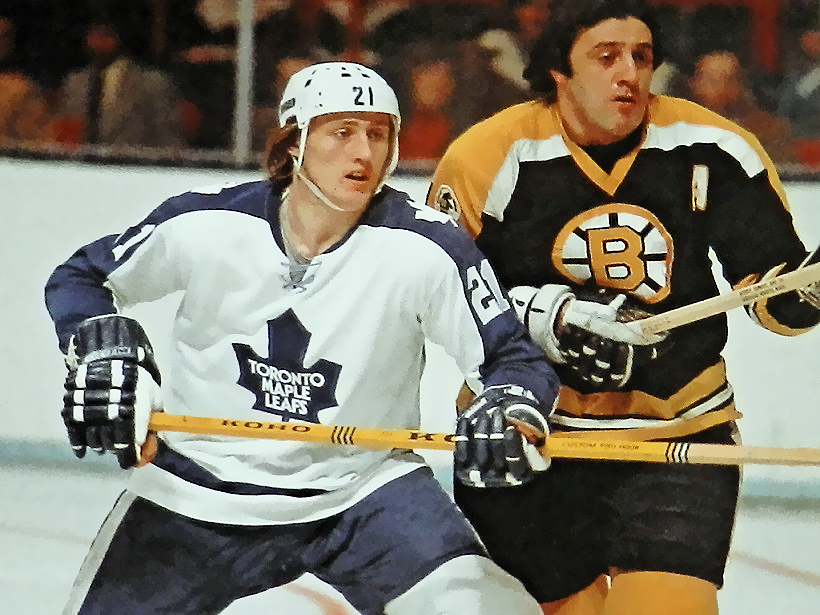 BORJE SALMING AS A MAPLE LEAFS ROOKIE IN 1973–74, GUARDING PHIL ESPOSITO OF BOSTON.
We can talk about the compulsory element of the Big 4 up front translating regular–season productivity to the playoffs. An abject failing, thus far, of John Tavares, Auston Matthews, Mitch Marner and Nylander — famously consuming nearly $41 million of the flat $81.5 million salary cap. And, without question, a profound necessity.
But, then, we can look at Tampa Bay with Victor Hedman (the best defenseman on the planet); at St. Louis with Alex Pietrangelo (now playing for Vegas); at Washington with John Carlson; at Pittsburgh with Kris Letang, at Chicago with Duncan Keith (now playing for Edmonton); at Los Angeles with Drew Doughty; at Boston with Zdeno Chara (now playing for the Islanders) and rather easily comprehend the past decade of Stanley Cup winners (the anomaly being 2017, when the Penguins won their second consecutive title with Letang sidelined by injury). In fact, we can backpedal all the way to 1970 (as this corner often has) and notice that virtually all Stanley Cup teams, beginning with Bobby Orr and the Bruins, possessed a Norris Trophy winner or candidate. The Leafs, not coincidentally, being among the few exceptions. And, remaining among those exceptions in September 2021.
That's why the playoff angst surrounding the Big 4 is largely immaterial.
Yes, if Tavares, Matthews, Marner and Nylander erupted during the Stanley Cup tournament and maximized their collective skill, the Leafs would likely emerge from the opening round and perhaps challenge for the Eastern Conference championship. No rival club can match such a quartet. But, there are still too many questions behind center ice, the area in which most NHL titles are won or lost. As mentioned, Salming, the Swedish hockey pioneer and 1996 Hall of Fame inductee, was the last Toronto defender to emerge as a first team all star, joining Montreal behemoth Larry Robinson. Again, that was in 1977 — the year the Toronto Blue Jays joined Major League Baseball; two years before Wayne Gretzky played his first NHL game; ten years before Sidney Crosby was born… and just two years after gasoline sold, in Canada, for 14.4 cents per liter (gulp!). In other words, quite awhile ago.
How about that other defensive position? Not since 1960–61, six decades ago, has a Toronto goalie been named a first team all star. That was Johnny Bower, then a spry 37 years of age. It was back in 1970–71 that a Leafs netminder last made the second all star squad. Jacques Plante was merely 42 at the time. Think about some of the middling names that have earned all star selections in the interim — such one–and–done types as Marrio Lessard (Los Angeles, 1981); Roland Melanson (New York Islanders, 1983); Pat Riggin (Washington, 1984); Bob Froese (Philadelphia, 1986); Daren Puppa (Buffalo, 1990); Jim Carey (Washington, 1996); Byron Dafoe (Boston, 1999); Roman Turek (St. Louis, 2000); Roman Cechmanek (Philadelphia, 2001); Steve Mason (Columbus, 2009); Devyn Dubnyk (Minnesota, 2015). Nary a Maple Leaf even among them. In the few intervals Toronto did possess a premier stopper (with Mike Palmateer, Felix Potvin, Curtis Joseph and Ed Belfour), such rival names as Ken Dryden, Patrick Roy, Dominik Hasek and Martin Brodeur dominated the all star selections. Again, it's in the defensive zone where Stanley Cup titles are won or lost. Which explains volumes about the Maple Leafs of the past 5½ decades.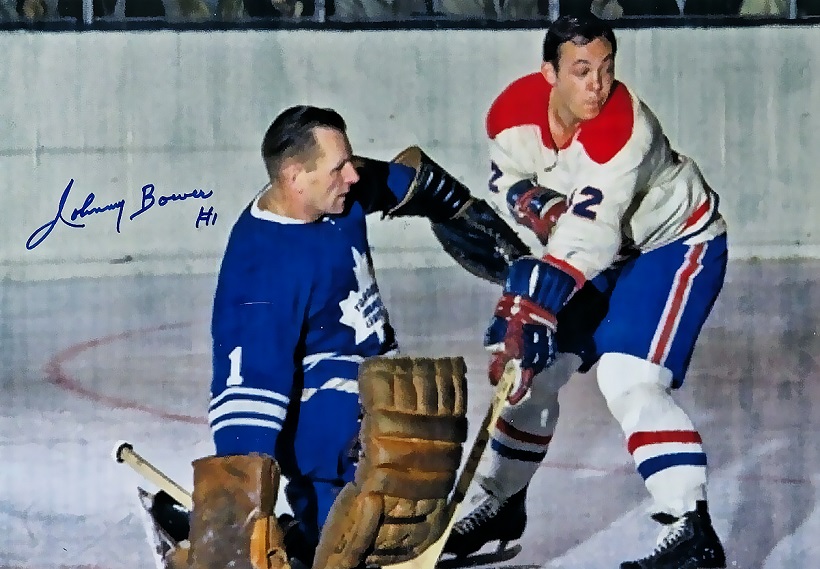 JOHNNY BOWER WAS THE LAST LEAFS GOALIE TO BE A FIRST TEAM NHL ALL STAR — IN 1961.
Need there be another reason why Brendan Shanahan and Kyle Dubas absolutely must free up cap space to properly balance the 2021 Toronto club? Under the current payroll ceiling, the Leafs will lose Rielly as an unrestricted free agent next summer, as they did Zach Hyman (to Edmonton) two months ago. Those in the mainstream media that write or comment on this subject largely miss the point. It's not just about Rielly. Without unloading a mega contract, the Leafs cannot afford anyone that resembles an elite blue liner. That includes retaining Rielly, who is not amid that group. The price for such an essential component is in the range of $8–11 million. Can you envision the Mapkle Leafs, next season, with five players gobbling up $50 million of the $81.5 million cap? Leaving $31.5 million to be spread among the other 18 roster spots (an average of $1.75 million per man)?
Neither can I.
Until this entanglement is solved, the Stanley Cup drought will surely continue.
THE DOUGIE / WENDEL COLLECTION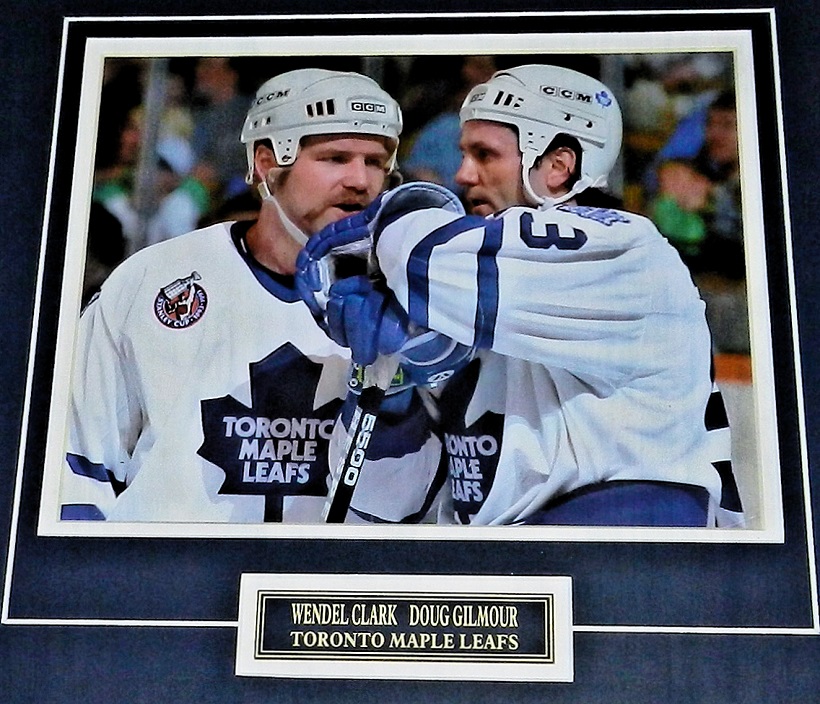 Without question, the most–beloved duo in the post–1967 era for the Toronto Maple Leafs has been Wendel Clark and Doug Gilmour, the emotional epicenter of the Leaf teams that made it to consecutive Stanley Cup semifinals in 1993 and 1994. Darryl Sittler and Lanny McDonald were in the same genre, 15 years earlier, but Clark and Gilmour struck a rare chord with Toronto hockey fans. Their competitive instincts, particularly in tandem and enduringly unmistakable while battling Wayne Gretzky and the Los Angeles Kings in the penultimate Stanley Cup series of 1993, lingers amid Leafs Nation nearly three decades later. As with countless others, their legacies are preserved in hockey cards, beginning in 1984–85 with Gilmour and 1986–87 with Clark.
I have a number of such items in my collection: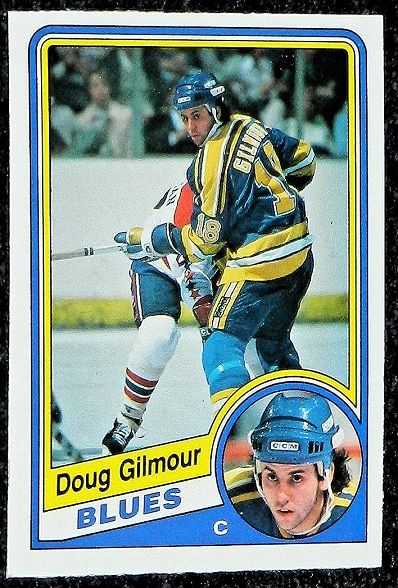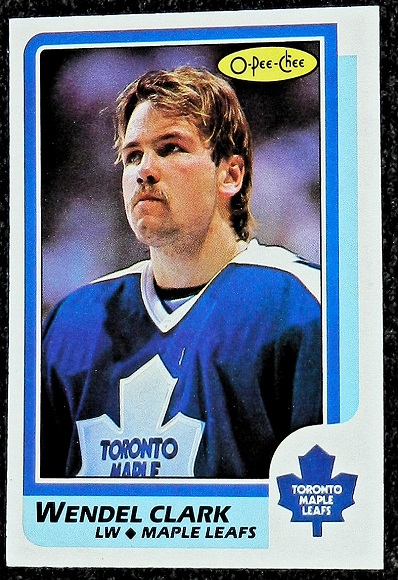 GILMOUR'S ROOKIE CARD WITH THE ST. LOUIS BLUES WAS PART OF THE 1984–85 O–PEE–CHEE ISSUE. IT COMMANDS A TOP ASKING–PRICE ON E–BAY OF $3,826.35 CAD. CLARK'S FIRST ITEM APPEARED IN THE 1986–87 O–PEE–CHEE SET. HE HAD FINISHED RUNNER–UP TO GARY SUTER OF CALGARY FOR THE CALDER TROPHY. TOP PRICE ON E–BAY FOR WENDEL'S CARD IS $2,472.22 CAD.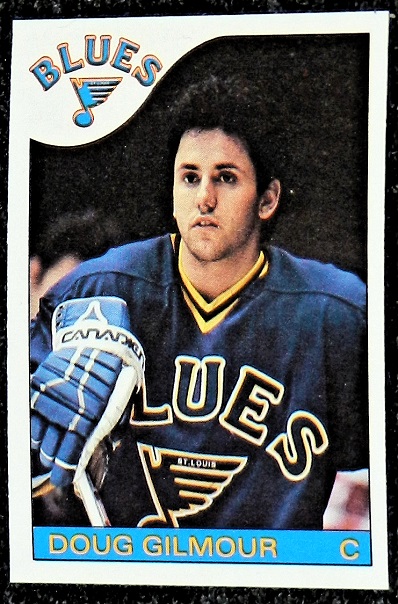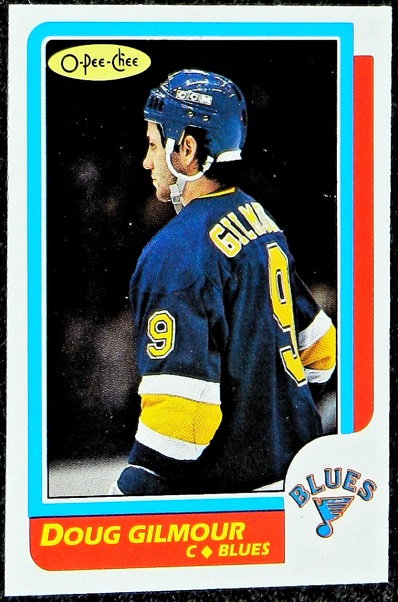 GILMOUR'S SECOND AND THIRD CARDS — FROM THE 1985–86 AND 1986–87 O–PEE–CHEE SETS.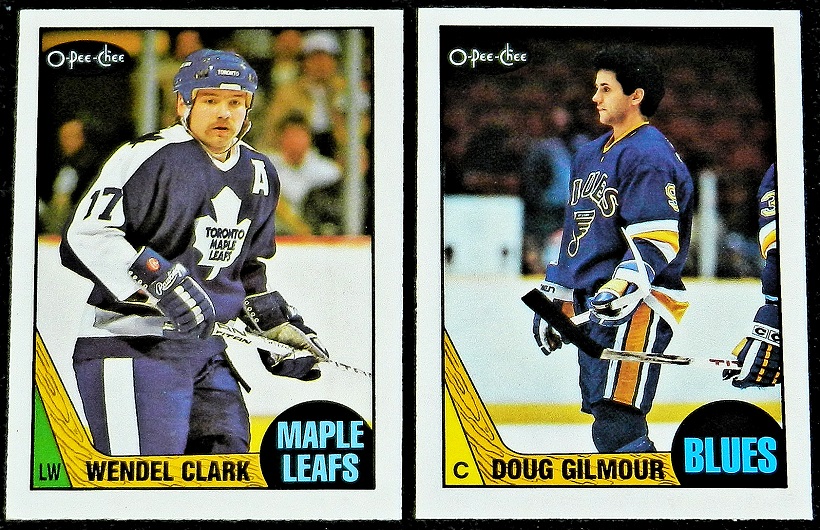 CARDS OF BOTH PLAYERS FIRST APPEARED IN THE 1987–88 O–PEE–CHEE ISSUE. A BACK AILMENT LIMITED WENDEL TO ONLY 81 GAMES WITH THE LEAFS OVER THREE SEASONS. AS SUCH, O–PEE–CHEE DID NOT ISSUE CLARK ITEMS IN 1988–89 AND 1989–90. THE ABOVE CARD WOULD BE GILMOUR'S LAST IN A ST. LOUIS JERSEY. HE WAS TRADED TO CALGARY ON SEP. 6, 1988.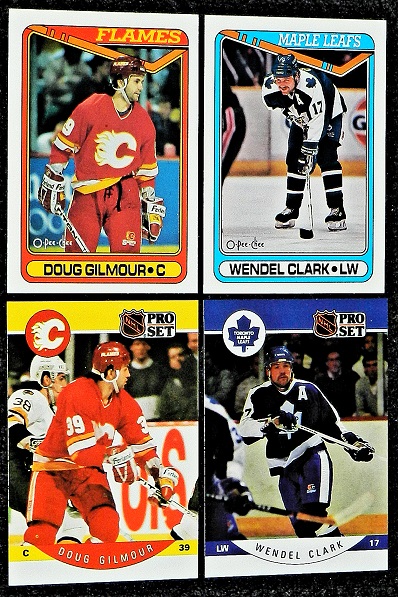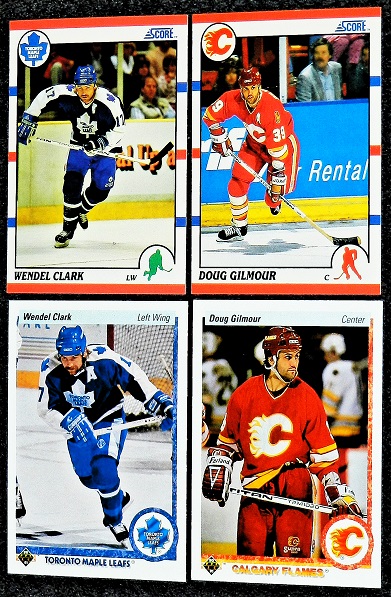 THE BEGINNING OF THE MULTI–CARD ERA IN 1990–91 SAW GILMOUR AND CLARK APPEAR IN THE ISSUES OF O–PEE–CHEE, SCORE, PRO SET AND UPPER DECK (ABOVE) AND THE 1991–92 PRO SET ISSUE (BELOW), WHICH INCLUDED A SERIES OF CARDS FEATURING TEAM CAPTAINS.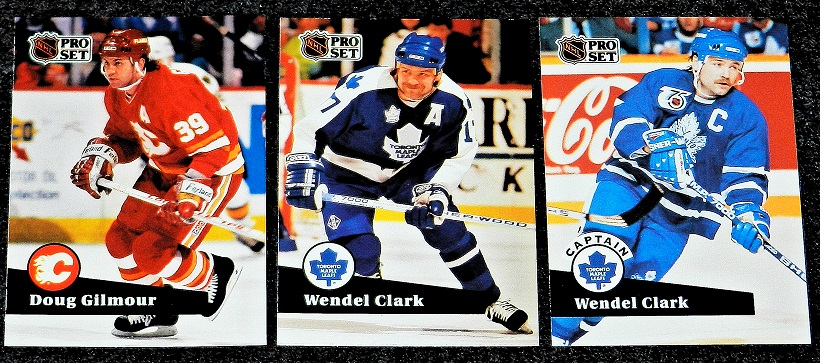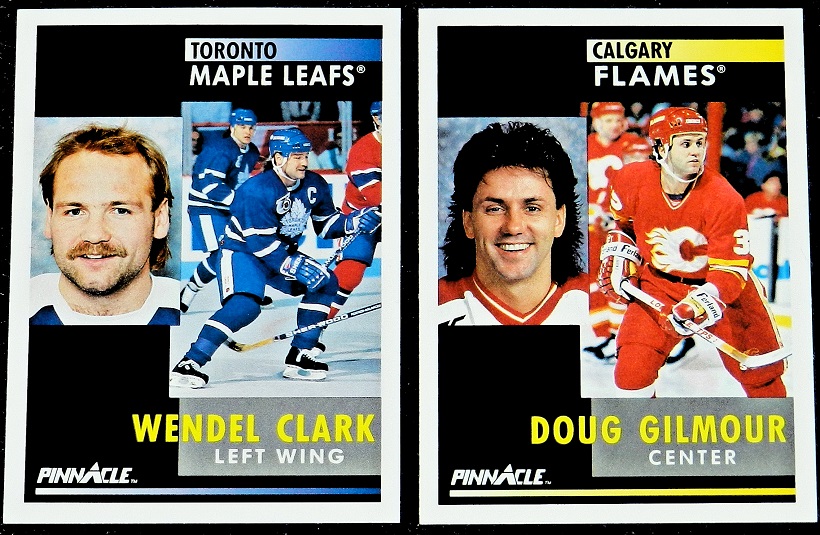 YOUTHFUL, SMILING FUTURE TEAMMATES IN THE 1991–92 PINNACLE SET, ISSUED BY SCORE.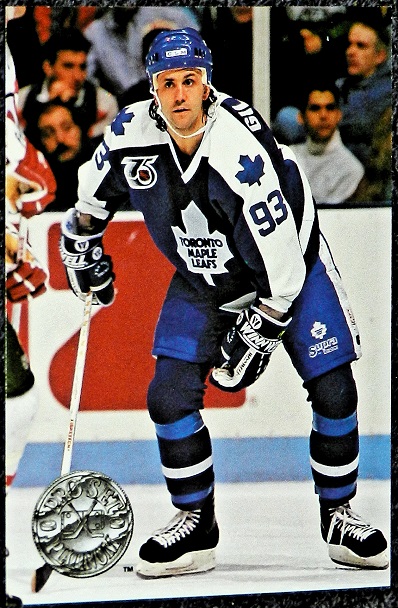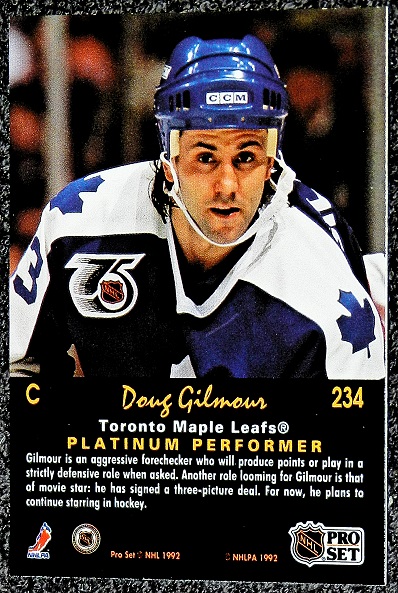 GILMOUR'S FIRST LEAFS CARD, IN THE LATE–SEASON ISSUE OF 1991–92 BY PRO SET PLATINUM.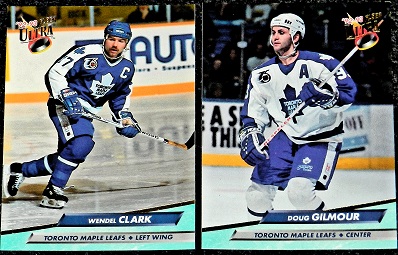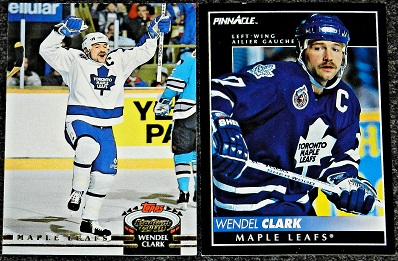 CLARK AND GILMOUR AS LEAF TEAMMATES IN THE 1992–93 FLEER ULTRA SET (TOP–LEFT). WENDEL (TOP–RIGHT) IN THE 1992–93 TOPPS STADIUM CLUB AND SCORE PINNACLE ISSUES.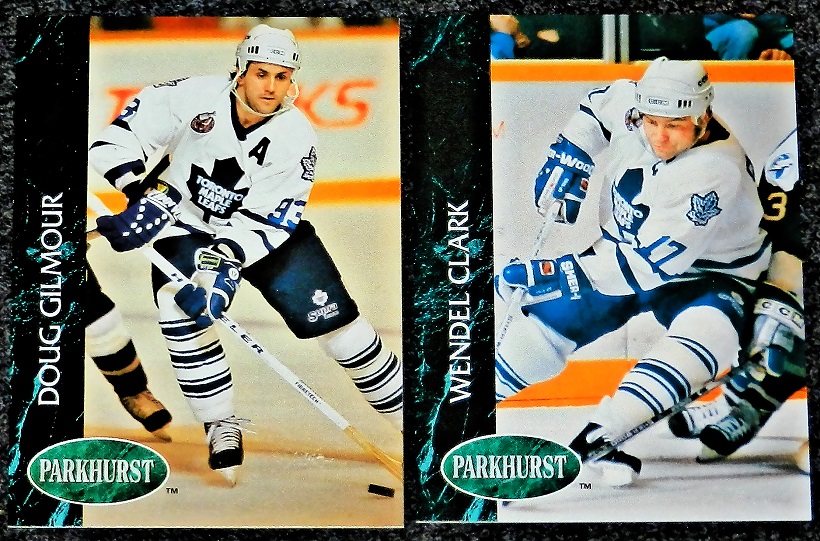 A POST–SEASON ISSUE IN 1992–93 BY PRO SET PARKHURST SHOWED GILMOUR AND CLARK WEARING SHOULDER PATCHES DURING THE 1993 STANLEY CUP PLAYOFFS, DURING WHICH THE MAPLE LEAFS VENTURED TO WITHIN ONE GAME OF THE CHAMPIONSHIP SERIES AGAINST MONTREAL.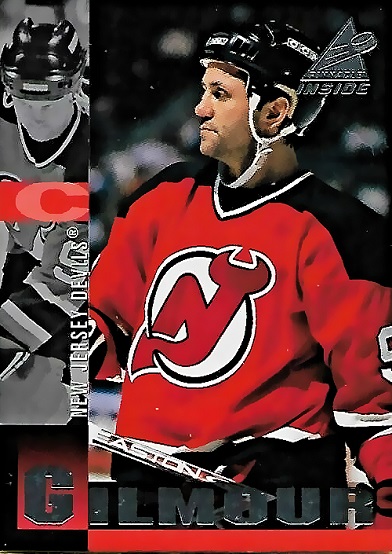 CLARK WAS TRADED BY THE MAPLE LEAFS TO THE OLD QUEBEC NORDIQUES JUST PRIOR TO THE 1994 NHL DRAFT IN HARTFORD. MATS SUNDIN CAME TO TORONTO. GILMOUR WENT TO THE NEW JERSEY DEVILS AT THE TRADE DEADLINE OF THE 1996–97 NHL SEASON.
EMAIL: HOWARDLBERGER@GMAIL.COM