TORONTO (Sep. 29) — The Internet is a fascinating place; sadly and ominously dangerous, as we know, but also the home of innocuous human behavior. It's a place where quixotic people gather to commiserate and deliberately punish themselves. Nowhere is this more apparent than among tormented followers of the Toronto Maple Leafs.
Such partisan websites and chat rooms as Maple Leafs Hotstove, Editor in Leaf, The Leafs Nation, Pension Plan Puppets and H–F Boards analyze and dissect every shift of every Maple Leafs game — in real time and upon reflection — beginning, each year, with the first exhibition encounter. All the while knowing that individual hearts will be ripped from their chest cavities at some point in April or May, thereby rendering the exercise pointless.
It's kind of like reading or watching a tragic comedy for the fifteenth time; somehow perversely enjoyable even while knowing how the story ends. In the example of Leafs Nation, there is misplaced and largely impractical hope at this time of Autumn. Third and fourth–tier players, which comprise all but five positions on the current roster, are seen as vital to the inevitable breakthrough. The names change every year — Mason Raymond, Cody Franson, Dave Bolland, Mike Santorelli, Leo Komarov, Daniel Winnick, Stephane Robidas, P.A. Parenteau, Peter Holland, Michael Grabner, Connor Brown, Nikita Soshnikov, Frederik Gauthier, Ron Hainsey, Connor Carrick, Kasperi Kapanen, Andreas Johnsson, Tyler Ennis, Tyson Barrie, Cody Cici, Zach Bogosian, Jimmy Vesey, to elicit here–and–gone examples since 2014 — but nothing about the Leafs dramatically differs. Goaltenders come and go at an alarming rate — Petr Mrazek, whenever he suits up in the regular season, will be the 72nd such figure since Toronto's last Stanley Cup title in 1967. Only four of them (Mike Palmateer, Felix Potvin, Curtis Joseph, Ed Belfour) have built something of a playoff resume with the club; none, of course, appearing in the title round.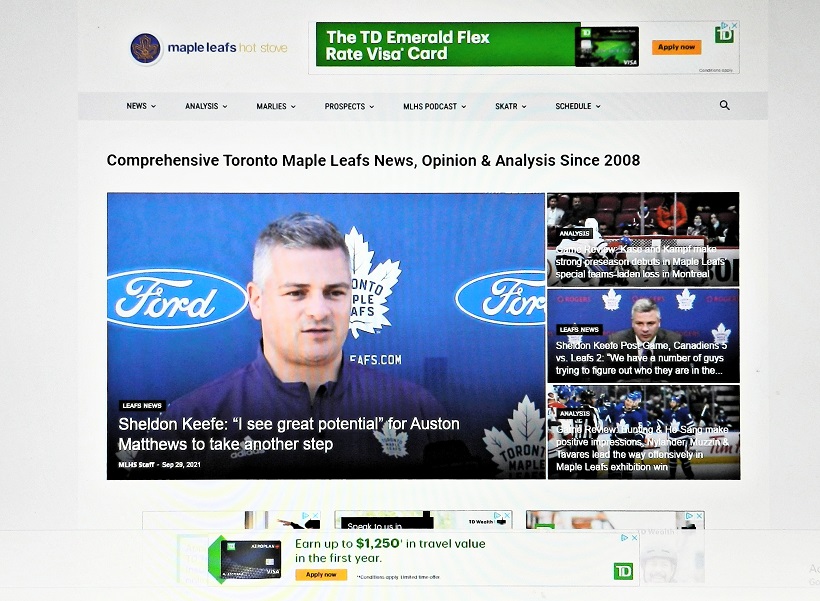 AT WEBSITES SUCH AS MAPLE LEAFS HOTSTOVE, NOTHING BAD EVER HAPPENS. UNTIL IT HAPPENS.
Coaches are stuck in a continuously revolving door; 21 employed in the head position since Punch Imlach's triumph 54 years ago. Also, 21 franchises that did not exist in May 1967 have played for the Stanley Cup at least once — chronologically, the St. Louis Blues, Philadelphia Flyers, Buffalo Sabres, New York Islanders, Minnesota North Stars (Dallas Stars), Vancouver Canucks, Edmonton Oilers, Calgary Flames, Pittsburgh Penguins, Los Angeles Kings, New Jersey Devils, Florida Panthers, Colorado Avalanche, Washington Capitals, Carolina Hurricanes, Anaheim Ducks, Tampa Bay Lightning, Ottawa Senators, San Jose Sharks, Nashville Predators and Vegas Golden Knights. Thirteen have won the big prize. The other five pre–expansion clubs (Boston, Chicago, Detroit, Montreal, New York Rangers) have combined for 37 Cup final appearances since 1967, winning 21.
The salary cap era has been nothing shy of cataclysmic for the Maple Leafs. The club missed the playoffs in the first ten full seasons: 2006–07–08–09–10–11–12–14–15–16. On the other six occasions, it has lost in the first, or qualifying, round. Then, there's the cement mixers — gut–churning playoff setbacks that would demolish the spirit of most team followers. Best–of–seven defeats after winning Games 1 and 2 on the road: vs. Philadelphia (1977), Detroit (1987) and Chicago (1995). You know that Gilmour–Gretzky–Fraser in 1993 will never die. A record–low six shots on goal while being eliminated at New Jersey (2001). Overtime elimination tallies on home ice against New York (1971), Boston (1974), Philadelphia (1975), Montreal (1979), Minnesota (1983), Carolina (2002) and Philadelphia (2004). The infamous Causeway Street Calamity of May 13, 2013 (a third–period folderoo at Boston that need not be recounted). And, of course, the spit–up of last May's 3–1 series lead against rival Montreal.
Through it all, Leafs Nation remains undeterred. Log onto Maple Leafs Hotstove and you'll be told how Ondrej Case, Nick Ritchie, David Kampf and Michael Bunting will outperform the other cheap, interchangeable parts that have failed in recent years. Same will happen with whatever four deck–chairs move into those spots next season.
The readers read… and believe.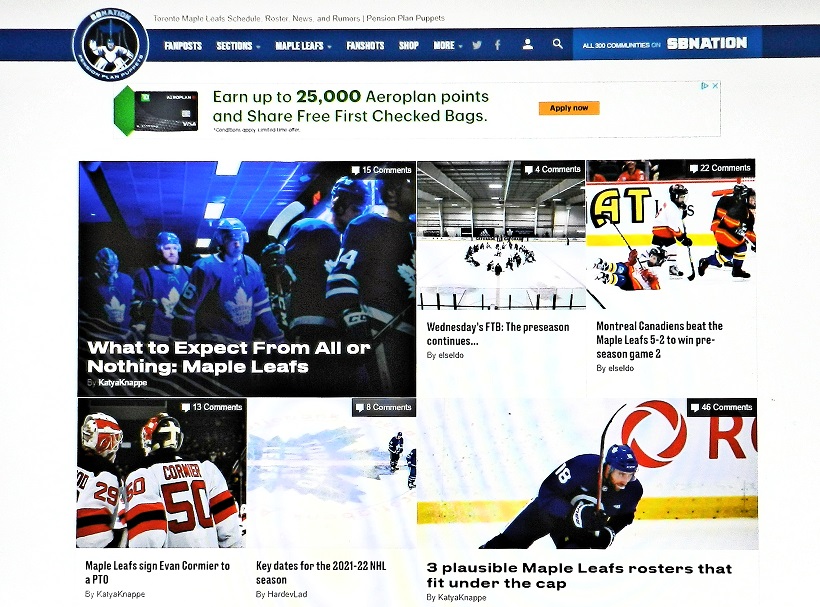 HAVE ALWAYS LOVED THE NAME "PENSION PLAN PUPPETS" — IT REMAINS THE MOST ORIGINAL OF THE PARTISAN WEBSITES… EVEN EIGHT YEARS AFTER THE ONTARIO TEACHERS' PENSION PLAN SOLD CONTROLLING INTEREST IN MAPLE LEAF SPORTS AND ENTERTAINMENT. 
Moreover, they are egged on by mainstream media that is largely compliant. This is, far and away, the least–critical era of reporting in modern Leafs history. Though some talented, hard–working people are employed by TSN and Sportsnet, all news is offered through the prism of team ownership (if you aren't aware, Bell and Rogers control 75% of Maple Leaf Sports and Entertainment). Same with the all–sports radio stations: TSN–1050 and Sportsnet–590. I've said it before and I'll say it again: Never in the annals of Canadian media has there been such an egregious conflict of interest. Critical opinion is unavoidably impeded. Contraction of the newspaper industry allows for fewer columnists. Those employed generally soft–pedal around the Leafs; the glaring exception being Cathal Kelly of the Globe and Mail, who is also the purest writer of the lot. Mainstream media should always rise above partisanship while covering sports. It rarely happens anymore amid those following the Blue and White.
The fan base, itself, underwent an epiphany with the blown playoff round against the Canadiens. As already noted in this corner, I have never detected such apprehension and distrust toward management heading into a new season. A half–decade of one–and–done in the playoffs has followed a full decade of playoff absence. Leafs Nation is fed up. Rarely has there been such an appetite for critical opinion of the hockey club. Nor is it likely to materialize.
Toronto hockey fans multiply each year. Like a mutant gene. They want more. They deserve more.
HOCKEY CARD PAGES 1973—90
From my O–Pee–Chee collection, in plastic sleeves of corresponding years: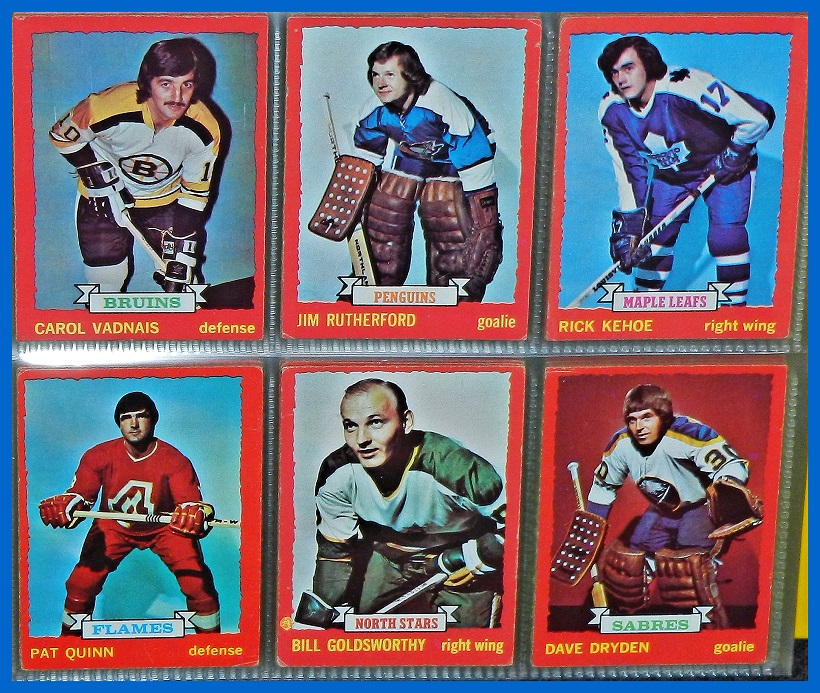 1973–74: A YOUNG PAT QUINN WITH THE ATLANTA FLAMES. HALL–OF–FAME GENERAL MANAGER JIM RUTHERFORD PLAYING GOAL FOR THE PITTSBURGH PENGUINS. ORIGINAL SABRE AND EDMONTON OILER DAVE DRYDEN, KEN'S OLDER BROTHER. ORIGINAL NORTH STAR BILL GOLDSWORTHY.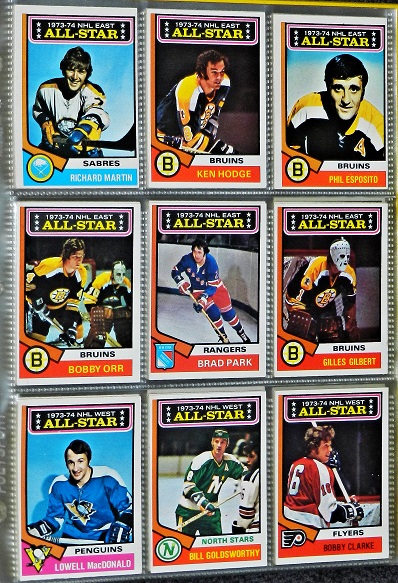 1974–75 (TOP–LEFT): BOBBY ORR, PHIL ESPOSITO, BRAD PARK, BOBBY CLARKE. 1975–76 (TOP–RIGHT): LAST YEAR OF THE CALIFORNIA GOLDEN SEALS AND KANSAS CITY SCOUTS. 1976–77 (BOTTOM–LEFT): YOUTHFUL RANGERS GOALIE JOHN DAVIDSON. DARRYL SITTLER OF THE LEAFS. 1977–78 (BOTTOM–RIGHT): LAST YEAR OF THE CLEVELAND BARONS AND COLORADO ROCKIES.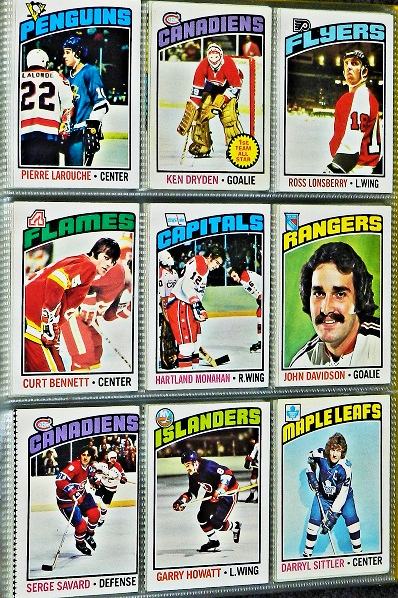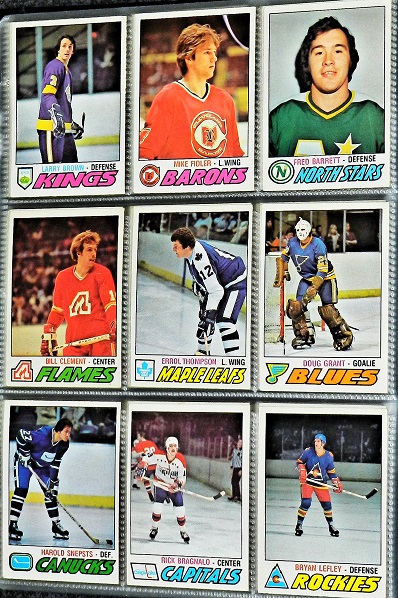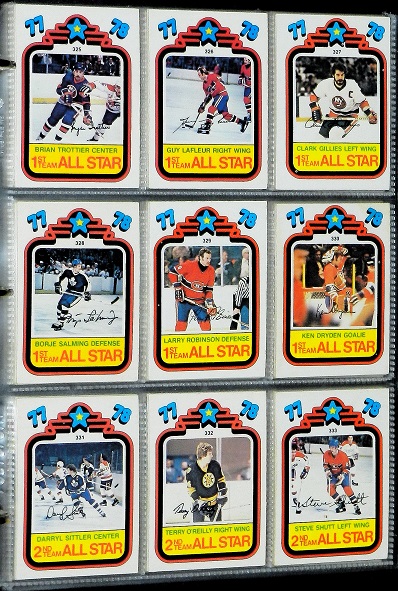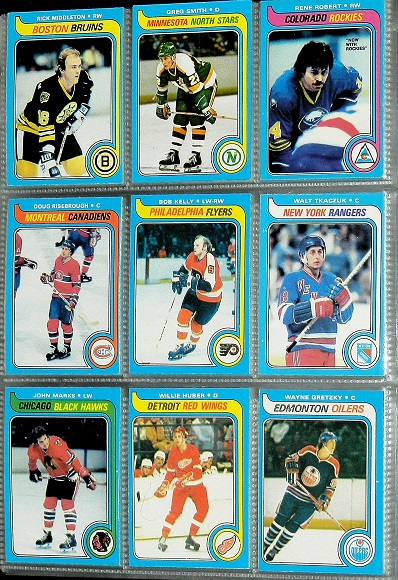 1978–79 (LEFT): PAGE OF ALL–STARS FROM 1977–78. INCLUDING TWO BIG ERRORS. BORJE SALMING AND LARRY ROBINSON WERE ON THE 1976–77 FIRST TEAM. DENIS POTVIN AND BRAD PARK WAS THE 1977–78 FIRST TEAM DUO. 1979–80 (RIGHT): FEATURING WAYNE GRETZKY'S ROOKIE CARD (BOTTOM–RIGHT). CURRENTLY OFFERED ON E–BAY IN GEM–MINT CONDITION FOR $129,999.99 CAD.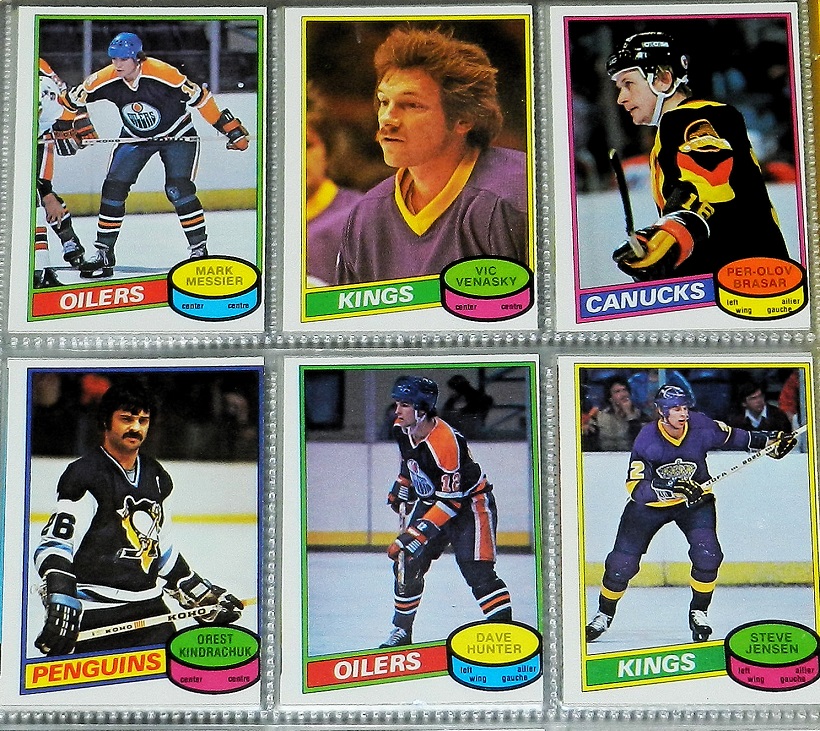 1980–81: INCLUDING MARK MESSIER'S ROOKIE CARD. E–BAY ASKING AS HIGH AS $5,750.00 CAD.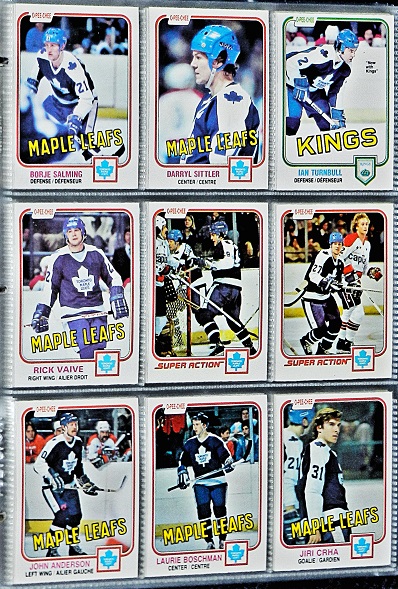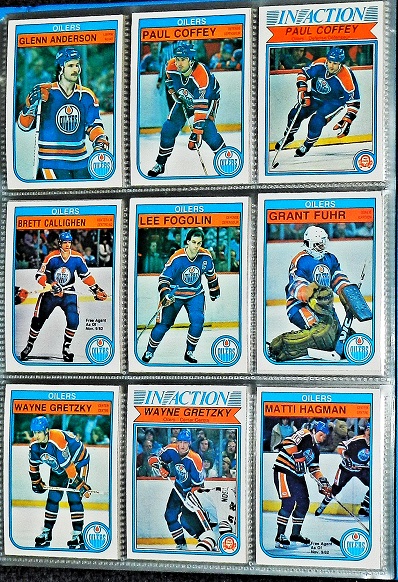 1981–82 (LEFT): PAGE OF MAPLE LEAFS CARDS, INCLUDING DARRYL SITTLER'S LAST TORONTO ISSUE (TOP–MIDDLE). HE WAS TRADED TO PHILADELPHIA ON JAN. 20, 1982. 1982–83 (RIGHT): EDMONTON OILERS PAGE. INCLUDING WAYNE GRETZKY CARD (BOTTOM–LEFT) A SEASON AFTER BECOMING THE FIRST PLAYER TO SCORE 200 POINTS. HIS 92 GOALS IS STILL A RECORD. E–BAY ASKING $1,750.00 CAD. GRETZKY "IN ACTION" CARD (BOTTOM–MIDDLE) OFFERED AT $1,516.56 CAD.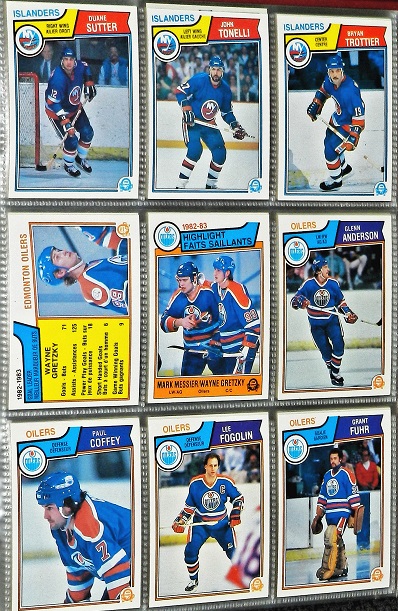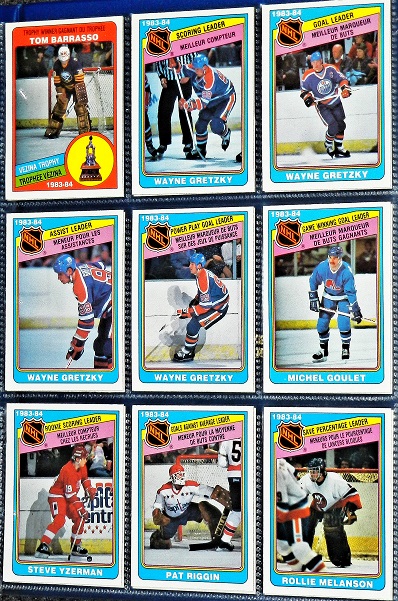 1983–84 (LEFT): THE SEASON THE OILERS ENDED THE NEW YORK ISLANDERS' FOUR–CUP DYNASTY AND BEGAN THEIR OWN. 1984–85 (RIGHT): LEADERS' PAGE FROM THE PREVIOUS YEAR. INCLUDING STEVE YZERMAN OF DETROIT (BOTTOM–LEFT) AS THE TOP ROOKIE IN POINTS.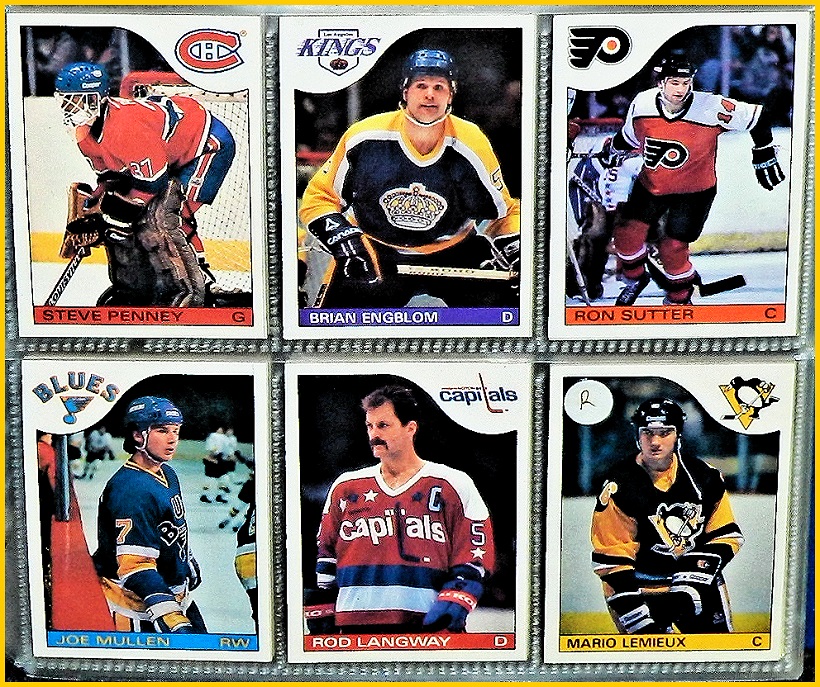 1985–86: FEATURING MARIO LEMIEUX'S ROOKIE CARD. GEM–MINT ITEM OFFERED ON E–BAY FOR $25,276.01 CAD.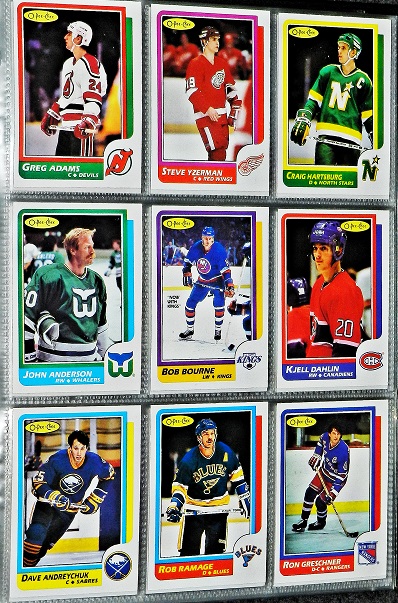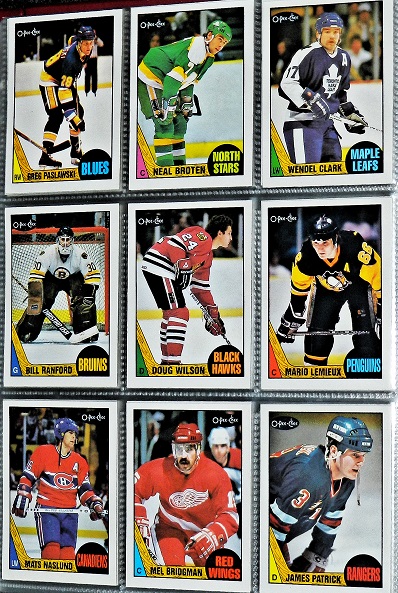 1986–87 (LEFT): WITH FORMER AND FUTURE TORONTO MAPLE LEAFS. JOHN ANDERSON OF THE HARTFORD WHALERS), ROB RAMAGE AND DAVE ANDREYCHUK. 1987–88 (RIGHT): WITH WENDEL CLARK OF TORONTO. MARIO LEMIEUX AND DOUG WILSON ARE IN THE HOCKEY HALL OF FAME.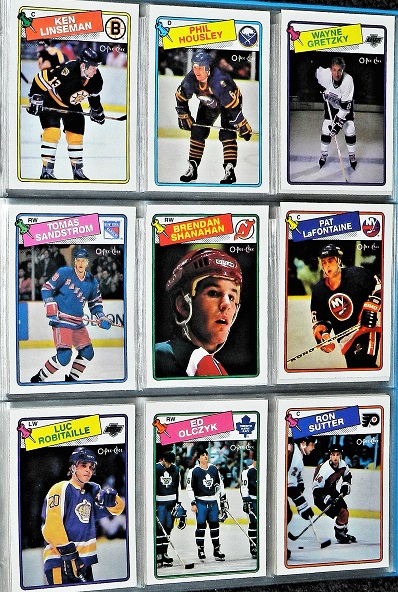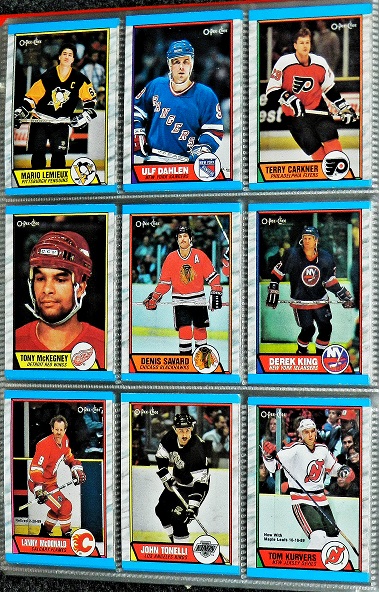 1988–89 (LEFT): FEATURING WAYNE GRETZKY'S FIRST CARD (TOP–RIGHT) WITH THE LOS ANGELES KINGS. AND, BRENDAN SHANAHAN'S ROOKIE CARD (MIDDLE). 1989–90 (RIGHT): FINAL SEASON FOR O–PEE–CHEE BEING THE LONE CANADIAN HOCKEY SET. AND, LANNY McDONALD'S LAST NHL CARD (BOTTOM–LEFT), HAVING RETIRED AFTER WINNING THE 1989 STANLEY CUP WITH CALGARY.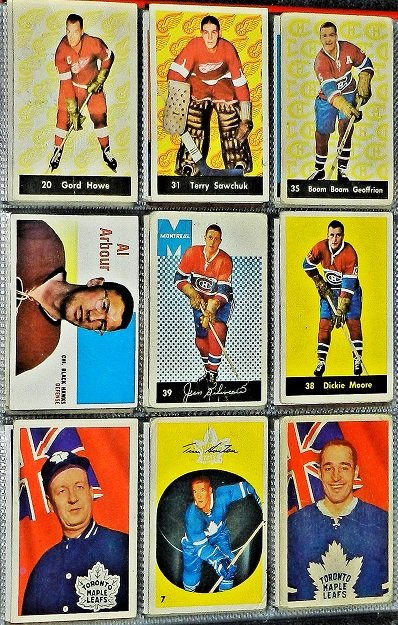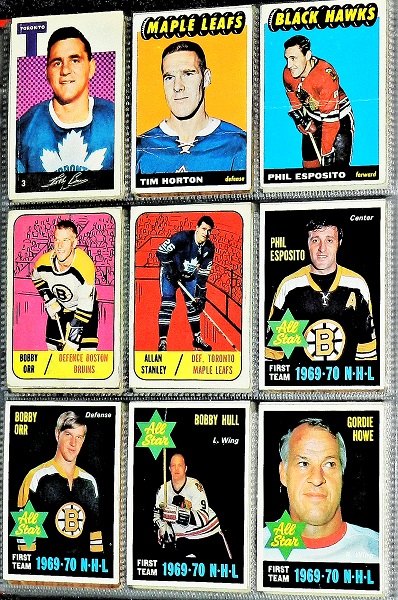 TWO PAGES FROM MY BINDER OF HOCKEY STARS. THE GORD HOWE, TERRY SAWCHUK AND BOOM BOOM GEOFFRION ITEMS (TOP OF LEFT–HAND PAGE) ARE FROM THE 1961–62 TOPPS SERIES. PHIL ESPOSITO'S ROOKIE CARD (RIGHT PAGE, TOP ROW) IS FROM THE 1965–66 TOPPS SET. BOBBY ORR'S SECOND NHL CARD (MIDDLE ROW) IS FROM THE 1967–68 TOPPS ISSUE.
EMAIL: HOWARDLBERGER@GMAIL.COM