TORONTO (Oct. 14) — This is a different era of newspaper sports reporting; a throwback, in some ways, to the 1950's and 60's, when the Maple Leafs paid travel expenses for writers that followed the team on the road.
The lead paragraph to many game stories had George Gross (Toronto Telegram) or Red Burnett (Toronto Star) griping about how that night's referee called the match heavily in favor of the opposing club, especially if the Leafs lost. That sort of nepotism thankfully doesn't exist today with media outlets footing the cost for travel. But, neither should such a credible hockey scribe as Kevin McGran of the Star begin a story as he did in the wake of Wednesday night's 2–1, season–opening triumph by the Leafs over Montreal: "Nothing like a win to kick things off," McGran wrote in the first line of his Breakaway blog. Kevin will argue that he was merely echoing the position of his audience. But, that isn't the role of a newspaper reporter, Or, a columnist, to be clear, even if the latter is granted editorial license. There's more than enough organic prejudice toward the Blue and White today from those that draw paychecks from the same company as the players and coaches. Maple Leaf Sports and Entertainment is 75 percent controlled by Rogers Communications and Bell Canada, which own Sportsnet and TSN, respectively. Media bias on behalf of the Leafs should begin and end with that glaring conflict of interest. Under no circumstance does a reporter that is independent of alliance need to reflect such favoritism toward the hockey club.
Newspaper readers should be able to anticipate a tone of objectivity in game stories. Opinion can be interjected, when appropriate, and writing with flair is always welcomed. But, the type of comment you'd expect from a fan should be avoided. There's plenty of content provided through blue–and–white–colored glasses on the Leaf–centric websites, where the outlook is forever rosy. Such entities as Maple Leafs Hot Stove, Pension Plan Puppets, The Leafs Nation and Editor in Leaf exist in an alternate universe. Cheerleading is their bedrock; the sites founded largely to counter the critical (and accurate) assessment from mainstream media… which, sadly, has diminished.
Elsewhere after the season opener…
Luke Fox of Sportsnet.ca, often a Leafs flag waver, played it generally straight in assessing the win over Montreal. Fox correctly praised William Nylander, who scored the decisive goal: "How's this for a tilted stat line Wednesday? When Nylander was on the ice, 75 per cent of shot attempts were directed at Montreal's net, and the Leafs held a 6–0 edge in high–danger chances. He registered five shots on goal, threw a hit, blocked a shot, stole a game–high four pucks, and pitched in on Toronto's excellent 4–for–4 penalty kill." Luke offered readers another important stat: "Remarkably, the Maple Leafs have improved to 24–13–2 without [Auston] Matthews in the lineup."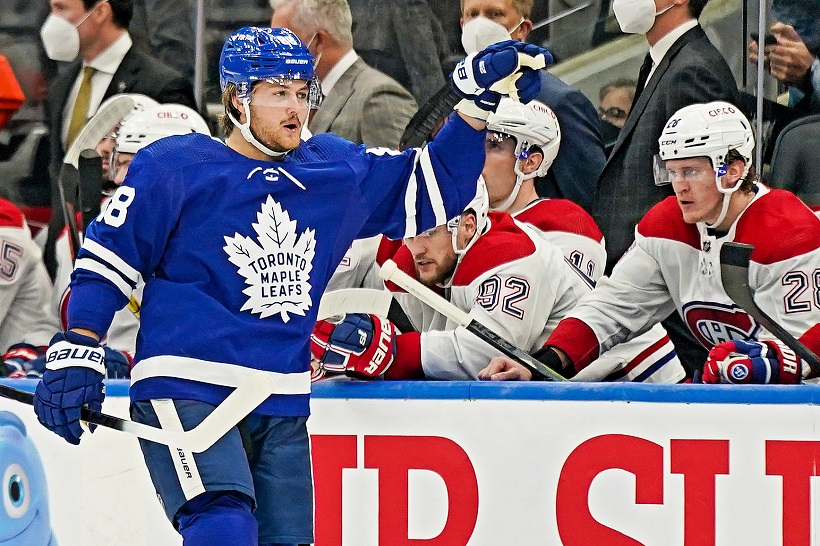 WILLIAM NYLANDER CELEBRATES THE GAME–WINNING GOAL ON WEDNESDAY NIGHT. EVAN BUHLER THE CANADIAN PRESS
Surprisingly, Kristen Shilton of TSN.ca did not contribute off the opening–night match.
In the Toronto Sun, Terry Koshan applauded Smilin' Jack: "Steady, calm and solid. Would you have expected much different from Jack Campbell in the Maple Leafs' 2021–22 regular–season opener? We didn't think so."
Marty Klinkenberg of the Globe and Mail did his usually sound work in describing the ambience of Scotiabank Arena: "A new season. An electric crowd. A packed house. Historic rivals. A rematch between playoff opponents, one whose improbable comeback triggered an extended pursuit of the Stanley Cup, the other whose collapse doomed them – again – to ignominy. It all unfolded exquisitely on Wednesday night when the Maple Leafs welcomed the Montreal Canadiens to inaugurate the 2021–22 NHL season. It was more than just an opening game, however. It was a coming–out party for the sea of spectators who filled the rink for the first time in 582 days."
Ideally, boosterism should be the sole domain of team broadcasters, even if it bordering on comical. I'm certain that I've never heard such blatant whining and intolerance as during the Los Angeles Angels at Seattle telecast on the penultimate night of the current baseball season. Sportsnet carried the local feed from T–Mobile Park (Oct. 2) with play caller Dave Sims and analyst Mike Blowers. The Mariners were clinging to wild card playoff contention and needed to upend the Angels. Naturally, Sims and Blowers wanted the home team to prevail. Amid the burden of a must–win game, however, they lost all pretense of decorum, grumbling aloud about virtually every pitch that went against the Mariners. Comments such as these were directed toward home plate umpire Scott Barry:
"What is he looking at?!"
"That pitch wasn't even close, for cryin' out load."
"Aw, come on, give me a break!"
"He called that a strike?"
A viewer would have thought there was a baseball–wide conspiracy against the Seattle club.
Blue Jays' TV analyst Pat Tabler is the most–blatant cheerleader on the local sports scene, with his reference to the club as "we" and his frequent exclamation "I just love that" when the home team excels. But, even Tabler hasn't entirely yielded professional obligation as did the Seattle bellyachers that night. It was mind–boggling.
Team broadcasters generally will not (or cannot) maintain the veneer of balance. A long–time exception is Joe Bowen, entering his 40th season as the voice of the Maple Leafs. Bowen, now 70, would clearly prefer that the locals win; the poor sap hasn't called a second–round playoff game since 2004. But, he has never mailed in the call of an opposition goal, as do virtually all of his National Hockey League brethren. Joe's voice rises with an excitable tone whenever the puck enters the net, at either end. Broadcast partner Jim Ralph occasionally gripes about the officiating (in his unique, Ralphy way), but the Leafs have a thoroughly professional radio tandem.
1,628 NHL GOALS ON SCREEN
The visual was breathtaking. Wayne Gretzky, the all–time NHL leader in goals, assists and points interviewing Alex Ovechkin, the only player with an outside chance to eclipse him in the first category. Gretzky, 60, is still atop the career goal–scoring list with 894, now beginning the 23rd season since his retirement as a New York Ranger. Ovechkin stands fifth, with 732 (after connecting twice against New York on Wednesday night). He's the only active NHLer in the top five, behind Gretzky, Gordie Howe, Jaromir Jagr and Brett Hull. Trailing No. 99 by 162 tallies, Ovechkin, 36, will need to average 32.4 goals over the next five seasons. Or, 40.5 goals in the next four years.


Gretzky, in his first night with Turner Network Television, took part in questioning Ovechkin after the season–opening triumph: "Hey, Alex, Wayne here. Congratulations again. What an incredible start for you and your hockey club: two goals and two assists. It seems like you were around the puck every shift tonight and that's a bad thing for the rest of the league. You look fresher and stronger right now than even last year. I just wanted to ask if, over the years, you think you've had to change your game much because of getting a little bit older and, maybe, the different rules implemented now in the National Hockey League?" It was an excellent, multi–faceted query from the four–time Stanley Cup winner and Ovechkin, oddly, reacted as if being interviewed by a nondescript TV personality. There was no gleam in his eye; smile on his face or enthusiasm in his answer. Which I found disappointing.
SPLENDID LAYOUT/VISUALS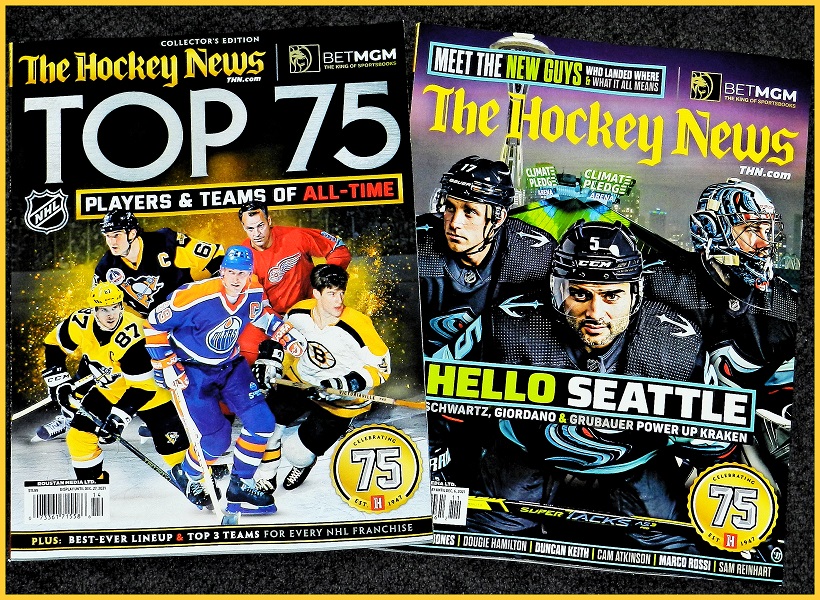 Kudos to art director Shea Berencsi of The Hockey News for outstanding work on the first two issues of the new season. The HELLO SEATTLE magazine is a 98–page item largely dedicated to the NHL's expansion entry. As evidenced, below, Berencsi is rather adept at designing catchy and colorful title pages. Very nicely done.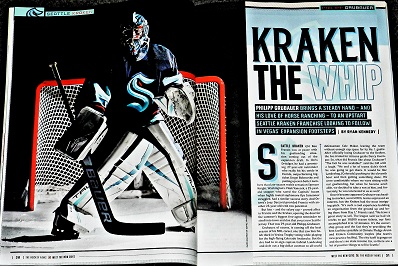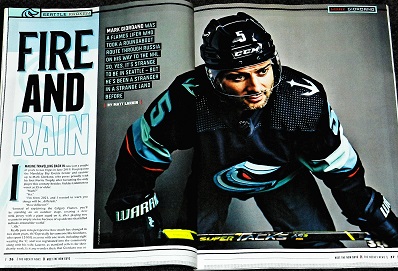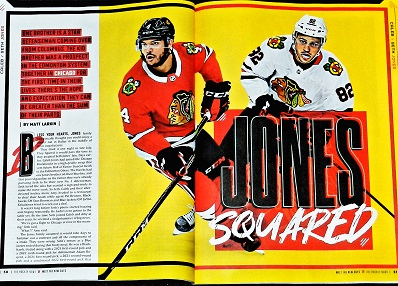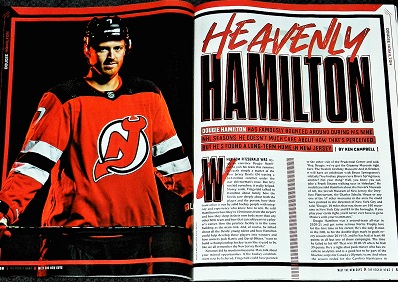 EMAIL: HOWARDLBERGER@GMAIL.COM