TORONTO (Oct. 26) — Only optics, right now, can prevent the Toronto Maple Leafs from a detonation of the hockey department. The mainstream media will tell you it's "too early" for such an outcome… but our eyes tell us the opposite. This is a team in freefall, with no apparent direction or competitive instinct. Had management shown a sliver of accountability after the playoff humiliation against Montreal, perhaps late–October would be "too early." Instead, it took the path of least resistance in a city that has often been demure and compliant. But, no more. Tolerance for a lazy, unmotivated team burdened with incommensurate salaries evaporated with the blown playoff series in May. This is merely a perpetuation; foreseeable to all but those in charge. It won't last very long.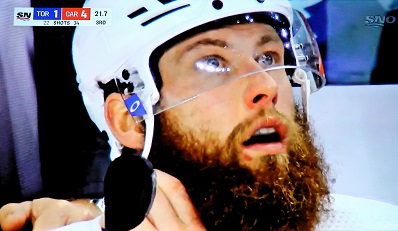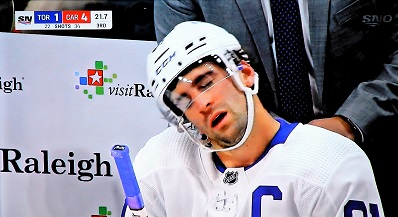 THE EYES OF DEFEAT: SPORTSNET TV CAMERAS DID A MARVELOUS JOB OF CAPTURING LEAF EXPRESSIONS AFTER CAROLINA CLINCHED MONDAY NIGHT'S GAME WITH AN EMPTY NET GOAL.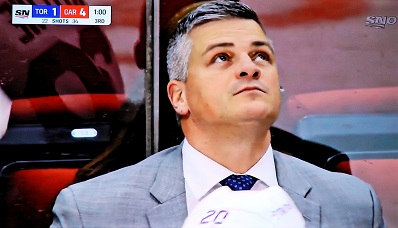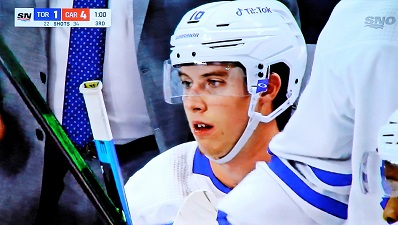 A victory on Wednesday night over perhaps the worst Chicago team in 64 years will grant a stay of execution. It will not preclude the inevitable. The Black Hawks of 1956–57 brought up the rear in the six–team National Hockey League with a record of 16–39–15 in 70 games. Then, Bobby Hull arrived and made things better. This Windy City outfit, with Patrick Kane in Covid protocol, could be missing its only linchpin. Not for one second in six, early season games has Chicago held the lead, capitulating by such lopsided scores as 6–3, 5–2 and 4–1 (twice). One can barely imagine how Marc–Andre Fleury must be longing for The Strip. But, there's no guarantee the Maple Leafs can summon the wherewithal to prevent the Blackhawks from prevailing for the first time. Not after losing by an unconverted touchdown to Pittsburgh's farm team on Saturday. As a precursor to the unfolding events at 50 Bay Street, yours truly has obtained the transcript of clandestine telephone calls made in the wake of the lost weekend: First, from minority owner Larry Tanenbaum to Jim Rutherford… then, from Rutherford to John Tortorella:
TANENBAUM: Hello, Jim, this is Larry Tanenbaum with the Toronto Maple Leafs. How are you?
RUTHERFORD: I've been fine… up til now.
TANENBAUM: Listen, we've got a real mess on our hands and it's not going to improve with the people in place. Would you be interested in taking over as general manager? We'll pay you handsomely.
RUTHERFORD: I'm already handsome but, yes, I'd be interested.
TANENBAUM: We need you to fly here for a meeting. The team is in Chicago and we're all expecting another disaster on Wednesday night. The directors would like to watch the game on TV with you.
RUTHERFORD: I'll come to Toronto, but I don't need to watch the game.
TANENBAUM: Would you consider retaining Kyle Dubas as an assistant?
RUTHERFORD: No.
TANENBAUM: How about all our analytics guys?
RUTHERFORD: Blow 'em off… or I will.
TANENBAUM: Okay, but I have one request. Do you know John Tortorella?
RUTHERFORD: We've met.
TANENBAUM: Would you please talk to him? We're stuck with these unmovable contracts and we need a guy that can whip our young stars into shape. We think Torts may be that person. I need you to make the call.
RUTHERFORD: Fine. I'll do it for you, Larry. But, please understand that I could have traded one of your big contracts over the summer. You chose to stay with the guy who signed them. He has an emotional attachment to Nylander, Matthews and Marner. What made you think Kyle would break up the core and confess to his mistakes?
TANENBAUM: I thought maybe he'd feel shame after the Montreal series.
RUTHERFORD: You thought wrong. I'll call Tortorella and get back to you.
*     *     *     *     *     *     *     *     *     *     *     *     *     *     *     *     *     *     *
RUTHERFORD: Hello, John, it's Jim Rutherford calling.
TORTORELLA: No, please Jim, not that!
RUTHERFORD: What are you talking about? I haven't said anything yet.
TORTORELLA: I know. But, it's gotta be Toronto. Why else would you be calling?
RUTHERFORD: Now, just calm down. They want us to go in there and clean up the mess.
TORTORELLA: You think I'm a magician? A wizard, or something?
RUTHERFORD: Look, I'll help you out right away. For instance, there's no chance I can trade Mitch Marner's contract. But, I can place him on waivers. If someone bites, we're off the hook for nearly $11 million of cap space. If not, we're still okay as I'll send him to the American League.
TORTORELLA: Do you think the Marlies would want him?
RUTHERFORD: Possibly not, but we're in control.
TORTORELLA: Yeah, but the media up there? It'll be a sh** show from Day 1?
RUTHERFORD: It's not like it used to be. Most of the reporters are paid by the same company as the players. They're pussycats. You won't have the problems as in New York, with Larry Brooks.
TORTORELLA: What about Simmons?
RUTHERFORD: He's over the hill and on a one–year contract. Don't worry.
TORTORELLA: Not that Simmonds. I'm talking about Steve, the columnist.
RUTHERFORD: Oh. Well, he and I are long–time buddies. I'll make sure he's in your corner.
TORTORELLA: There's that other guy… Cocks, or something?
RUTHERFORD: Damien Cox. Just writes occasionally for the Toronto Star. Not really in the picture.
TORTORELLA: How about Strachan?
RUTHERFORD: He's active on Twitter from a retirement home in the Maritimes. Long gone from the scene.
TORTORELLA: Well, I'll meet with you guys. But, no guarantees. I kinda like TV.
RUTHERFORD: That's fine. Be up here for Wednesday afternoon.
What it all means, levity notwithstanding, is get ready for change. The Leafs' situation begs for a neutral voice, such as Rutherford, who has no ties to the Big 4 up front and is in the Hall of Fame for making tough, smart managerial decisions. He and Tortorella have four Stanley Cup rings. The Leafs don't have four Stanley Cup wins in a single round since 2004. Nor will that dubious streak end with the current cast. Maple Leaf Sports and Entertainment can stand pat for just a bit longer… to make it appear as if the company is not panicking with a late–October combustion. And, to cover its own backside for being compliant with the ridiculous call to return this season fundamentally the same. The Leafs made an early decision in 1990–91, firing coach Doug Carpenter on this date after a 1–9–1 stumble from the start. Tom Watt took over. In 2009–10, Brian Burke did not move quickly after saddling Ron Wilson with a 1–7–5 outfit in October. Burke had become president and GM just 11 months prior. Not until March 2012, after the infamous "18–wheeler," did he change coaches: from Wilson to Randy Carlyle. Burke got the heave–ho from ownership on Jan. 9, 2013, just prior to the lockout–abbreviated schedule of 48 games in which the Leafs made the playoffs (and imploded in Boston) for the first time since 2004. The second–earliest dismissal in recent years occurred on Nov. 20, 2019, when MLSE fired Mike Babcock in the wake of a six–game losing streak. It says here the company will not wait nearly as long to make a move this time around.
BACK IN THE DAY…
MAPLE LEAF GARDENS PROGRAM FROM 53 YEARS AGO TONIGHT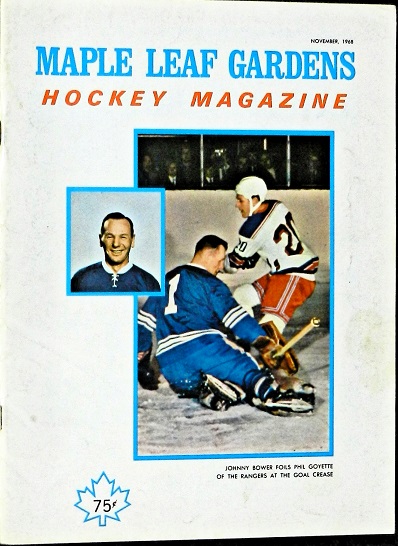 How coincidental that the Maple Leafs would pull off an early season upset on Oct. 26, 1968 over the team that would ultimately embarrass them in the Stanley Cup playoffs and lead to the firing of GM/coach Punch Imlach. Ageless Johnny Bower recorded the second–last of his 37 career shutouts as the Leafs blanked Boston, 2–0. Bower graced the cover (top–left) of the program from 53 years ago tonight. The game was scoreless until 16:55 of the second period when Larry Mickey beat Gerry Cheevers. Dave Keon added an insurance goal, shorthanded, at 5:50 of the third. A fight ensued at 7:18 of the final period between Leafs defenseman Tim Horton and Bruins sophomore Derek Sanderson. Referee Bruce Hood doled out 37 penalty minutes, working with linesmen Matt Pavelich and Ron Ego. Toronto finished fourth in the East Division and matched up against second–place Boston in the Stanley Cup quarterfinals. Humiliation quickly followed as Phil Esposito, Bobby Orr and Co. demolished the Leafs, 10–0 and 7–0, in the first two games at Boston Garden. Games 3 and 4, at Maple Leaf Gardens, were closer, but the Bruins waltzed to a sweep and prompted owner Stafford Smythe to end the decade–long Imlach era moments afterward. Jim Gregory took over as general manager; John McLellan as coach.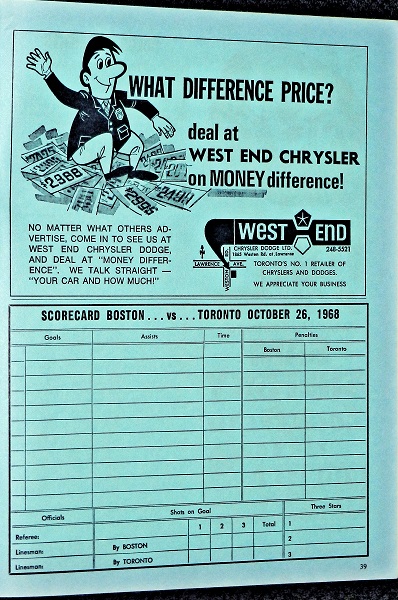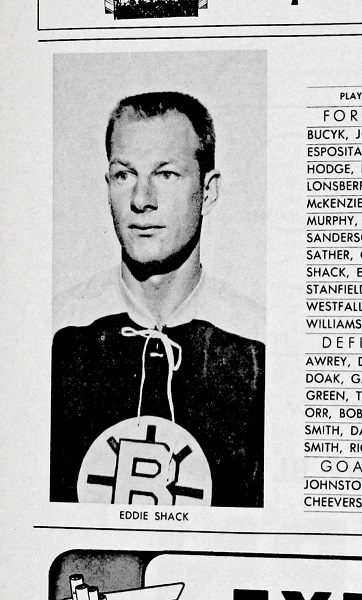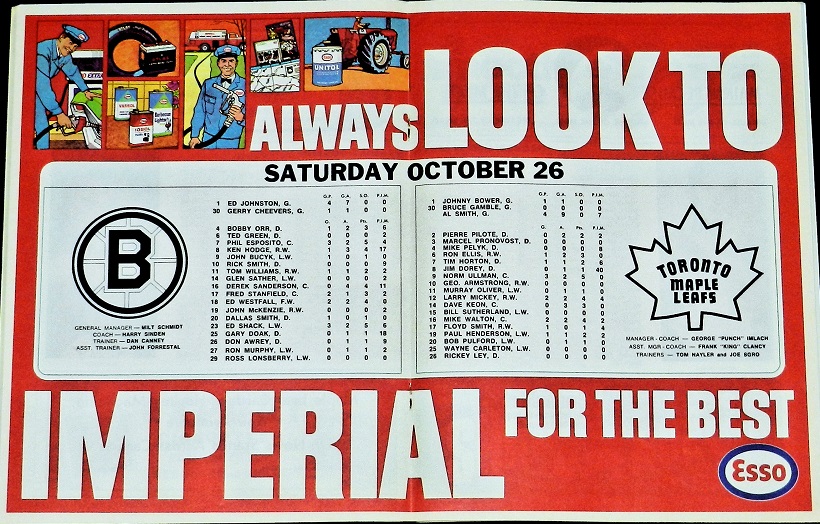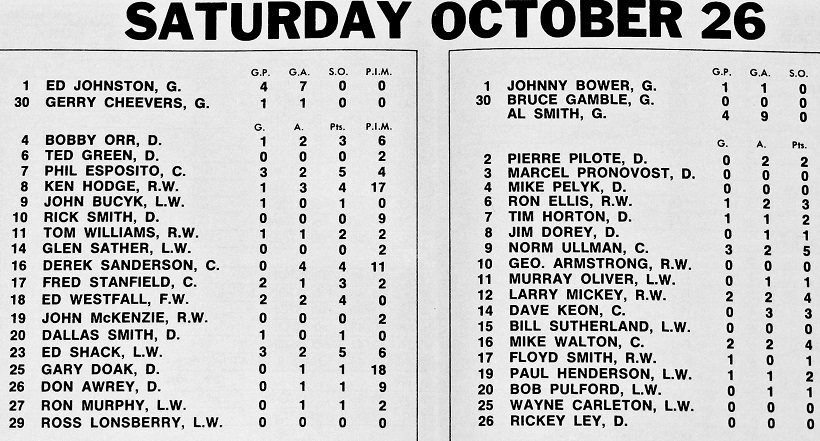 EMAIL: HOWARDLBERGER@GMAIL.COM