TORONTO (Oct. 19) — On Monday night, I went to a Leafs game at Scotiabank Arena for the first time in five years. You may recall, there were many times when I'd attend at Leafs home game for the first time in five days.
But, that was then… and this is now.
It was wonderful being in the arena with my son, Shane, as the Leafs squared off against an American–based team for the first time since Mar. 10, 2020 — two days before the outbreak of COVID–19 prompted the National Hockey League to suspend activity. The New York Rangers, a rival from the old, six–team NHL, skated off with a 2–1 victory when Artemi Panarin beat Jack Campbell on a quick shot from a face off with 1:12 remaining in overtime. That the Leafs controlled the puck throughout the match, outshooting the Rangers, 41–23, mattered not. As often happens, this talented Toronto side did just enough to lose. The game was a microcosm of the entire, seven–game playoff round against Montreal last May. It should have been over long before extra time. But, a startling lack of finish, and, yet another "hot" goalie, proved the difference. In the playoffs, it was Carey Price. On Monday, 25–year–old Igor Shesterkin, appearing in the NHL for the 51st time, made a variety of acrobatic stops. A fourth–round pick by New York (118th overall) in the 2014 draft, Shesterkin also had some remarkable luck, as Leaf shooters somehow fanned — in regulation and overtime — in front of (and beside) a yawning visitors' net.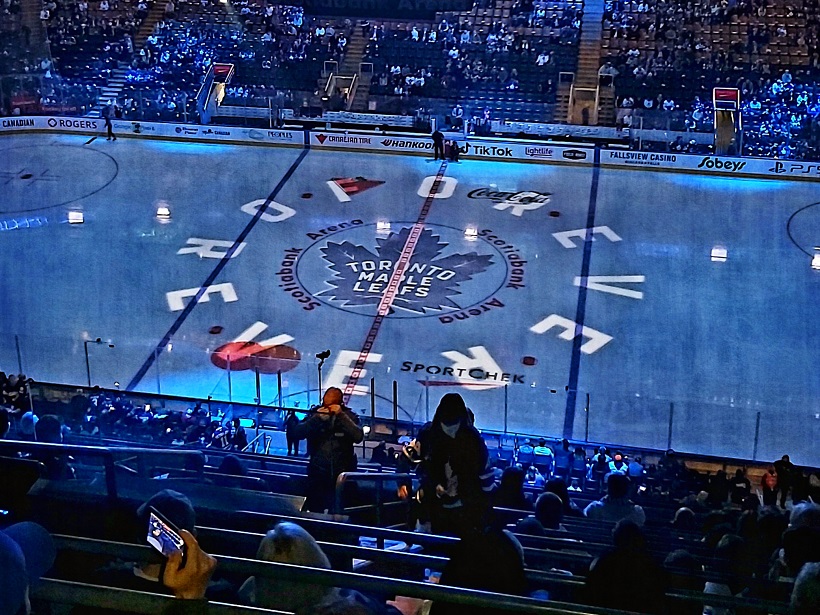 THE PRE–GAME VIEW, MONDAY NIGHT, FROM SEC. 308, ROW 14, SEAT 22 AT SCOTIANBANK ARENA.
For reasons that were incomprehensible, I felt somewhat melancholy in the first half of the game. "I can't figure it out, Shane, I have this sadness inside of me," I told my son. Late in the second period, for no apparent reason, it hit me: more than a decade has passed since attending a Leafs game was my occupation. And, though I miss nothing about my 17 seasons covering the Blue and White (home and away) for The FAN–590, I wondered to myself: where did the time go? There were portions of my life when a decade felt like a decade. Or, something close to it. Conversely, the months and years since 2011 are somehow a comparative heartbeat. I understand that there aren't many decades left in this body, even if I'm fortunate to grow old. So, yeah, the nearly imperceptible passage of time — and returning to a once–familiar location — had the "blues" coursing through me for much of the Leafs–Rangers game. Happily, I snapped out of it and enjoyed a remarkably entertaining third period and overtime.
Auston Matthews made his season debut for Toronto. He played generally well; didn't score and the Leafs lost. Which is a precise carryover from the aborted playoff round against the Canadiens. Maybe next game.
There is nothing in professional sport that mirrors 3–on–3 competition in hockey with a game on the line. The strategy is so entirely different than during regulation play. With the skill amid the top three skaters on virtually every team, odd–man scoring opportunities are inevitable… and occasionally boundless. Goalies should be compensated with danger pay. The spectacle is unlike anything offered in basketball, baseball or football (imagine a quarterback and four receivers squaring off against five defenders, with no linemen or pass rush allowed).
It is, of course, gimmicky, but not to the level of the shootout that follows five minutes of scoreless extra time. If it were my call, I'd abolish the shootout and extend the 3–on–3 clash to 10 minutes, awarding each club an old–fashioned tie if neither scores. There's no way a team can go into a defensive shell with so much open ice.
I had my trusty NIKON with me on Monday night. Here are some of the images I snapped: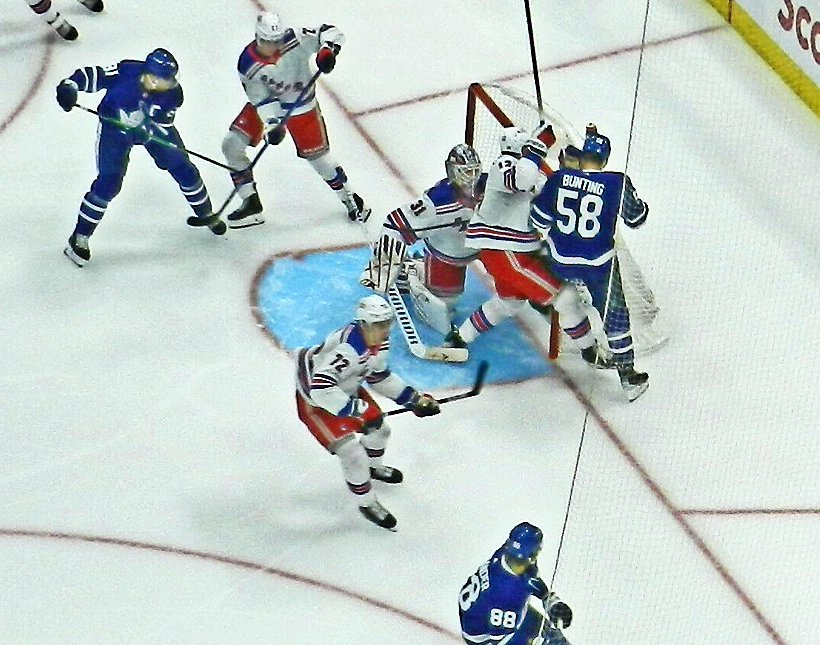 THE ONLY PUCK THAT ELUDED RANGERS GOALIE IGOR SHESTERKIN. AT 1:36 OF THE SECOND PERIOD, AS MICHAEL BUNTING WENT HARD TO THE NET FOR HIS SECOND TALLY AS A LEAF.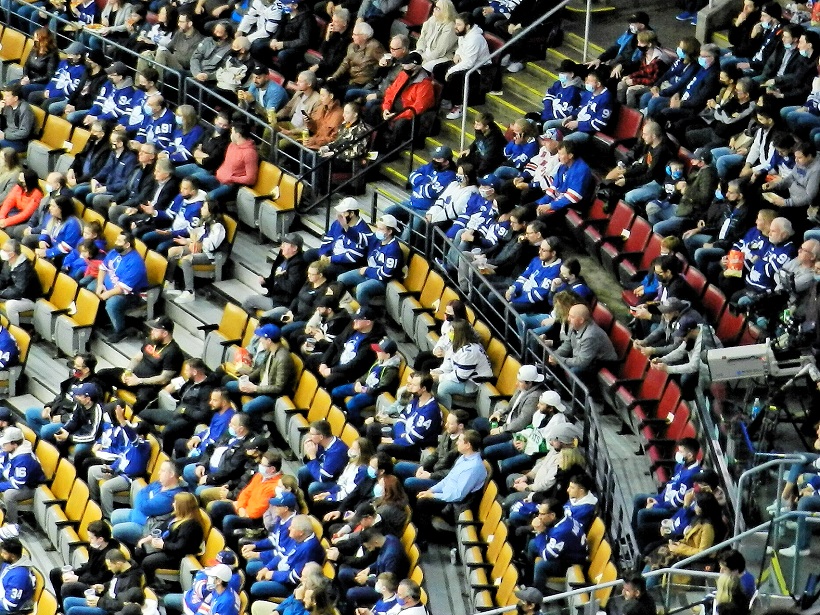 THE ANNOUNCED ATTENDANCE AT SCOTIABANK ARENA WAS 18,098… OR 96% OF CAPACITY. BUT…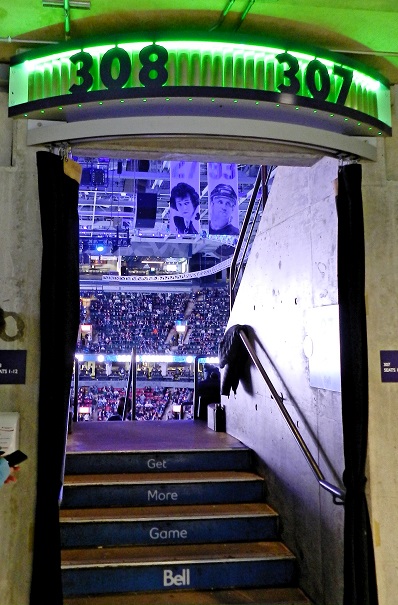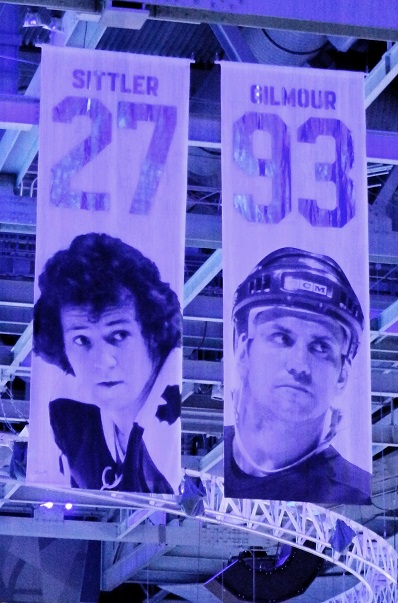 THE CAPTAINS: DARRYL AND DOUGIE… THROUGH THE ENTRANCE TO OUR SEATS IN SEC. 308.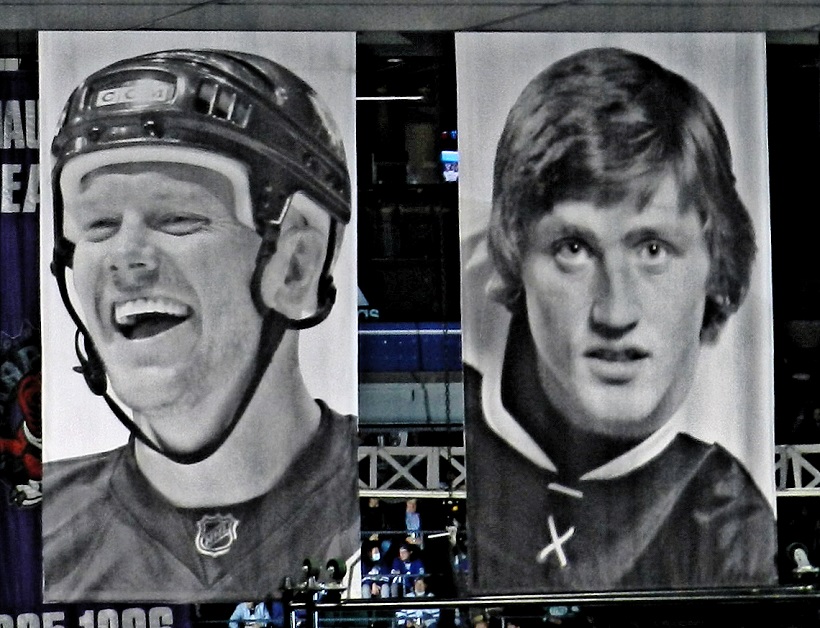 EVEN THE TWO HALL–OF–FAME SWEDES WERE IN OUR FACES: MATS AND BORJE.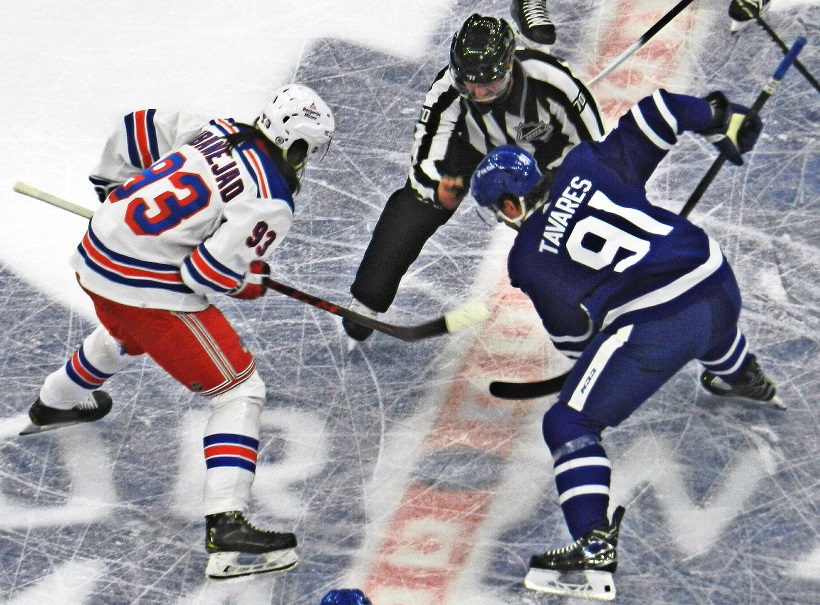 MIKA AND JOHNNY T. SQUARE OFF, FLANKING VETERAN NHL LINESMAN DEREK NANSEN.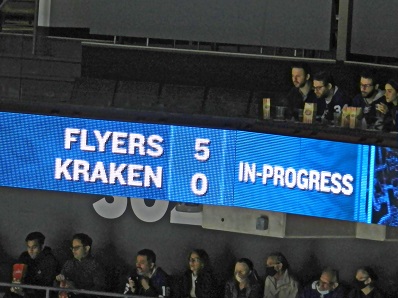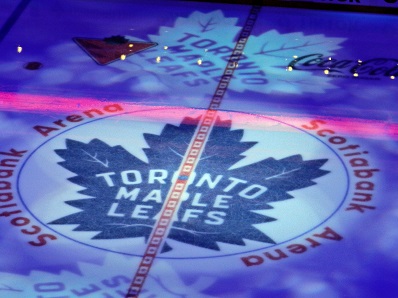 IT WAS A LONG NIGHT IN PHILLY FOR THE KRAKS… WHILE CENTER ICE REFLECTED BRILLIANTLY DURING INTERMISSION.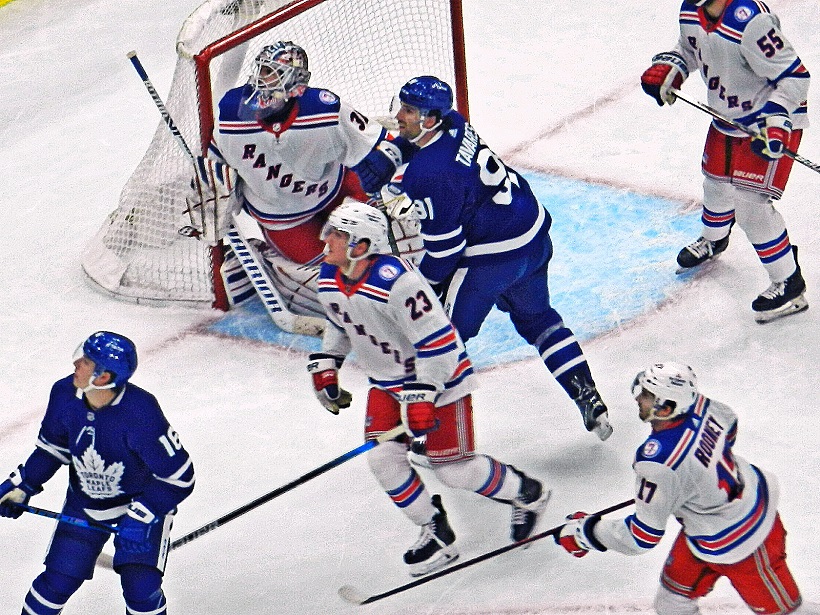 ALL PLAYERS WATCH THE PUCK SAIL INTO THE PROTECTIVE NETTING IN THE CORNER TO THE RIGHT OF THE RANGERS GOAL. MITCH MARNER AND JOHN TAVARES FOR THE MAPLE LEAFS.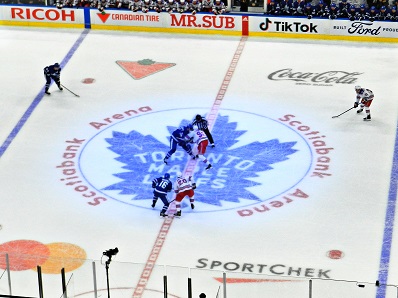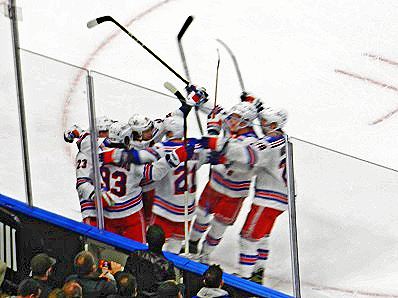 NOTHING QUITE LIKE 3–ON–3 OVERTIME IN THE NHL. THE VISITORS CELEBRATE ARTEMI PANARIN'S WINNING GOAL AT 3:48; THE SHOT CLOCK (BOTTOM–LEFT) SHOWING HOW THE LEAFS DOMINATED.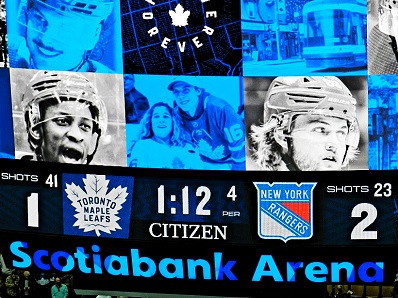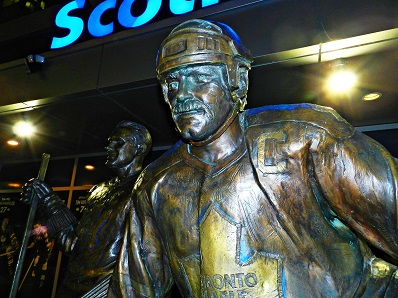 A VISIT TO LEGENDS ROW AFTERWARD. WENDEL CLARK (TOP–RIGHT); DARRYL SITTLER, BELOW.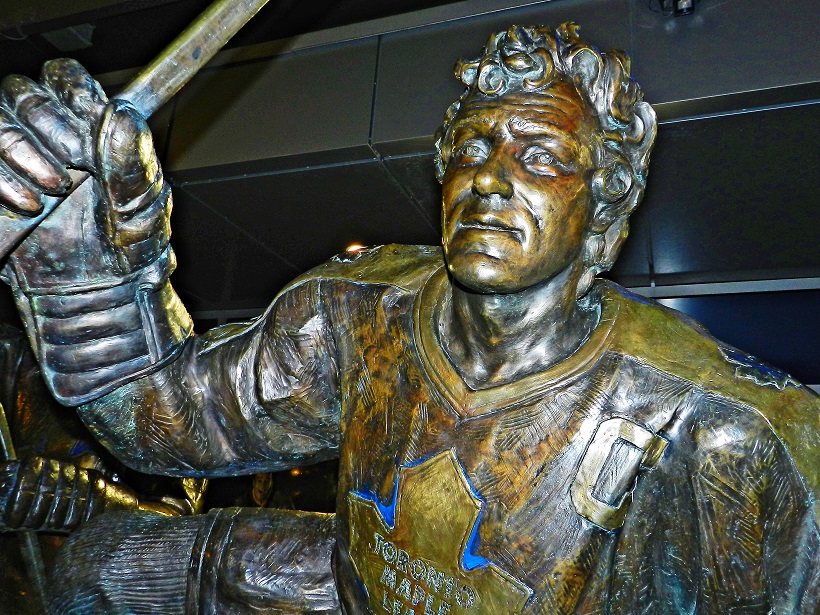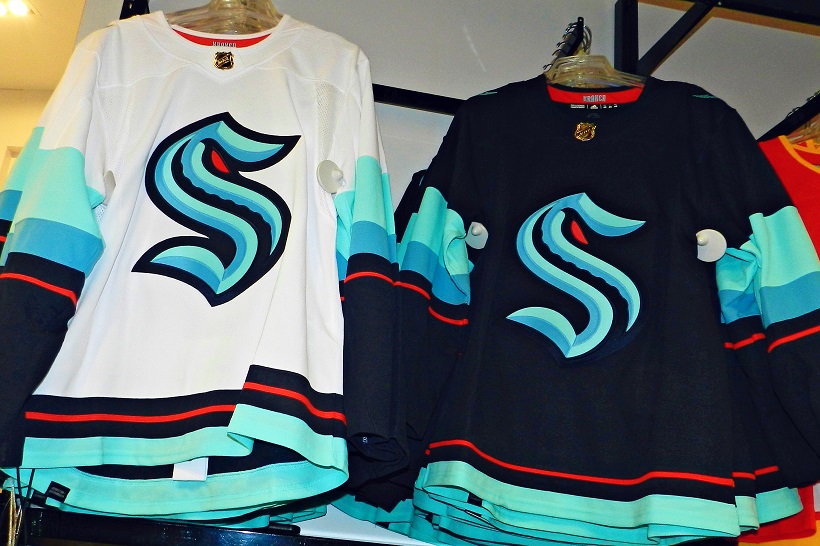 THE NHL'S 2021–22 EXPANSION JERSEYS AT REAL SPORTS APPAREL. SEATTLE'S ROAD–WHITE AND HOME–BLUE.
EMAIL: HOWARDLBERGER@GMAIL.COM