TORONTO (Oct. 23) — Be it the second week of the regular season, or a decisive playoff match with an historic foe, the Toronto Maple Leafs do not change. For whatever reason, the nucleus of this club has such limited desire to integrate skill and ambition. The mail–in against San Jose on Friday night was a virtual replay of Game 7 against Montreal in the playoffs last May — both matches at a nearly silent Scotiabank Arena. The deck chairs beneath John Tavares, Auston Matthews, William Nylander and Mitch Marner have been shuffled. But, everything important about the Maple Leafs remains frighteningly familiar. And, really, why should any of us be surprised?
The core of this club needs to be disassembled. As, ultimately, were the Brian Burke teams built around Phil Kessel and Dion Phaneuf. Both had skill, but lacked heart. The drivel from Brendan Shanahan early in June that "we'll get this done!" — combined with the mantra from Kyle Dubas about "believing in the group" — is a stall tactic. Until the bloated contracts run their course, the Leafs will remain in a quagmire. The analytic geniuses that evidently control the hockey club will chirp with glee about puck possession, zone starts, shot attempts, expected goals and other–such nonsense. None can provide a blueprint for the will to succeed. Which the players achieving all the gaudy advanced statistics sorely lack. And, which ultimately dictates prosperity or failure in the crunch.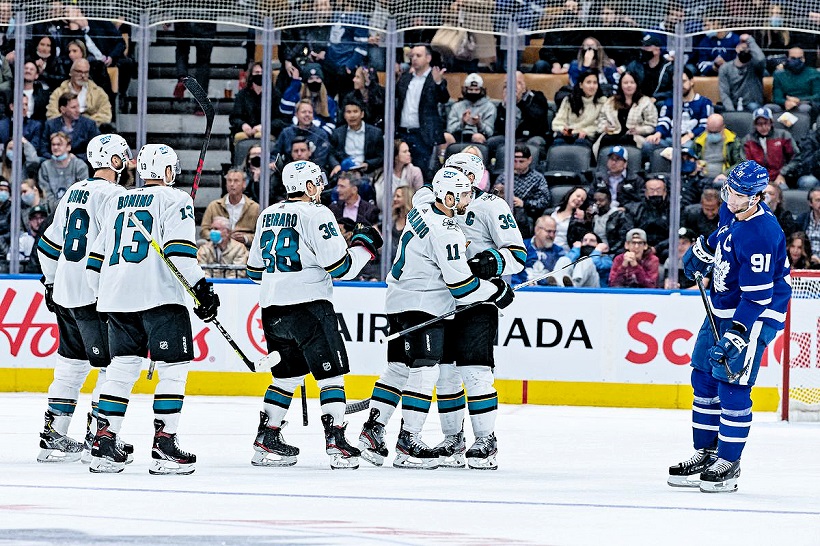 THE DEJECTION OF TORONTO MAPLE LEAFS CAPTAIN JOHN TAVARES DURING FRIDAY NIGHT'S SOMNOLENT, 5–3 LOSS TO SAN JOSE AT SCOTIABANK ARENA. JULIAN AVRAM SPORTSWIRE/GETTY IMAGES
Some will lean on the antiquated pretext that it's too early in the schedule to form a conclusion. Which may be true with individual achievement. As it pertains to collective accomplishment, this club should be drawn and quartered. It's an act that will not change, even if the assembled skill occasionally tantalizes. When it matters most, as in a playoff round, the passion to thrive and outwork the opposition will fatally subside. Of that you can be certain.
To appear unmotivated at the beginning of a season is inexcusable. Only once has this Toronto variant shown enthusiasm and flair at the outset: in October 2018, after adding Tavares, when the club won six of its first seven games, poring in 33 goals. Ultimately, a 20–8–1 record in 29 games proved deceptive. Increasingly ground into submission by coach Mike Babcock, the Leafs were a pedestrian 26–20–7 in their remaining starts. Boston, per the norm, prevailed in the opening playoff round. As with the $40 million core, today, there was refusal, then, to acknowledge the indisputable — broached to death in this corner — that Frederik Andersen would never backstop the Leafs to playoff glory. Especially with Babcock driving him into the pavement in the regular schedule.
Fast–forward three years and the analytic masterminds have convinced Sheldon Keefe that Jack Campbell — 29 years of age and with all of 90 National Hockey League appearances — is too weary in the third week of October to perform on consecutive nights. As such, the locals are treated to the inevitability of Michael Hutchinson… and two more points thrown away in the standings. Nothing about this group differs. Nothing apparently can.
MARNER SHOULD WATCH GILMOUR: During the last 20 Maple Leaf games, including seven against Montreal in the playoffs, Mitch Marner has four goals and 10 assists for 14 points. Not an embarrassing total — roughly a 60–point pace — but far beneath what Toronto's most–talented performer should accrue. I suspect those that have watched the Leafs since the beginning of the 1990's will tell you, honestly and accurately, that Marner and Doug Gilmour are equivalent of skill and nearly identical in body structure. Why, then, did Gilmour become the greatest player in Leafs history over a two–season span — compiling 238 points in 1992–93 and 1993–94? While, more importantly, adding 63 points in 39 playoff matches? It's a rhetorical question. And, it precludes analytics.

ICONIC IMAGE OF AN EMBATTLED DOUG GILMOUR DURING THE 1993 STANLEY CUP PLAYOFFS.
Gilmour had a burning desire to not only win, but to carry teammates on his scrawny back. During those two playoff years, No. 93 performed on ankles that had to be frozen by pain–killing injection.
Close your eyes and recall the vision of Gilmour, on one knee, re–tying his skate laces. Probably seven or eight times a night. Anything to help him prevail over the discomfort and pile up the points. Marner, to my knowledge, has no–such affliction. Someone should pull him aside and pop in a DVD of Gilmour's courageous efforts against Detroit, St Louis and Los Angeles in the spring of '93; Chicago, San Jose and Vancouver in '94. Perhaps such images will prove motivational. Something is holding back Marner. It's difficult to pinpoint… and Keefe seems powerless to unlock the mystery. Without question, the knives will increasingly sharpen amid fans and media. And, ultimately, the dam will break — either a flood of Marner points or unbearable upheaval that causes heads to roll.
The situation, it says here, cannot remain fluid indefinitely.
EMAIL: HOWARDLBERGER@GMAIL.COM