TORONTO (Oct. 20) — Mitch Marner has lost his confidence. Nick Ritchie is a bust. Michael Bunting can score 35 goals. "Soooooouup!" will win the Vezina Trophy. Which are not only the sentiments of those that follow the Maple Leafs after four whole games. But, evidently, the conclusions. All may become true. All may be wildly inaccurate. None can be established as a pattern after the first week of the National Hockey League schedule.
Marner remains the most–intriguing study. Forecast by many to become the first Toronto winger with 100 points in a season — Dave Andreychuk, skating alongside Doug Gilmour, holds the record of 99 in 1993–94 — Marner has but one assist in four games. Extrapolate… and Mitch finishes the 82–game schedule with no goals and 23 assists. Rather unlikely, wouldn't you say? Given that Sheldon Keefe deployed Marner with dissimilar linemates on virtually every shift in the second half of Monday's overtime loss to the Rangers, we cannot be certain with whom Marvelous Mitch will regularly skate. We can assume, however, that he and Auston Matthews will occupy much ice–time together. And, rather safely, that Marner will put up his customary total: in the range of 70 to 90 points.
Somewhat concerning for the Leafs is that Marner appears to be the same player that careened through that frightful, seven–game misadventure against Montreal. I was at Monday night's game and I watched Marner rather closely. Again, it seemed as if he were trying too hard to overcome the playoff yips that culminated with delay of game penalties for flipping the puck over the side glass. Mitch is an excellent skater and a deft stickhandler. Given that he's too slightly built to be THE man, he needs to settle down and allow for his skill to naturally evolve. There's no reason to carry a disproportionate role alongside Matthews, William Nylander and John Tavares. The points will come… as always. And, the playoff burden is too–far down the road to become an October albatross.
For a professional athlete, body language speaks volumes. And, Marner has developed a habit of throwing back his head whenever misfortune strikes. Keefe insisted after Monday's loss to New York that he's not even mildly concerned about his most–gifted forward. But, I'm still not certain that Keefe is the ideal mentor for No. 16, who needs to start enjoying the game once again. If you remember his breathtaking final two years of Junior hockey in London, it was Marner's beaming smile that defined him; flashed while accepting awards for individual accomplishment and, of course, the Memorial Cup. True, there's no comparing Junior to the NHL, but Marner undoubtedly has the skill to dominate at the highest level. He requires optimal coaching… and, yes, a bounce here or there. Which hasn't materialized since he opened the scoring for the Leafs in Game 1 of the 2019 playoff series against Boston. Who can forget how he confidently fooled Tuukka Rask on a shorthanded penalty shot at TD Garden and launched into a yelling strut afterward? That's the Mitch Marner the Maple Leafs desperately need.
His contract, with a cap–hit of $10,903,000 through the 2023–24 season, cannot and will not change. So, for fans and media to bellyache about the (so far) bloated arrangement is a waste of time and energy. Only the player can change. Mitch has the goods, without question, to become a force in the Stanley Cup tournament.
Whether he's playing for the right team — and skating for the right coach — is still a mystery.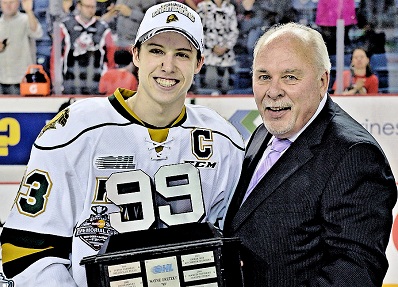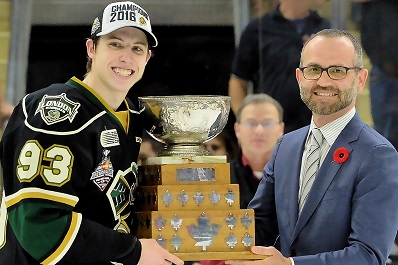 THE SMILE (ABOVE): MARNER RECEIVING TROPHIES FOR OUTSTANDING PLAY AS A LONDON KNIGHT. THE STRUT (BELOW): MITCH BEATING TUUKA RASK ON A PENALTY SHOT AT THE TD GARDEN.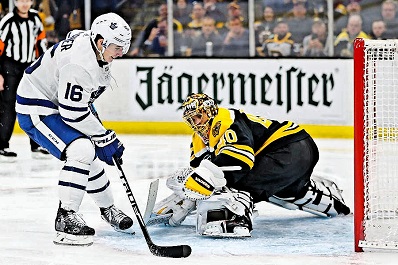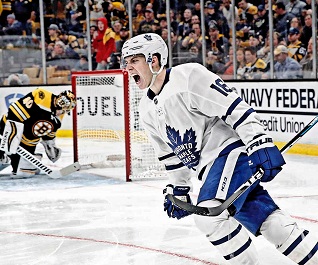 50 YEARS AGO TONIGHT
at Maple Leaf Gardens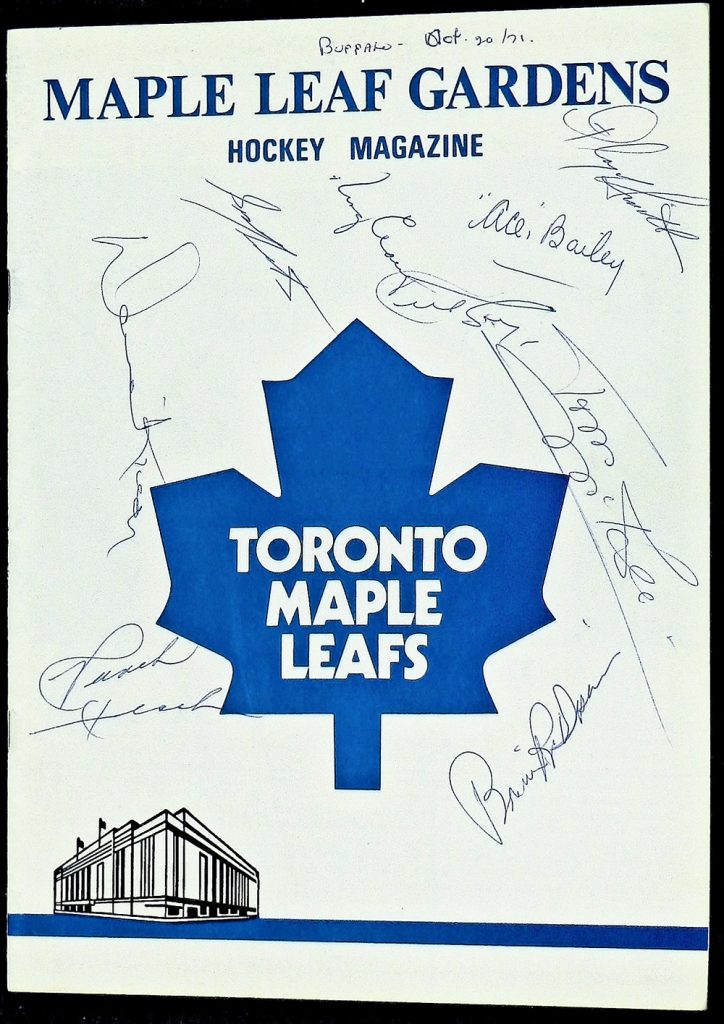 For the second year in a row, the Buffalo Sabres made their inaugural pilgrimage to Maple Leaf Gardens and laid a whipping on the home team. In their expansion season (Nov. 18, 1970), the Sabres presented Leafs' championship–winning coach Punch Imlach with one of his career highlights. Having been fired by Toronto owner Stafford Smythe immediately after an embarrassing, four–game playoff sweep by the Bruins in April 1969, Imlach joined Buffalo as its first general manager and coach. Receiving a loud, standing ovation upon his return to the Gardens — he guided the Leafs to their four Stanley Cup titles in the 1960's — Imlach watched in delirium as his upstart team manhandled his former team, 7–2. The following October, on this date 50 years ago, the Sabres demolished the Leafs by the same score at the Gardens. I attended the Buffalo–Toronto match of Oct. 20, 1971 and my program–insert (above) is marked by some rather legendary autographs. Included: Imlach (Mar. 15, 1918 – Dec. 1, 1987); Frank (King) Clancy (Feb. 25, 1902 – Nov. 8, 1986); David Keon (b. Mar. 22, 1940); Irvine (Ace) Bailey (July 3, 1903 – Apr. 7, 1992); Floyd Smith (b. May 16, 1935); Phil Goyette (b. Oct. 31, 1933); Guy Trottier (Apr. 1, 1941 – June 19, 2014); Brian R. Spencer (Sep. 3, 1949 – June 3, 1988) and CBC reporter Tom McKee (d. Nov. 7, 2012 at 76). Keon, Trottier and Spencer played for the Leafs; Smith and Goyette, the Sabres. Clancy (Toronto's vice–president) and Bailey (penalty timekeeper at home games) skated on the first Leafs Stanley Cup team, in 1931–32, the year Maple Leaf Gardens opened. McKee is best remembered as the on–field host for CBC telecasts in the expansion season of the Toronto Blue Jays, 1977 (working with Don Chevrier and Tony Kubek).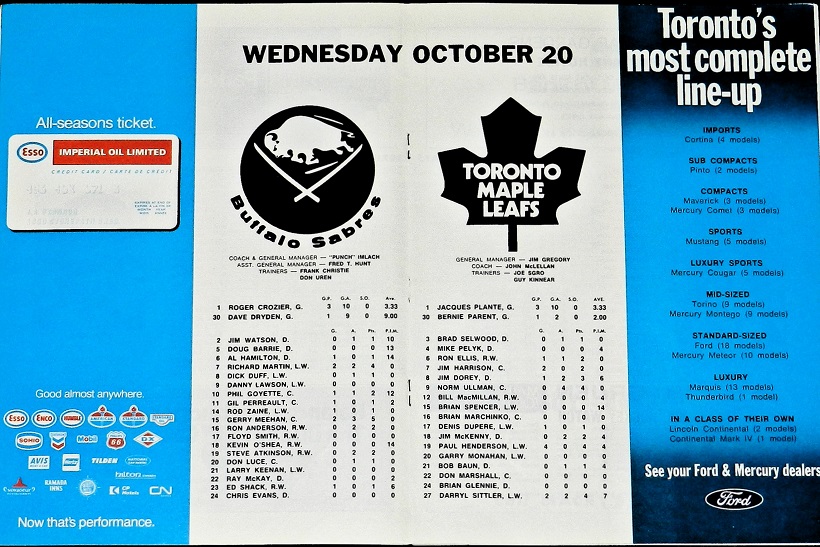 LEAFS/SABRES LINE–UPS (ABOVE AND BELOW) FROM 50 YEARS AGO TONIGHT AT THE GARDENS.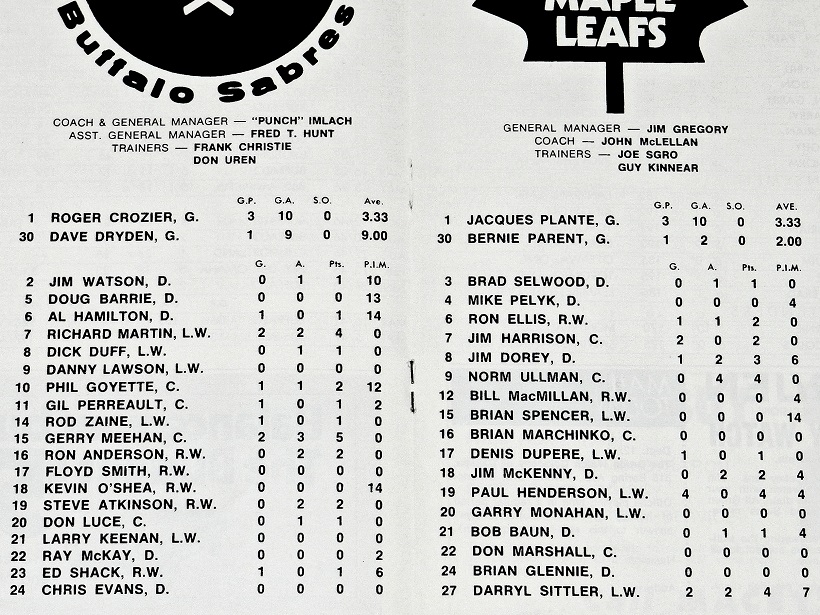 EMAIL: HOWARDLBERGER@GMAIL.COM