TORONTO (Oct. 29) — There are several irrefutable facts that surround Morgan Rielly's eight–year, $60 million contract extension with the Toronto Maple Leafs:
a) Rielly is, by many lengths, the best defenseman on the hockey club… and will remain so for the foreseeable future. The Leafs clearly understood they could not risk moving forward with Rasmus Sandin as their top blueliner. Though talented, Sandin is too slightly built to lead the team through four grueling playoff rounds.
b) By accepting an AAV (or cap–hit) of $7.5 million, Rielly left money on the table to stay in Toronto. He could have commanded $1 million more per season if choosing to become an unrestricted free agent next July.
c) The Leafs are pathologically addicted to the core of players that has failed them in the Stanley Cup tournament.
d) Rielly's extension spells the end of the Big 4 forwards after this season. Though the $81.5 million salary cap may rise marginally, no club in the National Hockey League will be able to carry five contracts worth $48,005,616.
e) Maple Leaf Sports and Entertainment evidently still trusts the management team that has assembled the gifted, yet scarcely competitive playoff group of the past half–decade. Inking Rielly to a "home team" discount proves some enduring value to Brendan Shanahan and Kyle Dubas. The on–ice results speak contrarily.
f) Rielly is among the most–respected Leafs players of the past generation. A truly good person.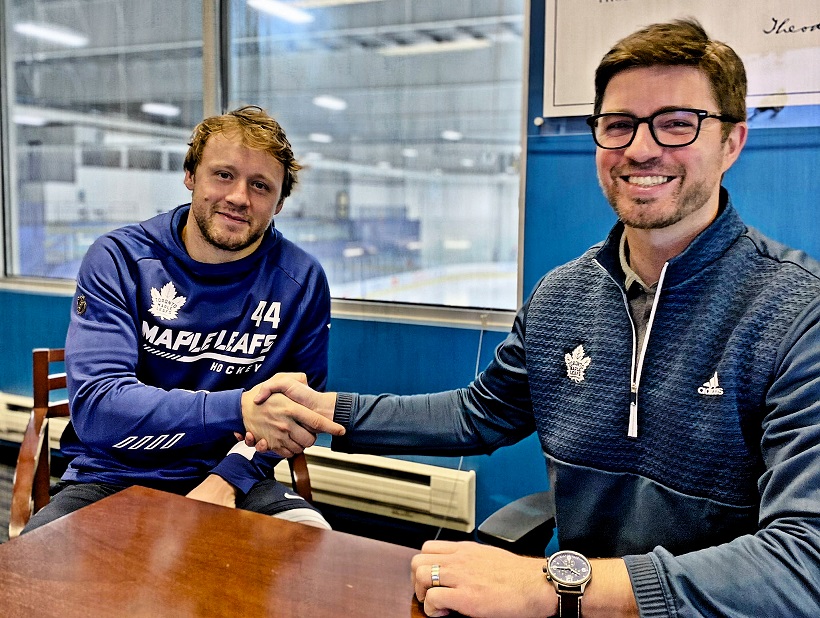 MORGAN RIELLY AND KYLE DUBAS ARE ALL SMILES (DUBAS A BIT MORE THAN RIELLY) AFTER THE DEFENSEMAN MADE A LONG–TERM COMMITMENT TO THE HOCKEY CLUB TODAY. LEAFS TWITTER FEED
The contract extension also confirms that the Leafs will move forward with a No. 1 defenseman that has only once been in the Norris Trophy conversation: after his brilliant, 72–point effort in the 2018–19 season. Rielly is a tier beneath the top blueliners of recent yore — Nicklas Lidstrom, Duncan Keith, Drew Doughty, Zdeno Chara, Erik Karlsson, Kris Letang, Brent Burns, Victor Hedman, Alex Pietrangelo, John Carlson, Cale Makar — but the Leafs possess no defenseman superior to the nine–year veteran. Norris Trophy types are routinely locked into career–spanning contracts. Among the potential free agents in the next two summers (John Klingberg, Hampus Lindholm, Josh Manson, Olli Maatta, Calvin De Haan, P.K. Subban, Rasmus Ristolainen, Kris Letang), only Klingberg, of Dallas, ranks with Rielly. The others are either older and past their prime, or not in Rielly's class. So, the Maple Leafs had no alternative but to secure their top blueliner and prevent him from hitting the open market.
Now, the real story begins to emerge. With John Tavares unmovable for another three seasons, which player among Auston Matthews, Mitch Marner and William Nylander will be offloaded to accommodate Rielly's pact?
Nylander's salary ($6,962,366) is the least–confining and he provides the best value for the dollar. Matthews, of course, ranks among the top snipers in Maple Leafs history, but hasn't proven worthy in Stanley Cup toil. Poised above the Leafs, like a giant axe, is that Matthews can walk as an unrestricted free agent after the 2023–24 schedule and will command a full, no–movement clause beginning that season. If words spreads, internally, that Matthews is leaning toward exploring the market — with Arizona and home town of Scottsdale a possible destination — the Leafs may have no choice but to trade his $11,640,250 contract. There won't be much appetite, for obvious reasons, to make such a move, but the salary cap universe necessitates tough decisions.
A poll of Leafs Nation would, at this time, clearly favor the disburdening of Marner's $10,903,000 contract that runs through the 2024–25 season. But, rival general managers aren't blind. Until (or if) Marner begins to flash the skill and creativity that somehow vanished with the playoff debacle against Montreal — and, more importantly, carries over top performance into the Stanley Cup tournament — it will be nearly impossible for Toronto to move him.
The Leafs may lack for championships. But, never for intrigue.
EMAIL: HOWARDLBERGER@GMAIL.COM