TORONTO (Oct. 13) — It was another wallop of truth from the only Toronto sports columnist that gives us the goods, completely unvarnished. In a cheeky preview of Canadian teams heading into the 2021–22 National Hockey League season, Cathal Kelly of the Globe and Mail wrote this about the playoff–challenged locals:
If Groundhog Day were a sports franchise instead of a film, it would be the Toronto Maple Leafs. What's changed going into 2021–22? Nothing. Nothing has changed for years. Same core. Same problems. Same expectations. Same fears. Same unearned confidence. Same resignation. [The Leafs] money is sunk into four guys. Those four guys continue trying to convince people that they don't know how to win. People will not believe them. So, each year, they show them. What happens when the Leafs find some highly creative way to blow it in the first round again? Nothing. We start over, and we keep doing that until the big contracts near their expiry dates and everyone moves cities. Call it cynical. Call it sarcastic. Call it borderline evil. But, don't call it inaccurate.
With respect to the colloquial definition of insanity, the Maple Leafs forever come through. Stay the same and expect a different result. The story is now a half–decade in the making. As Kelly noted, this is largely the result of bloated salaries and cap consumption. But, also, an unwillingness by management to be daring and creative. It's too easy to stay the same here in the Big Smoke, where resilience of the fan base is second to none. Yes, there are dollops of apprehension after the playoff calamity against Montreal last May. Such sentiment will accompany all notable achievements (team and personal) during the 82–game regular schedule — "yeah, but let's wait until the playoffs." Still, the renewal of passion and hope in Leafs Nation is reflexive and inexhaustible. It never wanes.
Can the narrative shift? Of course it can — in either direction.
It is not uncommon today, for example, to see the Boston Red Sox win the World Series. The baseball club has done so four times in the past 20 years and will again play for the American League championship this season. But, sports fans in Beantown had long given up on celebrating another title during the interminable World Series drought of 85 years (1918–2003). Even more resigned were fans of the Chicago Cubs (1908–2016). And, the White Sox (1917–2005). In hockey, the New York Rangers have lifted the Stanley Cup just once in the past 81 years. But, the patrons of Madison Square Garden are still dining on that 1994 championship against Vancouver that ended a 54–year famine. So, sure the Leafs can venture down a similar path. To qualify, however, they first need to make the playoffs in the tough Atlantic Division. This isn't the 56–game all–Canadian waltz of a year ago. Back in the picture, as opponents, are division rivals Tampa Bay, Florida and Boston; Conference foes Pittsburgh, Carolina, Washington and the Islanders. There are two games against such Western contenders as Colorado, Vegas, Minnesota and St. Louis. So, the path to the Stanley Cup tournament will undoubtedly be tougher.

IT BEGINS TONIGHT AS IT ENDED 4½ MONTHS AGO — WITH THE HABS IN TOWN.
Injuries, as always, will play a key role. As the Leafs begin their schedule tonight against Montreal, it isn't particularly advantageous to have a capital 'M' in your name. Auston Matthews, Ilya Mikhayev and (perhaps) Mitch Marner are sidelined. Which doesn't auger well for Morgan Rielly, Petr Mrazek, Jake Muzzin or Michael Bunting.
That Matthews underwent late–summer wrist surgery could be underplayed. There are few more–critical regions of anatomy for a goal scorer. Should the reigning Maurice Richard Trophy winner lose a nanosecond of timing or strength, the Maple Leafs will feel his pain. Marner has been magical in the regular season; the club's most–gifted performer. But, we cannot overstate how utterly dreadful he appeared against Montreal in the aborted playoff round. Clearly, there were moments when he tried too hard to overcome the yips that resulted in puck souvenirs for patrons of the Bell Centre. That he appeared standoffish and vexed in his post–playoff gathering with reporters was, to me, a good omen. Young Mitch has too much raw ability to stay quiet forever in Stanley Cup toil.
The Leafs are firmly established with John Tavares as captain. He is undoubtedly in the mold of such franchise leaders as Syl Apps, Ted Kennedy, George Armstrong, Darryl Sittler, Doug Gilmour and Mats Sundin. But, neither is he the youthful Johnny T. of his Islander years. The 82–game schedule is routinely grinding for players past their 30th birthday. Precisely how much we can expect from Tavares remains to be seen. What we know is he'll never provide anything but maximum effort on the ice… and dignity while enacting the role of team spokesman.
Goaltending, to begin the season, is enigmatic. The plan appears to be for Mrazek and incumbent Jack Campbell to split the workload. But, what happens if one of them gets hot? We know what will happen if neither embarks on a roll: Toronto will miss the playoffs for the first time since 2016. Speaking of the Cup tournament, the big question, again, is whether the Leafs can advance beyond the opening round for the first time since 2004. For my money, a much–bigger question is: Are the Maple Leafs better than Tampa Bay? If not, winning a series will be immaterial. In order to make the Stanley Cup semifinals, the Leafs will have to be clear of the two–time defending champion. Even if a first–round triumph will set car horns ablaze in this city — for a mere 25% achievement.
My crystal ball shows the Leafs making the playoffs as either a Top 3 in the Atlantic or a wild card.
Beyond that? Well… you know the story.
"PERSECUTED TO DEATH BY HIS ENEMIES"
I can vividly remember the excitement of 50 years ago this morning as I sat in my Grade 7 class at Dufferin Heights Junior High School. We had tickets to that night's home opener at Maple Leaf Gardens between Toronto and Detroit. Just as vividly, I recall the abject disappointment of finding out, sometime later in the day, that the game had been postponed over the death of Leafs' owner Stafford Smythe, who succumbed to a bleeding stomach ulcer at 50 years of age. Smythe and fellow executive Harold Ballard had been convicted of fraud and misappropriation of Gardens' funds. Each faced lengthy jail terms. Smythe, it's been said, drank himself to death before incurring the humility of a prison sentence. "See Dad," he assured his father, Leafs founder Conn Smythe as he lay, dying, a half–century ago this morning, "I told you they would never put a Smythe in jail."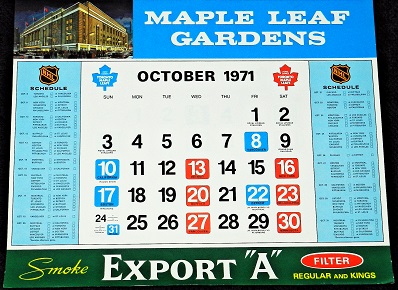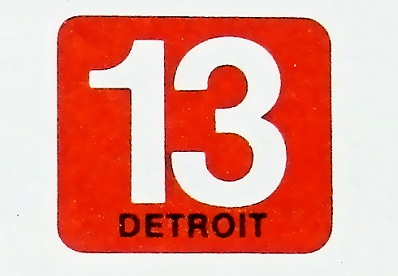 THE LEAFS WERE SCHEDULED TO BEGIN THE HOME PORTION OF THEIR 1971–72 SEASON AGAINST THE DETROIT RED WINGS 50 YEARS AGO TONIGHT. BUT, THE GAME WAS POSTONED UPON THE DEATH OF OWNER STAFFORD SMYTHE AND RE–SCHEDULED TO NOV. 1 AT MAPLE LEAF GARDENS.
Ballard, devoid of any such modesty, did serve a portion of his incarceration at Millhaven Penitentiary near Kingston, Ont. before starting his disastrous term as owner of the Maple Leafs. His enduring pettiness, frugality and insistence on meddling in all hockey matters drove the franchise into the ground during the "lost decade of the 1980's." Only when he died, on Apr. 11, 1990, did the club begin to recover. Cliff Fletcher was hired as president and general manager. Fletcher brought in Pat Burns to coach and traded with his former team, the Calgary Flames, for Doug Gilmour. Just more than three years after Ballard's demise, the Leafs were in the Stanley Cup semifinals, losing in seven games to Wayne Gretzky and the Los Angeles Kings.
Smythe's gravestone read: "He was dearly loved by his wife, children, and many friends. He was persecuted to death by his enemies. Now he sleeps peacefully in the quiet north country that loved him for the person he was."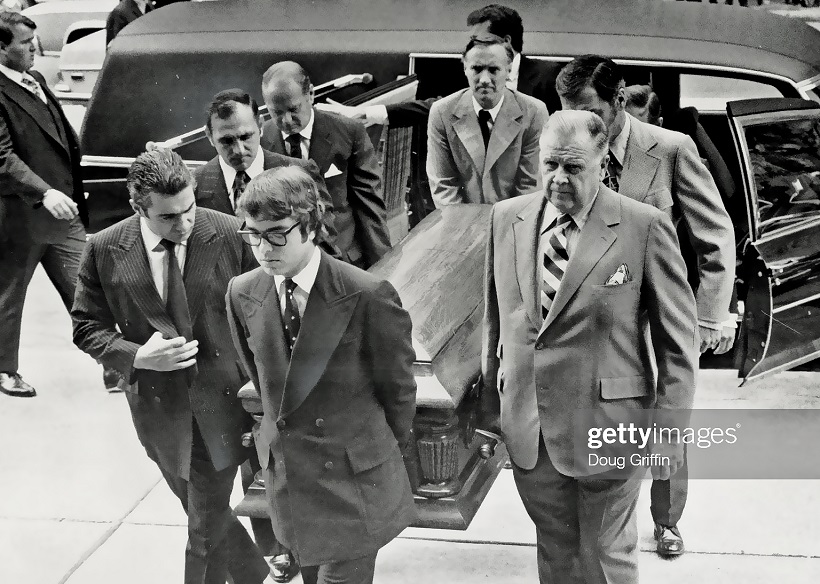 STAFFORD SMYTHE'S CASKET IS CARRIED FROM A HEARSE INTO A TORONTO CHURCH ON OCT. 14, 1971. SMYTHE'S SON, TOMMY, IS AT THE FRONT FLANKED BY MAPLE LEAFS GENERAL MANAGER JIM GREGORY (LEFT) AND FELLOW GARDENS' EXECUTIVE HAROLD BALLARD (RIGHT).
EMAIL: HOWARDLBERGER@GMAIL.COM