TORONTO (Oct. 24) — If you believe that 54½ years is not sufficient time for the Toronto Maple Leafs to launch into crisis mode, stop reading this blog right now….
Okay, thanks for hanging with me. I figured you might.
Next Tuesday, Nov. 2, will actually mark 54 years and six months since George Armstrong lifted the Stanley Cup at Maple Leaf Gardens, denoting the most–recent occasion in which the Leafs played for, and won, the National Hockey League title. Ownership and management decisions regarding the current team cannot, of course, be governed by the NHL's longest championship drought. But, neither should the interminable famine be dismissed.
When a club performs as shoddily as the Maple Leafs did on Saturday night — appearing, for all of Canada to see, completely disengaged and apathetic in only the second week of a new season — long–term objectives are relevant. To wit: Can this club, and those that call the shots, act as even a springboard to playoff accomplishment? As I write these words, the answer is an emphatic NO. Not even close. True, it's "only" Oct. 24, but you can pick a date — any date — in the formation of the current roster and recognize futility. The lone outstanding question concerns an individual, not yet identified, who can somehow unlock the latent desire to achieve. If, in fact, it exists.
For, we all know that the $40 million nucleus of John Tavares, Auston Matthews, Mitch Marner and William Nylander is rather entrenched in a flat, salary cap environment. "Blowing up" the hockey club and starting over, as many fans of the Blue and White so wistfully crave, is therefore unlikely. With strong gusts toward impossible.
There are, however, no salary restrictions among those not in uniform. It's the reason Maple Leaf Sports and Entertainment will be paying Mike Babcock until he's 94 years old. Or, thereabout. The Leafs, to their credit, have invested in a multidimensional hockey office — big on youth and myriad elements that are unrelated to ambition.
What lays beneath the chest wall cannot be measured with numbers. To this point, and despite a good statistical mark (64–32–13), Sheldon Keefe has been unable to ignite the nuclear furnace of the Big 4. The Leafs, of course, have changed coaches since 1969 the way a diva changes shoes. And, there may not be a man alive who can coerce the blue–and–white moneymakers into strapping on their work boots. At the moment, Keefe appears powerless to unlock whatever is repressing Mitch Marner. Neither could he compel the Maple Leafs to prevail over Columbus in the qualifying playoff round of August 2020. Nor to slam the door on the reeling Canadiens in the opening series last spring. It may not be time, yet, for the club to hire coach No. 22 since 1967. But, rest assured that Keefe will not survive many more nights such as Saturday in Steeltown (gory Toronto Sun headlines, below).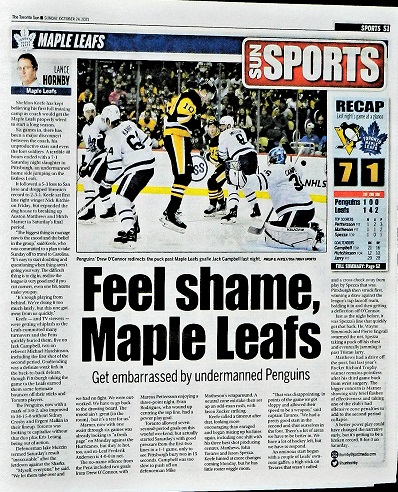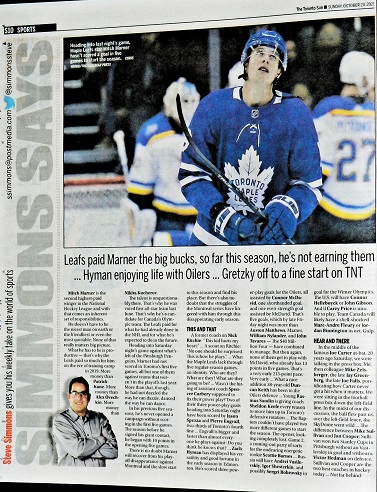 There is, undeniably, a man with a Stanley Cup ring and 673 regular–season victories (13th, all time) that will cast enormous shade over all coaches who founder this season. For the moment, John Tortorella is biding time as a TV analyst for ESPN. At some point, likely before the regular schedule ends in late–April, Torts will return to his customary spot behind the bench. Of which club we cannot even speculate. But, lighting a fire is hardly foreign to Tortorella. The man was born carrying fuel and matches. He is the most–combustible figure in modern NHL annals and his act may be disruptive here in the Big Smoke, as with Brian Burke in the general manager's chair. Neither may he suit the corporate image of MLSE. But, Tortorella knows how to win hockey games. The coaches listed above him in the victory column are Scotty Bowman, Joel Quenneville*, Barry Trotz*, Ken Hitchcock, Al Arbour, Paul Maurice*, Lindy Ruff*, Mike Babcock, Dick Irvin, Pat Quinn and Peter Laviolette* (*still active in the NHL).
Colleagues surpassed include Mike Keenan, Darryl Sutter*, Ron Wilson, Pat Burns and Glen Sather.
Tortorella won the 2004 Stanley Cup as coach of the Tampa Bay Lightning. His resume far exceeds that of Keefe… and the Maple Leafs obviously require a spark while the Big 4 munch on half the cap figure.
Entertainment value in the local hockey scene would erupt with Tortorella. Not likely as a generation ago amid such–outspoken media wags as Al Strachan, Damien Cox, Jim Hunt, Steve Simmons, Dave Perkins and (perhaps) yours truly. Though Simmons remains part of the mix, the Toronto hockey media, today, is largely conservative, dotted with reporters that are paid by the same company as the Maple Leaf players. It's a vastly different era and Torts may have difficulty picking a heavyweight clash… as, legendarily, with New York Post columnist Larry Brooks during his stint (2009–13) guiding the Rangers. He would, nonetheless, be a breath of fresh air given that not a single person wearing the Leafs jersey is even vaguely quotable. Matthews and Marner are cliché mongers while captain Tavares, though friendly and always respectable, withholds spirited commentary. I was fortunate during my years covering the Leafs for The FAN–590 to be among such–impassioned figures as Pat Burns, Jamie Macoun, Bill Watters, Darcy Tucker, Tie Domi, Wade Belak, Pat Quinn, Ron Wilson and Brian Burke. It wasn't always fun and games, but we rarely lacked for a sound–byte. Such is not the case today.

It is highly doubtful that MLSE would allow GM Kyle Dubas to make another coaching switch. If the warlords are induced into change, they'll likely dynamite the entire hockey operation. That's why we cannot expect anything profound, off the ice, to be imminent. But, make no mistake: the forbearance of the big boys at Rogers and Bell is not immeasurable. Rogers, last week, jettisoned the son of its founding father. It will hardly squirm with discomfort if encountering change in the hockey wing of MLSE. The mail–ins this weekend against San Jose and Pittsburgh were ghastly and all–too–familiar. Something is going to give with the Maple Leafs — likely sooner than later.
EMAIL: HOWARDLBERGER@GMAIL.COM