TORONTO (Nov. 17) — Though it is always futile to compare eras in the National Hockey League, Jack Campbell has moved into unparalleled company among the best modern–era goalies for the Toronto Maple Leafs. Since replacing Frederik Andersen as the club's No. 1 stopper last season, Campbell's record — in 35 games — is an astonishing 26–6–3 for a .786 win–percentage. Which includes a 3–0 shutout of Nashville on Tuesday night. Both statistics are considerably better than the first 35 games recorded as a starter by the following Leafs goalies:
JOHNNY BOWER…  1959–60  16–12–7  .557
MIKE PALMATEER… 1976–77  20–12–3  .614
FELIX POTVIN… 1992–93  19–11–5  .614
CURTIS JOSEPH… 1998–99  18–12–5  .586
ED BELFOUR… 2002–03  20–12–3  .614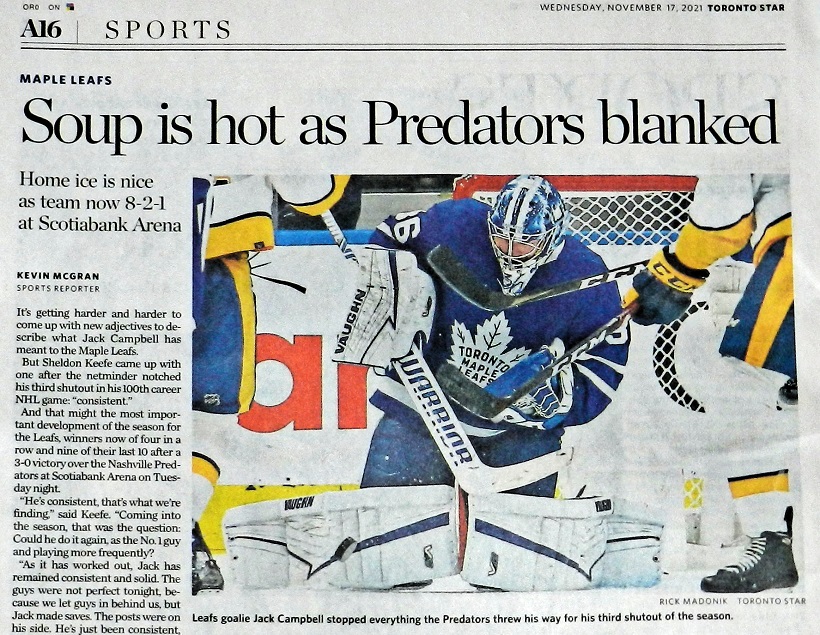 For the record, Bower won four Stanley Cup titles under Punch Imlach in the 1960's. Palmateer, Potvin and Joseph are the only Leaf stoppers to play in the Stanley Cup semifinals since the club's last championship, in 1967. And, Belfour was Toronto's No. 1 goalie, under Pat Quinn, when the franchise recorded its first 100–point season (103 in 2003–04). That was also the season in which a Leafs netminder last recorded double–digits in shutouts: Belfour had 10. Campbell has three shutouts in his first 13 starts of the current schedule (Jacob Markstrom of Calgary leads with four). Going into Wednesday night's games, Campbell topped all NHL goalies in average (1.68) and save–percentage (.943). He was tied for most wins (9) with Andersen (Carolina), John Gibson (Anaheim) and Mikko Koskinen (Edmonton). All Campbell lacks is a lengthy NHL resume. The blanking of the Predators, at Scotiabank Arena, marked only his 100th appearance in goal, having made his big–league debut with Dallas in 2013–14. Of utmost significance, of course, is that Smilin' Jack has appeared in only seven playoff matches — those against Montreal in the first–round defeat last May. To begin cementing a true legacy, Campbell will need to backstop the Maple Leafs beyond the opening round for the first time since Belfour, in 2004. To this point of the 2021–22 schedule, however, Campbell is the best goalie in the NHL. And, the foremost reason that the Leafs have rebounded from a 2–4–1 stumble out of the gate to a 9–1–0 ascension in their past 10 games.
HONORING PHANEUF WAS OVER THE TOP
Though doing something nice for a good person never requires explanation, the pre–game ceremony honoring Dion Phaneuf's career with the Maple Leafs was rather puzzling. Not necessarily from the team's perspective; don't be surprised if the Leafs offer a video tribute to Jared McCann when Seattle makes its first visit to SBA on Mar. 8 (in case you aren't aware, McCann was a Leaf from July 17–21 of this year, after a trade with Pittsburgh and an expansion draft selection by the Kraken). With nothing to celebrate in Stanley Cup toil since '04, the club has taken to feting ex players, knowing the home crowd would stand and applaud a rooster wearing blue and white. Several of those honored with video tributes and puck–drop ceremonies impacted the club rather minimally.
As, quite frankly, did Phaneuf.
Though he captained the Maple Leafs from February 2010 to November 2016, when dealt to Ottawa, the club appeared in the playoffs only once: after the 48–game schedule of January to April 2013 that followed an owners' lockout. And, no Toronto hockey fan needs a reminder of how that opening–round series against Boston concluded. Otherwise, Phaneuf will be remembered as a very good teammate with a superb, if occasionally inaccurate, shot from the point (which the current team sorely lacks); an excellent open–ice body checker, yet a defenseman that made generally sloppy decisions with the puck and that oversaw the so–called "salute–gate" against Tampa Bay on Nov. 20, 2014 (the club did not raise sticks toward the fans at Air Canada Centre after a 5–2 victory, evidently sore over criticism from a 9–2 home–ice debacle, two nights earlier, against Nashville).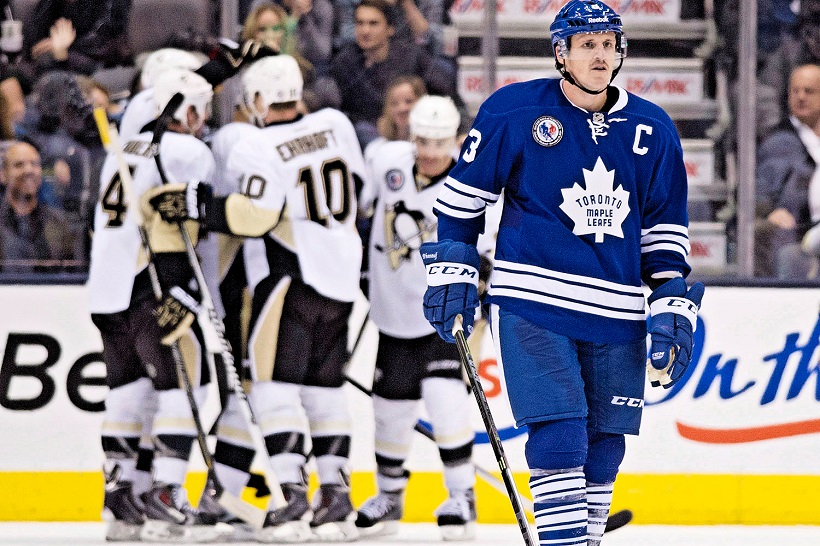 Above all else, and terribly underplayed by Leaf observers, was the manner in which Phaneuf, Phil Kessel and the entire team quit on interim coach Peter Horachek in the second half of that 2014–15 season. This occurred after Horachek, an assistant coach, replaced Randy Carlyle behind the bench. Though the Leafs put together a 10–1–1 hot streak under Carlyle between Nov. 20 and Dec. 16, they slumped to 2–8–0 in their next 10 matches. Carlyle was fired by general manager David Nonis after a 6–2 loss at home to Washington (Jan. 7). Toronto defeated Columbus, 5–2, in Horachek's first game… and then packed it in for the season. The Leafs went 0–11–1 between Jan. 12 and Feb. 6 and prevailed only three times in regulation between Jan. 12 and Mar. 26, a span of 24 games.
Almost never, in franchise history, has a captain presided over such a shameful exhibit.
PLAY IT AGAIN, BRENDAN: The Maple Leafs' franchise mantra — unproven over five disheartening playoff years — came alive again this week through the unconvincing lips of president Brendan Shanahan. Echoing his dubious "we will get this done" avowal after the fold–up against the Canadiens in May, Shanahan offered baseless platitudes to those attending Brian Burke's Prime Time Sports Management Conference on Monday.
"I think we've got a great coach. I think we've got a great general manager. And I think the whole staff is really committed to [winning]," said Shanahan, who almost never makes himself available to reporters. "We've got fantastic players who care a lot. They want to be the ones. Not everybody wants to play in a big city where there's a lot of pressure, but our guys want to be the ones to rewrite history here in Toronto. They understand it has to happen in the playoffs. It hasn't happened yet, but I do really believe in them all that we're going to get it done. When I look at some of these players we have — a good mix of veterans, young guys, many that we drafted and brought up — to me, it's about going through adverse moments so you are stronger when the playoffs do come."
The only element missing from Shanahan's monologue was evidence.
There is absolutely none, after a half–decade, that the nucleus of skaters put together under his watch — William Nylander, Mitch Marner, Auston Matthews, John Tavares and Morgan Rielly — can achieve anything of note in the Stanley Cup tournament. "Ownership has been fantastically supportive," added the Leafs president, perhaps forebodingly in the past–tense. You'd have trouble finding any person to bet a plug–nickel on the futures of Kyle Dubas, Sheldon Keefe and the entire coaching staff should the Leafs bow out in the opening (or qualifying) playoff round for a sixth time in as many years. Even Shanahan may not be insulated from such a result.   
AFTER THE LEAFS–RANGERS MEGA SWAP…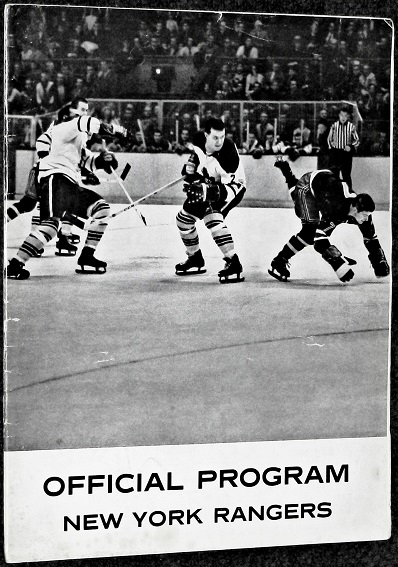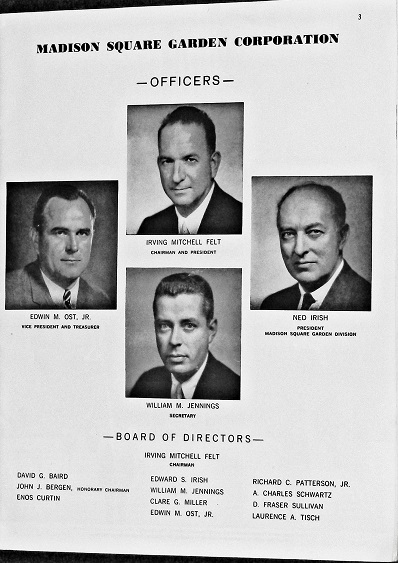 Among the items I added to my collection on Saturday at the Toronto Sport Card & Memorabilia Expo was this program from a Maple Leafs–New York game at the old Madison Square Garden on Feb. 23, 1964. Just more than 24 hours earlier, as the teams were preparing to face off at Maple Leaf Gardens, general managers Punch Imlach (Toronto) and Muzz Patrick (New York) pulled off a startling, seven–player trade that remains among the most–compelling in Leafs franchise history. Imlach dealt Bob Nevin, Dick Duff, Arnie Brown, Rod Seiling and Bill Collins to the Rangers for future Hall–of–Fame winger Andy Bathgate and utility forward Don McKenney.
The players merely switched dressing rooms for that Saturday night encounter (Toronto won, 5–2).
The Leafs were coming off consecutive Stanley Cup titles in which Nevin and Duff had played considerable roles. But, Imlach felt his club needed some additional firepower… and Bathgate, therefore, was the key man in the mega–swap. He had recorded seasons of 40, 35, 30, 29, 28, 27 and 26 goals in New York — elite numbers during the six–team era. Toronto famously escaped elimination in Game 6 of the 1964 Stanley Cup final at Olympia Stadium in Detroit when defenseman Bob Baun scored in overtime while playing on a fractured foot. Bathgate then provided the only goal the Leafs would need (at 3:04 of the first period) in a 4–0 whitewash of the Red Wings, two nights later, at the Gardens. Toronto captured its third consecutive championship.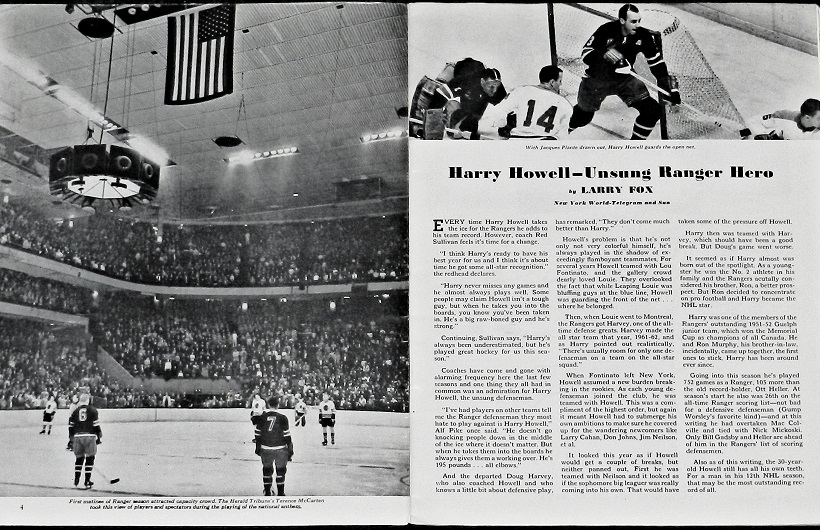 A GOOD VIEW IN THE PROGRAM (TOP–LEFT) OF THE OLD MADISON SQUARE GARDEN, ON 8th AVE. BETWEEN 49th AND 50th STREETS. IT OPENED IN 1925 AND CLOSED TO HOCKEY ON FEB. 11, 1968 (A 3–3 TIE BETWEEN THE RANGERS AND DETROIT). IT WAS BUILT, PRIMARILY, FOR BOXING BUT BECAME THE LONG–TIME HOME OF THE RANGERS AND NBA NEW YORK KNICKS.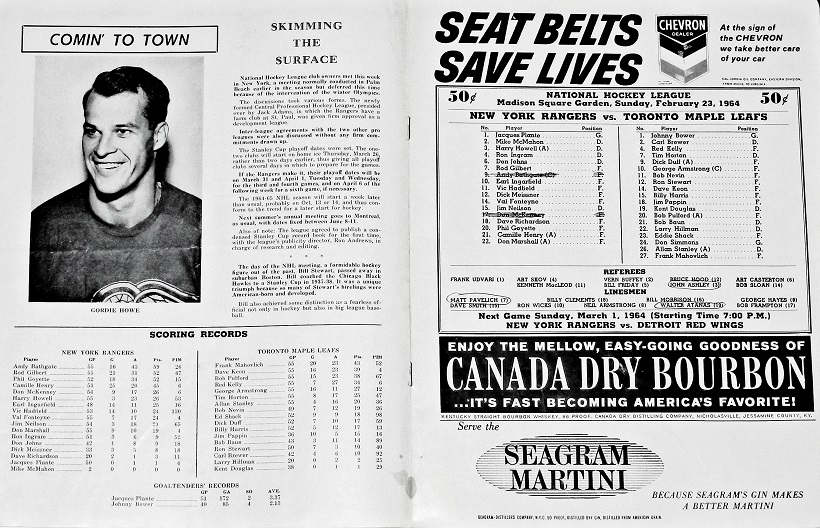 THE PROGRAM HAD BEEN PUBLISHED PRIOR TO THE BIG TRADE THE PREVIOUS DAY. AS SUCH, ALL PLAYERS IN THE NHL AT THE TIME (BATHGATE, McKENNEY, DUFF AND NEVIN) WERE STILL LISTED (BELOW) WITH THEIR FORMER TEAM. WHOEVER BOUGHT THE PROGRAM SCRATCHED BATHGATE AND McKENNEY FROM THE RANGERS BUT LEFT THE TWO EX–LEAFS UNTOUCHED. TORONTO AGAIN DEFEATED NEW YORK, 4–3. THE TRADED PLAYERS FACTORED IN A PAIR OF SECOND–PERIOD GOALS. NEVIN OPENED THE SCORING FOR THE RANGERS (AT 2:34) WITH ASSISTS FROM JIM NEILSON AND DUFF. McKENNEY SCORED A POWERPLAY GOAL (AT 13:36) FROM GEORGE ARMSTRONG AND BATHGATE. REFEREE JOHN ASHLEY PENALIZED McKENNEY FOR HOOKING AT 13:03 OF THE THIRD PERIOD. JOHNNY BOWER (TORONTO) AND JACQUES PLANTE (NEW YORK) WERE THE GOALIES.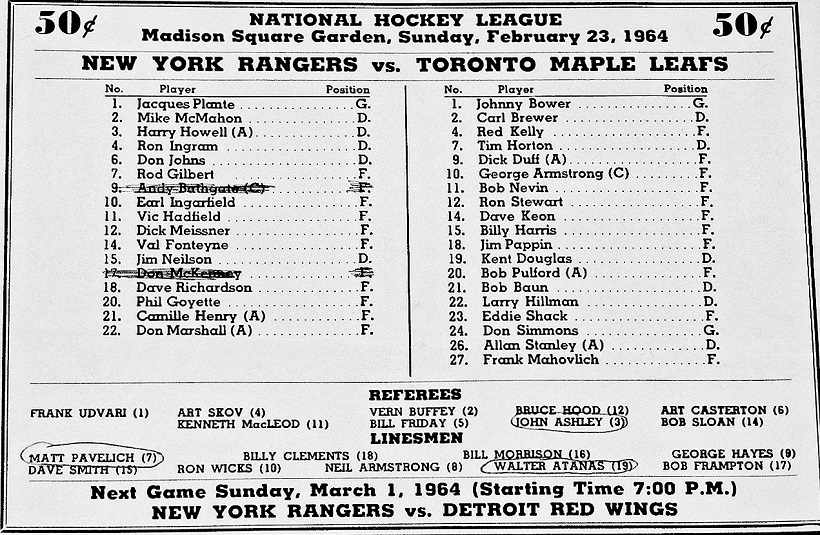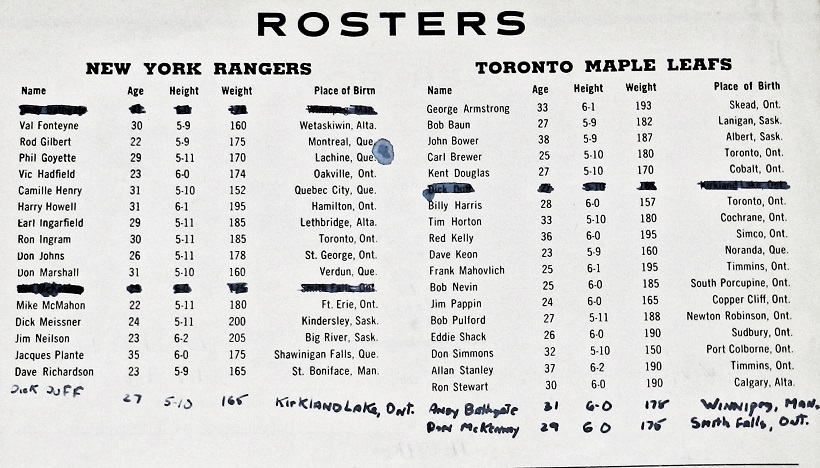 THE PROGRAM PURCHASER PUT MORE EFFORT INTO UP–DATING THE LEAFS/RANGERS ROSTERS.
EMAIL: HOWARDLBERGER@GMAIL.COM