TORONTO (Nov. 24) — Tuesday marked seven years since Hall–of–Fame coach Pat Quinn died (Nov. 23, 2014) of a liver ailment. Quinn coached and managed the Toronto Maple Leafs from 1998–99 to 2005–06, which coincided with my years covering the team, home and away, for The FAN–590, Canada's first all–sports radio station.
When I think of the Big Irishman today, which I do frequently, warm and fond memories prevail. I delineate my relationship with Quinn straight down the middle: we fought with and disparaged one another through the first four years of his time with the Maple Leafs; got along like uncle and nephew in his last four years. The dichotomy began when Quinn arrived from Vancouver with a chip on his shoulder the size of Mount Everest. Despite guiding the Canucks to Game 7 of the 1994 Stanley Cup final, he'd been ridden hard in the media out west, particularly by now Hall–of–Fame columnist Tony Gallagher of the Vancouver Province. Here in Toronto, we had "Tony Gallagher East," otherwise known as Al Strachan (of the Toronto Sun). They were the Yin and Yang of Canadian hockey columnists. Though Quinn's hiring by the Leafs was met with overwhelming approval in the Toronto media, he came to town with a loaded gun, so to speak, figuring he would absorb similar abuse while coaching a team that had missed the playoffs two years running… and a roster that evidently couldn't put the puck in the ocean (under Mike Murphy, the 1997–98 Maple Leafs finished last in the old Central Division, behind Dallas, Detroit, St. Louis, Phoenix and Chicago. Only Tampa Bay, Chicago and Ottawa counted fewer than Toronto's 194 goals).
Though our acquaintance was sporadic, I had always enjoyed a good rapport with Quinn, whom I idolized as a youngster for his rugged comportment as a Maple Leafs defenseman (1968–70). Quinn became somewhat legendary here in town after kayoing Bobby Orr with a titanic bodycheck in Game 1 of the 1969 Stanley Cup quarterfinals at Boston Garden. I spent a wondrous hour with the Big Irishman in his office at the old Pacific Coliseum while covering the 1994 Western Conference final between the Leafs and Canucks. For my first hockey book — MAPLE LEAF MOMENTS A 30–Year Reflection — Quinn happily recalled the hit on Orr and the wild aftermath of that lopsided match in Beantown; the Bruins demolished the Leafs, 10–0; the game dissolving into a bench–clearing donnybrook late in the third period in which Toronto roughneck Forbes Kennedy took on the entire Boston club and punched linesman George Ashley to the ice (it was Kennedy's final NHL appearance).
I also remembered chatting with Quinn on the floor of the Montreal Forum prior to the 1984 National Hockey League draft. He was under consideration to become the Leafs new coach and I expressed hope that Harold Ballard would hire him. "I hope so, too," he replied with a smile. Having missed out, Quinn told me, years later on radio, that Ballard "didn't want to hire a 'Mick'." But, what about the man that got the job, I wondered? Wasn't Dan Maloney also of Irish descent? "I guess ol' Harold didn't mind hiring that 'Mick'," Quinn laughed, on the record.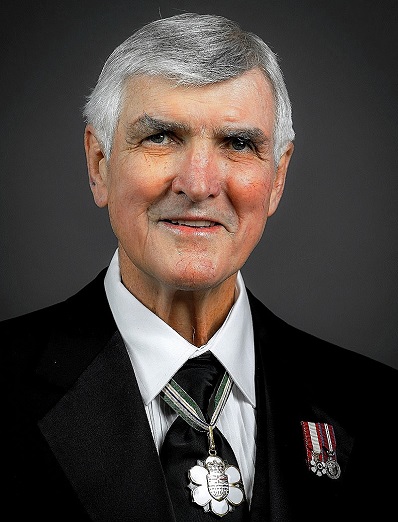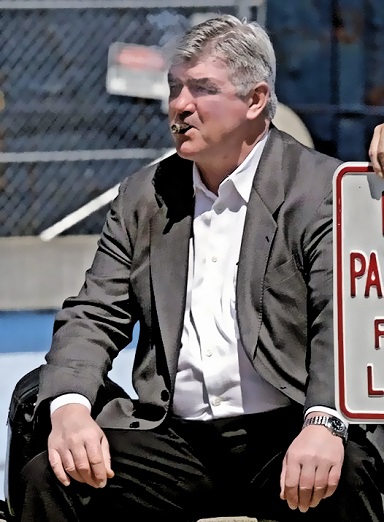 PAT QUINN AFTER RECEIVING THE ORDER OF BRITISH COLUMBIA (LEFT) IN 2014, THE YEAR HE DIED. AND, THE BIG IRISHMAN (RIGHT) IN A FAMILAR POSE DURING HIS TIME COACHING THE LEAFS.
Mistakenly, I thought Quinn would recall our friendly coexistence when he arrived here in town. I confidently approached him one day in the corridor at Maple Leaf Gardens about doing a "Pat Quinn Show" as part of my hour–long lead in to games on The FAN–590. With pay. "Nope, not interested," he snapped, turning away from me.
While in the lobby of the Westin Bayshore Hotel in Vancouver for a pre–season game, I asked Quinn if media members could ride the team bus to the arena, a privilege granted by his predecessors, Pat Burns, Nick Beverley and Mike Murphy. "Oh, you were able to do that back then?" he replied, apparently unaware. "Well, you're not doing it anymore. Just the broadcasters (Joe Bowen, Jim Ralph, Bob Cole, Harry Neale)." Seconds later, I noticed Al Strachan, also on the trip, about to climb aboard the Leaf bus. "Al," I hollered, "you better make a U–turn." At which point I explained the new rule to the Sun columnist (in later years, when Strachan and I openly feuded, I often wished I hadn't given him that warning. Seeing Al thrown off the bus by Quinn would have been delightful).
As it happened, Quinn and I had a dreadful accord between 1998 and 2002. He was a big, intimidating man, in front of whom I could not wither. I gave as hard as I received. There were times he referred to me as "four–eyes" in media scrums and wondered why "the lobotomy didn't work." I often questioned his coaching record on the air, pointing out he had never won anything of note (even while coming razor–close with the 1994 Canucks). It culminated with the most–shameful moment of my 23 years in radio, when I said to Quinn during a media scrum at the Air Canada Centre "you're such a dick." Though lauded by my media brethren moments afterward, I felt nauseous and asked to see the coach in his office. Whereupon I profusely apologized. "To be honest, I was acting like a dick today," Quinn replied. One on one, Pat and I never had an issue. In a group situation, it was altogether different.
In the end, as often happens, perspective turned around our relationship.
As Leaf fans may recall, Quinn took ill during the 2002 Stanley Cup semifinals between Toronto and Carolina. I'll never forget staring at him with grave concern while the Leafs skated at a practice rink on the outskirts of Raleigh. Big Pat, having suffered an irregular heartbeat that landed him in a local hospital, sat on a table; his face a sickly greenish–gray. For a moment, I honestly thought he was dying. While smoking cigars and devouring steaks and heavy food on the road, Quinn had ballooned to an unhealthy weight. He missed several games of that Carolina series; assistant Rick Ley manning his spot behind the bench. The Hurricanes eliminated the Maple Leafs in overtime of Game 6 at Air Canada Centre and went on to a five–game defeat against Detroit in the Stanley Cup final.
During the summer of 2002, Quinn heeded medical advice. He quit the cigars and lost abundant weight. He also grieved the death of his father, John. Pat arrived at training camp in September looking fit and tanned; the polar opposite of his morose appearance in the playoffs. During a pre–season game at Copps Coliseum in Hamilton, Quinn sat up in the press box, assigning Ley to the bench. The media hold at Copps is comprised of multiple rooms with separate doors. A pathway in back of the rooms runs the length of the press box. While strolling along the pathway during an intermission, I unexpectedly noticed Quinn sitting alone in the Leafs private box. I walked in and sat down beside the coach. "Pat, you look fantastic," I said. "What an incredible difference from the spring. I'm sorry I haven't had a chance to offer you condolences on the death of your father."
"Thank you, Howard, I appreciate that," he replied.
"You know, Pat, I haven't been at all proud of our relationship these past four years. In fact, I've disliked almost every moment. If it's okay with you, how 'bout we shake hands, forget all that baloney and start fresh?"
The Irishman stuck out his big paw and said, "put 'er there, friend."
We never had another sore moment between us.
NO NEED FOR THE LEAFS TO CHANGE
The Toronto Maple Leafs begin a western–USA trip tonight in Los Angeles situated fourth in the overall NHL standings, having won 11 of their past 13 games (four of them by shutout), and all anyone in the media can harp on is Auston Matthews being four goals off his pace from last season. It's monkey see/monkey do among those that cover the team, few of which are motivated to pursue anything but the most–banal angle. Nowhere in the past couple of days has there been even a side–note — an asterisk — to indicate the Maple Leafs are playing closer to the style, and receiving the caliber of goaltending, that could finally get them over the first–round playoff hump.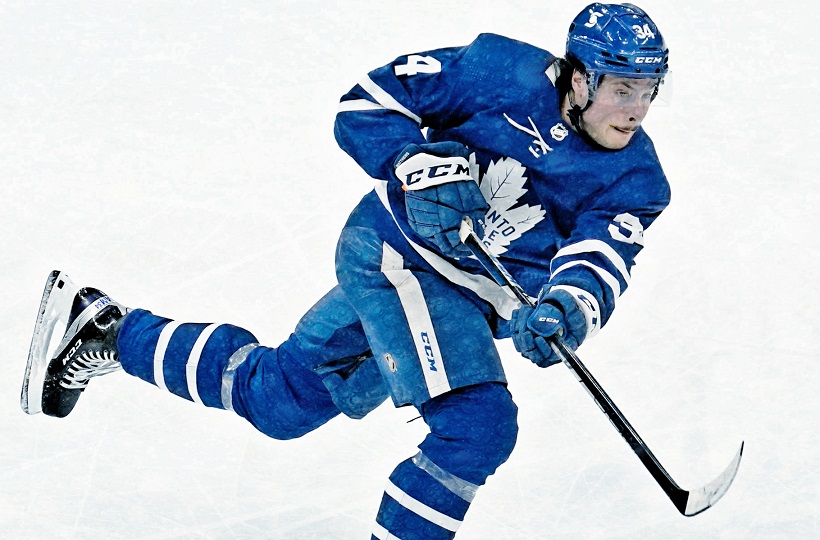 Of course it's imperative for skilled players to contribute at Stanley Cup time; most of the 32 teams in the NHL have only a couple or three such components. The Leafs will not challenge for a championship if Matthews and Mitch Marner remain neutralized in the spring. Even more imperative is timely goaltending and a stout physical presence through the line up. Not since the turn of the century have the Leafs possessed the latter (with Gary Roberts, Tie Domi, Shayne Corson, Darcy Tucker, Wade Belak). And, the former was a glaring issue in recent years with Frederik Andersen allowing killer, soft goals. At the moment, however, Jack Campbell is proving to be the most–reliable stopper since Curtis Joseph (1998–2002), who twice backstopped the Leafs to the Stanley Cup semifinals. Smilin' Jack is 10–4–1 with a sparkling 1.66 goals–against average and a league–leading .944 save–percentage (30–9–4 overall as a Leaf). The last Toronto goalie to post a GAA below 2.00 was Hall–of–Famer Jacques Plante (1.88 over 40 appearances in 1970–71, at 42 years of age). The best number compiled by Joseph was 2.23 over 51 games in 2001–02 (Toronto lost to Carolina in the Conference final). Ed Belfour was a brilliant 2.13 in 59 starts during the 2003–04 schedule, but couldn't nudge the Leafs beyond the second playoff round.
Yes, the Leafs undoubtedly should have more than 51 goals scored through the first 20 games (Florida has 71 in 18 games) and Matthews isn't performing at the 60–goal clip forecast by some. It's difficult to envision No. 34 not heating up over a considerable stretch of games. But, the Leafs allowing only 2.25 goals per match (second in the NHL to Calgary's 1.90) should be accruing just as much attention. While it's doubtful the Maple Leafs can stand up, physically, through four grueling playoff rounds, a hot goalie can be a great equalizer. From my perspective, there in no problem with the manner in which the club is winning games in the first quarter of the schedule.
Another trend the Leafs would like to maintain is that of health to their top players.
Though Matthews missed the first week while recovering from wrist surgery, Marner, Nylander, Morgan Rielly, Michael Bunting, Jake Muzzin and T.J. Brodie have appeared in all 20 games; John Tavares in 19. All are currently in the line–up. Which compares favorably to such Eastern Conference rivals as Montreal (Shea Weber will miss the season; Carey Price hasn't yet played), Florida (Aleksander Barkov is out until at least Dec. 10), New York Islanders (Brock Nelson, Anders Lee, Zdeno Chara, Josh Bailey, Andy Greene are sidelined), Pittsburgh (Sidney Crosby has played only six games; Evgeni Malkin none), Tampa Bay (Nikita Kucherov and Brayden Point are out, long term) and Washington (T.J. Oshie, Lars Eller, Conor Sheary and Nicklas Backstrom are injured).
WHAT WAS SO DIFFICULT TO UNDERSTAND?
In Monday's edition of the Toronto Star, hockey columnist Chris Johnston penned an appraisal of ex–Leafs captain Dion Phaneuf. who oddly announced his retirement last week, 2½ years after playing his last NHL game.
"To be honest, I always felt Dion Phaneuf was a little misunderstood in Toronto," wrote Johnston. "Beloved by teammates and staff, and incredibly fair in my experiences as a reporter who covered the teams he captained, Phaneuf wasn't always embraced so warmly by the fan base. That's what made the reception he got inside Scotiabank Arena so special while dropping the ceremonial puck alongside wife Elisha and daughter Zaphire."
Truth be known, Phaneuf wasn't even marginally misunderstood by followers of the Blue and White. Neither should his recognition as a good teammate account for lack of perception. Fans want the Leafs to win. They don't care if the roster is comprised of saints or ex–prisoners. Dion Phaneuf — good guy or otherwise — captained the Leafs through one of the most–deplorable junctures in franchise history: parts of seven seasons in which the club missed the playoffs every year in a full schedule and qualified only after the 48–game, lockout–abbreviated slate of January to May 2013. The lone playoff series involving Phaneuf ended with the biggest third–period choke in Stanley Cup annals (against Boston). As with other Leaf cheerleaders in the media, Johnston conveniently excluded the shameful 2014–15 club that put together a 10–1–1 hot streak in November and December; stopped playing for Randy Carlyle toward the new year, then blatantly quit on the fans, the city, the logo and interim coach Peter Horachek. The identical team that won 10 of 12 matches could prevail in regulation no more than three times between Jan. 12 and Mar. 28, a span of 34 games. For all of that, the current administration honored Phaneuf prior to a home date last week. And, Johnston ended his Star passage with "Congratulations, Dion."
I'll say it again: Media pandering of the Leafs in this city is way over the top.
THE SNOW BOWL IN HAMILTON: 25 Years Ago Today
IMAGES AND STORIES FROM MY SCRAPBOOK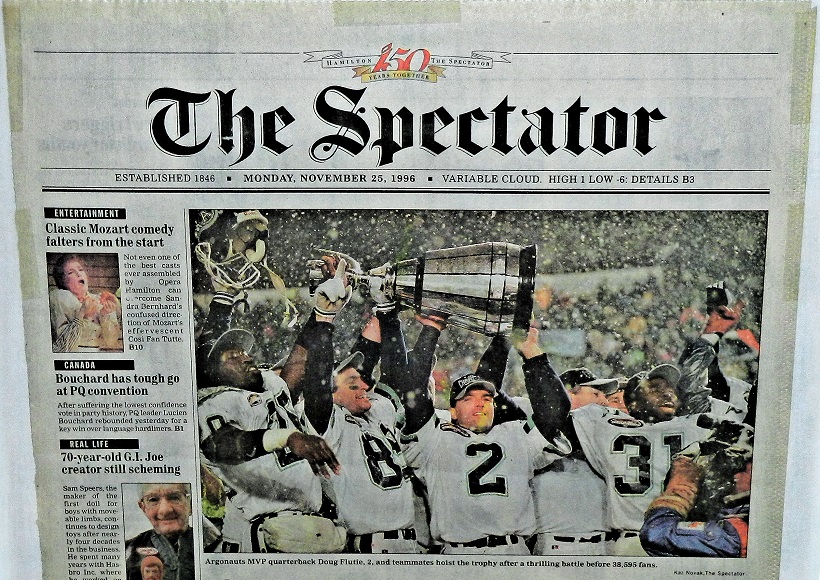 It's hard to fathom that a quarter–century has passed since the Toronto Argonauts and Edmonton Eskimos threw away the script and put on a spectacular offensive show during the 1996 Grey Cup game in Hamilton. A relentless snowstorm blanketed the field at old Ivor Wynne Stadium on Nov. 24 of that year, yet the Argos and Eskimos rang up 80 points. It is still considered, by many, the best of all Canadian Football League title matches, featuring long passes, punt, kickoff and interception returns for touchdowns. The Argos, with Doug Flutie at quarterback and after a 15–3 regular season, prevailed, 43–37, to win the Grey Cup for the first time in five years.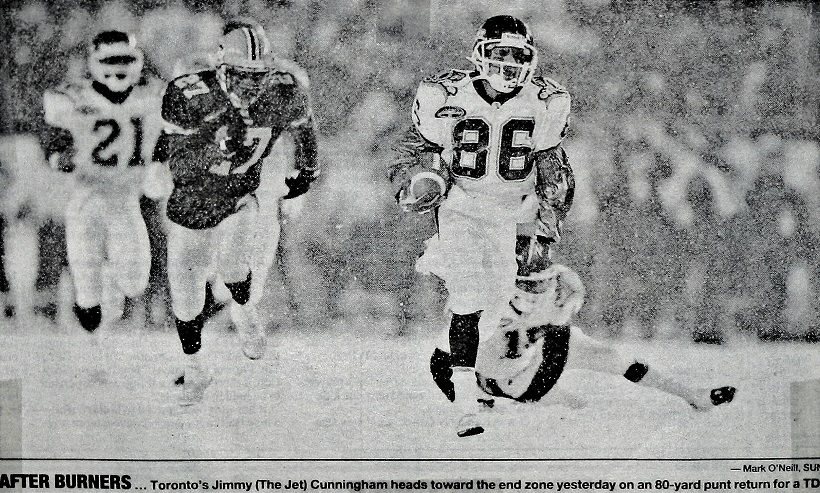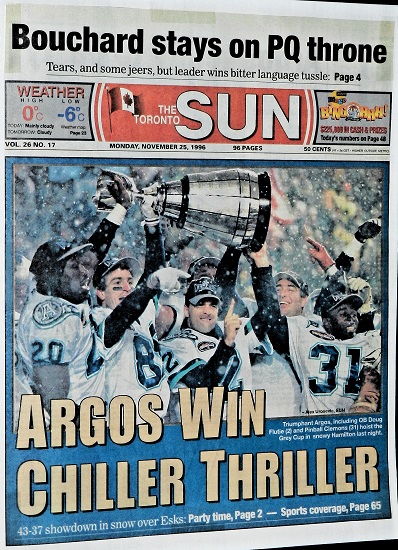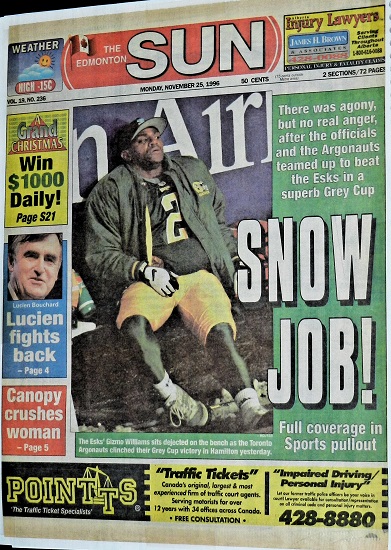 There was controversy late in the game when Flutie lost the ball in a scramble. Edmonton recovered, but it was ruled that Toronto still had possession. The cover of the Nov. 25 Edmonton Sun (top–right) suggested "the officials and the Argonauts teamed up to beat the Esks" while the Sports front of the Edmonton Journal (bottom–right) featured a play on words for Hamilton being "Steeltown."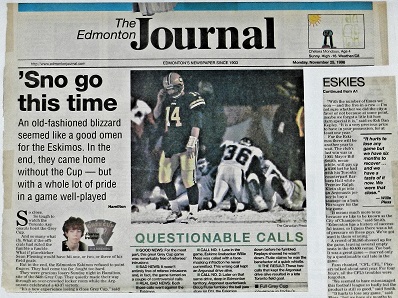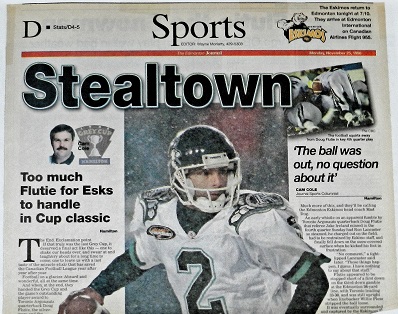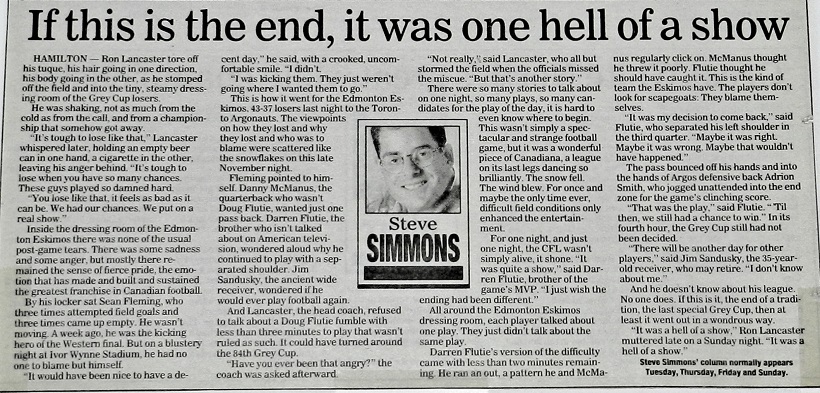 With the CFL in financial peril after the failed experiment to add U.S. teams (Baltimore, Birmingham, Las Vegas, Memphis, San Antonio, Sacramento) from 1993–95, it was feared the 1996 Grey Cup would be the final–such encounter. Steve Simmons of the Toronto Sun posted this column (above and below) from Hamilton: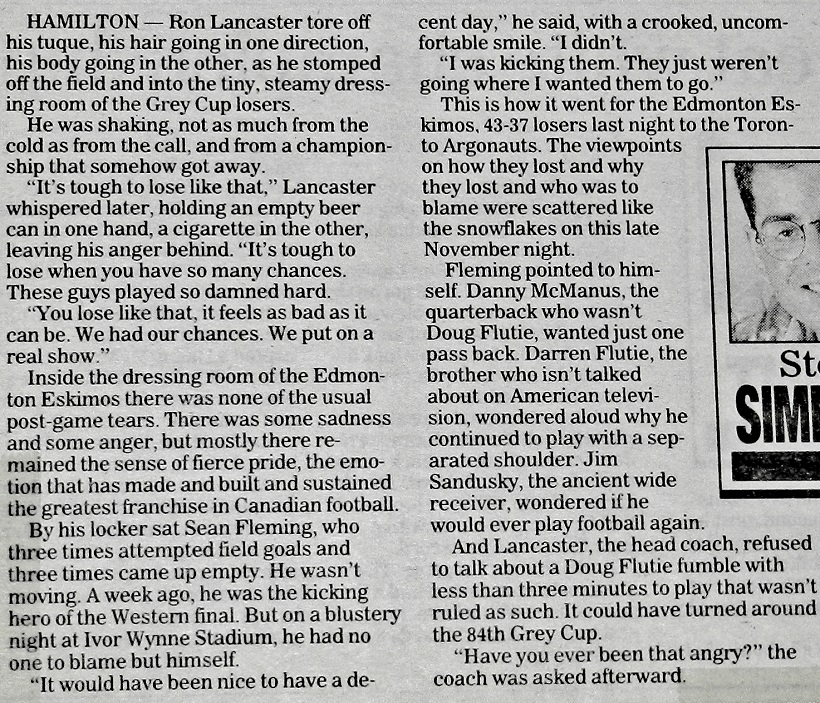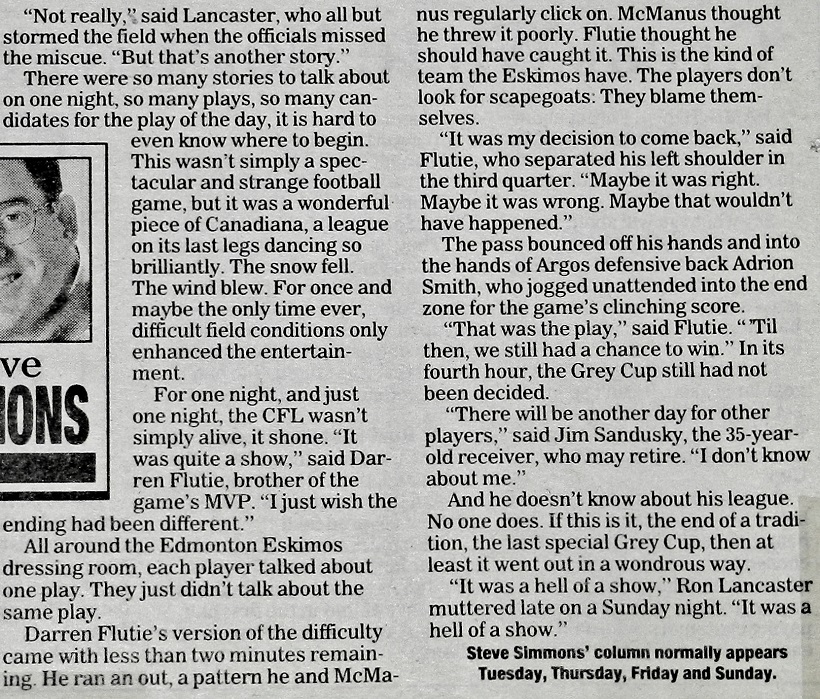 From the Toronto Star's legendary columnist.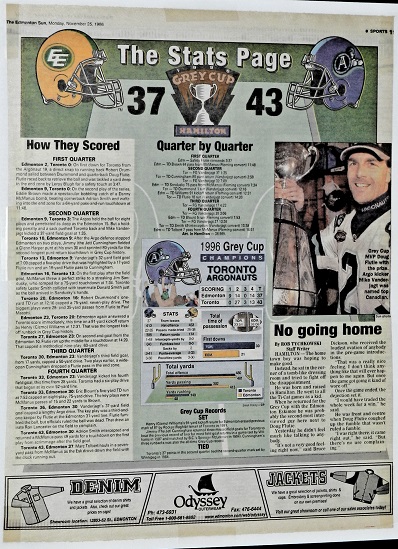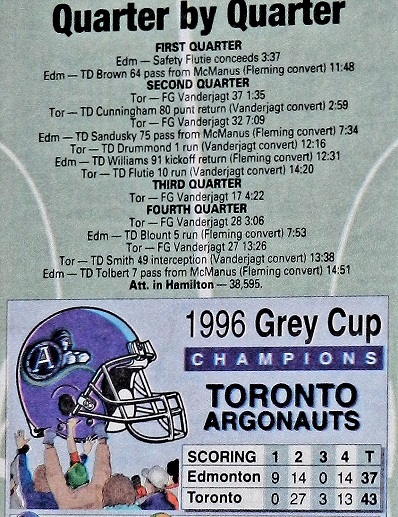 The scoring plays (top–right) told a remarkable story about the 1996 Grey Cup.
EMAIL: HOWARDLBERGER@GMAIL.COM