TORONTO (Nov. 15) — Oh, if November were only April for the Toronto Maple Leafs.
Sporting a tidy 8–1–0 record in their past nine starts, the Leafs are winning games early… tying games late… prevailing in overtime with first, second and fourth–string goalies… getting big–time production from the Core–4… and even some help from the mushy middle of the roster. It is precisely the formula that eludes the club in the opening round of the playoffs each year. And, given that no season in recent memory is riding more on second–round advancement than the current one, it isn't yet time to consider those metal crowd–restrainers on Bay Street.
These are the months of the regular season in which the Leafs can win on talent, alone. The serious playoff teams of recent years — Tampa Bay, Boston, Washington, Pittsburgh, New York Islanders, Vegas, St. Louis, Dallas — are either not as elite… or haven't begun to prime for Stanley Cup competition. Contending clubs build toward a climax at the end of the schedule and commensurately improve. The fancier teams, devoid of a strong physical presence, often wilt in the early post–season rounds. Checking and body work amps up, eliminating the time and space available through much of the 82–game prelude. If players are unable, or unwilling, to push through the so–called "dirty" areas of the ice, they can be ground into submission; their scoring numbers tailing off precipitously.
This has been the unmistakable pattern of the Maple Leafs during the era of William Nylander, Mitch Marner and Auston Matthews. After the first–round folderoo against Montreal last May, president Brendan Shanahan complained about a lack of "killer instinct." But, that element is merely the end game. If a playoff team cannot pose a persistent physical challenge, it will not succeed. Goaltending is a major factor and can occasionally compensate.
More often than not, however, a tepid physical club will lose inclination.

LEAFS GOALIE JOSEPH WOLL WON HIS NHL DEBUT  ON SATURDAY IN BUFFALO. GETTY IMAGES/NHL
That's what happened after Game 6 of the Montreal series. The Leafs were broken.
And, management felt comfortable returning with no fundamental change. As a result, jobs are squarely on the line — from Shanahan through the entire coaching staff. These November streaks feel good for owners, managers, coaches, players and, particularly, fans of the hockey club. And, they are, of course, mandatory for playoff qualification… allowing everyone to dream of bigger moments down the line. They also preclude the justifiable noise that mushrooms when the Maple Leafs demonstrate their flimsy playoff posture in so–called "trap" games.
Which is truly a load of malarkey; a convenient excuse for a gifted club to take the night off against a weaker opponent. Such repetitive debacles, as proven with the Maple Leafs of current ilk, come to roost at playoff time. Unavoidably. But, a string of Toronto triumphs in the regular season provides an unmistakable hush. You could hear a pin drop in this city right now. The media is lionizing players upon one or two commendable efforts — witness the words written and spoken, today, about Joseph Woll and Ondrej Case. Puff pieces run rampant in the Toronto dailies and, of course, during chatter on the Leafs–owned all–sports TV and radio networks. Critical analysis completely disappears, presenting readers, viewers and listeners a mirage.
Amid the silence, however, lurks reality. It is all about April, and beyond, for the 2021–22 Maple Leafs.
WOLL ADDS TO THE LIST: Joseph Woll, on Saturday night, became the 73rd man to play goal for the Leafs since the 1967 Stanley Cup triumph. Here is the updated roll call: JOHNNY BOWER, BRUCE GAMBLE, AL SMITH, MARV EDWARDS, GERRY McNAMARA, JACQUES PLANTE, BERNIE PARENT, MURRAY McLACHLAN, GORD McRAE, RON LOW, DOUG FAVELL, DUNC WILSON, EDDIE JOHNSTON, PIERRE HAMEL, WAYNE THOMAS,  MIKE PALMATEER, PAUL HARRISON, JIRI CRHA, CURT RIDLEY, VINCENT TREMBLAY, JIM RUTHERFORD, MICHEL (BUNNY) LAROCQUE, BOB PARENT, RICK ST. CROIX, ALLAN BESTER, KEN WREGGET, BRUCE DOWIE, TIM BERNHARDT, DON EDWARDS, JEFF REESE, MARK LaFOREST, PETER ING, DAMIAN RHODES, GRANT FUHR, FELIX POTVIN, RICK WAMSLEY, DARREN PUPPA, DON BEAUPRE, MARCEL COUSINEAU, GLENN HEALY, CURTIS JOSEPH, COREY SCHWAB, TOM BARRASSO, SEBASTIEN CENTOMO, ED BELFOUR, MIKAEL TELLQVIST, TREVOR KIDD, JEAN-SEBASTIEN AUBIN, ANDREW RAYCROFT, SCOTT CLEMMENSEN, VESA TOSKALA, MARTIN GERBER, JUSTIN POGGE, JEAN-SEBASTIEN GIGUERE, JONAS GUSTAVSSON, JOEY MacDONALD, JAMES REIMER, BEN SCRIVENS, JUSSI RYNNAS, JONATHAN BERNIER, DREW MacINTYRE, GARRET SPARKS, FREDERIK ANDERSEN, JHONAS ENROTH, ANTOINE BIBEAU, CURTIS McELHINNEY,  CALVIN PICKARD, MICHAEL HUTCHINSON, KASIMIR KASKISUO, JACK CAMPBELL, DAVID RITTICH, PETR MRAZEK, JOSEPH WOLL.
RAZZIN' ROD: Can't resist giving my old pal, Rod Smith, a couple of digs after watching a replay of the 31–12 victory at BMO Field by the Toronto Argonauts over the Hamilton Tiger–Cats on Friday night. Which cemented first place in the East Division of the Canadian Football League. Calling the match on TSN with partner Duane Forde, ol' Roderick couldn't bring himself to anoint Toronto the win until defensive back Chris Edwards scored on a 78–yard interception return… with two seconds to play. The Ti–Cats recorded their only major (and a two–point convert) to pull to within 12 of the Argos. Only 1:49 remained. There was absolutely no indication that the sputtering Hamilton offense would do any further damage on this night. As the visitors lined up for an onside kick, Smith confessed "it's not looking good [for Hamilton]." The kick was easily recovered by Edwards with 1:46 to go.
The Toronto offense lined up on first down and Roderick got a bit more risky. "This is the fourth meeting of the season… and it's looking as if Toronto will win three of them." With 24 seconds to play, TSN felt comfortable enough to post a graphic of the East standings, showing Toronto atop at 9–4–0 and "Argos clinch first place" at the bottom. Ti–Cats quarterback Jeremiah Masoli then rolled out and threw into the arms of Edwards, who raced untouched down the west sideline for the 78–yard major. Whereupon Rod threw caution to the wind: "And, that'll do it!" he exclaimed. If Roderick wasn't long the best TV sportscaster this country has ever known — his 6 p.m. SportsCentre show has been a staple since 1995 — I might offer another dig or two. Just for the hell of it. 😛 
TORONTO SPORT CARD EXPO RETURNS: After a two–year absence owing to the COVID–19 pandemic, Canada's largest sports card and memorabilia show came alive on the weekend at its customary location, the Toronto International Centre across from Pearson Airport. Long line–ups for proof of vaccination were annoying, as usual, but did not appear to impact attendance or enthusiasm. Among the former National Hockey League stars on hand: Bobby Hull, Bob Baun, Darryl Sittler, Norm Ullman, Dave (Tiger) Williams, Felix Potvin, Billy Smith, Darcy Tucker, Shayne Corson, Dominik Hasek, Marian Hossa, Adam Oates, John LeClair and Gilbert Perreault.
Manning one of the display booths, rather inconspicuously, was the No. 6 player on the all–time NHL points list. Marcel Dionne, drafted behind only Guy Lafleur in 1971, amassed 1,771 points while skating with Detroit, Los Angeles and New York Rangers from 1971–72 to 1988–89. More than three decades after his retirement, only Wayne Gretzky, Jaromir Jagr, Mark Messier, Gordie Howe and Ron Francis remain above Dionne on the all–time ledger. Beneath Dionne, all these years later, are such hockey legends as Steve Yzerman, Mario Lemieux, Phil Esposito, Stan Mikita, Bryan Trottier and Brett Hull. Dionne is part of the contingent that receives this blog via email. Wondering if he chose to bother with the link, now and then, I introduced myself. After a brief pause, he smiled, poked me in the chest and said "you're a pain in the ass!" Which confirmed that, yes, he does open the link now and then. "You don't hold much back in those blogs, do you?" Marcel asked, rhetorically. "But, I like it."
We chatted for a few moments about the puzzling Maple Leafs… and about his wondrous years centering the "Triple Crown" forward line in Los Angeles with Charlie Simmer and Dave Taylor. Dionne is, by many lengths, the best player in hockey annals to not have won the Stanley Cup. For which he cannot be faulted. Until Gretzky arrived from Edmonton, in 1988, the Kings were never strong or deep enough to challenge for the NHL title.
I attended the Expo with my son, Shane, and (of course) my trusty NIKON: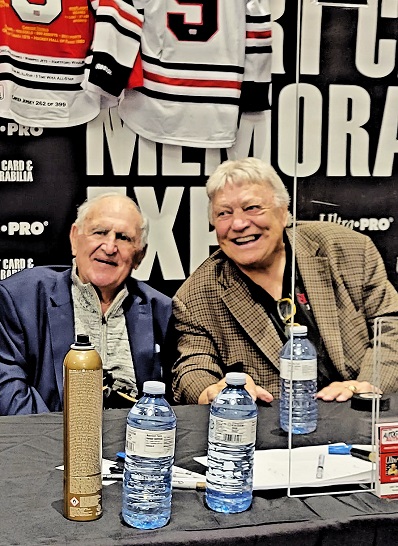 MY FRIEND ANDREW T. KULIGOWSKI SNAPPED THE PHOTO OF ONE–TIME RIVALS BOBBY BAUN (LEFT) AND BOBBY HULL. BOTH WERE ON THE COVER OF THE JANUARY 1967 ISSUE OF HOCKEY ILLUSTRATED MAGAZINE. BAUN, TODAY, IS 85; HULL, 83. THE GOLDEN JET STILL HAS THAT SMILE (BOTTOM–LEFT) AND PROBABLY WOULDN'T MIND LOUNGING IN CONNOR McDAVID'S "SEAT."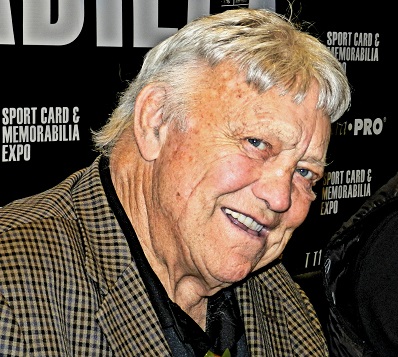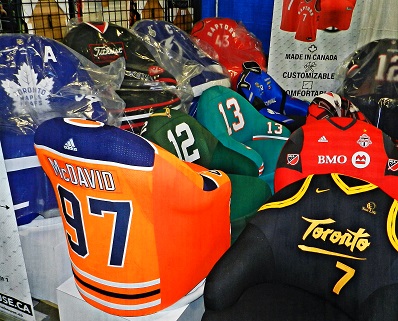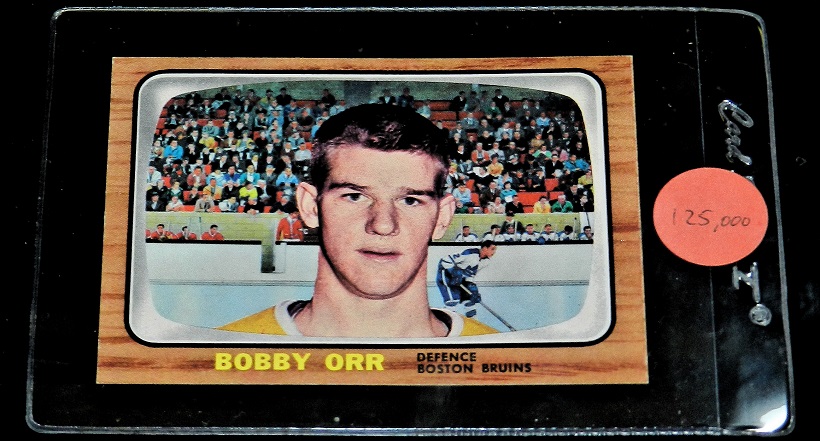 A GOOD–LOOKING (YET UN–GRADED) BOBBY ORR ROOKIE CARD FROM THE 1966–67 TOPPS SET COULD BE HAD (ABOVE) FOR A COOL 125 GRAND. LAMINATED KNOCK–OFFS (BELOW) OF ORR AND FELLOW ROOKIES GUY LAFLEUR, PHIL ESPOSITO AND WAYNE GRETZKY WERE INFINITELY CHEAPER.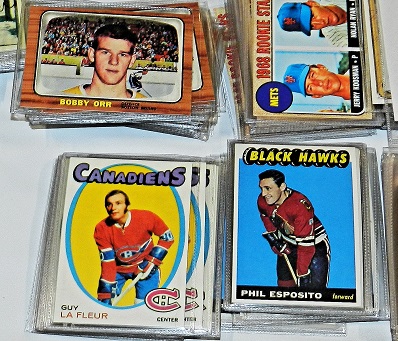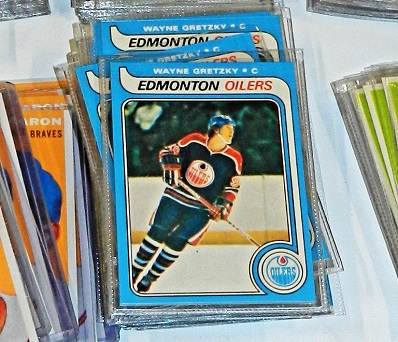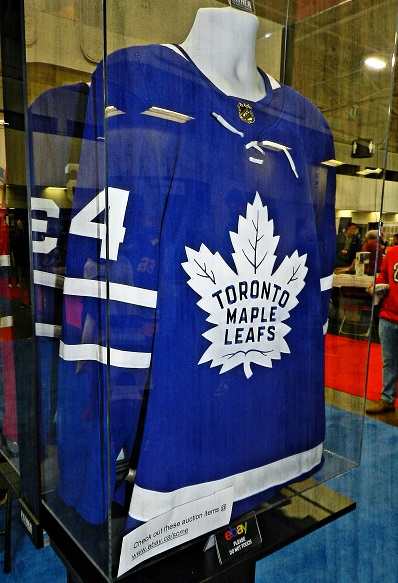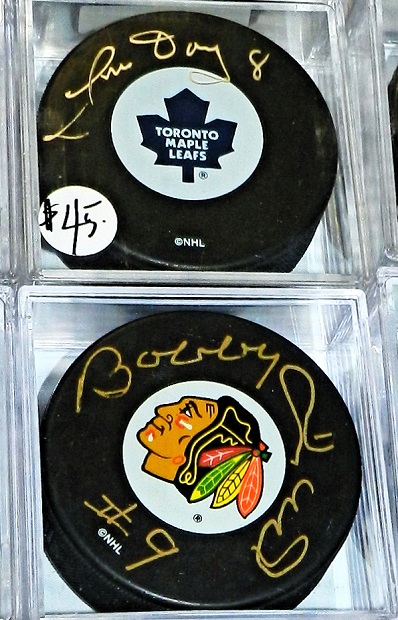 A GAME–WORN AUSTON MATTHEWS JERSEY WAS AMONG THE COVETED AUCTION ITEMS AT THE THREE–DAY EVENT. AN AUTOGRAPHED PUCK FROM LEAFS DEFENSEMAN JIM DOREY (1968–72) WENT FOR $45, WHILE A BOBBY HULL BLACK HAWKS ITEM WAS EVIDENTLY PRICELESS.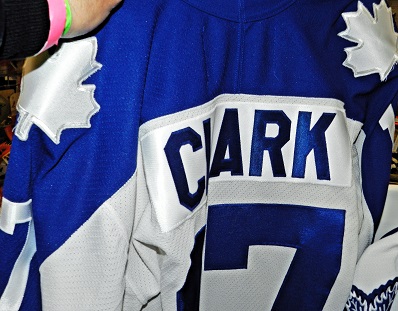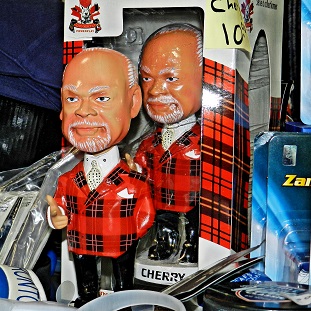 A REPLICA JERSEY OF LEAFS LEGEND WENDEL CLARK (CIRCA 1986–92) WAS SELLING FOR $100 WHILE A DON CHERRY BOBBLEHEAD WAS ONE–TENTH THE AMOUNT. SORRY GRAPES.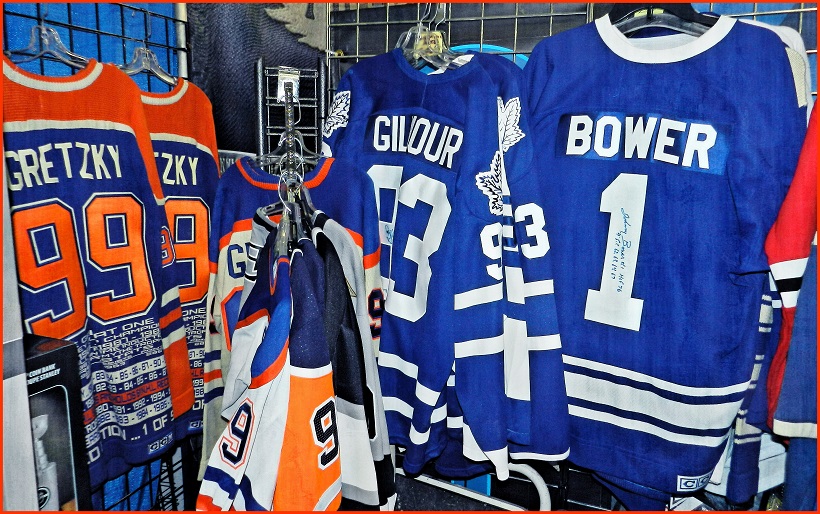 AS ALWAYS AT THE BI–ANNUAL TORONTO EXPO, THERE WERE INNUMERABLE JERSEYS OF WAYNE GRETZKY, JOHNNY BOWER, DOUG GILMOUR AND BOBBY ORR. EVEN A JERSEY SIGNED BY PATRICK ROY AND THE 1996 STANLEY CUP–CHAMPION COLORADO AVALANCHE (BOTTOM–RIGHT).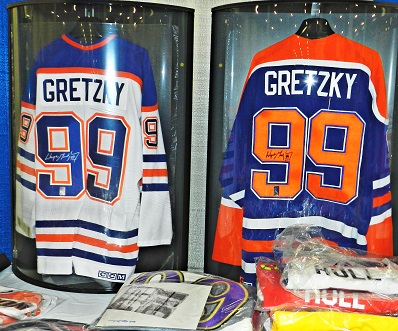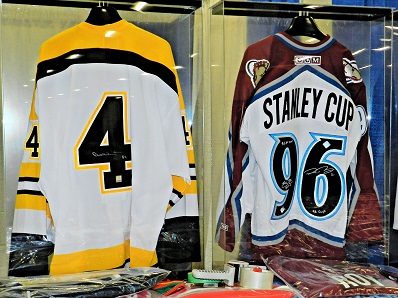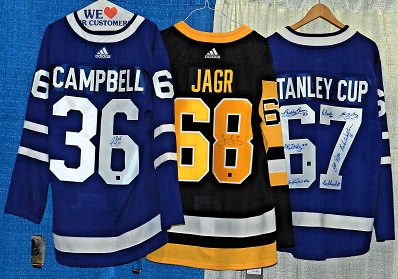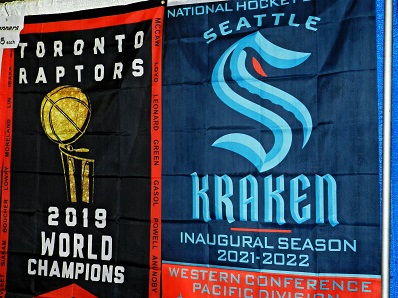 THERE IS ALWAYS A REMINDER (TOP–LEFT) OF THE LEAFS LAST STANLEY CUP… AND EVEN ONE FROM THE 2019 TORONTO RAPTORS NBA TITLE. PLUS, A SEATTLE HOCKEY FIRST.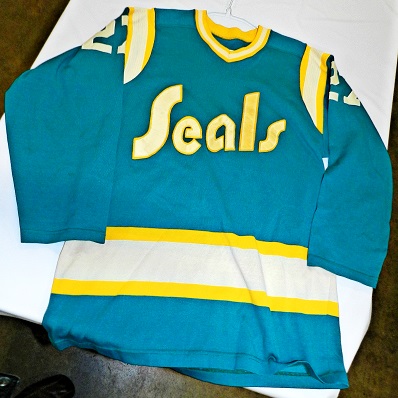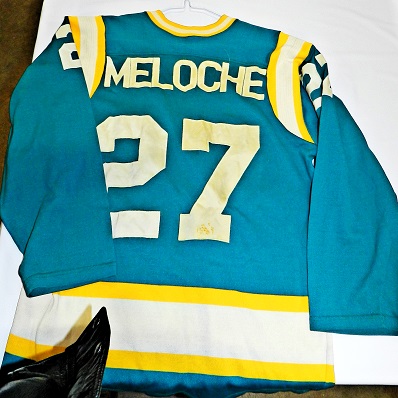 THE GAME–WORN (AND STAINED) JERSEY OF CALIFORNIA GOLDEN SEALS GOALIE GILLES MELOCHE IN 1974–75.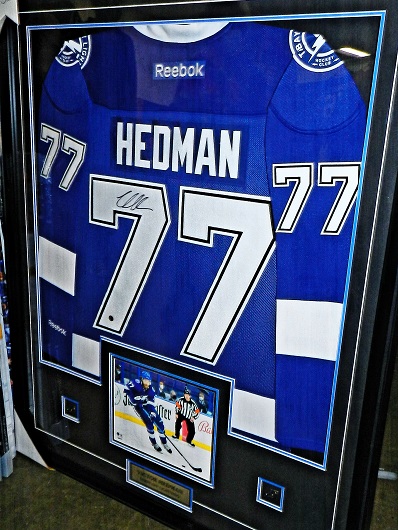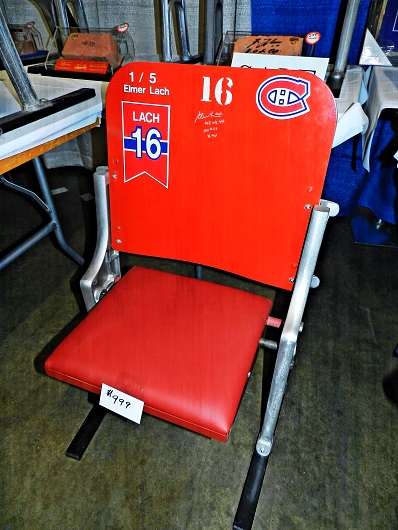 A FRAMED, AUTOGRAPHED JERSEY (TOP–LEFT) OF THE NHL's BEST DEFENSEMAN AND A SEAT FROM THE OLD MONTREAL FORUM SIGNED BY THE LATE HENRI RICHARD (COST: $999.00).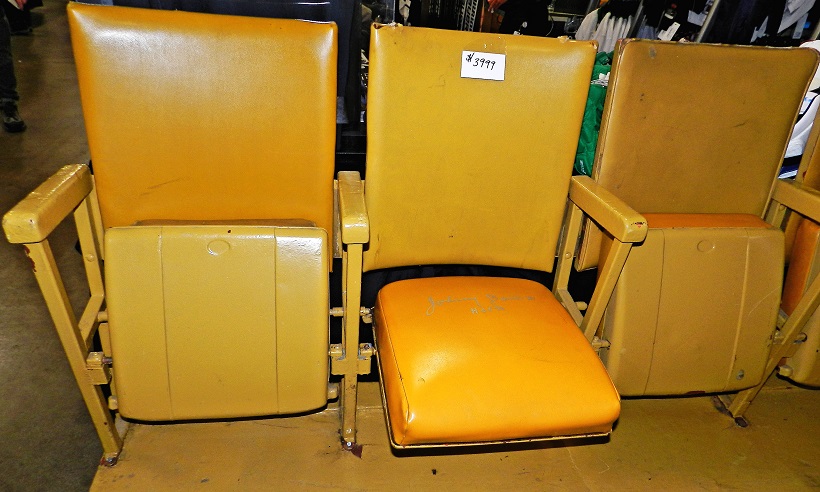 AMONG THE AUTHENTIC GOLD SEATS FROM MAPLE LEAF GARDENS (ABOVE) WAS AN ITEM SIGNED BY THE LATE JOHNNY BOWER (MIDDLE) AND AVAILABLE FOR JUST LESS THAN FOUR GRAND.

HALL–OF–FAME LEGEND MARCEL DIONNE (LEFT) POSED WITH THAT "PAIN–IN–THE–ASS" BLOGGER.
EMAIL: HOWARDLBERGER@GMAIL.COM