TORONTO (Nov. 21) — As any hockey fan in this city will attest, the game is often dealt with in life–and–death terms, particularly when the Maple Leafs lapse into a slump. If, however, you've had the privilege of traveling with the Leafs, as I did over 17 years for The FAN–590, hockey humor is inescapable. Here are some personal recollections that I think will draw a chuckle or two: 
COLEY'S THERAPY: This travesty immediately followed my first game as a full–time hockey reporter — at the start of the lockout–shortened National Hockey League schedule of January–to–May 1995. I remember it, particularly, for Bob Cole, the legendary voice of the Leafs on Hockey Night In Canada.
It was January 20, 1995. The Maple Leafs and Kings had just played to a 3–3 tie at the Los Angeles Forum in the season opener for both clubs. Back in the day, reporters and broadcasters were permitted to travel on the team bus for rides to and from airports and arenas. No–such luxury exists today. On this occasion, given a large media contingent for the season opener, the Maple Leafs had ordered a separate bus. The players and coaches were heading to Los Angeles International Airport on one vehicle; the media, directly behind them. Or, so went the plan.
We were aiming to meet up for a charter–flight to Oakland International Airport, whereupon another pair of buses would transport us down Interstate–880 (the Nimitz Freeway) to San Jose for the following night's encounter between the Leafs and Sharks. I remember the media bus ferried myself; Leafs radio broadcasters Joe Bowen and Gord Stellick; the CBC telecast tandem of Cole and Harry Neale; a dozen or so producers, technicians and cameramen (including my old pal, Mark Askin, who choreographed Leaf games on TV); three scribes from the Toronto Sun; two from the Toronto Star and a reporter (Lance Brown) from CFTO, Channel 9. The weather in L.A. had been miserable for days; it was poring rain when we climbed aboard the second bus just after 11 p.m. Both vehicles were intended for the aviation/charter area of L–A–X, which was separate from any of the terminals.
Naturally, we didn't consider that our driver had never made such a trip; what charter–bus company would assign a coachman unfamiliar with the route — explicitly ordered to follow a team of NHL players — at night, in one of the world's most heavily traveled cities, amid a monsoon? Sadly, we on the media bus were destined to find out.
Compounding the mystery was the brief trek from the Great Western Forum (as it was known back then) to L.A. Airport. Anyone who strolled from the arena to the parking lot may recall being startled by jetliners suddenly appearing — no more than 500 feet overhead — on final approach to L–A–X. The runways were merely two miles west; the drive, roughly 3.8 miles from the Forum. Getting lost required some effort.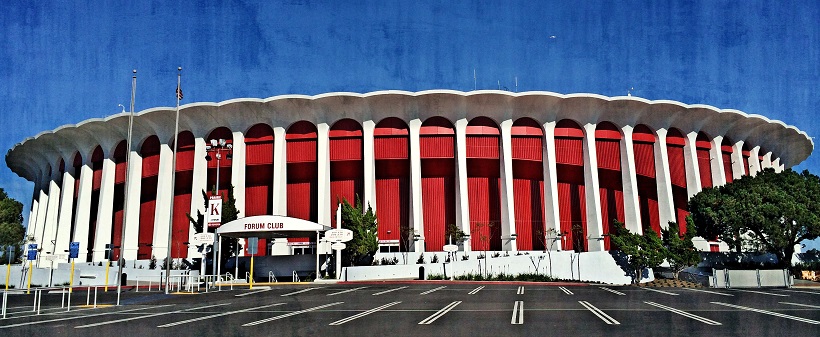 THE LOS ANGELES FORUM — HOME OF THE KINGS FROM 1967 TO 1999.
Post–game traffic along Prarie Ave., adjacent to the Forum, was still rather heavy and our driver kept in radio contact with the Leaf bus, about a block ahead. Then, two blocks ahead. Then, three blocks… and, before we knew it, out of sight. Again, there was no particular concern; how could a professional coach driver not find Los Angeles Airport from Inglewood? Well, our man either wasn't professional… or had never–before driven in the L.A. area.
Within moments, it was clear the poor sap had not a clue. Increasingly fearful radio calls to the Leaf bus went unanswered. Several blocks later, he pulled off the main road and we found ourselves in a remote parking area beneath an overpass of the Century Freeway. The Leaf bus finally answered his frantic calls and he was told to look for the "guard gate." When the driver replied, "which guard gate… and where", we knew we were in trouble. This feeling intensified when he made a right turn into the Korean Airlines cargo terminal. "Boy, what a road trip — Los Angeles tonight; Seoul tomorrow," came a zinger from the back of the bus. It was now painfully evident that our trusty chauffeur had lost direction… and his morale.
Sensing this, Cole left his perch beside Neale and moved up to a vacant seat, across from me, at the front of the vehicle. Bob then did his level–best to keep the poor driver from breaking down.
"Come on now, we should be able to find the guard gate; you know this city," he offered in his familiar cadence.
Apparently enjoying his broadcast partner's angst, Neale maintained a stream of wisecracks. Backing out of the Korean Airlines lot, the driver pulled up to another gate and made a desperate call to the Leaf bus. No reply. While sitting there, we had a great view, through the night–time rainstorm, of the south runway and main terminals at L–A–X. Suddenly, an Airbus lifted off, right to left, no more than 500 feet in front of us.
"Whup, there she goes!" cried out Neale, implying the Maple Leafs charter had left for Oakland.
"Pay no attention to these people," Cole stressed. "You can get us to the plane. We have confidence in you."
The driver turned around and began heading toward yet another gate. As we passed through, his waffling became more pronounced. He inched the bus forward and stopped… inched forward and stopped. "Another hundred or so lurches and we should be there," offered Askin, which brought a death–stare from Cole and a howl of laughter from Neale. Unexpectedly, the long–lost Maple Leafs vehicle re–established radio contact, informing our driver to "keep going and look for the last building on your right." Neale, still in full clown–mode, replied "he'll probably drop us at the the first building on our left." To which Cole answered, "hey, you're doing alright. Forget all the blather behind you. You'll get us there. I know it."
Finally, we pulled up to a fourth gate that led to a Northwest Airlines DC–9 with a bus parked next to it.
"That's the one," radioed the Leaf driver and our odyssey was over.
"You mean, we're here already?" mocked Neale, as we got up to leave. "Stop it, Harry," replied Cole, who gave the driver a pat on the shoulder. "Good job. It's tough out there tonight, with the weather," he praised. Neale also greeted the disheveled coachman. "Just tryin' to keep you loose. Thanks for the drive."
The rain was pelting down harder than ever as we mounted a portable stairwell and entered the DC–9. The Leaf players and coaches were comfortably strapped in their seats. I'll never forget Dave Andreychuk looking at me as if to say "where the hell have you guys been?" As it turned out, our bewildered bus driver had not delayed the flight. I looked out my right–side window at the poor equipment and training staff. Brian Papineau, Jim Carey (not the actor) and Chris Broadhurst were busily loading equipment bags into the cargo hold. They were drenched.
Adding to our adventure, the captain warned that the 50–minute flight would take us through an area of thunderstorms northeast of Los Angeles. He wasn't kidding. That old jet bounced around like balls in a lottery machine before settling down in the second half of the trip. We flew to the north of San Francisco then turned back south directly over the Golden Gate Bridge. In a spectacular approach to the airport, we followed the water over Alcatraz and the San Francisco–Oakland Bay Bridge. I still remember looking at the lights of San Francisco shining brilliantly through broken cloud out my right–side window. Three minutes later, we were on the ramp in Oakland… with two more buses waiting to drive us south, to San Jose.
In case you're wondering, we flew to Oakland as a result of noise–abatement. San Jose International Airport is close to the center of town and, therefore, has curfew restrictions. It was 1:45 a.m. when our jet touched down.
A POSTSCRIPT TO this story occurred just more than 11 years later. Cole and I were on the same evening flight from Toronto to Ottawa, April 20, 2006, for the start (the following night) of an opening–round playoff series between the Senators and Tampa Bay Lightning. I was covering for The FAN–590; Bob would call the games for Hockey Night In Canada. As always, I stayed at a Holiday Inn Select hotel off the highway in Kanata, close to what is now the Canadian Tire Centre. Bob was at the more–luxurious Brookstreet Hotel, several miles north.
As we awaited our luggage at the airport, I told Bob I was renting a car and would drop him off at the Brookstreet. He thanked me and said, "you know where it is, right?" I answered affirmatively, though I wasn't certain which local street led to the property. I did know to get off the westbound Queensway (417) at the "March Rd./Ottawa Regional Rd. 49" exit. Unfortunately, that's all I knew.
Roughly 45 minutes later, Bob and I were driving around, aimlessly, in pitch–darkness.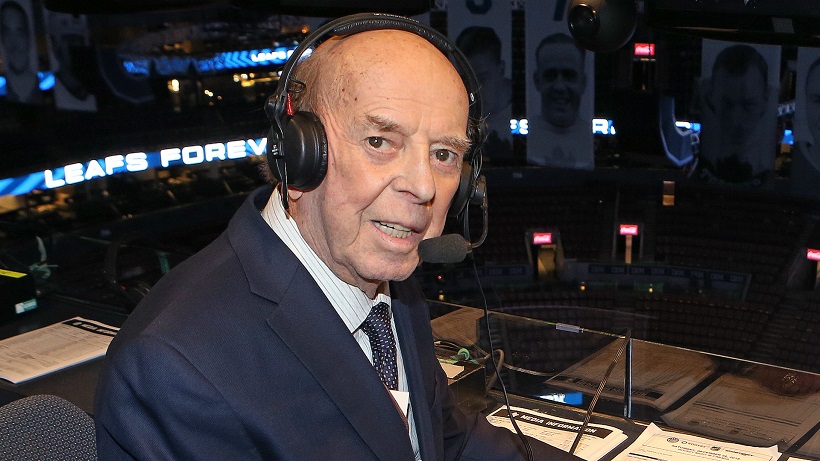 THE GREAT BOB COLE, IN HIS LONG–TIME PERCH AT SCOTIABANK ARENA.
"Hang in there, Coley, I'll find the place," I assured without a smidgen of confidence. I pulled over to the side of the road and made a call on my cellphone. "Alright, Bob, I've got it now." Twenty minutes later… more darkness. I wasn't sure we were still in Ontario, let alone near Kanata. Through the entire wayward trip, Cole sat quietly, while wishing, I'm certain, he had hopped into a taxi at Ottawa Airport. At one point, he said, "y'know, Howard, this is starting to remind me of that bus ride in Los Angeles way back when." Though still uncertain of my whereabouts, I burst out laughing. Thankfully, we soon came upon a directional sign to the Brookstreet and I dropped off the Hall–of–Fame broadcaster (now 88) a few minutes later.
"See, Coley, I told you I knew where it was."
"G'night, Howard," he replied.
"G'night, Bob."
**************************************
COLLECTOR DAVE: After a commercial flight from Los Angeles to Vancouver in March 1995, I took the Leafs' bus from the airport to the Westin Bayshore Hotel. Along the way, Andreychuk, the future Hall–of–Fame winger, had a conniption. Or, two. Chucky, as he was known to teammates, found himself in charge of collecting $40 wagers for the club's NCAA basketball tournament pool. He was angry and intense. It was not a task he enjoyed. When Mike Gartner (another Hall–of–Famer to be) offered up a $50 bill, Andreychuk asked if he had correct change.
"No, if I did I'd give it to you," Gartner replied.
"Just asking, Garts."
Bill Berg forked over payment and further annoyed Andreychuk by asking for a receipt. "Give it a rest, Bergy."
The big winger stomped up and down the bus with great purpose and finally took a seat. "Sh**, he isn't that intense during games," came a crack from behind us. After a few moments of serenity, the real turmoil began.
"Alright, 50 dollars is missing, dammit!" Andreychuk snapped prompting the entire bus to explode with laughter.
"Did you take math in high school?" asked Warren Rychel.
"Not funny," Andreychuk groused, head down, shuffling, one more time, through a wad of American bills. His ledger still unbalanced, big Dave conducted an exhaustive, player by player search in a desperate attempt to locate the fraudulent party. Unsuccessful, he sat back down — his features twisted in strife and discontent.
Seconds later, he erupted once more.
"Okay, the guy who has it… it'll be on your mind; you have to sleep tonight," he warned.
Again, the entire bus lapsed into hysterics.
"Did you check your sleeve, Chucky?" asked Todd Gill.
"C'mon guys, this is serious," Andreychuk replied, almost in tears.
"I think we're gonna have to fly in Max Offenberger," cracked media relations director Bob Stellick, referring to the team psychologist.
Finally, Gartner grew fed up and pulled all of the U.S. money out of his wallet.
"Chucky, look at this," Gartner said. "In my hand, I have six $50 bills. Is it impossible for me to have the extra money? And, if so, how in the world are you gonna find out?"
That served to end the debate as a perplexed Andreychuk started at Gartner without reply.
**************************************
There was another hilarious Andreychuk moment that season. I was in the hotel coffee shop with the Leafs for breakfast one morning in Edmonton. When I left to go upstairs, Andreychuk was just arriving to sit down. As he waited for a table, two Asian men — much shorter than the lanky winger — began circling and peering upward at the big Leaf. Andreychuk, perplexed, looked down and followed their path around his body.
Finally, one of the men tapped him on the arm.
"Are you Cam Nee–ry?" he asked in a thick accent.
"No, I am not," replied Andreychuk, rolling his eyes heavenward.
Good God, did I burst out laughing.
**************************************
BURNING EYES: This story dates to the 1970–71 NHL season and was told to me by Darryl Sittler, a Leafs rookie that year. After practice one day, a number of players were having a sauna at Maple Leaf Gardens when George Armstrong opened the door. Armstrong had been captain of the Leafs during their 1960's Stanley Cup dynasty and was now in his final pro season. He looked around in the sauna for a place to sit, which brought a deluge of griping from teammates, who angrily informed him there was no room for anyone else.
Armstrong responded by urinating on the coals and slamming the door. A cascading mist of bodily fluid enveloped the sauna and nearly asphyxiated the players, sending them in a dash for fresh air.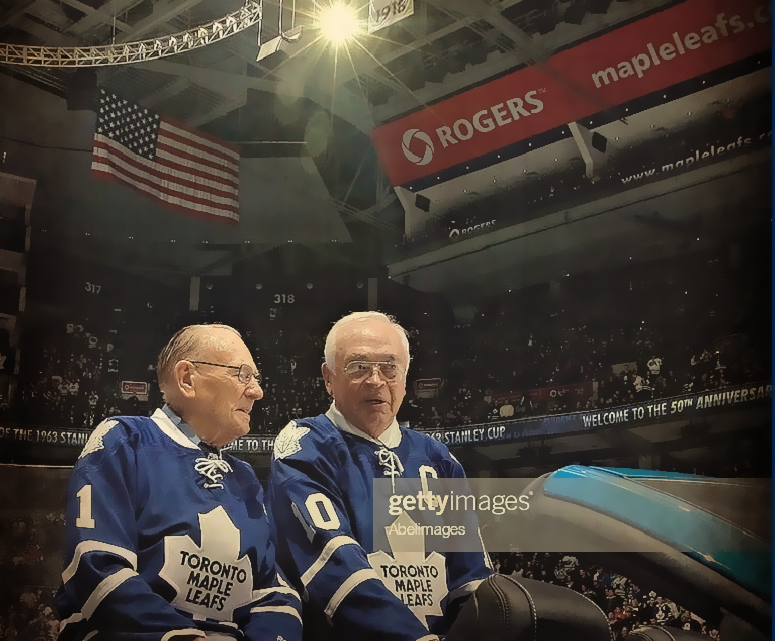 GEORGE ARMSTRONG (RIGHT) AND JOHNNY BOWER. FOUR STANLEY CUPS WITH THE LEAFS.
"It was awful," remembered Sittler. "Our eyes were burning and the smell was terrible."
Recalling the incident with me years later, Armstrong laughed.
"There was plenty of fu–ing room in the sauna after that!"
The Chief, God bless his soul, died last January. He was one of a kind.
**************************************
UN–WELCOMED FEET: In November 1995, the Leafs were on a three–game trip to Winnipeg, Vancouver and Edmonton. After the game in Vancouver, I was on the team's charter flight up to Edmonton. We arrived just after 1 a.m. and took a bus to the Westin Hotel. Room keys were laid out on a table and the players went upstairs. But, I had to check in at the front desk. After a long day, I was looking forward to collapsing in bed. I got up to my room; opened the door, and noticed a large pair of feet sticking out from under the blanket.
"What's going on here?" said a man with a gruff voice.
"Oh, pardon me, sir. The front desk gave me the wrong key. Sorry to disturb you."
I went back downstairs and explained the situation. The desk manager apologized profusely and assigned me another room. Up I went again in the elevator; got to the door, and turned the key. This time, I saw two humps in the bed — clearly a man and his wife.
"Hello? Who is it?" said the lady.
"Oh, I'm so sorry ma'm. I got the wrong key when checking in. Please accept my apology."
Now, I was steaming mad. I got off the elevator, stomped toward the front desk and yelled "what the f–ck's going on here?!" Pat Burns happened to be in the lobby. "Jeez, Howie, what's the matter?" he asked.
The desk manager also had a quizzical look. "For crying out loud," I snarled, "don't you have a vacant room in this damned hotel? I'm waking up half the guests." He threw back his head and said, "no… again?" This time the man accompanied me up to another room. And, he knocked. I held my breath as he carefully opened the door.
Thankfully, there were no big feet… or humps.
"The room's on me," said the manager and I fell into bed — exhausted.
**************************************
FRANTIC LEAFS COACH: This story is a bit embarrassing, but it also generated convulsive laughter. At the beginning of December 2008, the Leafs went out west to play Los Angeles, San Jose and Arizona. The L.A. and San Jose games were on consecutive nights; then we had a day off in Phoenix before the Leafs–Coyotes match. That night, Cliff Fletcher invited all team staff and traveling media to his palatial estate in Scottsdale for a party. The players stayed for about two hours and then headed back to the team hotel in Glendale, across from Gila River Arena. Management, coaches, training staff and media hung around til the wee hours.
At the time, Brian Burke had been general manager of the Leafs for less than a week, and Ron Wilson was in his initial season as coach. It was their first social gathering and they regaled us with stories from their Providence College days. At one point in the evening, I walked out to Fletcher's back–yard, which stunningly overlooked the lights of Phoenix. There, I came upon David Shoalts of the Globe and Mail, who was relieving himself in the bushes (he'll kill me for this). I asked Dave why he'd chosen that spot. "Well, there's only one bathroom available to us in the house," he replied, "and I nearly passed out when I went in there a few minutes ago."
I laughed and walked back in to join the others. About five minutes later, Mother Nature knocked on my door. And hard. I was in a crisis and prayed that no one was occupying the lone bathroom. Thankfully, it was vacant… and the stench that drove Shoalts into the garden had dissipated.
But, not for long.
Regrettably, I did a similar number on the room. It was absolutely lethal.
I found myself in a quandary. No other person could have walked in without becoming violently ill. And, my biggest fear was opening the door to find either Burke or Wilson waiting for a visit. I frantically searched, without luck, for a can of Lysol or Glade. I then opened the door beneath the sink and noticed that Cliff's wife, Linda, had a tray of mini perfume bottles. i took out three or four and liberally sprayed them about the room.
After 15 minutes, I realized it was unfair to occupy the lone lavatory much longer. I said a quick prayer and opened the door. To my immense relief, neither the GM; the coach, nor anyone else, was on deck. As I walked toward the livingroom, however, I caught a glimpse of Wilson heading for the "danger zone". A wall partially separated us, so he didn't see me. Ol' Ronnie wasn't feeling much pain at that juncture (Cliff and Linda had wine and beer bottles all over the house) and we all remember how the coach had a loud, piercing voice.
I paused just a moment as Wilson approached the bathroom door.
"Holy sh–t, who died in here!" he bellowed.
I entered the livingroom and held my breath because I didn't want to burst out laughing. It wasn't the type of environment to tell a story like that. Further testing my resolve was Wilson, who returned moments later, wincing in apparent pain. "Jeez, someone really sick was in that bathroom," he groaned. I was close to turning blue.
We sat around for another couple of hours listening to Cliff's hockey stories.
I'd rented a large SUV at Phoenix Airport and had enough room to drive my media colleagues back to Glendale. Kevin McGran of the Toronto Star sat next to me. In the back seat were Rob Longley of the Toronto Sun; Sheri Forde of TSN, and Shoalts. Crouching in the trunk–hatchback area was Michael Traikos of the National Post. I couldn't wait any longer. I told the Wilson story and began the trip back to our hotel. But, we were all laughing our guts out and I had to pull over on the 101–Loop. My eyes were so wet from tears, I couldn't see the road.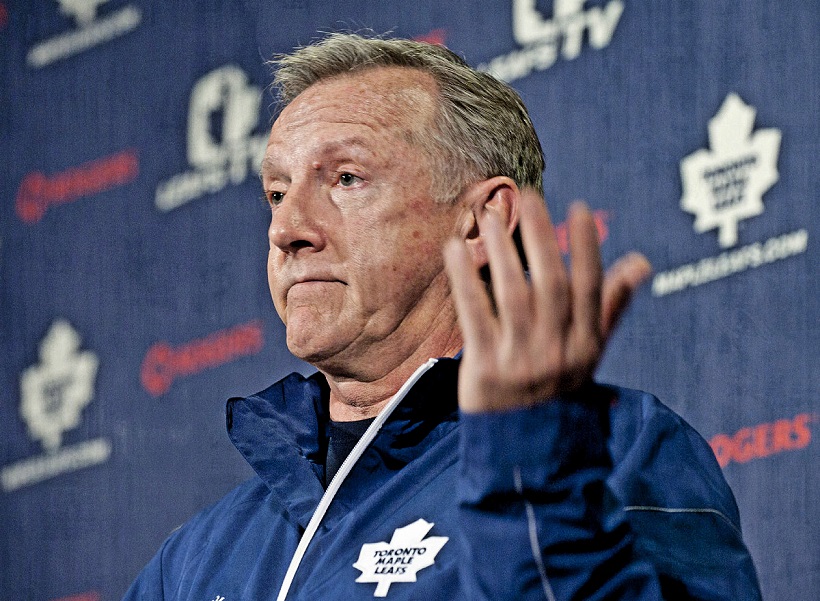 FORMER TORONTO MAPLE LEAFS COACH RON WILSON. "WHO DIED IN HERE??!"
Two years later — in January 2011 — the Leafs made the identical western swing: Los Angeles and San Jose in consecutive nights then a day off in Phoenix before playing the Coyotes. Again, Cliff and Linda hosted a party at their home in Scottsdale. Wilson was in a dandy mood, having won his 600th career game as a coach the night before against his old team, the Sharks. Late in the party, Ron was sitting with four or five of us and I felt it was the right moment to tell him the bathroom story from two years earlier.
"Oh ho, no way… did I really yell that out?" he laughed.
Yes you did, Ron. Loud and clear.
**************************************
CRACKLY COLUMNIST: On the subject of passing wind, I still howl when recalling an incident after Game 4 of the Leafs–Detroit opening–round playoff series in 1993. It involved my mentor — the late Toronto Star columnist Jim Proudfoot. Coach Burns was fielding questions in the media lounge at Maple Leaf Gardens when there was a sudden lull in the conversation. At that point, a loud, crackly fart emanated from the back–corner of the room. Burns quickly snapped his head in the direction of the blast, where Proudfoot was standing with a crooked smile on his face. Other reporters discreetly shuffled to the opposite side of the lounge, fearing an aftershock.
Two days later, Jim and I were in Detroit for Game 5 of the series and riding the downtown monorail (known as the "People Mover") to Joe Louis Arena. Still mortified over his gas attack, Jim explained to me, "Gee, Howard, I tried to time it so there'd be enough noise to drown out the sound. But, just as I reached the point of 'no return,' everyone suddenly stopped talking." I shook my head and laughed.
Moments after arriving at the arena, Proudfoot and I walked past the corridor leading to the visitors' dressing room. As the Leaf players warmed up for the pivotal match, Burns was pacing back and forth, seemingly oblivious to anything else. We offered him a cursory wave and continued on to the media room for dinner.
Not three seconds later, we heard the Leafs coach bellow, "No farting in the press box!"
EMAIL: HOWARDLBERGER@GMAIL.COM