TORONTO (Nov. 28) — Rather by accident, it appears the Toronto Maple Leafs have a $3.8 million albatross on their roster for the next three seasons. That was the outlay (and cap hit) accorded unrestricted free agent Petr Mrazek by general manager Kyle Dubas over the summer — the idea being that a veteran goalie with moderate playoff experience (29 games) would share the regular–season load with incumbent Jack Campbell.
So much for best–laid plans.
Campbell has proven worthy of a larger role, carrying over his brilliance from last season. And, the injury prone Mrazek didn't make it through his first game with the Blue and White (Oct. 14 at Ottawa), tweaking a groin muscle. He then aggravated the injury it in his only other appearance, a 4–1 win over Detroit at Scotiabank Arena on Oct. 30. The Czech native has since resided on LTIR (long term injury reserve); his return to the line–up still a mystery.
In his place has emerged a rookie stopper, Joseph Woll, with three victories in as many starts — at Buffalo (Nov. 13), at New York Islanders (a shutout last Sunday) and at San Jose (Friday night, helping the Leafs improve to a stellar 15–6–1 after 22 games). On emergency loan from the Toronto Marlies, Woll, 23, has a 1.67 goals–against average and a .939 save percentage, both exceptional numbers in a small sample–size. Campbell is 11–4–1 in 16 starts with splits of 1.68 and .943. Since the advent of the two–goalie regulation in 1965–66, and though we're just beyond the quarter–pole of the current schedule, the Maple Leafs have never carried more than one netminder with a GAA less than 2.00. The lone goalie to accomplish the feat was veteran Jacques Plante, in 1970–71, with a 1.88 average at 42 years of age. Next best was Hall–of–Famer Ed Belfour and his 2.13 GAA over 59 appearances in 2003–04. In 1966–67, when the Leafs last won the Stanley Cup, Terry Sawchuk (2.81 in 28 games) and Johnny Bower (2.64 in 27 games) split most of the schedule. So, the Leafs appear to be onto something rather special.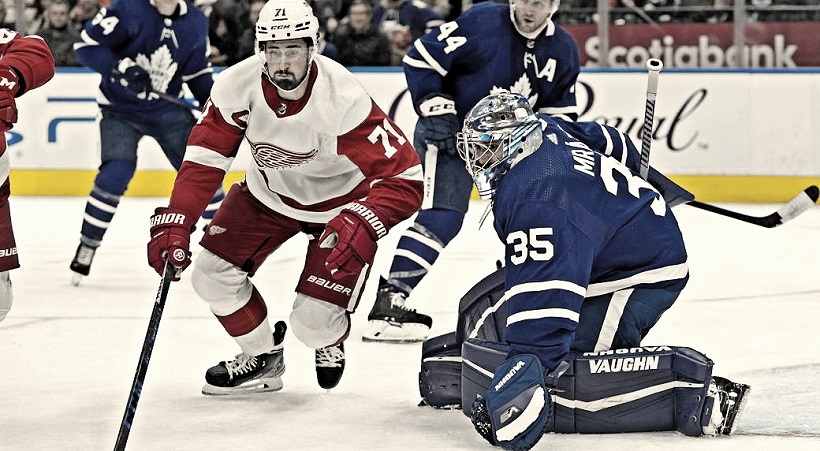 PETR MRAZEK RE–INJURED HIS GROIN WHILE DEFEATING HIS FORMER TEAM, DETROIT, AT SCOTIABANK ARENA, OCT. 30. HE'S BEEN SIDELINED EVER SINCE. NATHAN DENETTE THE CANADIAN PRESS
Given that Woll is earning just $750,000 against the cap this year — and that Woll and Campbell both need to be re–signed before next season — there will be temptation in Leafs Land to somehow get out from under the commitment to Mrazek. Were Lou Lamoriello still running the club, ol' Petr would find himself rooming with Stephane Robidas on a deserted patch of land in the south Pacific. No one in the salary cap era could make players disappear more efficiently than Loquacious Lou; just ask Robidas and Joffrey Lupul (the Lamoriello loophole no longer exists… but is there another avenue for the Maple Leafs' vaunted capology unit?). Mrazek's contract includes a limited no–trade clause (he can submit a list of 10 teams for which he would not play), but there is no protection against placing him on waivers, as did Ottawa this week with Matt Murray. Were a rival team to put in a claim — highly unlikely given Mrazek's injury plight — the Leafs would be fully off the hook. If Mrazek cleared waivers, the Maple Leafs could demote him to the Marlies; still paying his full salary while incurring a "buried contract" penalty.
The club would save roughly $1.1 million in cap space over the last two years of Mrazek's deal.
In a practical sense, it's too early to be considering such a move. If Campbell were injured and Mrazek available, would the Leafs not prefer the veteran moving into the No. 1 role ahead of the rookie, Woll, who we haven't seen nearly enough to form a long–range assessment? Conversely, were Mrazek unable to return successfully this season from his groin issue — and if Woll continues to stand in reliably for Campbell — wouldn't the Maple Leafs want to move forward with the current tandem? You know that Campbell, should he remain stellar, will at least triple his bargain, $1.6 million stipend and likely break the $5 million barrier. Woll, a restricted free agent, could be looking at $1.7 to $2 million on a new deal; a better price than Mrazek for a younger player less prone to injury. Again, where would that leave Toronto with two years and $7.6 million still owing (against the cap) to Mrazek?
At the moment, it's a nifty dilemma for the Maple Leafs to contemplate.
In professional sport, it is hardly unusual for someone to prosper as the result of another player's misfortune. That could be happening now with Woll and Mrazek. Former Leaf stoppers Mike Palmateer and Felix Potvin both appeared unexpectedly and crafted exceptional careers in blue and white — Palmateer early in the 1976–77 season after starter Wayne Thomas couldn't get his act together; Potvin midway through 1992–93 upon an injury to veteran Grant Fuhr. It's too soon to project such prosperity for Woll, but he has shown some early promise at a time when few observers figured he'd be playing in the National Hockey League. The goaltending roulette is something for Maple Leaf fans to watch closely the rest of this season and into the summer.
THE ACHE WILL LAST FOREVER
Vancouver — Nov. 28, 1971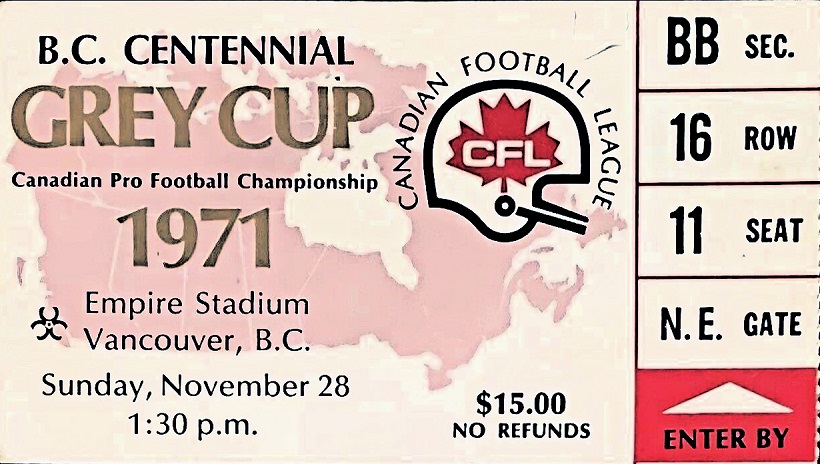 I was 12 years old, studying for my bar mitzvah, and gaping at our Admiral color TV as Dick Thornton romped toward the south end of the field at Empire Stadium in Vancouver. Dusk had fallen on the old yard at the Pacific National Exhibition one–half century ago tonight; the stadium lights taking full hold of the telecast on the CBC national network. Somehow, some way, while protecting a three–point lead in the dying moments of the 1971 Grey Cup for the Calgary Stampeders, quarterback Jerry Keeling dropped back deep in his territory and heaved a Hail Mary–type pass toward midfield. Thornton, the all–pro defensive back of the Toronto Argonauts, easily picked off the errant throw and began running for the Calgary end zone. I remember not believing what I was watching. In a driving rainstorm, the Argos had done nothing all day other than return a fumbled punt for a touchdown (courtesy offensive lineman Roger Scales). Just when it appeared the Stampeders would run out the clock, here was Tricky Dick looking as if he would score the go–ahead major. How could this be happening, I asked myself in sudden delirium? At the 15–yard–line, Thornton saw an opening to his left but Keeling — a former defensive back, himself — smartly eluded the block of Argos' tackle Jim Stillwagon and hauled down the Toronto ball carrier at the 11.
Having lost all hope for an Argo triumph, here I was practically blinking at the TV; barely comprehending that my favorite team would now, minimally, tie the match with a field goal… and perhaps take the lead with a touchdown.
Fate, however, wouldn't allow for the fairy tale ending.
It still causes a dull ache in my digestive tract when I remember how rookie Leon McQuay, the most–exciting Argos runner I've seen in my life, fumbled the ball on the next play, dashing my brief and incomprehensible hope.
Calgary hung on to prevail, 14–11, and prolong Toronto's 19–year Grey Cup famine.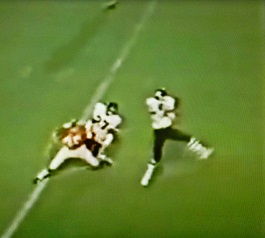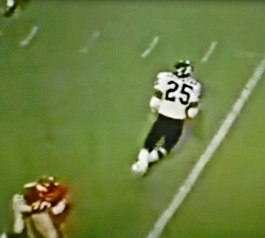 FROM THE CBC TELECAST (ABOVE): DICK THORNTON (25) LEAPT HIGH TO INTERCEPT JERRY KEELING'S LONG PASS AND THEN STARTED UPFIELD. KEELING (TOP–RIGHT) PLAYED OFF THE BLOCK OF JIM STILLWAGON TO BRING DOWN THORNTON AT THE CALGARY 11–YARD–LINE.
The Argonauts have since won the Canadian Football League championship on seven occasions: 1983–91–96–97–2004–12–17. But, the euphoria of even that first victory — I was at B.C. Place in Vancouver when Joe Barnes and Cedric Minter hooked up on a late touchdown to win the '83 title, 18–17, over the host B.C. Lions — paled in comparison to the anguish I felt when the 1971 triumph slipped out of McQuay's hands. Everything is bigger and happens more slowly in our youth. I had been an Argos fan for only three years when the heartache occurred at Empire Stadium. But, I knew every player on that team by jersey number — Joe Theismann, 7; Mike Eben, 9; Dave Raimey, 14; Zenon Andrusyshyn, 19; Dick Thornton, 25; Tim Anderson, 26; Bill Symons, 33; Jim Corrigall, 66; Jim Stillwagon, 68; Mel Profit, 75; Gene Mack, 76 chief among them. I'd been to every Argo home game in '71, my dad purchasing season tickets in the uncovered south bleacher of old CNE Stadium, adjacent to the west goal line. It was the best location available in the 33,135–seat facility; routinely filled to capacity to watch the skilled and entertaining club assembled by Leo Cahill. Better the goal line than listening to games on the radio.
Young Toronto sports fans need to understand that there were only two professional teams in the city back then. It was the Maple Leafs in winter and (sometimes) spring; the Argos in summer and fall. The Blue Jays wouldn't arrive until 1977; the Raptors until 1995. Difficult though it may be to fathom, the Argonauts and Leafs were on an equal plane with respect to popularity. The CFL was more–fashionable to the locals than the NFL. So, to have the Argos in the Grey Cup game for the first time since 1952 (seven years before my birth); to watch morosely as they foundered in the rain all afternoon; to be exhilarated beyond imagination when Thornton intercepted Keeling's pass, then thoroughly deflated when McQuay fumbled… well, you can likely comprehend why a 12–year–old kid hurt more deeply than a 24–year–old man exulted when the Double Blue finally lifted the Grey Cup in 1983.
One afternoon in October 2003, during the years I covered the Maple Leafs as a reporter for The FAN–590, Dick Thornton was in town. He lived in the Philippines after spending many years as a roving employee of Coca Cola. We had occasionally corresponded during my radio career and Dick suggested we meet at a bar across from Pearson Airport. One thing led to another and Dick wound up spending the night at our house in the north part of Toronto (I was still married and had two young children). I remember my wife, Susan, though a gracious hostess, being appalled that Dick chain–smoked in the house throughout the day and night. And, how Thornton sat in our den with me and my son, Shane, talking about his almost–interception–for–a–touchown in the Grey Cup game, 32 years prior. Fast–forwarding to the night of Dec. 19, 2014, I also remember landing in San Francisco for a brief vacation with Shane and reading on my BlackBerry that Dick had passed away hours earlier from lung cancer. I was saddened but not overly surprised given the pile of cigarette butts in a soup bowl on the day he spent with us.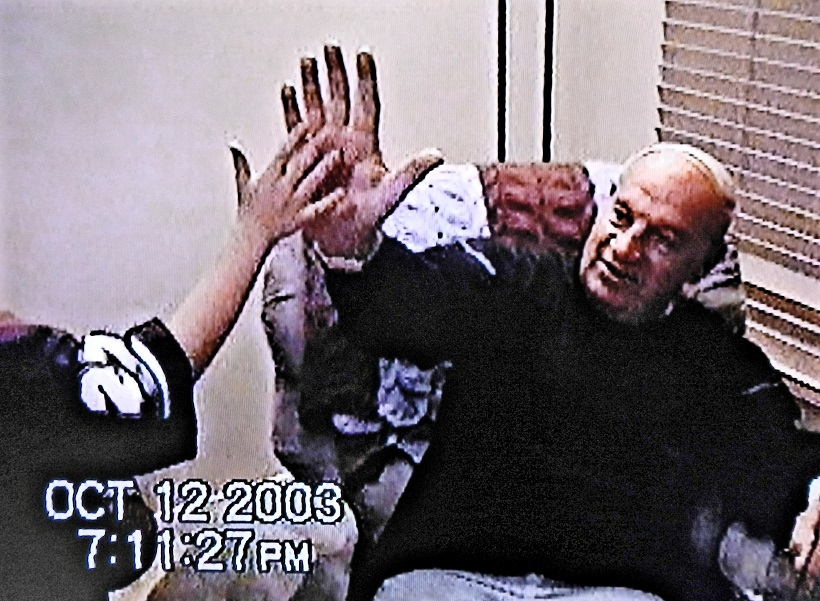 THORNTON SPENT THE NIGHT OF OCT. 12, 2003 AT OUR HOUSE IN THORNHILL, ONT., THREE WEEKS BEFORE HIS 64th BIRTHDAY. FROM A VIDEO I MADE THAT DAY, HE HIGH–FIVE'D MY SON, SHANE (ABOVE), AND LAMENTED THE ABORDED GREY CUP INTERCEPTION 32 YEARS EARLIER (BELOW).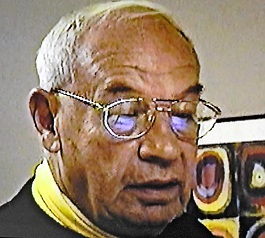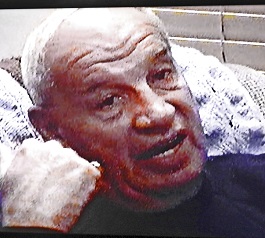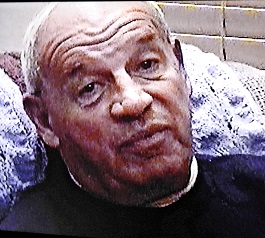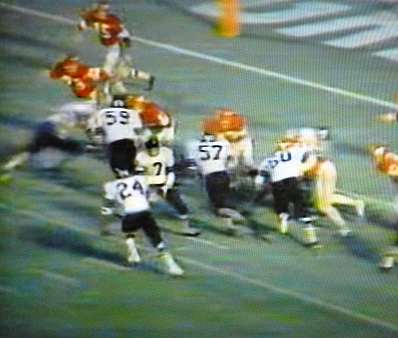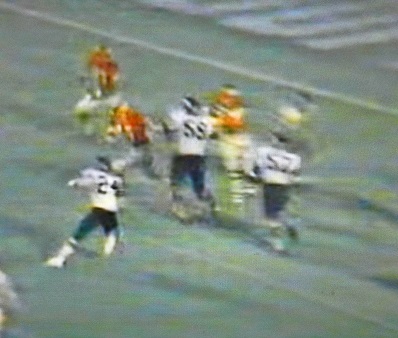 THE FUMBLE THAT LIVES IN INFAMY 50 YEARS LATER. LEON McQUAY (24) TAKES A HANDOFF (ABOVE) FROM QUARTERBACK JOE THEISMANN (7) AND SEES AN OPENING TO THE RIGHT OF TEAMMATE CHARLIE BRAY (57). WHEN TRYING TO CUT BACK (BELOW), HE SLIPS ON THE RAIN–SOAKED TURF AND LOSES THE BALL WHEN HIS RIGHT–ELBOW HITS THE GROUND. THE STAMPEDERS RECOVER.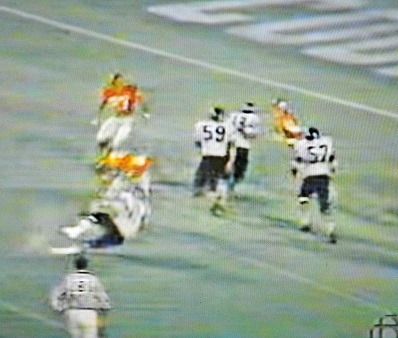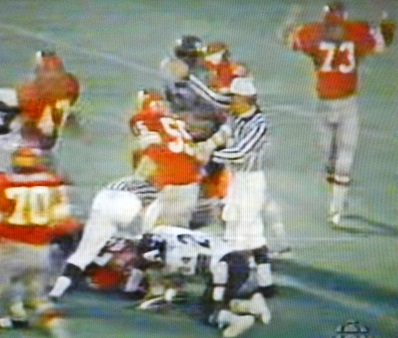 EMAIL: HOWARDLBERGER@GMAIL.COM