TORONTO (Nov. 3) — Of course the Maple Leafs are going to sign Jack Campbell to a long–term extension before the goalie demonstrates he can perform effectively through a full, 82–game season. That's the Brendan Shanahan/Kyle Dubas archetype: Pay now. Answer questions later. Evidence be damned. Shanny and Dubie traveled the same hypothetical road with the Big 3 draft picks of 2014–16. Spent like drunken sailors. With nothing yet but fancy regular season numbers to show for it. So, why wait for Smilin' Jack to prove he's a legitimate No. 1 stopper against the entire National Hockey League, rather than a COVID creation from north of the 49th?
Look, there's no question that acquiring Campbell from Los Angeles in February 2020 is the hallmark of the Dubas era — a brilliant, cunning piece of work that cost the Leafs next to nothing. Campbell was, far and away, the goaltending class of the all–Canadian North Division during the 56–game schedule of a year ago. The Kings thought so marginally of the Port Huron native that they inked him to a pauper's salary: $1.6 million. Then unloaded him for Trevor Moore (if you have difficulty recalling Moore's contribution to the Maple Leafs, you're not alone). Undoubtedly, Dubas pulled a fast one on his L.A. counterpart, Rob Blake. But, we still aren't assured of Campbell's durability. Though he initially appeared in the NHL eight seasons ago, he hasn't yet played 100 games. He crafted a splendid log in the pandemic–shortened season, but was then — by quite a margin — the second–best goalie in the aborted playoff round against Montreal. And, we're only in the first week of November.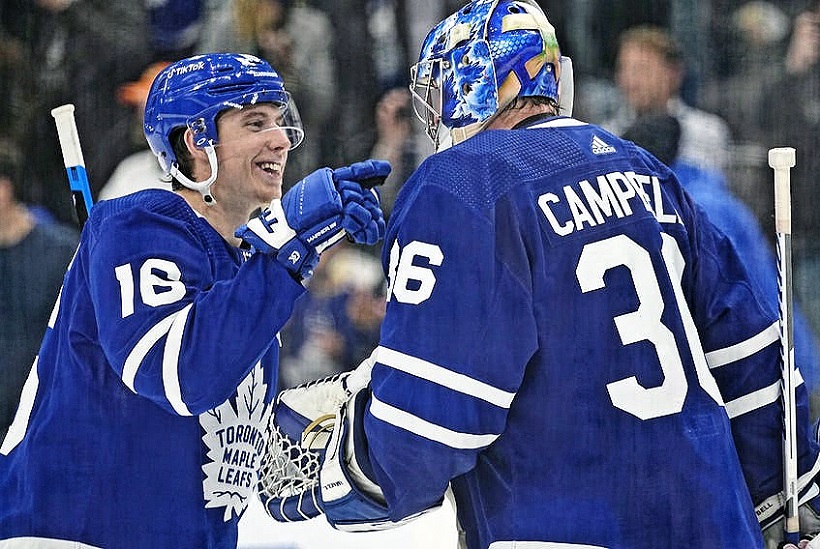 JACK CAMPBELL AND MITCH MARNER SHARE SMILES AFTER THE MAPLE LEAFS BLANKED THE VEGAS GOLDEN KNIGHTS, 4–0, ON TUESDAY AT SCOTIABANK ARENA. TORONTO SUN PHOTO
So, I ask: Why rush into a multi–year arrangement? What's at stake, besides confirmation or contradiction, if the Leafs wait until February or March before locking up Campbell? Or, even (heaven forbid) until he wins a playoff round? Hasn't there been enough trial and error over the past half–century at the game's most–critical position?
The latter query is rhetorical. When Petr Mrazek debuted with the Leafs, at Ottawa on Oct. 14, he became the 72nd man to tend goal for the club since the 1967 Stanley Cup triumph. Here's the entire roll call, chronologically, with names that are surely foreign to all but the most–ardent Leaf supporter: JOHNNY BOWER, BRUCE GAMBLE, AL SMITH, MARV EDWARDS, GERRY McNAMARA, JACQUES PLANTE, BERNIE PARENT, MURRAY McLACHLAN, GORD McRAE, RON LOW, DOUG FAVELL, DUNC WILSON, EDDIE JOHNSTON, PIERRE HAMEL, WAYNE THOMAS,  MIKE PALMATEER, PAUL HARRISON, JIRI CRHA, CURT RIDLEY, VINCENT TREMBLAY, JIM RUTHERFORD, MICHEL (BUNNY) LAROCQUE, BOB PARENT, RICK ST. CROIX, ALLAN BESTER, KEN WREGGET, BRUCE DOWIE, TIM BERNHARDT, DON EDWARDS, JEFF REESE, MARK LaFOREST, PETER ING, DAMIAN RHODES, GRANT FUHR, FELIX POTVIN, RICK WAMSLEY, DARREN PUPPA, DON BEAUPRE, MARCEL COUSINEAU, GLENN HEALY, CURTIS JOSEPH, COREY SCHWAB, TOM BARRASSO, SEBASTIEN CENTOMO, ED BELFOUR, MIKAEL TELLQVIST, TREVOR KIDD, JEAN-SEBASTIAN AUBIN, ANDREW RAYCROFT, SCOTT CLEMMENSEN, VESA TOSKALA, MARTIN GERBER, JUSTIN POGGE, JEAN-SEBASTIEN GIGUERE, JONAS GUSTAVSSON, JOEY MacDONALD, JAMES REIMER, BEN SCRIVENS, JUSSI RYNNAS, JONATHAN BERNIER, DREW MacINTYRE, GARRET SPARKS, FREDERIK ANDERSEN, JHONAS ENROTH, ANTOINE BIBEAU, CURTIS McELHINNEY,  CALVIN PICKARD, MICHAEL HUTCHINSON, KASIMIR KASKISUO, JACK CAMPBELL, DAVID RITTICH, PETR MRAZEK.
Need I offer more–compelling proof that the Leafs wouldn't kill themselves by waiting a bit longer with Campbell? He isn't going anywhere. So, what's the risk? That Shanahan and Dubas may hurt Jack's feelings? That he could decline, in a frivolous huff, to ink his name on a lengthy contract? Campbell isn't stupid. He recognizes the occurrence of injury that has stunted his NHL aspiration to the age of 29. He knows he hasn't yet survived a full, 82–game season. Or, appeared in more than seven career Stanley Cup matches. And, he responded, rather blissfully, on Wednesday to the concept of settling here in Toronto. Why, then, would Smilin' Jack gamble on playing even one game beyond a legitimate overture from the Leafs — even if in the latter portion of the schedule?
But, this is surely a futile argument. The current Maple Leafs management has shown it operates on a hunch. For every smartly negotiated contract (as with Morgan Rielly), there is haste to unload draft choices on a poorly conceived quick fix — thinking that even a healthy Nick Foligno can overcome the demonstrated playoff inadequacy of Matthews, Marner and Co. Or, that Jack Campbell, as well as he performed in the regular season, can out–maneuver Carey Price at crunch time. Yeah, for sure, it came close to happening. But, hockey isn't horseshoes. And, the Leafs aren't sold on accumulating data before leaping to conclusion. So, expect Campbell to be locked into a four or five–year commitment before the middle of this month. It's the Kyle and Shanny way.
EMAIL: HOWARDLBERGER@GMAIL.COM