TORONTO (Dec. 8) — I can close my eyes and still capture the scene from 52 years ago last month: a dark, rainy afternoon at CNE Stadium on Nov. 2, 1969. It was my second live Canadian Football League game — the Montreal Alouettes playing the Toronto Argonauts. I sat with my school chum, Jeffrey Spiegelman, in Sec. M of the covered grandstand, thereby shielded from the downpour that lasted the entire, gloomy day. All 33,135 seats at the old yard were occupied. The Argos wore dark–blue jerseys and double–blue stripes on the sleeve; a dark–blue helmet with a white 'A' on each side, and white pants. I remember the rain made the Toronto jerseys seem nearly black. The Alouettes were clad in white with red pants and a red eagle–wing on each side of their helmet.
A synthetic running track surrounded the field and the stadium lights, illuminated throughout the match, reflected in large rain puddles on the north side of the track, beyond the grandstand. The Alouettes were dismal on offense, forcing rookie quarterback Sonny Wade to frequently punt the ball. The names that stood out for me that day were the Argo punt returners: former University of Toronto teammates Gerry Sternberg and Mike Eben (wearing jersey numbers 34 and 32, respectively). The stadium P.A. announcer, Ken Foss, mentioned them each time Wade dropped back to kick. I can still see them standing, side–by–side, on the drenched, muddy field. At the time, Sternberg was 26 and a veteran of four CFL seasons. Eben, 23, was in his second pro year with the Argonauts. Returning punts in that era wouldn't have been much fun given that blocking was prohibited. Rival defenders could barrel in on the poor ball carriers without interference. A five or six–yard advance was considered effective.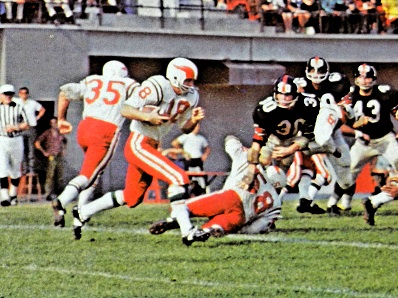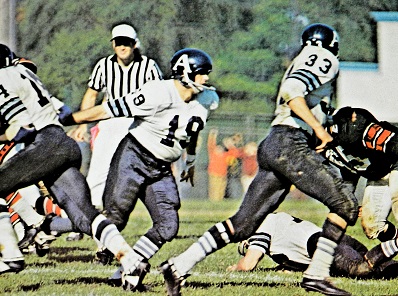 THE MONTREAL ALOUETTES WORE THEIR WHITE ROAD JERSEYS (LEFT) WITH RED PANTS AT CNE STADIUM ON NOV. 2, 1969… WHILE THE ARGOS WERE IN DARK BLUE WITH THEIR BLUE HELMETS AND THE WHITE 'A' ON EACH SIDE.
Both men were born behind the iron curtain: Sternberg (1943) as Jura Szterenberg in the former Soviet Union (he came to Canada at five years of age); Eben (1945) in the former Czechoslovakia (he arrived at age three). Both played football, and starred, for the Varsity Blues. Gerry was MVP of the first College Bowl (now Vanier Cup) game, in 1965, as the U of T defeated the University of Alberta, 14–7, at Varsity Stadium. Eben played as a freshman in the '65 College Bowl, then won the Hec Creighton Trophy (in 1967) as the top university player in Canada. Sternberg was drafted by the Edmonton Eskimos but began his CFL career with the Montreal Alouettes in 1966 and 1967. Eben cracked the Argos roster in 1968. They became teammates again in 1969 with the Double Blue.
Fast–forward just more than half–a–century to Friday morning of last week, when Sternberg and Eben — still close pals — met with yours truly at Gerry's palatial home in the Bayview and Lawrence Ave. area of the city.
I arranged the gathering for the purpose of this blog during Grey Cup week. Sternberg won the CFL title as a defensive halfback with the 1972 Hamilton Tiger–Cats. One year earlier, Eben had played receiver for the Argos in the ill–fated 1971 Grey Cup at rain–soaked Empire Stadium in Vancouver. Though I got to know the two ex–Argos during my radio career, I had never met with them to reminisce about their careers… and relate how often I watched as they tromped through the muck at CNE Stadium on that November day in 1969. Both are now considered "old men": Sternberg, 78, and Eben, 75. Yet, their minds are clear and their memories razor–sharp. For me, it was a nostalgic and privileged 90 minutes spent in the company of football heroes from my youth. How truly fortunate I felt as they browsed through a bag of Argonaut programs I've maintained from the early 70's. The names of other Argo heroes rolled off their tongues… such former teammates as Mel Profit, Bobby Taylor, Ed Harrington, Vernon Vanoy, Dave Raimey, Bill Symons, Tom Wilkinson, Dick Thornton, Joe Theismann and Leon McQuay.
"I finished law school in 1968 and didn't play in the CFL," Sternberg recalled. "In '69, I called (Argos coach) Leo Cahill and told him I could be a defensive back. He invited me to a workout and I got into a tussle with [veteran receiver] Bobby Taylor. Leo signed me and I spent that season on defense and returning punts with Mike [Eben]. Without any blocking help, you could get five yards or so before the oncoming defenders hit and smothered you. It wasn't a pleasant experience. I was also with the Argos in 1970, when Mike went to Edmonton for the year."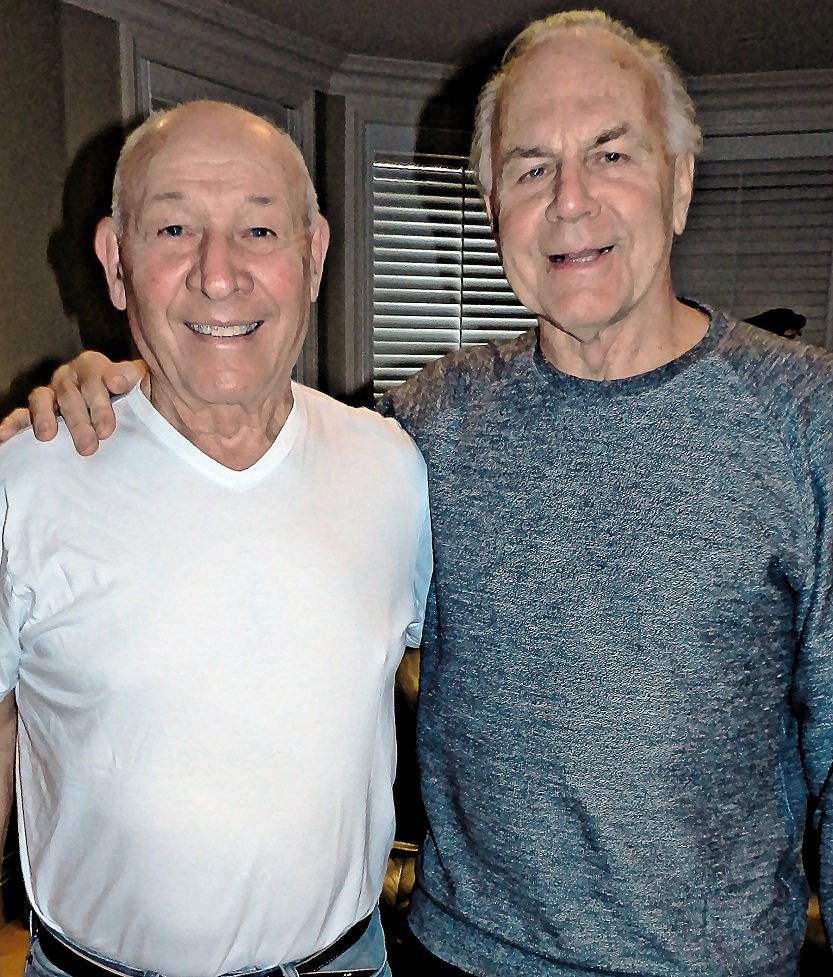 GERRY STERNBERG (LEFT) AND MIKE EBEN AT STERNBERG'S HOME LAST FRIDAY. CORRESPONDING PHOTOS (BELOW) FROM THEIR YEARS WITH LEO CAHILL AND THE TORONTO ARGONAUTS.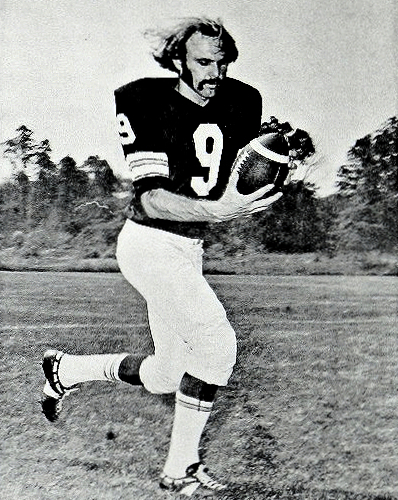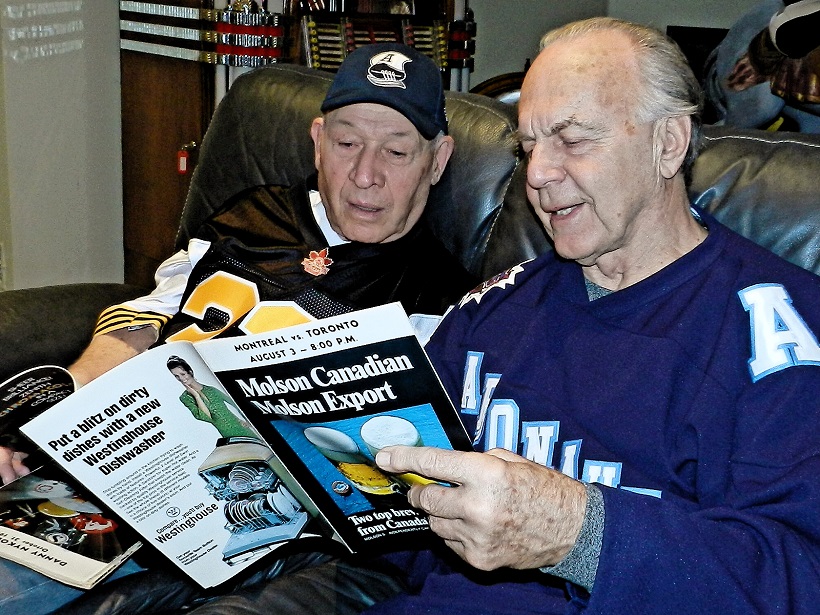 GERRY AND MIKE LOOK THROUGH PROGRAMS, INCLUDING MY FIRST ARGOS GAME (LINE–UPS, BELOW): A 34–27 LOSS TO RUSS JACKSON AND THE OTTAWA ROUGH RIDERS AT CNE STADIUM ON SEP. 20, 1969. STERNBERG (34) AND EBEN (32) RETURNED PUNTS FOR COACH LEO CAHILL.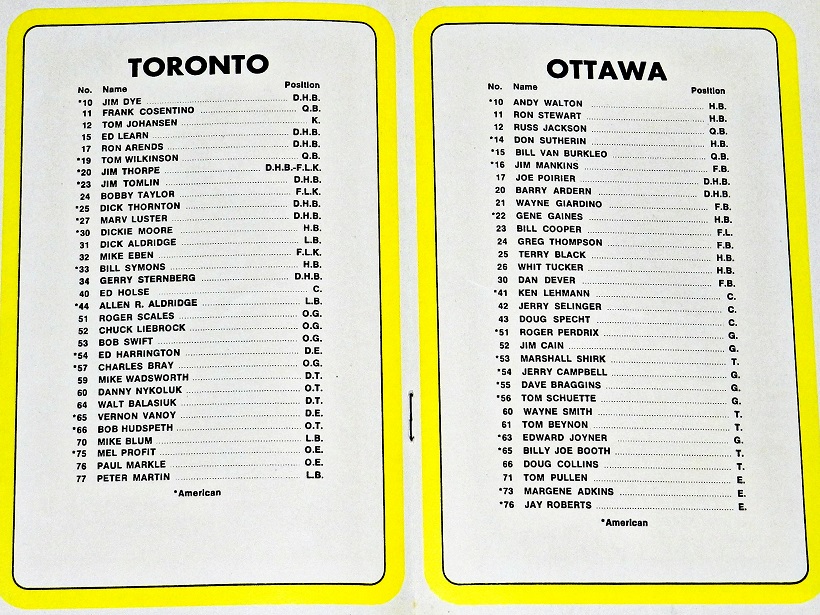 Eben had primarily returned punts in 1969. The 1970 Argos had depth at receiver with Jim Thorpe, Paul Markle, Tony Moro, Bobby Taylor, Tommy Bland and Mel Profit. As such, they allowed the Eskimos to "borrow" Eben, with the promise of returning him in 1971 (an arrangement GM Norm Kimball denied to his death bed). "It was a one–year loan," Mike confirmed last Friday. "And, the best thing that happened for me, as I became a starting receiver. Caught enough balls (48) from [quarterback] Don Trull be be named a Western all star. If I had put up a stink, maybe I could have stayed in Edmonton. But, Leo wanted me back with the Argos and I wanted to come home."
Sternberg is a distant cousin on my father's side of the family. Eben and the Eskimos played at CNE Stadium early in the 1970 season (Aug. 20) and Gerry arranged for a pair of tickets. I remember sitting with Dad in Sec. 12 of the uncovered south bleacher, two or three rows above where he would purchase season tickets the following year. In that era, to save travel costs, western teams coming east and eastern teams going west would play doubleheaders; often two games in three nights. As did the Eskimos on this trip, having lost in Montreal 48 hours earlier. Another defeat, 16–14, followed in Toronto. "That situation wasn't overly difficult for receivers, but it was murder for guys playing along the line," said Eben. "There simply wasn't enough time to recover from the first game."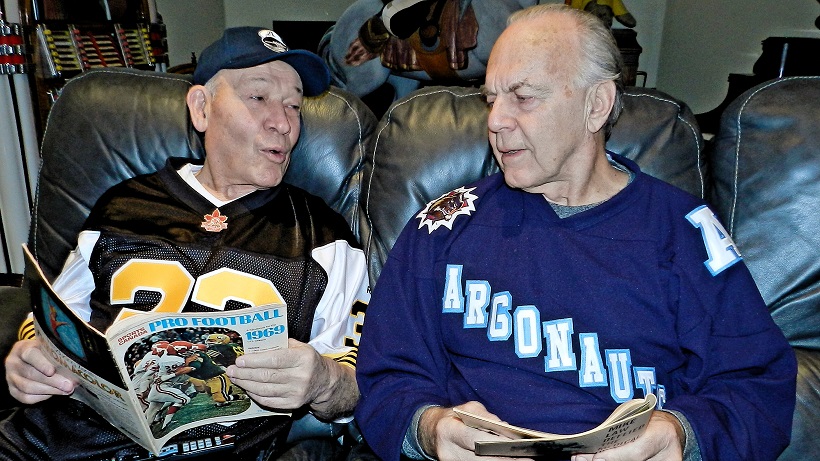 EBEN CAME BACK TO TORONTO WITH THE EDMONTON ESKIMOS (NO. 22 IN WHITE WITH DARK–GREEN NUMERALS, GOLD HELMET AND GOLD PANTS) ON AUG. 20, 1970 (ARGOS WON, 16–14). STERNBERG ARRANGED TICKETS FOR ME AND MY DAD AT SOLD OUT CNE STADIUM. IN THE PROGRAM, GERRY WAS FEATURED AS PLAYER–OF–THE–GAME FROM THE HOME OPENER, THE PREVIOUS WEEK, AGAINST HAMILTON. THE TORONTO–EDMONTON LINE–UPS ARE ALSO BELOW.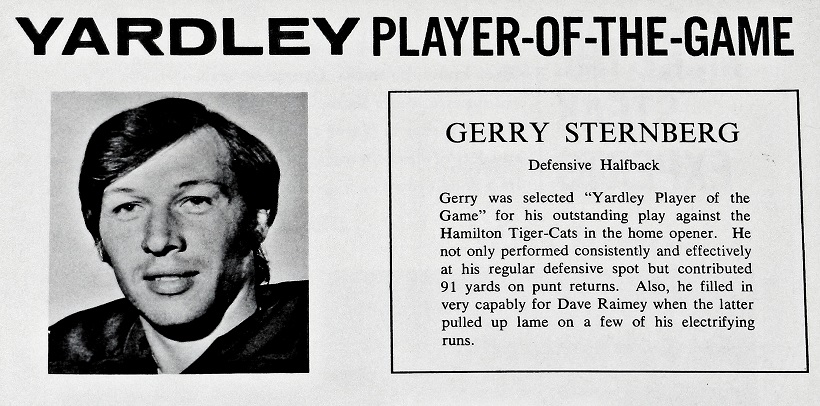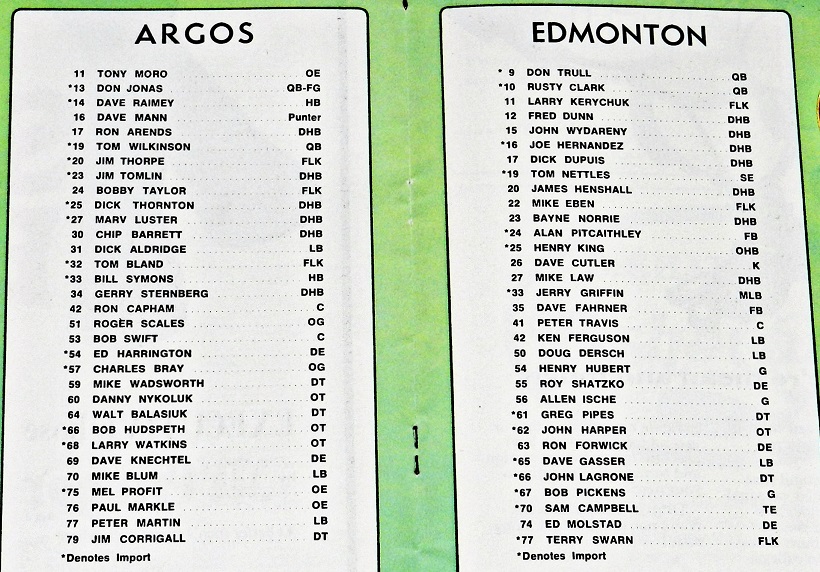 I still have the program from an Argos at Hamilton pre–season game that I attended on July 22, 1971. The visitors prevailed largely as the result of a fumble and interception return for touchdowns by Sternberg. Early in the regular season, however, Gerry found himself a member of the Hamilton Tiger–Cats. "Chip Barrett [a starting defensive back in 1970] was injured to begin '71 and I started ahead of him," Sternberg recalled. "When Chip returned, he went in to see Leo Cahill and threatened to quit if he didn't get his regular job back. So, Leo put me on waivers and I got picked up by Hamilton — quite the blessing, as I won the only Grey Cup of my career with the Ti–Cats."
What Gerry missed was the most–memorable season of the Cahill era (1967–72) and one of the most–iconic in franchise history. Boosted by a flock of talented rookies (Joe Theismann, Leon McQuay, Jim Stillwagon, George Wells, Gene Mack, Larry Brame, Tim Anderson, Zenon Andrusyshyn), the Argos dominated the East with a 10–4 record and knocked off the Tiger–Cats in a two–game, total–points Conference final, winning 23–8 at Ivor Wynne Stadium, then drawing 17–17 at the CNE for a 40–25 aggregate. Toronto advanced to the Grey Cup for the first time since 1952. Eben started at flanker; he caught 36 passes for 572 yards and three touchdowns. Included was a 77–yard connection with Theismann, at the Autostade in Montreal on Thanksgiving Day, that helped clinch first place in the CFL East (Argos romped, 32–5, and improved to 10–2). Also in that game, veteran safety Gene Gaines of the Als came down with his knee on Eben's chest, fracturing several ribs. Mike went to hospital and missed the final two games of the schedule (home losses to Montreal and Hamilton). He returned for the playoffs.
Eben's 77–yard touchdown in Montreal.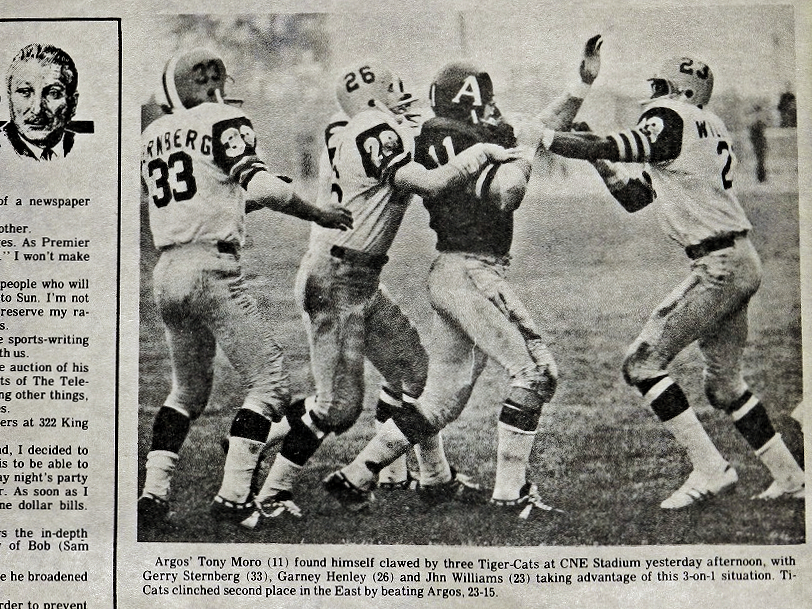 A PHOTOGRAPH FROM THE FIRST EDITION OF THE TORONTO SUN (NOV. 1, 1971): STERNBERG (33) OF THE TIGER–CATS PLAYING AGAINST THE ARGOS THE PREVIOUS AFTERNOON AT CNE STADIUM.
Argonaut fans of vintage recently commemorated — rather forlornly — the 50th anniversary of the '71 Grey Cup, on that rain–drenched field at Empire Stadium. Cahill's club picked the most–inopportune hour for its worst performance of the season. The offense, under Theismann, did nothing all day. Toronto's lone touchdown came in the third quarter when Calgary punt returner Jim Silye fumbled an Andrusyshyn punt. Linebacker Gene Mack picked up the ball and lateraled to offensive guard Roger Scales, who lumbered into the end zone. Still, and infamously, the Argos had a golden opportunity to at least send the match into overtime after a long interception return by Dick Thornton set up the offense at Calgary's 11–yard line with less than three minutes to play. The spectacular rookie, McQuay, swept left on the first carry; tried to cut back against the flow and lost his footing on the wet artificial turf.
His right elbow struck the ground, knocking the ball loose, and the Stampeders recovered.
Few Argo fans, myself included, have since recovered. That half–century–long punch in the solar plexus still hurts.
"I was split out wide on that play and I clearly remember looking to my left and wondering why Leon was carrying the ball in his wrong hand," Eben remembered. "If he'd been carrying with his outside hand (the left), as per usual,  the ball wouldn't have come loose when his right elbow hit the turf. Argos fans aren't alone in still smarting from that moment. And, that [14–11] loss. All the players still alive from that team feel the same way."

AN AUTOGRAPHED PHOTO MIKE SENT TO ME DURING THE 1971 ARGOS SEASON.
All the key players returned for the 1972 season — the Argos augmented by Cahill's recruiting of running back Eric (The Flea) Allen from Michigan State… and University of Tampa offensive linemen Noah Jackson and Ron Mikolajczyk (McQuay was also a Tampa product). Toronto was universally considered the best team in the CFL.
But, disaster struck in the '72 season opener when quarterback Theismann broke his leg at the CNE against Montreal. Back–up Greg Barton, who had alternated with Theismann the previous year, could not handle the No. 1 role. Ultimately, Cahill re–acquired veteran Wally Gabler from Hamilton; Gabler had been the Argos No. 1 quarterback in 1968 and part of '69 before a monster trade to Winnipeg for veteran runner Dave Raimey. Still, it was not meant to be for the '72 Argos. Not by a long shot. Without Theismann, the club was a dismal 1–9 after 10 games, losing by slim margins of nine, six, two, one (twice) and four points. Ultimately, a 3–11 last place finish spelled the end for Cahill, who was fired after the season finale in Hamilton by owner John Bassett.
Meanwhile, down the pike in Hamilton, Sternberg enjoyed a marvelous season with the Tiger–Cats, who finished atop the CFL East (11–3, tied with Ottawa) at the hands of rookie quarterback Chuck Ealey. Hamilton bounced the Rough Riders in the Eastern final and hooked up with the Saskatchewan Roughriders in the Grey Cup at Ivor Wynne Stadium, becoming the first team since the 1963 B.C. Lions to play for the CFL championship at home. Sternberg started at defensive halfback and enjoyed an historic moment. "I still hold the Grey Cup record for most interceptions by a Jew — one," he laughed last Friday. Gerry picked off veteran Ron Lancaster in the fourth quarter and the Tiger–Cats legendarily prevailed, 13–10, on a final–play, 34–yard field goal by Ian Sunter.
Until this week, it was the last Grey Cup to be contested in December.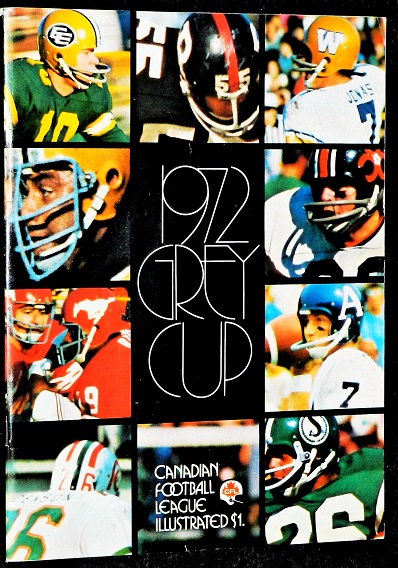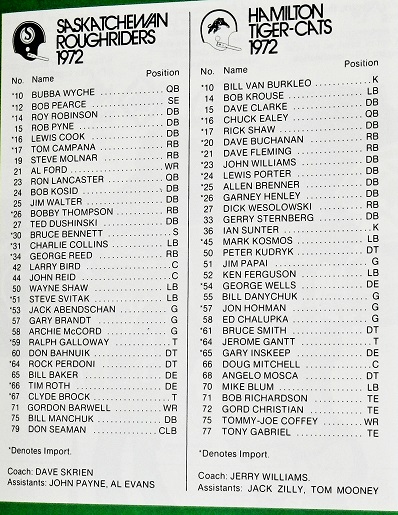 COVER AND LINE–UPS OF THE 1972 GREY CUP PROGRAM AT IVOR WYNNE STADIUM.

It isn't often a person has a chance to spend 90 minutes with sports heroes from his youth. That was my privilege last Friday. Gerry and Mike are the salt of the earth. Sternberg is still practicing law nearing 80 years of age. Eben, a spry 75, drove his bicycle to Gerry's house for our gathering. He was a professor and teacher for 22 years at Upper Canada College here in Toronto. Today, he does voiceover work on radio and TV.
May they both enjoy years of continued health.
EMAIL: HOWARDLBERGER@GMAIL.COM