TORONTO (Dec. 25) — It isn't likely the merriest Christmas amid the tall thinkers in the National Hockey League, who are spending this holy day forming a rescue plan for the 2021–22 season.
Despite vaccination that was hopeful of eradicating COVID–19, the contagion has spiraled out of control like never before. Which is truly puzzling and infuriating. No person would have predicted such an enormous acceleration of the coronavirus; that so many more positive tests would result after immunization than before the vaccines materialized last December. As of today, 8.9 billion doses have been administered worldwide, clearly reducing death rates and the severity of disease. But, with virtually no impact on breakthrough infection (the province of Ontario, on Friday, obliterated its one–day pandemic record with 9,571 new cases; Quebec reported more than 10,000).
Given the easily communicable nature of the Omicron variant, which has been detected in 110 countries just one month after originating in South Africa, the NHL will almost surely not be able to conduct a full, 82–game schedule in time to begin the Stanley Cup playoffs at the end of April. To its everlasting credit, the Gary Bettman administration continues to prioritize safety over the resumption of activity. With more than 150 players entering COVID protocol (10 days of isolation) in the past three weeks and 11 of the 32 teams forced to suspend operation, the NHL understood it could not reopen on Monday, as loosely planned. The Toronto Maple Leafs, for example, would have traveled to Columbus without a swarm of key personnel, including coach Sheldon Keefe; goaltenders Jack Campbell and Petr Mrazek; skaters Morgan Rielly, William Nylander, Rasmus Sandin, T.J. Brodie, Travis Dermott, David Kampf and Ilya Mikheyev. Those that initially tested positive — John Tavares, Jason Spezza, Alex Kerfoot, Wayne Simmonds — may have been available, but were entirely devoid of physical activity while in quarantine.
Needless to say, the Leafs–Blue Jackets game would not have been much of a spectacle.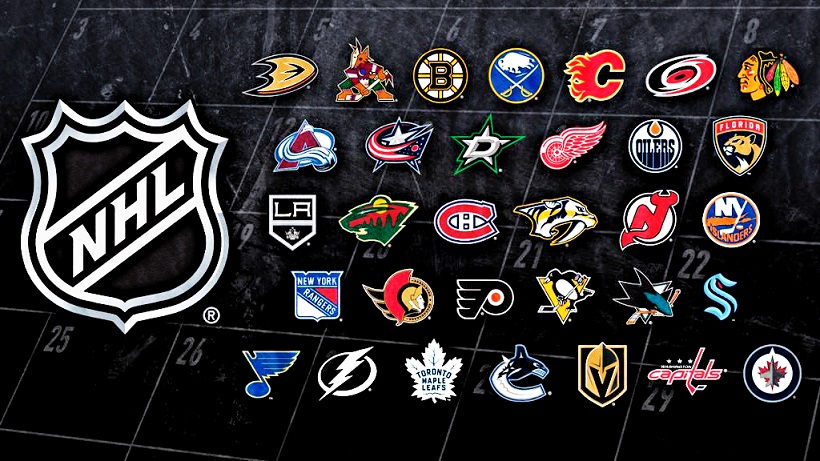 So, the NHL extended its pause through Monday, postponing all 14 matches, and hoping to somehow resume on Tuesday night with four games slated: Montreal at Tampa Bay, Columbus at Chicago, Vegas at Los Angeles and San Jose at Arizona. How an additional 24 hours can make any difference in the current climate is a mystery. It's possible the league will next move to suspend activity until after the calendar flip, perhaps re–staring a week from today (Jan. 1). That would necessitate postponement of another 29 games, with no guarantee, of course, that the COVID/Omicron eruption will abate. Or, even flatten out. The situation is likely to be fluid well into the new year.
With infection rates soaring, the NHL is hoping, of course, that neither Canada nor the United States prohibits cross–border travel. Conducting an abbreviated, 56–game schedule last season necessitated that the seven Canadian–based teams (Montreal, Ottawa, Toronto, Winnipeg, Calgary, Edmonton, Vancouver) compete exclusively. Another government border restriction would therefore invalidate what remains of the current schedule.
Even a short–term pause beyond next Tuesday would toss the 82–game season into flux. Though matches can be re–scheduled (depending on arena availability) during the now–redundant Feb. 3–22 break for the Beijing Winter Olympics, allowing for teams to "catch up" is a major complication. Calgary, Florida, Colorado and Toronto, as an example, haven't played a game since roughly the middle of the month. There's no way the resumption of activity can preclude, from the schedule, the 21 teams that did not shut down. Could you imagine the Washington Capitals sitting idly for another two to three weeks while the Flames, Panthers, Avalanche and Leafs are accommodated for their postponed dates? Such a precarious issue will need to be addressed by the schedule maker.
THE GAME THAT CHANGED EVERYTHING
Dec. 26, 1991 — Pittsburgh Civic Arena
It was Boxing Night, 30 years ago, and Maple Leafs general manager Cliff Fletcher took a wallop to the solar plexus. Yours truly, three years before starting to cover the Leafs, full time, as a reporter for The FAN–590, was in Los Angeles on vacation and attending a game at the old Forum between the Kings and the expansion San Jose Sharks. Amazingly, the out–of–town scoreboard to my right went out of control while updating the Toronto at Pittsburgh game, then midway through the third period. Every few seconds, it seemed, another goal was posted next to the Penguins' logo. When the dust settled, the Maple Leafs had suffered one of the most–lop sided and humiliating defeats in franchise history — the gory details provided by the Associated Press wire service:
PITTSBURGH (AP) — Joe Mullen had his second consecutive four-goal game as the Pittsburgh Penguins tied a team record for goals in a game in a 12-1 rout of the Toronto Maple Leafs on Thursday night. Mullen became the first Pittsburgh player to have back-to-back four-goal games. He also scored four times in Monday's 6-3 victory over the New York Islanders and now has three four-goal games in his career. Mario Lemieux added two goals; Jaromir Jagr and Kevin Stevens also scored twice for the Penguins, who matched the team record for largest margin of victory. The Penguins beat the Washington Capitals 12-1 on March 15, 1975.
The Penguins' 12 goals came on 30 shots against Grant Fuhr, who had stopped 24 of 25 shots in beating Winnipeg 3-1 on Monday.
The Maple Leafs, who have the NHL's third-worst record at 10-23-5, have lost five of their last six games. Toronto is 3-13-3 on the road and 0-5-1 against Patrick Division teams. The Leafs did not set a record with their performance. The most goals ever allowed by Toronto is 14, scored by the Buffalo Sabres on March 19, 1981. That didn't make Thursday's game any easier to take.
"All I could think of was Murphy's Law," coach Tom Watt said. "Everything that could go wrong did go wrong."
"It was embarrassing, to say the least," said general manager Cliff Fletcher.
The Penguins have scored 39 goals in their last five games, a streak that started with a 10-2 victory over the San Jose Sharks.
"We had a lot of open ice and a lot of chances," Lemieux said. "We have two good lines that can score a lot of goals."
It's no coincidence that Mullen's outburst has come after being placed on a line with Lemieux and Stevens. "I've missed a couple of real good chances in the last game and this one," Mullen said. "I've had some good luck and playing with those two guys doesn't hurt, either."
The Penguins' six-goal third period came without high-scoring defenseman Paul Coffey, who sat out with back spasms.
Box Score: First Period – 1. Pittsburgh, Mullen 22 (Stevens, Lemieux) 2:55. 2. Toronto, Maguire 1 (Krushelnyski, Gill) 4:36. 3. Pittsburgh, Mullen 23 (Lemieux, Stevens) PPG 17:03. 4. Pittsburgh, Errey 10 (Recchi, Samuelsson) 19:10. Penalty- Petit Tor (hooking) 16:17. Second Period – 5. Pittsburgh, Jagr 14 (Hrdina) 0:27. 6. Pittsburgh, Francis 9 (Lemieux, Recchi) PPG 15:08. 7. Pittsburgh, Lemieux 25 (Mullen, Stevens) 16:16. Penalties- Gill Tor (hooking) 0:39, Paek Pit (holding) 5:01, Bourque Pit (high–sticking, game misconduct) 6:16, Shannon Tor (interference) 8:43, Paek Pit (holding) 12:58, Marois Tor (hooking) 13:24. Third Period – 8. Pittsburgh, Lemieux 26 (Murphy, Francis) PPG 1:55. 9. Pittsburgh, Stevens 28 5:24. 10. Pittsburgh, Mullen 24 (Lemieux, Stevens) 5:47. 11. Pittsburgh, Mullen 25 (Paek) 8:19. 12. Pittsburgh, Jagr 15 (Priestlay, Leach) 12:17. 13. Pittsburgh, Stevens 29 (Mullen, Lemieux) 13:15. Penalty- Krushelnyski Tor (cross–checking) 1:09. Goalies- Barrasso Pit, Fuhr Tor. Referee- Paul Devorski. Linesmen- Ron Asselstine, Marc Pare.
The mostly terrible Maple Leaf clubs of the 1980's and infant–90's were routinely victimized by star players on other teams. Rarely was it demonstrated more emphatically than on this night. Mario Lemieux, the third–best hockey player these eyes have seen (behind only Bobby Orr and Wayne Gretzky), supplied one of the greatest performances in NHL annals, erupting for seven points (two goals, five assists). Incredibly, Toronto coach Tom Watt kept future Hall–of–Famer Grant Fuhr between the pipes for the entire, 12–goal beatdown, with Jeff Reese on the bench as No. 2 stopper. The Maple Leafs were in the midst of a colossal 1–11–1 plummet over 13 games.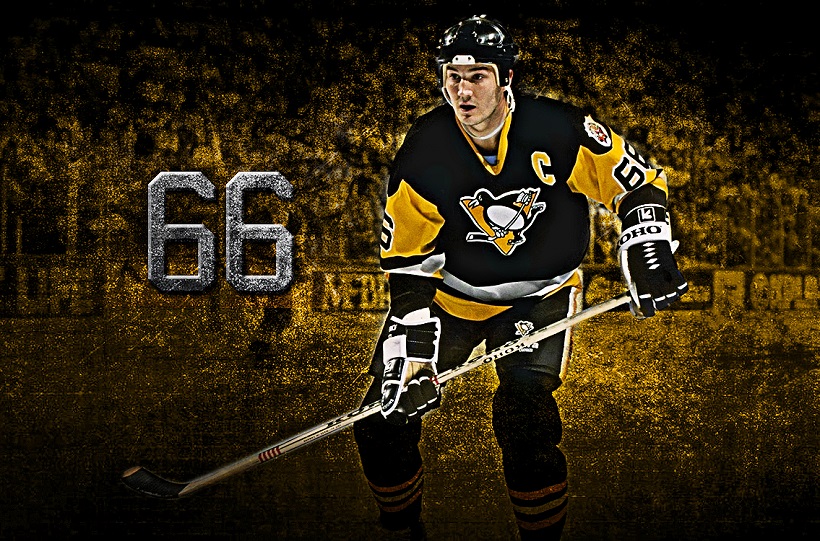 Fletcher had taken over management of the team that summer, hired by Maple Leaf Gardens director Donald Giffin just two years after leading Calgary to the Stanley Cup. The white–haired commander understood he would have to make a number of changes to a club that had missed the playoffs in consecutive years… but his urgency accelerated after the drubbing in Pittsburgh. Less than a week later (Jan. 2, 1992), Fletcher and his Flames counterpart, Doug Risebrough, pulled off what is still the biggest trade in NHL history with respect to players involved.
Toronto obtained Doug Gilmour, Jamie Macoun, Rick Wamsley, Kent Manderville and Ric Nattress for Gary Leeman, Alexander Godinyuk, Jeff Reese, Michel Petit and (current St. Louis Blues coach) Craig Berube. Ten players exchanged jerseys and the massive swap transformed the Maple Leafs as no one could have foreseen.
"That night in Pittsburgh was the final straw," Flatcher has said many times in the ensuing years. "The kind of deal I made with Calgary can't happen today because there is so little financial flexibility (with the salary cap). When I came to Toronto to 1991, we had arguably the worst team in the league. We were 15 games under .500 approaching Christmas that first year. I had just left the Flames after 19 years. And as early as training camp, I knew they were going to have [contract] issues with Gilmour. It was mentioned to me in early December that there were problems and it intensified just before the New Year. Dougie was first star (on Dec. 31, at the Saddledome against Montreal, setting up Paul Ranheim for the overtime winner). Right after that game, he walked out on the team.
"By the next night, we'd built the trade into ten players," recalled Cliff. "Funny thing, we couldn't call the league to register the deal on New Year's. No one was in the office. It's not like today. We had to wait to the next morning to register. I had to sweat it out all night waiting to make it official. We made the trade for Gilmour and got some other good players in the deal, like Nattress and Macoun. We went from 15 games under .500 in the first half to two games over in the second. For the next 2½ years, Gilmour was arguably the best player in hockey. Gary Leeman, a 50–goal scorer for the Leafs, didn't work out in Calgary. The trade sure wasn't meant to be that one–sided."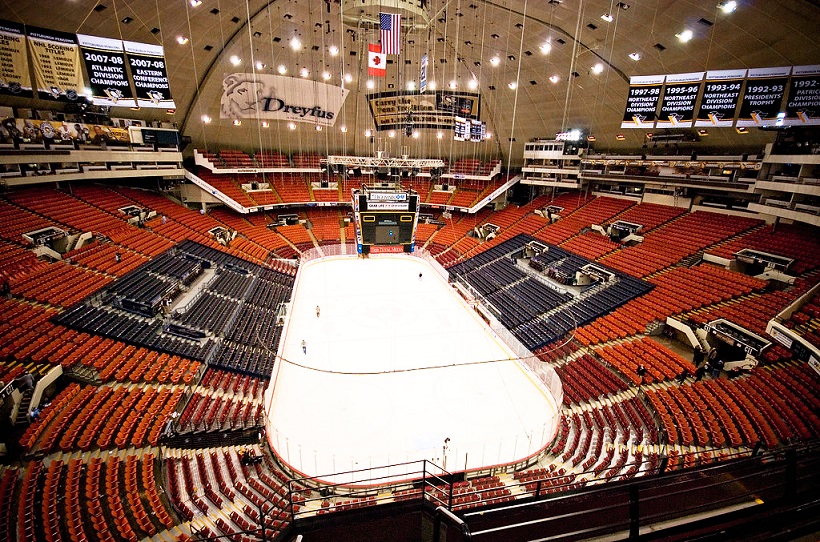 SCENE OF THE DEC. 26, 1991 SLAUGHTER, THE OLD PITTSBURGH CIVIC ARENA.
Gilmour, for a time, evolved into the greatest player in Toronto franchise history.
After the trade, he put up 49 points in 40 games as the Maple Leafs went 15–13–2 in their last 30 starts, missing the playoffs by three points. Starting in 1992–93, under new coach Pat Burns, Toronto compiled a 63–34–15 mark in 112 regular–season games (including the first 28 of 1993–94). Along the way, Gilmour established Leaf records of 95 assists and 127 points; then 35 points in the '93 playoffs as Toronto legendarily came within one victory of facing Montreal for the Stanley Cup. In 21 games over 42 nights, the Leafs upended Detroit and St. Louis, then took Gretzky and the Los Angeles Kings to Game 7 of the Conference final before bowing out. On May 27, 1993 at the L.A. Forum, the Maple Leafs were one shot away from the title round. But, Gretzky scored in overtime of Game 6, moments after escaping banishment for cutting Gilmour with an errant stick. The following year also saw Toronto make the final four, eliminating Chicago and San Jose before a five–game defeat against Vancouver.
There's a chance none of that memorable excitement would have materialized had Mario Lemieux not run roughshod, as per usual, over the Maple Leafs on Boxing Night, 30 years ago, at the Pittsburgh Civic Arena.
EMAIL: HOWARDLBERGER@GMAIL.COM