TORONTO (Dec. 3) — Sports humor, by its very nature, can be a bit raunchy. If you are prim and proper, I suggest you not read beyond this opening line. Otherwise, I suspect you'll have a laugh or two. Maybe even three…
HELLO CANADA AND RAZOR FANS IN THE UNITED STATES: This story dates to the latter part of the 1960's and an overnight train ride from Toronto to Chicago. The Leafs were en route to a Sunday game with the Black Hawks at Chicago Stadium. Having played at home hours earlier, most amid the Leafs entourage had turned in for the night. But, still awake were veteran defenseman Tim Horton and his youthful blue line mate Jim McKenny.
They cooked up a devious plot involving the man that invented hockey broadcasting, also soundly asleep.
"Tim and I had a few beers… okay more than a few… and we decided to shave Foster Hewitt's balls," McKenny once told me through tears of laughter. "We assembled a razor, a bowl of water and a can of Foamy. Ol' Foster was out cold, snoring in a lower berth… and very reachable. Of course, neither of us could pull it off alone. One had to hold down Foster while the other did the handy work. Just before we pulled back his sleep curtain, I chickened out. The thought of hearing that familiar nasally voice yelling while we trimmed his 70–year–old crotch was a bit too much for me. Being a veteran of nearly 20 years, Tim could get away with a stunt like that. I would be sent to Siberia by the Leafs for taking part. The rest of my hockey career was more important than getting Foster to wake up the entire sleeping car. Tim was disappointed but we put the shaving stuff away and went to bed."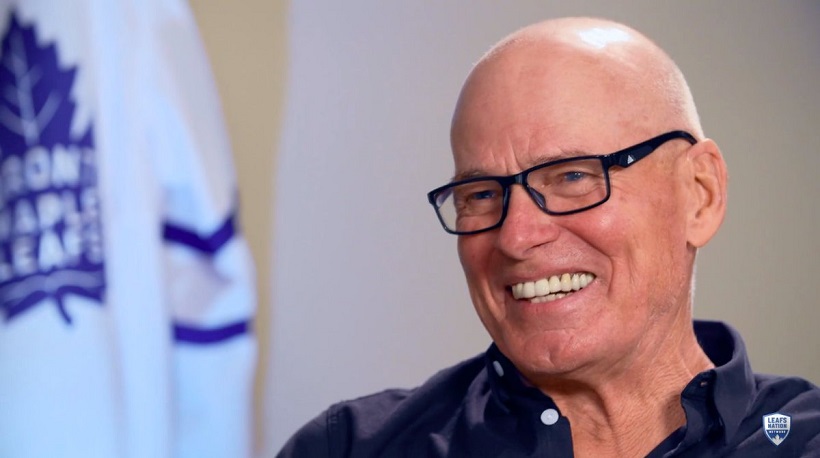 JIM McKENNY, AS HE APPEARS TODAY IN HIS MID–70's. HE'S ALWAYS GOOD FOR A CHUCKLE.
**************************************
On roughly the same subject, this laugher from the late Hall–of–Fame referee, Red Storey: "I was working a Detroit–Boston game during a powerplay and standing, as usual, along the goal line beside the net. Johnny Bucyk let a slapshot go from the blue line. It was coming right toward me so I opened my legs to let the puck go in between. But, the shot kept rising and it drilled me right in the tomatoes. I went down like a stone. [Detroit defenseman] Marcel Pronovost skated over and said 'for God's sake, Red, don't grab them, we're on national TV!'"
IRISH, JEWISH, GERMAN: As I've written in prior blogs, there was a constant war between Pat Quinn and myself during his first four seasons (1998–99 to 2001–02) as coach of the Leafs. Quinn generally despised the media and I was a reporter for The FAN–590. It was fundamental guilt by association. This did not apply in the few instances we ran into each other away from the glare of TV lights and microphones. In media scrums, however, we quarreled (which made for good sound–bytes that I always used on the air and likely ticked off the big Irishman even more). One day, after a Leafs morning skate in Carolina, I exited through the media gate of PNC Arena and came across Quinn chatting with my ol' pal, Mike Zeisberger, then of the Toronto Sun (today, with NHL.com).
"Hello Howard," said Quinn with the enthusiasm of a man about to prep for a colonoscopy.
"Y'know, Pat, it's really puzzling why we can't be more friendly," I offered.
Quinn glanced in my direction.
"I mean, look at me and Zeis. I'm a Heeb and he's a Kraut. Yet, we get along famously."
Zeisberger turned white and smiled weakly. Quinn burst into a quick laugh.
Which was entirely my objective.
HEAVY STEPS… VERY HEAVY: This story involves former Leaf defensemen Jim Dorey and Mike Pelyk, teammates from 1968–72. Dorey continually suffered from minor back ailments and often worked out the kinks. As he did quite hilariously during an exhibition game in Halifax prior to the 1971–72 season. Dorey came off the ice with a knot in his upper back and looked around for trainer Joe Sgro, who was busy attending to another player. Taking matters unto himself, Jim spotted a rather portly usherette in the aisleway between the players' benches.
He tromped over in his skates; laid down at her feet and asked the woman to walk on his back.
"She was a big moose," recalled Pelyk, who watched in amazement. "At least 200 pounds. Most of us couldn't believe what we were seeing. That woman could have started on the defensive line of any football team. She was big enough to crush his ribs. But 'Flipper' (Dorey's nickname) got up after a few minutes and seemed just fine."

JIM DOREY (FAR RIGHT) AND MIKE PELYK (4) JOIN JIM McKENNY (18) AND MIKE WALTON (FAR LEFT) IN HELPING THE LATE CROONER, TINY TIM, STAND ON SKATES AT MAPLE LEAF GARDENS IN 1969.
Dorey remembered the incident with a laugh.
"Heck, no one was paying any attention to me when I got back to the bench, so I looked after myself," he said. "The usherette had no problem with my request. She was a big, beefy woman with large feet. That's why I chose her. I needed someone who could put a lot of pressure on my upper back. She sure as hell did that."
CALIFORNIA SEWAGE: Back to Jim McKenny, who turned 75 on Wednesday. The Leafs had defeated the Seals in Oakland during the 1969–70 season, McKenny's first full year with the club. Given a mid–morning flight the next day to Los Angeles, the players went out afterward for dinner and late drinks. In the wee hours, McKenny and teammate Bruce Gamble (Toronto's No. 1 goalie after the 1967 expansion) were walking back to the Edgewater Hyatt House, talking casually. They crossed Hegenberger Rd., adjacent to the Oakland Coliseum–Arena, home of the Seals. At one point, McKenny asked a question and Gamble — who had trailed him slightly — did not reply. McKenny asked again, figuring Gamble didn't hear. Still, no reply. Jim then turned around… and Bruce was nowhere to be seen. How could a teammate suddenly disappear? Seconds later, McKenny heard Gamble cussing profusely. The sound of Gamble's voice got louder as he climbed out of a shallow sewage drain.
"It was dark and the road was barely lit," McKenny recalled. "Bruce couldn't see that a manhole cover was missing and he fell right in. I went back a few steps and saw him coming back out all full of smelly gunk. My God, did he reek. I didn't want to laugh because I figured he'd kill me, he was so mad. But, damn, it was funny."
THE ST. LOUIS TOOTS: I've told this story many times and it always gets a laugh. In the early 1970's, I discovered that I could pick up distant radio stations at night and listen to NHL games. Among the strongest signals was KMOX–1120 in St. Louis, which carried all Blues games, home and away. One night, I struggled to stay awake far a St. Louis at Vancouver broadcast that started at 11 p.m. Eastern. The legendary Dan Kelly, a native of Ottawa, was the play by play voice of the Blues and he worked alongside former NHL defenseman Gus Kyle, a bit of a loose cannon who would make peculiar and off–color observations. On this night, Kyle kept it straight… until he thought the radio station had gone to commercial. Kelly, after a pause in play, gave his normal out–cue: "This is St. Louis Blues hockey." But, whoever manned the commercial carts at KMOX either forgot to hit PLAY or had technical difficulty. Neither Kelly nor Kyle realized they were still on live microphones at the Pacific Coliseum.
"Gee, Dan, I've got the farts tonight," Kyle said.
I bolted straight up in bed. "Am I dreaming or did that actually come across the radio?"
When I heard Kelly, seconds later, with a frantic "shhhhh!", I knew the answer.
THE GRENVILLE GASP: It never required much for my school teachers to administer a form of punishment; I wasn't a model student. Only once, however, did a teacher come close to killing me. It was in Grade 4 (1968–69) at Wilmington Avenue Public School. We took a day trip to the old CKFH–1430 studio on Grenville Street, near Maple Leaf Gardens. "FH" referred to the man that founded the station (and barely missed that scrotal shave), Foster Hewitt. I had no idea, of course, that I would one day spend 23 years working at the station; first known as CJCL AM–1430 then The FAN–590. After gathering outside the street entrance, an employee guided us upstairs to the main foyer. Not two minutes later, out walked Foster's son, Bill Hewitt, who also worked at CKFH and had accrued national fame for calling Leafs home games on TV each Saturday (on CBC) and Wednesday (on CTV).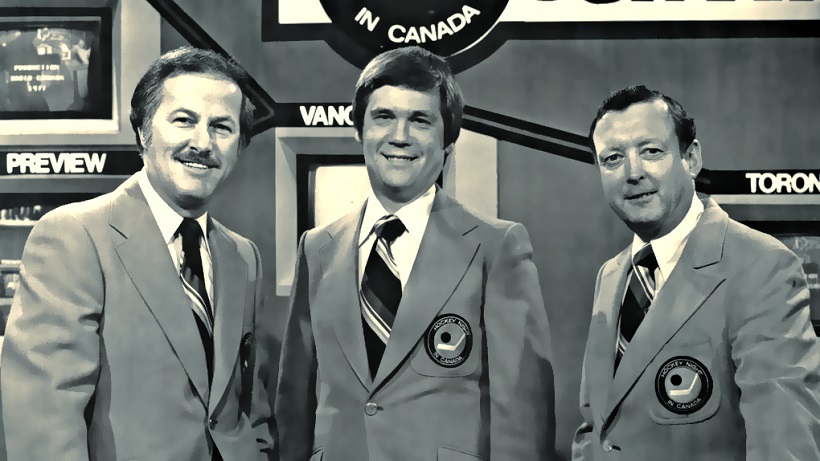 BILL HEWITT (RIGHT) IN A LATE–1980 PHOTO WITH BRIAN McFARLANE (LEFT) AND DAVE HODGE.
Being the class clown, I separated from the pack; strolled up to Bill; extended my hand… and pretended to faint. Dropped to the floor at his feet. Which generated convulsive laughter from my classmates; a queer, crooked smile from Hewitt… and an absolute death stare from my teacher, Merna Waiser. In later years, at school reunions, we always joked about that moment. At the time, however, I thought I'd be suspended for life. Merna grabbed my arm and marched me downstairs, outside the main entrance. "Do you know how embarrassing that was?!" she hissed. "After the radio station was nice enough to welcome us here. You're in big trouble." Not that I cared. I wanted to go back upstairs and see if Foster Hewitt would join us. As it were, a lady walked out with 35 letterhead papers signed by Bill's famous dad; one for each of us. Mrs. Waiser recovered from the shock. And, I stayed in school.
OH, THAT KILLER: Any person that spent time around the Leafs between 1991 and 1997, as did I, knows that Doug Gilmour cemented his Hall–of–Fame career with two of the greatest seasons in franchise history: a record 95 assists and 127 points in 1992–93, followed by 111 points in 1993–94. That person would also know that Gilmour was among the top pranksters of the era — yours truly, his unavoidable victim now and then. Such as the time the dressing room at Maple Leaf Gardens was jammed nearly wall–to–wall with reporters after a game. Unlike the virtual fortress at Scotiabank Arena, in which players are far from sight when showering and coiffing themselves, the shower stall at the Gardens was just off the main room. On this night, I was standing with my back to the shower next to a drop–dead–gorgeous female reporter who I didn't know. We were making small talk when a familiar voice behind me — amplified by the shower room echo — yelled "Berger, stop looking at my ass!"
Everyone, including my beautiful reporting colleague, turned around to see Gilmour, a towel around his waste, gazing at me with a toothless grin. To say I nearly died of embarrassment is an understatement.
A few years later, in March 1995, we were in San Jose the day after veteran forward Rich Sutter had been acquired by the Maple Leafs (for cash) from Tampa Bay. I attended the morning skate at the SAP Center then interviewed Sutter in the corridor outside the dressing room for my pre–game show. Little did I realize that Gilmour was behind us, working on his sticks for the game that night. My five–minute chat with Sutter was nearly over when a figure appeared to my right and blasted into the microphone "Berger, get your head out of my butt!"
It totally destroyed the interview as there was no way for me to edit tape. Dougie stood there cackling while Sutter smiled and shook his head. Once Gilmour was mercifully out of sight, Rich was nice enough to re-do the chat.
AN AVALANCHE OF GOALS…
It was men against boys on Wednesday night at Scotiabank Arena, turning what figured to be a classic match–up of two hot teams into a laugher. The Leafs are on a roll, at the moment, unlike any since the franchise–record 16–game unbeaten streak of November and December 2003, all of which I covered as a reporter for The FAN–590.
At 15–2–0 in their past 17 games, this is the second–fastest accumulation of 30 points in club annals… to the 16–game (14–0–2) amassment in '03. It's been said that the first game back home after a long road trip presents quite a challenge (Pat Burns used this as a mantra). But, the Leafs exhibited no rust at all when building a 3–0 first period lead over the Colorado Avalanche en route to an 8–3 pounding. Which followed the sweep of eight points on the road against the Islanders, San Jose, Los Angeles and Anaheim.
Everything is working in the Leafs' favor right now.
To offer a few words of caution is not to rain on the Toronto parade; all Leaf fans are wary of big regular season accomplishments followed by first–round playoff exists. The Leafs could go undefeated in their final 58 games and that wouldn't change. So, I'm preaching to a choir. Wednesday's game against the Avalanche was a prototype regular–season match… entirely river hockey with not the slightest physical element. In such an environment, there's enough skill for both the Leafs and Colorado to prosper. On this night, the Leafs took full advantage of dreadful goalkeeping by back–up Jonas Johansson and his inflated 3.47 goals–against average (his .891 save–percentage is even more unsightly). Auston Matthews scored three goals, one of which he'd have neither the time nor space to count in Stanley Cup toil — slipping from backhand to forehand in the crease and cleanly beating Johansson. Matthews would be flat on the ice in a playoff game, to which this game bore no resemblance.
The Leafs are availing themselves of full health, with no COVID issues. At some point, it's inevitable that a core player will be sidelined by injury. If it isn't Jack Campbell, the NHL's top goalie, the club will probably withstand the absence. If Campbell goes down, look out. At 17–6–1 heading into a weekend road trip at Minnesota and Winnipeg, the Leafs are closing in on their best–ever start to an 80 or 82–game schedule: the 19–5–4 ledger of 1993–94 when the club established a league record by winning its first 10 games. For the second consecutive spring, Toronto advanced to (and lost in) the Stanley Cup semifinals.
So maybe — just maybe — things will be different in the opening playoff round this season.
I attended the Colorado game on Wednesday with my son, Shane, and my trusty NIKON: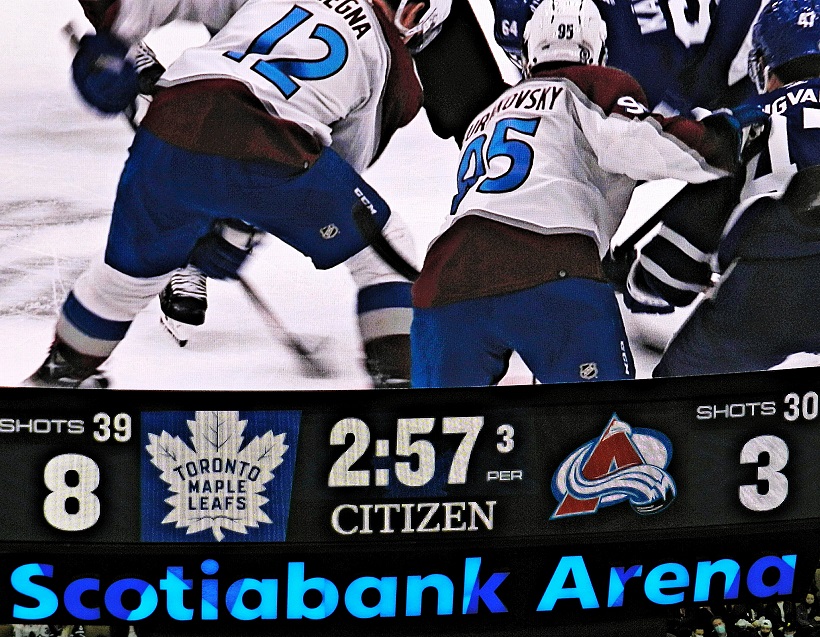 THERE WAS NOTHING PRETTY FOR THE VISITORS ABOUT THE FINAL SCORE. FAR–MORE ATTRACTIVE WAS THE VIEW FROM OUR SEATS (BELOW) IN SEC. 309, ROW 16 OF SCOTIABANK ARENA.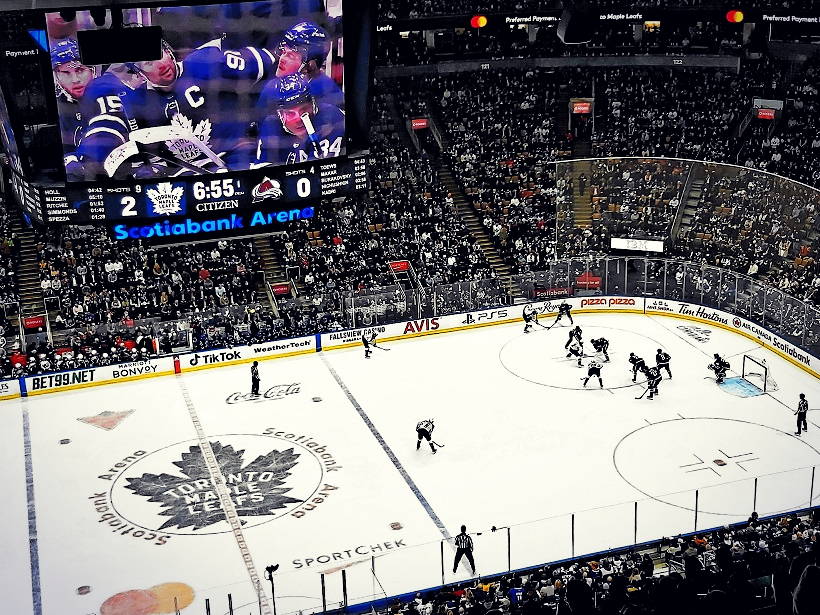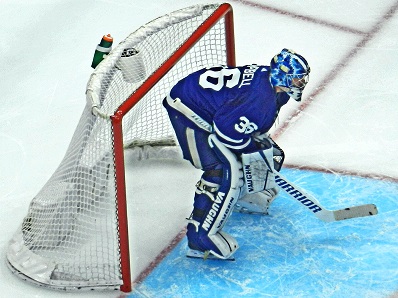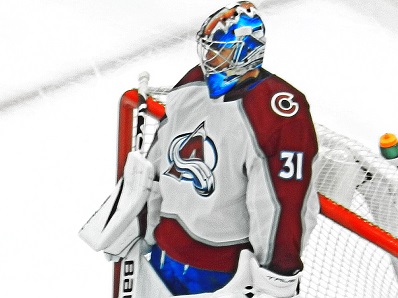 NEITHER WAS THERE A REMOTE COMPARISON BETWEEN GOALIES JACK CAMPBELL (LEFT) AND JONAS JOHANSSON.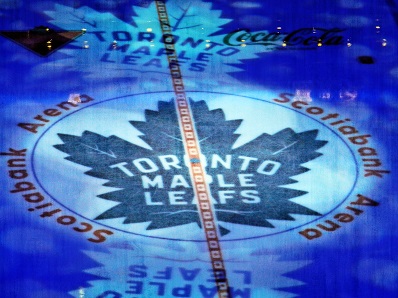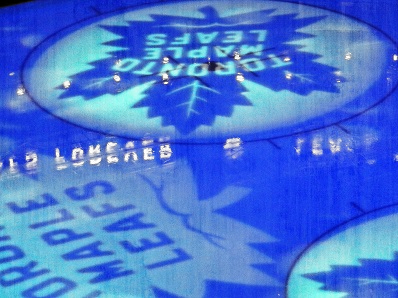 LIKE THE HOME TEAM RIGHT NOW, THE ICE AT SBA SHONE BRILLIANTLY AFTER BEING RESURFACED.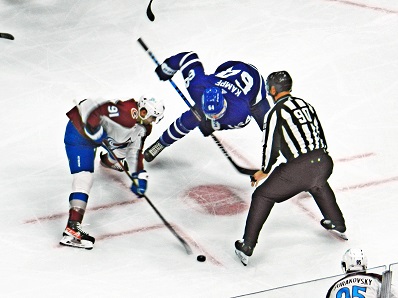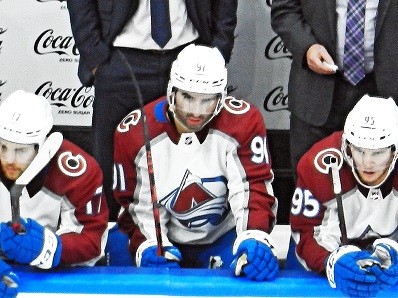 FORMER LEAF NAZEM KADRI CAME TO TOWN FOR THE SECOND TIME WITH COLORADO, ENJOYING HIS FINEST NHL SEASON: SEVEN GOALS AND 20 ASSISTS FOR FIFTH IN THE POINTS RACE. NAZEM CLEANLY BEAT DAVID KAMPF ON A FACE–OFF (TOP–LEFT); SCORED TWICE, BUT WAS A RATHER FORLORN FIGURE (TOP–RIGHT) ON THE VISITORS' BENCH TOWARD THE END.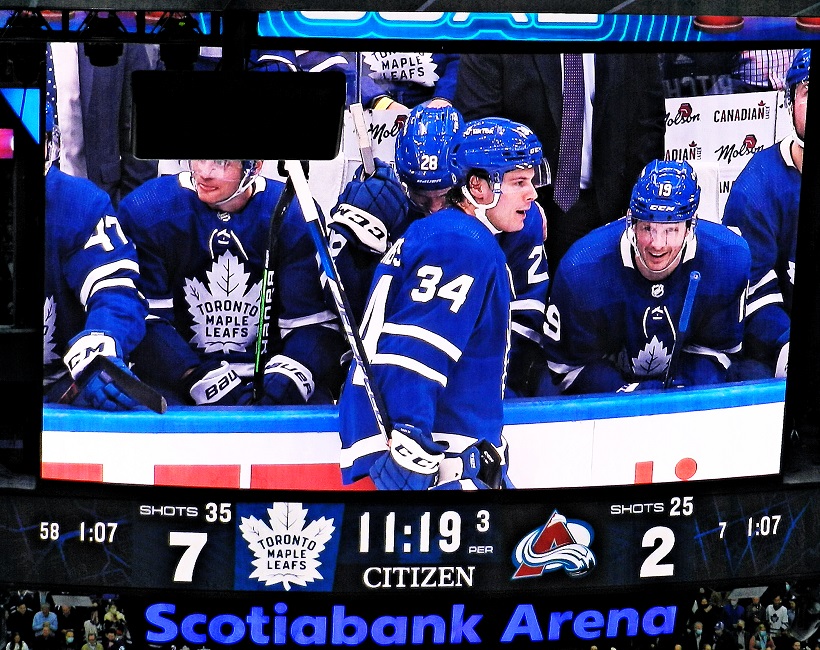 AUSTON MATTHEWS STOOD BY THE BENCH AFTER SCORING HIS THIRD GOAL OF THE NIGHT, WHILE SCOTIABANK ARENA WORKERS PICKED UP A VOLLEY OF HATS FROM THE SEATS.
EMAIL: HOWARDLBERGER@GMAIL.COM