TORONTO (Dec. 19) — Through no fault of its own, and with rapid suddenness, the National Hockey League is watching its 2021–22 season go down the drain. Or, at least form a huge vortex near the drain.
Until the final week of November, there was little concern that COVID–19 would substantially impact the NHL. Players, coaches and team personnel were said to be fully vaccinated (with two doses) and awaiting authorization for booster shots. Then came the news of another COVID strain originating in South Africa called Omicron. Quickly, and inevitably, it arrived in North America; airborne and frighteningly transmissible. It soon began to affect players in the NHL and other pro leagues. By Dec. 14, games began to fall (Calgary at Nashville, Carolina at Minnesota). Then, two days later, Toronto at Calgary. This was promptly followed by news that the Government of Ontario was reducing capacity to 50 percent in venues larger than 1,000 (which included NHL arenas in Toronto and Ottawa); then, absent a similar restriction by the Province of Quebec, that last Thursday's Philadelphia/Montreal game would be played without fans at the Bell Centre. As the weekend unfolded, six teams (Calgary, Florida, Colorado, Boston, Nashville, Detroit) were forced to suspend activity. With COVID finally spreading through the Toronto Maple Leafs' roster, weekend road matches in Vancouver and Seattle were postponed.
Today, with Columbus the latest team to sustain infections, the NHL announced that all cross–border games would be canceled until after the Christmas break. Why the league is permitting any competition is a matter of conjecture. And, somewhat alarming. Omicron, it seems, is just getting warmed up. Once it emerges from the pathogenic bullpen, governments and professional sports leagues will be entirely at its mercy; the COVID vaccines evidently powerless to diminish its spread. How, then, can any person reasonably expect the NHL to resume normal activity on Dec. 27? Or, at any time thereafter? Unless the league completely thumbs its nose at the Omicron element and allows asymptomatic players to suit up — thereby eliminating the 10–day isolation period upon testing positive — there is no plausible avenue to recommencing the 82–game season. And, it is unimaginable that players would agree to such a wayward scheme, endangering their health and that of their families.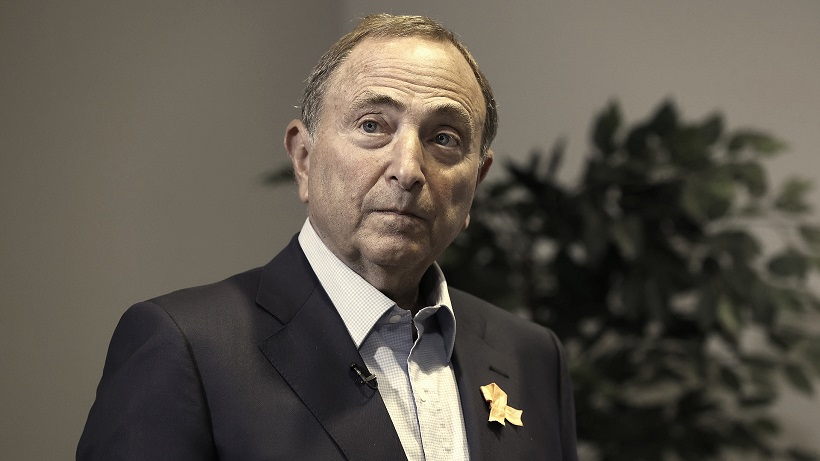 GARY BETTMAN'S WORST NIGHTMARE — UNFATHOMABLE UNTIL THE END OF NOVEMBER — COULD BE ON THE HORIZON. THE NHL COMMISSIONER IS LIKELY CONFRONTING AN INDOMITABLE FOE.
Hockey, inescapably and against all inclination, will be forced into an indeterminate pause. An impenetrable barrier will arise if another closure is enacted at the Canada–USA border. Any such travel ban, hardly out of the question, will wipe out the existing league schedule, either obliterating a large and indefinite portion of the post–Christmas season or mandating an entirely new slate of games involving the all–Canadian division of a year ago.
The salary cap, flattened by the initial virus, will remain status quo… or recede.
Only a prompt and entirely unforeseen abatement of the Omicron outbreak will counter the aforementioned scenario. And, allow the NHL season to proceed without further interruption. Clearly, the Gary Bettman administration cannot be anticipating such an outcome. This is absolute hell for the league as it pertains to game tickets already purchased; to advertising, television and radio commitments. And, so bloody unexpected until just more than three weeks ago. That, however, is the abhorrent nature of the most–widely transmissible pathogen in modern human history. Neither will Omicron be the last of the coronavirus branches. No one can predict when the next variant will emerge… and from which part of the globe. But, it's almost certain that COVID–19 will continue to stubbornly mutate and wreak havoc on our daily lives. Under no circumstance will the NHL escape such widespread disarray.
Here in Toronto, it is particularly galling. Yet another season of contract obligation from the Maple Leaf nucleus of John Tavares, Auston Matthews, William Nylander, Mitch Marner, Morgan Rielly and Jack Campbell — arguably, the top sextet in the league — could be nullified. If, in a worse–case scenario, Omicron negates a Stanley Cup tournament, the Toronto championship drought, longest in the NHL, will expand to 55 years. With only two seasons of control left among Matthews and Nylander; three for Marner. Just when it appeared the Leafs, with elite goaltending, might threaten their playoff famine dating to 2004, all elements of the 2021–22 season are in peril.
Some will surely argue that I am painting a doomsday scenario. Yet, without a smidgen of contrary evidence.
Again, such is the nature of COVID–19.
Never has an element of our existence been so completely indomitable.
EMAIL: HOWARDLBERGER@GMAIL.COM