***UPDATE Dec. 18 10:55 p.m. Eastern — The COVID protocol list of the Toronto Maple Leafs now includes coach Sheldon Keefe and seven players: Jason Spezza, John Tavares, Alex Kerfoot, Jack Campbell, T.J. Brodie, Travis Dermott and Wayne Simmonds. All of whom must isolate for 10 days. And, guaranteeing that the club's next game, Thursday night at home to St. Louis, will also be postponed.
TORONTO (Dec. 18) — Here was the roll call as of tonight (Saturday):
DEC. 13, 2021 — Calgary at Chicago, POSTPONED
DEC. 14, 2021 — Calgary at Nashville, POSTPONED / Carolina at Minnesota, POSTPONED
DEC. 16, 2021 — Toronto at Calgary, POSTPONED
DEC. 18, 2021 — Florida at Minnesota, POSTPONED / Boston at Montreal, POSTPONED / Toronto at Vancouver, POSTPONED / Tampa Bay at Colorado, POSTPONED / Columbus at Calgary, POSTPONED
Dec. 19, 2021 — Buffalo at Ottawa, POSTPONED / Nashville at Carolina, POSTPONED / Toronto at Seattle, POSTPONED / Vancouver at Arizona, POSTPONED
Dec. 20, 2021 — Colorado at Detroit, POSTPONED
Dec. 21, 2021 — Carolina at Boston, POSTPONED / Winnipeg at Nashville, POSTPONED / Florida at Chicago, POSTPONED / Anaheim at Calgary, POSTPONED
Dec. 22, 2021 — Colorado at Buffalo, POSTPONED
Dec. 23, 2021 — Colorado at Boston, POSTPONED / Nashville at Florida, POSTPONED / Seattle at Calgary, POSTPONED
Count 'em: 21 games and 21 teams, five of which (Calgary, Colorado, Florida, Boston, Nashville) have been shut down until at least Dec. 27, when the National Hockey League resumes activity after its three–day holiday break.
Anyone willing to bet that COVID–19 / OMICRON will have disappeared by then?
I didn't think so.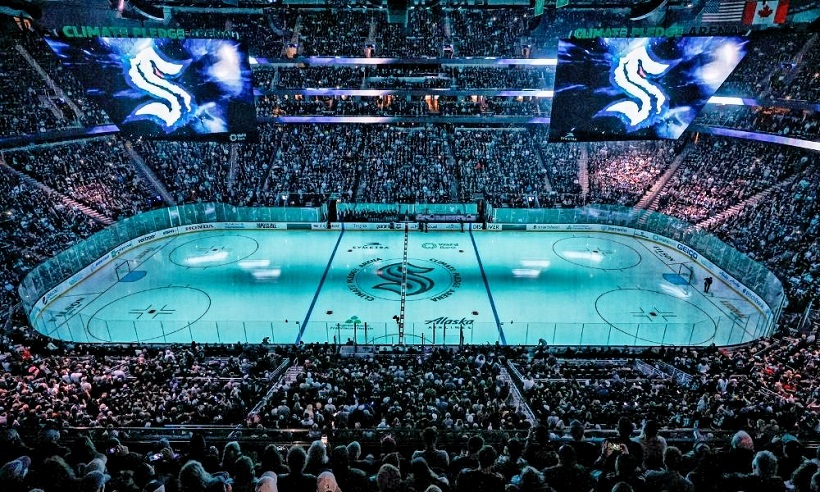 THE TORONTO MAPLE LEAFS WERE HOPEFUL OF VISITING SEATTLE FOR THE FIRST TIME ON SUNDAY NIGHT. BUT, COVID/OMICRON HAS POSTPONED THE GAME AT CLIMATE PLEDGE ARENA.
Clearly, the NHL is hoping to limp into the Christmas hiatus, allowing it 72 hours of study and contemplation before a decision on which games can go forth. If any. The matches postponed thus far can be made up from Feb. 3–22, when the league originally built in a pause to accommodate its players at the Beijing Winter Olympics. That ship has long sailed, even if an official proclamation has yet to be made. A league–wide suspension of activity would automatically cancel Olympic participation. But, no–such determination is needed. Under no circumstance will NHL players risk themselves and their families by traveling halfway across the globe in this volatile environment.
Given that the Omicron variant has been largely asymptomatic, the NHL isn't likely concerned that its players will become terribly sick. But, all players testing positive for COVID–19 must, under league guidelines, embark on 10 days of isolation. So, the immediate problem is one of competitive imbalance and lengthy layoffs between games.
The Toronto Maple Leafs, for example, will have played only once in a scheduled four–game road trip to Edmonton, Calgary, Vancouver and Seattle; COVID postponements relegating the team idle for nine days. During that time, Toronto's next opponent, St. Louis (at Scotiabank Arena, Dec. 23), will see action in three games. The Calgary Flames, decimated by infection, will be off from at least Dec. 12–27. Two weeks, nearing mid–season, is a long time to neither practice nor compete. How will that impact the Flames for their next scheduled match, Dec. 27, at home to Edmonton? Same applies to the Avalanche, Panthers, Bruins and Predators, all of which can neither practice nor play until the 27th. With 34 games still on the schedule between tonight and next Thursday, when the holiday break begins, how many more players and teams will be affected by the contagious Omicron strain?
The NHL could easily preclude all matters of re–scheduling and competitive imbalance by enacting an immediate suspension of activity. Why the league is permitting games to go forth can only be attributed to the proximity of the Christmas break. Were this eruption of COVID to have occurred a month ago, perhaps the Gary Bettman administration may have acted more hastily. That said — and, as mentioned — it is difficult to envision the 72 hours between next Thursday and Monday nights eradicating concern over Omicron. If anything, the most–transmissible variant of COVID–19 will continue to spiral out of control. Resuming activity on Dec. 27 will merely return athletes and staff to the infectious cauldron, continuing the postponements and team shutdowns. It's a vicious cycle.
The only reasonable course of action is an indefinite, league–wide pause. Until when, nobody knows. But, neither can any person deny that COVID/OMICRON is again ruling the lives of people the world over. It is inescapable.
EMAIL: HOWARDLBERGER@GMAIL.COM