TORONTO (Jan. 14) — It is quite the paradox.
Though the Toronto Maple Leafs have the best record in modern franchise history after 35 games (23–9–3 for 49 points), there's a chance the club may need to qualify for the playoffs as a wild card team in the Eastern Conference. Of course, with a number of postponed matches to be re–scheduled — and goalie Jack Campbell among the top three players at his position — the Leafs could pile up more than enough points to challenge for first place in the Atlantic Division. As of today, however, the club stands third… only five* points ahead of the fast–charging Boston Bruins, who hold a game in hand and just welcomed back veteran stopper Tuukka Rask. The first three clubs in each division automatically advance to the Stanley Cup tournament. Two additional spots in each Conference are reserved for fourth–place finishers with the best records. We all knew about the loaded Atlantic. And, it is now certain that one of Tampa Bay, Florida, the Maple Leafs or the Bruins will be a wild card entry.
Heading into games of Friday night, here's how the division shaped up:
TAMPA BAY… Games Played- 39 / Record- 25–9–5 for 55 points / Last 10 Games- 6–3–1
FLORIDA… Games Played- 36 / Record- 24–7–5 for 52 points / Last 10 Games- 6–3–1
TORONTO… Games Played- 35 / Record- 23–9–3 for 49 points / Last 10 Games- 6–3–1
BOSTON… Games Played- 34 / Record- 21–11–2 for 44 points / Last 10 Games- 7–3–0*
*UPDATE: Boston defeated Nashville, 4–3, in overtime this afternoon (Saturday) to move within three points of the Leafs.
If the playoffs started tonight, Pittsburgh (47) and Boston (44) would be the wild card teams (no other clubs in the Eastern Conference are in reasonable contention). In the opening round, the Maple Leafs would encounter Florida with the Panthers having home–ice advantage for the best–of–seven series. Boston would go to Tampa Bay to start another set. It would be Pittsburgh at New York Rangers and Washington at Carolina. As you will notice, there isn't a team in the East that would shock observers by appearing in the Stanley Cup final. Such is the challenge facing the Leafs to prevail in three Conference rounds. Some have suggested that Toronto must finish atop the Atlantic to avoid either Tampa Bay or Florida in the opening round and clash with an "easier" opponent. Were the Leafs leading their division today, Boston (gulp!) would come to Scotiabank Arena to begin the Cup tournament. For the record — in case you are unaware — the Leafs haven't eliminated the Bruins in playoff competition since 1959, losing in 1969–72–74–2013–18–19. Again, Boston would represent the "easiest" opening–round rival.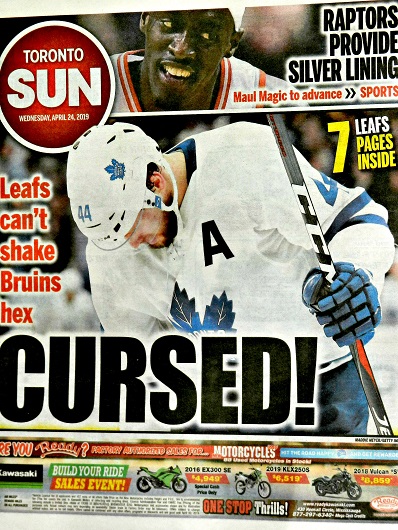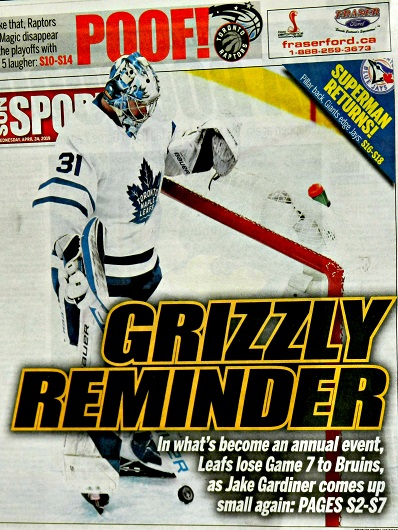 STOMACH–CHURNING HEADLINES AFTER THE LATEST PLAYOFF LOSS TO BOSTON… IN 2019.
There is lots of hockey (we hope) remaining in the second half of the 2021–22 schedule… and plenty of room for jockeying. As mentioned, however, the eight Eastern qualifiers are virtually set. Detroit, with 37 points, is seven behind No. 2 wild card Boston and the Bruins have four games in hand. If COVID/Omicron cooperates, it should make for an audacious scramble to come out of the East and play for the National Hockey League title. The Maple Leafs have appeared sluggish while picking up three points in their current, six–game road trip. They go to St. Louis on Saturday night, where the Blues are 15–3–2 at the Enterprise Center. Mitch Marner will return from COVID protocol. Campbell will be back in net with his marvelous 18–5–3 record in 27 appearances; 2.02 goals–against average (second in the NHL among goalies with a minimum 20 starts) and .935 save–percentage (also second). Only Igor Shesterkin of the Rangers ranks ahead of Campbell in the two goaltending categories.
St. Louis has won three in a row and is 8–2–1 in its past 11 games.
FRIDAY THOUGHTS: It is nearly impossible to envision the Maple Leafs allowing Campbell to enter the unrestricted free agency market this summer. Not since Ed Belfour and Curtis Joseph, nearly two decades ago, has a Toronto goalie performed so dazzlingly over a calendar year; Campbell's numbers, since the abbreviated, 56–game schedule began last January, are superior to any Toronto netminder in modern franchise history. So, there cannot be a bigger priority for general manager Kyle Dubas than locking up the player he acquired from Los Angeles, nearly two years ago, in one of the best trades the Leafs have ever made. The caveat, of course, is that Campbell — not the club — will make the final call. And, if I'm Smilin' Jack, there would be much temptation to observe intense combat for his services. Generally speaking, and somewhat inexplicably, goalies do not make as much as skaters in the NHL. Only three, at the moment, are playing in mega–contracts: Carey Price (Montreal) $10.5 million over eight years; Sergei Bobrovsky (Florida) $10 million over seven years and Andrei Vasilevskiy (Tampa Bay) $9.5 million over eight years. Next up is Campbell's former L.A. teammate, Jonathan Quick, at $5.8 million over 10 years. Shesterkin, of New York, leading the NHL in GAA and SV%, will make $5,666,667 for three more years. So, where does that leave Campbell? As of today, three other veteran goalies can become unrestricted free agents in the summer. All are older than Campbell; none are performing nearly as well. Tuukka Rask, of course, just rejoined Boston, playing his first game of the season on Thursday night (he beat Philadelphia). We won't know, for a bit, if he can recapture his familiar NHL form. The other two are Marc–Andre Fleury, 37, of Chicago and Darcy Kuemper, 31, of Colorado. Fleury, the future Hall–of–Famer, has GAA/SV% splits of 2.84/.911. Kuemper is 2.86/.905 on a much–better team. Again, Campbell is 2.02/.935 with the Leafs. Not even close in either category. So, the quarrel between Dubas and Campbell's Denver–based agent, Kurt Overhardt, will evolve around comparables. The Leafs will suggest Campbell should not earn more than Shesterkin ($5,666,667); Overhardt will argue for a mega–contract (likely $7 to $9 million). Both will bring solid points to the table. And, this is where Campbell should be inclined to test the open market. If a half–dozen or more teams engage in a bidding war for his services, his price will surely escalate. Perhaps beyond what Toronto believes is fair. Campbell has openly conveyed that he'd like to remain with the Leafs on a long–term arrangement. But, the NHL is a business, first, and Smilin' Jack will not be presented with another such–lucrative opportunity. If I'm Overhardt, there's no hurry, whatsoever, to re–up with Dubas… Surely gnawing as harshly at the Leafs GM is which player(s) he'll need to unload in order to accommodate Campbell, Morgan Rielly ($2.5 million raise); young defensemen Rasmus Sandin and Tim Liljegren (both coming off entry level restriction) and free agent forwards Ilya Mikheyev, Ondrej Kase and Pierre Engvall (all three will get raises). I'll say it again, LOUDLY: there's no reasonable path to retaining the Big 4 up front beyond the current season. One of Auston Matthews, William Nylander or Mitch Marner will need to be sacrificed under the $81.5 million salary cap. Prediction? It will be neither Matthews nor Nylander…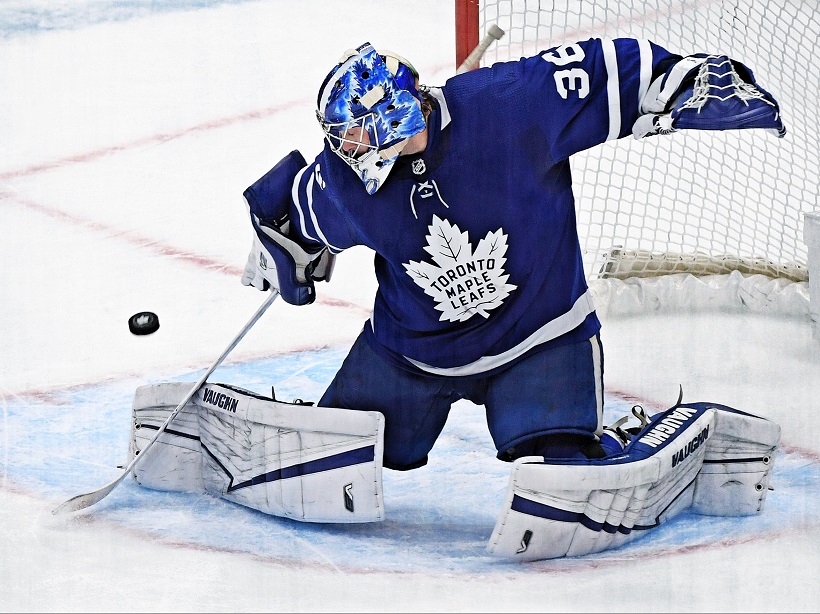 An eagle–eyed observer tells me there may have been 6,500 people at Gila River Arena in Glendale, Ariz. for Wednesday night's Maple Leafs–Coyotes game. The inflated official count was 10,031, or 58 percent of capacity (17,125). That for the much–ballyhooed (here in Toronto) lone appearance of the season by Matthews, who was raised in nearby Scottsdale. Now, granted, the Coyotes have forever been a tough sell. And, two other local teams are hogging sports headlines: the Phoenix Suns, with the best record (31–9) in the National Basketball Association, and the Arizona Cardinals, heading to Los Angeles for the first–ever Monday night playoff game in the National Football League, a wild card match–up against the Rams. Even if the Coyotes were faring well (they are tied with Montreal for worst record in the NHL), attention would be lacking. So, perhaps the return of the celebrated native son was slightly overshadowed. Or, maybe, Matthews skating in a thong each night wouldn't attract large gatherings in the desert. This, of course, throws some water on the oft–repeated theory that Matthews will bolt the Maple Leafs for his home town once an unrestricted free agent in 2024. It doesn't preclude 30 other teams from clamoring for his wicked scoring eye, but it bodes rather poorly for a tepid hockey market. And, who knows if the Coyotes will remain in Arizona through the 2023–24 schedule. It will undoubtedly be fascinating to watch… The Leafs have to be mildly concerned about an ageing John Tavares, playing poorly on the three–game western trip. Johnny T. was motoring along nicely until the spate of COVID/Omicron postponements that began in mid–December. His rhythm seems astray… Kase, Nick Ritchie and Justin Holl are the three latest Leafs to be placed in COVID protocol. All will miss Saturday's game in St. Louis… When Dr. Phil Samis died on Tuesday at 94, Joe Crozier became the oldest surviving Leafs player. Crozier appeared in five games during the 1959–60 season, then coached the team for 40 games in 1980–81. He'll be 93 on Feb. 19… Somewhat nervously, I am staying with my pre–season pick for the Super Bowl: Buffalo vs. Green Bay. Though Bills quarterback Josh Allen may be the most–dominant player in the NFL, his team needs to get by The Hoodie in sub–freezing temperatures on Saturday night. Can Allen dispatch Bill Belichick and the New England Patriots on home turf at New Era Field?
I'll say yes, but it won't be easy.
EMAIL: HOWARDLBERGER@GMAIL.COM