TORONTO (Jan. 4) — How circumstances have changed amid a pair of Canadian teams, two time zones apart, in the National Hockey League. Early in the now–fractured 2021–22 season, the Toronto Maple Leafs appeared disoriented, indifferent and on the cusp of a major move. They will conveniently deny it today, but had the Maple Leafs lost to the winless Chicago Blackhawks at the United Center on Oct. 27 — the visitors trailed, 2–0, after the first period — someone would have been fired. Either general manager Kyle Dubas or coach Sheldon Keefe. A fifth consecutive defeat and a 2–5–1 record after eight mostly miserable games wouldn't have been tolerated.
As it were, the Leafs rebounded to edge the Chicagoans, 3–2, on an overtime goal by William Nylander. The GM and coach kept their jobs and the somnolent club awakened to post an 18–4–1 mark in the ensuing 23 matches.
While the Buds were wobbling, the Edmonton Oilers — enriched by the signing of rugged ex–Leaf (and Toronto native) Zach Hyman — quickly soared to the top of the NHL standings with a 9–1–0 record in their first 10 games, then 16–5–0 after 21 matches. At the time, the Oilers were backstopped by Mikko Koskinen, who subbed impressively for injured veteran Mike Smith. More recently, the Finnish native has lost his way and Edmonton has correspondingly plummeted to 2–10–2 in its past 14 starts. Media and fans in the Alberta capital are going harry… when the reason for the club's slide is so elemental. Show me a good coach and I'll show you a great goaltender. Conversely, Scotty Bowman and the late Al Arbour could have shared a bench and looked incompetent without the most important factor in the game. If Edmonton's slump continues, Dave Tippett will surely take the fall. But, I ask: How has one of the NHL's most–structured and admired coaches of the past decade suddenly become a clod? The answer is, of course, he hasn't. Tippett just looks inept because his tender can't make an early stop. As would a football coach with a quarterback incapable of throwing pass completions. As I mentioned, elemental.

GOALIE MIKKO KOSKINEN (19) PROVIDED ZACH HYMAN AND THE OILERS NO CHANCE TO BEAT THE NEW YORK RANGERS MONDAY NIGHT AT MADISON SQUARE GARDEN. DENNIS SCHNEIDLER USA TODAY
The offshoot of poor goaltending is unlimited. Nothing in the sport mutates more virulently — not even Omicron. Once a team loses confidence in its puck–stopper, emotional fragility sets in, disabling a club's most–apparent strength; in Edmonton's case, the ability of its top–end forwards to generate scoring chances. No team with Connor McDavid, Leon Draisaitl and Hyman should have such long–term difficulty. But, lousy goaltending saps energy and morale. The impact of sound goaltending is diametrically opposite. Since Mar. 20 of last year's abbreviated schedule, when Jack Campbell assumed the No. 1 role, the Leafs have ridden his near–historic numbers to a 37–12–6 record in 55 regular season games. During that time, Campbell is 30–6–3 in 39 decisions. As of tonight, he leads all NHL goalies in average (1.86) and save–percentage (.939). He stands third in victories (16), trailing Frederik Andersen (Carolina) and Andrei Vasilevskiy (Tampa Bay) by one. Not since Jacques Plante, in 1970–71, has a Toronto netminder recorded a GAA less than 2.00 while appearing in a minimum of 40 games.
That is why the Maple Leafs and Oilers have been moving in a contradictory direction since Dec. 1, when Omicron appeared in North America and started to breach the NHL schedule with, now, more than 90 postponements. The Leafs have played only eight times, with a 5–2–1 mark. The Oilers have appeared 13 times and are 3–8–2. The clubs are slated to clash tomorrow (Wednesday) night at empty Scotiabank Arena. Neither McDavid nor Auston Matthews are certain to face one another after the former came up positive today in a rapid COVID test, as did Matthews on Monday. The more–accurate PCR analysis returned a negative result for Matthews… and Edmonton will hope for similar news prior to tomorrow night's match. Television viewers will be robbed if either star is absent.
But, back to goaltending. It remains the number–one factor in Toronto's quest to win a playoff round for the first time since 2004. Andersen failed the Leafs in four post–season rounds, losing to Washington (2017), Boston (2018, 2019) and Columbus (2020). His stats were okay, but he murdered the team by allowing killer, soft goals. Campbell's numbers in the seven–game collapse against Montreal last spring were terrific (1.81 GAA /.934 SV%), but he also allowed untimely and suspect shots to beat him as the series progressed and the Maple Leafs frittered away their 3–1 advantage. It was Campbell's first Stanley Cup experience in a career that dates to 2013–14. Should he gain from the defeat and make the truly important stops, the Leafs may finally get to the second leg of competition. And, once free of the first–round bugaboo, it's possible the team could challenge for the NHL title.
At the moment, the Oilers can barely dream of such a playoff push.
No team… and no coach… wins without goaltending.
50 YEARS AGO
at Maple Leaf Gardens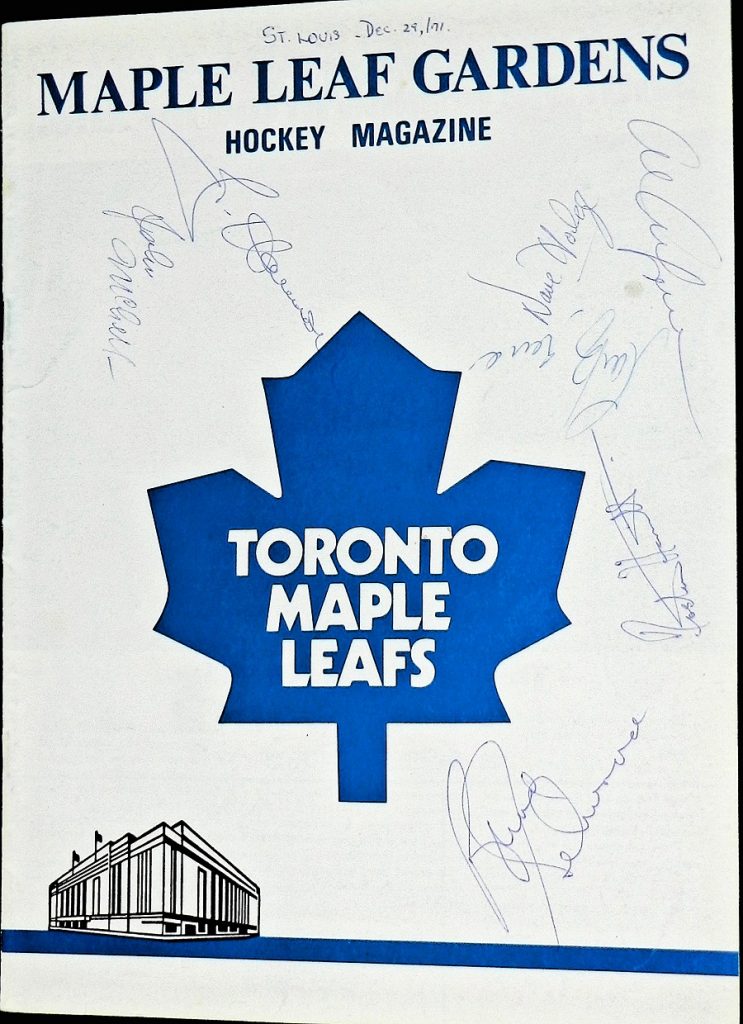 Looking back at my programs from Maple Leafs home games during the 1971–72 season, there's the cover (above) of a Dec. 29 match against the St. Louis Blues on which I received seven autographs. Clockwise from top–left: Leafs coach John McLellan (d. Oct. 27, 1979); Leafs forward Jim Harrison (b. July 9, 1947); Hockey Night In Canada host Dave Hodge (b. Jan. 8, 1945); St. Louis coach Al Arbour (d. Aug. 28, 2015); Blues defenseman (and three–time Leafs Stanley Cup winner) Carl Brewer (d. Aug. 25, 2001); legendary Leafs radio broadcaster Foster Hewitt (d. Apr. 21, 1985) and Toronto defenseman Brad Selwood (b. Mar. 18, 1948).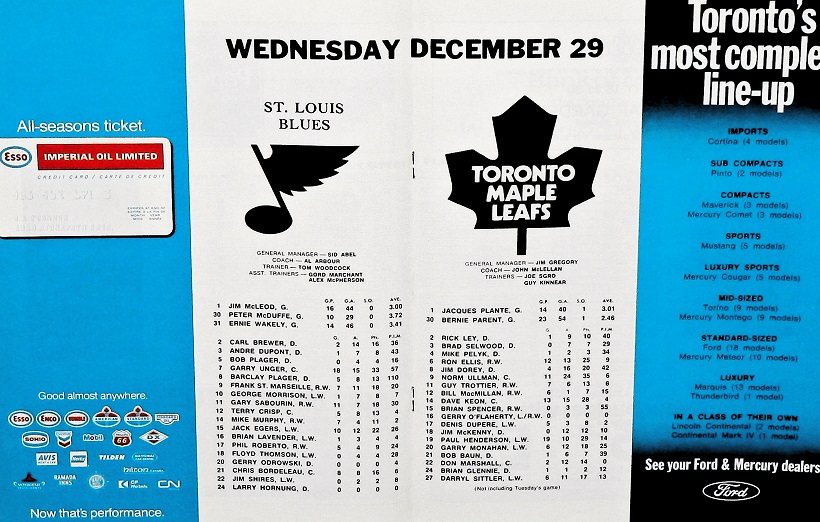 Though the Blues were struggling at 10–21–6, trailing Toronto by 14 points in the NHL standings, they rode a first–period onslaught to an upset, 6–3 victory at the Gardens (line–ups, above and below). The visitors led 4–1 after the opening 20 minutes on goals by (former Leaf) Garry Unger (PPG), Phil Roberto, Barclay Plager (SHG) and Floyd Thompson. Garry Monahan replied for Toronto. Monahan and Paul Henderson (PPG) brought the home team to within one after 40 minutes. But, Unger and Gary Sabourin scored goals 1:47 apart in the third period to lengthen the final margin. St. Louis outshot the Leafs, 40–27, with Bernie Parent taking the loss and minor–league call–up Jacques Caron earning the victory between the pipes. Referee John McCauley dished out 30 penalty minutes, working with linesmen Matt Pavelich and Ray Scapinello.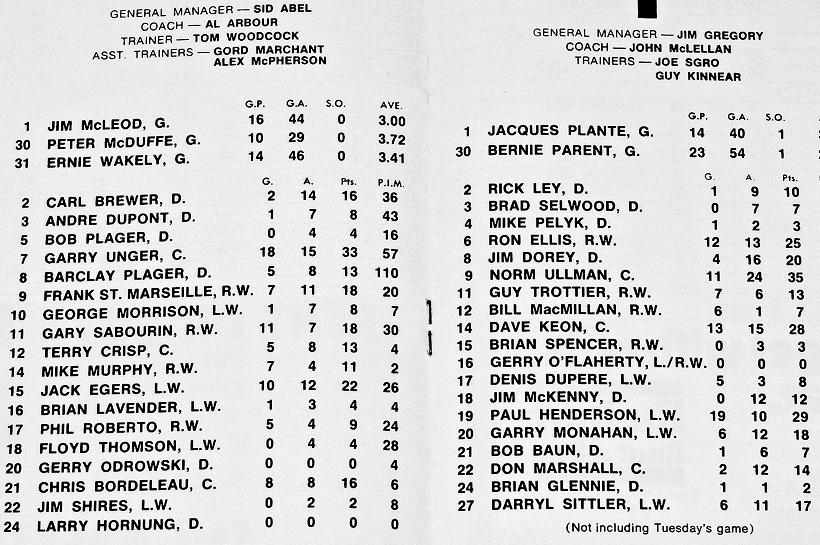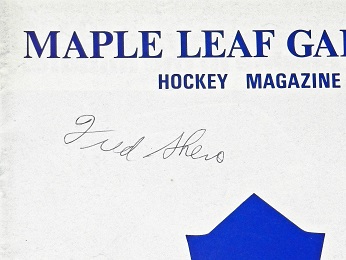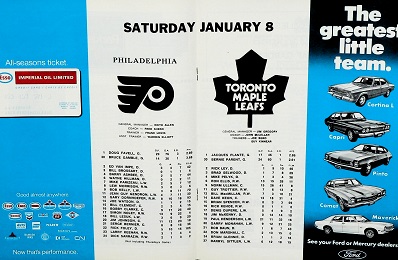 I can still remember meeting first–year Philadelphia coach Fred Shero during an intermission of the Flyers–Leafs game (Jan. 8, 1972) and marveling at how openly he chatted with me in the dressing room corridor. Shero autographed the cover of my program (top–left). Little did I realize he would guide Philadelphia to consecutive Stanley Cup titles (1974/1975); the Flyers becoming the first of the 1967 expansion teams to win the NHL championship.
Though also ahead of Philadelphia by 14 points prior to the match, the Leafs could only scratch out a 2–2 tie. Bill Clement beat Jacques Plante for the only goal of the first period. Brad Selwood (PPG) and Norm Ullman scored on former Leaf Bruce Gamble in the middle frame, but Simon Nolet knotted the count at 9:15 of the third. Both teams had 35 shots on goal. These were not yet Shero's Broad Street Bullies as only 14 penalty minutes were handed out by referee Bob Myers, working with linesmen Matt Pavelich and Alan Glaspell.
As per the line–ups, below, the Flyers had eight players that would be part of their first Stanley Cup team, two seasons later: Ed Van Impe (2), Barry Ashbee (4), Bob Kelly (9), Gary Dornhoefer (12), Joe Watson (14), Bill Clement (15), Bobby Clarke (16, then in his third NHL season) and Simon Nolet (17). Still to join the Bullies were Andre (Moose) Dupont, Dave (The Hammer) Schultz and Don (Big Bird) Saleski. The goalie that won both titles for the Flyers — Bernie Parent — was still playing for the Leafs.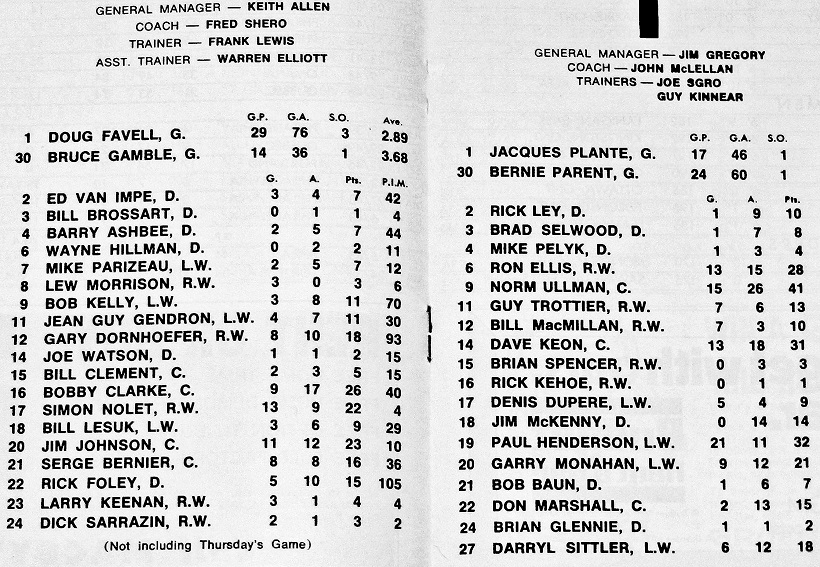 EMAIL: HOWARDLBERGER@GMAIL.COM