TORONTO (Jan. 18) — Undoubtedly, this blog will be considered sacrilege by fans of the Toronto Maple Leafs… and by the horde of mainstream media that covers the team as a publicity branch of ownership.
Both factions keep hands off scoring star Auston Matthews, easily the most–glorified and exalted Toronto skater of all time. Which is occasionally puzzling, given that Matthews hasn't yet, in a half–decade of competition, built a playoff resume; his team failing to advance beyond the opening round of Stanley Cup toil. But, regular–season accomplishment — never a challenge for No. 34 — is sufficient amid the adoring fans and media that endlessly acclaim and lionize the defending Maurice Richard Trophy winner. Some of which, of course, is understandable.
Through more than 50 years of watching the Maple Leafs, only Lanny McDonald and Rick Vaive come close, in my recollection, to Matthews as a gunslinger. McDonald and Vaive scored their 941 NHL goals while using a wooden stick that lacked the whip–and–sling effect of today's composite models. They also fooled goaltenders adorned in lesser (and much–heavier) equipment than the current breed. So, Matthews may, in fact, be the most–natural and gifted scorer in modern franchise history… and perhaps of all time. Accolades are therefore justified.
But, is Matthews a great all-round hockey player? As was Machine Gun Lanny? Not yet. Not by a long shot. A truly great forward performs energetically and responsibly on both sides of center ice. Matthews rarely gets excited about back–checking obligation; his non–pursuit of Ryan O'Reilly contributed largely to the first St. Louis goal on Saturday, as highlighted by Hockey Night In Canada. More significantly, the great ones routinely (and exponentially) elevate performance during the Stanley Cup tournament — a black hole, to this point, with Matthews.
Speaking of the Hockey Night crew, it unearthed an eye–raising paradox concerning No. 34. Of his 25 goals (second in the NHL to Leon Draisaitl and Alex Ovechkin), only nine have come against Eastern Conference rivals. Given that Toronto will not encounter a Western foe until the Stanley Cup final, this is somewhat disconcerting. Yet, it's been uniformly overlooked (or, at least, minimized) by those that cover the Leafs. Instead, reporters and commentators have been agape over Matthews breaking the club's regular–season record for scoring in consecutive road matches. A fairly neat accomplishment, but minus the long–term implication of a tepid playoff performer with merely one–third of his goals against teams he'll encounter in the first three rounds of Stanley Cup quarrel.
Perhaps indicating that Matthews could again experience difficulty scoring when it matters.

But, you cannot write or say these things here in Toronto.
Owing to his regular–season numbers, Auston has been elevated beyond interpretation and analysis.
When Steve Simmons of the Toronto Sun, early in the pandemic, accurately reported that Matthews had tested positive for COVID–19, it caused an international incident. When Simmons later questioned Matthews about an aspect of the Toronto–Columbus qualifying playoff round, the Maple Leafs forward responded: "First of all, it's unfortunate I'm getting a question from you at this point, Steve. I just wanted to say that I didn't appreciate the article you wrote about me a couple of months ago. I thought it was a bit unethical, to be honest." Of course, time has shown that Simmons started a thoroughly justifiable trend. Today, all professional athletes that enter COVID–19 protocol are immediately identified. It is news and it must be reported. Neither would Steve likely have been excoriated if revealing that Alex Kerfoot tested positive. Doing so with Matthews was clearly out of bounds.
This is not to be unduly critical of No. 34. He's a remarkable talent and provides the paying customers at Scotiabank Arena (when allowed to attend) entertainment, excitement and bang for the buck. But, neither should Matthews be coronated until he proves worthy at playoff time, joining such–other glorified Maple Leafs as Dave Keon, Frank Mahovlich, Darryl Sittler, McDonald, Borje Salming, Doug Gilmour, Wendel Clark and Mats Sundin.
The latter, you may be unaware, was ridden hard by the media in his early Leafs tenure. It wasn't until signing a big contract and looming large in Stanley Cup play that Sundin earned the appropriate respect. The reporting environment today is far different. For reasons aforementioned, electronic pundits generally tip–toe around the Maple Leafs (Craig Button and ex–Leaf Mike Johnson of TSN are refreshingly candid). Newspaper analysis, however, has plummeted in the past 20 years, owing to the absence of such–forthright observers as Dave Perkins, Damien Cox, Al Strachan, Jim Hunt and David Shoalts (Cox still contributes one or two stories a week to the Star).
Notable exceptions are Simmons, Rosie DiManno (Toronto Star) and Cathal Kelly (Globe and Mail). Dave Feschuk (Star) can also cut through the chaff, even while working, part time, for Leafs–owned TSN.
The Leafs have a terrific opportunity to finally end their first–round playoff bugaboo, dating to 2004, and owing, primarily, to the remarkable performance of Jack Campbell between the pipes (albeit with a minor hiccup in the past week). But, Campbell won't save the Leafs without timely goals from Matthews and the other mega–rich forwards.
It's okay to say it. And, write it. Even with the club sailing along near the NHL summit.
THE ENTIRE MAGAZINE SET: 1971–72 to 1979–80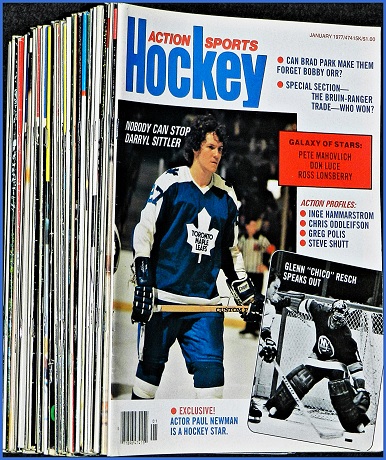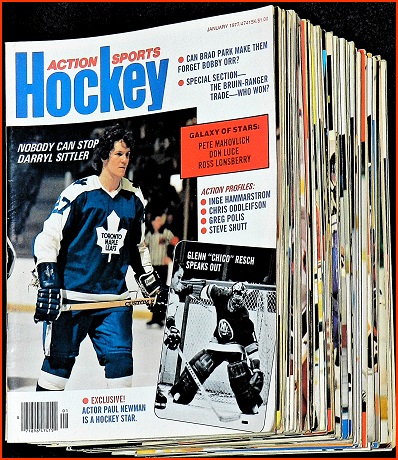 Occasionally, I surprise myself when perusing my large collection of hockey programs and magazines. For example, I didn't realize, until this week, that I amassed every issue of ACTION SPORTS HOCKEY — the candid and controversial publication created by Robert Stampleman and New York author Stan Fischler. It came out six or seven times per season between 1971–72 and 1979–80. During undoubtedly the most–contentious era in the game's history: when the World Hockey Association challenged the NHL and led to elimination of the reserve clause in players' contracts, thereby granting freedom of movement and escalation of salaries beyond prior imagination. At one point during the NHL/WHA battle, there existed 32 professional teams. This was largely before the influx of European–born skaters and there wasn't nearly enough pro–level talent to stock so many clubs.
The game, therefore, lapsed into a half–decade period in which violence obliterated skill. Personified, in the NHL, by the Philadelphia Flyers, a.k.a. the Broad Street Bullies, which won consecutive Stanley Cup titles in 1974 and 1975. And, by a large segment of teams in the sparsely talented WHA. When the dazzling and creative Montreal Canadiens, coached by Scotty Bowman, wrested the NHL reign from the Flyers (in 1976) — and the NHL absorbed four survivors from the WHA (in 1979) — fighting and stick violence abated. Wayne Gretzky happened upon the scene and flashed his unprecedented skill with the Edmonton Oilers, the most–gifted club in NHL history; winner of five Stanley Cups between 1984 and 1990. Here is more from this unique and coveted collection: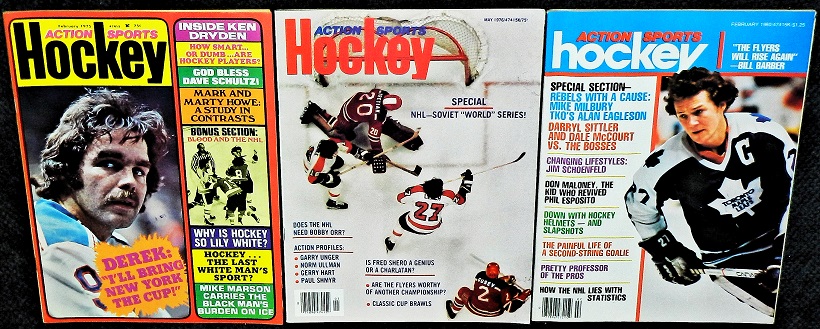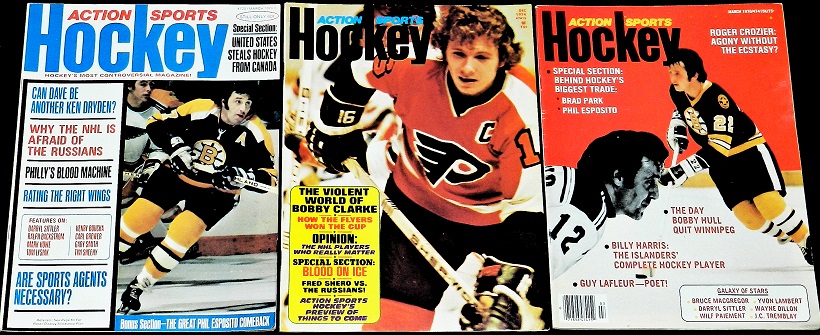 THE BEGINNING… AND THE END: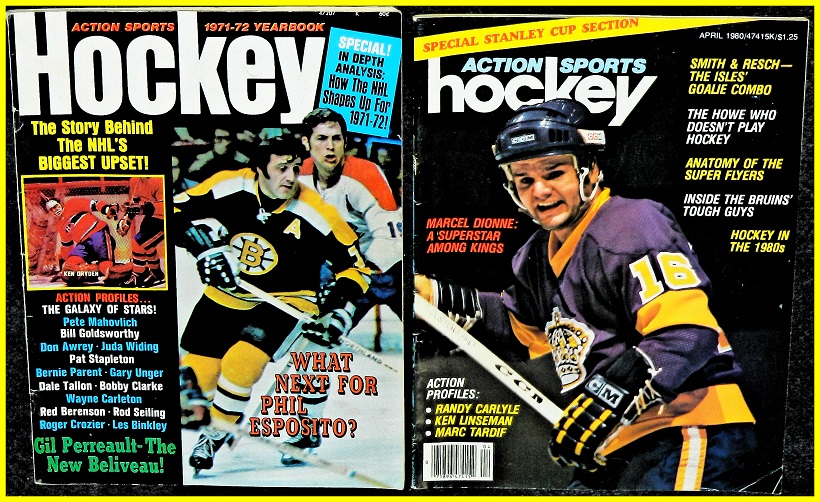 THE FIRST AND LAST ISSUES OF ACTION SPORTS HOCKEY (1971–72 Yearbook / April 1980).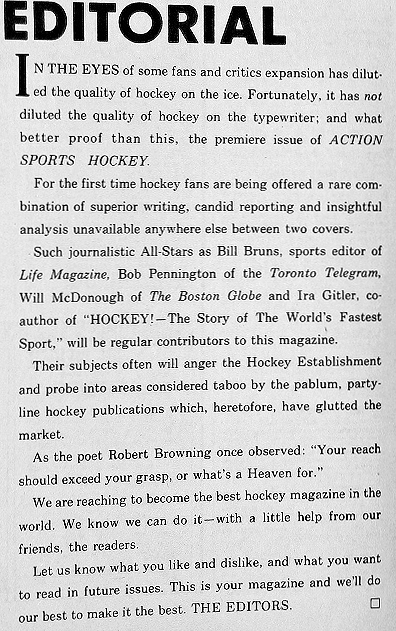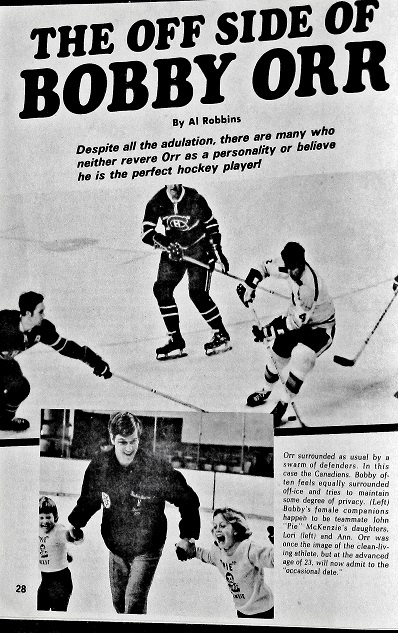 As a stout follower of the New York Rangers, my ol' media pal, Stan Fischler, used his ACTION SPORTS pulpit to skirmish with the rival Boston Bruins. The magazine took particular aim at Bruin stars Bobby Orr, Phil Esposito and Derek Sanderson. Orr and Esposito were routinely glorified by other such publications of the era, which acted as publicity arms of the NHL. Fischler and Co. offered no balance. But, it was different. And, quite entertaining.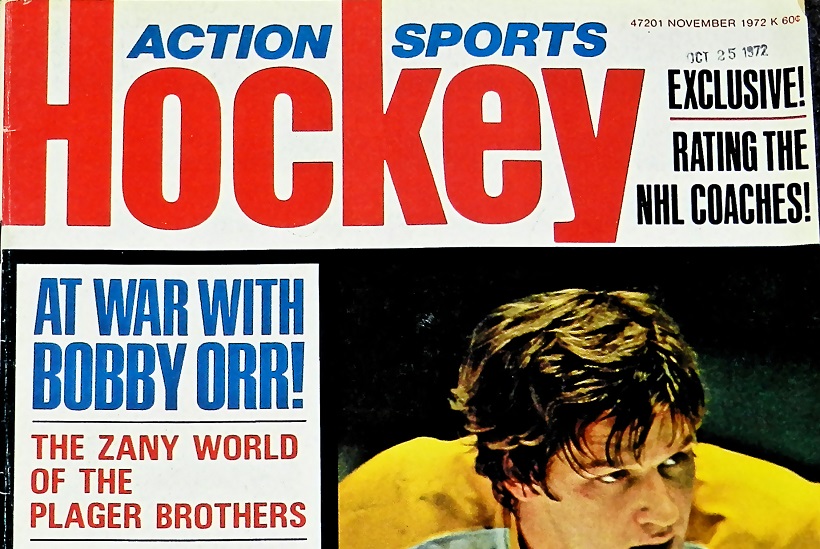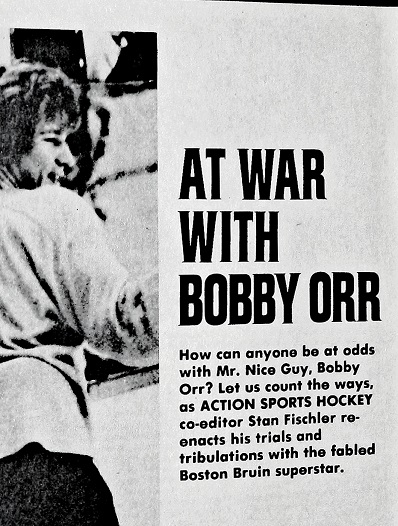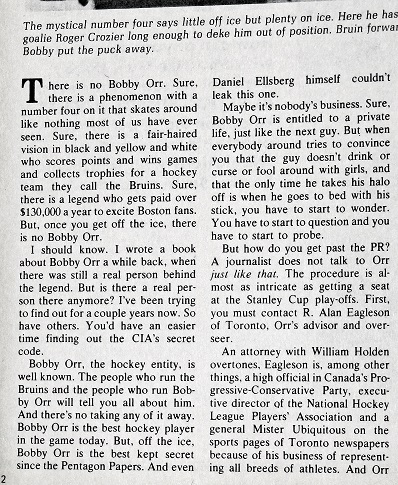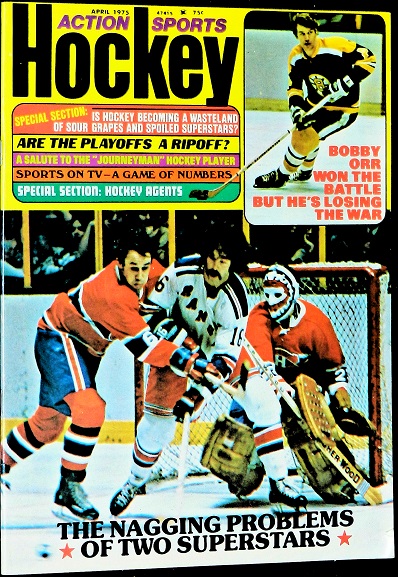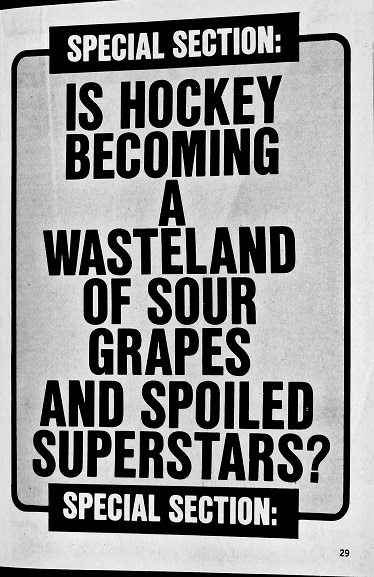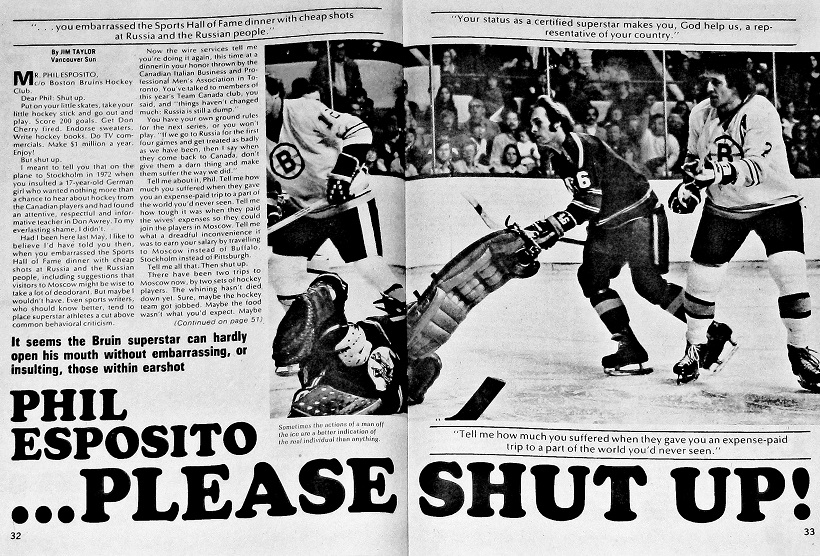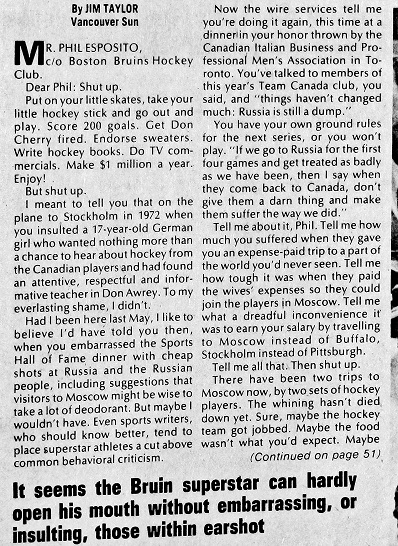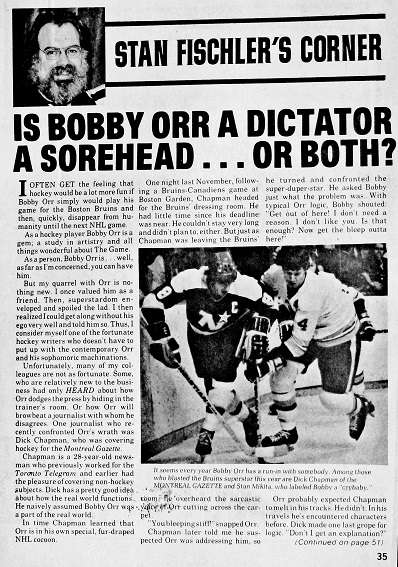 EMAIL: HOWARDLBERGER@GMAIL.COM