TORONTO (Jan. 6) — Does anyone out there have an answer?
Better yet, is any person holding a National Hockey League media credential willing to ask a simple question? To wit: Why are some games in Canadian cities being postponed due to attendance restrictions while others are not?
Why did the NHL, on Wednesday, announce it was delaying the Jan. 17 New Jersey at Toronto match on the same night the Edmonton Oilers were scuffling at Scotiabank Arena with the world's best player in COVID protocol? Were thousands of fans secretly and silently crouching beneath the blue tarpaulins stretched across the arena bowl at ice level? Would it not have been fair to the undermanned Oilers — and prudent from an entertainment and competition perspective — to have shelved this match for rescheduling (as per the NHL release) "… later in the season when such restrictions may be eased or lifted?" Thereby perhaps allowing for Connor McDavid to make his lone appearance of the 2021–22 schedule in this city?
Between today and Jan. 18, a total of 19 games are scheduled to be played in Canadian markets. All but six have been postponed. When examining the 19 games, there appears to be no rhyme or reason:
JAN. 06: Toronto at Montreal — Postponed.
JAN. 08: Buffalo at Montreal, Seattle at Winnipeg, New York Rangers at Edmonton — Postponed. Ottawa at Vancouver — NOT Postponed. 
JAN. 10: Columbus at Montreal, Minnesota at Winnipeg — Postponed. Ottawa at Edmonton — NOT Postponed.
JAN. 11: New York Rangers at Calgary — Postponed.
JAN. 12: Minnesota at Edmonton — Postponed.
JAN. 13: Ottawa at Calgary — NOT Postponed.
JAN. 14: Vegas at Edmonton — Postponed.
JAN. 15: New Jersey at Montreal, Vegas at Calgary — Postponed. Ottawa at Winnipeg — NOT Postponed.
JAN. 16: Edmonton at Winnipeg, Postponed.
JAN. 17: New Jersey at Toronto, Postponed.
JAN. 18: Chicago at Edmonton — Postponed. Buffalo at Ottawa, Pittsburgh at Calgary — NOT Postponed.
I'll assume there's an explanation why, for example, the New York Rangers at Edmonton game of Jan. 8 is postponed, but the Ottawa at Edmonton match of Jan. 10 is still on the schedule. As is Ottawa at Vancouver* on Jan. 8. Why the Rangers at Calgary (Jan. 11) is postponed, but the Senators at Calgary (Jan. 13) is not. Why Seattle at Winnipeg (Jan. 8) and Minnesota at Winnipeg (Jan. 10) are postponed, but Ottawa at Winnipeg* (Jan. 15) is a go. And… why Buffalo at Ottawa and Pittsburgh at Calgary (Jan. 18) are still on the schedule, but Chicago at Edmonton is not. What puzzles me most is why 17 of 19 games in Canadian cities between Dec. 20 and Jan. 6 were postponed, with only Ottawa at Toronto (Jan. 1) and Edmonton at Toronto (Jan. 5) being played. On each occasion, the Leafs' opponent was quite ravaged by COVID infection. The Toronto clubs of the past half–decade have not required assistance to win games between October and April. A top–heavy roster has accounted for much of the regular–season success. How and why the NHL provided the Leafs — having returned to full strength — a virtual pass in home games this week against the Senators and Oilers cannot be adequately explained.
*Finally, some answers: According to TSN, the Ottawa road games at Vancouver (Jan. 8) and Winnipeg (Jan. 15) will be postponed.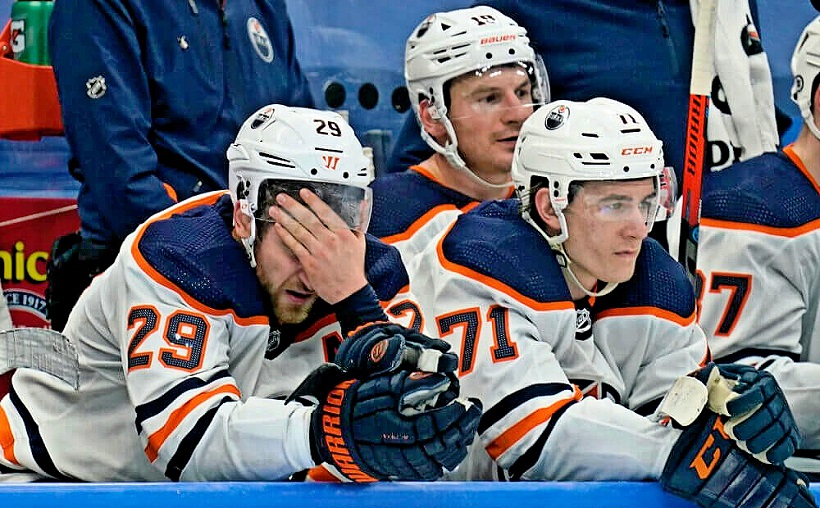 THOUGH THEY PERFORMED ADMIRABLY WITHOUT THREE OF THEIR BEST PLAYERS, INCLUDING CONNOR McDAVID, THE EDMONTON OILERS COULD BARELY WATCH WEDNESDAY NIGHT'S 4–2 LOSS TO THE HEALTHY TORONTO MAPLE LEAFS AT SCOTIABANK ARENA. GETTY IMAGES/NHL
Neither can it be clarified why the Maple Leafs were excused from ALL competition during their team–wide COVID outbreak. Five consecutive matches from Dec. 18–29 were postponed; only the Dec. 27 home game against Columbus was part of the league–wide shutdown. Back in the six–team era (1945–67), when the NHL head office was in Montreal under president Clarence Campbell, the league was often accused of scheduling decisions that favored the Canadiens. I will refrain from a similar allegation regarding the Maple Leafs today, even with NHL's Canadian headquarters based at 50 Bay St., adjoining Scotiabank Arena. What I cannot account for is why the Leafs were idle when COVID went through their roster… then allowed to host the shorthanded Senators and Oilers once back to full health. The appearance of bias was glaring. And, we know that perception is reality.
If, let's say, it works out that Toronto finishes atop the Atlantic Division by two or three points ahead of Tampa Bay and Florida — hardly an implausible scenario — how will the NHL explain to the Lightning and Panthers its decision to allow the Ottawa and Edmonton games to go forth at Scotiabank Arena? Still to be determined, of course, is the manner in which the league re–schedules the nearly 100 games interrupted, thus far, by the Omicron outbreak. The Gary Bettman administration would be insane to try and cram in all postponements for the Stanley Cup playoffs to begin on schedule at the start of May. Even with the now–obsolete Feb. 6–22 break for the Beijing Winter Olympics, some teams will encounter four and five matches in a one–week span, which is a prescription for injury disaster. This, of course, presupposes that the Omicron variant will allow for all games after Jan. 18 to proceed as slated. Which is nearly impossible to comprehend. So, the NHL's COVID complication will escalate.
Only the Maple Leafs, thus far, have nothing to bitch about.
RANDOM HOCKEY MAGAZINES FROM MY COLLECTION
Looking at covers that date from March 1966 to October 1979: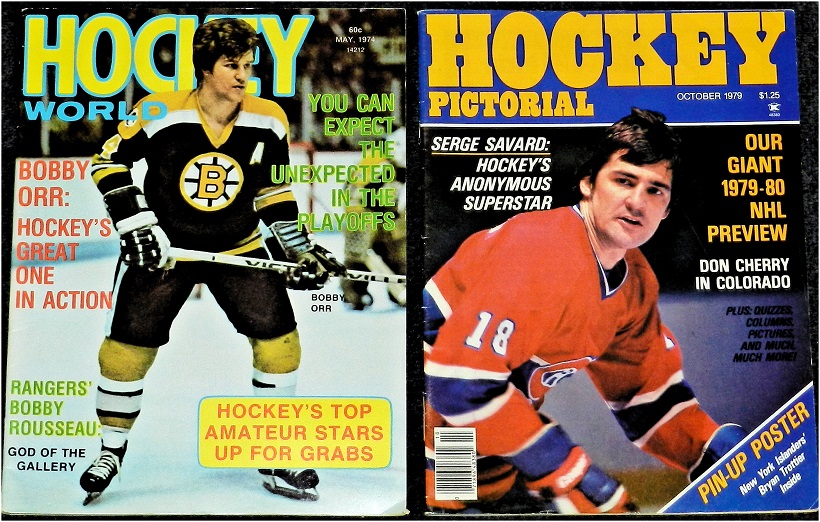 MAY 1974 (Bobby Orr) / OCTOBER 1979 (Serge Savard).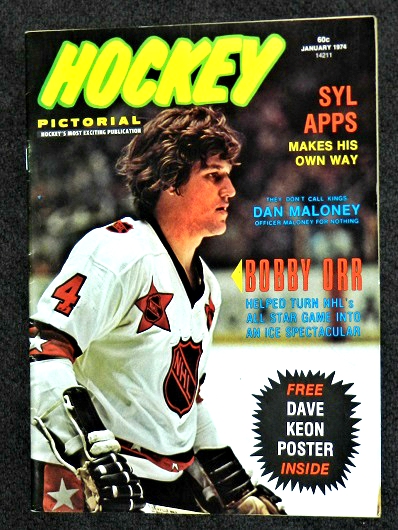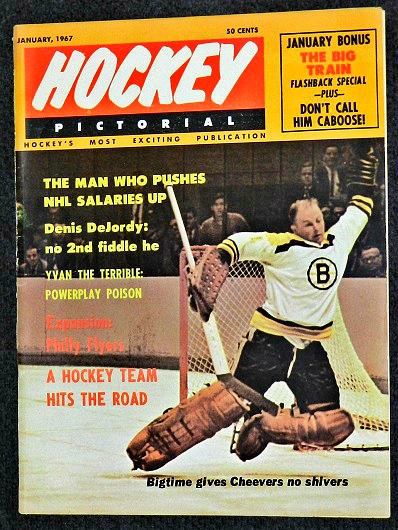 JANUARY 1974 (Bobby Orr) / JANUARY 1967 (Gerry Cheevers).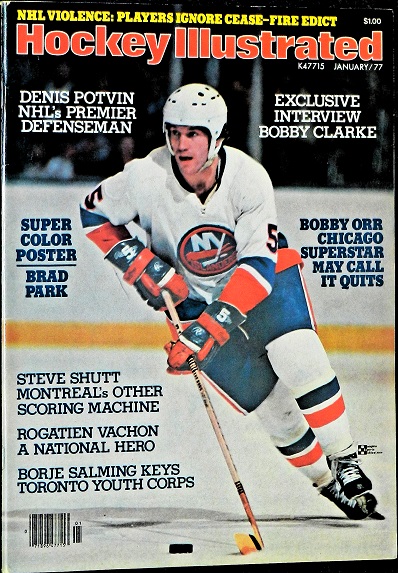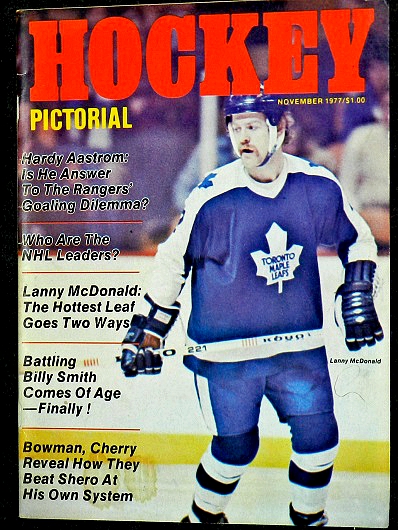 JANUARY 1977 (Denis Potvin) / NOVEMBER 1977 (Lanny McDonald).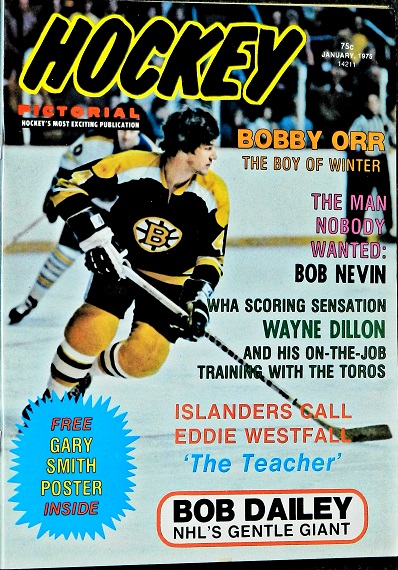 JANUARY 1975 (Bobby Orr) / DECEMBER 1966 (Alex Delvecchio, Gordie Howe).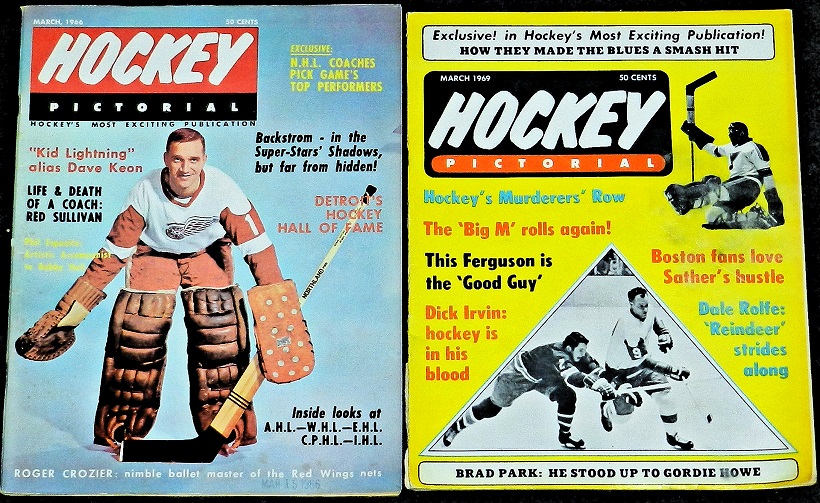 MARCH 1966 (Roger Crozier) / MARCH 1969 (Jacques Plante, Brad Park).

APRIL 1970 (Oakland Seals) / OCTOBER 1975 (Bernie Parent).
EMAIL: HOWARDLBERGER@GMAIL.COM