TORONTO (Feb. 7) — The reason Kyle Dubas told reporters on Monday that he hasn't yet determined his trade deadline strategy is rather fundamental: He can stall for at least another five weeks. And, that's precisely what the Maple Leafs general manager was doing when he pretended to not know what his club requires for a lengthy playoff march. Even a novice fan of the National Hockey League can see the red flags on the Toronto blue line.
Which have been evident for merely 45 years, give or take a season.
Issue No. 1 cannot be solved before the Mar. 21 NHL trade embargo. The Leafs have a very good defenseman in Morgan Rielly… but not a Norris Trophy contender. There is still a difference between Rielly and such fellow defensemen as Victor Hedman, Cale Makar and Adam Fox. Morgan remains near the top of the second tier and he'll be an asset for the club in the post season. Of greater concern is an established blue liner that favors body contact. The Leafs have a good likeness in Jake Muzzin, but the very fact they miss him so sorely when he's out of the line–up offers the need for an upgrade. Muzzin is an average defenseman slowing with age. And, he's the best, by many miles, the Leafs possess. Without another player of his genre, advancement beyond the opening round of Stanley Cup competition will again prove challenging. Any person — Dubas at the very top — expecting the young Swedish duo of Rasmus Sandin and Tim Liljegren to not only withstand, but excel in, four rounds of grueling playoff toil will be disappointed. Such anticipation may never materialize, but certainly not right away.
Even if Sandin and Liljegren perform well prior to Mar. 21, they will not have experienced a playoff environment. That's where the Leafs GM was a bit fudgy on Monday. He knows the difference between regular season and post season. Unless one of the Swedes takes a Makar–like step, Dubas will maintain realistic playoff assumption.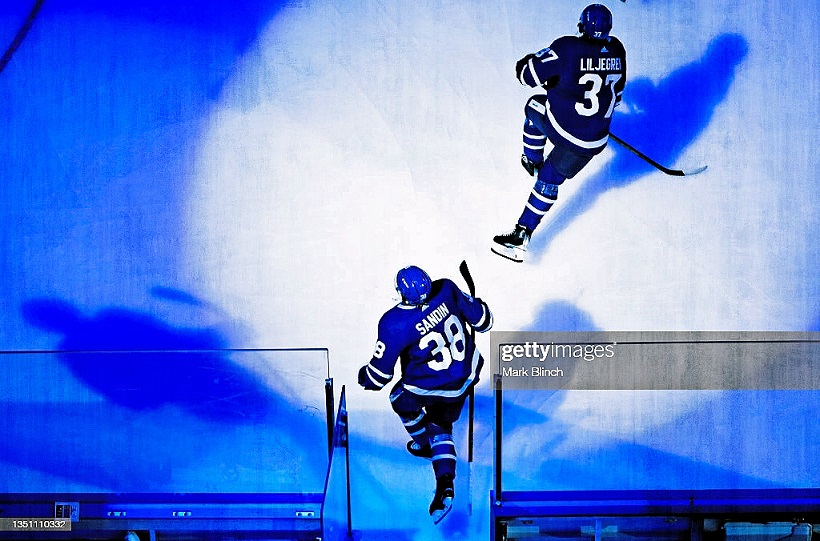 The Leafs need a bold rental before the trade deadline. I have vouched for Zdeno Chara because… he's Zdeno Chara. Nearly 45 years old but with monumental size, playoff experience, savvy and an unparalleled aura. Most observers believe Lou Lamoriello would send Chara to his native Slovakia rather than the club that jettisoned him as GM in 2018. And, they could be right. But, it's certainly worth a determined overture on the part of Dubas.
There was a whisper today that big Connor Murphy of Chicago, a right-handed shot, could be on the Leafs' radar.
As for the general angst in Leafs Nation over the recent performance–blip of goalie Jack Campbell, I do not subscribe. Not after Campbell performed exceptionally during the span of one calendar year, or 1½ seasons. No stopper can fluke good numbers for that long. Campbell is a legitimate starting goalie with awesome playoff potential. His stats were superb in the opening–round collapse against Montreal last May. Like his predecessor, however, Jack needs to bear down in the crunch. Frederik Andersen also accrued reliable stats in the post–season with Toronto, but was completely unreliable when games were on the line. The numerous softies that eluded Andersen killed the Leafs over and over. Smilin' Jack, you must remember, had zero playoff experience prior to last spring.
It says here that if he stays healthy, Campbell will provide the Leafs a breakthrough that Andersen could not.
He alone could lift the club beyond its opening–round playoff drought that dates, lingeringly, to 2004.
STILL A RECORD, 46 YEARS LATER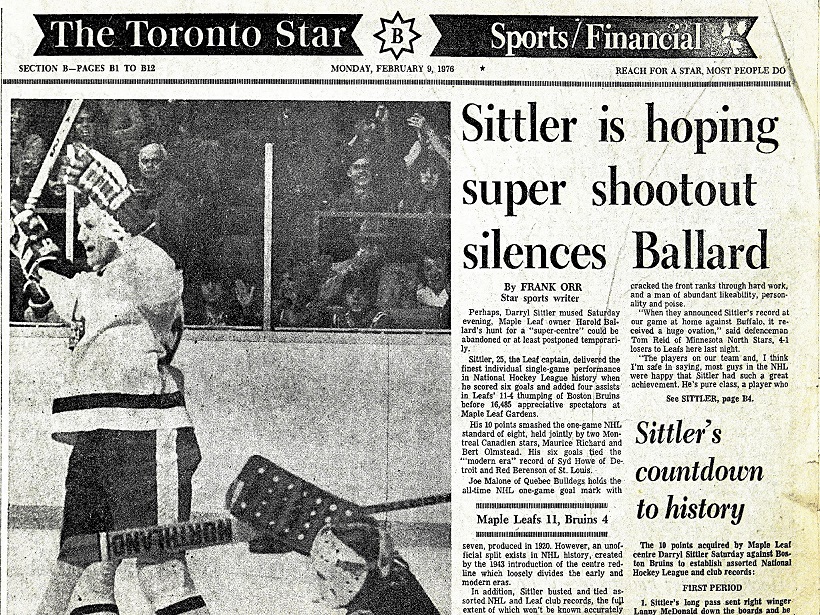 Yes, it's Feb. 7. Again. For more than 4½ decades, this date has appeared with no player in the National Hockey League equaling, or eclipsing, the record of 10 points (six goals, four assists) in one game, established in 1976 by Maple Leafs captain Darryl Sittler. In fact, only Sittler has nine points in one game. The record has been threatened on a number of occasions since 46 years ago tonight. Eight points were amassed by the following NHLers:
TOM BLADON, Philadelphia, vs. Cleveland on Dec. 11, 1977. 4 goals, 4 assists.
BRYAN TROTTIER, New York Islanders, vs. New York Rangers on Dec. 23, 1978. 5 goals, 3 assists.
PETER STASTNY, Quebec Nordiques, at Washington on Feb. 22, 1981. 4 goals, 4 assists.
ANTON STASTNY, Quebec Nordiques, at Washington on Feb. 22, 1981. 3 goals, 5 assists.
WAYNE GRETZKY, Edmonton Oilers, vs. New Jersey on Nov. 19, 1983. 3 goals, 5 assists.
WAYNE GRETZKY, Edmonton Oilers, vs. Minnesota on Jan. 4, 1984. 4 goals, 4 assists.
PAUL COFFEY, Edmonton Oilers, vs. Detroit on Mar. 14, 1986. 2 goals, 6 assists.
MARIO LEMIEUX, Pittsburgh Penguins, vs. St. Louis on Oct. 15, 1988. 2 goals, 6 assists.
BERNIE NICHOLLS, Los Angeles Kings, vs. Toronto on Dec. 1, 1988. 2 goals, 6 assists.
MARIO LEMIEUX, Pittsburgh Penguins, vs. New Jersey on Dec. 31, 1988. 5 goals, 3 assists.
SAM GAGNER, Edmonton Oilers, vs. Chicago on Feb. 2, 2012. 4 goals, 4 assists.
Only one other player in the NHL's expansion era (beginning in 1967–68) has scored six goals in a game. Red Berenson of the St. Louis Blues accomplished the feat on Nov. 7, 1968 at the Philadelphia Spectrum. There was lots of noise in San Jose a few weeks ago (Jan. 17) when forward Timo Meier of the Sharks had five goals after two periods against the Los Angeles Kings (most in one game since 1994). But, Meier failed to equal Berenson and Sittler in the third. No one other than Sittler has accrued hattricks in consecutive periods, as did the future Hall–of–Famer in the second and third frames of the 11–4 drubbing against Boston on Feb. 7, 1976 (a Saturday).
For a hockey fan growing up in Toronto, that game remains the most–memorable of any I've attended in my life. I was four days past my 17th birthday when Sittler erupted against Don Cherry's vastly superior team.
Poor Dave Reece played goal for Boston in his 14th — and final — NHL appearance.
I still have my souvenirs from that surreal night at Maple Leaf Gardens: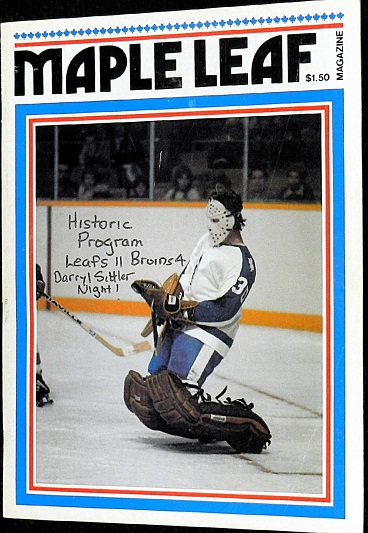 I SAT IN REDS SEC. 42, IN THE SOUTHWEST CORNER OF THE GARDENS. SITTLER BROKE THE RECORD OF EIGHT POINTS IN A GAME (SHARED BY MAURICE RICHARD AND BERT OLMSTEAD OF MONTREAL) AT THE FAR END OF THE ICE IN THE THIRD PERIOD. I DEFACED THE PROGRAM COVER (TOP–RIGHT), BUT I'D VENTURE THERE AREN'T MANY SUCH ITEMS IN CIRCULATION TODAY. I ALSO MADE A NOTATION (BELOW) IN THE CENTER–SPREAD LINE–UPS, AFTER THE HISTORIC MATCH.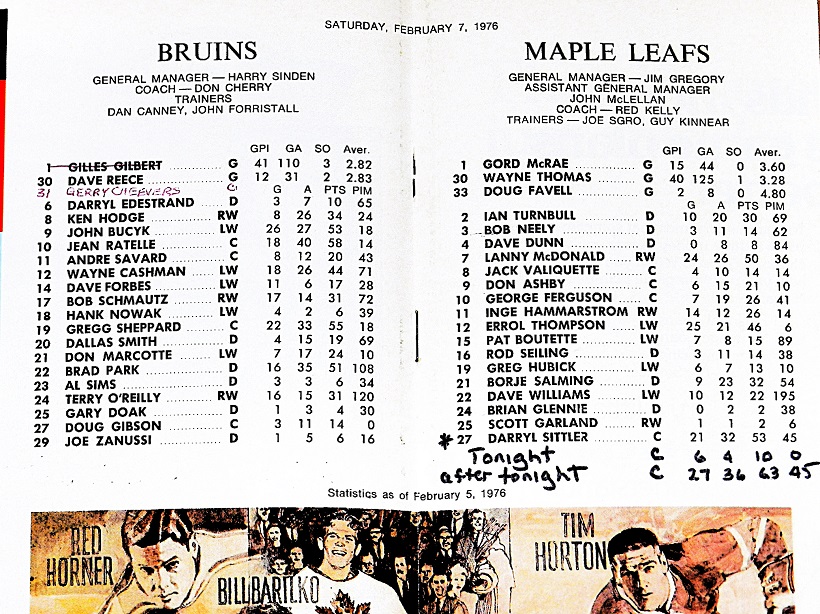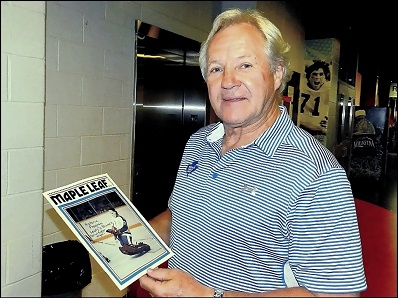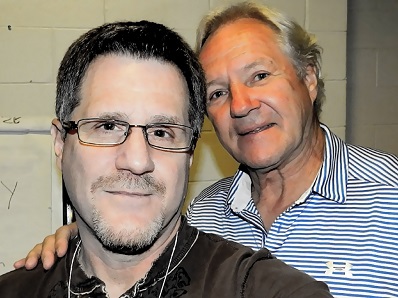 I MET UP WITH SITTLER (ABOVE) ON HIS 65th BIRSTDAY (Sep. 18, 2015) AT THE LEAFS' PRACTICE FACILITY; THEN ON HIS 70th BIRTHDAY (BELOW) IN THE PARKING LOT OF YORKDALE SHOPPING CENTRE. DARRYL REMAINS SECOND, ALL TIME, IN LEAFS SCORING, BEHIND ONLY MATS SUNDIN.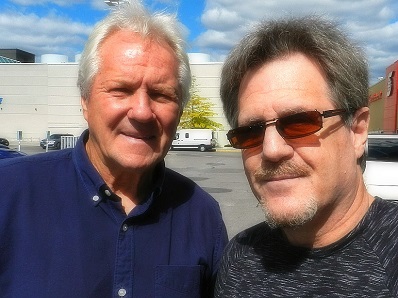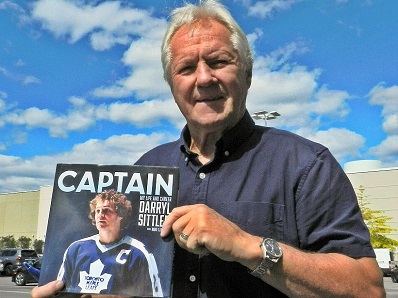 EMAIL: HOWARDLBERGER@GMAIL.COM