TORONTO (Feb. 13) — Barring an 18–wheeler, the Maple Leafs are en route to the best regular season in their 105–year history. Never before has the club won 30 of its first 45 games, or accumulated 63 points in 45 games. With Auston Matthews, Mitch Marner, John Tavares, William Nylander, Michael Bunting, Morgan Rielly and Jack Campbell all healthy, the Leafs are as top loaded as any team in the National Hockey League. This would appear to be a "different" Toronto club than any in recent annals; perhaps "different" than any in franchise history.
The question is: How "different?"
Answers, of course, will arrive in early May, when the Maple Leafs put their spotty playoff record on the line; the Stanley Cup scramble surely to be fierce within the Atlantic Division. To appear in the Eastern Conference final for the first time since 2002, the Leafs may have to get past Florida (69 points) and Tampa Bay (68) without home–ice advantage. It'll be no different in the Metropolitan Division, where only one of Carolina (67), Washington (66) and the New York Rangers (64) will survive. The East has won five of the past six Stanley Cups and the Conference champion will again pose a major threat. Can the Maple Leafs, with all their talent, be that representative? Or, will the inclination to get pushed around and dominated physically (as in Calgary this week) preclude a long Stanley Cup march? Can they stay organized and compete, defensively, against such a buzz–saw opponent as the Rangers, who skated circles around the Leafs at Madison Square Garden last month? Is the exceptional .700 win percentage accrued by the club so far this season a mirage, or entirely relevant to playoff achievement?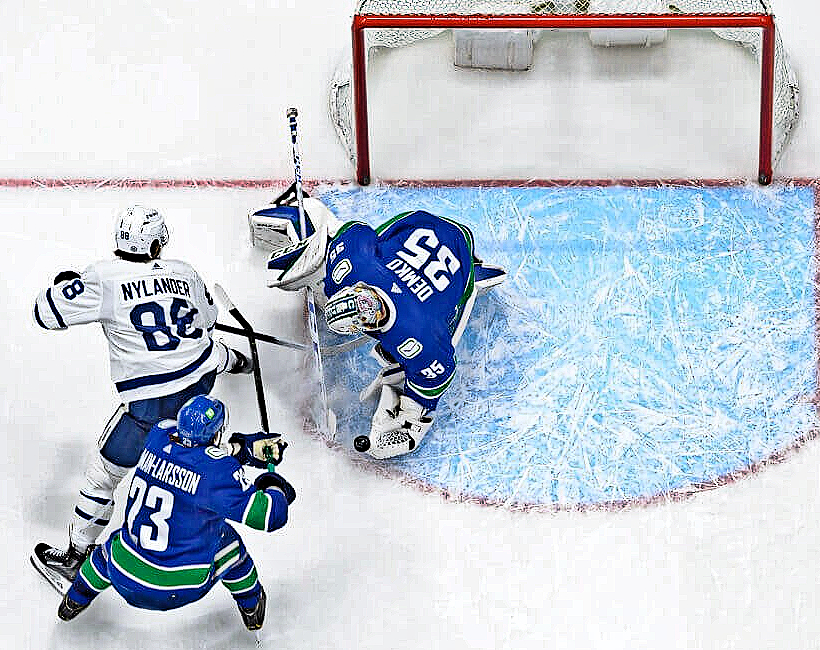 THATCHER DEMKO STOPPED 51 SHOTS ON SATURDAY NIGHT IN VANCOUVER AS THE CANUCKS EDGED THE MISFIRING MAPLE LEAFS, 3–2; TORONTO'S SECOND STRAIGHT LOSS. GETTY IMAGES/NHL
Can general manager Kyle Dubas help make the Leafs different prior to the Mar. 21 NHL trade deadline? Will he settle for a low–impact move such a acquiring another marginal defenseman (Luke Schenn?) or might he pony up to obtain a forceful presence by offering one of his young blue–liners (Rasmus Sandin will fetch a lot more than Tim Liljegren). Dubas has stubbornly retained his core players, so do not expect a blockbuster… even if the club has no choice but to unload a mega–contract before next season (Mitch Marner or William Nylander will be dealt).
Can Jack Campbell regain his pre–All Star form and carry it into the playoffs, thereby providing the Maple Leafs their best opportunity to dispatch one of Florida or Tampa Bay? There is no career indication that Petr Mrazek can carry the load in the Stanley Cup tournament, so Campbell will need to excel. Neither is there a goaltending "controversy" at the moment — as absurdly posed by the Toronto Star — given that Campbell and Mrazek were expected to share duties prior to Mrazek sustaining yet another early groin strain. Even if Campbell recovers from this mid–season swoon, both netminders will be liberally deployed by Sheldon Keefe in the final 37 matches.
What I see from the Maple Leafs right now is a team that too–closely resembles the playoff underachievers of 2017–21. The club does not play "heavy" when the situation warrants; neither is there sufficient quality on the blue line behind Rielly, T.J. Brodie and a slowing Jake Muzzin. Given the likely first–round opponent (one of the Florida teams), the Leafs may well extend their playoff winless streak to 18 years (since eliminating Ottawa in 2004).
Even as they surely obliterate their points record in the regular schedule.
WEEKEND THOUGHTS: The Leafs will play a team from Seattle for the first time on Monday night upon visiting Climate Pledge Arena and finishing their western swing against the expansion Kraken. In the early years of the NHL, when teams from the Western Canadian Hockey League posed a Stanley Cup challenge, the Leafs twice encountered the Vancouver Millionaires, winning the Cup final in 1918 and 1922. The Seattle Metropolitans twice appeared in the championship round — against the Montreal Canadiens in 1919; the series canceled after five games as a result of the Spanish Flu pandemic, and the original Ottawa Senators, which defeated the Metropolitans in five matches the following year. The Kraken is scheduled to play here in Toronto for the first time on Mar. 8… William Nylander performed well for the Leafs in the opening–round collapse against the Canadiens last May and was enjoying a career season leading up to the All–Star break. More recently, Nylander has lost a competitive edge, staying to the perimeter of the ice — where he is most comfortable, but least–effective. Willie needs to be more involved, as he was in the playoffs… Neither am I convinced that John Tavares has enough in the tank to strongly finish the season and carry on through four playoff rounds. But, his character and competitive drive could compensate when required… Justin Holl has always been a mediocre–to–average defenseman. Why are Leaf fans carrying on as if an All–Star–caliber player has declined this season?… I laugh out loud when reading Leafs chat forums and seeing a poster exclaim "fu** my life!!" when the club loses. What if that person encounters an actual crisis?… Brad Marchand keeps getting suspended; keeps being despised across the NHL and keeps all other playoff–bound teams wishing they had him in their line–up… Can Mitch Marner dangle and dazzle in the tough playoff environment as he has in the past month? If so, the Leafs stand a much–better chance of posing a Stanley Cup threat. If not, he'll again verify the claim of his detractors… Former Leaf Owen Nolan turned 50 on Saturday… Mats Sundin is 51 today. Sundin and Nolan were drafted first overall by the old Quebec Nordiques in 1989 and 1990… The Toronto Argonauts of the Canadian Football League are impressively spending money and making noise in free agency, adding a pair of future Hall of Famers this week: running back Andrew Harris (from Winnipeg) and kick–returner extraordinaire Brandon Banks (from Hamilton). But, it will not matter so long as journeyman McLeod Bethel–Thompson is the club's starting quarterback. Thompson has no playoff resume and will never lead a CFL team to the promised land. Right now, the Argos resemble a high–scoring hockey club with mediocre goaltending… Super Bowl LVI prediction: Cincinnati 27, Los Angeles Rams 23. It's Joe Burrow's year… Tonight marks 23 years since the final NHL game at Maple Leaf Gardens: a 6–2 rout by Doug Gilmour and the Chicago Blackhawks on Feb. 13, 1999. For posterity's sake, here was the press box seating arrangement (this paper carefully removed from the back wall of the box after the game). I was delightfully camped in Chair 67: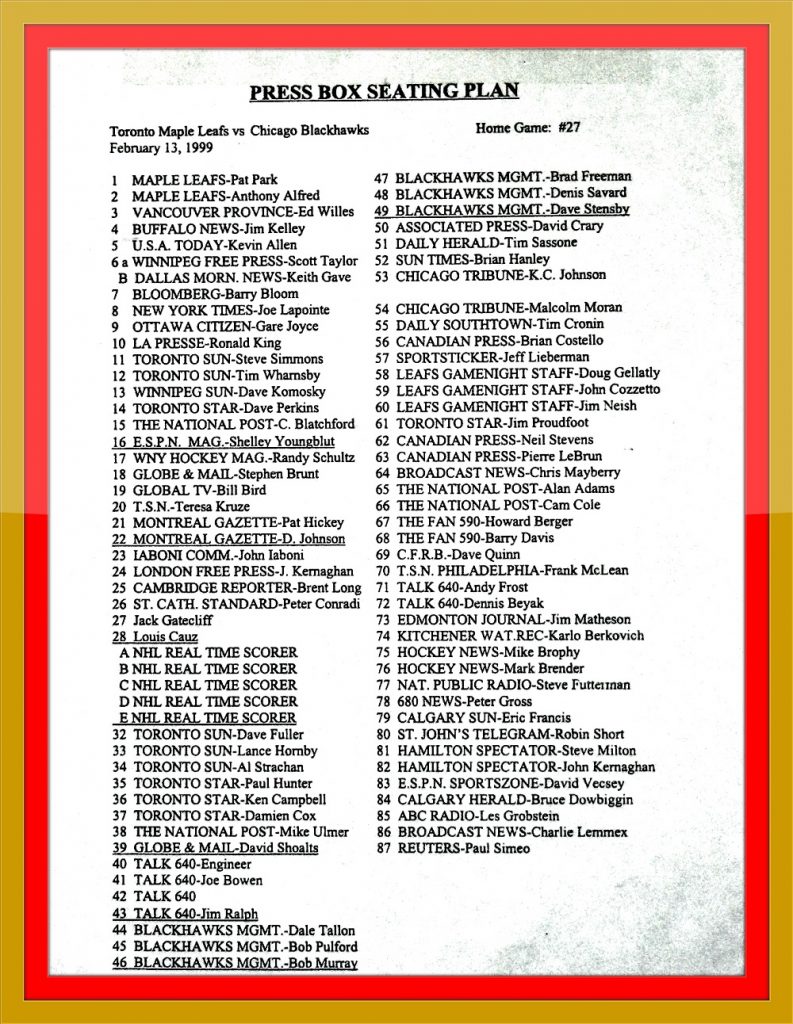 EMAIL: HOWARDLBERGER@GMAIL.COM