TORONTO (Feb. 26) — Auston Matthews had a good game against the Minnesota Wild on Thursday and the media man–crush here in town went nuclear. With two goals, Matthews became the National Hockey League's scoring leader and front–runner for his second Rocket Richard Trophy. Which prompted the following headlines:
MATTHEWS DOMINATING 'ON BOTH SIDES' FOR LEAFS TO SKATE INTO HART TERRITORY — Toronto Sun
ENJOYING AUSTON MATTHEWS; TALKING TRADE AND BLOCKING OUT THE NOISE — Toronto Star
MATTHEWS STEALING PUCKS, HART TROPHY VOTES — TSN
MATTHEWS CLIMBING THE RANKS IN THE RACE FOR HART TROPHY — TSN
AUSTON MATTHEWS UNLOCKS A VERY SAFE, DEFENSIVE GAME FOR MAPLE LEAFS — Sportsnet
Then, late on Thursday, came this graphic from TSN: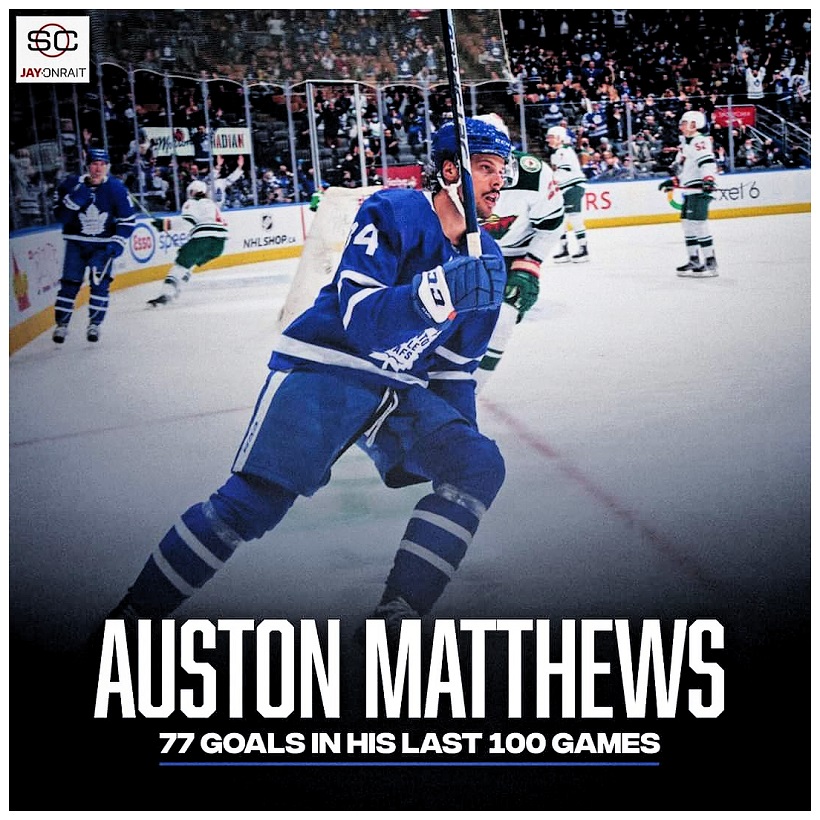 Nothing listed here was inaccurate. With Connor McDavid appearing average by his standard, the Hart Trophy race is wide open. And, Matthews is the best player on a Toronto team motoring toward the best regular season in franchise history. So, I get the love. All that's missing from Toronto media adoration — as usual — is balance.
For example, the above graphic wouldn't be nearly as heart–warming if it read: AUSTON MATTHEWS: 3 GOALS IN HIS LAST 12 PLAYOFF GAMES. Or: AUSTON MATTHEWS: 13 GOALS IN 32 CAREER PLAYOFF GAMES.
The first number equals a pace of 22 goals during a full regular schedule; the latter, roughly 33 goals. Not nearly the 60 that so many are contemplating as criteria for the Hart Trophy. My point is crystal clear: Until Auston Matthews becomes a candidate for the Conn Smythe Trophy, all of the regular season puffery is immaterial. Under no circumstance can No. 34 be considered the "best player in Leafs history" until he proves equally adept at playoff time. Then, perhaps, the sub–headline to Kevin McGran's latest Breakaway blog in the Toronto Star will be accurate: By the time he's done, Matthews has a chance to be deemed the best Leaf of all time, with trusty sidekick Mitch Marner coming in at No. 2. Again, there is no evidence to support either of these preposterous claims.
How could a reasonable observer, in 2022, place Matthews, or Marner, amid such franchise legends as Charlie Conacher, Syl Apps, Ted Kennedy, Tim Horton, Dave Keon, Frank Mahovlich and Johnny Bower? Or, even Darryl Sittler, Lanny McDonald, Borje Salming, Doug Gilmour, Curtis Joseph and Mats Sundin? All of which either won multiple Stanley Cup titles or multiple playoff rounds. What is Matthews accomplishing today that Rick Vaive* did not in the 1980's, with three consecutive 50–goal seasons? Was it Vaive's fault that the teams he played for were otherwise terrible? When I wrote, back in August, that the current regular season will be the "most irrelevant" in franchise history, I meant it. And, I maintain it. How many more playoff duds can Matthews and Marner turn in before the cheerleaders amid the mainstream media offer some equilibrium in their gaudy assessments?
*True, goaltending wasn't as strong in the 80's, but neither was there an era with more gifted offensive players: Wayne Gretzky, Mario Lemieux, Jari Kurri, Mark Messier, Glenn Anderson, Paul Coffey, Raymond Bourque, Bryan Trottier, Mike Bossy, Denis Potvin, Marcel Dionne, Peter Stastny, Denis Savard, Dale Hawerchuk, Mike Gartner and others. It was also an era in which you could hook, hold and virtually tackle players without penalty. Today, if you touch an opponent with the blade of your stick, it's two minutes in the box. 
Poor Jamie McLennan of TSN Overdrive has been excoriated since Friday eve for having the gall to suggest that New York Rangers goalie Igor Shesterkin is a better Hart Trophy candidate than Matthews.
Ol' Noodles is now an official Leafs "hater" for uttering such blasphemy.
What about Cale Makar, arguably the best defenseman in the NHL on the first–place–overall Colorado Avalanche (38–10–4, 80 points)? McLennan mentioned him as well. Strike 2, Noodles. Better stop while you're behind.
Yes, Auston Matthews should rank with Shesterkin and Makar as front–runners to be named the "most valuable player to his team" in the regular season. Altogether now: "Whoop–dee–do!" Will Matthews be similarly worshipped if the Leafs are eliminated by one of the Florida teams in the opening round of the playoffs? For that to not happen (again), he'll need to become the best player in that Stanley Cup round. A level which he hasn't approached to this point in his still–young career. For my money, an ominous sign appeared on Monday night in Montreal, when Matthews was nowhere to be found during a raucous encounter with the Canadiens. The Leafs were demolished, 5–2, by the 32nd–place team in the NHL. When the physical element of the game is amped up, as in the playoffs, Matthews and Marner most–often disappear. It is so much easier to score and look fancy during the regular schedule — a fact those that cover the Leafs today do not dare emphasize. It destroys the narrative.
All of this becomes moot as soon as AM34 propels the Leafs into, minimally, the second round of the Stanley Cup tournament — a modest achievement by most standards, yet one that is monumental around here, given a drought that dates to 2004. Maybe it will happen this spring. Maybe not.
EMAIL: HOWARDLBERGER@GMAIL.COM